BigCommerce vs Shopify: The Key Differences You Need to Know
Ecommerce
•
Site Optimization
•
Ana Gotter
June 19, 2018
Starting your ecommerce business is stressful and there's a lot of decisions that need to be made up front. Unsurprisingly, you want to make the right choices early on to be successful.
One of those choices will be selecting an ecommerce platform. There are quite a few out there, and many storeowners end up debating between two or three options. The two I hear most often are BigCommerce vs Shopify.
BigCommerce and Shopify are both powerful ecommerce site builders and online store managers, so they're both good options. That being said, there are a few key differences between the two platforms that can help you determine which is the right choice for you.
In this post, we're going to compare BigCommerce vs Shopify, comparing the two and highlighting their key differences to help make your decision a little easier.
Shopify vs BigCommerce: How They're Similar
Before we start focusing on the key differences between these two platforms, it's a good idea to take a look at their similarities, because there are a lot of them.
They're both powerful ecommerce website builders that make it easy for you to create gorgeous, high-functioning sites quickly. They both also offer native ecommerce hosting, making it exceptionally easy to build and run your site all in one place. You can manage your entire store from inside a single dashboard.
Their dashboards even look relatively similar.
Here's Shopify's: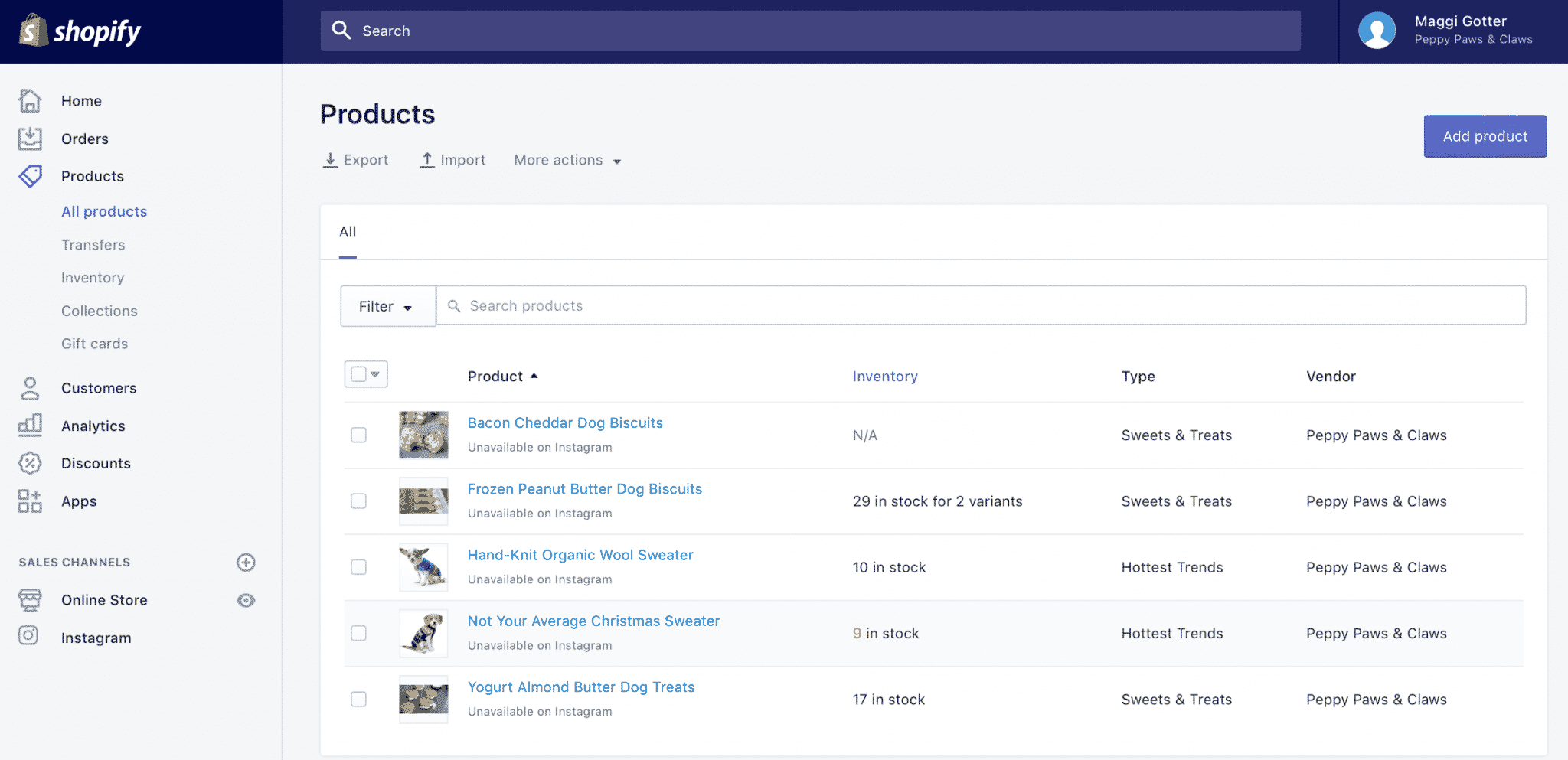 And here's Bigcommerce's: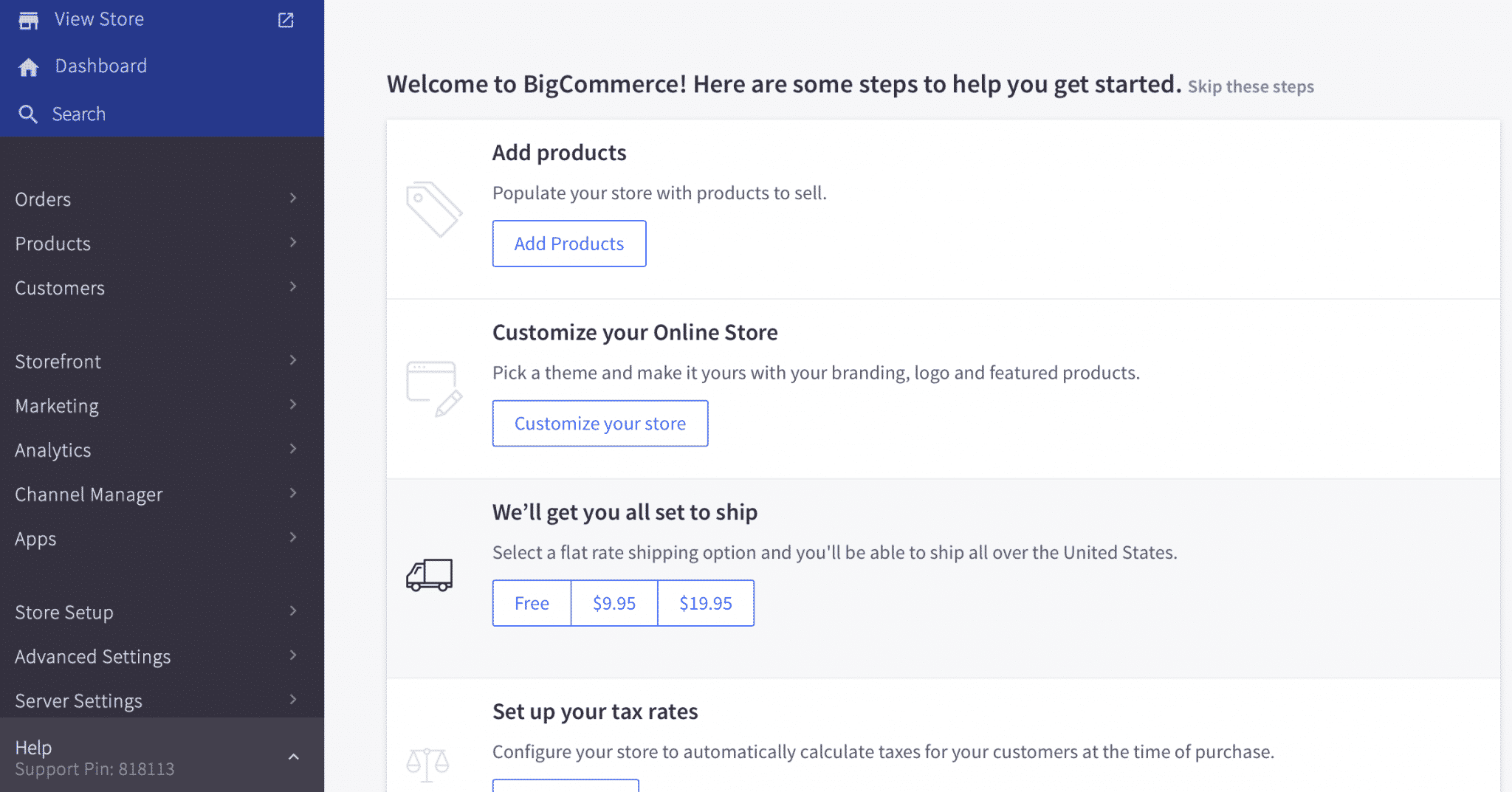 A few other great similarities to point out include that both offer:
24/7 support that's available by phone, live chat, or email
Access to names of pre-screened experts like designers, marketers, or store developers who you can hire if you want to outsource anything
Incredible capabilities for additional functionalities on-site (though they go about this slightly differently)
Outstanding self-reported site uptime, with both saying they have more than 99.98% site uptime 
BigCommerce vs. Shopify: The 3 Key Differences
I know, I've given you nothing so far that can make your decision of BigCommerce vs. Shopify a little easier.
Now we will.
When it comes down to it, there are three really significant differences (which encompass lots of smaller differences) between the two platforms. Let's take a look at each and how it could affect you.
Transactional Fees
Transactional fees are the fees charged on every purchase a customer makes. If you've used PayPal for businesses before—you may have seen this—they take 2.9% + a flat fee of whatever money is being sent.
Shopify does charge transactional fees. BigCommerce doesn't.
Speaking as a business owner with a lot of transactional fees, you want to keep an eye out for those, because they can eat into revenue quickly.
Shopify's transaction fees do decrease as you upgrade your plan, so as you scale, the fees will go down. Still, it's something to keep in mind.
Here is their current fee structure:

Amount of "Stuff"
When you're choosing an ecommerce platform, you want to pick the one that gives you the most flexibility. The world is your oyster and all that.
Ultimately, Shopify has more "stuff" than BigCommerce. They have more themes—both premium and paid—and substantially more apps (think more than 1000 compared to BigCommerce's several hundred). They also have more pre-screened/qualified experts lined up in their marketplace.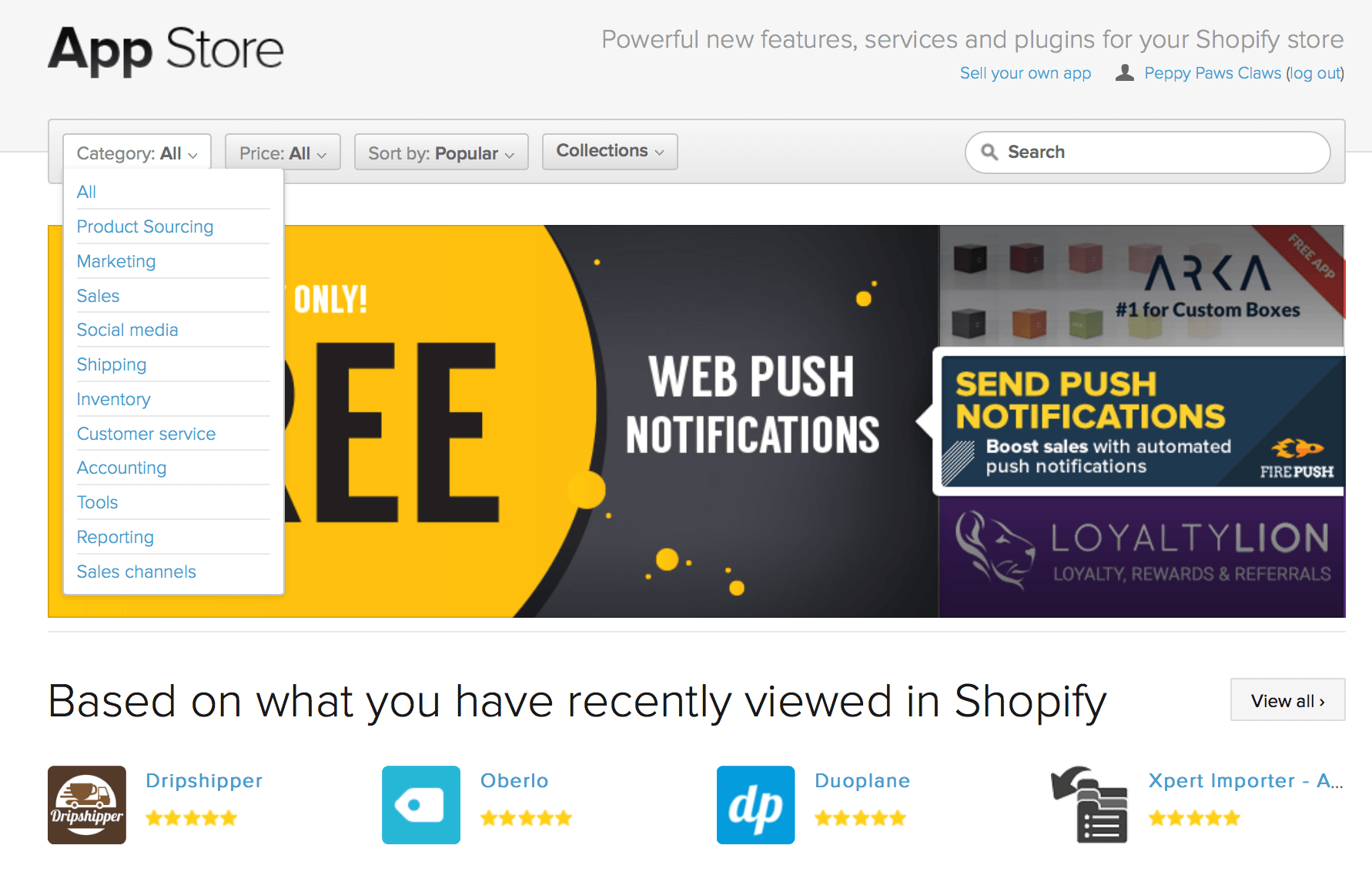 This makes sense—Shopify has more than 500,000 merchants, while Bigcommerce has hosted closer to 95,000 online stores.
All that being said, there's something important here to keep in mind. Shopify has more add-on potential, but BigCommerce gives you more out of the gate (and for free). A lot of functionality that BigCommerce gives merchants outright require add-ons on Shopify. This may give you more customization options on the latter, but it can also end up costing you more if you opt for paid apps instead.
Pricing
Pricing between Shopify and BigCommerce is pretty comparable. Both start at $29.99 a month for their most basic plans. Shopify's Enterprise plan is more expensive at $299 instead of BigCommerce's $249 per month, but that's still relatively close.
Here's what Shopify's different plans offer you: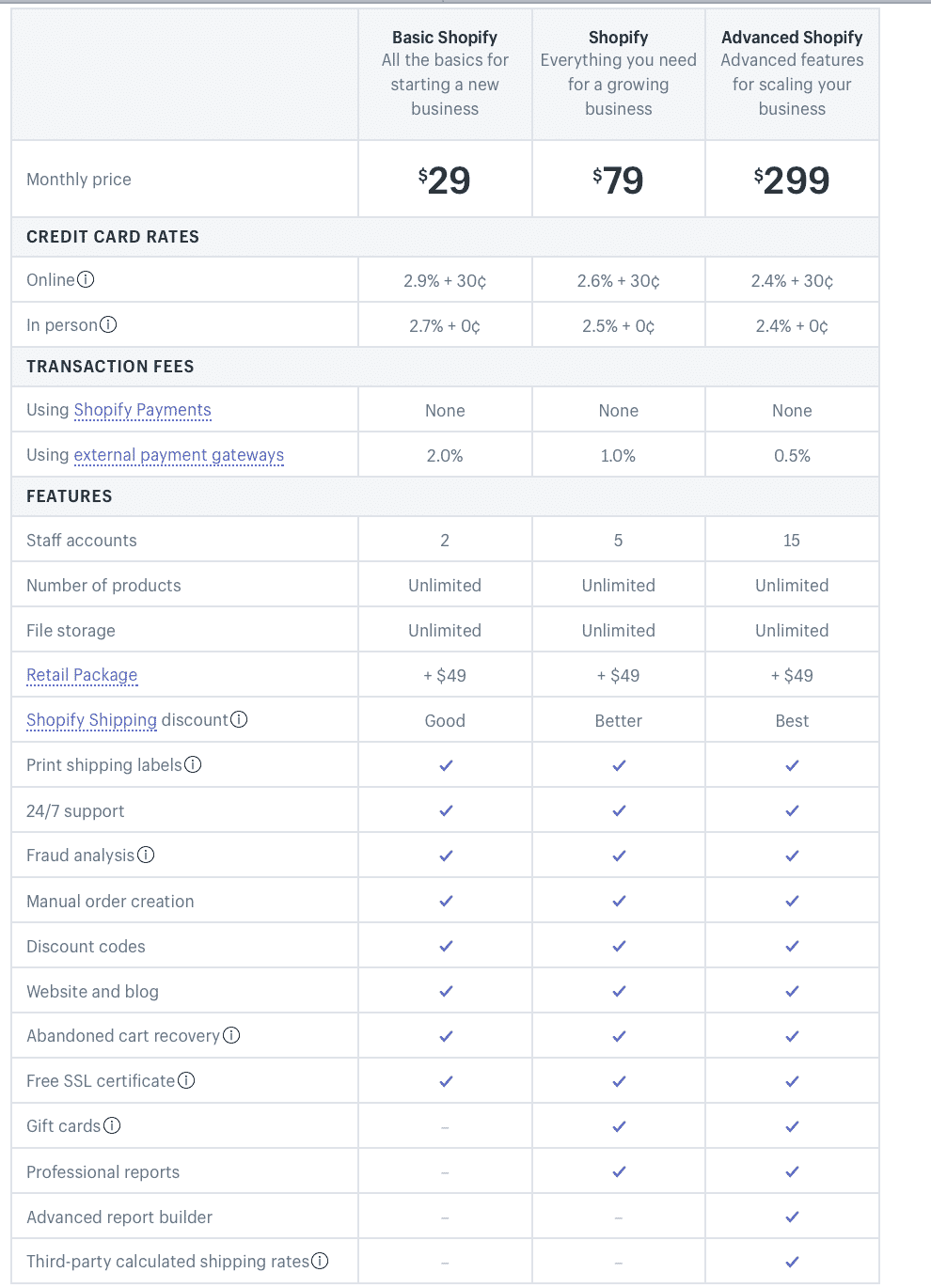 And here's the information on the BigCommerce plans: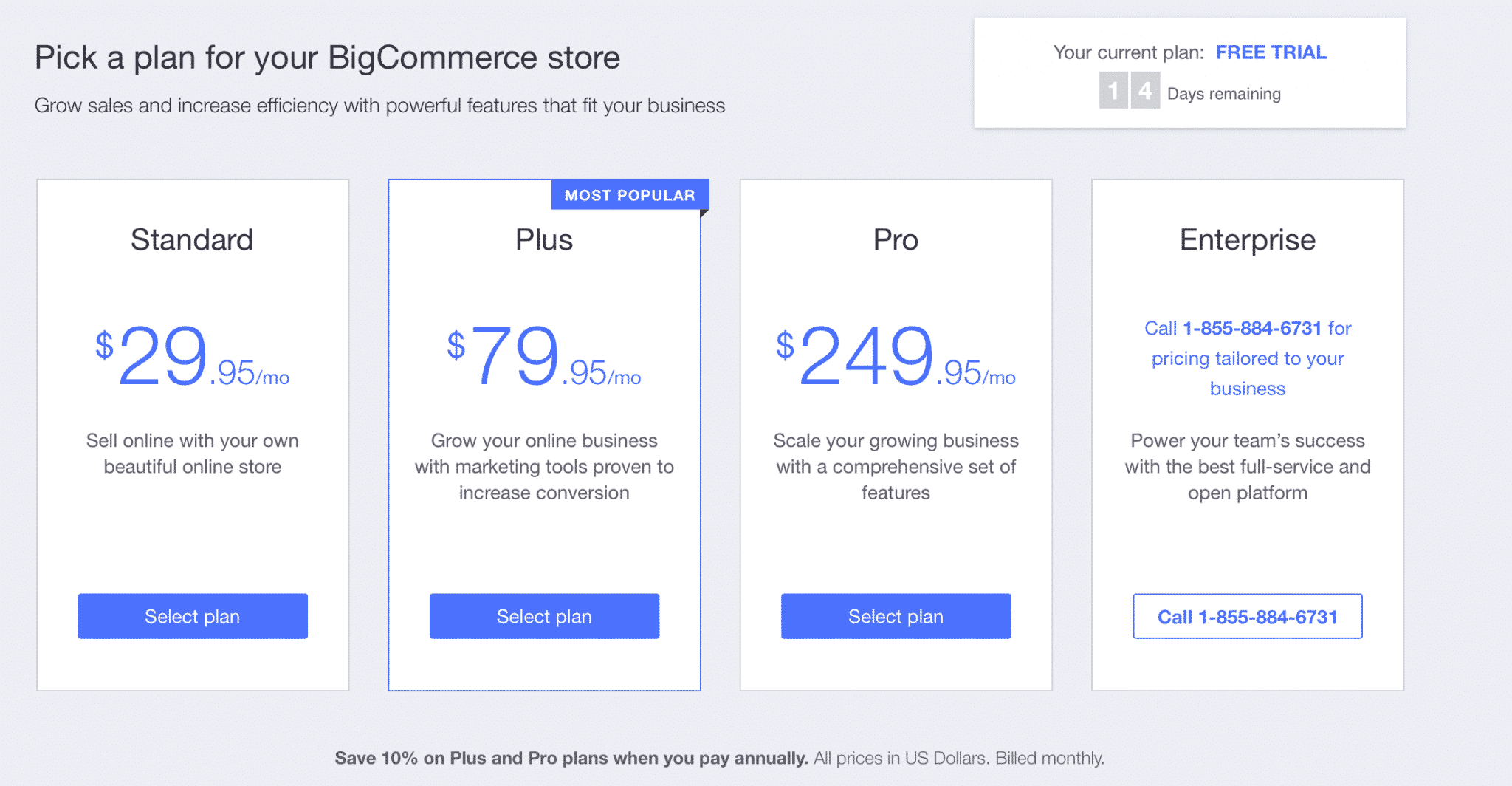 Abandoned cart recovery is included in Shopify's base plan, but not BigCommerce's. Free SSL certificates come with all Shopify plans, but you need to upgrade to a higher plan on BigCommerce for your unique certificate there. You also don't have a sales limit number on Shopify, though you do on BigCommerce.
BicCommerce, on the other hand, offers shipping quotes with the base plan model, but Shopify doesn't offer this until you upgrade to their enterprise plan. There are more affordable apps that can help with this, however, so if that's the only feature of the base or mid-line plan that you need on Shopify, you can find a third party tool to help.
Remember that while those prices are similar, Shopify's transactional fees can eat away at revenue, too, and that you may have to pay for some of the apps that you want to use for your store. Depending on how you use it, Shopify can easily cost you more relatively quickly than BigCommerce.
BigCommerce vs Shopify: Which is Right for You?
Both BigCommerce and Shopify are excellent site builders and online managers and there's a lot of overlap between the two. All that being said, there are clearly some differences between the platforms that can help you differentiate between the two when you're choosing which to go with.
Ultimately, unless you're opting for the highest plans possible on either platform, there isn't an overwhelming difference between the two. One thing I'd say to watch early on is what kinds of additions you'd need to make to your store through Shopify apps as opposed to having them available through BigCommerce already. If you're on a tight budget those monthly app costs (if you don't opt for free) can add up quickly.
Aside from that, remember that a big goal for most businesses is to scale over time, so choose the platform that you believe would best fit a scaling business in the future alongside the one that can best help you now.
What do you think? In the debate of BigCommerce vs Shopify, which would you choose? Which differences are most important to you? Share your thoughts and questions in the comments below! 
Leave a comment