How to Do Awesome Ecommerce Email Marketing
by Robert Katai • June 8, 2018
Ecommerce email marketing was and continues to be one of the best strategies a marketer can create and develop for a great return on investment. It allows you to grow awareness, to increase sales and introduce new products or services to your customers. Ecommerce email marketing, if done right, can also improve communication between a company and its customers, between brands and followers.
How effective can such a campaign be?
Well, according to Capterra, the stats are quite impressive when it comes to email marketing. Their published stats on this industry show a staggering 32x return on investment for email marketing campaigns. This means that for every $1.00 you invest, you get $32.00 in return. I don't know about you, but that's an absolutely mindblowing return to me!
Ecommerce Email Marketing
There were 3.7 billion email users in 2017 and it is expected that this will grow to at least 4.1 billion by 2021. This has two important consequences.
First, ecommerce email marketing gives you access to a wide audience, wider than any other communication channel or social media channel is able to offer. However, there's a catch, and it's the second fact you need to take into consideration: People are different and the wider the audience is, the harder it is to please them all.
In many cases, unless we're talking about a fanbase crowd, it will be impossible.
The best working solution is, therefore, to try to create an ecommerce email marketing strategy and email campaigns that appeal to a general audience. You need to adopt a general perspective and then, as you go, adapt to your own audience, add profile or psychological segmentation and personalize your messages.

Regardless of where you are at this point, you can always improve your strategy and aim at writing better ecommerce marketing emails. To show you how, let me introduce you to some of the best strategies for ecommerce email marketing.
1. Get Your Welcoming Messages Right
Your welcoming messages matter. After all, you only get one chance to make a good first impression. In marketing, the first impression is essential, especially when you are launching a new eCommerce website or when you introduce a new line of products on your e-Store.
The best approach, in this case, is the human approach. It may be essential to your business to let your customers know that they are dealing in fact with people, not machines. Create a message that is easy to understand and follow up. Make it personal but not too personal. The message should be casual but up to the point, it doesn't get to be politically incorrect or annoying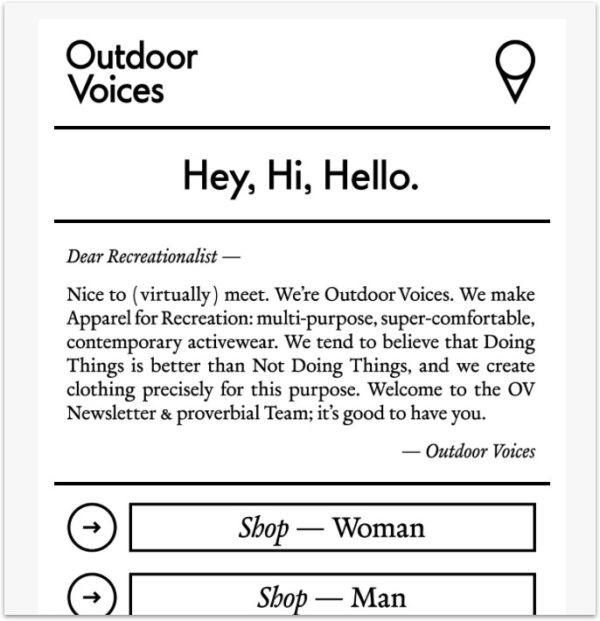 This example comes from Outdoor Voices, an ecommerce clothing store. They do a great job at introducing themselves, their business and their vision, all while building a sense of community with their email subscribers.
2. Use Your Social Media Influence
If you have a popular social media account, you can use it to add some additional influence in your email campaigns. Let that influence work for your marketing strategy.
For example, you can create an awesome email for your ecommerce website without writing anything beyond a few slogans and some calls to action. Instead, you can use some of the best reviews you have received across social media profiles and show them as proof of your quality of business.
Here's a great example from Petflow, one of the biggest pet retailers of the last decade (courtesy of Shopify).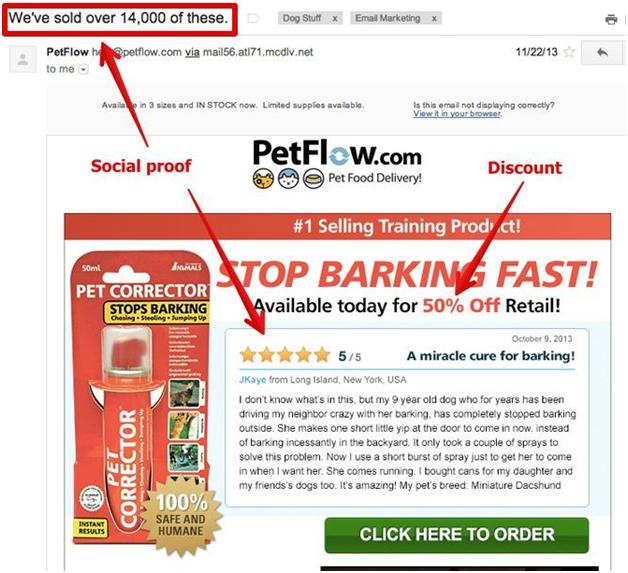 Adding social media elements, especially good reviews and comments may be a great way to build trust with your customers.
3. Write Compelling Subject Lines
35% of email recipients will decide whether or not to open the emails they receive based upon the subject line. So, it should be no surprise that your subject line is one of the most important parts of your ecommerce email marketing. You need your audience to open it and see your message.
Here are some ways to make the most of your subject lines:
Do not use the word "newsletter" in the subject line. People want to hear about your offers, about your brand, about your new contests, sales etc.
Personalize the subject line. Personalized subject lines have a 3% higher open rate than those who address a general audience.
Be upfront. Be clear. The message should be short and compelling. Also, it should be in line with the rest of the newsletter.
Here's an example of how a compelling subject line looks like. It comes from Huckberry: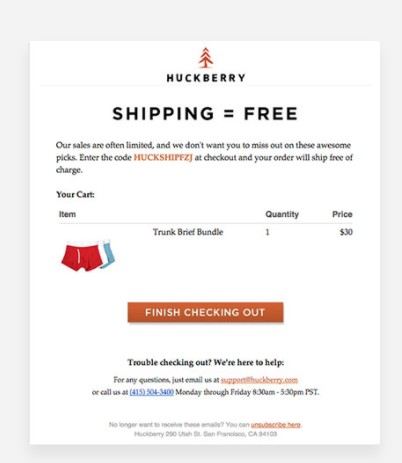 The message "SHIPPING = FREE" is simple yet compelling. It tells the audience exactly what the offer is and why they should make purchases from the sender.
4. Use Visual Content
According to Hubspot, people are able to process images 60,000 times faster than text. This means that visuals are an essential part of an email marketing campaign.
What do you need?
Well, you need branding visuals, an email banner/header and of course, compelling and professional looking product images.
Here's an example from Groupon: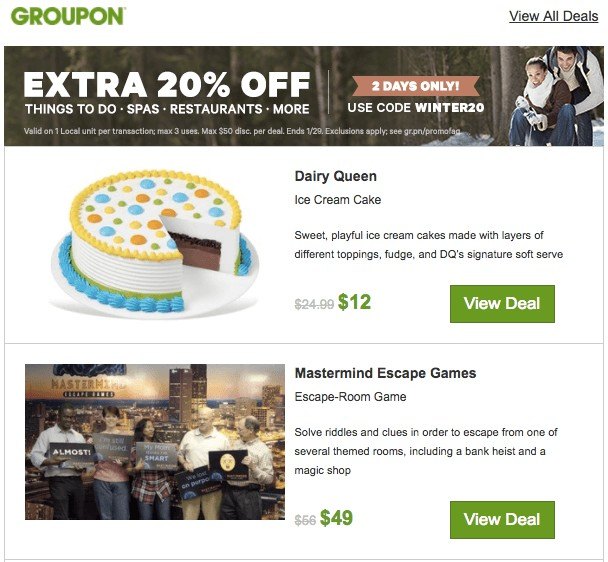 One great feature of this email is the stylish looking header. You can create a whole bunch of advertising banners for a specific campaign and use similar visuals on social media, email marketing, and websites to create a great brand presence.
It's important to use your logo as well. The audience should know who is sending the emails before they read the title and see the content. If you are just starting up with your ecommerce business and you're on a tight budget, you can use a free logo maker. Even if you are not a professional designer, the results can be quite good.
Also, take another look at the above screenshot and see how the product images are placed in the newsletter. They are on the left side of the screen and this is yet another important thing to keep in mind when you are writing your own emails.
Why? People are taught from childhood to read left to right. Instinctively, they will look at the emails from left to right and if the visuals are placed on the left side, this is what they'll notice first.
5. Personalize the Content of the Email
You can customize your emails even further and choose to deliver them based on your customers' behaviors and commercial decisions. This is what guys at Amazon are doing and they are doing it right.
Here's an example: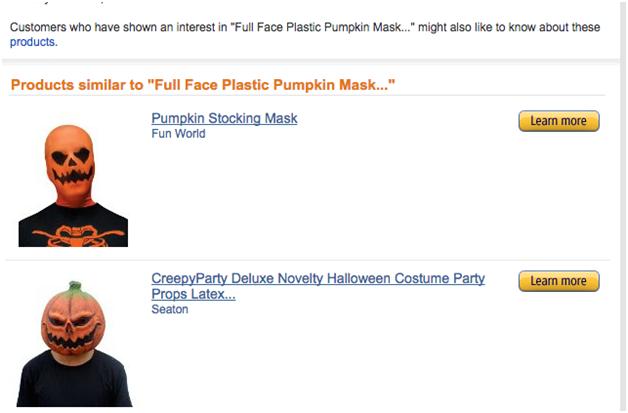 You will need to perform a lot of segmentation in order to be able to personalize the emails to this level. For this, you need access to impressive amounts of personal data from your customers, but acquiring it shouldn't be an issue if you have your ecommerce tracking set up right. Every sale you make gathers enough data from each one of your customers to allow you to personalize the communication based on them.
Since personalization can lead to a 10% higher conversion rate, this is another great way to get even more out of your ecommerce email marketing.
6. Keep Your Message Simple
Sometimes, simplicity may be the key to success when it comes to ecommerce and email newsletters for ecommerce websites. Take, for example, the following image that displays a simple yet effective email sent by 1stdibs, a furniture company.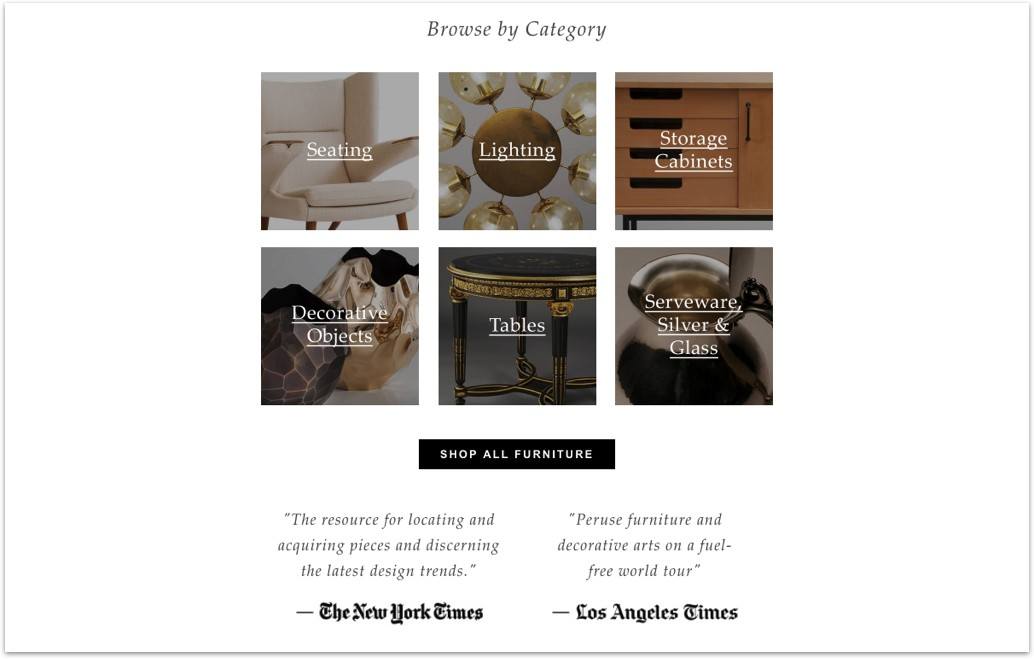 It's great because it looks great. The design is neat, professional, very clean and stylish looking. You can browse their shop by categories and have an instant access to their products. Also, there are two short reviews included at the bottom of the email from trusted sources that will help convince the audience that buying is the right decision.
7. Create a Sense of Urgency
Sometimes, it may help you to tell your audience about a last minute sales campaign or about a promotion that is about to end. By creating a sense of urgency, you may convince them to make a quick and instinctive purchase decision.
The next example comes from Eddie Bauer and it does a great job of creating a "fear of missing out".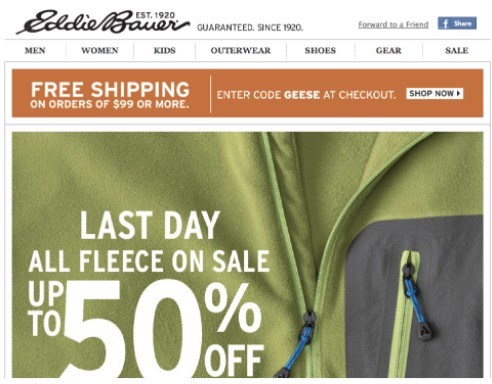 This one has a lot to do with the psychology of the consumers. We know they like sales and we know about the FOMO syndrome (Fear of Missing Out). Turn this to your advantage and include these tactics in your campaigns.
Conclusion
Email marketing has always been a great ecommerce strategy and will continue to be a key aspect of running an ecommerce business for years to come. Newsletters allow you to increase awareness, launch new products and inform clients about sales and promotions.
Ecommerce email marketing is effective and the ROI is impressive. In other words, it's worth it. Email marketing is and should be the first type of marketing (apart from the traditional content marketing) you should build a strategy for.
In this article, we've taken a look at some of the most important things you need to take into account when writing your ecommerce emails. Even if you only follow half of these rules, you'll see great success for your business and your brand.