Automation at Its Finest: How to Use Facebook Dynamic Product Ads
by Ana Gotter • December 29, 2018
One of my favorite Facebook Ad features is the ability to retarget users with custom audiences created from website activity. To put it simply, if your ecommerce customers have added products to their cart but then jumped ship before converting, you can use ads to re-engage them and get more sales.
You can also use these campaigns to show users who purchased or viewed one product other complementary items, like a case and screen protector for that new iPhone they just bought.
The value this offers is undeniable. For businesses with large numbers of campaigns and huge product catalogs, however, managing the sheer number of ads is daunting at best. It would be almost impossible without some sort of automation.
Facebook's dynamic product ads offer that automation without sacrificing the effectiveness of retargeting. In this post, we'll show you how dynamic product ads work and how you can run these campaigns to increase sales on autopilot.
What Are Facebook Dynamic Product Ads?
Facebook dynamic product ads use a basic template to distribute ads containing different products and their information (price, image, details) to the right audience. They implement retargeting campaigns using the data from your Facebook pixel or your SDK to show users relevant products. They can be single image ads, carousel ads, or collection ads.

The most common use of dynamic ads is to show users ads containing products that they've viewed recently on a business's app or website. This reminds users about the product and encourages them to come back and purchase.
Since they were interested enough to click in the first place, a little nudge can be all they need to purchase the second or third time around.
For this reason, Facebook dynamic product ads don't work well for cold audiences. They're not suited well to brand awareness campaigns. Instead, they're all about the clicks and conversions.
How to Set Up Dynamic Product Ads
Automation comes with an initial set up time cost and it takes a good bit longer to set up your dynamic ads compared to regular campaigns. Once you do, however, it's easily well worth it.
Fortunately, Facebook has improved the process of creating these ads. You no longer have to create separate templates outside of the Ads Manager.
Let's take a look at the steps you need to take to create and run dynamic product ads.
Setting Up a Catalog
You can't run dynamic product ads without a catalog, so if you don't already have one, creating a product catalog for Facebook is the first step in creating your ads.
You'll upload your product catalog to your Page's Business Manager under Assets.

Next, click Create Catalog.

You'll be asked to choose a category and then assign the catalog to a Page or business.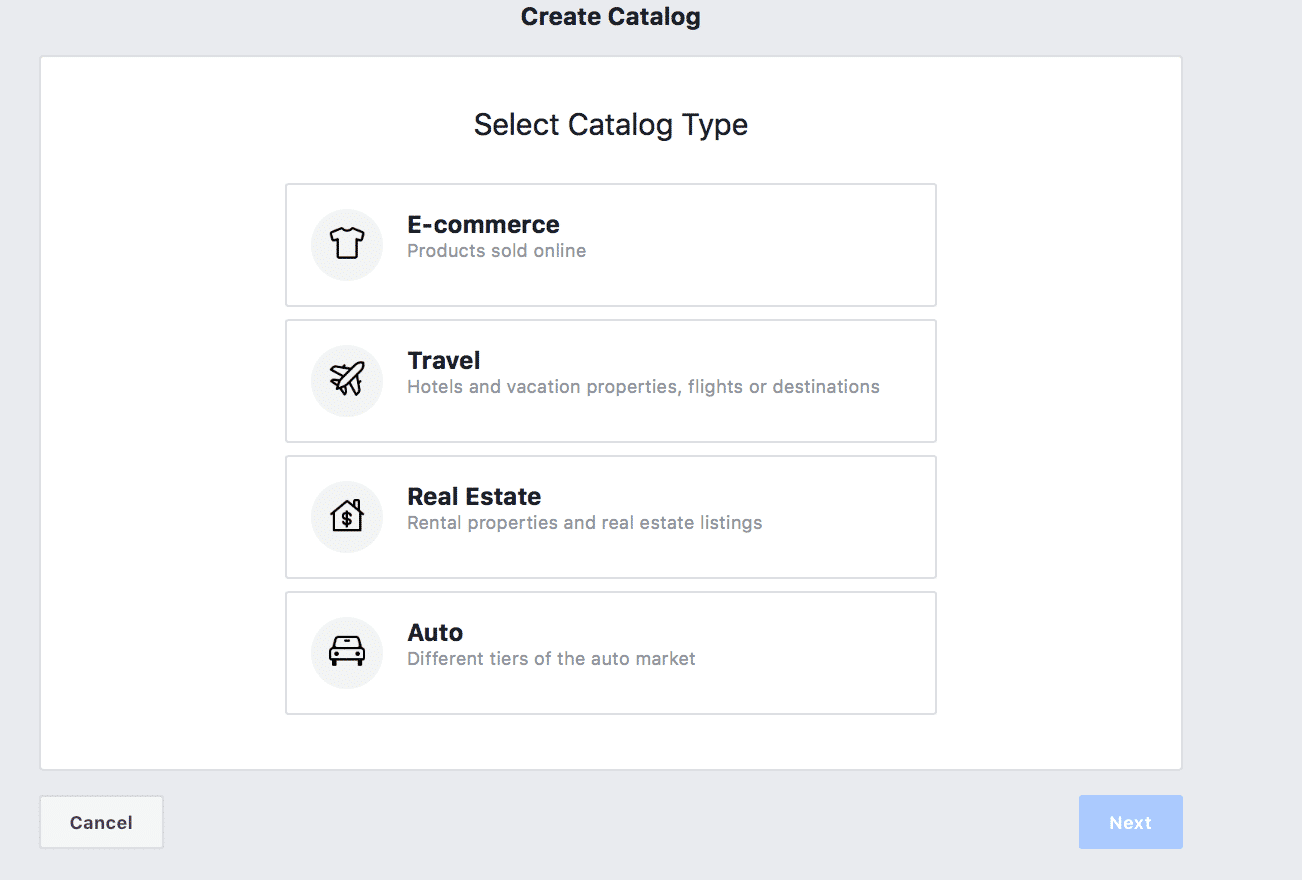 Once your catalog is created, you can add products to it.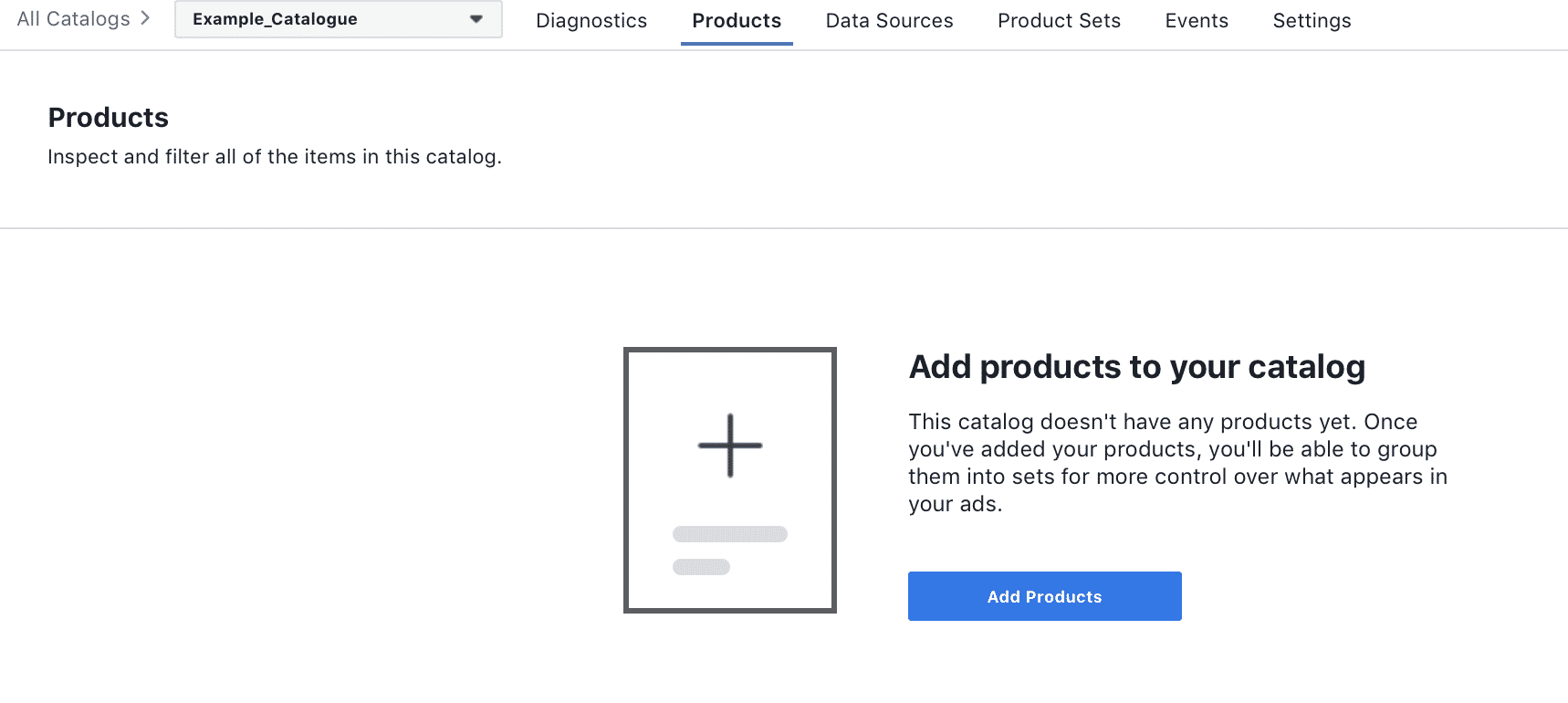 You can upload your products through a CSV file, though there's also options to connect to Shopify or WooCommerce feeds or a data URL feed. Facebook has a CSV template file available for download which you can fill in with the appropriate product information.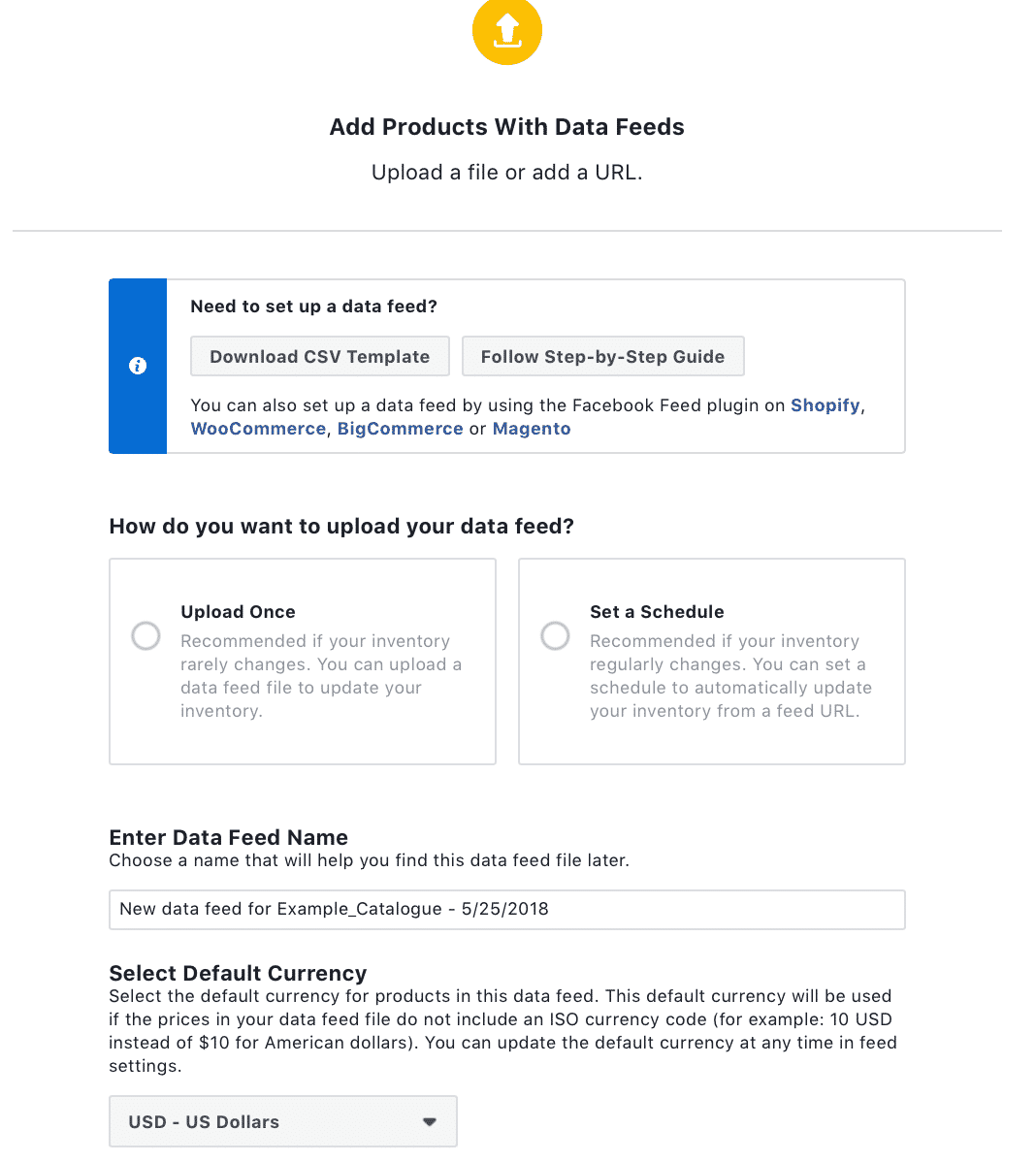 Note that you can choose to upload products once or have Facebook check your regularly to look for new products or those out of stock.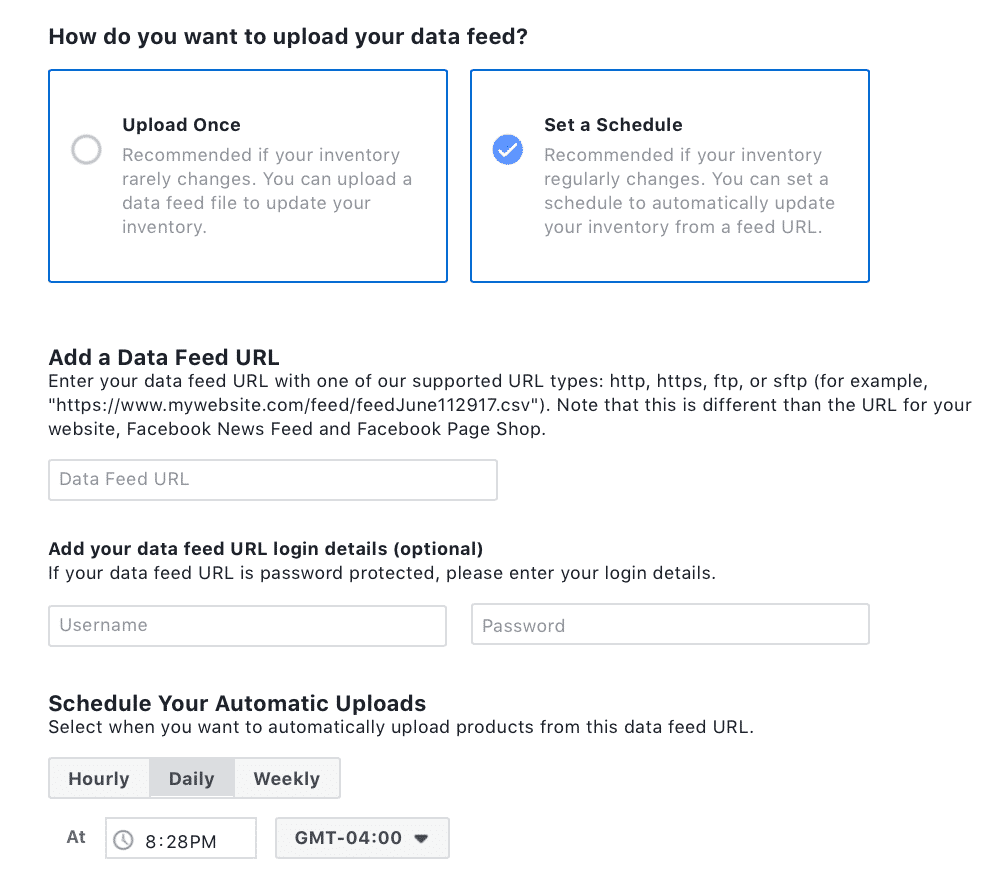 Once your products are uploaded, you're good to go.
Running Dynamic Ad Campaigns
When you're ready to create your ad campaigns, start by choosing the objective Catalog Sales.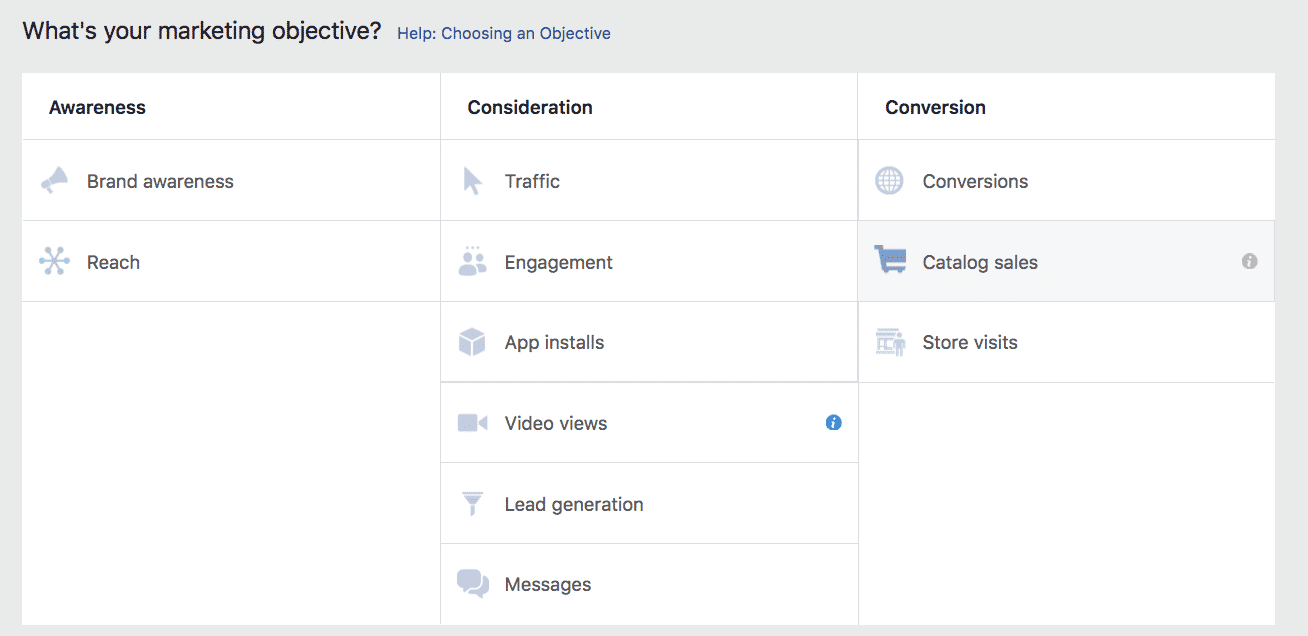 Next, you'll be asked to choose which pixel you want to use if you have access to multiple pixels.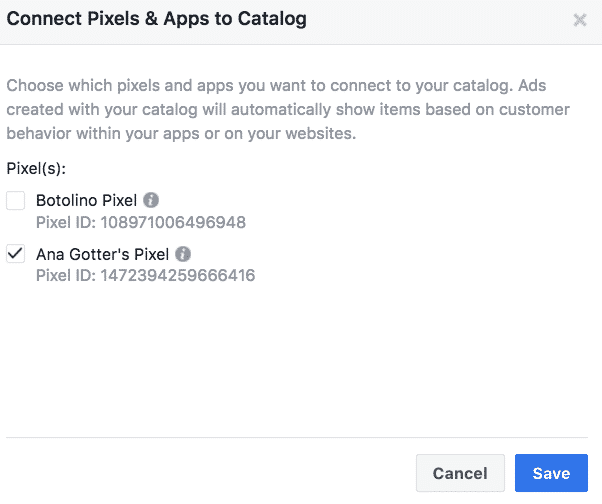 You'll then start seeing more changes in the ad creation process from what you're used to. For audience targeting, Facebook will also allow you to choose from several different retargeting options.
At this stage, you'll also choose your retention window and determine how much time can go by before users don't see your ad.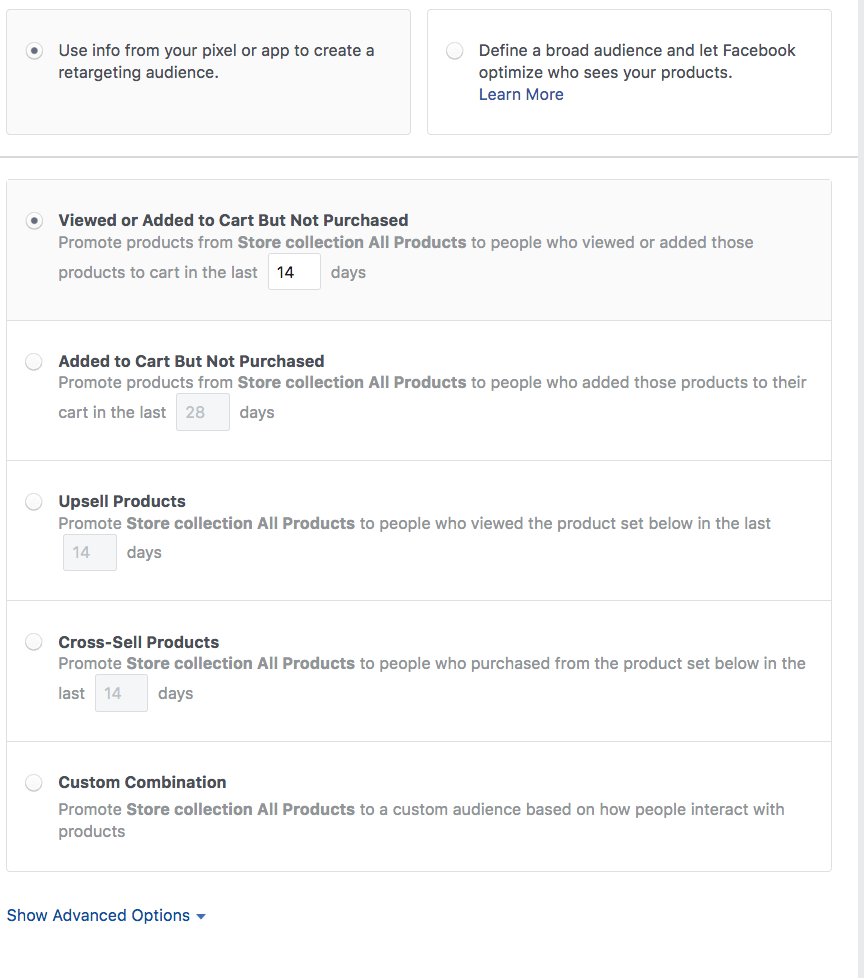 Next, you'll create your template. You can choose from carousel ads, single image ads, or collection ads.

You'll notice that the creatives section is also different. You can create one set headline or newsfeed link description for your ads as a whole, like your brand tagline.
Or, you can opt for these to be swapped out with things like product name, brand, short description, or price. All of this information will have been provided by your data feed or your CSV, allowing you to share the information effortlessly.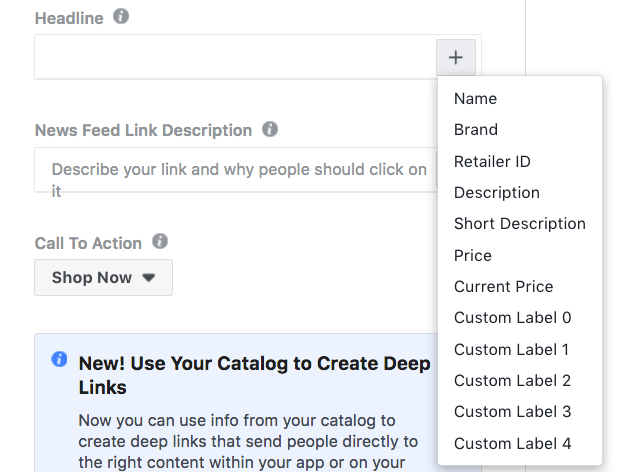 You can view how this information is reflected in the preview on the right.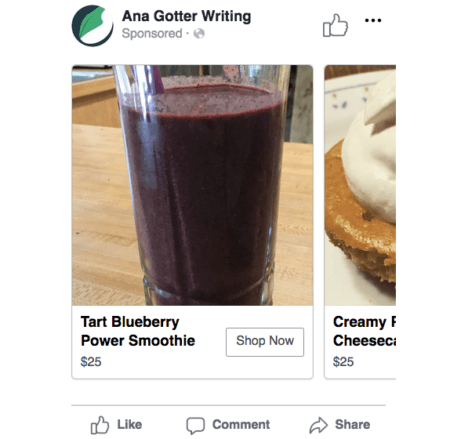 Review it to make sure everything is correct and up to date.
Targeting Strategies for Dynamic Ads
While you can show Facebook dynamic product ads to cold audiences, they work much more efficiently on audiences who have already interacted with your brand. This, after all, lets you show them relevant products with relevant offers because you already know more about them and their exact relationship with you.
There are several different targeting strategies available, which you can use to get more sales with dynamic ads. These include:
People who viewed a product but didn't purchase. Most people aren't ready to purchase the first time they see a product. They don't want to make impulse purchases and want to do some research first. Show these users products they've viewed recently. This also works for abandoned carts.
Cross-selling to past customers. Past customers have purchased from you once and they're significantly more likely to do so again. If someone purchased a set of plates from you, use dynamic product ads to show them the matching bowls, complementary glassware, or cutlery that would work well. Who doesn't love a complete set, after all?
Up selling. You can use the up selling strategy to people who haven't purchased yet or those who recently purchased from you. Show them an item similar  or complementary to what they viewed at a higher price point, highlighting those extra benefits.
Best Practices to Keep in Mind
Dynamic product ads can be a little complicated, so keep these final quick tips in mind when creating your ads in order to produce strong, high-converting campaigns.
Keep out-of-stock products out of your catalog.
Check for errors in your pixel before you run the campaigns.
Use the largest product set possible. The more products, after all, the more your ads can do.
Don't be afraid of a longish retention window. Instead of keeping it to one week, test your ads at a retargeting window of between 30-90 days to see how it works with your audience.
Have a large budget, but a reasonable bid. Larger budgets means more ads, but setting bids that are locked in at reasonable rate will keep the automation process as efficient as possible without running away with your ad budget.
Conclusion
Facebook dynamic product ads combine effortless automation with the accuracy of segmented retargeting, giving you the best of both worlds—and the best possible results. If your ecommerce business is ready to set some campaigns on auto-pilot with a low risk, this is an excellent option.
Keep in mind that no automated ad campaign is entirely free of risk, however, so monitor your campaigns closely. Watch closely for any with high frequency, low relevance scores, and high CPC—these campaigns need to be stopped and reworked.
By the way, if you'd like some help putting together Facebook dynamic product ads (or want some feedback on whether or not these ads would be right for you), let me know here or in the comments. I'd love to help!
What do you think? Do you use dynamic product ads for your ecommerce business? Are you excited to start running them for your online store? Share your thoughts and questions in the comments below!