Pinterest Business Growth: Everything You Need to Know
Ecommerce
•
Social Media
•
Cydney Hatch
November 15, 2018
Wait, Pinterest is that female-focused social platform where people plan unrealistic weddings, home interiors and fashion closets, right?
Well, while I'm sure some people use the platform that way, there's a lot more to Pinterest than that.
As of December 2017, 175 million people are discovering new possibilities on Pinterest. From recipes, DIY hacks, decor inspiration, to even products to buy, Pinterest helps people find creative ideas for their futures.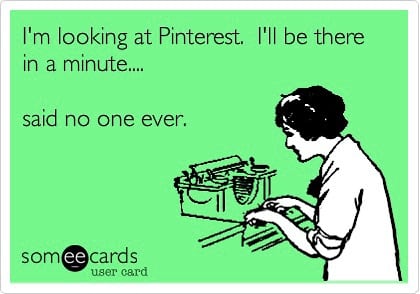 On Pinterest, every Pin is a possibility that gets people thinking about action. For businesses, Pinterest is a lot more than just a foofy website, it's a powerful platform you can use to drive people to visit your site and purchase your products.
In this article, we will talk about everything you need to know about Pinterest for business and give tips and tricks on how the platform can help grow your business. You will definitely learn a lot but moreso, you will learn techniques you can apply to your Pinterest account TODAY!
What is Pinterest?
Pinterest is the fastest growing social network that allows users to save and share pictures and content of their interest in the form of "pins."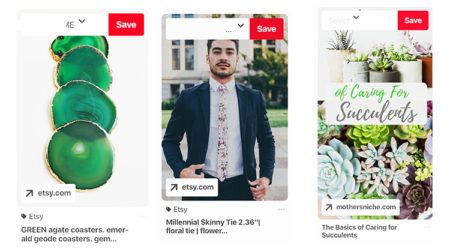 A pin is a visual bookmark which takes the user to the website it was created when it's clicked on. Pinterest doesn't have a specific target group, it is used by everyone who would like to have a collection of images or content of their interests. It is the ultimate mood and inspiration board!
Why Should I Care About Pinterest?
So, you might be wondering how Pinterest will benefit your business…
If the connection or relevance isn't clear yet, believe it or not, Pinterest is more than just a "girly" website that features mason jars, burlap, feel-good quotes, decadence and clothing inspiration! It is a sophisticated and visually stimulating opportunity for you to market directly to active consumers!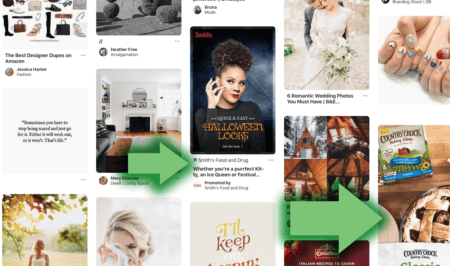 While Pinterest isn't quite as big as other social media platforms like Facebook or Twitter, it can be a special place to promote your products and services—especially when it comes to eCommerce. Some benefits you can see in using Pinterest are:
Pinterest Drives a Whole Lotta Traffic
61% of pinners say they have discovered new brands and products they love from Promoted Pins. 1 out of 2 of those have made a purchase after seeing a promoted pin and to add to this, 93% of pinners use Pinterest to plan purchases!
Everything people do on Pinterest leads customers closer to action and helps increase links back to your website. This means more traffic which increases your chances of making money! WOOT WOOT!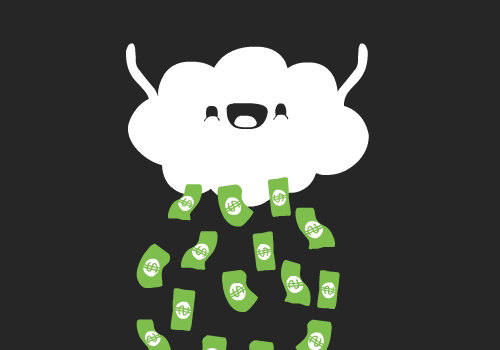 The key to this increased traffic is to share quality content that drives pinners to follow your links and take action. Since people use Pinterest across the sales funnel stages, your business can play a role all the way from inspiration to purchase.
Marketing Longevity
Pins sit on the platform until they are deleted so if you are sharing quality content with pinners, your marketing tactics can have a lasting impact (in other words, a shelf life of whenever…).
Discovery and search are key to Pinterest success, so content is king. When you create content for your business, relevant pins optimize your website and you will see results.
Pinners Accept Marketing
Two-thirds of the content saved to Pinterest comes from businesses and pinners are okay with that!
According to research from Ahalogy, Pinners are eager to connect with brands. When asked who they would rather follow—their favorite brand/store or celebrity—83% of people said they would prefer to follow the former.
This preference was true in a lot of retail categories, too: 73% of people said they would rather follow their favorite brand of beauty products than their favorite makeup artist, 67% said they would prefer to follow their favorite brand of baby products than their favorite baby expert and 70% said they would rather follow their favorite brand of hair care products than their favorite stylist.
So, Pinterest if full of pinners who are looking for products to buy, blogs to learn from and actionable content they can take advantage of! They welcome solutions with open arms and as a business, that attitude is a golden opportunity!
Referrals For Days
Around 5% of all referral traffic to websites comes from Pinterest, according to Shareaholic research.
This is second only to Facebook, which drives almost 25% of all referral traffic on the web.  That means businesses with clickworthy content on Pinterest have a better shot at driving conversions and other desired actions on their website.
Young & Diverse Demographics
There is a common misconception about Pinterest, it's only for women. Not true!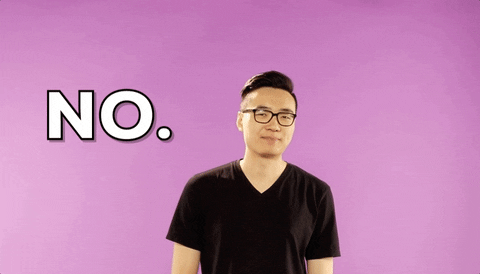 Actually, with more than 150 million Pinners, Pinterest can help you reach in-demand audiences.
According to Ahalogy, 67% of Pinners are under the age of 40, a 27% jump from last year. 54% of women aged 34-55 are on Pinterest and 35% of them have a household income over $100K.
Men and Hispanics are both joining Pinterest in higher numbers, too. Male monthly users have grown 120+% this year. And more than half of all the Hispanics on the platform have joined in the past year.
Conversion is More Likely
Think of Pinterest like a large visual search engine. People go to it for the research phase of planning any project but they also turn to Pinterest for immediate inspiration.
Pinterest helps to reduce the number of steps from discovery to conversion, making it easier for people to get straight to the source, your website or created landing page.  Visitors from Pinterest are more likely to convert into leads or sales faster than most business platforms!
Be in The Know
Want to know what is "hot" and trending in your industry? Pinterest is a great place to start your research!
Pinterest allows you to go inside the minds of those who are interested in your products by seeing what they visually follow and are interested in. If you see common trends in your followers, you might want to incorporate those into your marketing efforts whether that is color, messaging, or styling.
Is My Target Audience On Pinterest?
A marketing basic is to always know your target audience, what they enjoy and where they live on the interweb. The first step in making Pinterest a success in marketing your business is to figure out if your audience is active on the social platform.
First, align the 200 million people who use Pinterest with your own target audience. According to Pinterest Business and Omnicore:
250 Million people use Pinterest every month
80% of people on Pinterest use their mobile app
Half of Pinners are International from the U.S.
More than 50% of new sign-ups are men
81% of Pinterest users are actually Females
Millennials use Pinterest as much as Instagram
The median age of a Pinterest user is 40, however, the majority of active pinners are below 40
Half of Pinterest users earn $50K or greater per year, with 10 percent of Pinteresting households making greater than $125K
30% of all US social media users are Pinterest users
1 of 2 Millennials uses Pinterest monthly
Does the Pinterest demographic break down fall into your target audience? If they do, Pinterest might be a good fit for your business!
If this is you, let's take a look into Pinterest for Business and how you can set yourself up for success.
How to Create a Pinterest Business Account
It only takes 15 seconds to sign up for a free business account. Pinterest will just need the basics of who you are, how to reach you and what your business does!
If you already have a personal account, I recommend converting it to a business account. Business accounts are better for marketing because they come with extra features, like Pinterest Analytics where you can track all types of marketing metrics.
You'll also need a business account to create ads on Pinterest.
Converting your personal account to a business account is quick, easy and free. If you need help, click here for Pinterest's Help Center.
How to Set Up a Board
Once you have your account setup its time to create boards.
Boards are like groups that hold certain categories of pins. Each will have a title that will organize and grab pinner's attention or inform them about what it is about. Think about specifics and keywords you can include. The more specific your board, the better, so instead of entitling a board Vegan Stuff maybe entitle your business board as Vegan Products.
(*ALSO TO NOTE: Don't forget to fill in the "brand category" for all boards so they can be found by users easily. Also, do not make our titles visually interesting by using spacing like F O O D, it hurts SEO!)
You'll need to make at least one board before you start saving Pins. Every board should have a distinct theme. As you add boards, think about which topics fit best with your business category and brand personality. The key is to create boards around your content and products!
So, for example, let's take a look at Nike's Business profile on Pinterest.

 If you take a look at their board's you see the common trends of:
Boards of Product Categories – Shoes, Watches, Pants etc
Motivational Quotes – Featuring Products & Quality Photography
Influencer Photography – Featuring Products
Product Campaigns and Photoshoots Featuring Celebrities
Product Line Launches – Spring 16′ Style Guides etc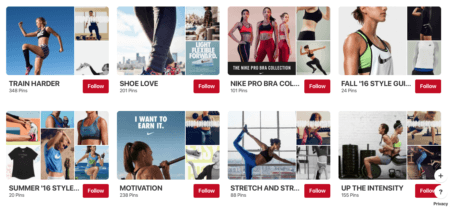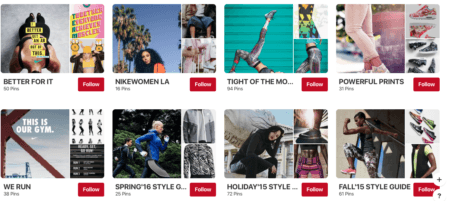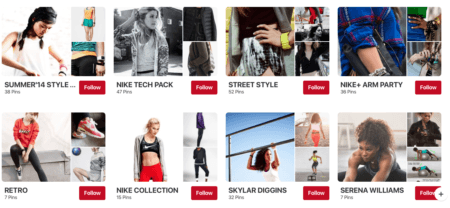 Like them, think about how to make board's work in your favor and organize your business services/products.
Once you've picked your first board theme, start creating Pins for that board. You can begin with just a few Pins while you learn what works best. The easiest way to start making Pins is to repurpose images you already have.
Pin one image to a board, but remember you can pin the same image to multiple boards if it fits. For instance a vegan recipe can go on both your RECIPE board and your VEGAN board. This gives the photo more exposure for you.
Now that we understand Pinterest Boards,  let's dig deeper into what makes for a great pin!
What Should a Successful Pin Look Like?
Since pins make up the "meat" of the Pinterest platform, what can you do to stand out and make successful pins?
To put it simply, every pin should be helpful, visual and actionable.
Just like any other content part of your business, Pinterest pins should be no different, it needs to give a potential customer value and educational interest towards your business! The best Pins are visually compelling, tell a good story and make people want to learn more. To make some great pins for your business follow some of the essential qualities every pin should have:
Proper Sizing: Use 735px X 1102px for optimal visual sizing. Vertical photos always get more re-pins. Use a vertical aspect ratio of 2:3.
Color Choice: Use color palettes that give your branding consistency from website, landing page and pin
Eye Catching Images: Use high-quality, vertical images that will stand out in people's feeds
Context: Your Pins should help people understand why your product or idea is the right fit for them. Pick images that show context and bring your topic to life. Clearly show how someone might use your product in their daily life through lifestyle photography!
Branding: Your business branding should be strongly associated with your Pinterest account and pins. Put a logo on every Pin you make, but keep it subtle. Avoid the lower right corner, since that spot gets covered up by our product icons
Pins are not only visual. Like digital ads, there is also caption content to write! Your descriptions matter as they help optimize your pins being found. Keywords, locations and other important information are key for your business pins to appear in the results you want.
If you struggle with what to write keep the following in mind:
Keep It Short: Keep it under 300 characters
Keep It Relevant & Informative: Always include relevant links and prices for the services or products
Keep It Actionable: Like most digital content, pins work best when there is a clear call to action
Keep It Optimized: Use content that is keyword rich. If you are a photographer who wants to get clients in the Dallas area, include popular photography locations, city names and Dallas in your captions so you appear in results for those things!
Keep It Collaborated: If you work with influencers or mentionable people, be sure to include them in captions!
If you include the above you will be set on your business pins informing and inspiring customers to engage. So, for example, if we go back to the Nike example, here is a pin from their profile: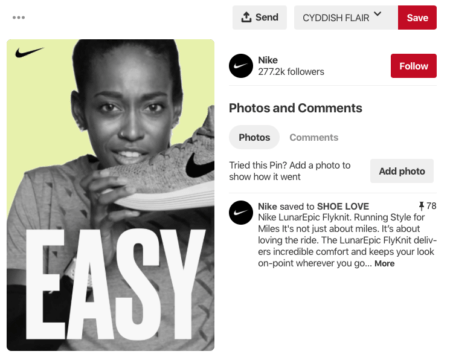 As you can see, they did the following tactics for optimal action on their pin:
Color and Visual: Bright green contrasted with quality black and white photography (Also dabbled with short Boomerang like video)
Subtle Branding: Nike shoe and top right corner have Nike Logo featured
Text Overlay: Popular on Pinterest, this gives context and messaging on top of visuals. EASY inspires fitness motivation and a feeling every person wants: that getting in shape will be easy!
Relevant Website Link: Link directly connects to shoe purchasing page where a customer can learn more and purchase the shoe directly!
Helpful Caption: Under 300 characters, Nike thoughtfully and playfully talks about the launch of a new shoe!
Like Nike, you can use these pin essentials to best create meaningful, visually stunning and informative pins your target audience is looking for! Although these are the basics of pins, there are four major types you can choose from. In the next section, we will talk about what pin types you can consider!
Pin Types To Choose From
In Pinterest, there are four main types of pins you can choose to create:
Promoted Pins: Pins you can purchase to act like advertisements. Engagement has show to increase 2-5%.
Buyable Pins: Pins that allow users to buy the product all within the Pinterest App itself. (Specific to Shopify Users)
Rich Pins: Pins that allow to define additional information with meta tags that are featured in 5 main categories of product, recipe, article, movie and place.
RePins: Classic and oldie but goodie, these pins are like retweets that allow you to restore and keep quality content from your account and other accounts.
Pins that would typically help you see the most ROI are Promoted Pins. Let's take a closer look at how to use them and set them up!
How Do I Use Promoted Pins?
Using Promoted Pins, you can drive a ton of high-quality traffic to your site which can result in big conversions!
"Promoted Pins" is Pinterest's paid ad platform. When you run a campaign, the pin you create will show up in users' feeds when they're browsing in relevant categories and when they search for certain keywords.
An example of this would be WeddingtonWay.com's ad on my Pinterest feed. As I have looked at wedding dress inspiration lately, wedding promoted posts are appearing on my feed to help me in my wedding planning!
Just like my example above, Pinterest ads help you reach people that are actively wanting to engage in products and visuals without looking like an obvious advertisement!
Whether it's buying the perfect engagement ring, finding a sports therapy service, seeing a photography company or buying cute shoes, Pinterest drives traffic to engaged audiences! They're also ready to act: 61% of Pinners have made a purchase after seeing business content on Pinterest!
If you have not considered using Pinterest PPC ads for your online marketing, you totally should for the following reasons:
Ads that look and feel natural in the platform which is less aggressive compared to other PPC advertisement placement.
Reach a receptive audience that is looking for products and services they can love.
Ads can have a continued performance as Pinterest uniquely saves visuals for later viewing and retrieval.
Interested? Learn more about how to create Promoted Pinterest ads on our article here!
13 Pinterest Tips That Will Help You See Results
Now, that we have you setup for success and understanding all of your options, let's take things are step further and help you creatively market your business on Pinterest.
The following tips will help you launch your business into the social platform all while making a meaningful connection with your target audience.
1. Be Consistent
Pinterest cares about the ad experience from start to finish—including the URL your ad links to. So your links need to be relevant and help potential customers have an easy experience getting to the content they want to!
Your ads must reflect your business, so make sure your ad image, description and landing page are consistent. If your ad features a hero product or specific theme, that product or theme must be readily available or apparent on the landing page.
No one wants to click on an ad for green shoes they loved to therefore be directed to a page full of shoes but those ones nowhere in sight!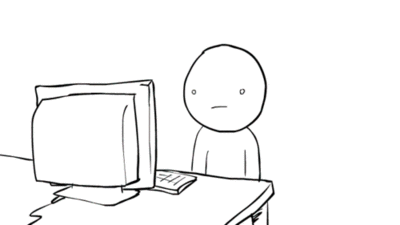 Your ads can't suggest or imply that a product is available on your landing page if you don't actually offer that product!
2. Follow Guidelines
You're responsible for making sure your ads and your use of Pinterest follows all laws but also follow Pinterest's community guidelines, terms, and advertising guidelines.
Pinterest does not allow certain categories of ads because they can be disruptive or problematic, regardless of context. As always, you're responsible for the content you promote on Pinterest, as well as the safety and trustworthiness of the products and services you offer.
For reference, Pinterest never allows ads with:
Adult products and services
Badware and hacking
Clickbait
Illegal activity
Illegal or recreational drugs
Imitation or counterfeit goods
Live animals and products from endangered or threatened species
Online gambling and lotteries, or games of skill
Nudity
Pharmaceuticals
Political campaigning
Restricted healthcare
Sensitive content
Suspicious claims
Tobacco
Supplements
Weapons & Explosives
Pinterest reserves the right to reject or remove any ad that negatively affects their relationship with people on Pinterest or that goes against our interests.
So, before you are blacklisted on the platform, be sure your business aligns with their rules and guidelines!
3. Pin Consistently
Like any social platform, you need to be consistent and create a social media timeline for content.
Typically you would want to pin content 10-12 posts a day and create 50-70 pins total for a week. By creating consistent content flowing into the channel, your potential customers can rely on your content creation, look forward to new launches, products and promotions.
By launching new pins into the channel, it also helps your content flow into the different searches and with new content always coming in, you are more likely to be a result! Pin at least 50% of your own content from your website, blog or Instagram and 50% from others.
4. Use Hashtags
Hashtags, like many uses across social media, it helps you organize photos and content into topics. In your written captions for pins, be sure to use both keywords and hashtags. You can use up to 20 hashtags per post so be sure to promote your business into the hashtags that make the most sense.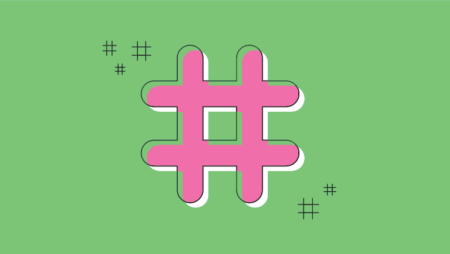 You can also create business branded hashtags so people can easily find your business on the platform!
5. Text Overlay
A popular trend that is so helpful is creating text overlays on top of quality photography and visuals! So, if we take a look at Nike, A Food Blogger and Lowe's pin images below, we can see they used this tactic successfully!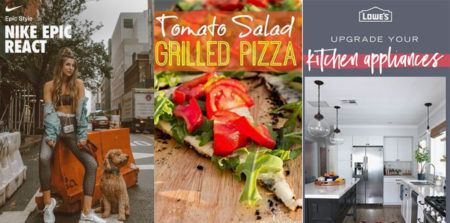 All of these add more context, messaging and branded stylization to the pin for people to visualize and take in. Be sure to add copy to images using font that fits your brand but also encourages some type of action/information learning.
By creating ads or general pins with this information on it, pinners can easily interact and take action the way they were intended but can also understand what the pin is moreso than an image alone.
6. Set Up Boards Correctly
Boards will not perform well if they look like a barren pin wasteland that no one follows.
Like Instagram and many social platforms, people want to follow accounts, and in this case boards, that are relevant, helpful and popularly followed. So for instance, if I was looking to find boards that were all about lipstick I would want to most likely follow this account "Lipstick Swatches" because
Its more specific in it's title
It has different types of posts and images about lipstick
It has many followers
It has a lot of pins posted
It has helpful content and links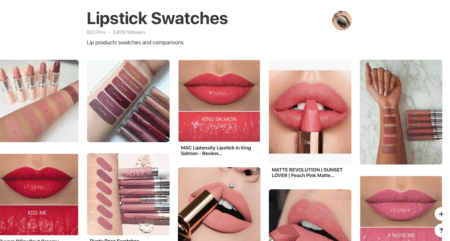 Compare that to another board titled "Lipstick" that only has 13 pins and seems less helpful, legitimate and interesting. This account is a lot like the Instagram accounts that have 30 followers and 5 photos. BLAH.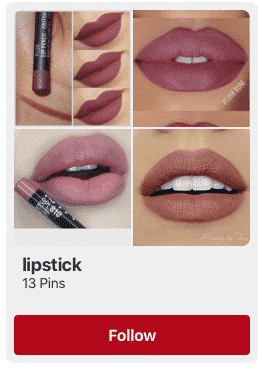 To best get people to engage with your boards and ads you will need to setup some "rep." Typically the best way to start your boards for engagement is to have at least 10-15 pinboards (or more) with at least 20-30 pins on each board. From there you will need to again grow your boards to contain 50-70 new images a week!
7. Helpful Applications
Many ecommerce businesses could benefit from building a presence on Pinterest, many don't because of time constraints, the difficulty of getting started, or the struggle of consistently creating interesting Pins.
Luckily, there are tools that can help with all of this, that can improve the efficiency and efficacy of your Pinterest marketing. My suggestion would be to look at the following apps to help streamline and improve your Pinterest marketing:
By using some of these Pinterest friendly tools, you can easily promote your Pinterest account all while saving you time, money, and sanity!
8. Organize With Sections
As you have more pins on your boards, it might be better to organize your pins further by using the Pinterest feature of "sections." For example, if you are a home goods company that sells home decor you might have a Christmas board that features all of your holiday items like wreaths, ornaments, table centerpieces, garlands etc.
As that is a great board full of relevant, helpful and beautiful content you might want to help your customers find items that much easier! So, your Christmas board can be broken down into sections like "Tree", "Wreaths", "DIY Crafts", "Gift Wrap", etc for easier/more specific browsing!
For example, it would visually look like this in the Pinterest "Christmas Decor" search: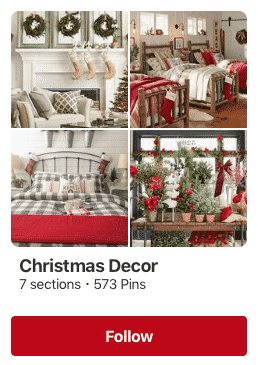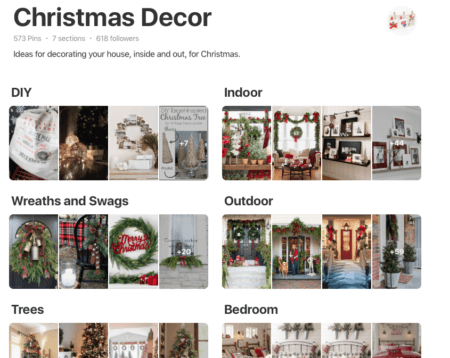 Why not make browsing that much easier for your potential customers? You might even help them think of decor they didn't even think of by promoting different types of rooms, decor items etc.
9. Utilize Suggestions
Have you ever typed something into Google and they automatically suggest search entries? This is called Google auto suggest. Google auto suggest is a very powerful tool you can use to see potential searches clients may already be using. This can help shape more questions and topics you should look into for effective keywords.
Like Google auto suggest, Pinterest also gives you suggested topics/keywords/suggestions you can consider when searching for items.
So for example, if I am looking for Vintage wedding dresses Pinterest gives me these two types of pop up suggestions: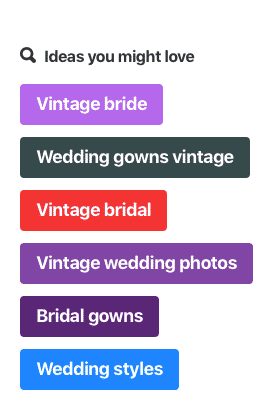 As a business, why not swipe some of these search items knowing they are popular search words, keywords and topics? By continuing to improve your search results as a business, you are more likely to appear in front of people who are looking to find your type of business or products!
10. Go Link Heavy
Pins are great, but they should not just be used for visual appeal.
Links are so important to include in your business pins! Always include links to all of your pins! If not, the pins are just empty visuals that cannot lead to action whether that is linking to a purchasing page, visiting your website etc.
Do not leave traffic to chance! Your potential customers will most likely not dig around to find your products and or business, so make it easy for them!
11. Be Trendy and Think Ahead
As a business prepares for the holiday season or any type of specific campaigns, it's best to work ahead and see what is trending!
I have written many articles on statistics and current trends on social media, and these two things alone are so important to understand. When doing research, look for statistics, infographics, visuals that reoccur, styling and other things that people are loving.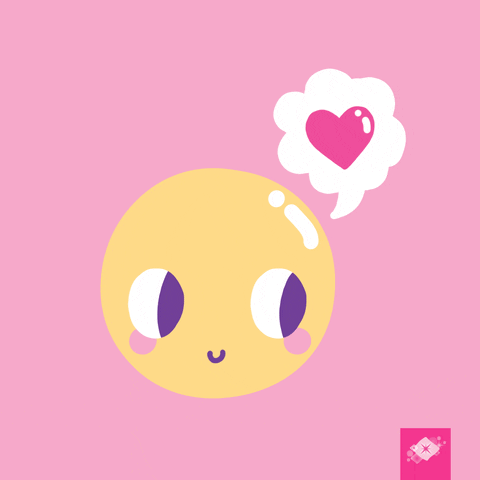 Learn what is trending and research on Pinterest for things up to 45 days in advance of a campaign.
So, for example, if you are looking to make the most out of your holiday trends this year, it would be best to see what is trending in August/September/October. Start pinning content 50 days before a major holiday so you can get the most out of your Pinterest pins.
12. Be Authentic
You hear the phrases "Be Real" and "Be Authentic" frequently these days but potential customers truly want transparency from your business!
Authenticity means being truthful and honest about the product or service you're promoting. It also means being transparent with people about what they should expect when they interact with your products or services. One of the best ways to promote authenticity is through quality photography.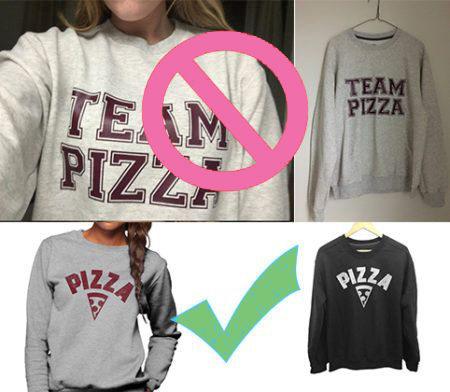 The perceived value of your products and the trustworthiness of your brand is often judged by the quality of your visual content. That means having high-quality, beautiful product photography can go a long way towards driving sales for your business.
Unlike shopping in a boutique or a department store, when you browse online, you can't pick up the product. You can't touch it, hold it in your hands or feel the texture with your fingers. All you have is the photographs to base your buying decisions on. As a shopper this can be scary, so it's your job to put them at ease with great photos and descriptions.
However, not everyone can afford a professional photography studio, models and equipment—especially when they're just starting out so if you want some tips on how to promote authenticity through quality business photography read my article here. 
13. Multi-Product Pins
Just like many ecommerce websites, businesses tend to pair their items for promotional photos and campaigns. As this is a great way to sell more products to customers, on Pinterest, you want to make sure you use multi- product pins effectively! Here's how to make multi-product Pins work for you:
Promote Collections: Pair items that you can sell together! So if you're appealing to female fashionistas, design a pin on "how to wear it" that features multiple products—nail polishes, overcoats, booties and skirts all in one image!
Use Lifestyle Images: Pins that show products being used in real-life situations inspire more clicks and purchases are customers are able to visualize the items in their everyday life!
Make Items Easy to Find: If you've designed a collection pin described above, be sure to save each individual product found in that outfit—from polish to booties—to the same board. Also consider using Rich Pins to display important product information, like pricing and availability, right on the Pin itself. 
Make Shopping Easy: Drive more sales by leading people to purchase! You should make sure each Pin links back to a product landing page where people can make a purchase. Better yet, invest in Buyable Pins, which let people buy your products right from Pinterest.
As you bring products together in creative ways, you'll discover that there's no limit to the combinations you can come up with.
Pinterest For Business: It's A Thing…
I hope I sparked a "Pin-terest" in using the platform for your business!
Now knowing its not just a "girly" site, you have all the tools to start driving traffic, creating content and making sales from your Pinterest account! With over 200 million users on the platform, Pinterest is an opportunity you won't want to miss, especially in ecommerce!
So what are you waiting for? Start-a-Pinning!
Leave a comment