Shopify SEO 101: How to Optimize Your Store for the SERPs
Ecommerce
•
Marketing
•
Site Optimization
•
Ana Gotter
June 5, 2018
If your Shopify ecommerce store is relatively small or just starting out, you probably aren't getting most of your traffic from search engines. You may be relying on social media, or—even more likely—PPC campaigns run through Google AdWords or Facebook Ads.
But, that doesn't mean you shouldn't prioritize SEO. How great would it be, after all, if you didn't have to pay a penny for those clicks, and you were able to organically get your products seen by potential customers looking for them?
If you aren't ranking well in the SERPs, after all, your competition is. That means they're getting the customers instead of you. And we can't have that.
In this Shopify SEO 101 introductory guide, we're going to show you exactly how to optimize your Shopify site pages for the SERPs, making your site customer-friendly and Google-friendly all at once.
Before You Start: Keyword & Competitor Research
Before we dive right into optimizing your Shopify SEO and its product pages for search engine performance, there are a couple of things you need to research first.
Keyword research and competitor research—which we'll be relying on a lot in this post—should be done before you go around and start filling in title tags and meta descriptions. You won't get too far with SEO, after all, if you're optimizing for all the wrong search terms.

We have an extensive guide about keyword research here that you can use to learn more about what tools to use and how to choose the right terms. As a quick overview, for keyword research, you should use tools like SpyFu to take a look at what keywords your competitors are ranking for (both organically and in PPC) to see what's getting them the most traffic. What you learn during both stages should be combined in order to choose the right keywords for each site page.
Shopify SEO: Optimizing Your Site
Okay, now we can get down to the nitty gritty of how exactly how to optimize your site.
On each individual site page (including product pages), there are multiple opportunities to place keywords and optimize for search. Shopify does an excellent job making SEO a priority and they have incredible optimization features built into the standard interface.
Note that not all of your site pages will have an opportunity for you to hit every single keyword, but you should try to place keywords on as many site pages as possible without sounding like a keyword-dropping robot.
Here are all the locations you need to be placing your keywords:
General Keyword Opportunities
There are several places you should be placing your keywords on any page of your site. Let's take a look at each of them.
Page Title
Ideally, your chosen keyword should be featured in your page title. Are you selling finished, ready-to-ship weighted blankets? Your page title should look something like this: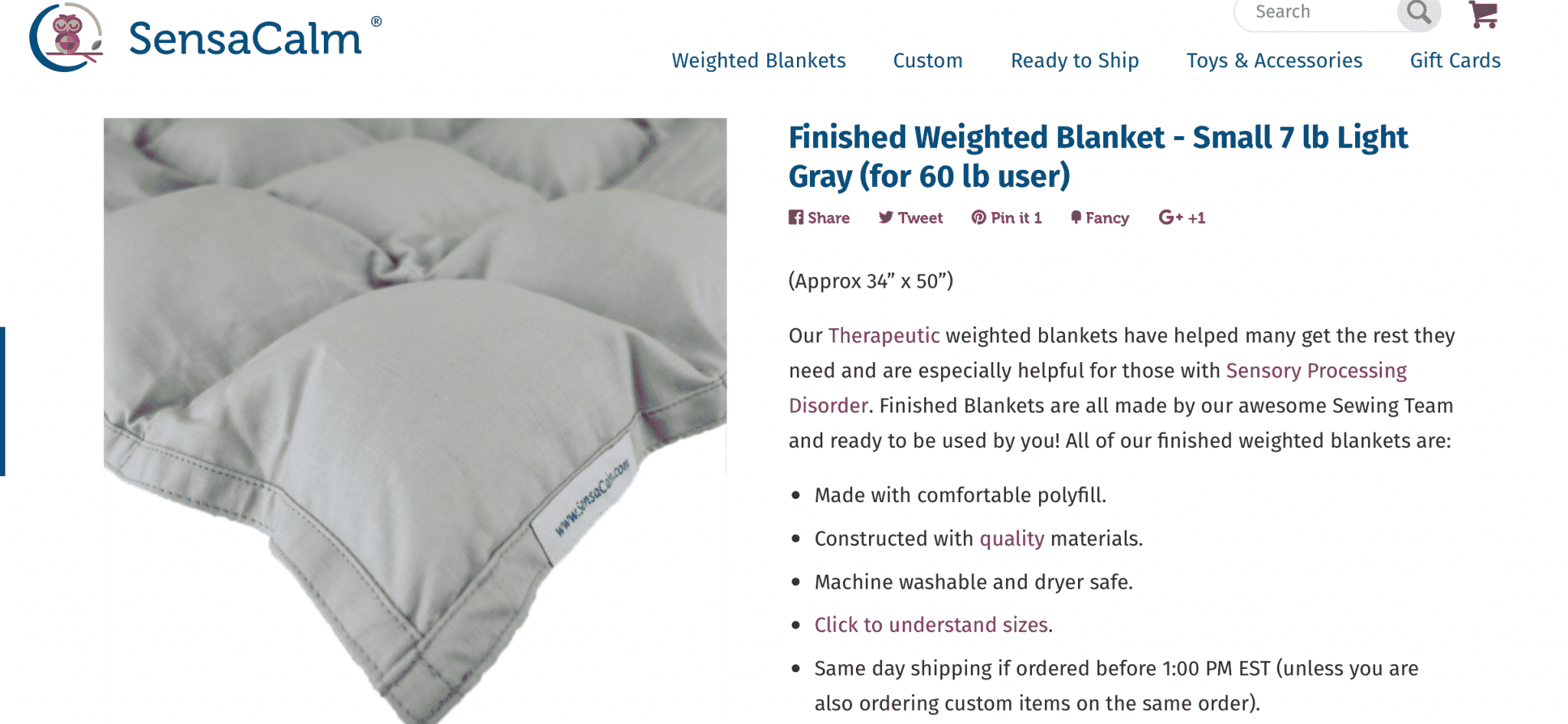 H2's
Having H2's (or Heading 2 subheads) is most common in blog posts, but some product pages may have them, too (especially if you're breaking down features). When possible, include keywords in at least one or two H2's per page for best results. This is something Google's algorithms look for.
In-Text
Unsurprisingly, having your keyword placed in-text gives Google a lot of context to how you're using it, and it shows the algorithm that your page is relevant to the targeted searches. You don't want to go overboard—it should never look like you're writing for Google instead of your customers—but one or two keywords in a description will help you.
Think "stainless steel pans" instead of "pans made out of lovely stainless steel." While Google is smart, making their job a little easier is always better.
Alt-Image Tags
Alt-image tags are designed to supply context to both Google and users who rely on screen readers, telling them what their image is since they may not be able to determine it for themselves. A lot of people ignore their alt-tags, not realizing it's a huge Shopify SEO opportunity.
Whether your images are in-text or set as featured product images, you'll see the option to adjust the alt text on them like in the screenshot here: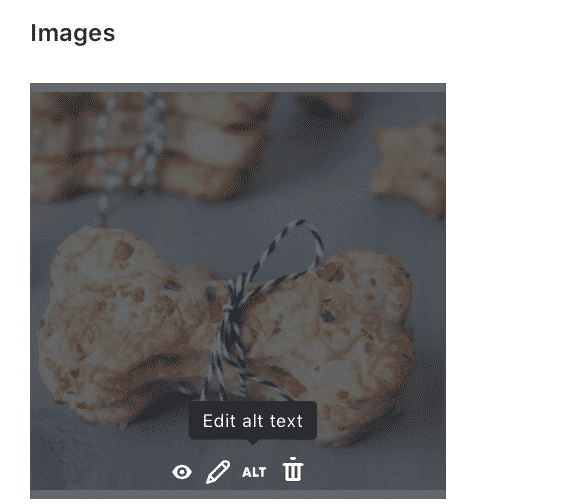 Enter in the chosen keyword as your alt-image text, and you're good to go.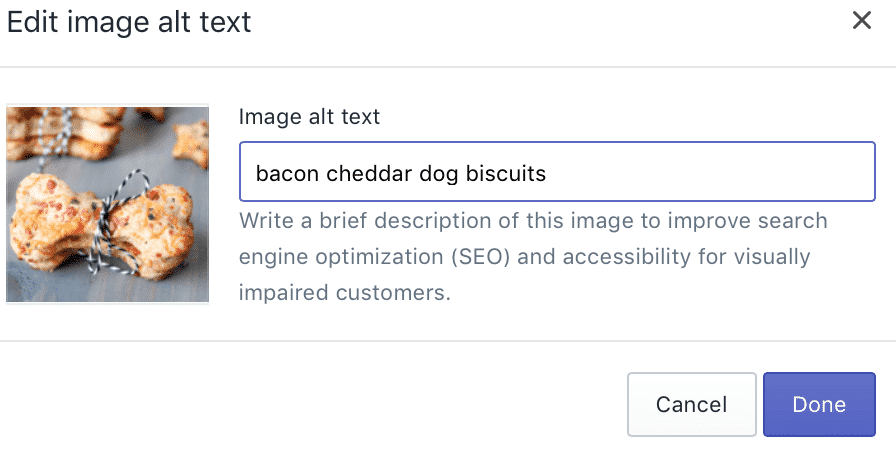 In the SEO Section on Shopify
We've covered the basics, now we're going to take a look at the SEO-focused section available on Shopify's pages and how to optimize each feature. This section is found at the bottom of each page when you're editing it.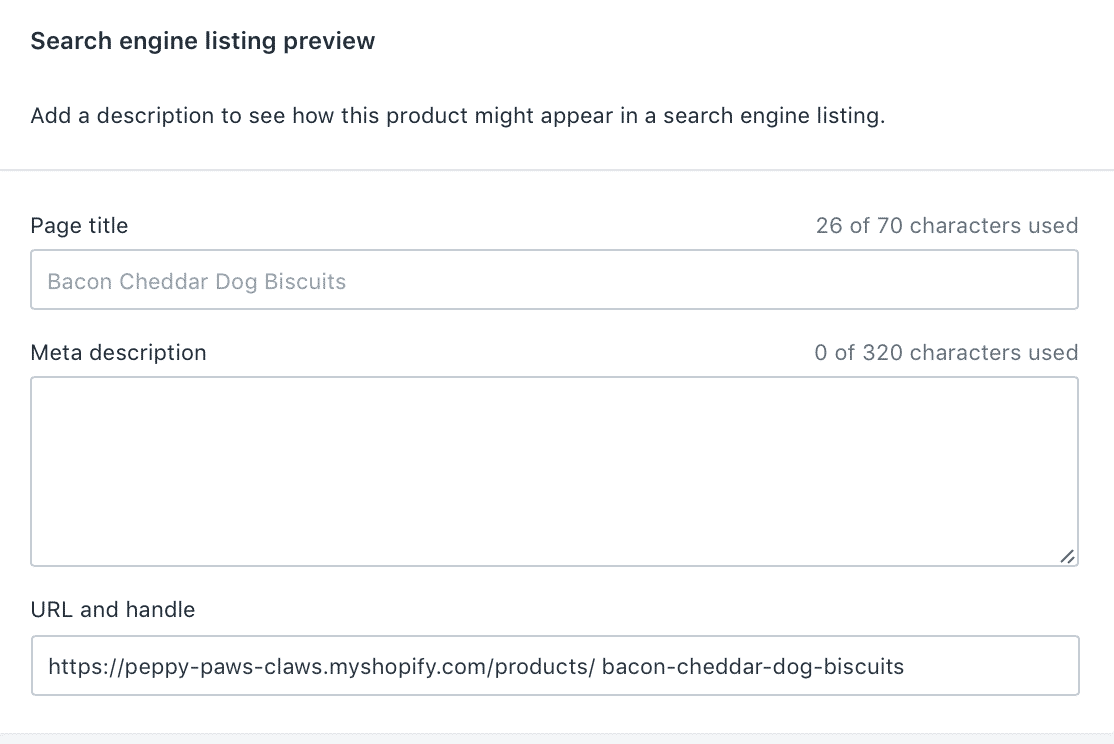 Title Tags
Your page title tag will determine how your page is listed on Google. It can be different from the actual title that is visible to users on the page itself. The title tag in the image below is "Woofables I Gourmet Dog Treats & Biscuits."

Meta Descriptions
The meta description is important for both customers and Google's algorithms. It's what appears under your URL handle and it tells users what they can expect to find on your page. Unsurprisingly, people scan these closely to look for the most relevant match to their search.

URL Handle
Your URL handle is something that isn't looked at closely by customers, but is taken into close consideration by Google. You should place dashes between each word of the keyword phrase, meaning the keyword "best motorcycles ever" should be entered like this
"best-motorcycles-ever"
You'll notice that in the example below, the seller Bubble and Bee optimized for one keyword in their title tag ("organic face cream") and another in their URL handle ("organic face cream for women"). This is a solid strategy to make sure you're covering your bases.

Bonus: Reviews
Okay, so I know you can't exactly write your own site reviews (not really the most ethical decision…). That being said, you can still use plugins that let you share customer reviews on your site and make them crawl-able. This just gives you more text for Google to search, and more keywords you can hit.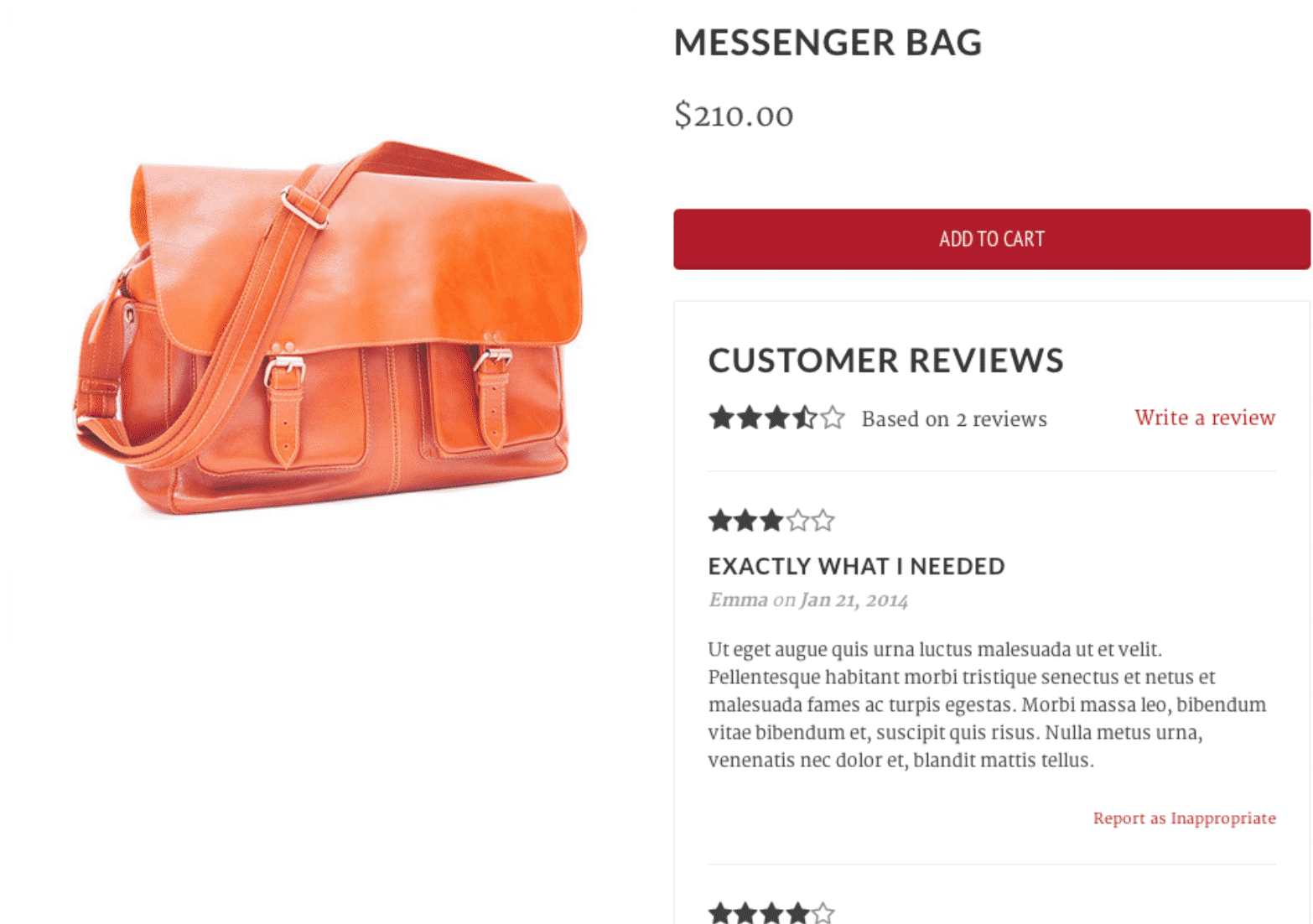 Don't have an app for this yet? You can't go wrong with Shopify's own Product Reviews app and I'm also a big fan of Yotpo. Both are SEO-friendly.
Mistakes to Avoid
As you're plugging away at your Shopify SEO, there are a few common pitfalls that you want to avoid. The most common and severe mistakes you should avoid are:
Targeting the same keyword on multiple pages. Trust me, don't do this. It deprives you of a chance to rank for other keywords and it essentially leaves you competing against yourself.
Never updating your site. Trends change and sometimes what customers look for and how they're looking for it changes, too. Keep an eye on SEO best practices and check your keywords regularly to make sure your site is still ranking competitively.
Thinking "small" pages don't count. Is every single page on your Shopify store fully squared away for SEO? Even the "smaller" pages, like your About Us and Contact Pages? If not, you're missing an opportunity.
Conclusion
Optimizing your site to perform well in search engines isn't nearly as difficult as you'd think, and it's an effort that will yield results for a long time to come. Shopify SEO isn't drastically different than how you'd approach SEO on other CMS systems, but understanding exactly how to tackle it is essential if you want to maximize the benefits you're getting from it.
Remember to optimize each page individually—including every individual product page—and to keep an eye out for opportunities like crawl-able reviews you can share on your site.
What do you think? How do you make sure your Shopify SEO game is on target? Did we miss any of your favorite tips? Share your thoughts and questions in the comments below! 
Leave a comment