The Step-by-Step Guide to Keyword Research
by Jacob Baadsgaard • December 6, 2017
Keywords matter. There's no doubt about that. If your target audience is actively searching for a business, service or product like yours, you want to make sure that they find it. Most businesses understand this in theory, but struggle to actually choose the right keywords that will benefit them most.
That being said, keyword research isn't nearly as difficult as some people expect…once you know which tools to use and how to interpret the data. This is a crucial set of skills that all business owners, copywriters and marketers need to know, so in this post, we're going to take you step-by-step through the process so you'll be able to optimize your site in no time at all.
Keyword Tools to Choose From
Before you can start searching for keywords, you need to choose the right keyword researching tool. There's plenty of great ones out there, some of which are free and some you'll pay for.
The two at the top of my list are SEMrush and Moz's Keyword Explorer. Both tools have great interfaces and provide in-depth keyword data regarding search volume, difficulty levels and more. They both also have great features, like keyword suggestions to help you see what alternatives you're not considering.
I've tested out a lot of different keyword research tools and these two by far consistently offered more data and better keyword suggestions than any other tool out there.
However, if neither of these tools fit your needs for whatever reason, don't be afraid to try the others that are out there. Many offer free trials so you can take a look at what they can offer you.
How to Find the Right Keywords
After you've chosen your keyword research tool, it's time to start searching for keywords. You can start with either a really general keyword like "youtube marketing," or something more specific like "how to monetize youtube marketing".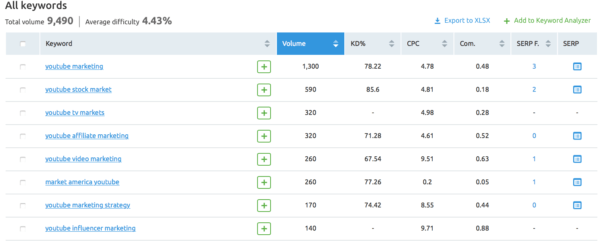 When you enter in your keyword term, your keyword research tool should immediately tell you a couple of things: the search volume and the competition level. You should also see different keyword suggestions along with their search volume and competition level.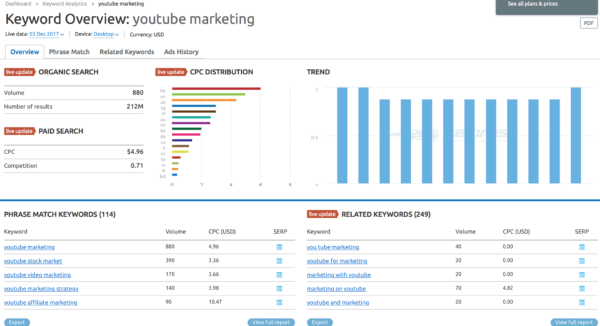 Some keyword tools, like SEMrush, allow you to compare different keywords directly. You can use their Magic Keyword tool to find strong keyword suggestions and compare them against each other for volume and difficulty.

Ultimately, you'll want to strike the best balance possible between high volume keywords and low-competition keywords. Established brands with high site authority don't have to worry about this quite as much, as they can rank for relatively high competition keywords and do pretty well in the SERPs.
Smaller businesses building up their site authority, however, need to consider this carefully. Optimize for keywords that you have a realistic chance of ranking for and you'll have more success.
Keep in mind that you don't want to just pick one keyword for a post or site page and be done with it. Use the keyword suggestion features to find additional phrases that you can use to increase the odds of showing up in the right searches. These should be included in your content (including alt image text and subheads) just as your primary keyword would.
Long-tail vs Short-tail Keywords
When choosing a primary keyword for your webpage, should you choose a long-tail keyword or a short-tail keyword? The right answer depends on several factors.
For website pages, it's typically a good idea to focus on a short-tail keyword, like "orlando wedding photographer" or "chicago fire restoration".
These are the phrases that people are most likely to be searching for when they're looking for specific products or services, so do your keyword research and find out the exact phrases they're looking for and optimize for them.
Blog posts and other types of content, however, often do better with long-tail keywords. This is especially true for small businesses trying to get an edge when ranking.
The specificity of long-tail keywords often means that it's easier to rank for them…but it also means less people may be searching. Still, if someone is searching for that exact phrase, they might be looking for the exact content you've provided.
Generally, optimizing all content for a mix of long-tail and short-tail keywords is a good strategy.
What About Keyword Research for Google AdWords?
Pop quiz: does difficulty level matter when you're choosing keywords for Google AdWords campaigns, since you'll be paying to get ahead of the competition?
The answer is yes, it matters a lot.
While you'll be paying to get ahead of all of those organic searches, the high difficulty level and a high volume level often means that there's not only a lot of organic search competition, but PPC competition, too. And this means that CPC costs start going up really quickly.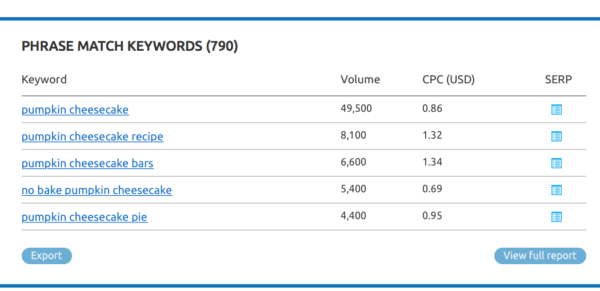 Many keyword research tools will provide you data on the competition, volume and CPC of keywords as it relates to Google AdWords. Of course, even if the CPC gets high, it may still be worth it to rank for those high volume, high competition keywords. Calculate what you can afford to spend per click on your AdWords campaigns, and take that into consideration when looking at CPC costs of different keywords.
Final Thoughts
Knowing how to conduct keyword research, interpret the data and choose the right terms for your business is key. Taking a random guess at a keyword that you think would be popular or choosing high volume keywords without considering any other factors can both work against you if you haven't done the proper research to back it up.
Remember to optimize your entire site and all content—blog posts and social media content included—with carefully-chosen keywords and you'll see increases in traffic in no time.
What do you think? Which keyword research tools do you use? What types of keywords have worked best for your business? Share your thoughts and experience in the comments below!