Selling with Shopify: How to Build a Profitable Shopify Store
by Aden Andrus • May 8, 2018
Whether you're just launching your first ecommerce business or you've been selling products online for years, you've probably heard of Shopify.
Since it's launch in 2004, Shopify has evolved from an online snowboarding gear store into the largest storefront-management platform in the world.
Today, over 600,000 merchants have used Shopify to run their online stores, and with good reason: Shopify is a fantastic ecommerce platform.
In this article, however, we're not going to try and convince you to use Shopify or talk about why you should or shouldn't pick Shopify over another ecommerce platform. Instead, we're going to discuss what Shopify is, what you need to keep in mind while using Shopify and how to set up, manage and optimize a profitable ecommerce store using Shopify.
For the sake of this article, I'm going to assume that you've already know what you want to sell and have your supply chain and the rest of your back end technical details figured out (if not, check out this blog article for help with that). Here, we're going to focus on getting your Shopify store running and profitable.
Sound like a plan? Let's get started!
What is Shopify?
First, before we dive into the details of setting up and running a Shopify store, let's pause for a moment to discuss what Shopify is, what you can expect from Shopify and some of the strengths and weaknesses of the platform.
Shopify is a cloud-based ecommerce store platform that giant brands and new entrepreneurs alike use to create online storefronts.
As you can probably imagine, with a user base like that, Shopify is incredibly adaptable. You can set up a quick Shopify store in a matter of minutes or use the platform to build a highly-customized, multi-national, multi-lingual platform enterprise ecommerce operation.
To meet these different needs, Shopify offers three subscription levels ranging from $29/month to $299/month: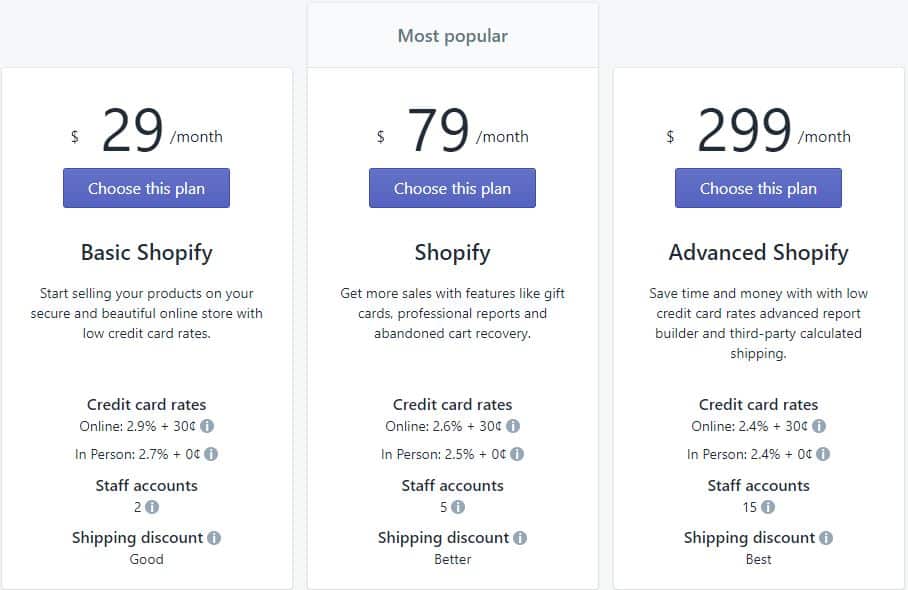 The biggest differences between these tiers are how many built-in features your store comes with and discounts on credit card rates and shipping, so the "right" tier really depends on you and your business needs.
Shopify's Strengths
There are a lot of things to love about Shopify. It's a well-designed platform with a well-established community and hundreds of themes and apps you can use to create a truly customized experience for your customers.
In fact, you're probably reading this article because you're already sold on Shopify, but here are a few key features you may not have thought of:
Cloud-based, so you can access it anywhere, anytime—all you need is an internet connection.
Integrates with top marketing tools.
Includes a secure, built-in payment processing system.
Based on LIQUID development language, which makes it easy to create custom apps and templates for the platform.
Has robust support documentation and an active, responsive user community.
Provides excellent customer support.
These extra features make Shopify particularly easy to use and optimize, which is part of the reason why the platform has been such a big success.
Shopify's Weaknesses
Unfortunately, there is no "perfect" ecommerce platform. Shopify does have some limitations that you should be aware of as you set up your store.
Here are a few things to keep in mind:
Shopify is easy to use, but unless you're willing to pay for the ultra-premium Shopify Plus (most people aren't), you can't customize certain areas of your store like the checkout page.
All of those exciting plug-ins typically come with not-so-exciting monthly subscription fees—which can dramatically increase the cost of operating your store.
Reporting is limited for the lowest-tier plans.
You can only operate one store per account. This may be changing sometime in the next year or two.
Search engine optimization (SEO) can be a bit challenging.
It can be hard to sell downloadable or virtual products.
You can't sell pharmaceuticals, supplements, gambling-related products, marijuana, alcohol or adult content—although these are fairly common exclusions for many ecommerce platforms.
In general, none of these weaknesses are truly crippling, but it's important to know what obstacles you will need to navigate as you create your Shopify store.
Altogether, Shopify is a very strong shopping platform that offers a variety of great options you can use to build a high-quality profitable ecommerce business. Let's get started!
Getting Started with Shopify
Once you've signed up with Shopify and given them your basic information (username/password, address, domain name, etc), Shopify takes you to your new storefront management interface.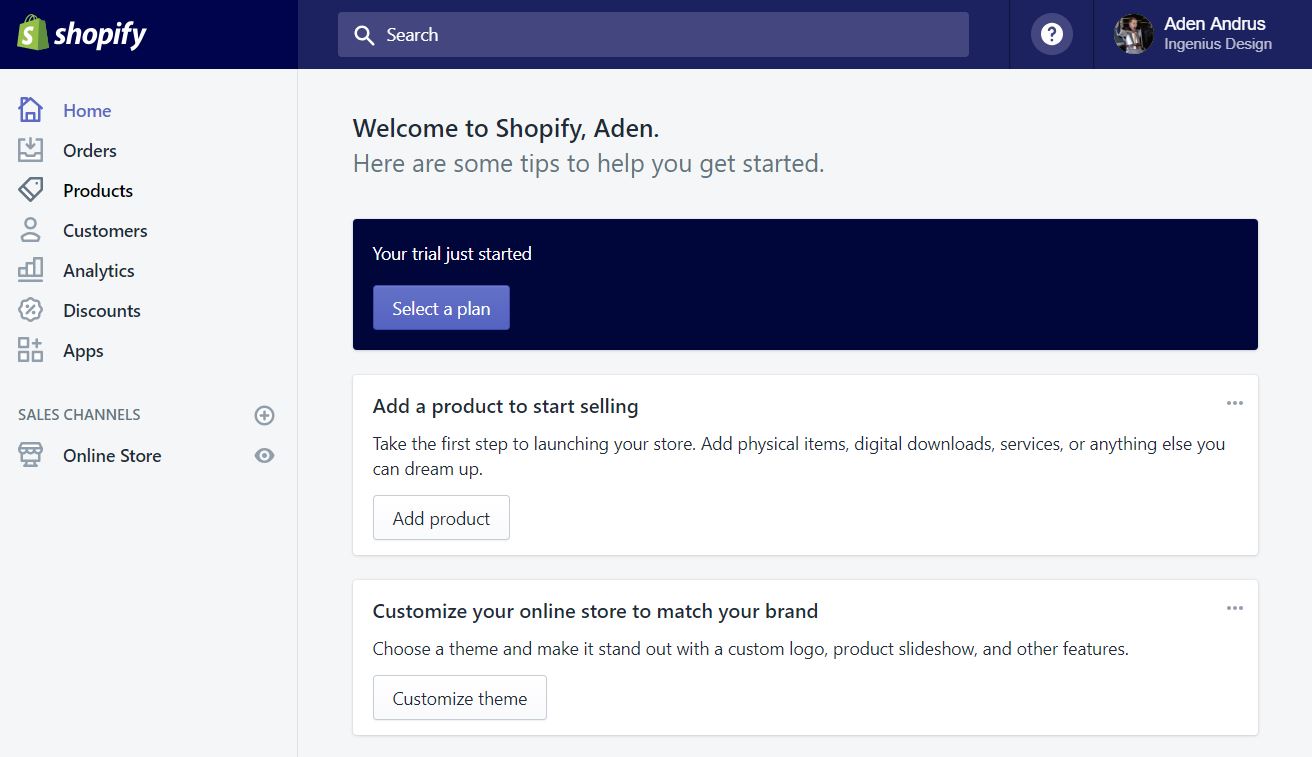 This is where you'll do the majority of your Shopify management tasks, so it's a good idea to spend a few minutes getting familiar with the interface.
As you can probably imagine, Shopify wants the setup process to be as simple and straightforward as possible, so your homepage immediately gives you the option to add your products. Go ahead and click "Add product" and let's take a look at your options.
Adding Products to Your Shopify Store
When you add items to your Shopify Store, Shopify gives you a variety of fields to complete.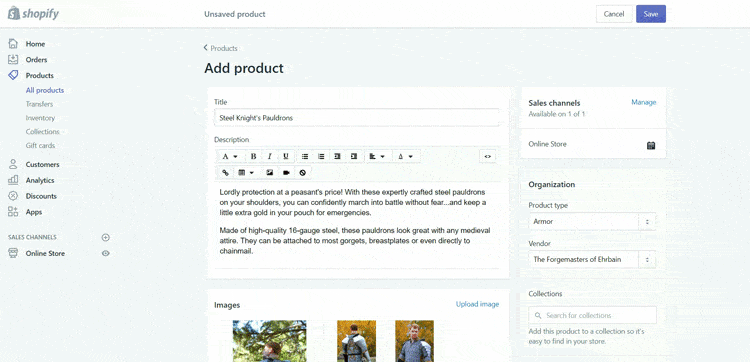 Most of these fields are fairly straightforward product organization or shipping fields. You should be able to complete these fields using the information in your product catalog.
However, getting your title, description and images right can have a huge impact on the success or failure of your store. Outside of work, I create and collect costumes, so let's use a pair of pauldrons (medieval shoulder armor) to discuss how to effectively complete these fields.
Title & Description
Your title and description field contain text that tells your potential customers what your product is, how it's made, what it does and other important information.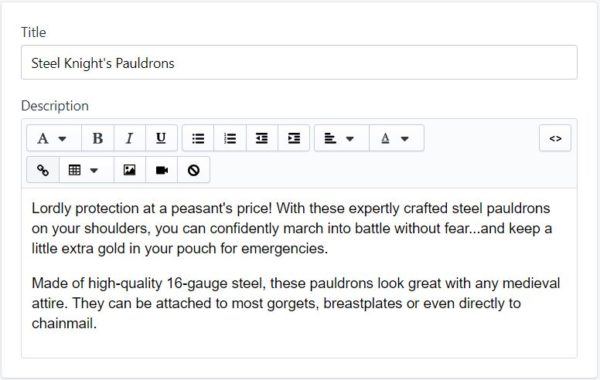 In addition to telling your customers about your product, your title and description are what Google will look at for determining which organic searches your product can show up for.
It's important to note that these organic search result placements are different than paid search text ads or Google Shopping ads.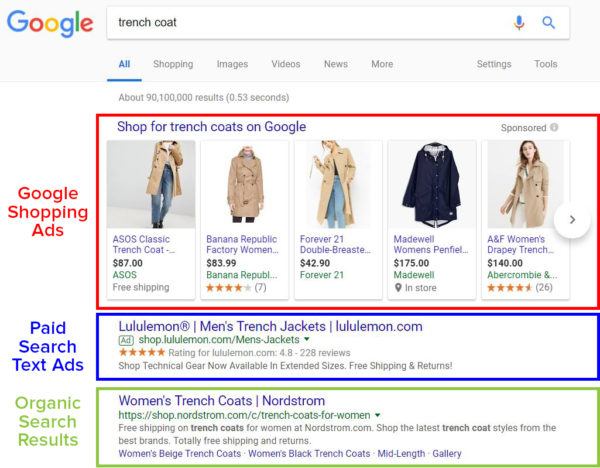 If your product page ranks organically for a particular search, you can get clicks to your page for free. However, there's no guarantee that your product page will rank organically—even if your product is a perfect match for someone's search.
You can improve the likelihood that your product page will show up for a relevant search by optimizing your title and description (this is called "search engine optimization" or "SEO"), but even the most optimized page can still struggle to rank—especially there is a lot of competition for your target keyword(s).
To tweak how your title, meta description and URL will appear on Google, expand the "Search engine listing preview" at the bottom of the "Add products" page: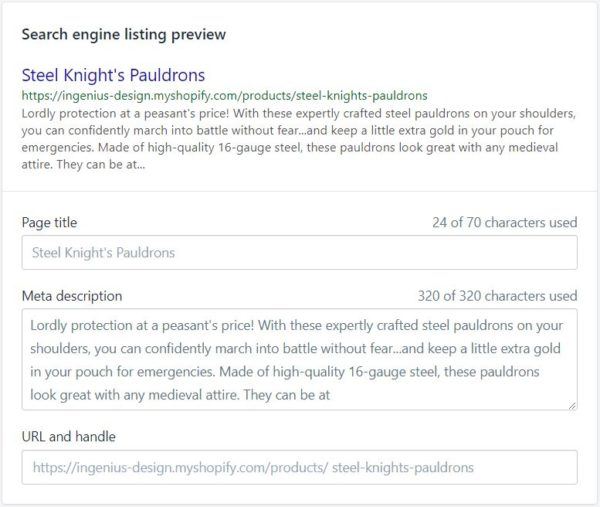 With Google Shopping ads and text ads, you have to pay for every click. However, if you're willing to spend enough, you can guarantee that your product page shows up for relevant searches.
There's a lot of debate out there about what constitutes a "good" product title and description. But, most experts agree, your product page content should cater to your customers.
So, if you're selling an expensive product to an audience that cares all about the specific details and features of that product, your description should cover all of those features in detail.
On the other hand, if you're selling a cheap, run-of-the-mill item, you might want to keep your description short and sweet to avoid overwhelming potential customers.
Images
In online shopping, image quality matters…a lot! Since people can't actually examine your product in person, they are forced to rely on your images to make a decision.
So, if you don't have great images, you probably won't have great sales, either.
Image Optimization
Ideally, it's best to have high-quality, clear images taken from a variety of angles. In addition, if your product has special features that you want to highlight (detailed embroidery, hand-carved trim, etc), it's a good idea to include specific photographs of those features on your page.
Another great way to get more out of your images is to feature them in actual use. This helps people envision what owning or using the product will be like.
For example, most people who are interested in buying medieval armor want to look like (or have their significant other look like) a studly, manly knight, so including pictures like this might help convince people to buy:
As you photograph your products, make sure that your lighting and color schemes match the feelings you want people to associate with your product. Hi-tech products look best in clean or high-contrast environments, while eco-friendly products work better with more natural hues, tones and backgrounds.
If photography isn't your thing, many products come with high-quality photos from the manufacturer. If that isn't the case (or you think custom photos will sell better), you can also find a professional photographer through Shopify Partners.
Loading Speed Optimization
Unfortunately, images are something of a double-edged sword. While high-quality images are great at convincing people to buy, they can also slow down your website.
Most people will only tolerate a page load time of about 2 seconds, so if those beautiful photos don't load quickly, they could end up killing off potential sales instead of aiding them!
As a general rule of thumb, each image should be less than 70 kb.
Now, most high-quality photos are a lot bigger than 70 kb, so you'll probably need to resize them for your product page. The easiest way to do this is to use photo-editing software like GIMP (free, but clunky) or Adobe Photoshop (easy, but costs money).
To resize your photos in Photoshop, open your image in Photoshop and click File > Export > Save for Web: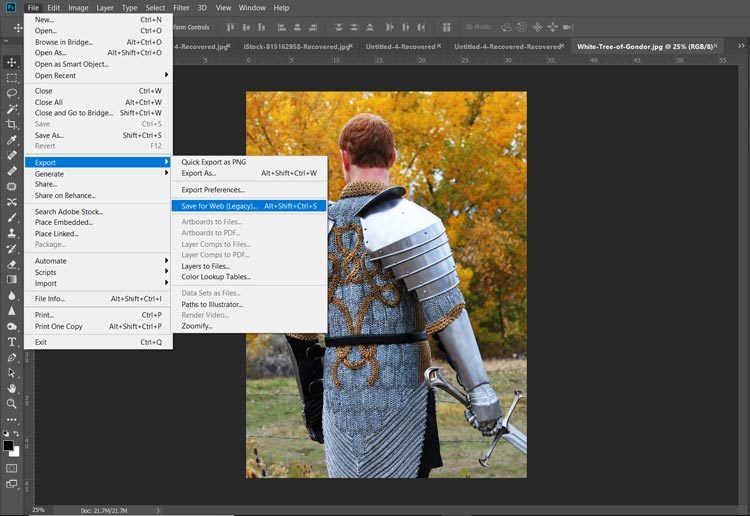 From there, you can play around with a variety of settings until you find the right balance between file size and image quality (color-coded to match where they show up in the image below):
Quality.

 Lower numbers = lower image quality and lower file size.

File format.

 In terms of file size, JPEG < GIF < PNG. But, the same rule applies to image quality.
Optimization. Checking the box tells Photoshop to optimize your image for web use (decreases image size).

Color.

 Fewer colors = lower image quality and lower file size.

Image size.

 Allows you to choose the actual number of pixels in your image. Fewer pixels = smaller image and lower file size. Keep in mind that if you save an image at smaller size than it will be shown on your page, your image may be stretched to fit your page, resulting in heavy pixelation and/or image distortion.
You can see the file size in the bottom left-hand corner of the window. This number—along with a preview of your final image—will update as you make changes to your export settings.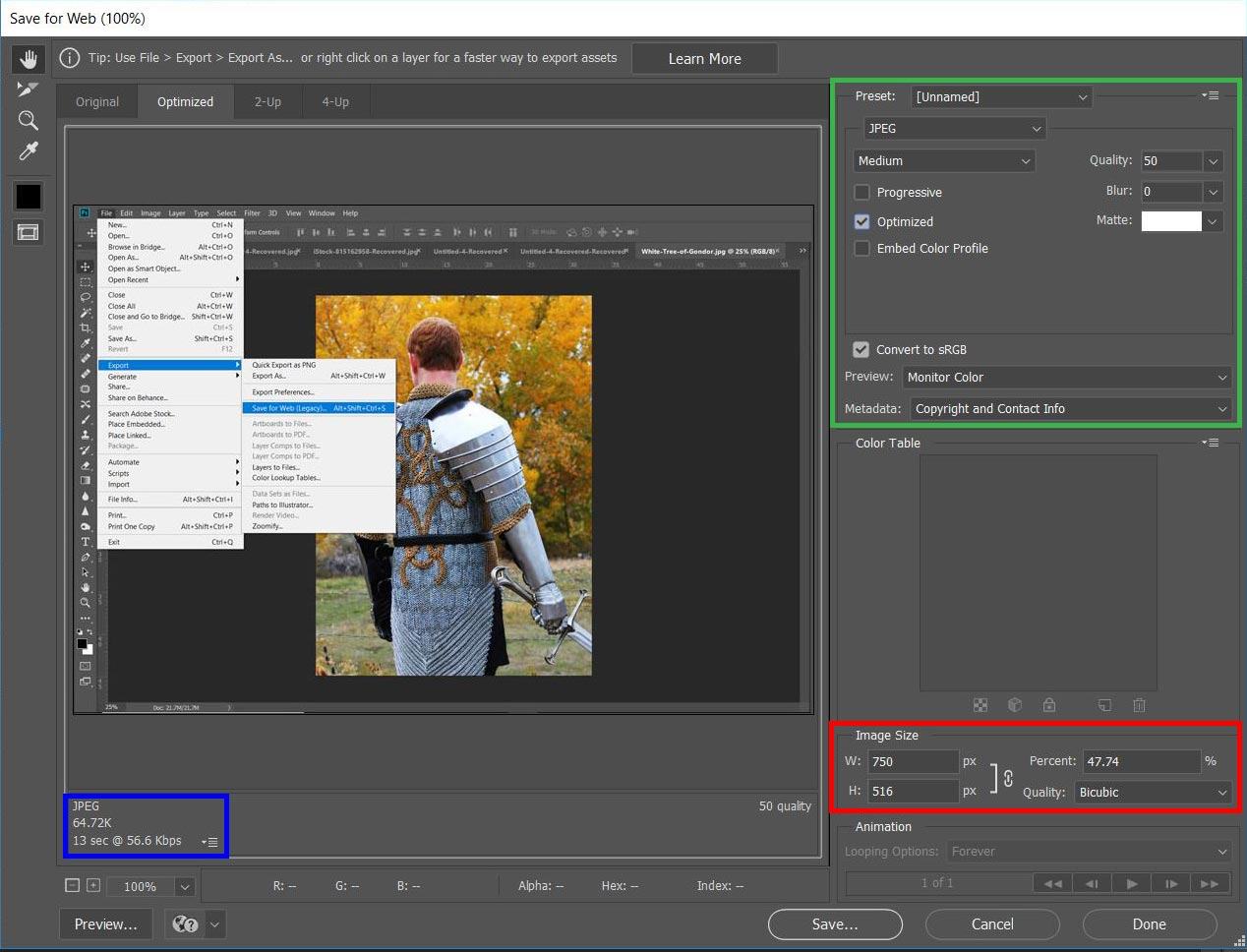 Yes, I'm saving my "Save for Web" screen shot in the "Save for Web" window. I just couldn't resist adding an "Inception" moment here…
Photoshop's "Save for Web" tool (other photo editing programs have similar tools) make it fairly easy to balance image quality and file size. That way, you can make sure that your pictures really sell your products without compromising on load speed.
Adding Products in Bulk
If you only have a few products to sell, you can easily add them one by one using the interface above. However, many e-retailers sell hundreds or thousands of products.
In this situation, it's usually easiest to import a list of your products by clicking on "Products" in the left-hand bar, then clicking "Import":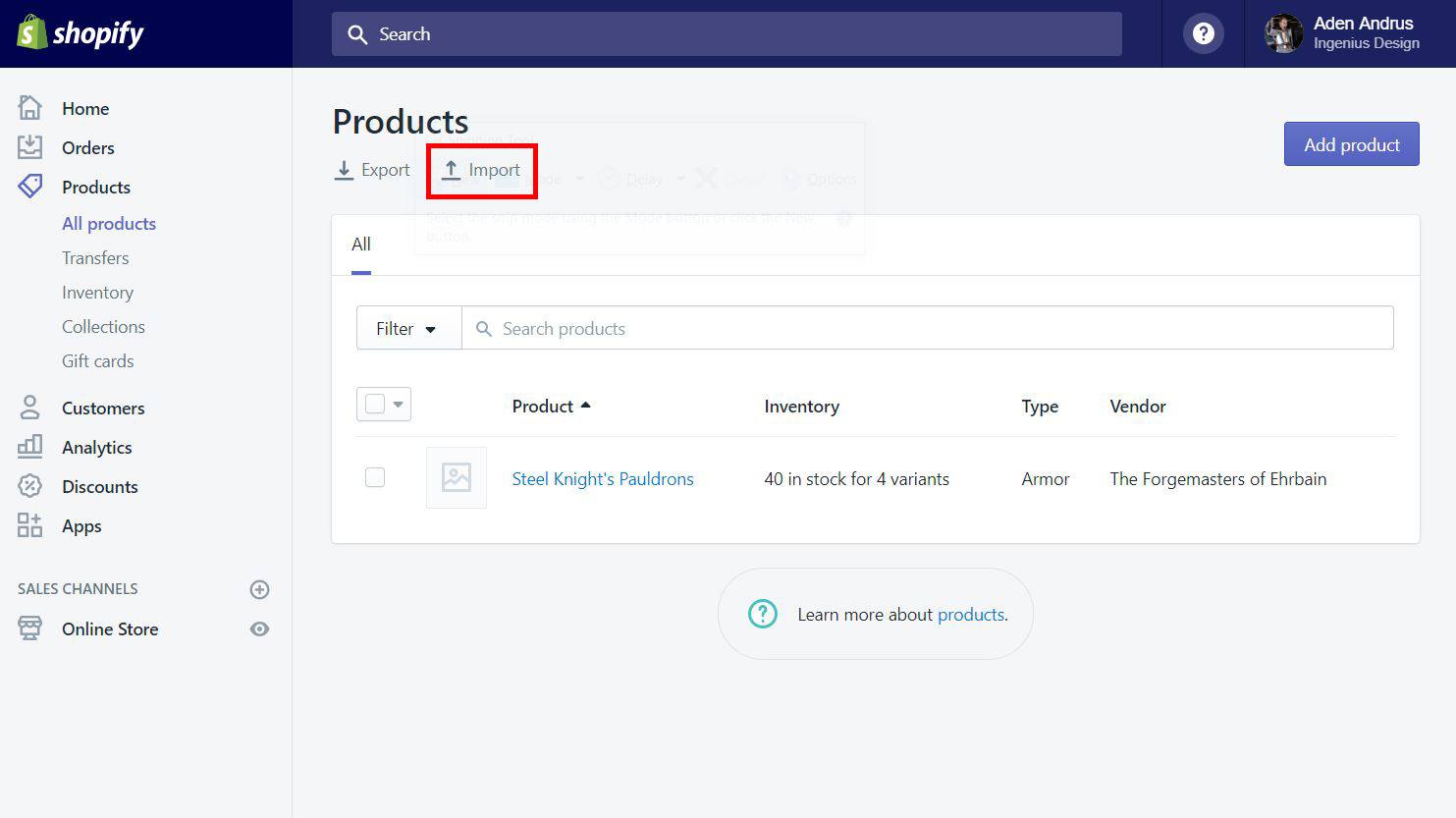 This will allow you to import a spreadsheet of products into Shopify. If you set up your spreadsheet right (Shopify offers a .CSV template to help with this), Shopify will create all of your products and fill out the relevant information for you!
Choosing Your Shopify Theme
Once you've entered all of your products, it's time to put your store together. Click "Customize theme" from the "Home" tab to pull up your theme options.
Here, you have a variety of options you can use to customize the look and feel of your Shopify store: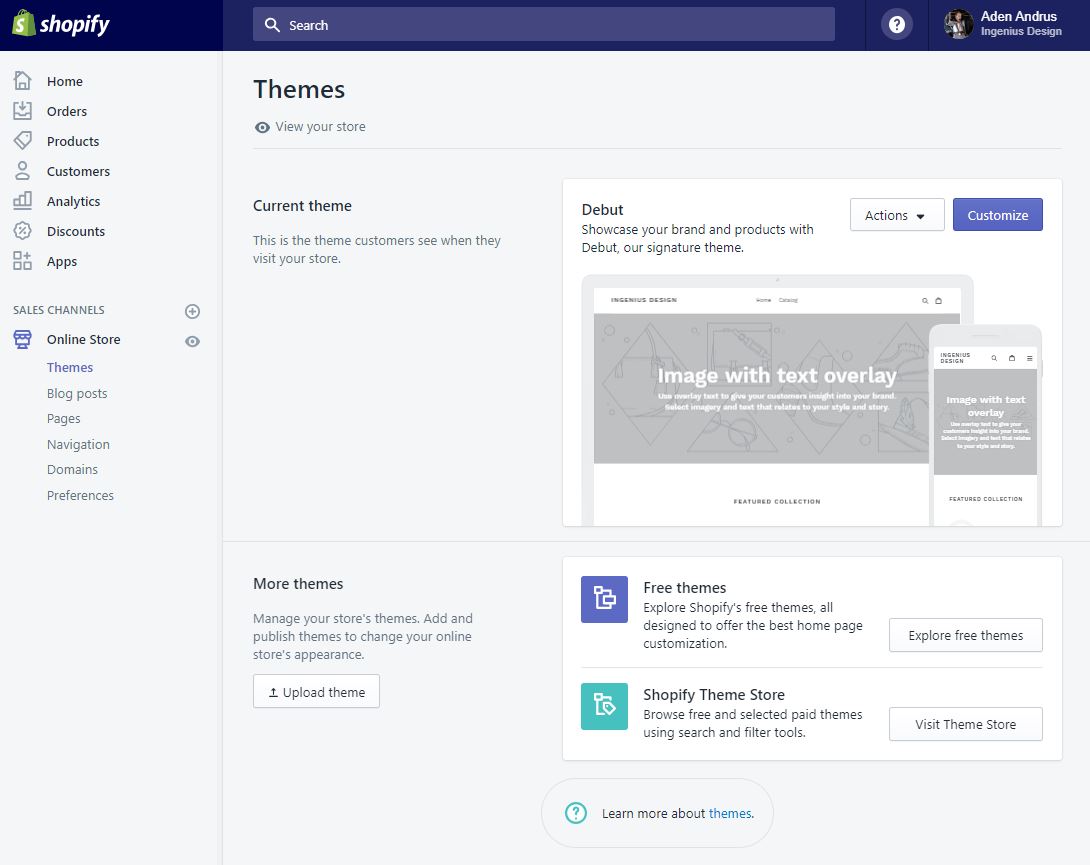 Shopify themes are predesigned store designs that you can use to feature your products without having to hire a designer or a developer to create a beautiful online store front for your business.
Initially, your store is using the default "Debut" Shopify theme. It's free and it looks fairly good: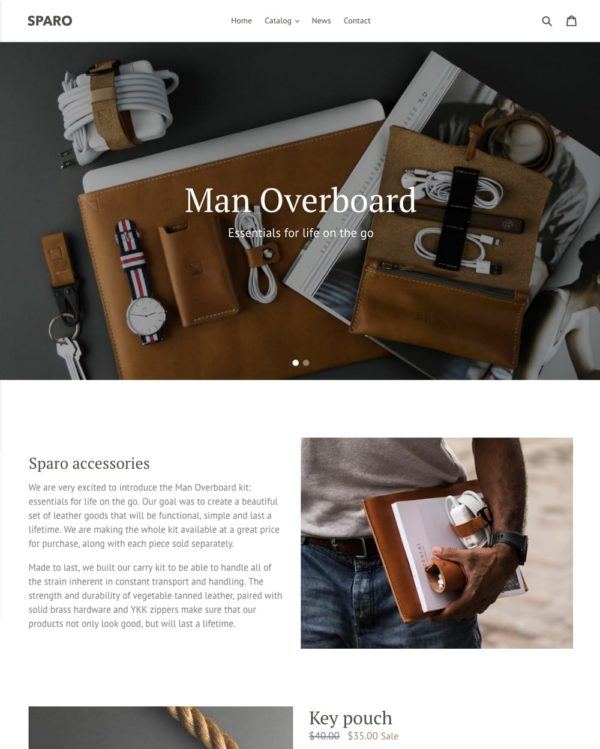 Like many Shopify themes, "Debut" also comes with a light-colored variant: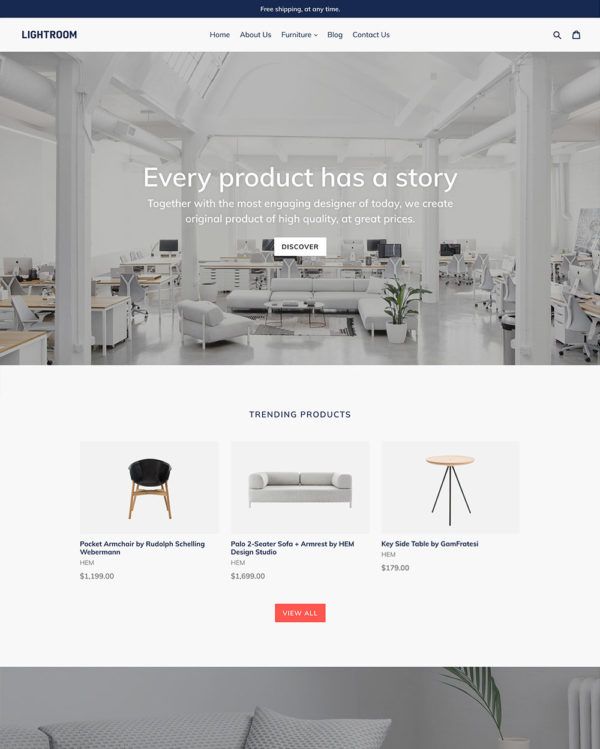 If, like many e-retailers, you want something with a more unique look or different options, you can click on "Explore free themes" to see a variety of other themes (and their variants) that you can choose from: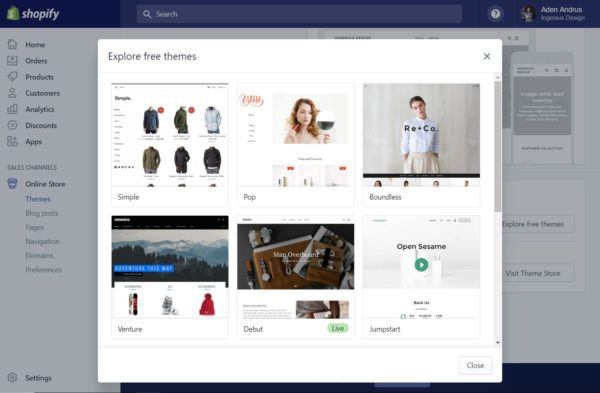 If you're willing to invest a little money into a theme, you can also look through several dozen Shopify themes in the Shopify Theme Store or use a site like ThemeForest to see hundreds of potential options.
The only real advantage of picking a theme from the Shopify Theme Store is that you can instantly add and customize your new theme. If you pick a theme from an external site, you'll need to download the theme and then click "Upload theme" to add your new theme.
Either way, once you've picked your theme, you'll need to click "Actions > Publish" to make a new theme active.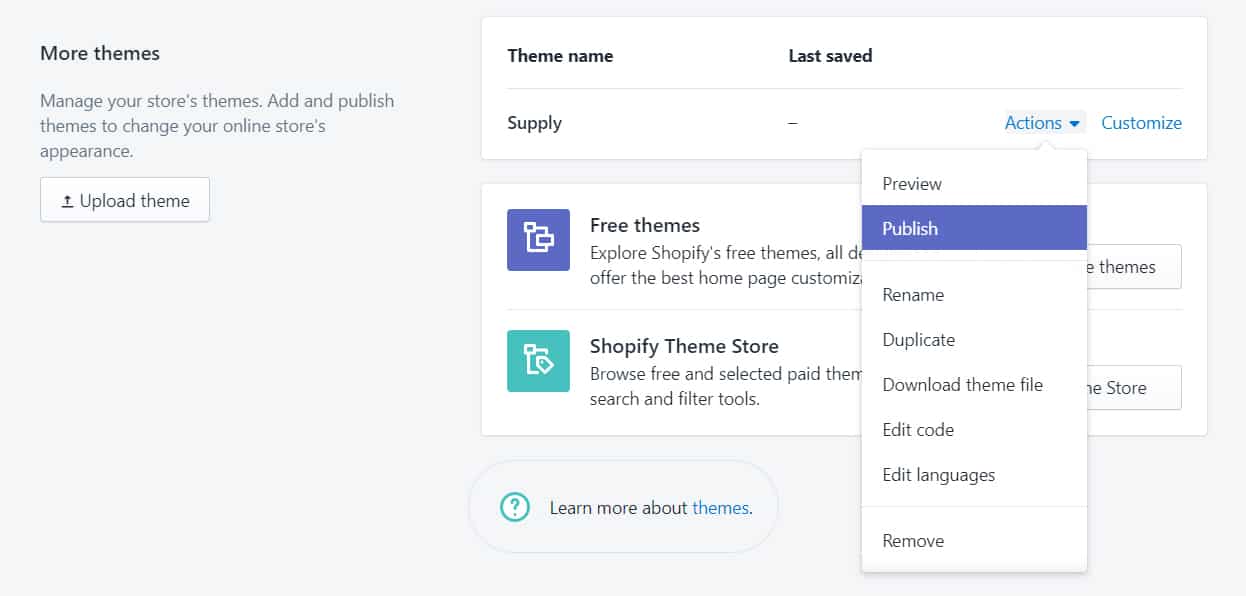 As you can probably imagine, you can't just pick a theme and launch your store. You'll still need to do a decent amount of customization to ensure that your theme meets your needs.
To tweak your theme, click "Customize". This will bring up the theme editor: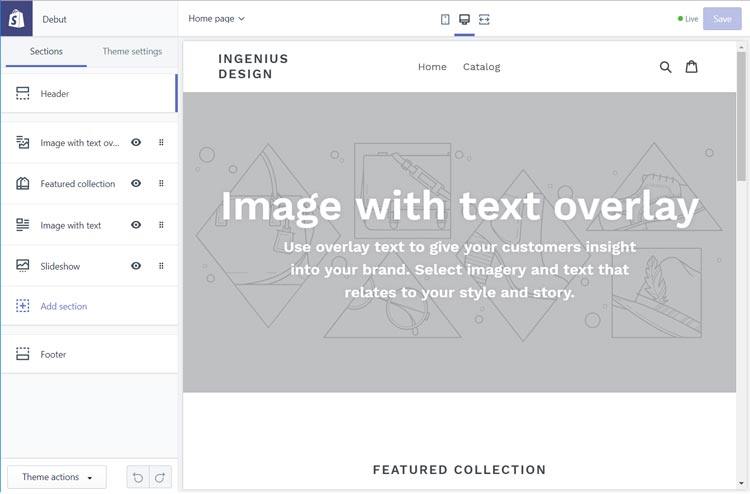 Here, you can add sections, delete sections or edit sections to your heart's content.
Adding Non-Product Pages to Your Store
Shopify automatically creates separate pages for each product, but most themes will also allow you to create additional pages (FAQ pages, Contact Us pages, Sizing Chart pages, etc).
To create a specific page on your site, click Online Store > Pages in the left-hand sidebar, then click the blue "Add page" button to bring up the following: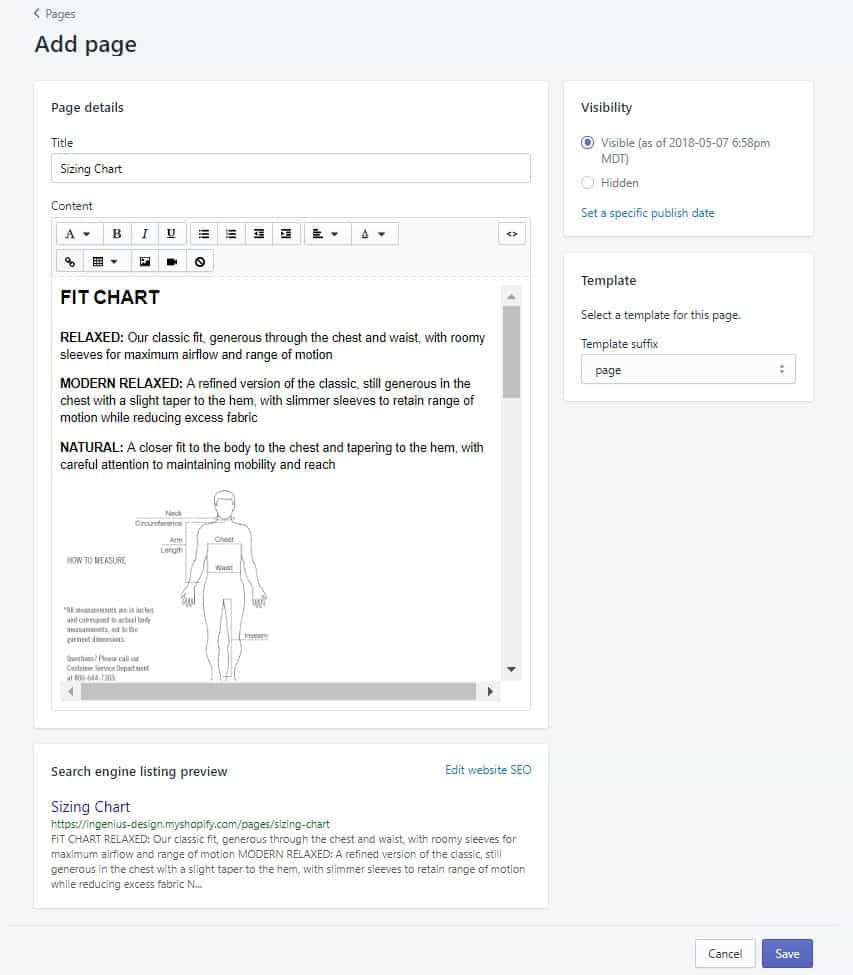 As with your product title and description, if you want this page to rank organically on Google and other search engines, you need to keep your target keywords in mind while writing content.
If you don't want this page to show up in search results, change the visibility to "Hidden". Also, if you want to have a contact form on the page, change the page template to "page.contact".
Once you've created your page, you can then link to it in your header or footer by clicking Online Store > Navigation in the left-hand sidebar and then clicking on the appropriate navigation menu.
Adding Apps
While the basic Shopify options are certainly good enough to get your store up-and-running, there's a good chance that you'll want some additional features to help seal the deal with potential customers.
In this situation, you can either hire a developer to create a custom solution or check the Shopify App Store.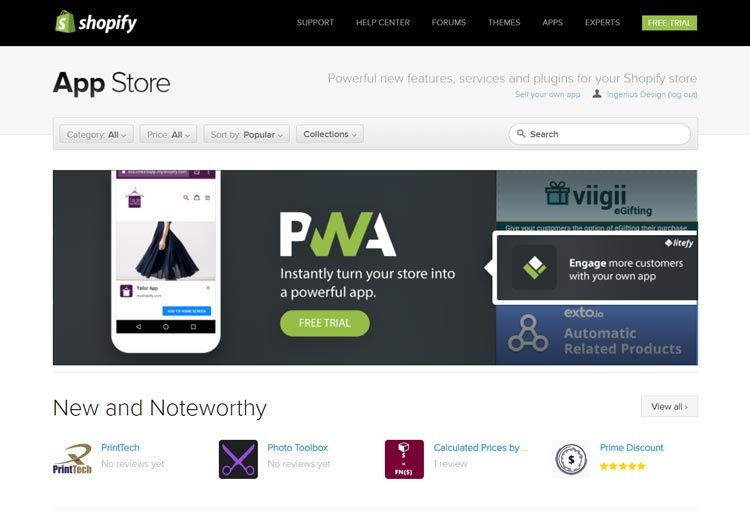 The Shopify App Store offers hundreds of apps that you can add to your store. For example, if you want email-collection pop-ups…there's an app for that. If you want a sale-countdown clock…there's an app for that. Want to offer gift cards? There's an app for that.
In general, before you hire a developer, I recommend checking out the Shopify App Store. There are a mind-boggling number of apps available there and you can even read reviews before you add a particular app to your store.
One thing to keep in mind, however, is that these apps do cost money. Some developers charge you a monthly fee to use their app, while others only charge you a one-time fee.
With all that in mind, it pays to take your time, think about what features you want to add to your site and how those will contribute to your customer experience and then find the right apps for the job. To help you get started, here are a few apps that you should definitely consider:
1. Yotpo Reviews
Yotpo is an extraordinary tool that helps businesses collect and display user-generated content (UGC), so it's no surprise that their Shopify plugin is immensely valuable.
Yotop sends well-timed emails requesting reviews and displays those reviews on your Shopify store in a small widget. You have full moderation control over these reviews and you can use Yotpo to drive traffic from Facebook and Twitter and display product ratings on Google Shopping.
And that's just with the free plan (additional features can be found for additional cost here). Since even just one good product review can lead to a 10% increase in sales, having a handy app to help generate reviews is a great way to get the most out of your Shopify store.
2. Edit Order by Cleverific
How many times have you, as a customer, placed an order and then immediately realized that you made a mistake? Maybe you put down the wrong shipping address, ordered the wrong size or color or forgot a promo code.
Stuff happens, right?
Shopify's native interface doesn't deal with these changes so well on their own, so the Edit Order app is a lifesaver for merchants and the customers they're serving. As long as the order hasn't shipped, you can go in through the plugin and change order details.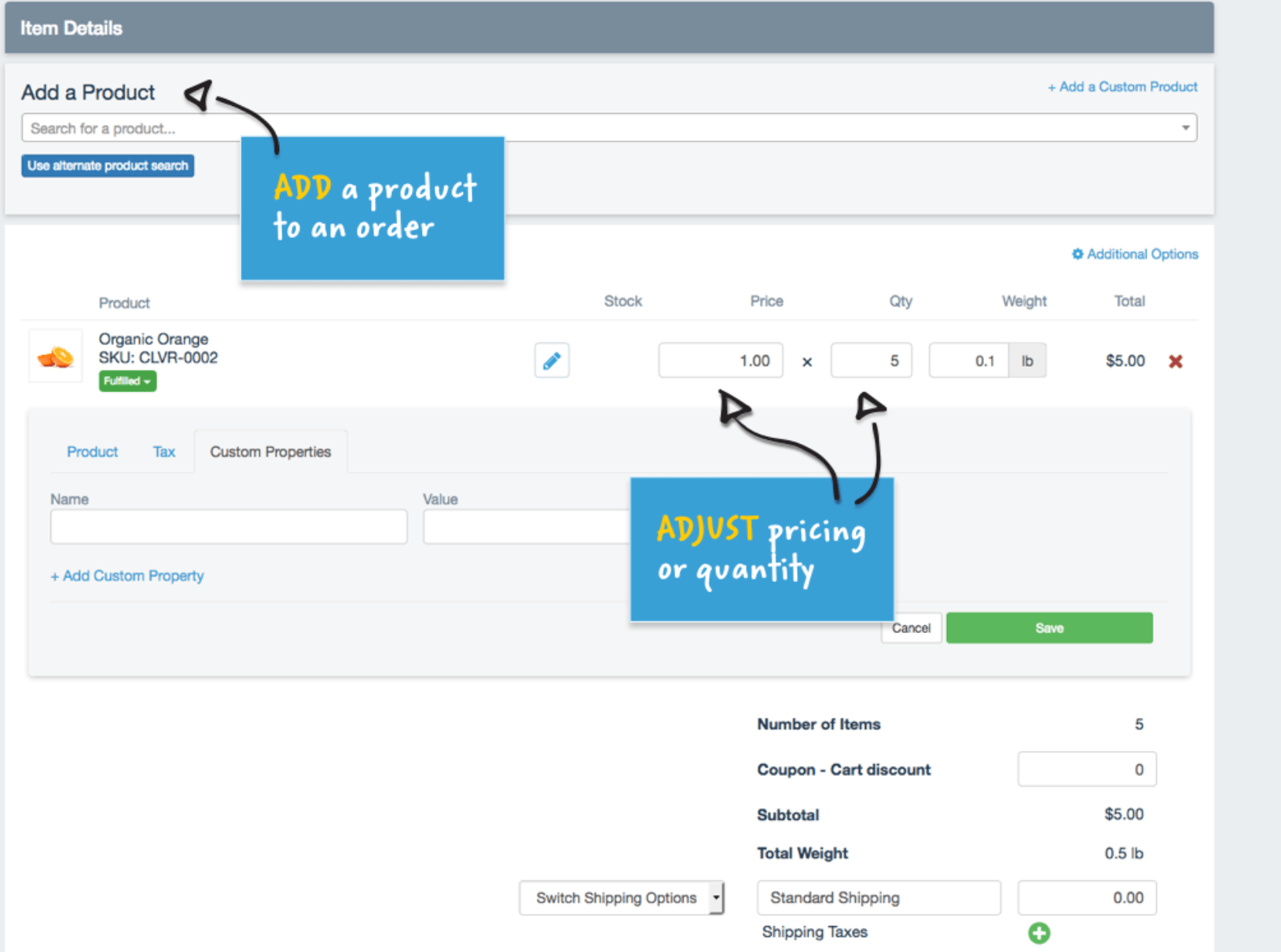 In addition to improving the usability of your Shopify Store, the Edit Order app can help reduce shipping (and returns) costs for you and your customers. Although the app cost up to $19 a month, these savings make it worth every penny.
3. Wiser Product Recommendations
Sites that offer product recommendations sell more than sites that don't. It's a simple but undeniable fact. The Wiser Product Recommendations app allows you to put that fact to work for you by giving you the ability to place product recommendations on your Shopify store.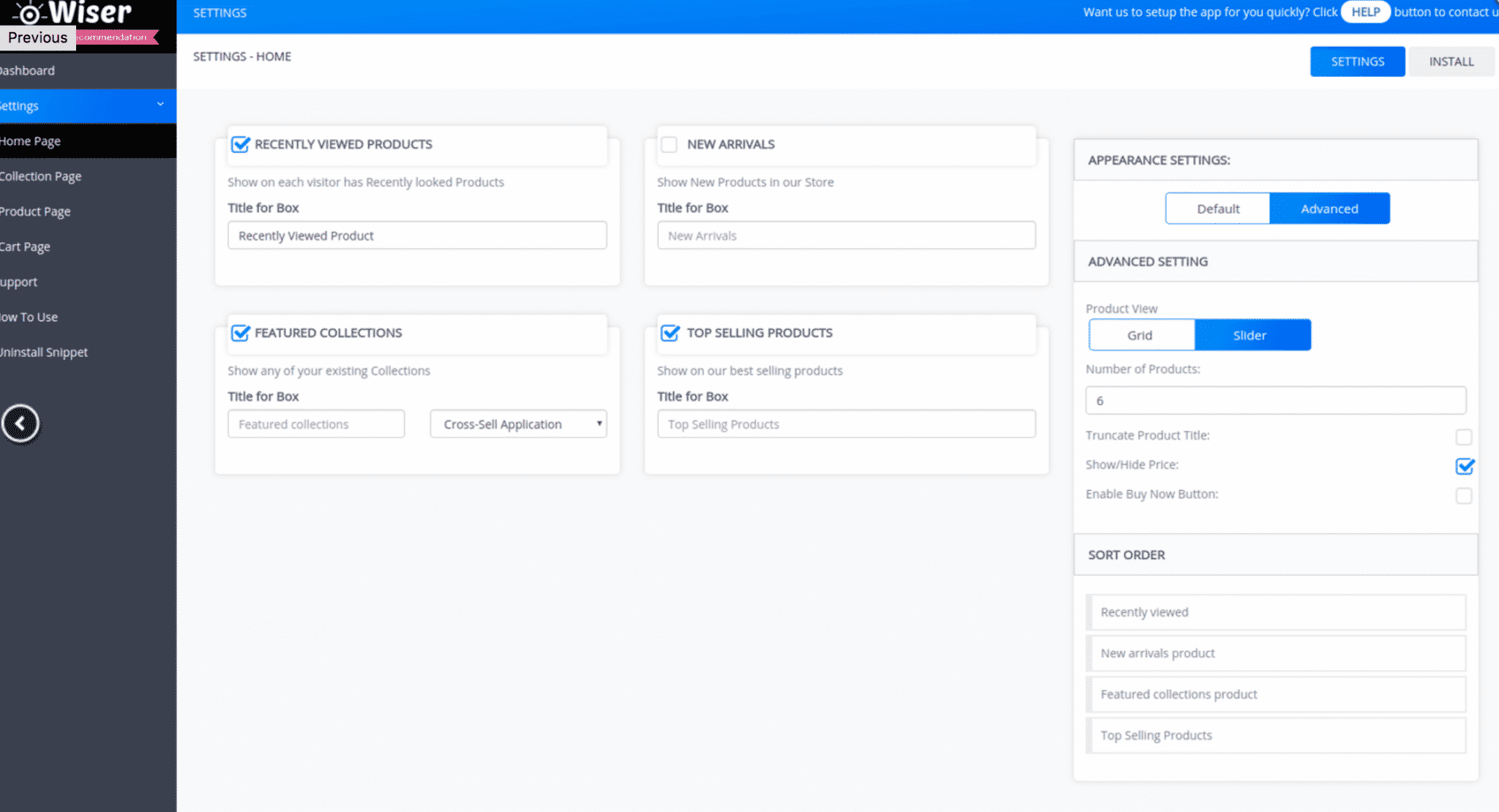 This app is very flexible. You can show users featured products (which are often upsells), best selling products, recently viewed products, new arrivals, or those similar to what they're currently looking at. The sky's the limit!
Since Wiser Product Recommendations is free, there really isn't a good reason not to use it.
4. Persistent Cart
Ever visit an ecommerce site, spend an hour researching products to find exactly what you want, put it in your cart while you think about it and then come back later to buy…only to discover that your cart was emptied in your absence?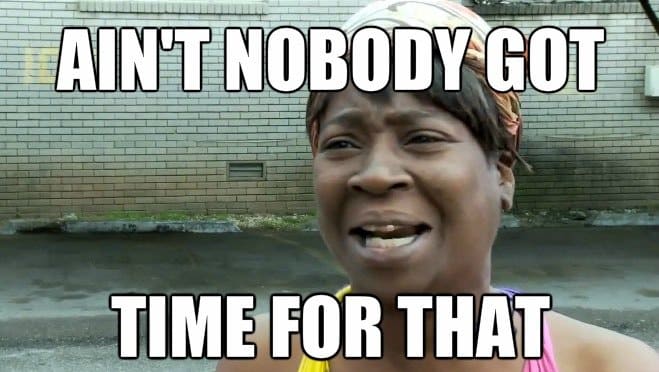 To avoid putting your customers through this ordeal, consider adding the Persistent Cart app to your store.
Persistent Cart automatically links a customer's shopping cart to their account, so it doesn't get erased if they accidentally click away from the page. This can prevent them from getting annoyed and leaving and increase sales by keeping all products in their cart, even the ones they may have forgotten about otherwise. At only $3.99 a month, it's a good app to consider investing in.
5. Tidio Live Chat
Users prefer live chat to other forms of communication and having it available on your site can increase conversions immediately. Having someone there and ready to answer order or product questions quickly can make a world of difference.
Tidio Live Chat offers a ton of great features like automated messages, mobile support and multi-language support that make live chat easy on Shopify.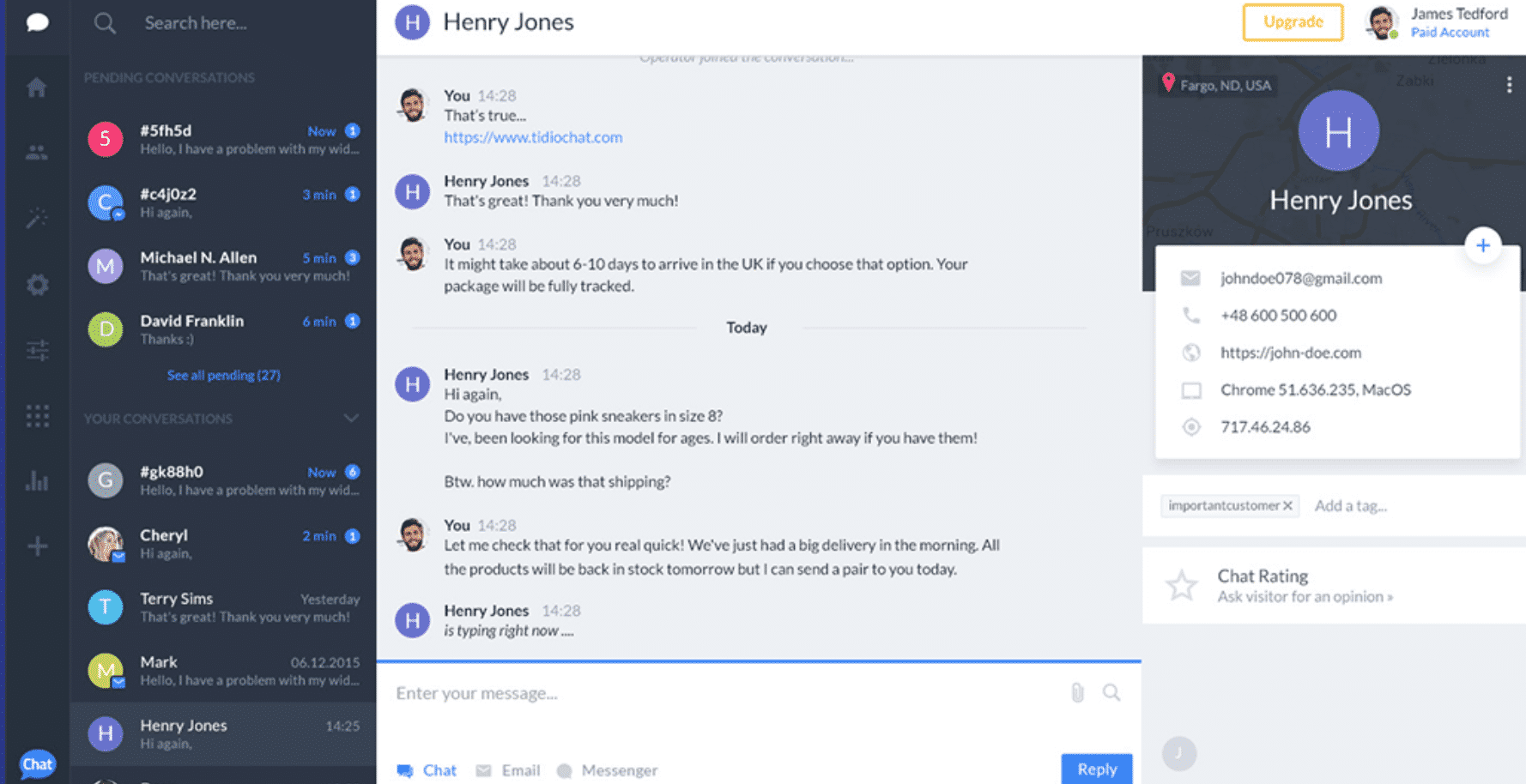 At only $15 a month, Tidio is well worth considering if there's any chance that your customers will want to contact you before, during or after they make a purchase.
6. Custom Audience Sync with Facebook
Retargeting on Facebook Ads—especially with dynamic product ads—is a popular way to reconnect with site visitors and re-engage users who have abandoned their cart. The Custom Audience Sync with Facebook by Audience Push app can help you automate your retargeting campaigns further by automatically syncing up your customer lists with your custom audiences on Facebook.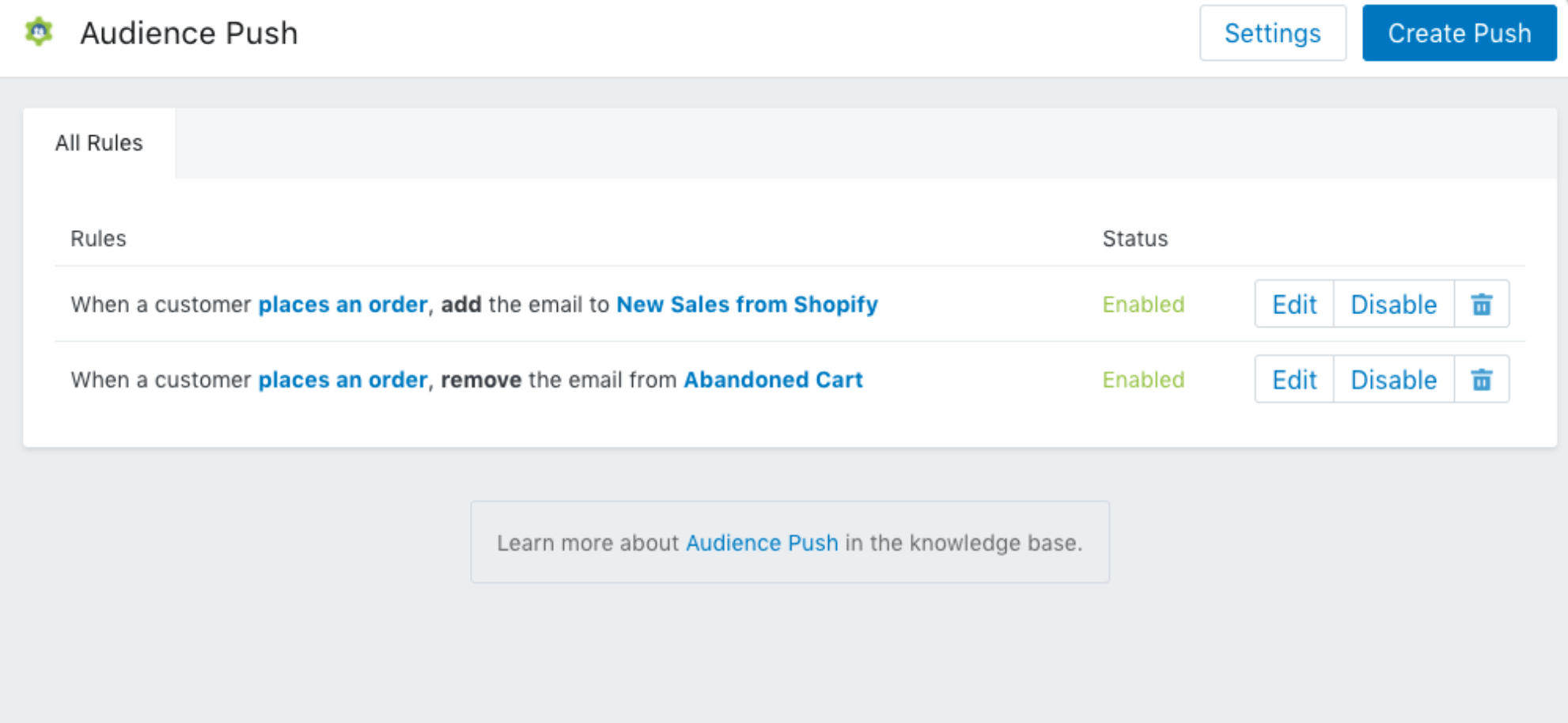 Why does this matter?
Well, the Facebook retargeting pixel will capture site activity, but it doesn't automatically add people to specific custom audiences. If you want to build long-term customer lists and use them for re-targeting, this tool will be your best friend. You can even set up rules for which customers are added to your lists, which allows you to create truly customized retargeting experiences (read more about how to make the most of this feature here).
7. McAfee Secure
To ensure the safety of your customer's information, you may want to consider adding the McAfee SECURE app. In addition to securing your customer's data, this app also allows you to display a secure certification badge on your site to help build trust. This can increase sales directly, because site visitors will feel safer to purchase from you.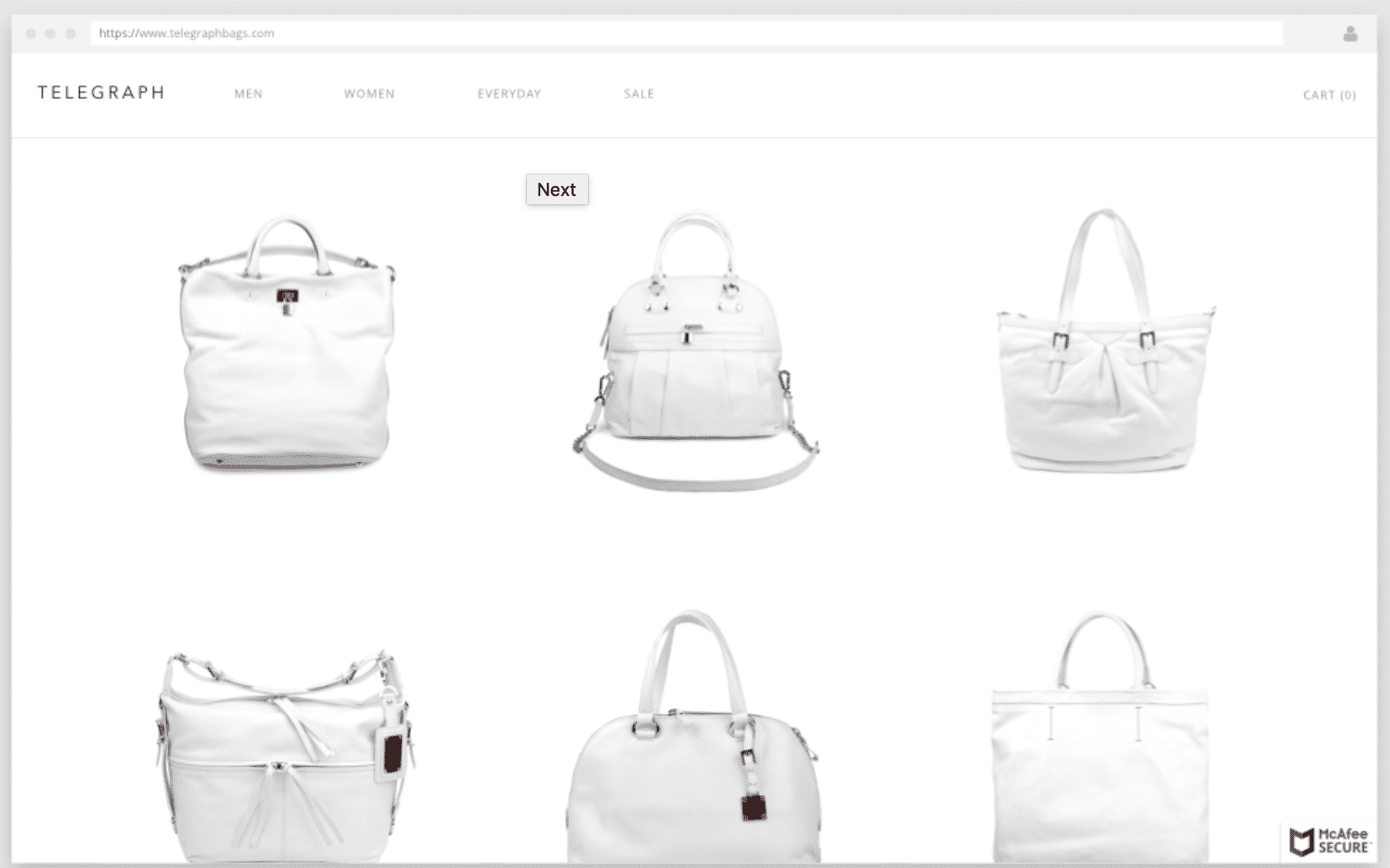 A security seal can increase sales by as much as 42%, so a free app like this can be a great way to improve the performance of your Shopify store.
8. WishList Plus
Sometimes, users aren't ready to buy something today. Maybe they don't have the funds or a need for the product at that exact moment. But they still want it. Enter WishList Plus.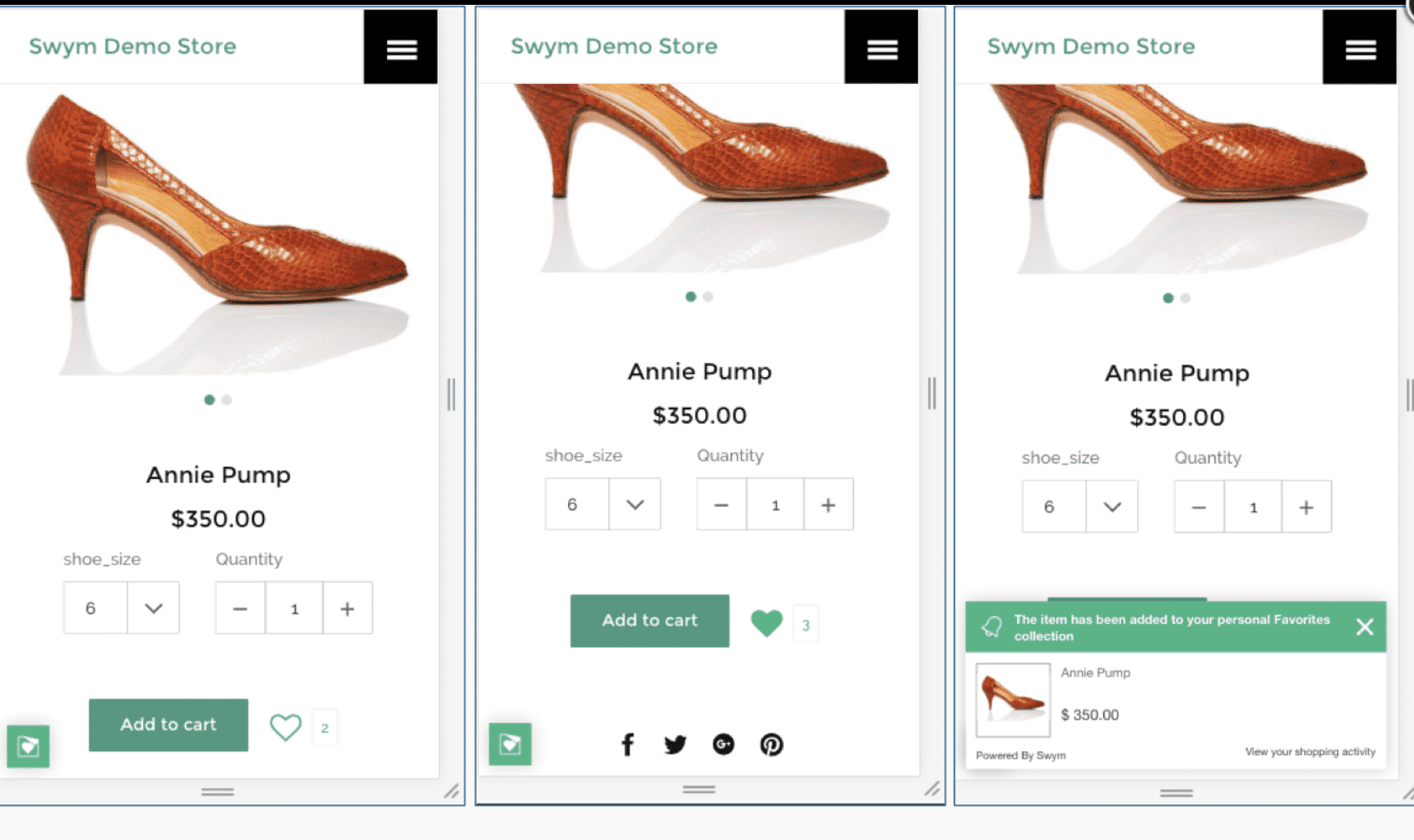 This free app allows you to create "smart" wish lists that integrate with your Shopify theme. Users can add items to their wishlist without logging in, giving you incredible insights on site engagement and what products users are interested in.
9. Easyship
Most Shopify merchants are selling physical products. That means they know how frustrating shipping can be, especially when dealing with costs, both on your end and the customer's end.
As the name implies, Easyship makes calculating shipping easy. Not only does it give you discounted shipping rates for more than 100 different carriers (including FedEx and UPS), it calculates international taxes and fees so there's no hidden costs robbing you of profit.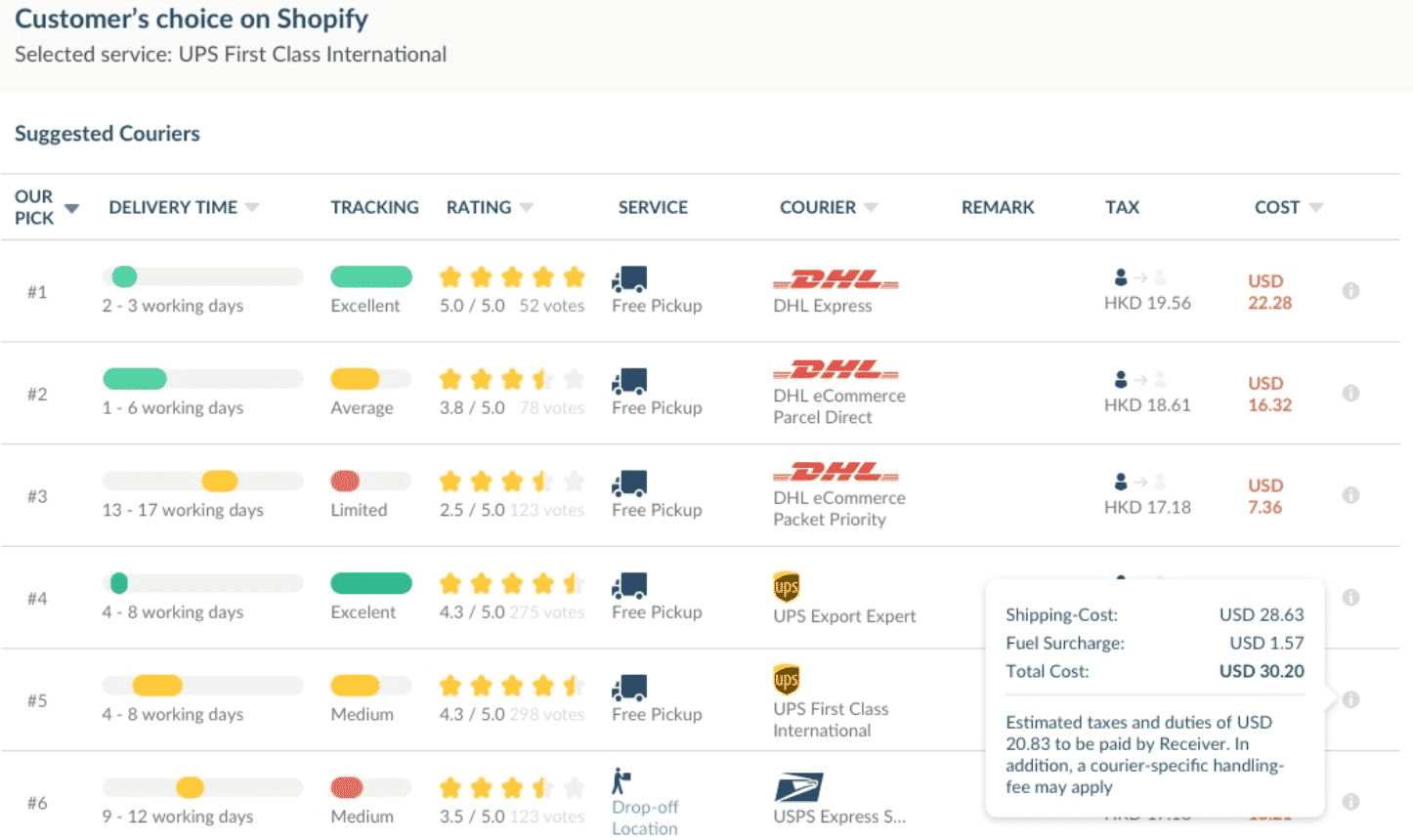 For a free app, Easyship comes with a lot of automated features, too. You can set rules, for example, to have products under 1 lb automatically be sent through UPS, or the "best value for money" carrier. You can also store product information so that all of this is truly automated for you.
10. Pre-Order Now
If you sell products that are frequently out of stock or want to advertise products that are coming down the pipeline, Pre-Order Now is an excellent app to consider.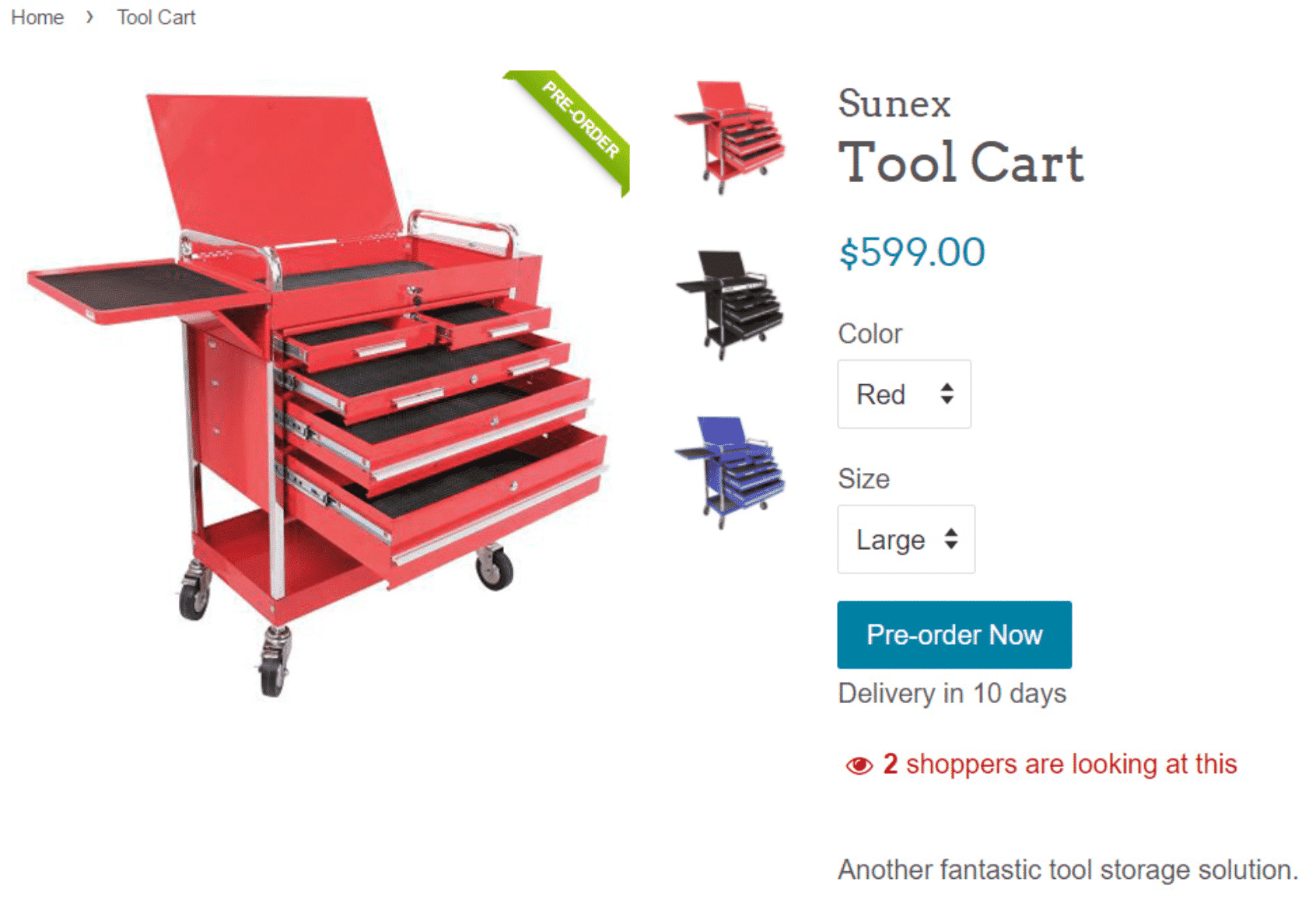 With Pre-Order Now, you can give customers the option to buy even when your items aren't currently available. It's a simple app, but it can save you from losing a lot of potential sales.
11. Product Compare
Like Pre-Order Now, Product Compare isn't right for every Shopify store, but if you offer products that people typically want to compare (electronics, apparel, etc), Product Compare is a great app to consider.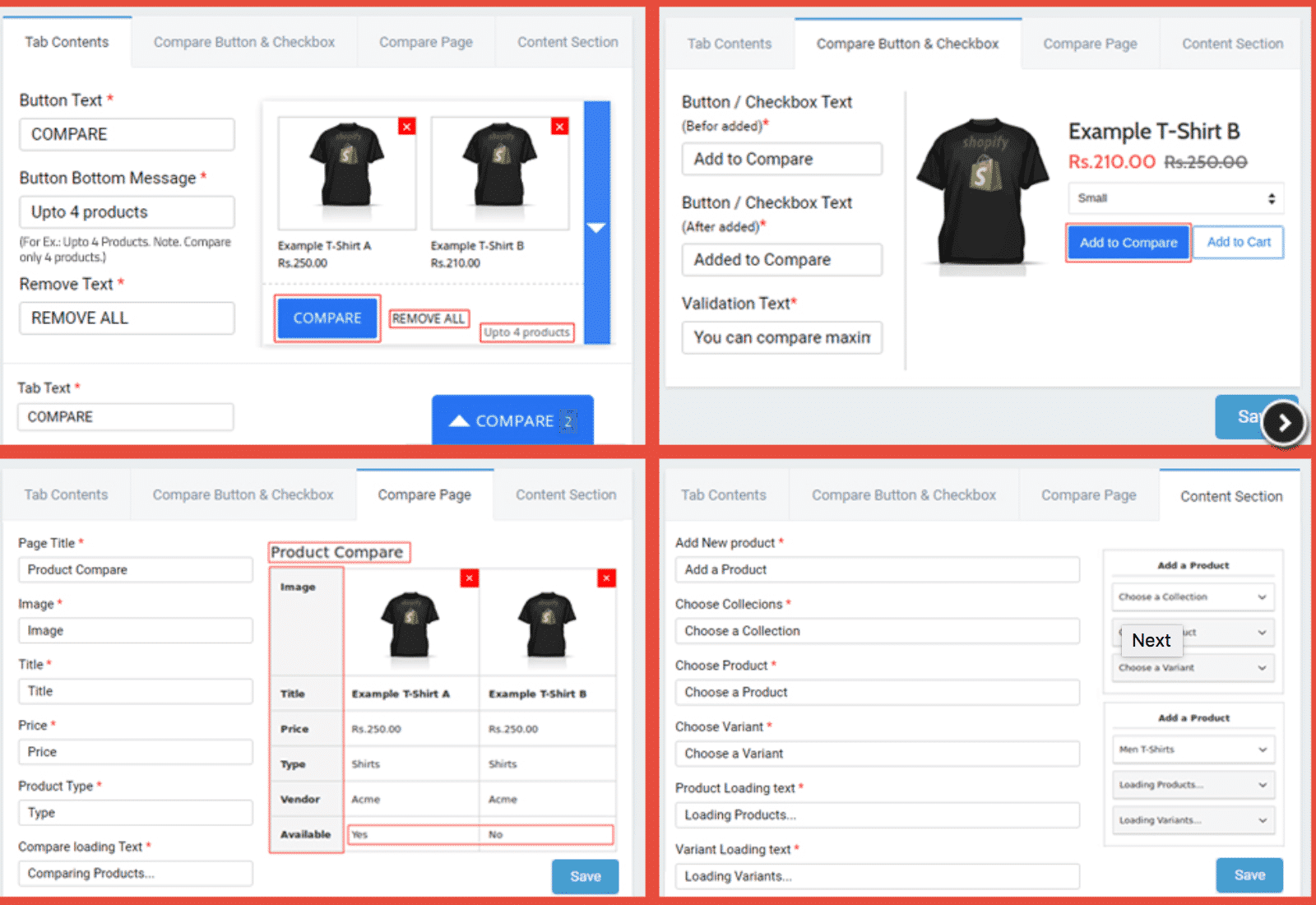 If you've ever been researching a product and struggled to figure out the difference between two similar models, you know how handy this app will be for your customers. Being able to see the differences of two similar products side by side makes it a lot easier to pick the right item.
Even better, it's hard to say no to those extra features that only cost a little more when they're laid out in front of you and they see what they're missing by not buying the more expensive, more fully featured version. "Fear of missing out" is a powerful motivator and this app can help you use FOMO to increase upsells on your site.
Ultimately, the right apps for your Shopify store will depend on what you're selling and how you want to run your store, but these 11 apps and many others in the Shopify App Store can make running your shop a much better experience for you and your customers.
Optimizing Your Shopify Theme
Once you've chosen your theme and have your pages and apps in place, it's time to optimize the look and feel of your Shopify store with the theme editor.
Using the theme editor is more a "show, not tell" process, but this video will teach you everything you need to know to get started editing your template:
Setting Up Payment Processing
If you're going to sell products in your Shopify store, you probably want to get paid, right?
Fortunately, one of the perks of using Shopify is built-in credit card processing. You don't actually have to do anything to process payments, although Shopify does charge you a minimum of 2.9% plus $0.30 for every transaction (rates are better with higher-tier plans).
This is great, because most retail businesses typically have to work out a credit card processing on their own. If you're a small independent business, trying to secure a favorable contract with credit card companies is difficult, which is why most small business use a third-party processor like Authorize.net or Square.
With Shopify, you pay about the same processing premium that most third-party processors charge and you don't have to pay setup or maintenance fees.
All of that is well and good, but if you actually want the money to end up in your bank account, you'll need to give Shopify your bank account information.
To do this, click Settings (at the bottom of the left-hand sidebar) and click "Payment providers":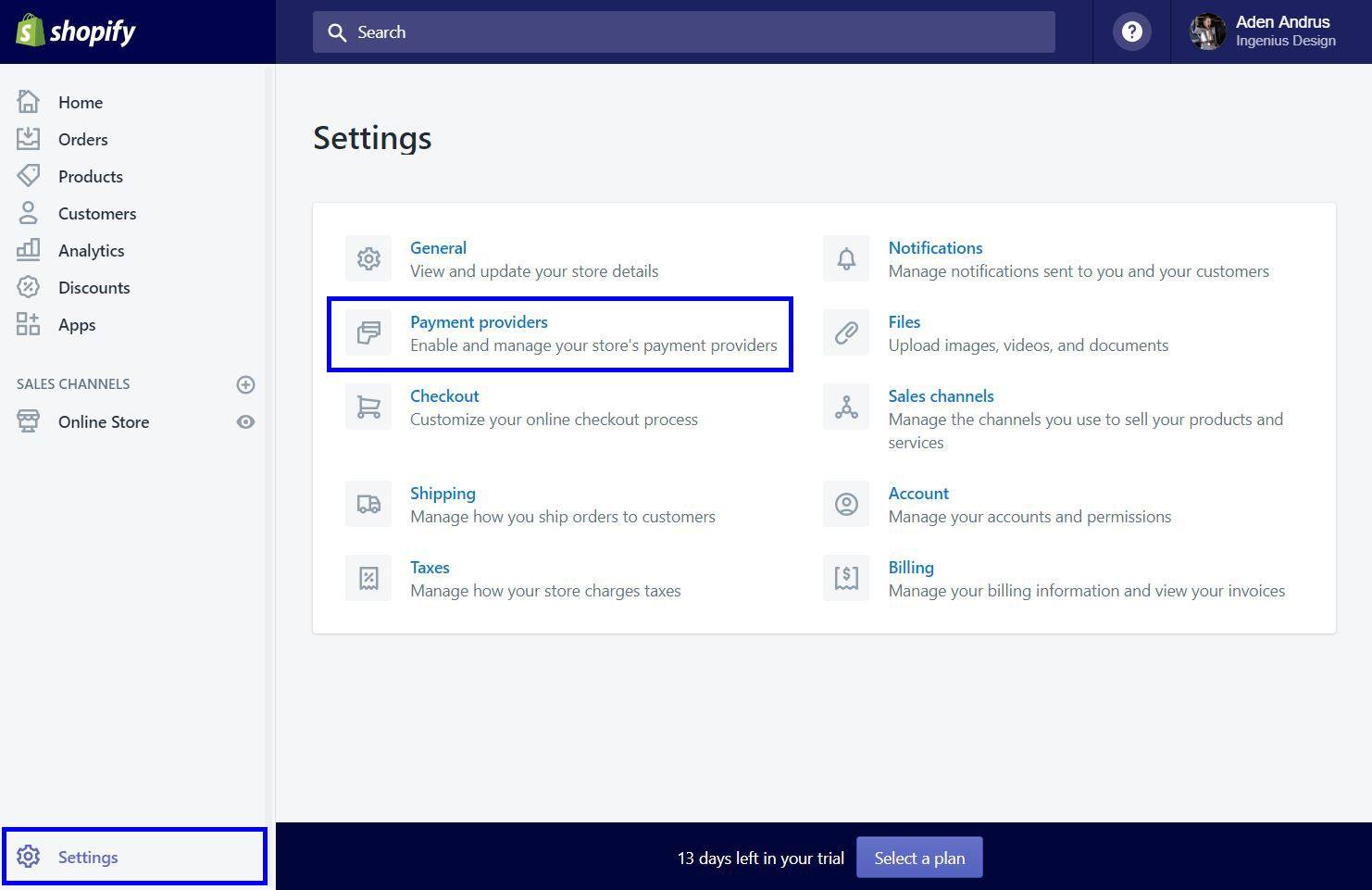 On the next page, click the blue "Complete account setup" button to enter your bank account information.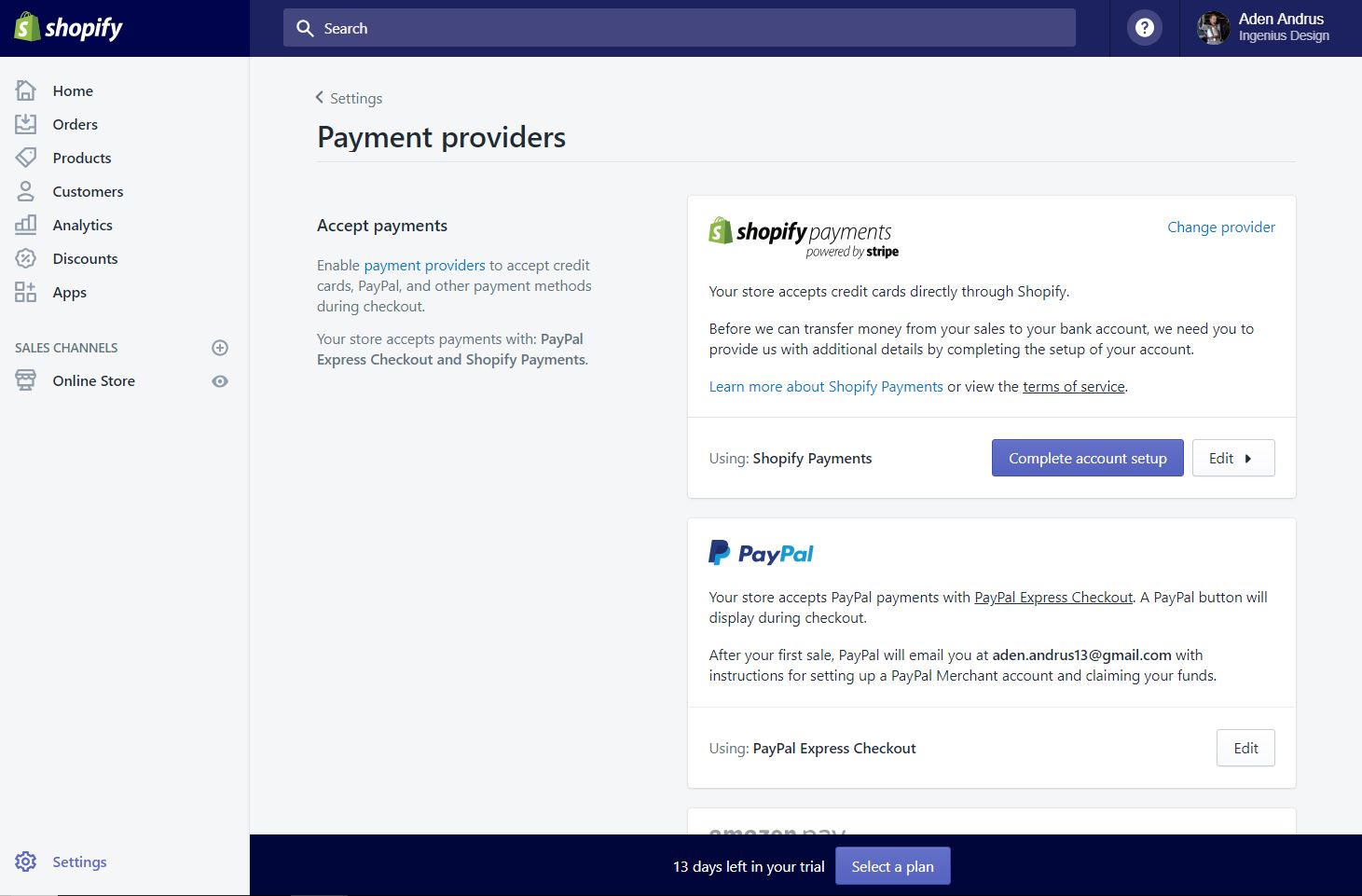 If you're already using another card processing provider like Amazon Pay, PayPal or an alternative payment method like BitPay or Alipay Global, you can set that up here as well.
Customizing Your Shopify Domain
At this point, you could technically launch your Shopify store and start selling products. However, if you really want to inspire confidence in your potential customers, you should strongly consider switching to a personalized domain name.
When you initially create a Shopify store, Shopify builds your store under the Shopify domain name. In the case of my costuming store, Shopify took my business name "Ingenius Designs" and put my store under the URL: ingenius-design.myshopify.com.

Unfortunately, nothing screams, "I just built my first Shopify store!" like a Shopify URL.
To get your own independent URL, click on "Add domain" on the home page of your store interface (or click Online Store > Domains in the left-hand sidebar). This will give you the option to either buy a domain from Shopify (for $14.99/month) or buy your own domain from a site like GoDaddy, set up hosting via a site like BlueHost and then connect that domain to Shopify.
The second option is a lot cheaper in the long run, but it does take a little extra work. Either way, the increased clout that comes with an independent domain name is well worth the investment.
Setting Up Email Responses
In addition to your custom domain name, another good way to inspire confidence in your customers is through clear email communication.
To make this easy for you, Shopify offers a wide range of email templates you can send out to customers when they reach certain points in their shopping or purchasing journey.
To access and/or enable these emails, click Settings at the bottom of the left-hand sidebar and then click "Notifications":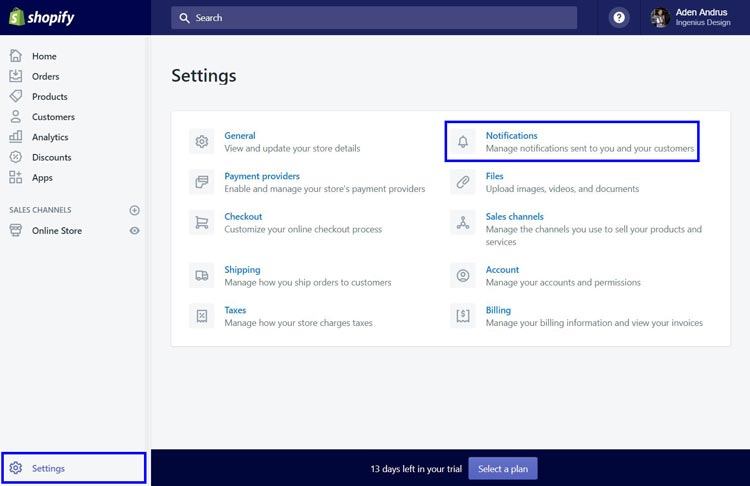 Here, you can see a list of all the various emails or SMS messages Shopify is sending out on your behalf.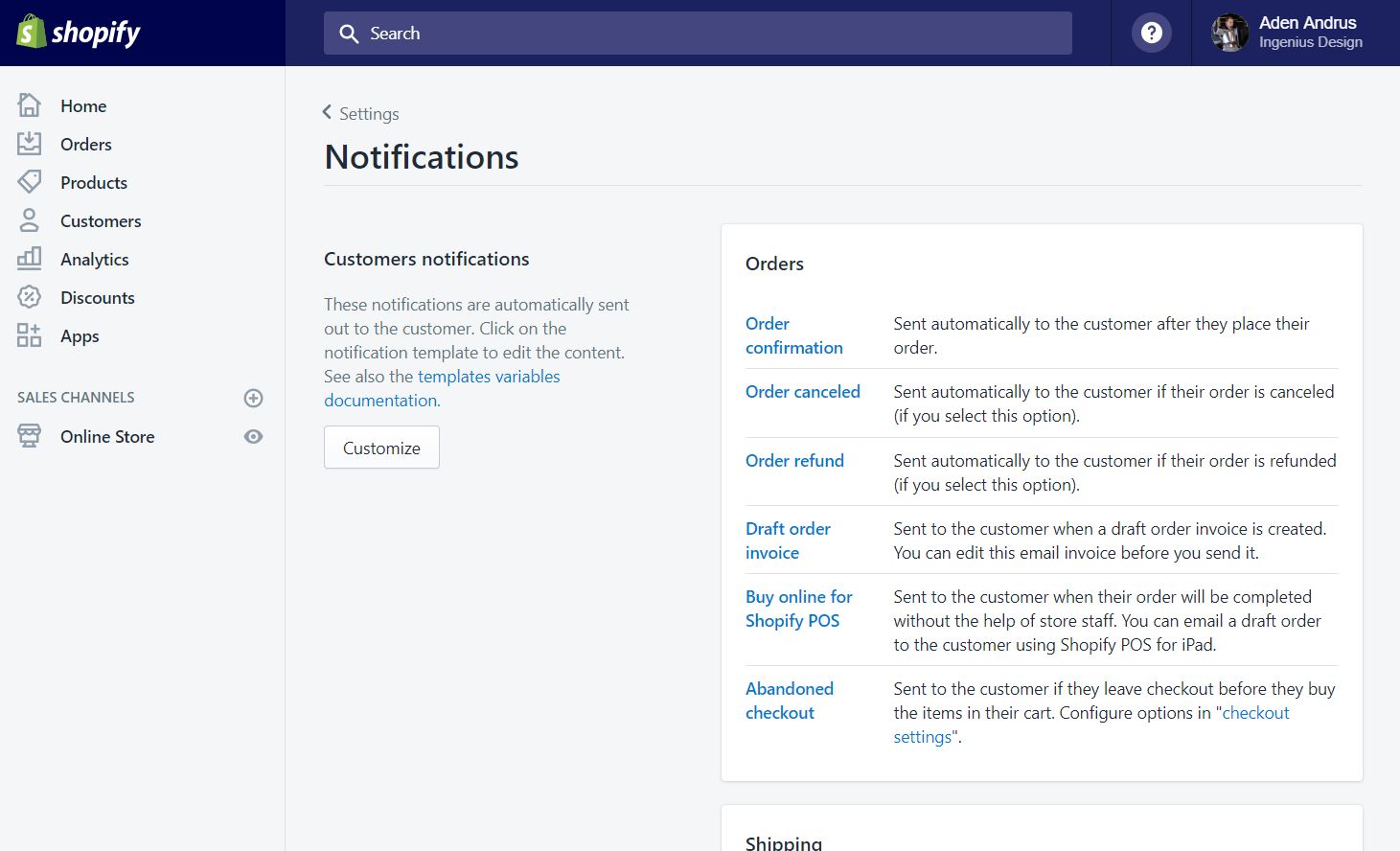 To see what the actual email will look like, you can either click "Customize" and arrow over to the relevant email or you can send a test email to yourself by clicking "Send test notification".
You can also edit the emails or text messages by clicking on the notification name: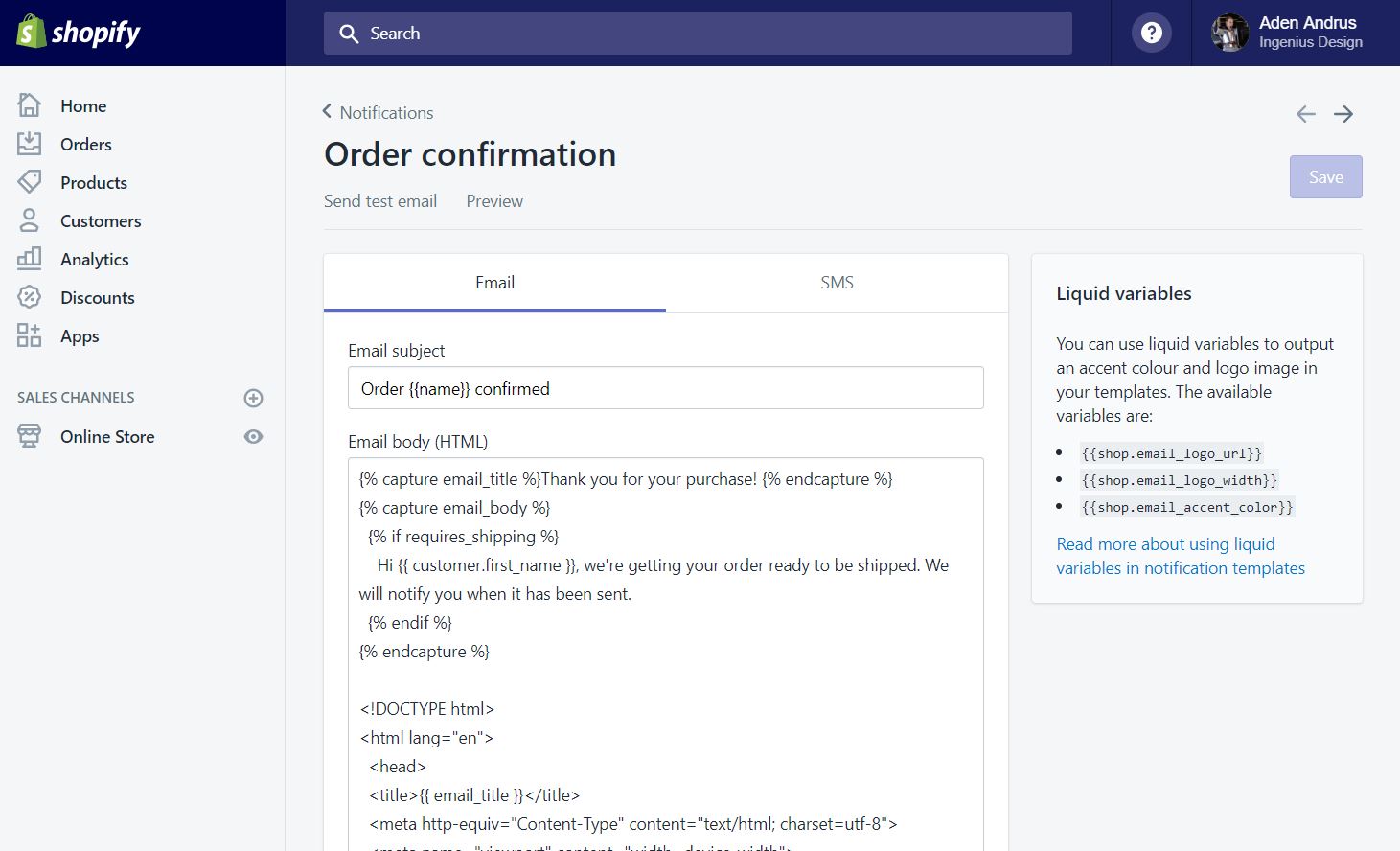 Unfortunately, Shopify's editing interface only shows the actual HTML of your email/message, so you'll have to bounce back and forth between the editing and preview interfaces to see how your changes affect your email.
If you're not familiar with HTML, don't worry, it's fairly self-explanatory. At a minimum, you should be able to search for the text you want to edit and—if you don't change anything but the actual text—you shouldn't have to worry about affecting the format of the email.
In addition to client emails, you can also set up desktop notifications for yourself or alerts that go to third-party fulfillment providers when a new order comes in.
Shopify's notifications options are fairly straightforward, but if you get stumped, you can either ask questions here in the comments or check out Shopify's official templates documentation.
Conclusion
That's it! At this point, you are well on your way to launching and running a successful Shopify store.
That being said, putting together a beautiful, functional store is just the beginning. To really get the most out of your ecommerce business, you'll need to market your store, optimize it for maximum conversions and sales and much, much more.
But don't worry, we'll be with you every step of the way.
When you're ready to take things to the next level, either let me know here or check out the links above. We want to make sure that your Shopify store is everything you hope it will be.
How do you feel about Shopify? What has your experience with this ecommerce platform been like? Anything you'd add to this article? Leave your thoughts in the comments!