Google Shopping Made Easy: The Essential Guide to Selling on Google
AdWords
•
Ecommerce
•
Aden Andrus
May 15, 2019
Aden Andrus• May 15, 2019
Google Shopping is an incredibly important tool in any ecommerce retailer's arsenal. But, if you're reading this article, you probably already know that.
You probably also know that Google Shopping ads produce over 85% of retail paid search clicks and that they routinely produce a 400-1,000% (or higher) return on ad spend (ROAS).
But none of those statistics matter if you don't know how to set up and run a profitable Google Shopping campaign.
The good news is, you've come to the right place. At Disruptive Advertising, we've helped countless ecommerce businesses—from startups to enterprise companies–succeed with Google Shopping.
For example, we recently helped an ecommerce retailer increase their ROAS by 225% and total revenue by almost a million dollars…and we did it in a matter of months.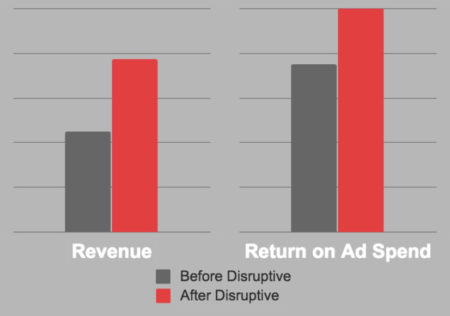 If you want results like this for your own business, this article is for you.
Here, we'll go over everything you need to succeed at Google Shopping (including all the things Google doesn't tell you). It'll take some work, but if you follow the recommendations in this article, you should be well on your way to putting the power of Google Shopping to work for you.
Sound like a plan? Let's get started!
Note, this blog post was updated on May 15, 2019 to reflect changes in the Google Ads platform. Enjoy!
What is Google Shopping?
Just in case you're not familiar with Google Shopping ads already, let's take a moment to talk about what Google Shopping is. To put it simply, Google Shopping is how you get your products featured in those nifty Product Ads on Google's search results page.
For example, here's what shows up if you search for "trench coat" on Google: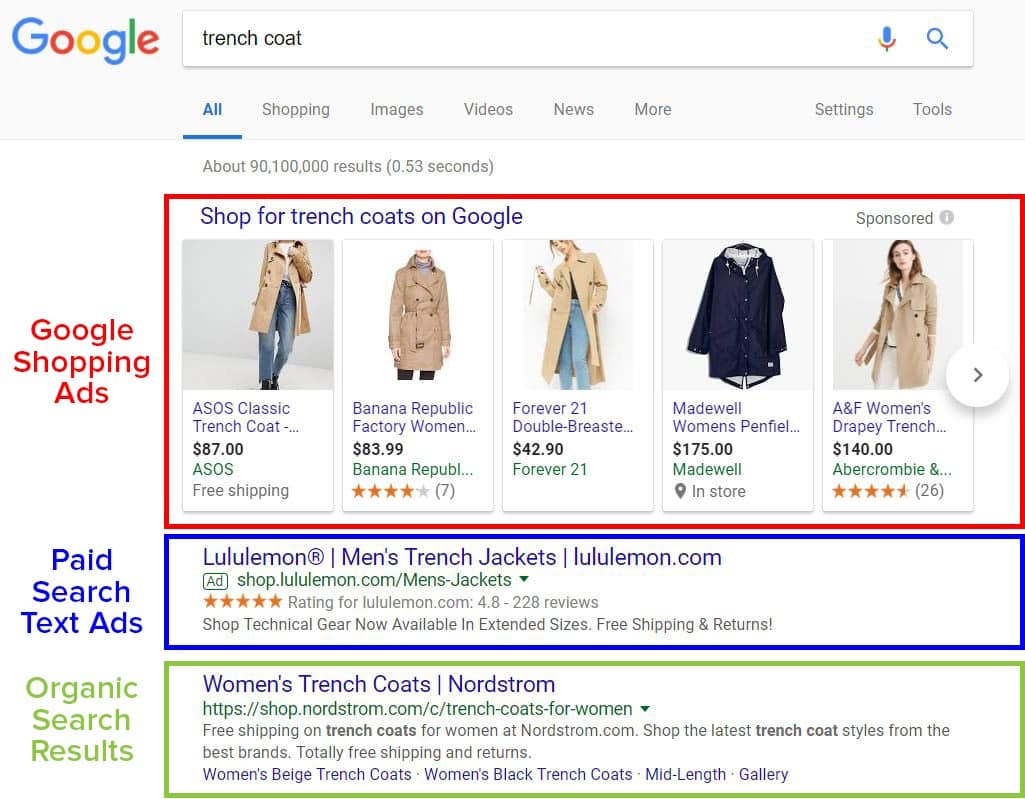 As you can see above, Google displays 3 different types of results for product-related searches: Google Shopping ads, paid search text ads and organic search results.
When you look at these search results, what is the first thing that you notice? The Lululemon ad or the Nordstrom link? Probably not.
If you're like most people, the pictures are what you notice first. Before you even realize that Lululemon text ad or Nordstrom's organic search result are there, you're already scanning through purchasing options.
And that's the power of Google Shopping.
Of course, if you scroll through the 30 products on the search engine results page and can't find what you're looking for, you can always click "Shop for trench coats on Google" and filter through all of the options available on Google Shopping: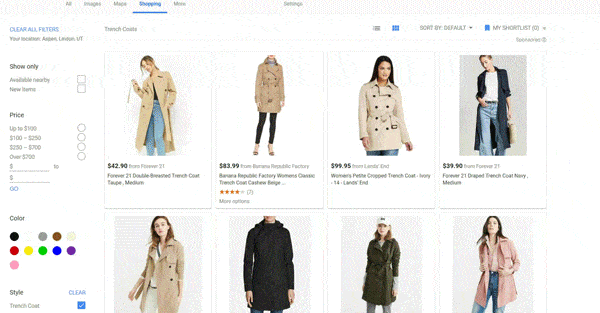 What makes Google Shopping truly powerful, however, is the fact that virtually none of the products or companies that show up in these ads can be found on the first page of organic search results. Without Google Shopping, these products would never be seen by potential customers.
Best of all, Google Shopping puts your products in front of high-intent, low-funnel search traffic that wants to buy what you're selling.
Unlike most forms of advertising—like display advertising or social media marketing—people who see your ads on Google are looking for what you have to sell. When someone searches for "trench coat" on Google, you don't have to convince them that winter is coming and they should buy a stylish coat—you just have to convince them that your trench coat is the coat they should buy.
How Google Shopping Works
Ideally, your product(s) would rank well organically for every relevant Google search, but let's be honest, if you're not a big company, the SEO odds are not in your favor.
But…with Google Shopping, you don't have to rank well organically to show up for relevant searches. Google lets you pay to play.
To have your products featured on Google Shopping, you need to work with two platforms: Google Ads and Google Merchant Center. Google Merchant Center is how you tell Google about your products. Google Ads is how you tell Google how you want to market your products.
The Google Ads Auction Process
Google Ads is a pay-per-click (PPC) advertising platform, which means you pay to drive traffic to your website and/or landing pages. That being said, advertising on Google isn't as simple as saying, "I want to pay X for every click."
Unfortunately, you're not the only business out there who wants clicks from Google users. To make sure that your ads are seen, you have to outbid the competition.
The good news is, advertising on Google doesn't mean you'll spend the rest of your career sitting in an auction house listening to John Giannandrea (Google's head of search) rattle off product search terms at high speed.
As fun as that is to imagine, the Google auction process is a much more efficient process than that.
The information you upload to the Google Merchant Center tells Google which types of searches your products should show up for. In Google Ads, you enter the maximum amount you are willing to pay for a click from one of those searches.
That maximum amount is your "bid" for that keyword.
When someone does a search that your product is eligible for, Google compares all of the eligible bids and chooses who ranks where. Since this whole process is an auction, all you have to do is outbid the next lowest advertiser—you don't actually have to pay your maximum bid every time someone clicks on your ad!
Using Google Merchant Center
Unfortunately, as good as Google's algorithms are, Google still can't read minds. Google Ads doesn't know what you want to sell (product name, SKU, size, color, description, etc), if it's in stock or how much you're charging for a particular item. You have to "feed" that information to them.
To give Google all of this information, you need a Google Merchant Center account (you can sign up for an account here).
Using your Merchant Center account, you can upload a shopping feed with information (availability, price, color, etc) about all the products you want to sell. This tells Google what's in your product catalog and what information should be in your ads.
If anything changes (you run out of trench coats, for example), all you have to do is update your product feed and reupload it to your Google Merchant Center account.
Easy enough, right?
Setting up your Merchant Center account is fairly easy (see the video above for a straightforward walkthrough), but once you have your Merchant Center set up and your shopping feed uploaded, you'll need to connect your Google Merchant Center to your Google Ads account (click here to sign up for an Google Ads account) .
Here's how:
Log into your Google Ads account and look at the top right-hand corner to find your 10-digit Google Ads customer ID.
Log into your Google Merchant Center account, click the 3-dot dropdown in the top right-hand corner and click "Account linking." Click "Link Account."
Enter your Google Ads customer ID and click "Link."
When the Status changes to "Linked", you're ready to go! Either click "Create Shopping Campaign" or go back to your Google Ads tabs to start building your campaigns.
Putting Your Shopping Feed Together
As you can probably imagine, a good shopping feed is the key to any successful Google Shopping campaign. Your shopping feed tells Google what your products are, how much they cost, what images and ad copy to use in your Product Listing Ads, what searches your ads should show up for and much, much more.
Not surprisingly, it pays to get your shopping feed set up right.
Since the success or failure of your Google Shopping campaigns depends on how well your shopping feed communicates with Google, Google has quite a few fields you can use (or are required to use) in your feed.
There are a variety of shopping feed management platforms out there (or you can even manually create and manage your shopping feed) that can handle the technical management of your feed, so in this article, we're going to focus on how to get the most out of your shopping feed.
We won't go over every single field you have available, but let's take a look at the most important fields in your feed:
Google Product Category
As we mentioned earlier, Google Shopping campaigns don't use keywords to target your ads. They use product categories. So, as you might imagine, entering the right category in the "google_product_category" is pretty important.
You pick your product category from the Google Product Taxonomy list.

The broader your category, the more potential searches your product could be eligible for, so you might wonder about picking a very broad category for your product to maximize your impressions—but don't do it! The broader your category, the more irrelevant clicks and impressions you'll get.
Irrelevant clicks don't turn into sales, so picking a broad category usually means you'll end up wasting a lot of money.
On the other hand, the more specific your category is, the more relevant your traffic will be. After all, if you're selling cycling jerseys, will the "Activewear" or "Bicycle Jerseys" category be more likely to drive relevant clicks?
"Bicycle Jerseys" is a subcategory of "Activewear", so picking the "Bicycle Jerseys" category might result in fewer impressions and clicks, but those clicks will be a lot more likely to turn into purchases.
Title
Your title is the first thing people will see when they perform a relevant search on Google: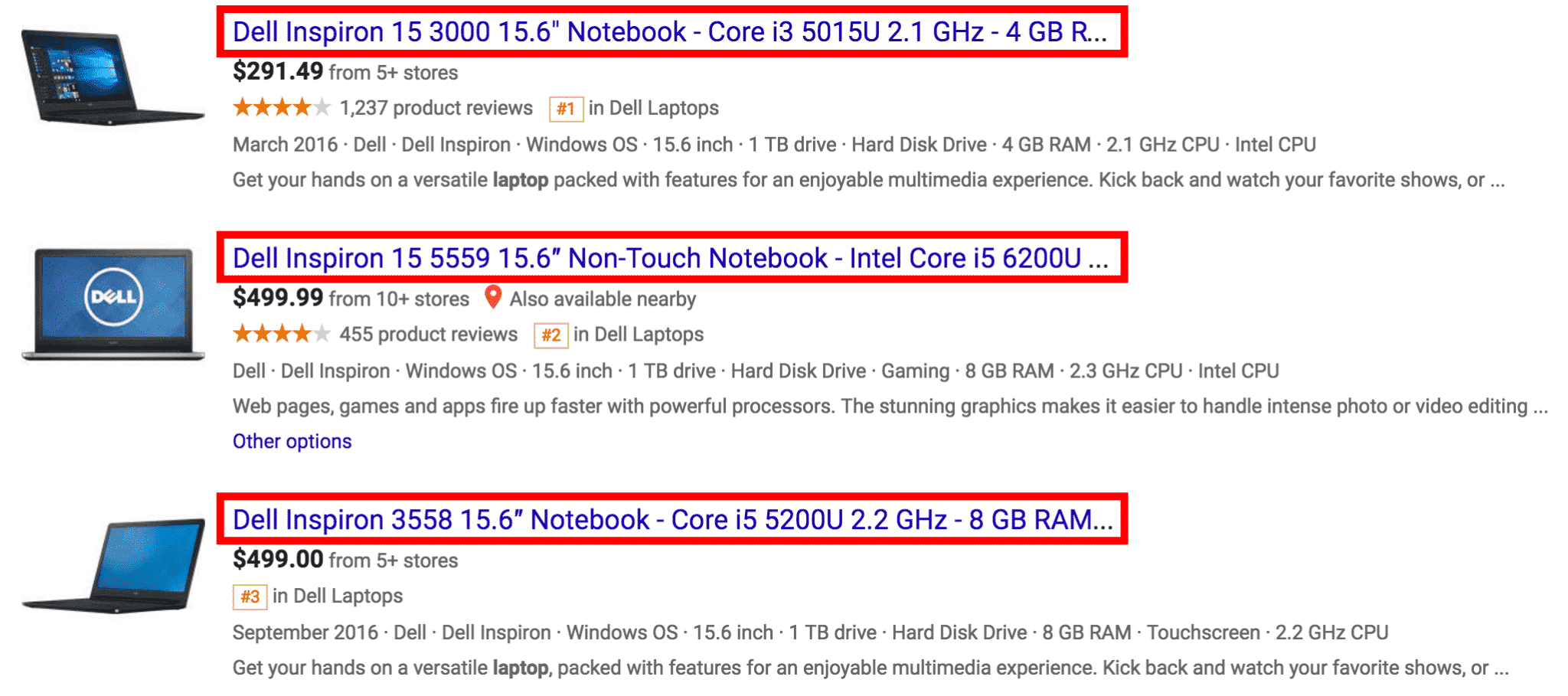 As you might imagine, your title has a big effect on the clickthrough rate of your ads, so it's important to spend some time crafting a good title strategy for your feed.
Keep in mind that while Google allows up to 150 characters in your title, Google will only display about 70 characters, so be sure to put your most important keywords at the beginning!
In addition, Google frowns on putting overtly promotion text ("Limited Offer", "Free Shipping", etc) in your title, so focus your title content on products specifics like material, color or size.
Description
The description field contains the text your potential customers can read to get a better feel for exactly what your product is and does:

In the description field, you can enter up to 5,000 characters, but Google will only show a sentence or two. So, again, it's important to make sure that you list the most important information first.
Here again, promotional content is a no-no, so keep it focused on the features and benefits of the product—not the benefits of buying from you.
Link
Guess what? If you're going to run ads on Google, you need to have somewhere to point your clicks!
However, you can't just point those clicks anywhere. Your link needs to point to your product page, not your homepage. Your link also has to have the  "http://" part of your URL.
If you have a different product page for mobile users, put that link in the "mobile_link" field.
Image Link
You'll also need to include a link to an image of your product in the "image_link" field. This link should point to a high quality, 800 x 800 px (or bigger) picture that is free of logos and extra text: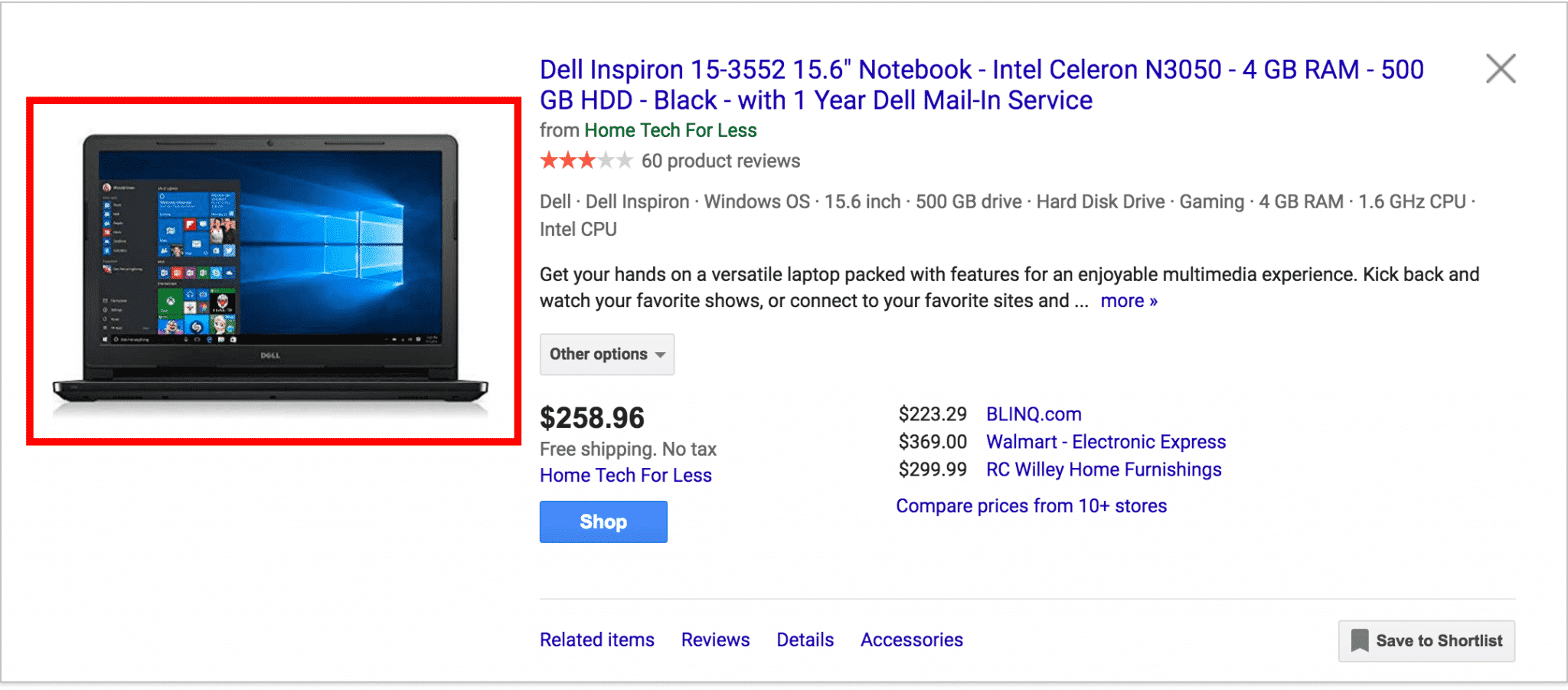 If you really want your images to succeed, though, your images need to be eye-catching. It's not enough just to have a nice picture, you want it to draw the attention of your potential customers.
Condition
The condition field only has 3 options (new, used and refurbished), but it's required, so make sure you complete it.
Availability
The availability field is also required and easy to complete. You can pick from in stock, out of stock and preorder. However, this field is particularly important to keep regularly updated. Otherwise, you could end up with a lot of disappointed customers!
Price
Ah, price. This is the field you really care about. All you have to do here is give your selling price and currency (for example, 547.43 USD). Just make sure that your currency matches the country you are advertising in.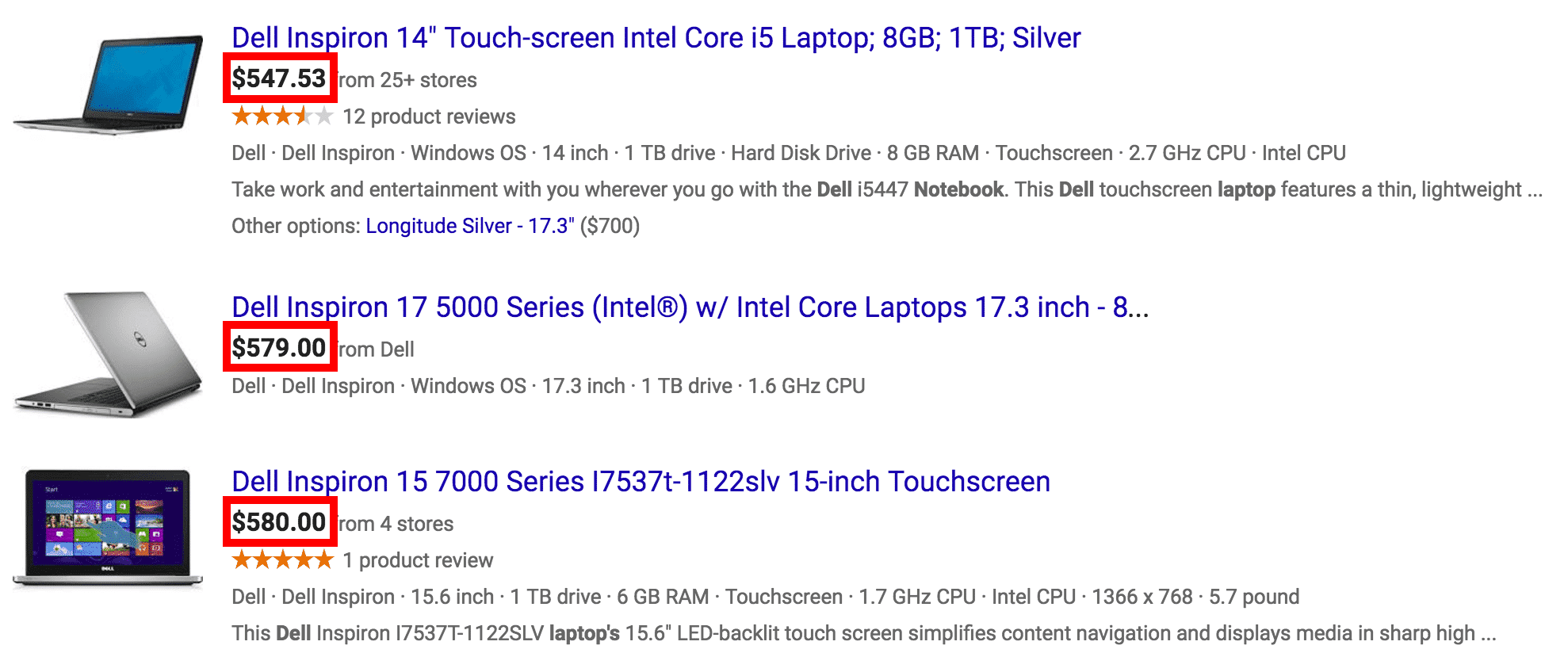 One thing to keep in mind with your price (as well as condition and availability) is that the information in your shopping feed needs to match the information on your product page. Google will penalize your ads or even prevent them from showing if you don't.
So, if your price changes on your page, make sure you've updated your shopping feed!
Global Trade Item Numbers (GTINs)
Google uses global trade item numbers (GTINs) to group identical products in on the shopping results page.
GTINs are manufacturer issued. Here are the GTINs you're most likely to see:
UPC—this is the primary GTIN in North America
EAN/UCC—the major GTIN used outside of North America
JAN—the Japanese GTIN
ISBN—a GTIN for books
Some products will have more than one GTIN (eg, both a UPC and an EAN). In this situation, just pick one GTIN to use in this field.
If your product doesn't have a GTIN, you'll need to use your manufacturer part number (MPN).
Manufacturer Part Number (MPN)
MPNs are created by the manufacturer of a part. They tend to be very specific to a particular part, but they serve the same basic purpose as a GTIN.
If you're not sure what your GTIN or MPN is, try checking with your suppliers. If that fails you, you can try upcitemdb or barcodelookup.
Identifier Exists
Of course, if you're selling custom or antique goods, you may not have either an MPN or a GTIN. In this case, set "identifier_exists" to "false". That way, Google won't look for a GTIN or MPN in your feed.
Brand
The brand field lets Google know who made the product. In general, this should not be your company name (unless you happen to be the manufacturer of your own product).
For example, if Amazon decided to run shopping ads on Google again, Amazon might list Scholastic Corporation as the brand for the latest Harry Potter novel, but its own business name (Amazon) as the brand for the Kindle Fire.
Color, Gender, Age Group, Size
If you are selling shoes or clothing, the color, gender, age group and size fields are all required. Of course, since most customers who are in the market to buy clothes or shoes want this information, these fields would be a good idea to complete if they weren't required fields.
ID
The ID field is really mostly for your own reference. It's a unique number you create that allows you to connect your Google data to your store data, so use whatever sort of system (SKU, internal reference number, etc) makes sense for your business.
Creating Google Shopping Campaigns
Now, if you've ever played around with Google Ads, you're probably familiar with paid search text ads. Google Shopping ads (aka, "Product Listing Ads") are a bit different.
Unlike text ads, you can't tell Google, "I want my ads to show up when someone uses this specific keyword." Instead, Google decides when your Product Listing Ads (PLAs) are eligible for display.
Putting together Google Shopping Campaigns and Product Listing Ads (PLAs) is pretty straightforward. If you already have an active Google Ads account and you want to create a new campaign, check out the video below:
https://youtube.com/watch?v=Rti9sQkTwMg
Here's what you'll need to do to create a basic shopping campaign (for more details, click here):
Open your Google Ads account.
Click the "Campaigns" tab, then hit "+ Campaign" and choose the "Shopping" option.
Name your campaign.
Pick the "Merchant identifier" associated with your Google Merchant Center account.
Click the drop-down menu next to "Country of Sale" and pick the country where you want to advertise your products. If you would like to get more specific with your location or other settings, you can adjust that in the settings section (more on that in a second).
Enter the maximum amount you are willing to pay for a click next to "Default bid" (don't worry, you'll be able to adjust this later).
Enter the total amount you want to spend next to "Budget".
Hit "Save and continue".
If you've never created an Google Ads campaign before, click on "Campaigns" in the left-hand bar, then click on the blue "+". At this point, you'll have a variety of campaign types to choose from:

In this article, we're going to stick with Google Shopping Ads, but if you're interested in running some of these other types of campaigns, check out the links below:
To get started creating your first text ad campaign, click on the "Shopping" option and let's get started!
Step 1: Choose a Goal
Every good online marketing plan starts with a goal (or two, or three…). Knowing what you want to get out of your campaigns will guide every Google Shopping decision you make, which is why the first thing Google Ads asks you to do after you've picked a campaign type is to pick a goal.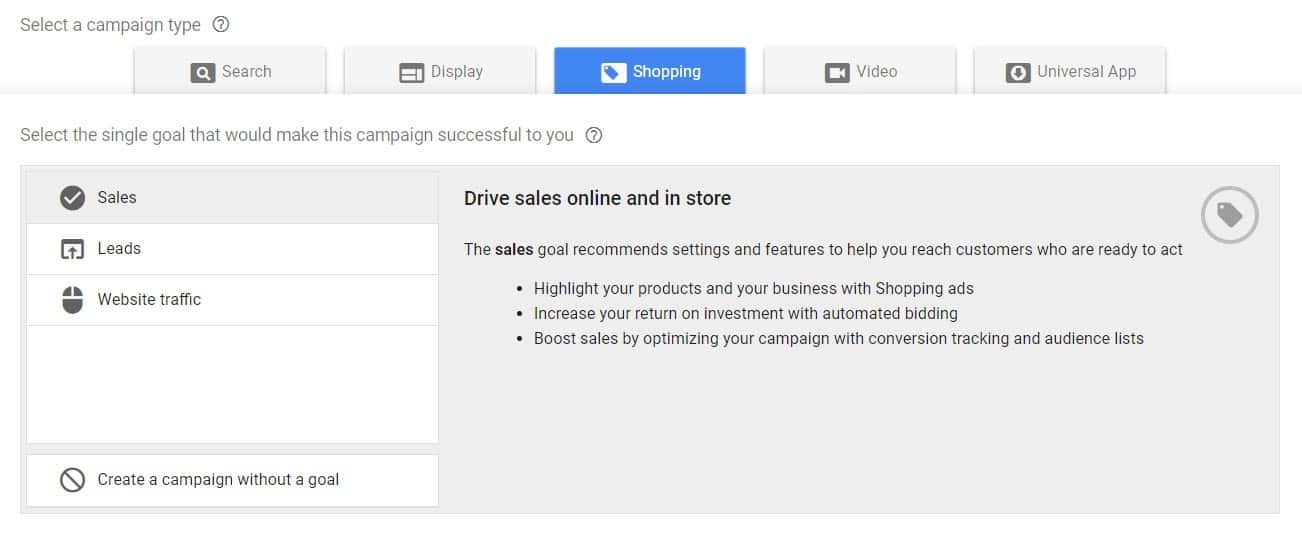 Since you're creating a Google Shopping campaign, your goal is probably to sell stuff, so click "Sales" and move on.
Step 2. Pick Your Target Location
Once you've decided what your advertising goal is, it's time set up your campaign.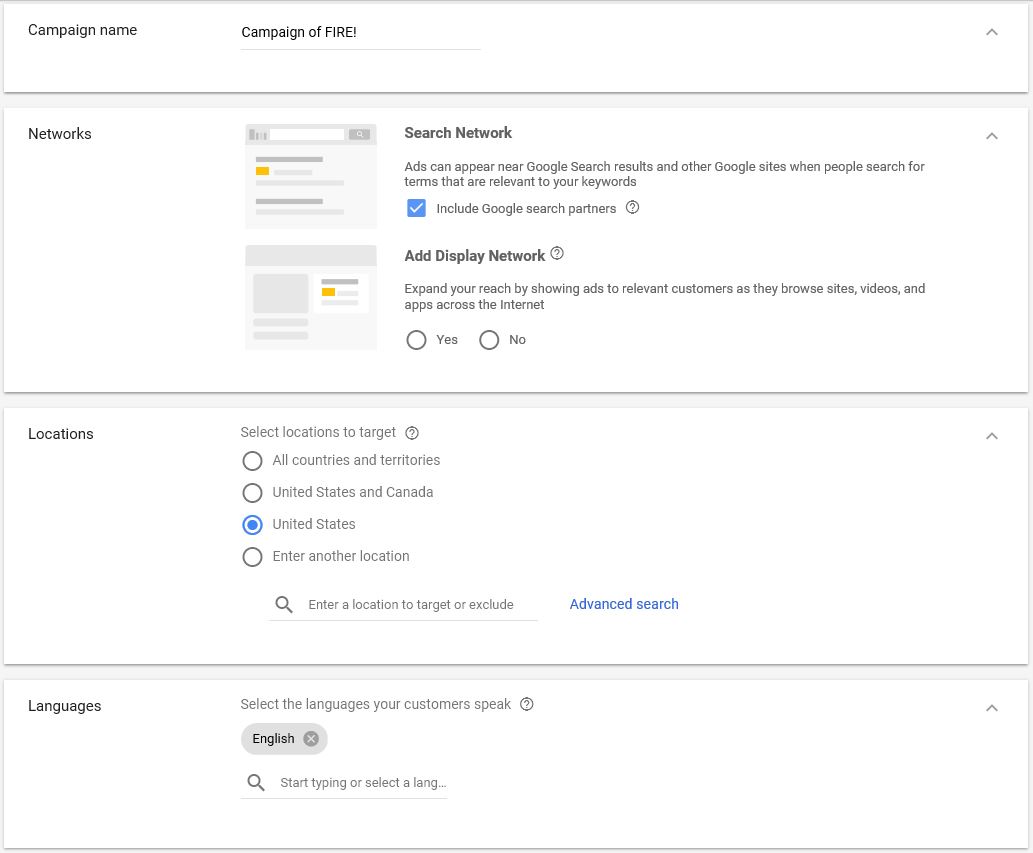 Pick a name and language for your campaign and then select where in the world you want your ads to be displayed. If your target audience really is everyone in the US/Canada or the whole world—which it often is for ecommerce businesses–leave this alone.
Otherwise, I recommend using the "Enter a location to target or exclude" search bar: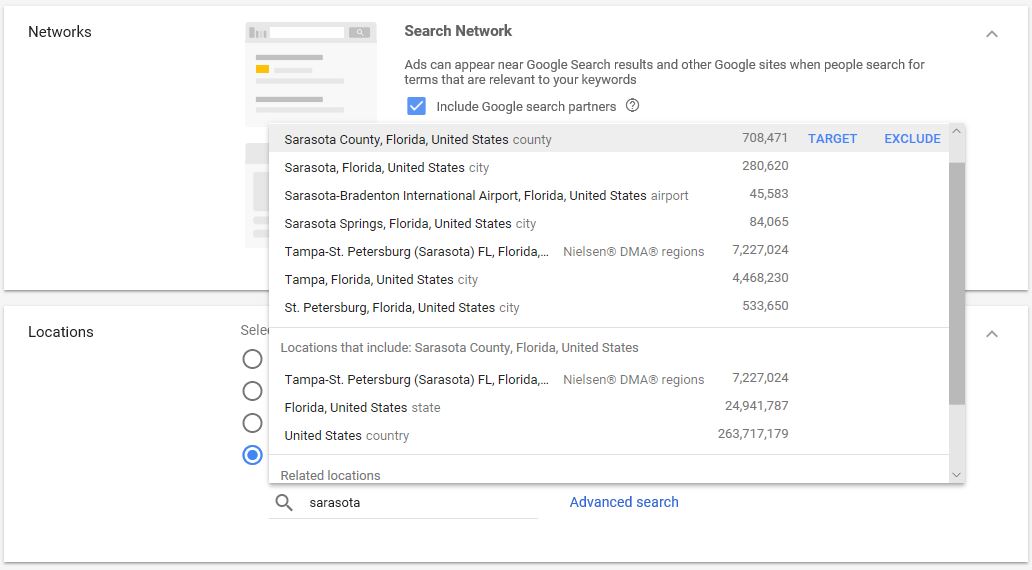 Here, Google Ads gives you the ability to target or exclude certain locations, so if we wanted to target all of Florida except for Sarasota, that's an option.
This is important, because lot of companies target everyone in a state, region or country without realizing that they don't actually want to pay for clicks in that area. For example, if you're trying to sell fur keychains, you might not want to run ads in San Francisco where fur sales are illegal.
Yes, you might get clicks, but those clicks aren't likely to turn into sales. So, while being smart about your location settings may not be particularly exciting, it's well worth your time.
Step 3. Decide on Your Budget
Often, marketers and business owners pick their Google Shopping budget on a whim or based on what they feel like they can afford at the time. This is a real shame because careless budgeting often leads to ineffective campaigns…or a lot of wasted ad spend.
To avoid both of these problems, make sure you take the time to run the numbers and come up with a budget that allows you to maximize clicks without eating too far into your profit margin.
Once you've figured out a budget that makes sense for this campaign, divide it by 30 and enter the result as the average you want to spend each day in the "Budget" section. In a given month, Google Ads won't spend more than 30 times more than your daily average, but it might spend more or less in a specific day.

If you want Google Ads to spend your budget as quickly as possible (you're advertising morning coffee, for example), click "Delivery method" and switch to "Accelerated". Otherwise, it's time to select your bidding strategy!
Step 4. Select a Bidding Strategy
Bid management is actually a fairly complex process. But, for your first campaign, let's stick with the basics.
When determining how much you should bid, you'll want to consider:
The average CPC of your product(s). Different products will cost more than others due to volume and competition levels.
Your budget. If you have a smaller budget and want to make it go further, consider bidding on lower cost keywords or making smaller bids.
Your anticipated ROAS. ROAS is one of the most important Google Shopping metrics, but it isn't perfect. Obviously, your marketing spend can't be greater than your profit margin, but if bidding more means you eat into your profit margins a bit and double your sales volume, you may want to opt for a lower ROAS.
Ultimately, the right bid will allow you to drive the maximum number of sales for the lowest cost-per-click. Finding that balance point can be tricky, but the results are worth it.
Step 5. Put Together Your PLAs
Unlike text ads, creating PLAs for Shopping Campaigns is easy. The shopping feed you uploaded to your Google Merchant Center account tells Google Ads everything it needs to know to create your ad.
To set up your PLAs, all you have to do is:
Click on your Shopping Campaign and click on the "Ad groups" tab.
Click "+Ad group".
Name your ad group.
Click "Save and continue".
If you want to get into the more nitty-gritty of campaign structure, Google Ads offers a ton of customization options you can use to separate products into different groups with different bids, but we'll get into some of those tactics later on.
Step 6. Set Up Conversion Tracking
Now, at this point, you could technically launch your Shopping Campaign. There's just one problem. If you turn your campaigns on now, you'll have no idea what's working and what isn't in your campaigns.
Sure, Google will tell you how many clicks your ads are getting, but you won't really know if those clicks are turning into profitable sales.
To get at that information, you need to set up conversion tracking.
Essentially, conversion tracking allows you to link your Google Shopping clicks to the actual sales they produce. That way, you can accurately measure and optimize your return-on-ad-spend.
Setting Up Conversion Tracking in Google Ads
The good news is, it's pretty easy to set up conversion tracking in Google Ads.
To get started, click the wrench icon in the upper lefthand corner of your screen, then click on "Conversions" under the "Measurements" menu.

This will bring you to the "Conversion actions" page. Click the blue button to add a new conversion.
Next, you'll have the option to choose between 4 different types of conversion action:

Since the goal of your Google Shopping campaign is to drive sales on your website, click "Website".
This will bring up the following options: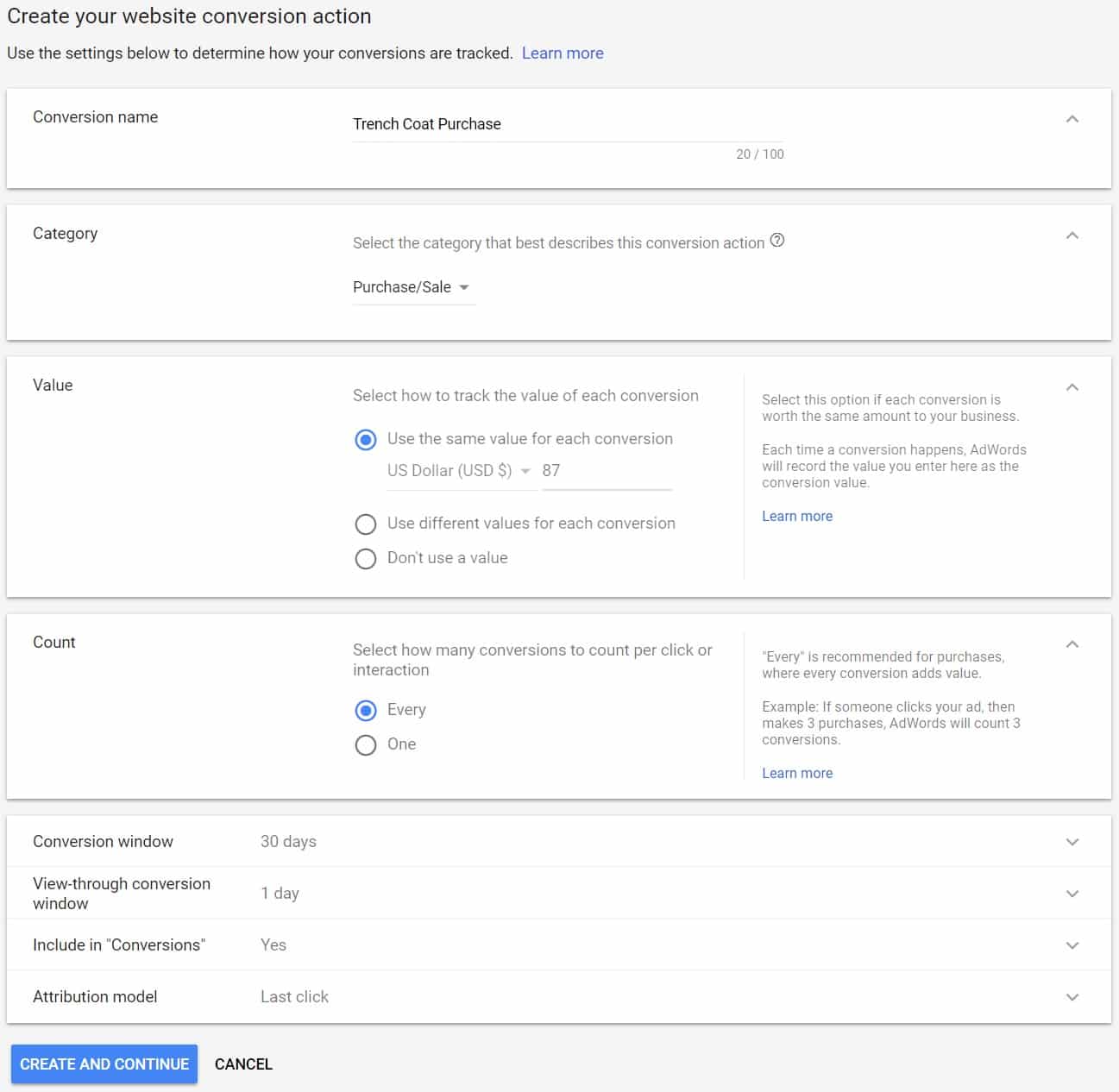 In the screenshot above, I've created a conversion for people who buy a trench coat. Let's take a closer look at some of these settings:
Value
You can have Google Ads assign a specific dollar value to your conversions that you can track in the main Google Ads interface, which is very handy for ecommerce businesses.
Unfortunately, while this works great if you only sell a handful of products, if you're selling dozens-to-hundreds of products, you're going to need to set up transaction-specific conversion tracking.
To do that, you're going to need to tweak the conversion code Google As generates for you and customize it to pull sales data directly from your ecommerce shopping platform.
Discussing how to set this up for each shopping platform is beyond the scope of this article, but we've already covered this elsewhere on our blog.
So, to learn more about how to implement transaction-specific conversion tracking for your Shopping Campaigns, just click on the name of your shopping platform below:
Even if you're customizing your tracking code, Google will still ask for a default number to include here. If you've set your transaction-specific tracking up right, this number shouldn't matter, so I generally recommend setting it equal to 1.
Count
Here, we have the option to count every conversion separately or only allow one conversion per click. If you choose to track every conversion, that means if someone makes two purchases, those purchases will be counted as separate conversions—even though they were both from the same person.
Hypothetically, tracking every conversion can result in a conversion rate of over 100%–especially if you have separate conversion actions set up for different products.
Most of the time, tracking conversions separately can muddy up a couple of reporting metrics, but it usually provides better data overall.
Conversion Window
"Conversion window" refers to the maximum length of time between a click and a conversion that you want Google Ads to track.
Here, I've set this to 30 days, so if someone clicks on my ad and then comes back and converts 10 days later, it will show up as a conversion from that ad.
Since most ecommerce businesses have a relatively short purchasing cycle (people click your ads and either buy or don't buy), many ecommerce businesses set this timeframe to a week or 30 days, but the "right" conversion window for you will be specific to your business.
View-Through Conversion Window
"View-through conversion window" is a kind of funny metric. Essentially, you use this setting to tell Google Ads how to measure the impact of an ad when it isn't clicked.
For example, if someone searches for "trench coat" and sees my ad—but doesn't click on it—and later that day clicks on a link to my site on Pinterest and makes a purchase, that conversion would show up as a "view-through conversion" for the ad they saw.
Include in "Conversions"
This is just a checkbox that tells Google Ads whether or not you want this action reported as a conversion in your reports.
<