How to Pick the Right Facebook Ad Type for Your Campaigns
by Ana Gotter • March 18, 2019
It's not uncommon for marketers to face decision fatigue on a regular basis, and if business owners are tackling their own marketing, that fatigue is only heightened. You have to make decisions about platforms, your marketing budget, how to spend it, the strategies you want to use, and so much more. And then, when it's time to actually create your campaigns, the decisions start all over again.
The Facebook Ad platform is the perfect example. Even once you've made all those strategic decisions about targeting, objectives, and placements, you have to choose between multiple ad types and create the right copy. That last step is essential to bring it home—the wrong ad type or messaging could derail an otherwise perfect campaign.
In this post, we're going to take a look at those crucial last steps of how to pick the right Facebook ad type and messaging strategy so that you can accomplish whatever goals you've set out to accomplish.
Choosing the Right Ad Format Type
During the ad creation process, it's common to treat the ad format as an afterthought, but it can actually weigh heavily on the success of your campaigns. Videos, for example, are a great way to establish brand awareness with cold audiences, and multi-image carousel ads have higher-than-average click-through rates. Align the ad format with your audience, their relationship with your brand, and what you want to accomplish with your ads.
To help you decide which works for you, let's take a look at each.
Single Image Ads
Single image ads are one of the most common choices for ad campaigns, especially because they can help businesses assess what images their audiences respond to. This is the classic format, and it works well on the majority of placements, including right column ads and the audience network.
Image ads will typically be most effective when you can offer value and make it immediately clear in the picture. In the example below, Plated uses a single image to set a scene and create an emotional response with the idea of cooking together as a family, instead of just showcasing a picture of their menus.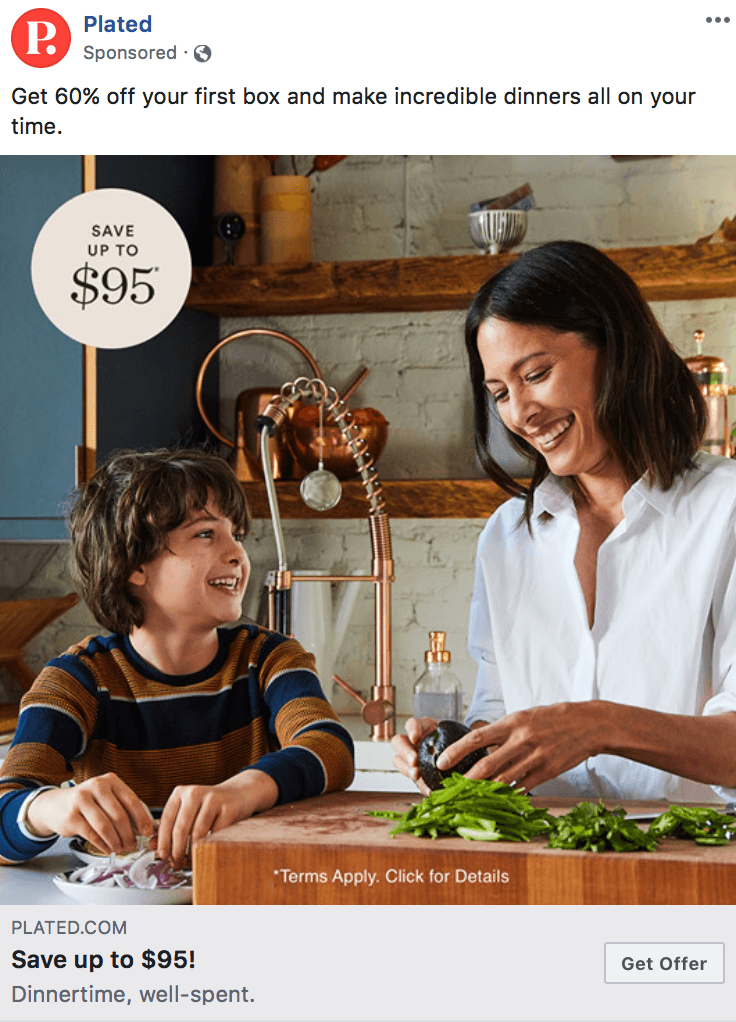 Pictures of your products can work incredibly well, especially if you're showing the product in-use. Sell that soap by showing your items soaking in a tub with all the gunk coming off (see the rockin' green video in the next section), or highlight your hand-stitched clothing by showing the dress swirling as the woman wearing it twirls. You want users to picture themselves experiencing whatever it is that you have to offer if possible.
Video Ads
Video ads are an exceptional choice in a lot of cases, and I recommend businesses use them to reign in cold audiences who have never heard of them. This is because they're effective: one study found that mobile-optimized video ads can increase brand awareness to 67%, and another found that 30% of shoppers said video was the best medium for discovering new products.
Videos should be your first line of defense when you are going for a more unique, interesting branding approach and you want to drive it home. We've seen this with brands like Lume, Purple, and more, and they use fascinating characters and a strong brand voice to stand out.
Videos are also a good choice if you want to show your product in use, which is valuable at all stages of the digital sales funnel. I'd seen Rockin' Green's promises about getting your clothes clean, for example, but I finally converted on an ad once I saw the following video.
The only time I really don't recommend using video ads is if you don't really have anything to say or show that couldn't be summed up just as well in an image. Even a GIF of a diamond sparkling can make a great, eye-catching video, but you can easily showcase that living room set in a picture unless you have a great twist on how you'll present it.
Carousel Ads
Carousel Ads are a personal favorite, and they allow you to add up to ten square images and/or videos to your ad, which users can scroll through. They have so many great use cases, including the ability to distinctly showcase different products or highlight different features of a single product, making them versatile. You can add custom text and hyperlinks to each slide, so users are sent to the right destination when they click.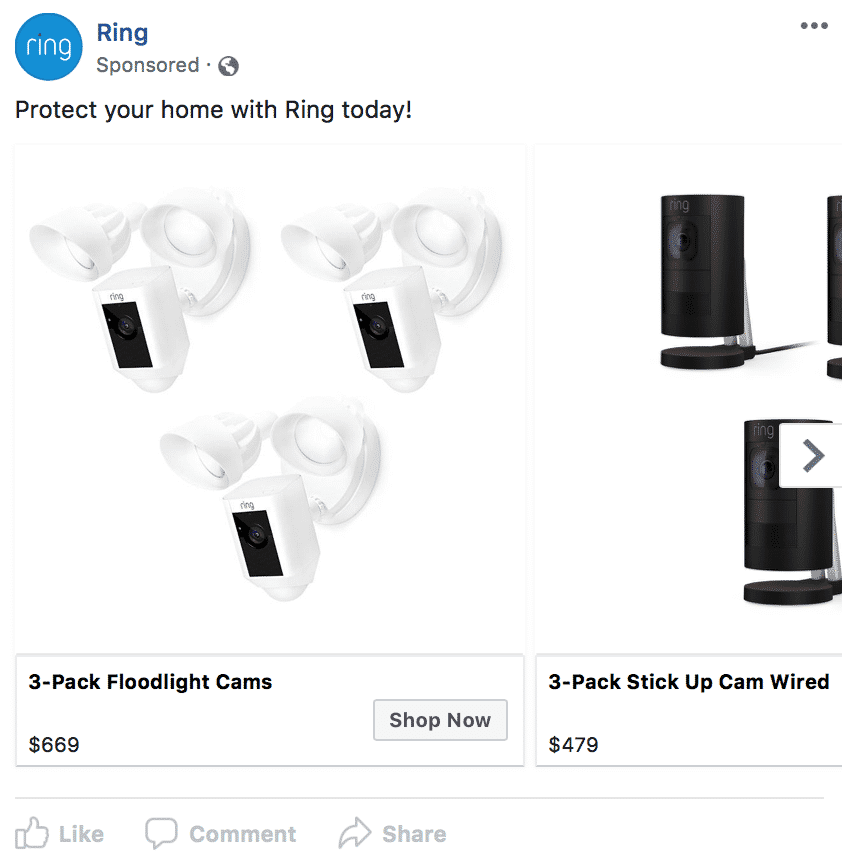 I highly recommend that carousel ads are tested by all brands to feature their products and services, and that's because they have such high performance. Some reports claim that carousel ads may have 10x better performance, and one study has found that they yield a 72% higher click-through rate and a 35% lower cost-per-click rate.
For best results, don't just use the same headline for every slide. Shake things up to ensure users actually scroll and click, otherwise it looks lazy and even a little spammy.
Collection Ads
Facebook's collection ads are a newer type of ad, and they're a mobile-first format that allows brands to feature different products in their collection, in addition to a single image or video ad. When users click, they can see the full collection expand, taking up their entire mobile screen.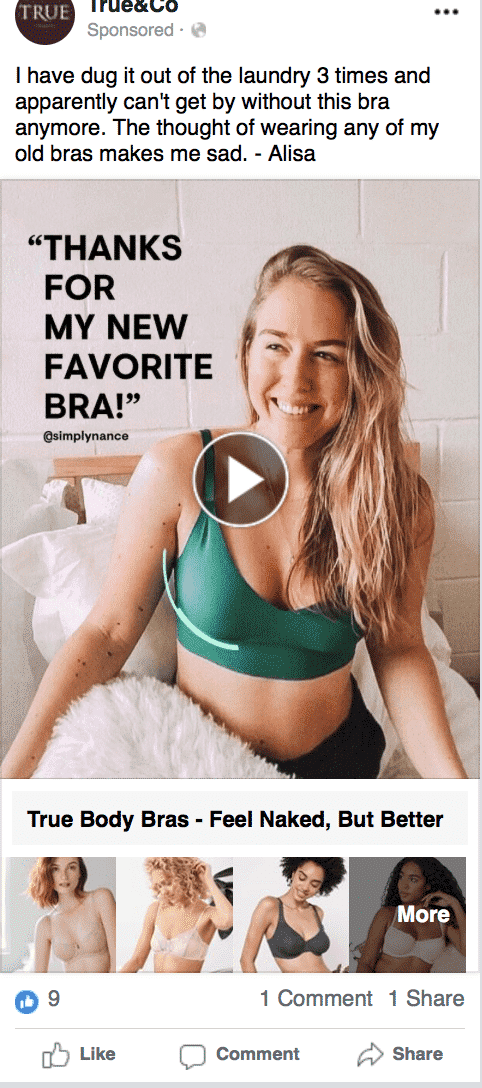 If you have a large product catalog and you're trying to drive immediate sales, this is a great ad format to test. Mobile conversions are on the rise, and this is a mobile-friendly format to help users see more of your products and find what they'd be interested in. You can learn more here.
Instant Experience Ads
Instant Experience Ads—previously known as "Canvas Ads"—are designed to offer an interactive, full-screen mobile "experience." The ads will look like this when users see them, having prompt encouraging users to click to open and see more: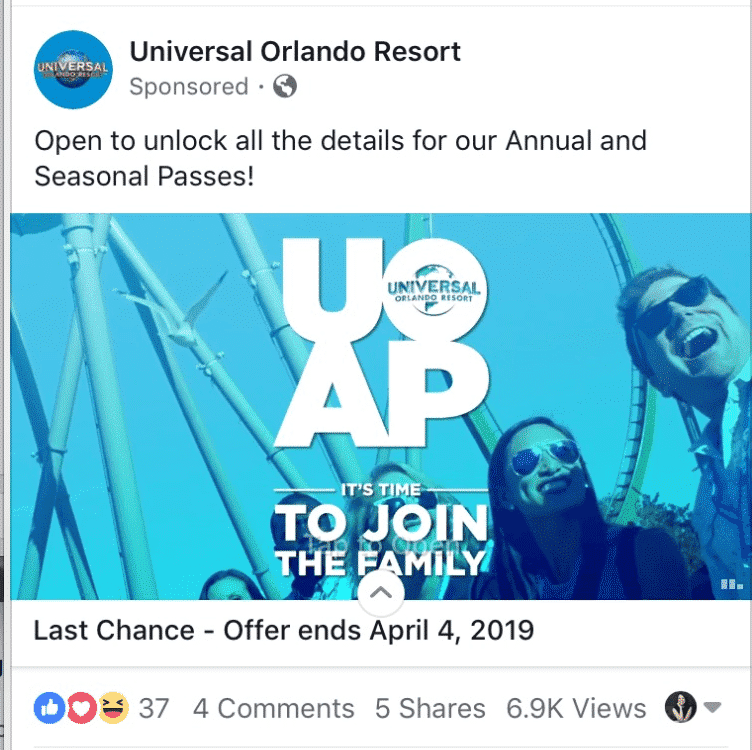 Once opened, they'll have a number of slides, which can include single images, carousels, music, videos, and clickable CTA buttons. Users can scroll up, down, and side to side until they click. See what this looks like here:
Note that Instant Experiences are mobile-only, but since mobile traffic continues to rise steadily, this isn't a loss. They're also not seen incredibly frequently in the newsfeeds, which could give you an edge if users are interested to see why this looks different.
If you're not sure about Instant Experiences but you love the full-screen look, you can opt to run image or video campaigns for Story Ads instead.
Choosing the Right Copy Strategy
In many cases, the right copy strategy should align with the ad format of your choosing to create a stronger, cohesive ad campaign. And when you're looking at Facebook Ad types, I often consider different copy strategies as being a "type" of ad. Let's take a look at different ad types in relation to copy, and how you can apply them to your campaigns.
The Question and Answer Approach
This is one of the oldest copywriting tricks in the book, and it works. You ask a question, like "Tired of not getting enough sleep?" and then immediately position your brand, product, service, or content as having or being the solution.
Salesforce does this in the ad campaign below: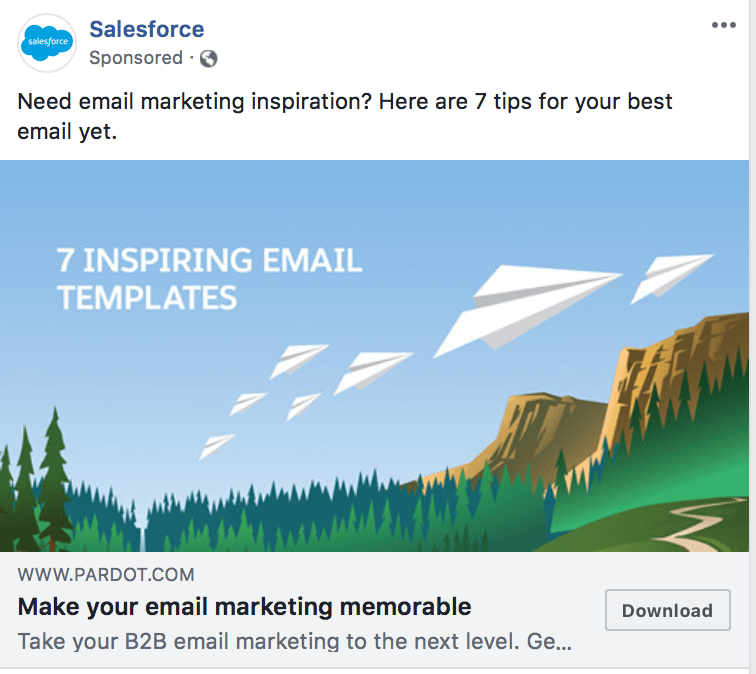 For single image and carousel ads, you can even use the headline to ask the question, and then use the full ad text and description to explain why you can offer up a great solution.
This strategy works so well because it asks a pretty vague question addressing a nagging pain point your audience has, which captures their attention, and then says "we can help and here's how."
The Testimonial Approach
We all know that we're more likely to trust our peers over whatever a brand promises us, so using customer testimonials in the ad text leverages this to your advantage. Choose a relatively short but powerful testimonial that focuses on the qualities you want to highlight, and use it as the ad text. You can always use your headline to create that offer and explain what it is you want users to do.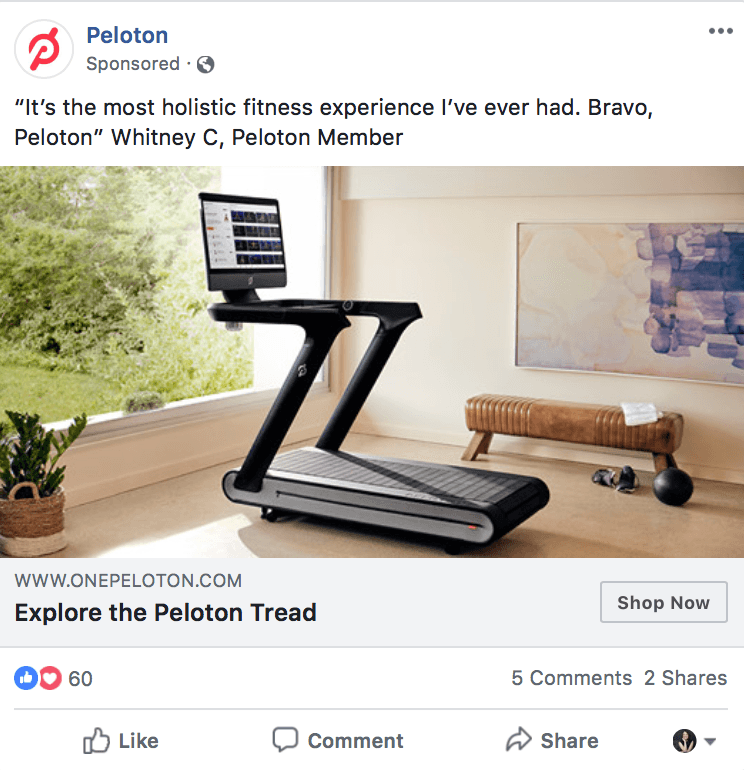 The key thing here is to use testimonials that align with what you want to promote. In the ad above, they didn't just choose a review that said "this is great!" They stressed "holistic fitness experience," which somehow feels bigger than just a treadmill and makes users want to learn more.
The Simple Facts Approach
Sometimes you don't need big elaborate strategies to explain the value of what you offer to your target audience. You have a simple but effective product, and a simple but effective copy strategy and ad type is what you need.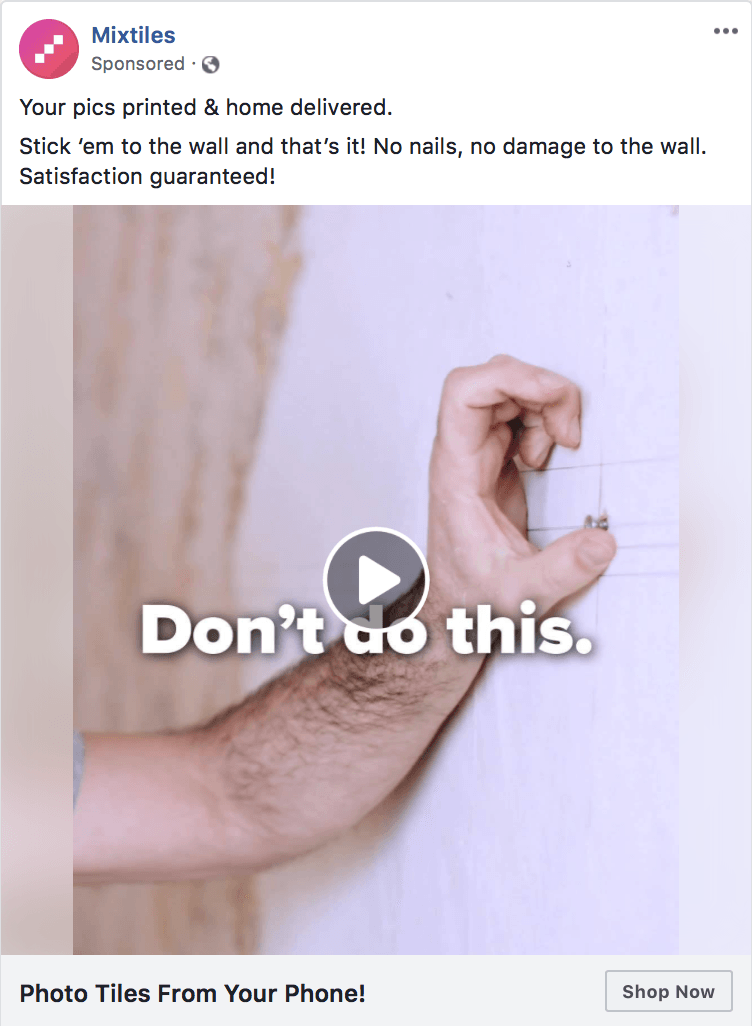 List a few features of what makes your product great, getting as specific as possible. You can do this either in a few sentences (or less), or use bullet point lists if you want them to be easy to scan.
The Long Form Approach
Most of the Facebook Ad copy that you'll see is short-form, no more than a few quick sentences. It is possible, however, for certain businesses to go above and beyond and create incredible long-form copy that resonates with their target audience.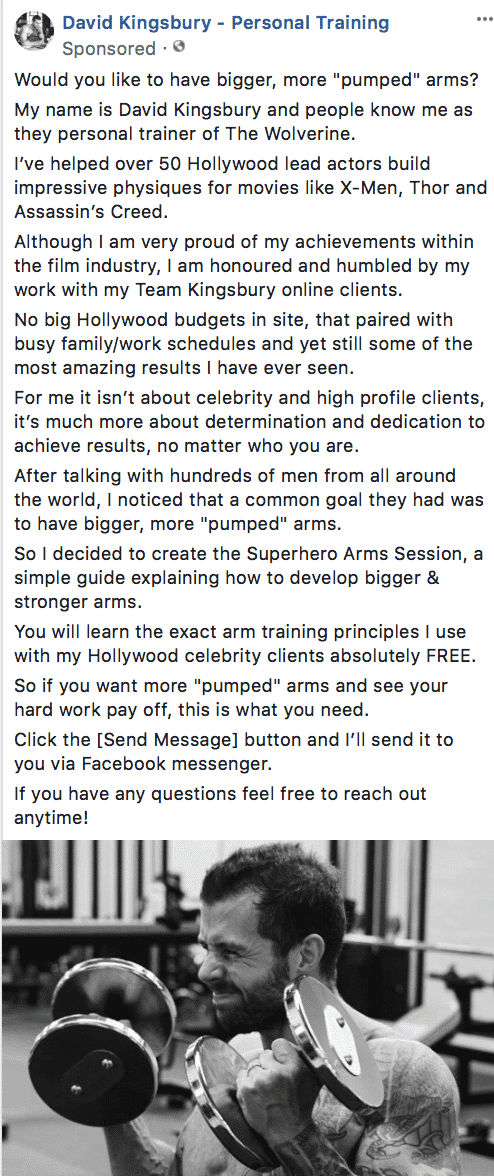 Long-form copy often involves some storytelling, using hypotheticals or real scenarios to attract users and really demonstrate the offer the ad promises to deliver. Just make sure that when you're opting for this strategy, the copy is strong, cohesive, and optimized for a single goal. This type of ad, more than any other, may require an expert copywriter to help you get it right.
The Story Approach
Everyone loves a good story, and storytelling is a solid advertising strategy. It keeps users' attention, and it makes you memorable.
A lot of brands don't realize exactly how many stories they can tell. If you're feeling stumped, think about your brand mission, why you started the company, how you've impacted customers, or how your customers are using the product. If you focus on a single, personal story, it can go a long way, especially when combined with a video ad.
Stories can end up taking a more long-form format when it comes to copywriting, but they can also be exceptionally short. The copy above sets the stage for a story with "Say Goodbye to Burglars" and "What happens when burglars recognize Ring?" Users can then watch some suspect individuals quickly running away from that ring camera, and it tells a powerful story that will connect with viewers.
The Amazing Offer Approach
This one is simple. Give them an offer they can't refuse, and they probably won't.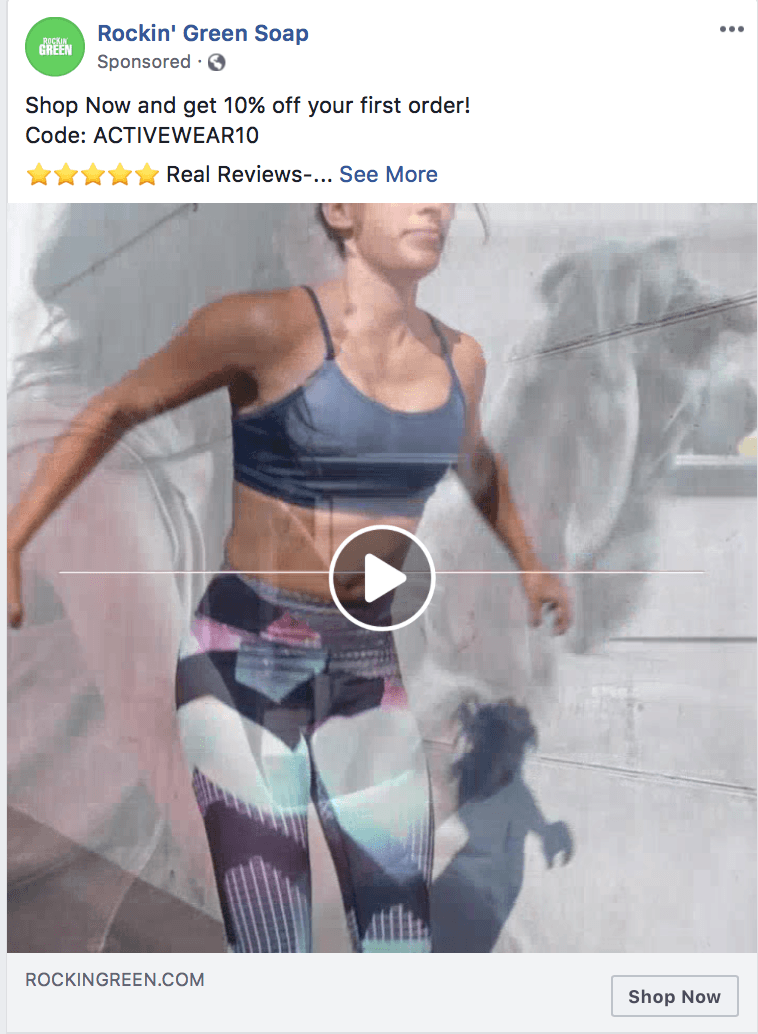 Typically using offers like discounts, freebies, or free shipping will be most effective once users are already familiar with the brand, so consider using this one for a retargeting campaign after users have already watched a brand awareness video ad or visited your site.
Conclusion
If you're wondering how to pick the right Facebook Ad type for your campaign and see multiple options that might work, remember that you never have to choose just one. Split testing is almost always the way to go. It allows you to discover which copy strategies and which formats work together to create an ad that your audience is most responsive to.
In my experience, plenty of brands are sometimes surprised by what the split tests reveal, so prioritize regular testing throughout the ad creation process to ensure you're optimizing your campaigns to the max.
Looking for some assistance in optimizing your Facebook Ad or other PPC campaigns? We've got you covered. Shoot us a message to learn more now.
What do you think? How do you choose the right Facebook Ad type for your campaigns? Which strategies are your go-to for best results? Share your thoughts and questions in the comments below!