How to Generate More Leads with Facebook Ads for Realtors
Marketing
•
PPC
•
Social Media
•
Ana Gotter
December 13, 2017
Real estate agents face different challenges than you'll find in most businesses. Often, they work with clients for an incredibly long time before they ever see that commission check and repeat purchases aren't exactly common.
As a result, successful realtor marketing takes aggressive lead generation. Even with great referral traffic, you constantly need to have marketing strategies in place to bring in new leads who are interested in buying homes.
Facebook Ads can be a goldmine for realtors, especially since many don't use the site correctly. In this post, you'll learn exactly how to generate more real estate leads and even sell your clients' homes online with Facebook Ads.
Get Creative With the Ad Format
Real estate agents know exactly how well a gorgeous image can sell house and Facebook Ads are no different. It's why houses listed online without any pictures get significantly less clicks.
One strong option to choose is the carousel ad format. You can use multiple images to showcase different rooms of a single house. Showing interested customers a home with a gorgeous kitchen, big open windows, and a stunning master bathroom can't do any harm.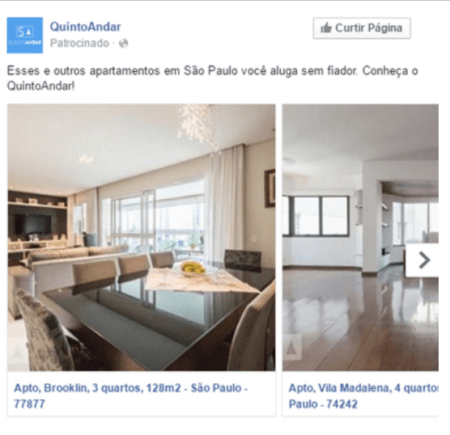 You can also run an ad campaign utilizing the 360 degree videos. This works well for homes with open floor plans, allowing customers to see the kitchen, living room, dining area, and maybe even a glimpse into the backyard all at once. To run ad campaigns with 360 degree videos, create them as organic posts first and then boost them.
Even if you're running these ad campaigns to sell a house one of your clients has on the market, it may introduce you to people open to buying who need realtors, too. Two birds with one stone, right?
Use Smart Targeting Choices
Smart targeting can make or break any ad campaign, but in the case of Facebook Ads for realtors, it can be the difference between an abundance of new leads and a whole lot of wasted ad spend. You can't, after all, just rely on zip code targeting (though that should definitely come into play).
Fortunately, Facebook Ads has some incredible targeting options. Some of the go-to choices in Facebook Ads targeting for real estate agents includes:
The "likely to move" behavior." This one doesn't require any explanation—this is the exact target audience that you want to attract, because Facebook has determined them to be in the exact category of people you need—people who are ready to buy and sell their homes.

First time home buyers. This is another behavior you can target and showing these viewers starter homes in lower to mid-range prices gives you a better shot of them giving you a call.

Household income targeting. This is a targeting feature that can be combined with any of the others to show users houses that are more likely to be in their price range. I'm getting ready to buy a house and the number of ads I've seen showing me houses worth half a million dollars is insane. I can't afford that, and don't even bother clicking. The ones in my price range, though? Those I pay attention to.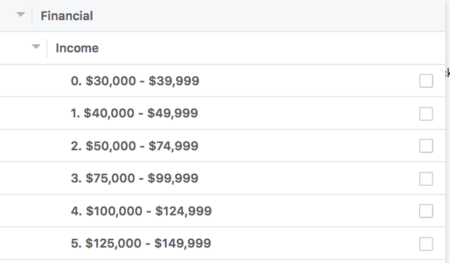 As you set up your targeting, make sure that you test different audiences. Then, use these different qualifiers to create highly targeted ads that will appeal most to the people you're looking to connect with.
Test Different Types of Copy
Test out different offers and copy. Sometimes, describing homes in detail with phrases like "sparkling granite countertops" and "spacious living area with natural light" coupled with gorgeous images can be enough to get clicks.
Other times, using ad copy like "Did you know you can buy a house with 0% down? Learn more here" is a better approach to capturing new leads—especially those who weren't seriously looking (and first time home buyers) because they didn't think they could afford to. Going for the emotional appeal never hurts, either.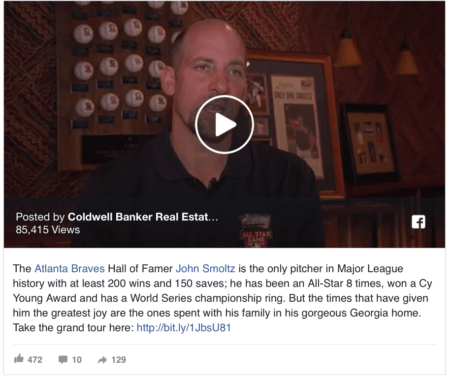 Yo should also run campaigns designed to appeal to buyers, and some designed to appeal to sellers. See what brings you the most qualified leads over time.
Use Lead Generation Strategies
And here's the crucial part. Everything that's led up to this likely won't amount to much if you don't have the right lead generation strategies in place to actually get in touch with the customer.
There are a large number of lead generation strategies and tools you can use to get contact information. These include:
Offering a free resource combined with a lead generation Facebook Ad. This resource could be an eBook on how to reduce closing costs or six things you should make sure you consider before buying or selling your home. Resources like this are directly relevant to your target audience and anyone who is downloading them could be in need of your services promptly.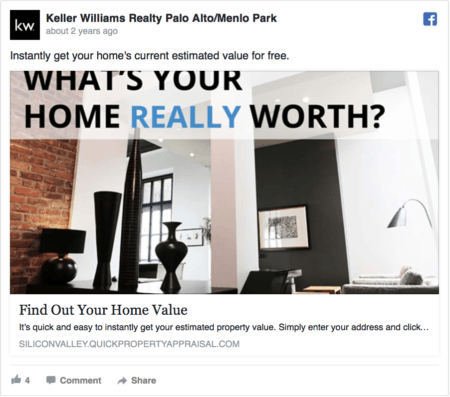 Sending users to specific listings that require email registration to view. As a buyer, I'm admittedly not much of a fan of this tactic, but I have a good friend who is a real estate agent who says that this strategy has brought him literally hundreds of leads (and thousands of dollars) in the past year alone. This works best if you brought users to your site when using carousel ads or 360 degree videos showcasing a specific house.
Advertise consulting up front. One of the most valuable assets a real estate agent can offer isn't just the negotiations at the end, it's helping sellers look at their homes and prep them to sell. Advertise this upfront and offer a home valuation estimate or consultation. People who already have a real estate agent won't bite. Those that don't, however, will be interested. Send them to a designated landing page where they can get in touch.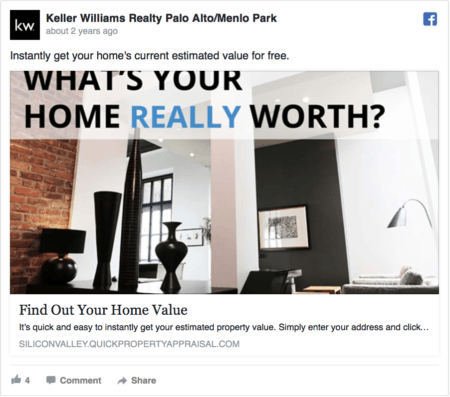 Final Thoughts
Facebook Ads for realtors require a slightly different strategy than most other B2C industries. There are very few people who will buy a house on an impulse purchase like they might for other products. Utilize PPC campaigns to continually generate new leads so you'll always have a stream of potential clients is the best way to go.
Need some assistance running PPC campaigns and Facebook Ads for your real estate business? We're happy to help! You can learn more about our services here.
What do you think? What are your biggest challenges when it comes to Facebook Ads for realtors' lead generation? Which PPC platform sends you the most leads? Share your thoughts and knowledge in the comments below! 
Leave a comment