An In-Depth Guide to Higher Education PPC Advertising
These days, getting into higher education PPC advertising can be a bit of a nightmare. The cost-per-click is astronomical and the competition is incredibly fierce.
In the cut-throat world of higher education PPC advertising, it can be tempting to simply give up and focus instead on other outreach channels. But, the thing is, there's a reason why so many colleges and universities are advertising online—that's where your future students are.
If you're not advertising online, those students will end up at someone else's school.
So, you can't afford to not do PPC advertising, but at a cost-per-click of $40+, it may feel like you can't afford to do PPC advertising, either…
Fortunately, there is some good news. At Disruptive Advertising, we've helped dozens of educational institutions use PPC to drive leads and fill seats. In this article, we'll discuss many of the tactics we use with our own clients on a daily basis and how to use them to improve your own PPC campaigns. Let's get started!
The Challenges of Higher Education PPC Advertising
As we just discussed, the higher education PPC advertising space is full of obstacles. The competition is fierce, the price for a click (let alone a lead or a student) is high and turning a click into a lead or an actual body in a seat is a long and complicated process.
To make matters worse, advertising platforms like AdWords have strict regulations on what words you can and can't include in your ad copy. From Google's perspective, banning keywords like "employment" makes sense (don't want to mislead people into thinking that your school can guarantee employment, right?), but it can make your life as a marketer quite a bit more difficult.
With all that in mind, let's take a look at some of these problems and how to deal with them:
1. Dealing with the Competition
For many businesses, the knee-jerk way to deal with the competition is to simply bid on their branded terms. For higher education PPC, however, things aren't quite so simple.
In many industries, people search for something on Google, see a paid search ad and click on it. They are looking for some sort of specific good or service that will solve an immediate problem.
In this sort of situation, bidding on the competition makes a lot of sense. If someone is typing in the name of a specific plumbing company, odds are that they have a plumbing problem they need solved. If your company is also a plumbing company and you can run ads on the competition's branded terms, people might see your ad, realize they have other options and pick your business instead of the competition.
For higher education institutions, however, things aren't quite so linear. Potential students aren't the only people searching for your competition's site online. Often, current students, faculty and staff Google their school's name, auto-click the top result and expect to end up on their school's website.
As a result, if you happen to be running an ad on that competitor's branded terms, you can end up with a lot of clicks from people who have absolutely no interest in your school. In fact, even if you're running ads on your own branded terms, you can end up paying for a lot of clicks from existing students and employees.
That's a very expensive way to run a PPC account.
Odds are, any institute of higher education will dominate the search engine results page for it's branded terms, so bidding on branded terms for higher education almost always ends up being a colossal waste of money.
Instead, the best way to deal with the competition is to create ads that stand out in some way. For example, take a look at the following: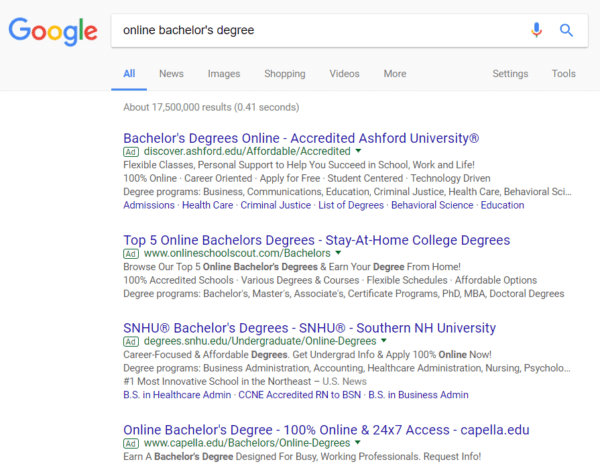 Which ad draws your eye the most?
Odds are, the SNHU ad probably caught your attention. Why? It's visually different from the other ads. Even though it sits in position #3, this ad has a lot of capital letters and the text in the title is more broken up.
It's a subtle difference, but when the two ads above it look almost identical, your eye naturally drifts towards what looks different.
Creating stand-out ads may not be as satisfying as bidding on the competition's branded terms, but it's a much more effective and profitable way to deal with the competition.
2. Handling Cost-per-Click
Unfortunately, there's no great way to get around the cost-per-click (CPC) of higher education PPC advertising. However, that doesn't mean you can't run a profitable PPC campaign in the higher education space.
Here are a few ways to get more out of your budget:
Get Specific
In higher education, specifics sell. Most people who search for "online bachelor's degree" are not ready to sign up for your program. They don't know what sort of a degree they want (or, in many cases, whether they even want to go to the effort to get a degree), what sort of career they want after school or how much they are willing to spend on a program.
In other words, they are in research mode.
Now, don't get me wrong, it's good to get on the radar of people in research mode, but can you afford to shuck out $60 a click (Google's current suggested bid for "online bachelor's degree") to advertise to people who are "just curious?"
Keywords like "bachelor's degree" or "MBA" may be hyper-relevant to what you offer, but they don't indicate a level of interest that you can afford to pay for.
Instead, you want to run ads for people who are a bit further along in their decision-making. For example, someone who searches for "nursing program" or "how to become a pediatric nurse" knows what they want. They aren't just wondering about the feasibility of an online bachelor's degree, they are looking for a school that can meet their specific needs.
To make things even better, check out Google's suggested bids for nursing program-related keywords: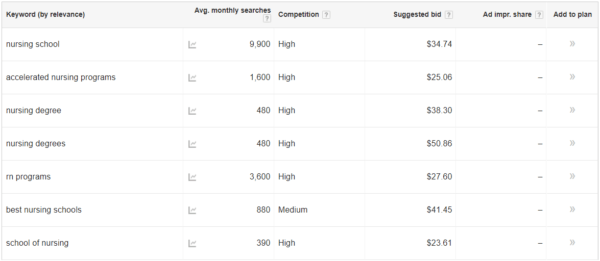 Look at that! Most of the suggested bids are one-half to two-thirds of the CPC of "online bachelor's degree". Higher intent with a lower CPC? Sounds like a win to me.
Of course, the more specific your keywords are, the less traffic they'll drive, but if your low-intent traffic isn't going to convert anyways, what's the point of paying for it?
Less is More
Now, that being said, one of the most common mistakes higher education marketers make is bidding on too many keywords. At Disruptive Advertising, we've audited over 2,000 AdWords accounts and discovered a lot about why AdWords accounts succeed and fail.
One of our more interesting observations was the fact that 94% of paid search keywords fail to produce a single conversion.
The simple fact of the matter is that most of your higher education leads are coming from a very small percentage of your keywords. To make matters worse, even among the 6% of your keywords that do drive conversions, many of those keywords result in your ads showing up for irrelevant searches that never produce leads.
As a result, the average AdWords account wastes 76% of its budget on clicks that have never and will never convert.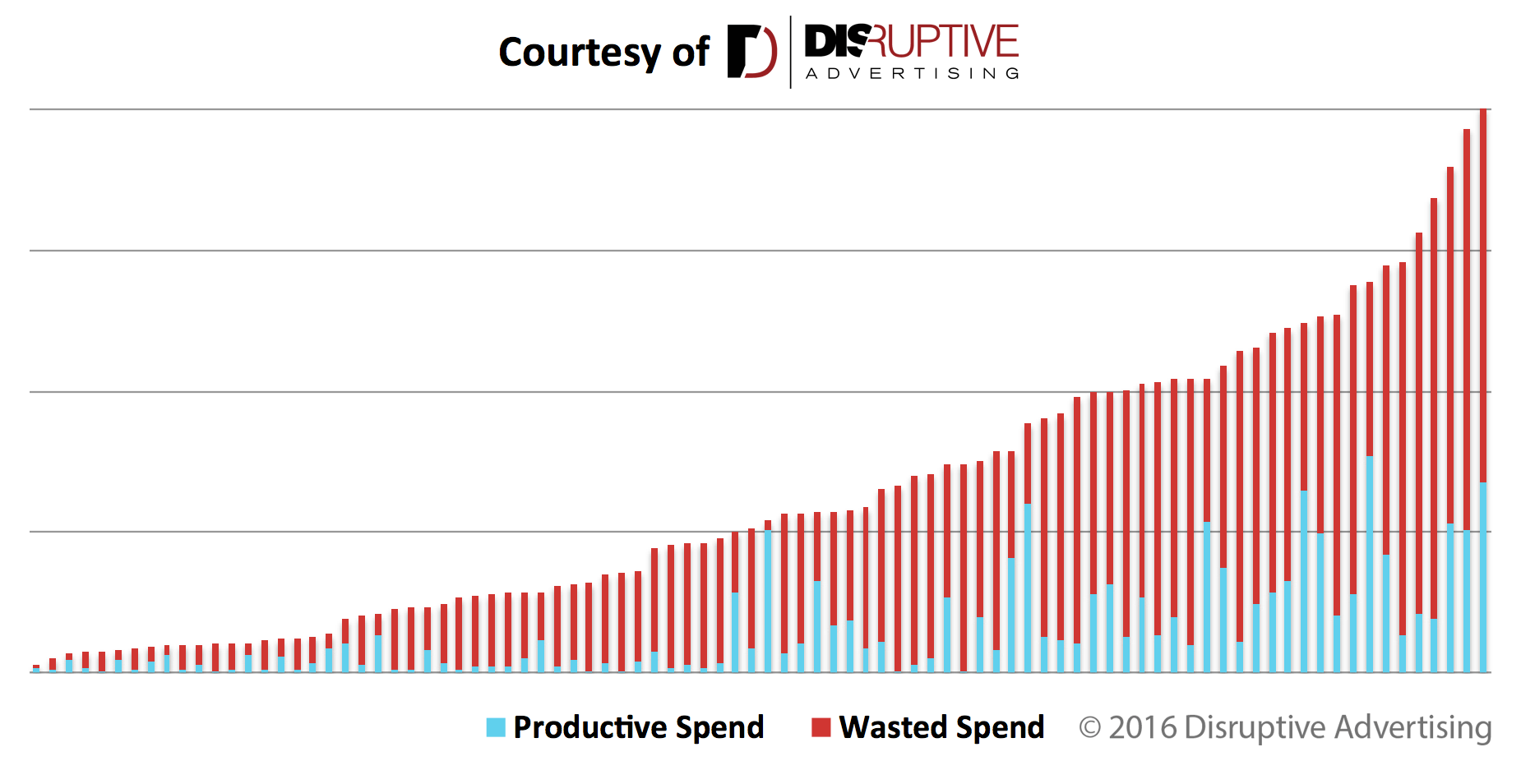 This is bad news for your campaigns.
As it turns out, wasting money on the wrong clicks increases your cost-per-lead exponentially. In fact, when we dug into the data from our audits, we discovered that every 10% increase in wasted ad spend increases your cost-per-lead by 44-72%.
Here's what that looks like when your CPC is around $1.00: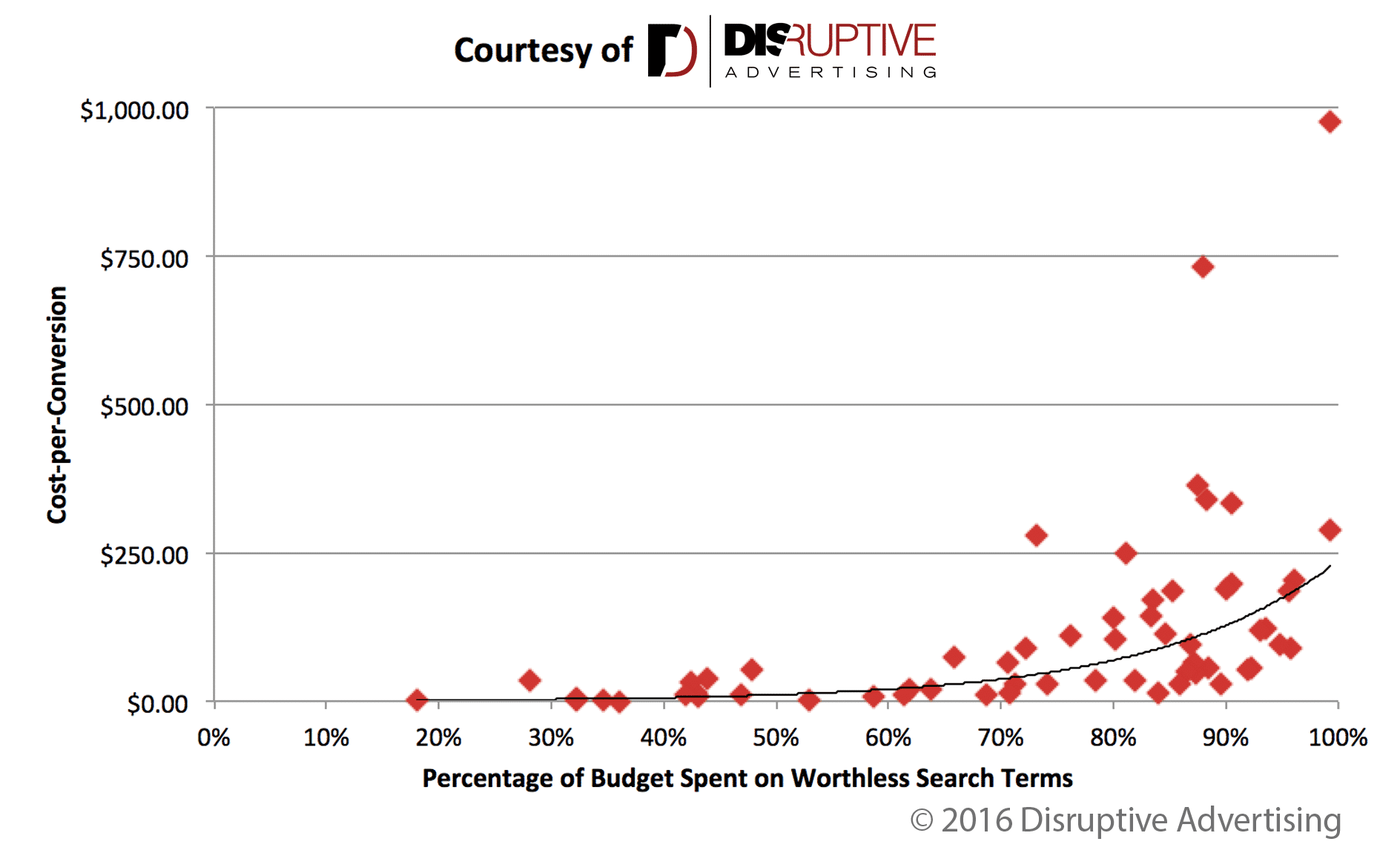 Not exactly the sort of trend you want to see…and your average CPC is probably a lot closer to $40 than $1. Is it any wonder that higher education PPC feels like a losing battle?
Fortunately, identifying your top keywords is actually fairly easy. In fact, most higher education PPC managers already know which search terms drive the best traffic.
To really take a hard look at things, though, you need to pull a search terms report. Open AdWords, set the date range to 3-6 months, click the Keywords tab and the "Search terms" button.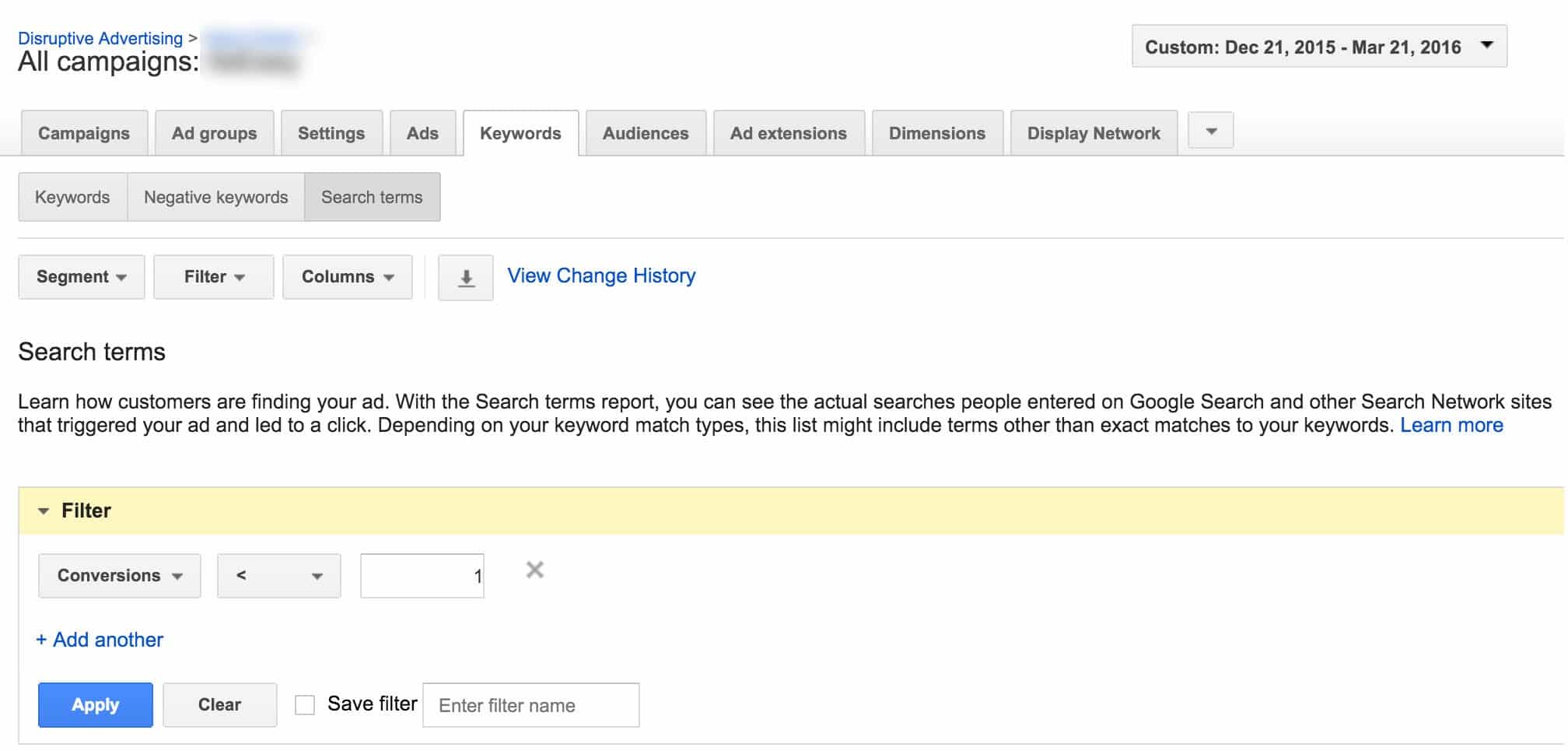 Click the Filter dropdown menu and click "Create filter." Depending on how you measure success, you can then choose which metric you want to screen for.
In this case, I chose to filter for all search terms with less than one conversion.
Once you have your report, you can look at a variety of information:
What percentage of your ad spend do your top search terms account for?
Which ad sets and campaigns are your best search terms linked to?
Do your best search terms form the basis for specific campaigns?
Are any of your high-performing campaigns or ads limited by budget?
Should any of your keyword or search terms be split off from their existing campaign to form a new, more targeted campaign?
By looking at your search terms report, you can uncover exactly which queries produce value and then turn those queries into keywords for new campaigns! In fact, we once used this technique to uncover $50,000 in completely wasted ad spend for a higher education client (to learn more, check out this article).
The moral of the story? You might not be able to get out of paying through the nose for higher education clicks, but if you can focus your ad spend on the right clicks, you can still get leads and new students at a manageable price.
Advertise on Facebook
No matter what platform you advertise on, higher education is an expensive audience to go after. However, your specific cost-per-click will vary significantly depending on the platform you are using. For example, where the average CPC on AdWords is around $40, we frequently see CPCs of less than $2.50 on Facebook.
That being said, Facebook and AdWords are very different.
On AdWords, you can bid on high intent keywords like "best engineering program" that indicate specific interests and a general readiness to commit. On Facebook, you are essentially limited to top-of-the-funnel advertising.
However, while you can't target people who are ready to sign up today on Facebook, Facebook is the ideal place to get on the radar of the sorts of people who are searching for "online bachelor's degree" on Google.
For the fraction of the cost of an AdWords click, you can use Facebook to warm potential students up to your higher education institution. Remember, your Facebook audience typically isn't ready to "apply now". Instead, they are weighing their options, which gives you the perfect opportunity to swing things in your favor.
Any good upper-funnel Facebook campaign should be designed to accomplish two objectives:
Get people into a remarketing campaign (more about that in a second)
Familiarize potential students with your brand
You might not get a ton of leads directly out of a Facebook campaign, but these campaigns will get people thinking about you and make them much more likely to sign up when they're ready.
3. Optimizing Your Sales Process
Unfortunately, even if you know how to handle the high CPC of higher education campaigns, it's still a long road from click to class. To really get the most out of your paid search campaigns, you need to optimize your entire sales funnel.
Remarketing
Picking a college is a big commitment, so it's natural that most people will want to take their time. Unfortunately, if people only see your site once in their often months-long decision-making process, they're not likely to pick you.
This is where remarketing comes into play.
Now, a good remarketing strategy will keep your name and a selling point or two in front of the people who have clicked on one or more of your ads. A truly great remarketing strategy, however, will help lead your future students along their decision-making path.
To do that, you need to craft marketing messages that match where your audience is currently at—not where you wish they were. Trying to sell too hard too soon will backfire in any higher education PPC campaign and remarketing is no exception.
Here are a couple of remarketing tactics to consider including in your strategy.
Address Their Concerns
Often, people aren't ready to convert on your landing page because they still have unanswered questions or concerns.
They might not feel ready to commit to your college. They might think tuition is too expensive. They might feel nervous about giving you their personal information. They might not be ready to make the time commitment that comes with signing up.
Whatever the reason, if you know that many of your potential students share a common worry, remarketing can be a great way to address that concern.
For example, Southern Illinois University addresses many potential questions about what attending their university is like:
The video itself is well done, but what makes it a great retargeting ad is the message it sends to potential students who want a great college experience.
Offer an Incentive
Often, as a college or university, it may seem like your hands are a bit tied when it comes to incentivizing potential students. After all, you can't exactly offer "half off your first semester's tuition if you sign up today."
However, just because you can't always offer monetary incentives, that doesn't mean you can't offer some sort of incentive with your remarketing.
Free content (like an eBook, catalog, blog post, etc) can be a great way to offer value to potential students. The more value you offer them, the better they will feel about your school and the more likely they are to eventually choose you.
This tactic is particularly effective if you can pair it with one of the common concerns we addressed in the previous section. Here are a few ideas to consider:
Free eBook comparing your school with the competition
Blog post(s) by alumni discussing their experience at your school
Listicle of the top 25 wackiest activities on campus
15 odd facts about your school
Access to an interactive map of campus
Free course catalog
Free guide on "How to pick the right college/university for you"
Interactive quiz ("What major should you choose?", "Which intramural sport should you try?")
These are just a few potential options, the possibilities are almost endless! Of course, if you can offer a monetary incentive (reduced application fees, etc), that can be another great way to go, but regardless of what you offer, incentives can go a long ways towards encouraging people to pick your school.
Conclusion
When you get right down to it, the success or failure of your higher education PPC campaigns comes down to how you deal with the competition, handle the high CPC of higher education advertising and optimize your sales process. If you can conquer these three obstacles, you'll be well on your way to running profitable campaigns that fill seats for your school.
By the way, if you'd like me to take a look at your current strategy and give you any tips or suggestions, let me know here or in the comments. I'd love to help.
How do you approach higher education PPC advertising? Any advice to share? Are there other major obstacles that should be added to this list?
Leave a comment