How to Make the Most of Facebook Campaign Budget Optimization
by Ana Gotter • April 28, 2020
Most advertisers who run Facebook Ads just run ads plural—they aren't uploading a single image with one snippet of copy and waiting for the magic to happen.
Even simple advertising campaigns often involve multiple ads within a single ad set, featuring a variety of different images, copy, and offers for split testing. Most campaigns, though, are multi-faceted, including both simple and complex funnels with numerous ads designed to nurture users through the buying process.
In addition to all the work that goes into developing and creating these campaigns, this means that you also now have to pay for them. This is where some businesses struggle, trying to decide how to allocate their ad spend to get the most out of their campaigns overall.
When allocating your budget, you can absolutely do this manually, giving specific bid caps and budgets to each individual ad set. This method takes a significant amount of time, however, especially when you're running a large number of campaigns. It's also a giant pain when you want to go back and edit spending on these campaigns after assessing their performance.
This is where Facebook campaign budget optimization comes into play.
In this post, we're going to go over Facebook campaign budget optimization, discussing what it is and how to work with the system so that it works for you. This is particularly important because Facebook announced earlier this year that control only at the campaign level will soon be the norm moving forward.
What is Facebook Campaign Budget Optimization?
Facebook's campaign budget optimization is a native tool available through the Facebook Ads platform. When used, Facebook will automatically divide up the available ad spend for a campaign and distribute it across your ad campaigns.
They'll look at your overall campaign objective, bidding strategy and delivery optimization choices, and they'll prioritize increasing the budget to campaigns that will help you accomplish your goals.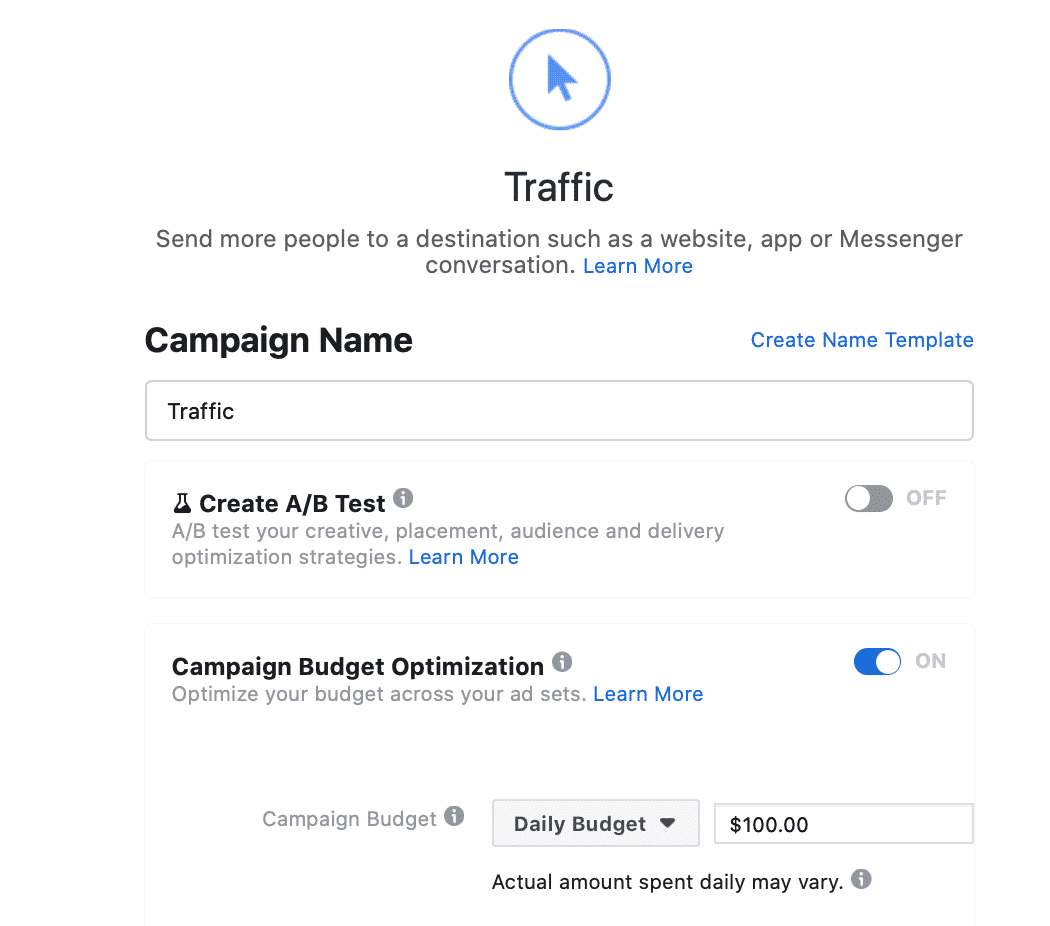 If you want to drive traffic to your site, for example, and you're choosing to use the "lowest cost per action" approach, Facebook will watch your campaigns' performance for a few days. After seeing initial results, they'll take ad spend from lower-performing and higher-cost ads and put the funds towards ads that are more successfully driving the desired result.
Campaign budget optimization is only at the campaign level. This means that you can't divide up one overall daily budget or total budget between all of your campaigns; it's only possible to use it for all the ads under a single campaign.
Pros and Cons of Facebook Campaign Budget Optimization
There are some benefits and disadvantages to keep in mind before choosing to use Facebook campaign budget optimization.
The pros are pretty clear: Facebook does some of the heavy lifting for you, using their own algorithms to prioritize ad campaigns that are most likely to get you the results you want. This is self-explanatory. More ad spend is ideally going towards your most profitable campaigns without you needing to go in and manually adjust everything yourself.
It can also be wildly effective. AdEspresso ran a case study in 2019, and found that optimization significantly improved the cost per action of the campaigns run.
There are some downsides here, too, however, that you do want to consider.
The first is that there is a lack of control. Not all advertisers want to get to this level of detail, but for those who do, the automation can have limitations. If you're trying to prioritize high-quality leads (and not just "leads"), you may find that some of your ads cost more but yield higher-quality leads. Facebook campaign budget optimization could end up putting more ad spend to other campaigns because they're lower cost—it's not as if they can assess the quality of leads for you.
Another thing to consider is that if you're making a major change in your budget or you're duplicating one campaign to tweak it that the machine learning may be reset. Optimization starts over.
How to Get the Most Out of Facebook's Campaign Budget Optimization
Facebook's campaign budget optimization is going to be the standard soon, so understanding how to get the most out of it and use it to your advantage (and not to your detriment) is key.
Let's take a look at some of the steps you can take to benefit from campaign budget optimization on Facebook.
Set Limits to Control Spending At the Ad Set Level
You can't set daily or total budgets at the ad set level when using the Campaign Budget Optimization feature—if this isn't something you're used to with Facebook Ads, it can take some time to get used to it.
There is a bigger lack of control here. The good news, though, is that there are tools that we can use to control what's happening to individual ad sets at least a little.
You can set minimums and maximums for what you want to spend on each individual ad set. There's no guarantee that your minimum will be met, but it ensures that you'll never go beyond what you're willing to spend on a single campaign.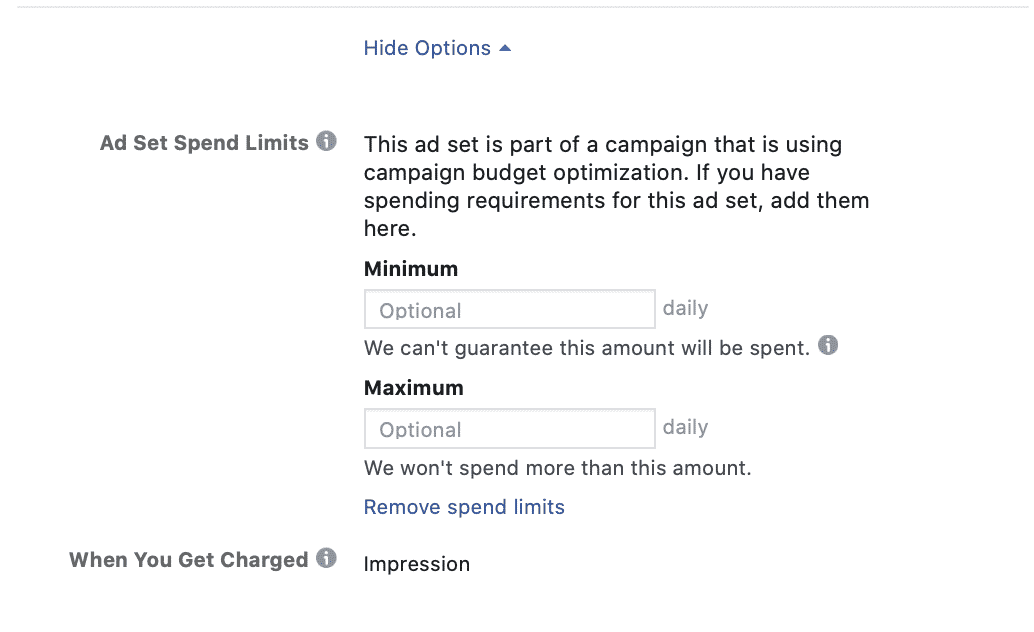 You can use this to break up some of the campaign optimizations, especially if you want to ensure that all ad sets are being given fair treatment early on.
Let's say that you've got a campaign with 5 different ad sets. Your total budget is $100 per day. If you want to gain more control, you could set a maximum daily ad spend of $20 on each ad set. Or, if you want to prioritize ad sets A and B, you can send $35 on A and B and $10 daily on C, D, and E.
Budget optimization will still impact your individual ads within an ad set, but this will help you level the playing field. If A and B, for example, target higher-value customers, you won't want them to get penalized if the results cost more than C, D, and E. This can help prevent that.
Optimize for the Right Actions in Each Ad Set
At the ad set level, you're able to optimize for ad delivery. This means you can choose to optimize for actions like link clicks, landing page views, impressions, video views, and more.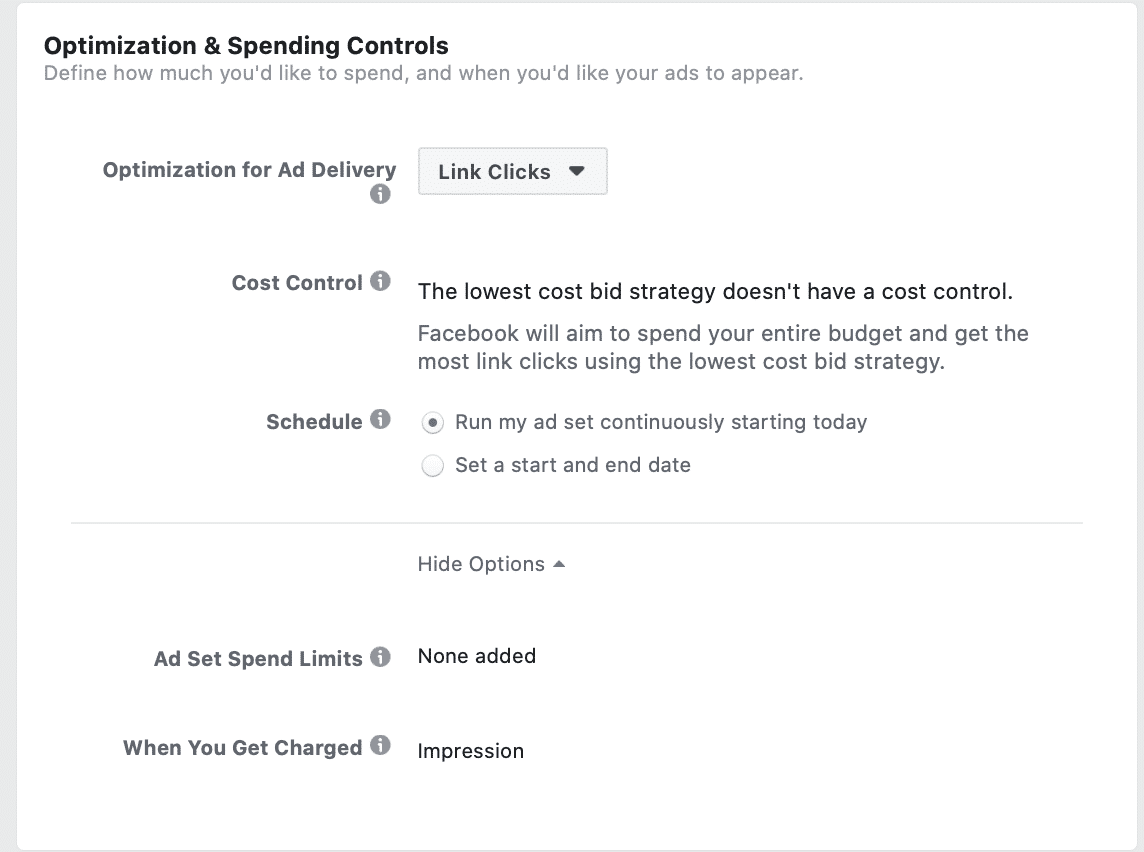 This is helpful, telling Facebook exactly what results you're looking for from each individual ad set, decreasing the likelihood that they'll undervalue a campaign that's actually doing what you want it to (or vice versa).
Make this choice intentionally for each individual ad set you create, based on the audience you're targeting, the offers you're creating, and the purpose of the specific ads within the ad set. When in doubt, you can always split test this to see what works.
Break Up Campaigns as Needed
Advertisers structure their accounts differently. It's one thing that's always fascinated me.
Some, for example, will include all ads focused on driving traffic to their site under a single campaign, using ad sets to differentiate more between their purposes.
Others will create campaigns for specific purposes. They may have one campaign that's designed to drive cold traffic to a product page, and one campaign for ads that are focusing on reengagement from existing customers.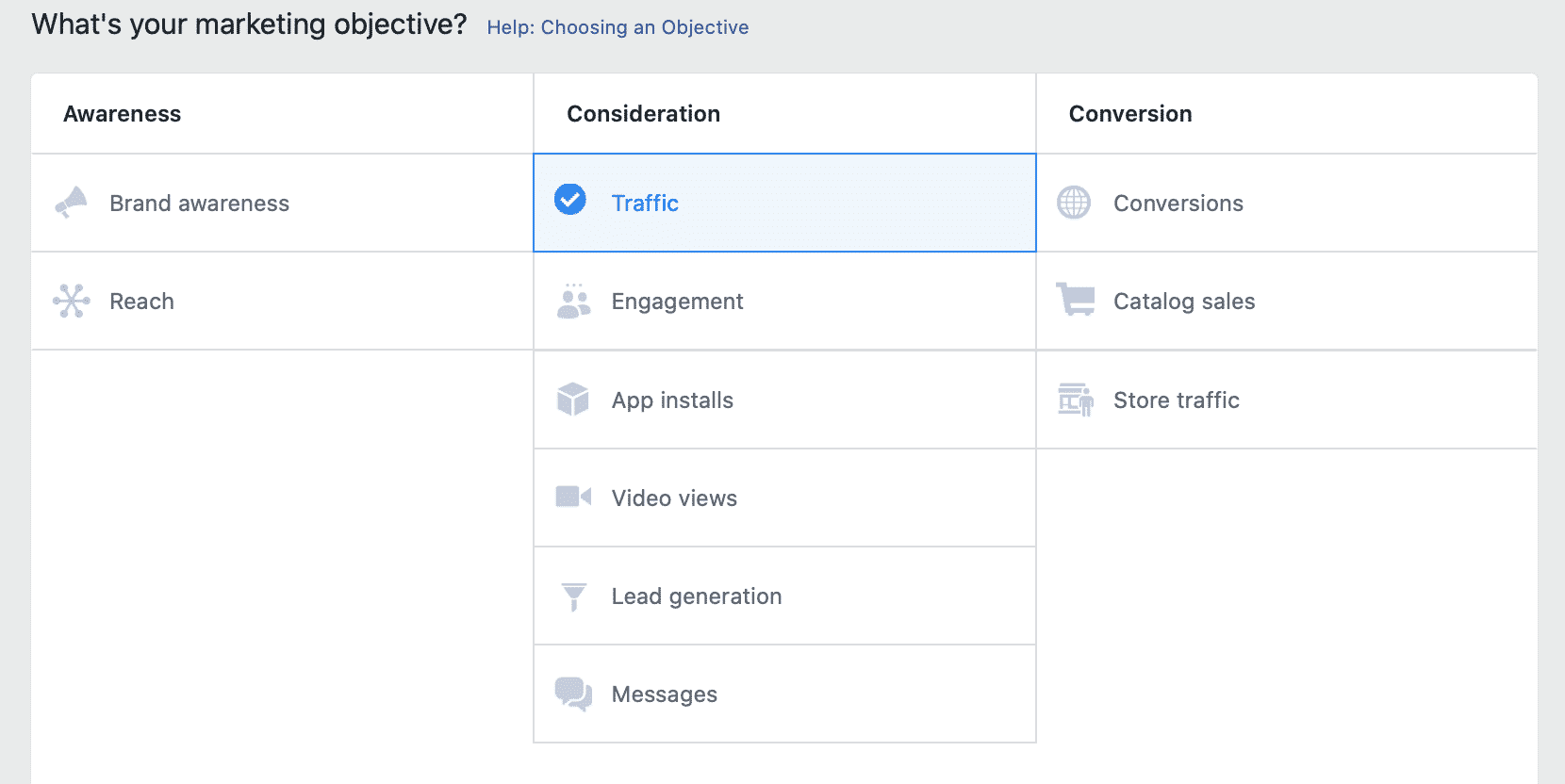 You'll want to look at how to structure your account in a way that it stays organized but that it also gives you as much control as possible. Breaking campaigns down for specific purposes may make it easier for you to ensure that no part of your funnel is neglected due to poor optimization, allowing you to reach your full audience more successfully.
This is something to watch on your own accounts, seeing what works best for you and the funnels you've created. This may require a "watch and learn" approach, where you tinker with the campaign structure as needed.
Conclusion
One of the factors of Facebook Ads that makes it so exceptional is that there are so many options for customization and control on the part of the advertiser. Another is the outstanding native optimization and automation features that they have available. Sometimes the two can end up conflicting with each other, however, if using optimization means that you need to surrender a bit of control.
In many cases (especially for busy advertisers), campaign budget optimization can be an enormous asset for advertisers that can increase their success at a lower cost overall.
The key is knowing how to put fail-safes in place that allow each of your ads and ad sets to get the necessary funding to drive results and assess their performance. The three steps we discussed are all you need to do that.
Looking for help with your Facebook Ads and other PPC campaigns? Get in touch with us here to learn more about how we can help optimize your campaigns and improve your results.
What do you think? How do you get the most out of Facebook campaign budget optimization? Do you like the change that makes the optimization a mandatory part of the ads system? What limits do you set to gain control of your accounts? Share your thoughts and questions in the comments section below!