5 Easy Ways to Expand Your Paid Search Keyword List
by Aden Andrus • November 30, 2016
Creating an effective paid search keyword list can be hard. After auditing over 2,000 AdWords accounts at Disruptive Advertising, we've found that in the average paid search account, just 6% of keywords produce 100% of the conclusions.
The other 94% are a waste of money.
So, when you put together a keyword list (or want to try out new keywords in your account), you want to make sure that you are picking keywords that are relevant and effective.
Fortunately, if you use the following approach, this is actually a fairly straightforward process:
Creating Your Keyword List
When it comes to brainstorming keywords, there are a lot of tools you can use. In this article, we won't address all of these tools—just the 5 easiest (and in my opinion most effective) tools—but regardless of which tool you use, you can put together a pretty substantial list in next to no time.
Unfortunately, brainstorming a gigantic keyword list is so easy that you can quickly end up with a long list…mostly full of useless keywords.
To minimize keyword bloat, ask yourself the following as you find new keywords while using these tools:
Does this keyword have enough search volume?
Is this keyword really relevant to my business?
Does this keyword speak to my audience's pain points?
If the answer to all of these questions is "yes," you may have found a winner! Otherwise, add it to a "save for later" list.
Now, let's take a look at a few of the tools you can try:
1. The Keyword Planner
If you have an AdWords account, you have access to the Keyword Planner. Here's a quick GIF that shows you how to get started with the Keyword Planner: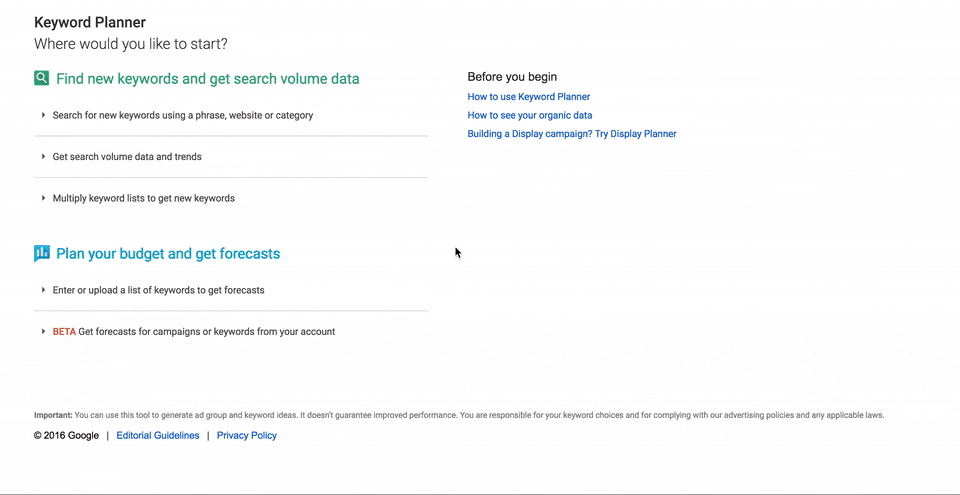 To put it simply, the Keyword Planner should be one of your go-to tools for keyword research. In addition to giving you data on search volume and performance predictions, the Keyword Planner will use the keywords you enter to create new combinations of keywords or entirely new, related terms.
2. Google Autocomplete (Google Suggest)
If you've ever started typing a search query into Google and seen a list of suggested phrases pop up, you've seen Google Autocomplete in action!
Basically, when anyone searches on Google, a Google Autocompleter sees what they are typing and tries to helpfully complete their thought for them…
All right, in reality, Google Autocomplete uses algorithms to predict your search, but the net outcome is basically the same. For example, here's what Google Autocomplete suggests when you enter "paid search":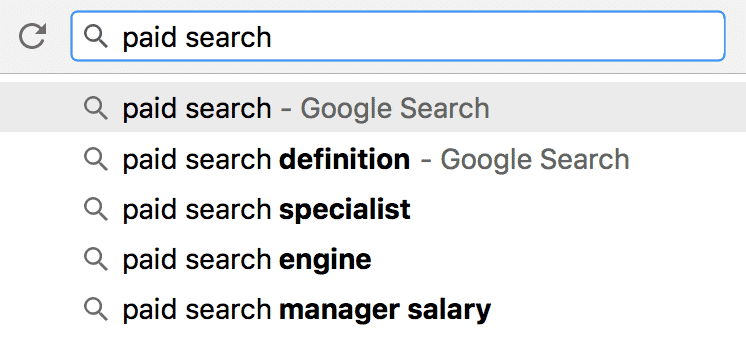 For most people, Google Autocomplete saves time and keyboard strokes, but for search engine marketers, it is a great resource for identifying potential keywords. Why? Well, Google's algorithm uses historic search data to try and predict what you might be interested in.
So, if lots of people search for "paid search definition," "paid search definition" will show up as a top option. This is great for paid search marketers, because it allows you to see what words people type in when they are typing your keywords.
In a lot of ways, Google Autocomplete is like using the Keyword Planner (minus the additional helpful data), but you can try adding different letters or words to the end of your keywords to get new ideas about how people phrase things. This can be helpful for keyword research, but it can also be very useful for writing ad copy.
3. Google Search Console
Unlike the Keyword Planner or Google Autocomplete, the Search Console doesn't need you to enter keywords to identify potential keyword options. Instead, you can use the Search Console to figure out how people are already finding your website.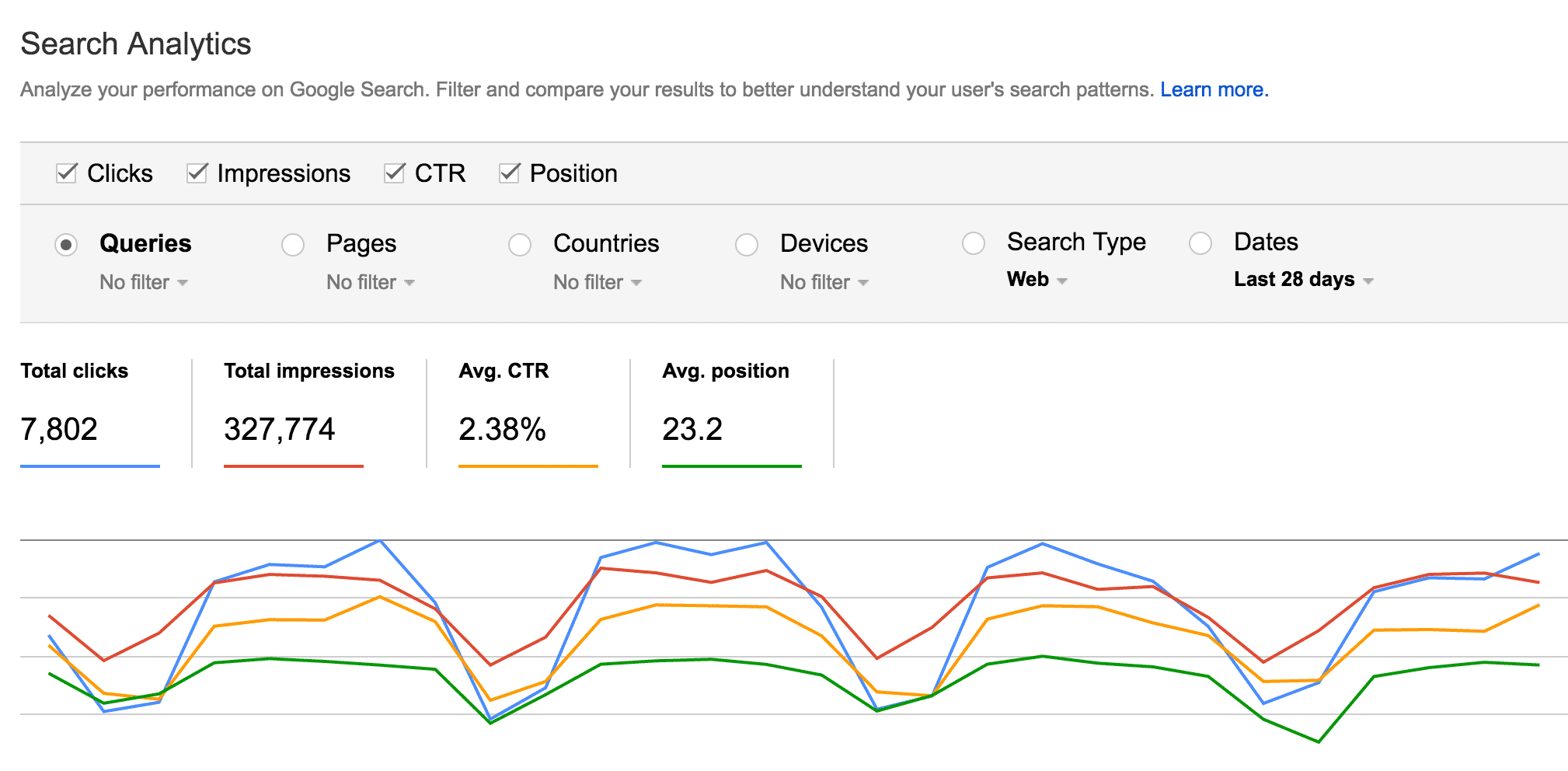 The Search Console is part of the Google Webmaster Tools, so if you don't have that set up (or don't have access to it), you can't use this tool. However, if you do have access to Search Console data, you can see which terms are driving traffic to your site.
And, odds are, if people use a term to find your site organically, they'll probably click on an ad that shows up for the same search terms.
4. Google Correlate
The idea behind Google Correlate is fairly simple. You enter a keyword and Google Correlate tells you which search terms seem to be connected to that keyword based on similar changes in popularity.
For example, here's what Google Correlate shows if you enter the keyword "comic con":

Apparently, misspelled versions of "comic con" spike right along with increased interest in "comic con." Seems to make sense, right?
At first glance, misspelling data might not seem all that useful, but identifying common misspellings can be a clever way to get relevant clicks. For example, Snickers used this tactic to drive 500,000 impressions in 3 days.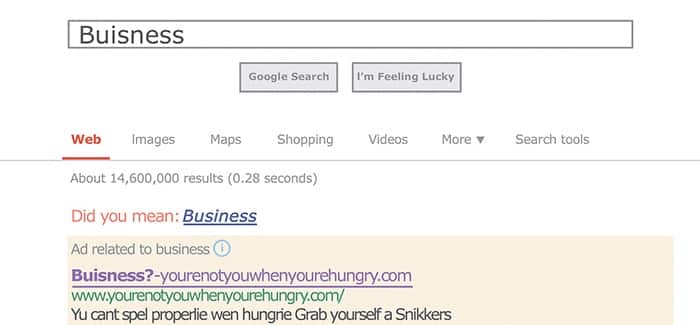 Now, of course, Google Correlate gives you information on more than just misspelled words. As you can see in the results listed above, "comic con" is highly correlated with terms like "SDCC" (San Diego Comic Con for the non-geeks out there)—an event that occurs in July.
Guess what? Both terms get a spike in search volume every July (Google Trends is another great way to get at this information).
So, if you happened to sell fantasy costumes, this data could be incredibly helpful. In fact, if you scroll down a bit further, you'd see that "comic con costumes" has a 0.8816 correlation (the closer to 1, the better) with "comic con."
Since there's a lot of highly correlated interest here, a lot of these keywords might be great ideas for a June/July paid search campaign. See how useful this can be?
There's just one caveat for Google Correlate: correlation doesn't always mean causation. "Avon Campaign 16" has a 0.7595 correlation with "Comic Con", but that doesn't mean people searching for "avon campaign 16" are looking for Comic Con tickets.
5. Wikipedia
Wikipedia might not be a high-authority source for a college paper, but they are a great resource for building your keyword list.
To understand why, you have to think about how Wikipedia articles are created. Basically, a Wikipedia article is the brainchild of numerous people with a significant interest in a particular topic. These people are usually pretty dialed into the dialogue and issues surrounding that topic.
So, if you want keyword ideas, reading the Wikipedia articles that show up when you type in your keywords can be a great option. For example, here's what you get if you type in "city planning":

Look at that! In just the first paragraph, we've already identified 16 more potential keywords!
Conclusion
That's it! Each of these 5 tools should provide you with a wealth of new keyword ideas for your paid search campaigns.
Of course, as you add new keywords to your campaigns, you'll want to keep a close eye on their performance. Check out your search terms report and make sure that your keywords are delivering conversions, not just clicks.
But, odds are, if you've used the tips in this article, you'll end up with mostly winners!
By the way, if you'd like help building your keyword list, let me know here or in the comments. I'd be happy to take a look at your current list and help you come up with additional options.
How do you find new keywords to test out? Are there any keyword tools you'd add to this list?