A Quick Guide to LinkedIn Ads for B2B Businesses
by Ana Gotter • August 9, 2017
Most social ad platforms (like Facebook Ads) can work fantastically for B2B businesses but often work better for B2C businesses. Others really only work for B2C businesses, like Pinterest's Promoted Pins. LinkedIn Ads, however, is the only platform that is most effective for B2B businesses and it's chronically underused.
In this post, we're going to go over everything B2B businesses need to know when they're ready to run LinkedIn Ads.
Why Use LinkedIn Ads?
LinkedIn is a professional networking site—not just a social networking site—so LinkedIn users are already thinking about work when they log on. They're on the site for networking, job searching, recruiting, and some professional research into other companies.
This makes users of the site intrinsically much more open to your B2B business's offer than they would be on any PPC platform aside from Google AdWords.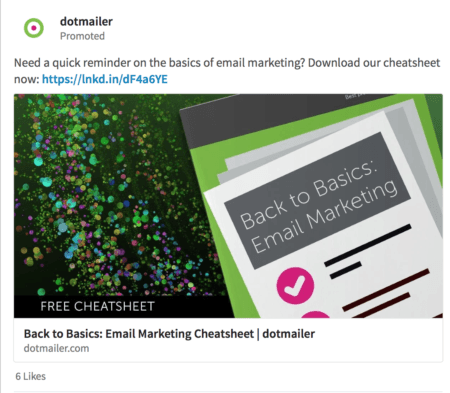 To make things even better, LinkedIn Ads also isn't the first ad platform most B2B businesses try. This is part of the reason why you see significantly less ads on the site than almost any other platform, which gives you a leg up. The lower the competition is, the better—if users see less ads on the site overall, they may be inclined to pay more attention to the ones they do see.
Thanks to Hubspot, who ran LinkedIn Ads for a year, we know that this is not just a nice theory. In their study, Hubspot found that LinkedIn Ads had a conversion rate of 6.1% from U.S. customers. In comparison, their ads on Google had a conversion rate of 2.58%.
Hubspot also found that CPCs are higher on LinkedIn ($5.74 per click to AdWords' $3.35), but their cost-per-lead was about $90 on LinkedIn Ads and $125 on AdWords.
What Types of Ads Can I Run on LinkedIn?
You can run several different types of ads on LinkedIn.
Sponsored Inmail is the first. Everyone is freaking out over Facebook's Messenger Ads, but LinkedIn did it first (and quite awhile ago). With these ads, you can deliver an inbox message to specific audiences.
Sponsored Inmail ads have the advantage of giving users an actual notification, resulting in an extremely high likelihood that they'll read it instead of potentially skipping past it in the feed. They also encourage both conversation and potential clicks, which can be a huge advantage for lead nurturing.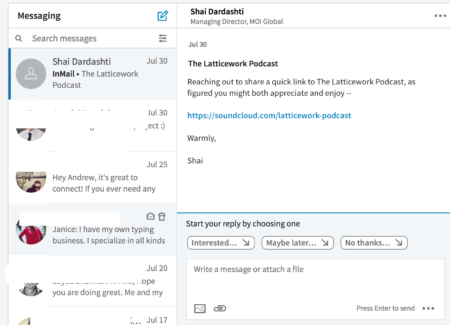 The second is sponsored content. Sponsored content works like most other social site's newsfeed ads. You'll have a headline, a description, and an image that shows up in users' feeds.
Like Sponsored Inmail, sponsored content is labeled as ad content with a small "sponsored" tag attached. These ads are effective for driving both brand awareness and conversions from highly engaged users. Many sponsored content ads show up at the very top of the newsfeed, giving you excellent visibility.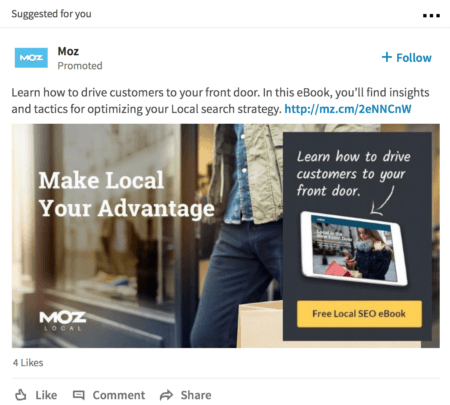 The final option is Text Ads, which appear like Facebook's right column ads. They're small and will be displayed off to the site.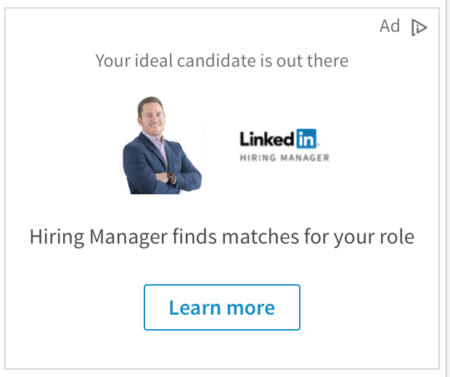 Text ads are also good for developing brand awareness and getting clicks, especially in highly targeted audiences.
How to Run LinkedIn Ads
You'll run LinkedIn Ads through their marketing solutions center, which can be found here. You'll see the "Create ad" button in the top right corner.

When you first enter the Create an Ad self-service manager, you'll need to create an ad account if you don't have one already.

An ad account requires you to have either a Company or Showcase Page on LinkedIn. You can search for your Page, or create a new one. Once you do this, choose your currency and name the account. You'll see the option to create a new campaign on the next screen.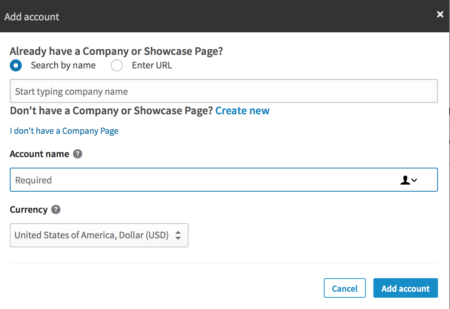 Next, you'll choose what type of campaign you want to run.
Campaign Types
Each campaign type will have very subtle differences in the Creatives section, where you craft your message and (if applicable) select an image.
For the purposes of this post, we'll run a Sponsored Content campaign, which will be similar to Text Ads: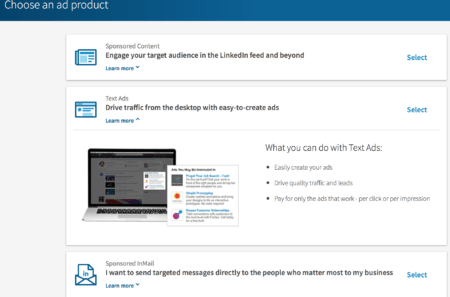 With sponsored content ads, you have to first name the campaign and language of your target audience. You'll then choose if you want to send traffic to your site, or collect lead information with lead generation forms. The latter works like Facebook's Lead Gen Ads, and you'll be able to download the lead information from LinkedIn's campaign manager.
Since most LinkedIn Ads send traffic to their site, that's what we'll choose for our example campaign: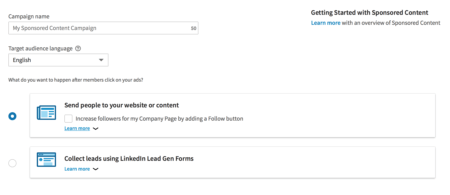 In the next step, you'll need to either create new sponsored content, or select content you've already created for your Page.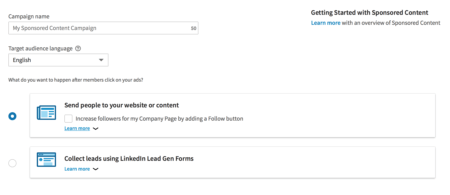 Now it's time to set up targeting.
Targeting
You can use demographic/interest targeting options to connect with your audience, or retarget users either from lists of email addresses, or those who have visited your site.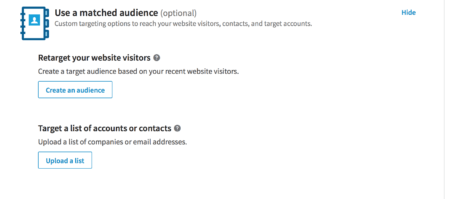 If you choose to use demographic and interest-based targeting, there are a ton of options to choose from, including:
Location
Company name, industry, and size
Job title, function, and seniority
Fields of study, schools, degrees, years of experience, and skills
Companies followed
Age
Years of experience
Gender
Groups they belong to and companies they follow
On the next page, you'll see the option to set up conversion tracking.
Tracking, Budgeting, & Scheduling
Setting up conversion tracking is always a good idea, as it allows you to accurately track ROI. You can see how to do this here.


Next, you'll choose how you want to bid. You can choose from CPC (cost per click) or CPM (cost per thousand impressions). You'll set your campaign's daily budget, and choose your actual bid. LinkedIn will automatically suggest a bid for you, and tell you your minimum bid.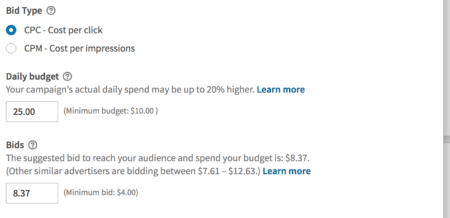 Underneath this, you'll choose a start date. You can also choose to enter an end date (which I always recommend), a total budget that won't be exceeded, and if you want to optimize for CTR by showing higher performing ads more often.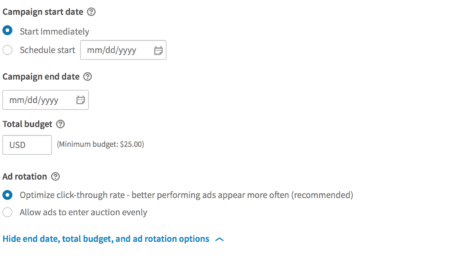 Once you do this, you're all set. You'll review your campaign, and be ready to go.
Conclusion
B2B businesses looking to test another ad platform should take a close look at LinkedIn Ads. Users are on the site with the workplace in mind, making them particularly receptive to your products and services. Since fewer businesses use LinkedIn Ads than Facebook Ads (and possibly Promoted Pins), this can lower the competition and give you a big edge.
Wondering if LinkedIn Ads is right for you? Leave us a comment or send us a message here!
What do you think? Have you used LinkedIn Ads? Are you thinking about testing them out? Leave us a comment and let us know what you think!