Quora Audience Targeting: What are My Options?
by Ana Gotter • January 3, 2019
Quora is a valuable question-and-answer site that often provides relatively reliable, high quality answers that you might not always see on many of their competitors like Yahoo Answers.
You can find answers to questions ranging from "What is it like to talk to a serial killer?" to "What's the best gift to give a new mom experiencing postpartum depression," and some marketers use the site as an extension of their marketing plan to connect with relevant customers and improve thought leadership.
In addition to offering thought leadership and content marketing benefits, they also have another great offering: on-platform PPC ads. Imagine being able to show an ad for your products designed to help mothers with postpartum to someone viewing answers to "what to get moms with postpartum depression"—the selling potential is pretty huge.
As with all PPC platforms, your targeting can determine whether or not your ads make an impact, so we're going to take a close look at the best Quora targeting options that will work for you.
Why Use Quora Ads?
Quora questions often receive long, in-depth, high quality answers to sometimes even simple questions. Question askers can request that certain expert users provide answers, and actual legitimate experts weigh in, which isn't something you always find on other sites. As a result, you'll often see people enthusiastically reading questions and answers that are interesting to them. Showing users a well-timed, relevant ad that addresses a subject they're interested in can be a great way to capture them while they're interested.
If, for example, you knew you wanted to start a garden at some point to grow your own food, you might pause to notice a Facebook Ad showing a fancy hydroponic garden. You'd be more likely to click and purchase, however, when you're actively looking up answers to questions like "how to grow herbs inside."
Quora Ads are incredibly useful at capturing engaged users who are reading about content that's hopefully similar to what you're advertising (or at least they will if you get the targeting right).
Let's take a look at 5 Quora audience targeting options you have when running campaigns.
1. Topic Targeting
Someone is reading over a past thread, looking for an answer to "should I sell my house?" They're clearly considering making a move, but might feel overwhelmed and not sure where to start. And then, BOOM, they see an ad for a real estate agent that promises to help them get their home ready, or a blog for how to pick the right real estate agent who can help.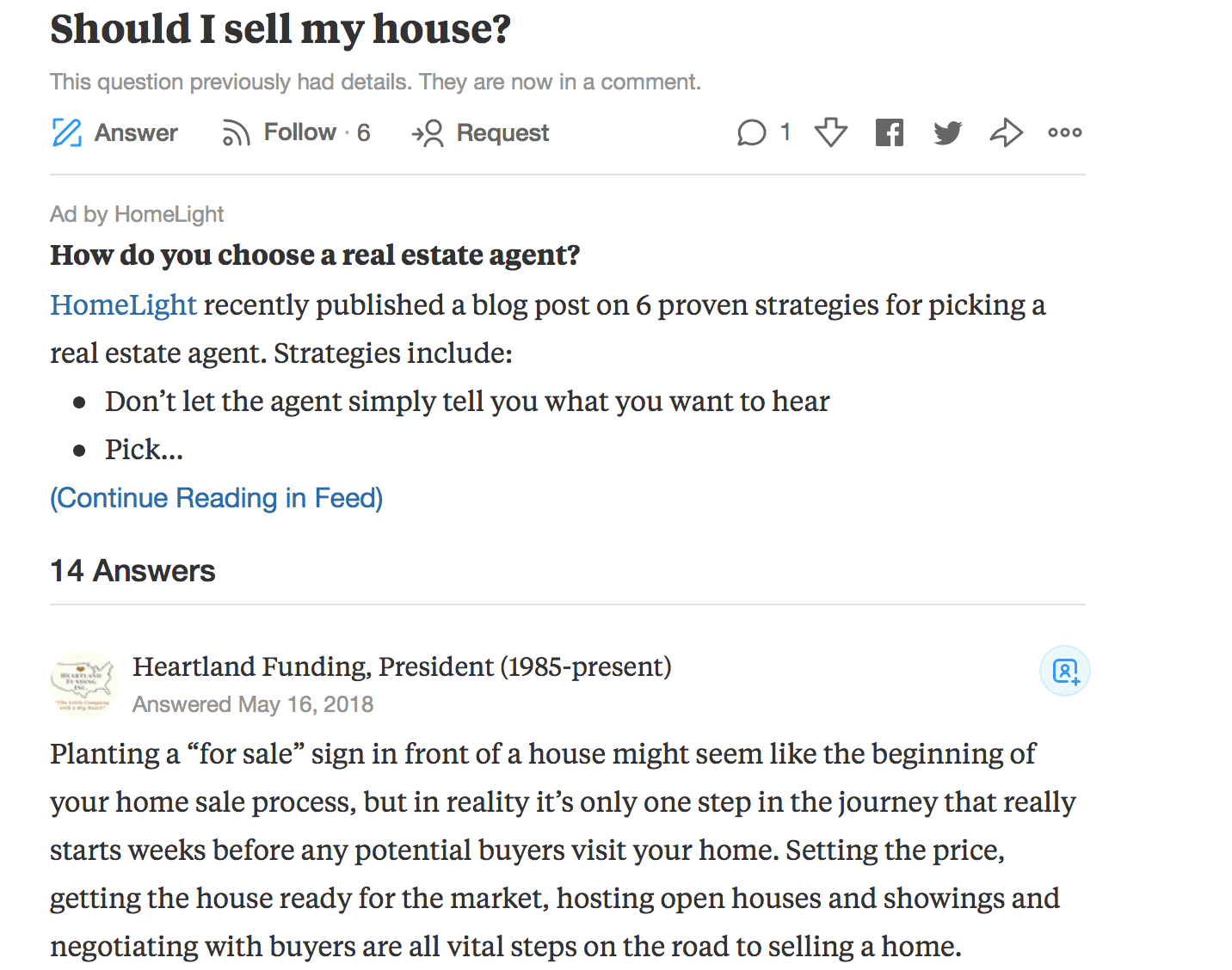 When you're targeting by topic, the potential relevance factor will work in your favor. This option will show your ad in or near content that's directly related to topics that you choose, like real estate or selling a home.

Topic targeting can be really specific, but it can also be somewhat hit or miss if you have a hyper niche business and and want to write focused campaigns. The ad below is a good example—someone looking for lead management software may be interested in freelance project managers, but it's not what they're looking for right now.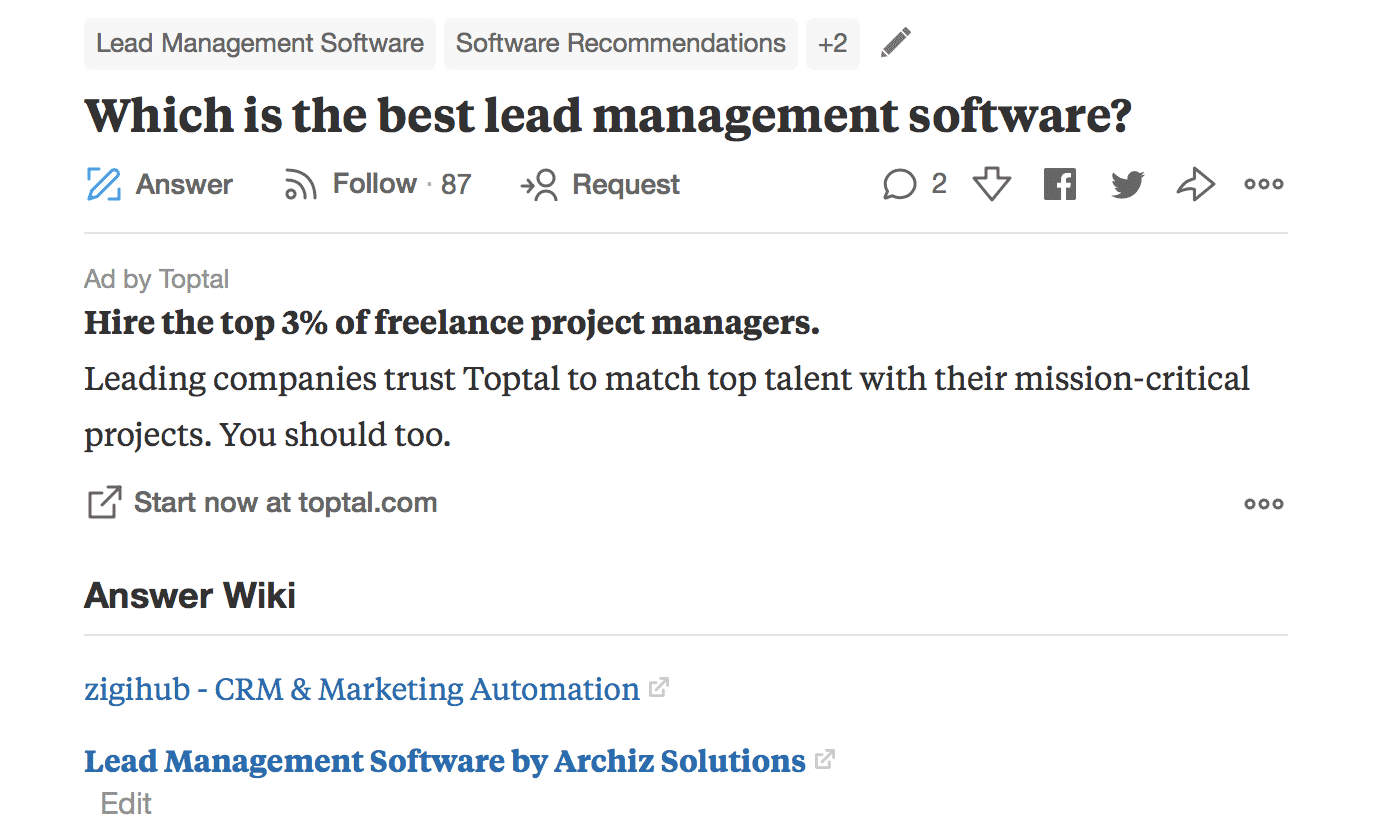 Targeting "investing" could have someone looking to invest in real estate see an ad for a stock broker that they'd never be interested in hiring. This won't necessarily crash a campaign, but PPC is partially a numbers game and you want as many relevant audience members to see your campaign as possible. For best luck, be as specific as you possibly can.

2. Question Targeting
Question targeting is incredibly, incredibly specific and they work well for popular questions like "How can I market on Facebook" or "What's the best way to reduce skin damage from the sun?" If you aren't sure where to start, Quora can give you suggestions for popular questions and show you how many weekly views each question receives.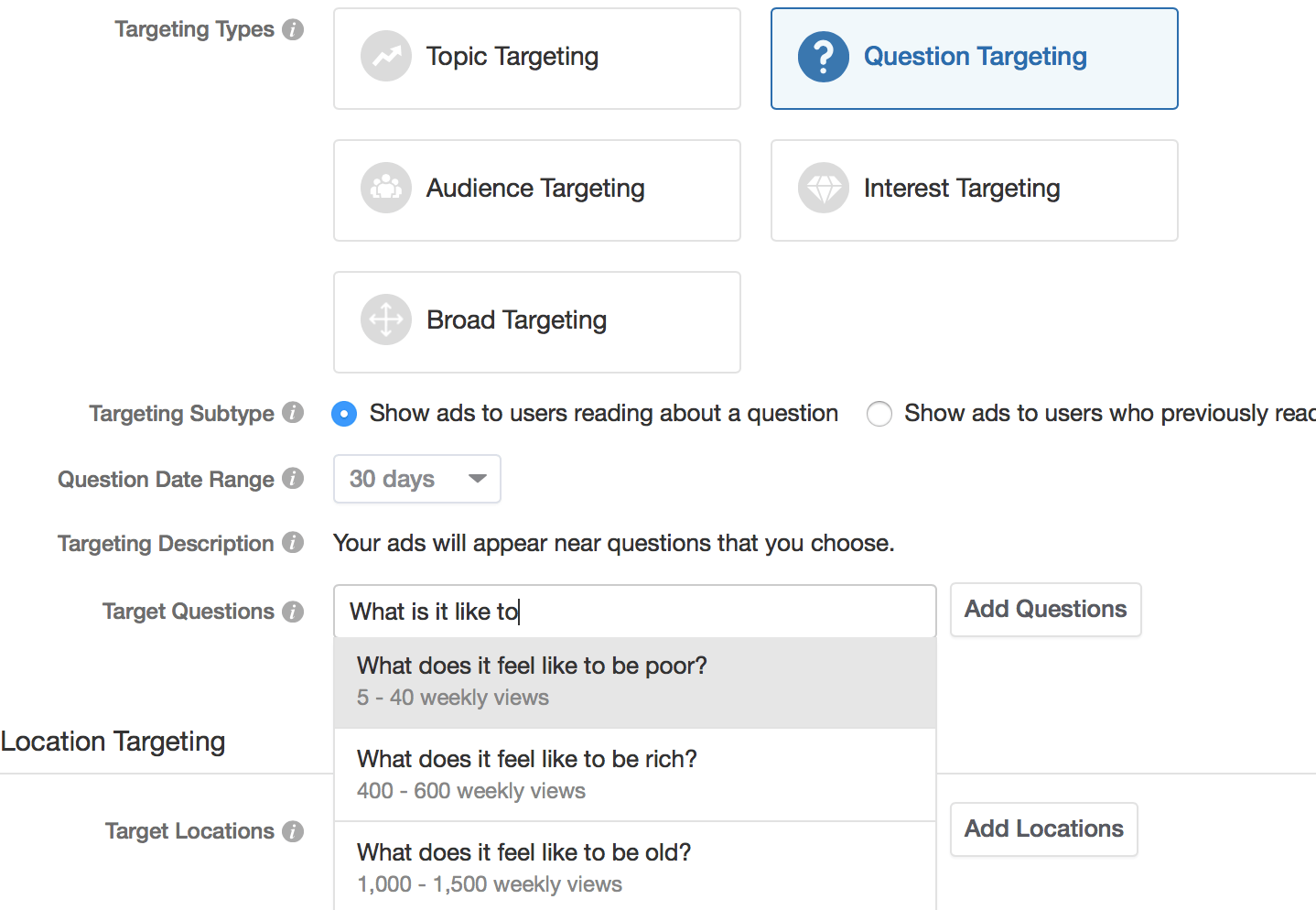 There are two big options here. You can either show ads to users who are currently reading that question you're targeting, or show ads to users who have previously read those questions. Both can get you connected to your target audience, but you'll likely see better results if you show the ad to users who are currently reading the question. They're engaged and looking for a solution now—you want to catch them before it's too late.
3. Audience Targeting
Audience targeting is essentially retargeting, allowing you to essentially target specific audience types.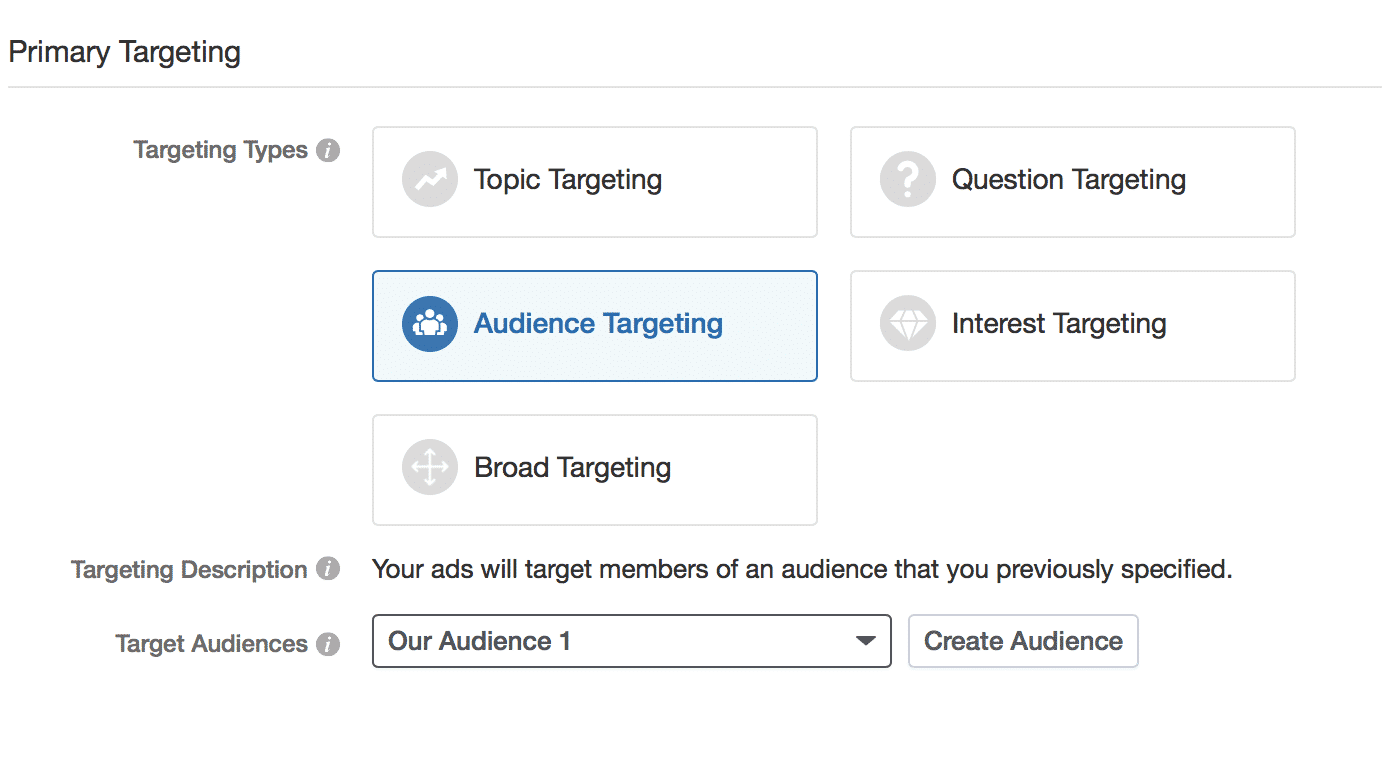 These audiences include:
Website traffic audiences, which are created based on activity on your website. You must install Quora' tracking pixel in order to use this option, but it allows you to show ad campaigns to users who have recently visited your site.
Lookalike audiences. This option lets you show your ad to users who are similar to high value customers, or those who have recently purchased from you or engaged with your site. They're often most effective when created off your list match audiences.
List match audiences are created by uploading the contact information for specific groups of users. This could be people who purchased specific products or services from you, or leads who haven't yet converted.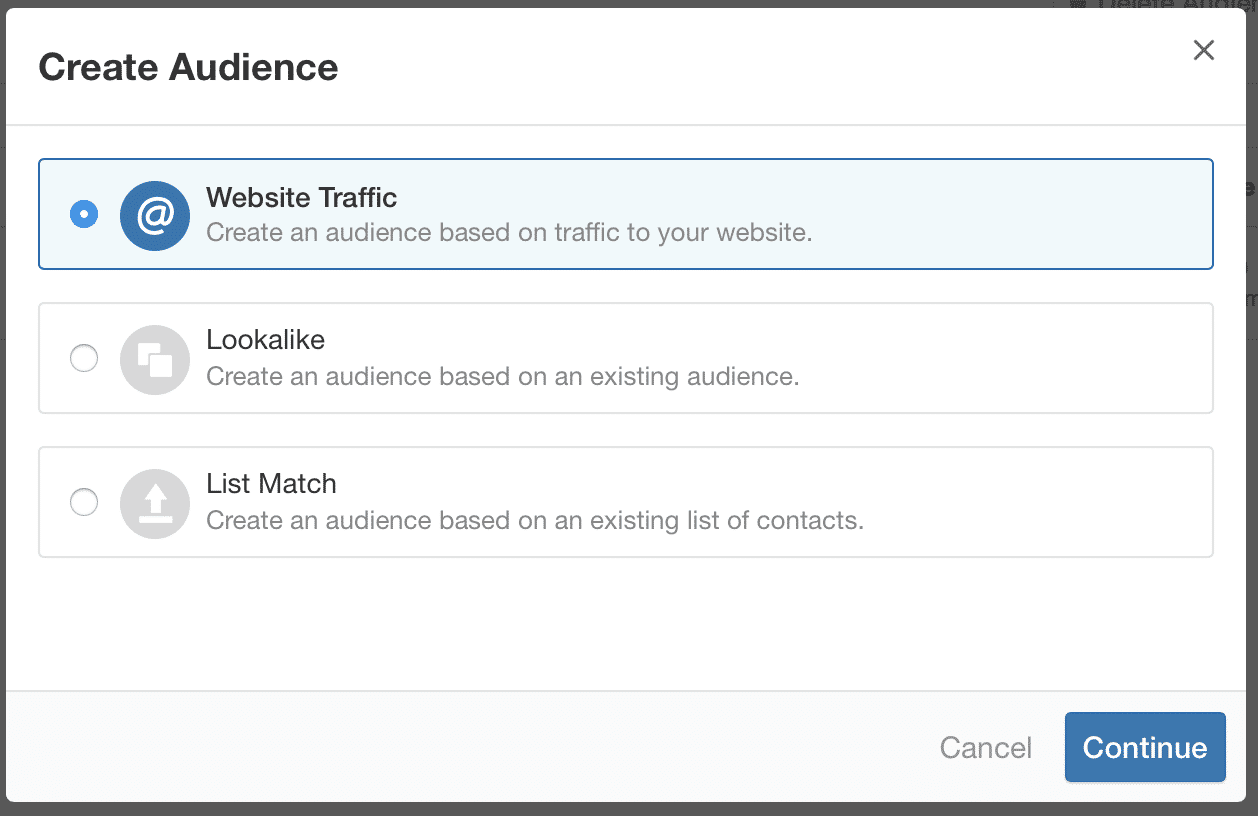 Retargeting has plenty of benefits. People who are already familiar with you are more likely to convert. If you're looking for one more way to nudge someone towards a conversion, this could be a great option.
4. Interest Targeting
Interest targeting is similar to topic targeting, but the idea is that you'll show your ad to users who have shown interest in specific topics across Quora—not those who are necessarily currently reading about those topics.
While topic targeting lets you show your campaign advertising home repair services to someone searching for "how to find a contractor", interest targeting might show your ad to someone who viewed that same question in the past but is currently looking at "best violinists of all time." You can still get a match and see great results, it just may not be directly relevant or perfect timing depending on the urgency of your services.
5. Broad Targeting
Broad targeting is easily the weakest targeting option on Quora and it's not one that I'd recommend. It's essentially their only non-targeting option, if that's even possible. It doesn't give you any specialized targeting criteria to choose from, and instead promises to show your ads to the broadest possible audience of Quora. Talk about rolling the dice, right?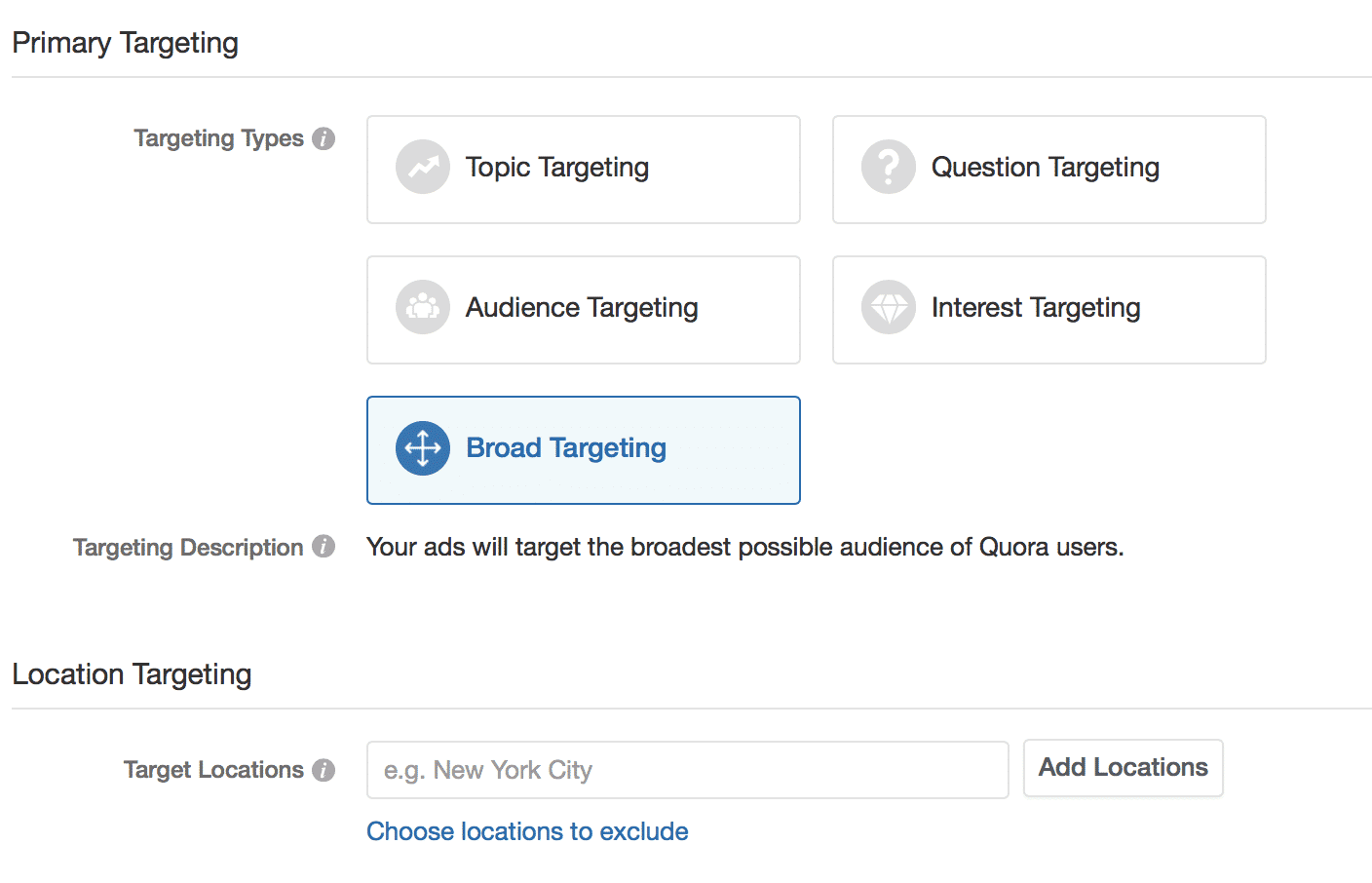 Broad targeting will rely heavily on the additional targeting criteria available to you, but unless you're running an extremely general appeal ad campaign and want to experiment, your best bet is to go with other targeting options higher up on the list that give you more control, and thus, a likelihood of higher ad relevance.
Additional Quora Ads Targeting Options
No matter which targeting options you choose above, you'll also have the option to do a little extra fine-tuning with your targeting to increase the likelihood of finding the right audience with your Quora Ads.
I'll stress that they're particularly important for the broad targeting option, but they can be essential for a strong campaign for any option. Why show an ad to someone in Milwaukee if you can only deliver products in the Southeast?
These additional targeting options include:
Location targeting, which allows you to target or exclude specific locations.
Device targeting, allowing you to choose between desktop and mobile (or to choose both).
Mobile platform targeting, which gives you the option to target all mobile devices, Android only, or iOS only.
Exclusionary targeting, including the ability to exclude certain audiences or questions from your potential ad placements.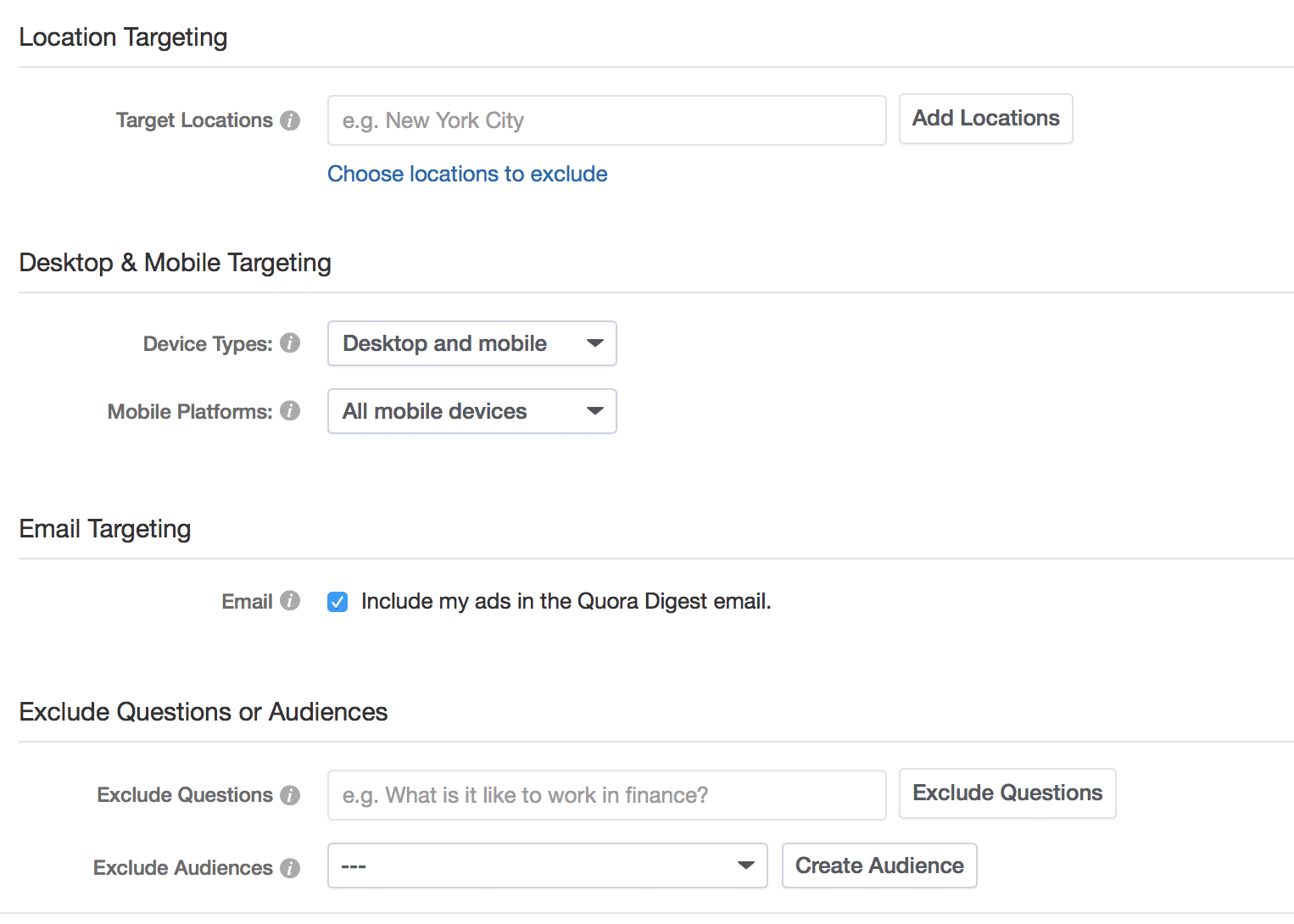 Use these additional targeting criteria carefully. Exclusionary targeting can be just as powerful as some of the other options on your list, just as negative keywords can play an important role in Google Ads.
Deciding Who to Target on Quora Ads
When creating your campaigns, the best way to decide which Quora audience targeting criteria you want to use is to look at a two main factors essential to each individual campaign. These are:
Goals. What do you want to get out of your campaign? If you're looking for sure-fire sales or re-engagement, retargeting is a good option. If you want new leads, try using interest based targeting. Consider the strategy of the campaign at hand.
Who you're trying to connect with. It goes without saying that if you want to only connect with new customers, you won't necessarily want to be going heavy on the retargeting and instead focusing on targeting by topic.
Because Quora is so diverse with such a wide variety of user demographics and question specialties (and even more casual readers coming through search traffic), I can almost guarantee that you'll be able to connect with your ideal audience on this platform. You just have to make sure ads are targeted well.
Conclusion
It's tempting to stick to the same marketing platforms that you're already using, but if you aren't running campaigns on Quora Ads yet, consider running a few test campaigns. It's an additional platform that gives you the opportunity to connect (or reconnect!) with members of your target audience. Choose your Quora audience targeting options carefully, taking your specific goals, ad strategy and your ideal audience into consideration when deciding which option will be best for you.
Do you need help with your PPC ad campaigns, including Quora Ads? Learn more about what we can do for you here.
What do you think? Have you ever used Quora Ads before? Which targeting strategies have worked best for you? Share your thoughts and questions in the comments below!