The 4 Unique Google Ads Remarketing Campaign Types You Should Test
by Ana Gotter • March 29, 2019
Remarketing campaigns can be wildly profitable. They allow you to connect with a warm audience who is already familiar with you, whether they've purchased from you or interacted with you in some other way– even if they've only visited your site after clicking on an ad campaign.
They typically have higher success rates for a number of reasons, and there are statistics to prove it:
You can use remarketing to ensure that certain search ads are only shown to users who have interacted with your business in the past, or to create display ads and reach these users in Google's network on other sites. In this post, we're going to go over unique 4 Google Ad remarketing campaigns types you should be testing (but probably aren't!) and how to set them up.
What Types of Remarketing Should I Use?
You can run remarketing campaigns on both Google's display ads and their search ads, and both can yield conversions. That being said, display ads are easily more effective when it comes to remarketing. On the other hand, search ads are going to be effective across the board as long as you're targeting the right keywords, so it doesn't necessarily make sense in most cases to isolate other members of your target audience who are looking for what you have to offer just because they haven't interacted with you before.

Display ads, on the other hand, are visual and will appear on sites online. Users can see an ad for that new pot set they were looking at from Williams-Sonoma popping up when they're browsing recipes on Food and Wine's site, encouraging them to go back and purchase. This is an excellent use of remarketing because it's showing users products or services that are directly relevant to them, with the creative of the ad tailored specifically to them.

 In this post, therefore, we're going to focus more on remarketing for display ads, which has more flexibility.
How to Set Up Remarketing Audiences in Google Ads
If you have Google Analytics set up on your site, you've taken care of the first step already. If not, you can see how to do this here.
If you've got this already set up, head to "Tools" in your Google Ads dashboard, and then choose "Audience Manager."

You'll then see the option to create new audiences for the purpose of remarketing, including the option for website visitors, app users, YouTube users, customer lists (which need to be uploaded manually), or a custom combination.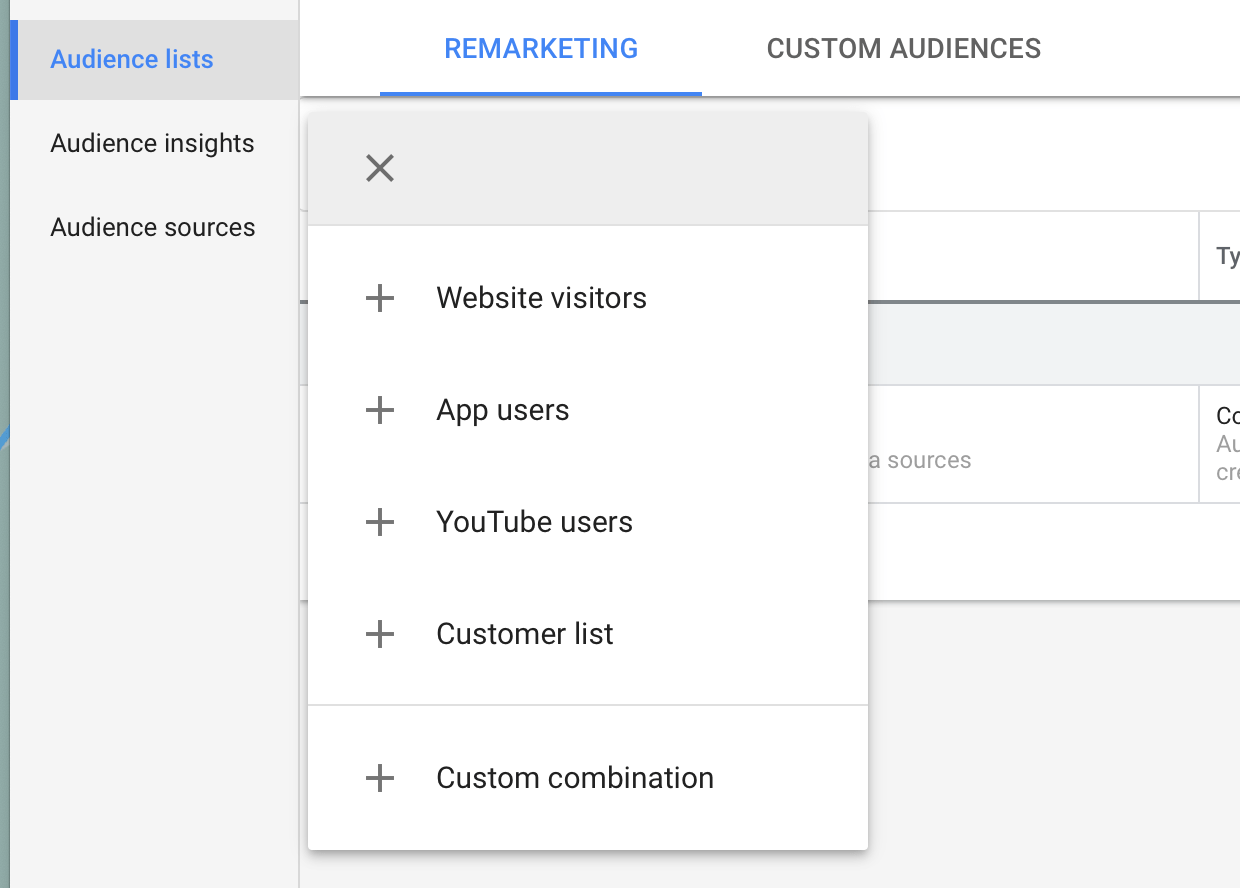 When you're creating audiences based on online activity,  you'll get to set parameters to determine who exactly you want to target. You can choose, for example, to target everyone who visited your site, but you can also decide to target users who did visit certain pages and not others, or who only visited multiple specific pages.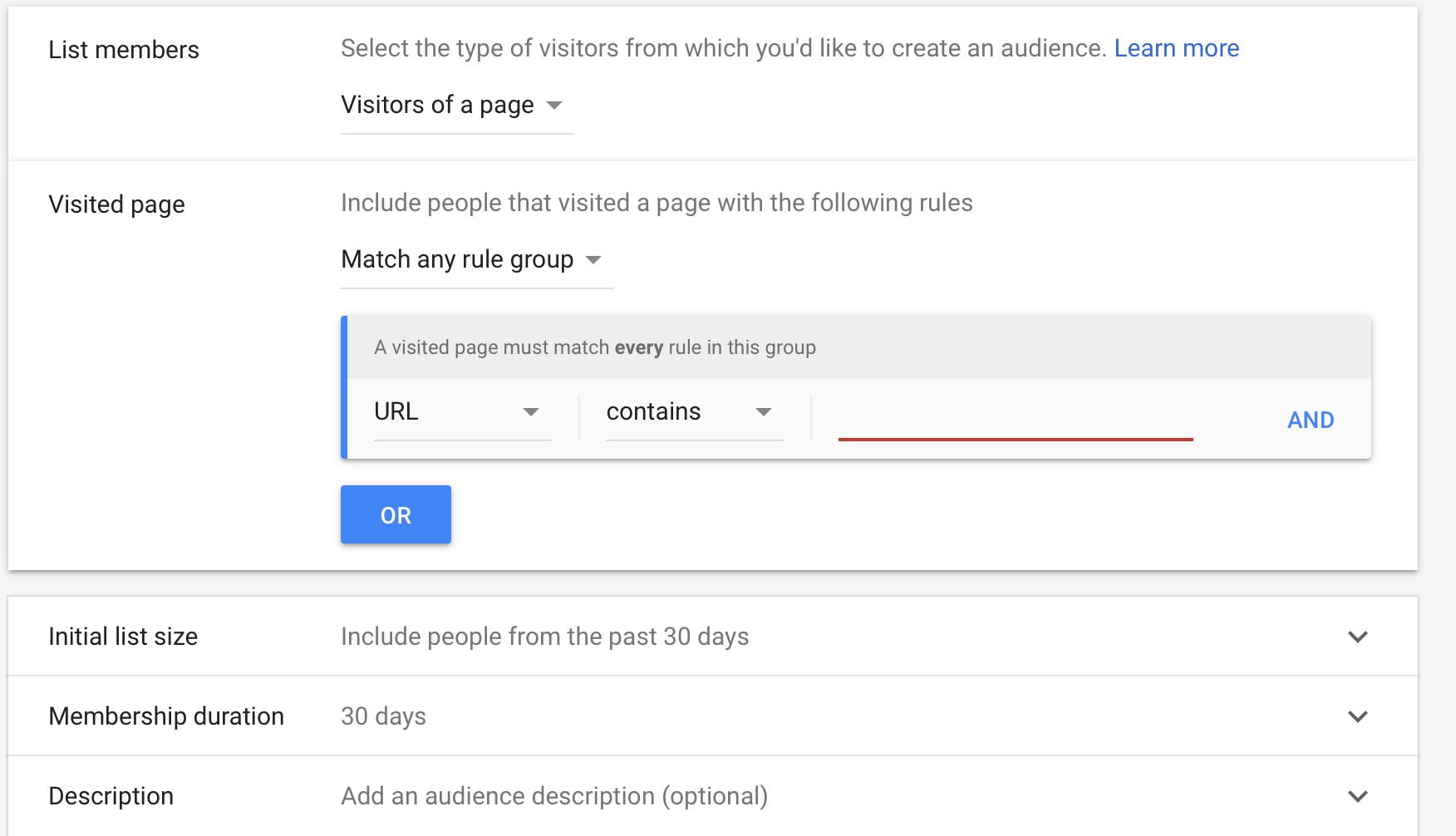 You can also choose how long after an initial action you want to retarget users for, and name the audience.
Once the audience is saved, you can add it to your campaigns at any time. When creating your campaigns, head to "Audiences" towards the bottom the creation process, and choose "Browse" and then "How they have interacted with your business."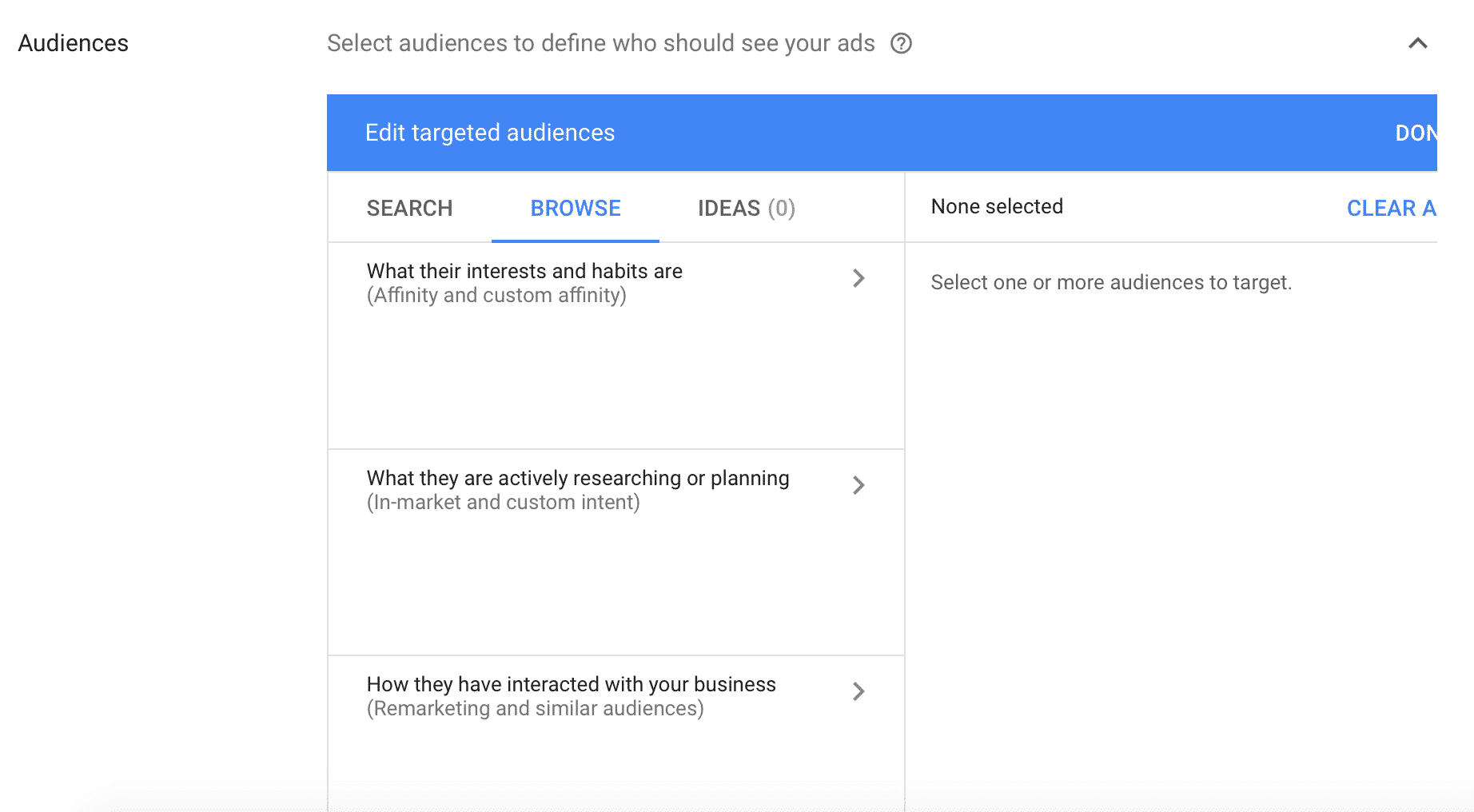 You'll be able to see all of the audiences you've created and choose which ones you'd like to target. You can choose more than one, and see the estimated reach of each one.

 Now that we've looked at how to set up different retargeting on Google Ads, let's take a look at more unique, niche remarketing campaign types you should start testing today.
1. Remarketing Based On Video Views
If you have a YouTube channel that's attracting users by offering value, you can use remarketing to show display ads to users who have watched specific videos on your channel, checked out your channel, subscribe to your channel, or engaged in specific ways on your video (such as liking or commenting on it).
Creating an audience based on video views is a good way to go; it ensures that people were interested enough in your content to actually watch your videos, where clicks to a channel alone don't tell you much. If your video view count is high enough, you can create specific ads for groups of like videos, and then show users remarketing campaigns to try to push them through the funnel. They're already familiar with you, so show them an ad for a product they may need.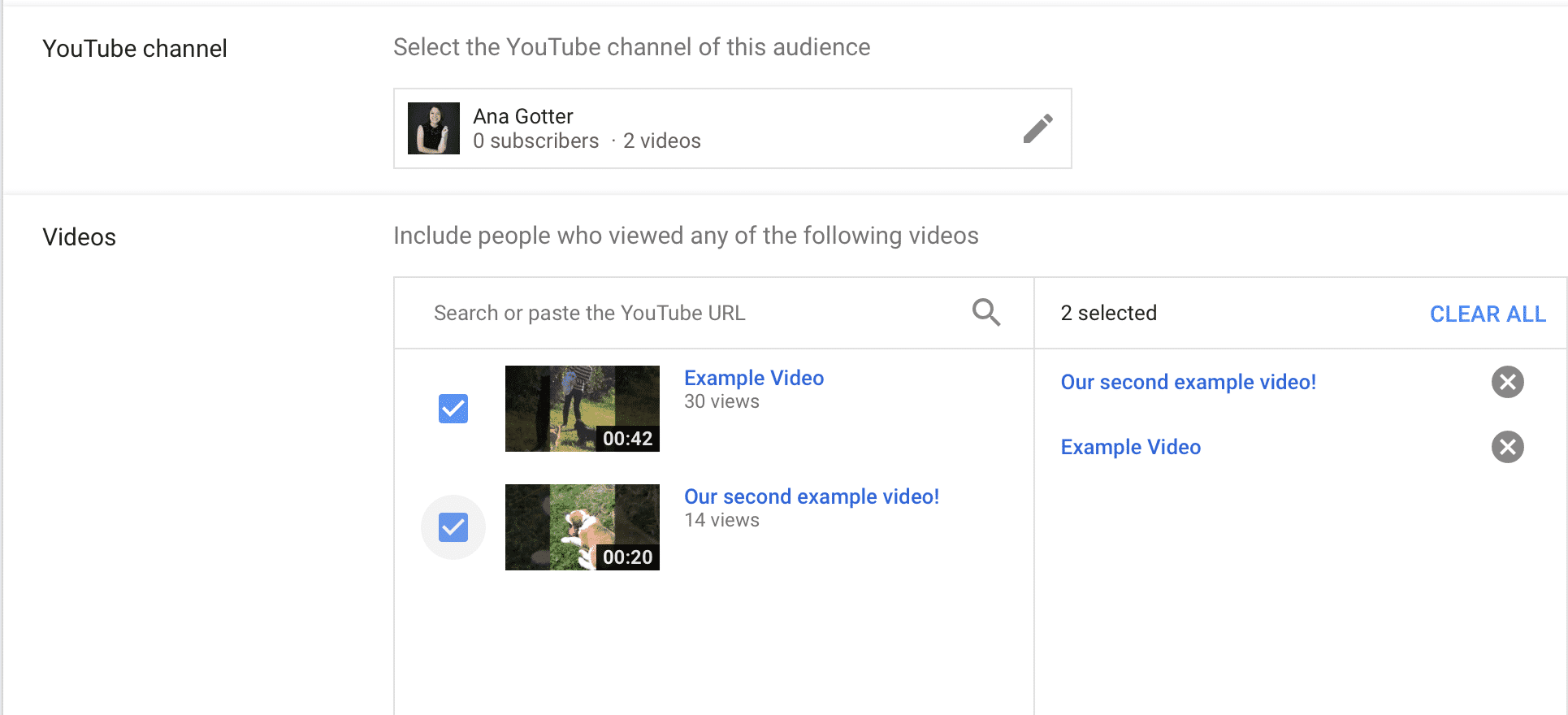 If, for example, you're a florist and your audience watched videos on "how to keep flowers alive longer" and "how long you can expect flowers to last," you can show them some of your custom-made flower food, which extends the lifespan of bouquets. It's a good follow up, especially since they're already familiar with you.
2. Remarketing Based On Product Views But Not Purchases
One of the best and most instantly-profitable uses of remarketing is to retarget users who have visited specific product pages but didn't convert and show them campaigns for what they were looking at to give them that gentle reminder that you're ready for them.
This is actually a pretty simple process: choose to target users who have visited a page but did not visit another page. Then you can either choose specific URLs, or choose to add those that contain key phrases that indicate they are product pages, like /equipment or /womensclothes, or even just /products.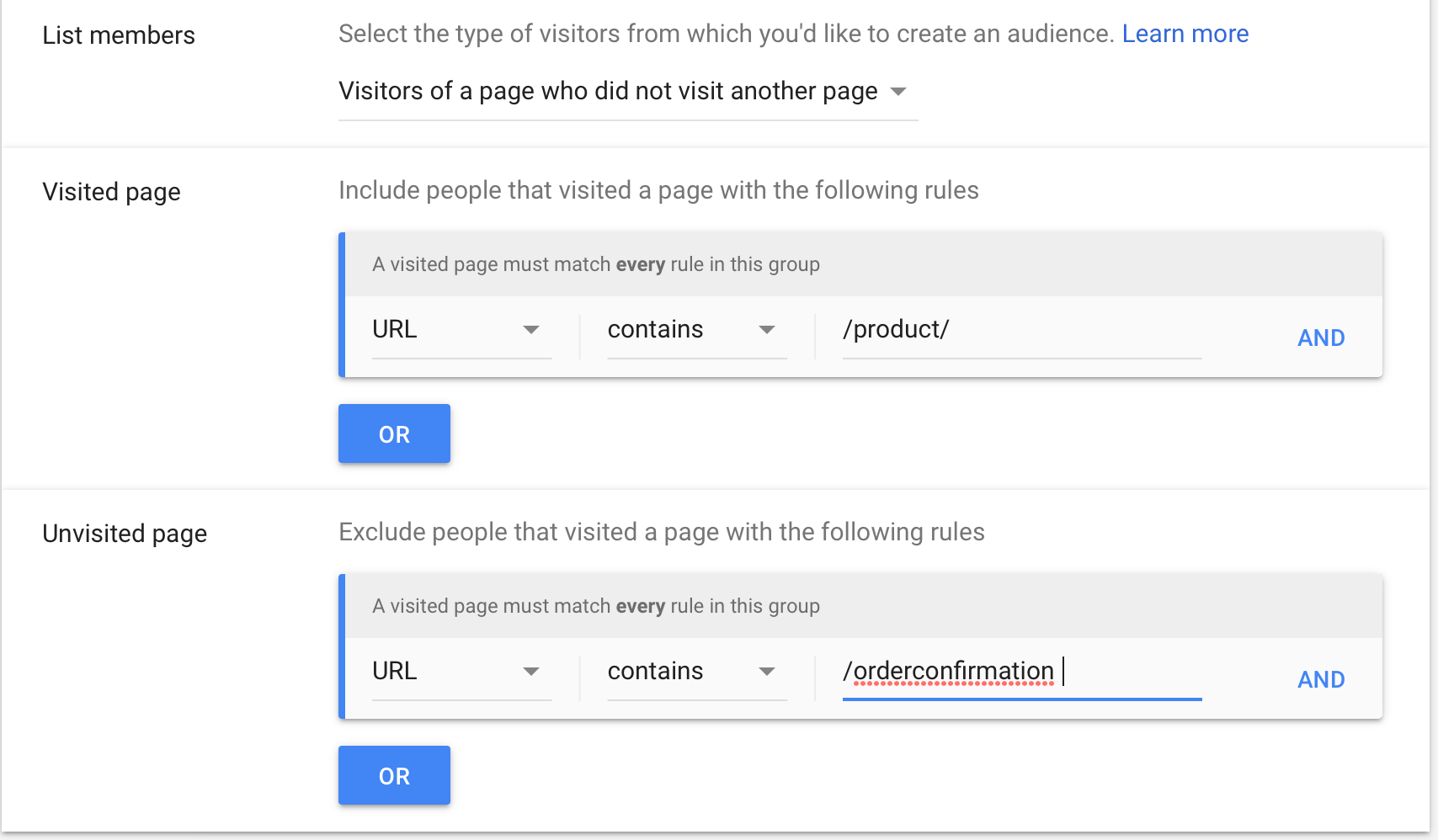 Choose a page like the order confirmation page as the page they didn't visit, which ensures that you're targeting users who may be interested (and possibly interest enough to add the item to their cart but not buy) but didn't actually convert to the point where they'd see the "Thank You for Your Order" message.
If you don't have an order page, and instead are trying to encourage people to get in touch for a consultation or free call, you can use the "Thank You for Your Message" page in place of the order confirmation page for exclusionary targeting.
3. Remarketing Based on Past Purchase History
Google Ads gives you the option to upload customer lists, which means you can retarget specific users and know exactly what their relationship with you is.
You could, for example, show remarketing ads to high-value audiences who regularly purchase from you to show them a brand new product your brand has just released. You could also show ads to users based on their past purchase history—a jewelry store could follow up a purchase of an engagement ring with ads for wedding rings, or full bridal jewelry.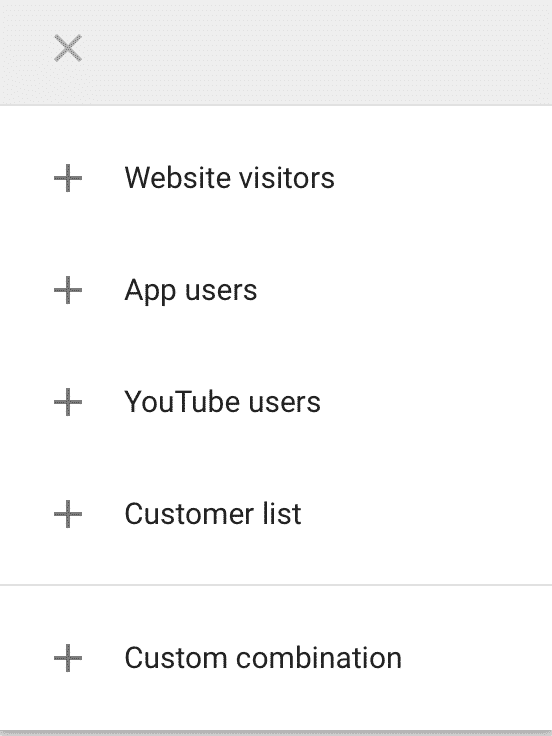 It's cheaper to retain a long-term customer than it is to acquire new ones, so using remarketing with customer lists based on purchase history is a good way to re-engage users with relevant ads that can drive more conversions.
Note that in order to upload customer lists, you must meet several criteria, including:
Having a strong payment history
Having a strong history of Google Ads policy compliant
Having more than 90 days of ad history
More than $50,000 total lifetime spend
Therefore, not everyone will be able to take advantage of this remarketing campaign type, but if you can, add them to the list.
4. Use Recent App Actions to Drive In-App Purchases
A large number of businesses are using free mobile apps to keep their brands relevant to their target audience, and then use those apps to re-engage users and hopefully upsell them to make purchases.

You can use Google's display ads to help with that. Many businesses will actually use apps to help qualify users, and when users complete certain actions, that's a great start.
The bra company ThirdLove, for example, used to have a mobile app that would estimate the user's size based on a quick (and clothed) picture. People who were using the app were obviously interested in purchasing but maybe didn't convert. They could use remarketing to then target these users with ads showcasing the value of their products and driving purchases.
If you use your app to sell directly to users, you can target users who viewed certain pages within the app, and if you want to upsell users to purchase a paid version of the app, show an ad to users who only have certain versions of the app. Either way, you'll be able to sell more to an engaged audience who is already invested enough in what you're doing to have your branded app downloaded onto their phone.
Conclusion
Remarketing can help you re-engage past clients, convert first-time clients, and nurture users further along the funnel no matter what stage they're currently in. And they can do so successfully, having higher-than-average conversion and click-through rates. Test these not-so-commonly-used remarketing campaign types and see if they work well for you, and stick with the ones that do.
Are you struggling to run successful remarketing campaigns that yield high ROI? Get in touch with us to learn more about how we can help you.
What do you think? How do you use Google Ads remarketing to increase your ROAS? Which remarketing campaign types do you use? Share your thoughts and questions in the comments below—we can't wait to read them!