Spotify Advertising: Is It Right for You?
Most brands are always on the lookout for new ways to effectively reach different segments of their target audience. It's why so many businesses use a combination of Google, Bing, Facebook, Instagram, Pinterest, and LinkedIn ads, dividing up their ad spend between different platforms.
There's a good chance that you're already familiar with some of these platforms, and that you might be using them already. There are a few, however, that you might not have ever considered. Hulu is one. Spotify is another.
Spotify is a wildly popular music streaming service, with a mobile app with 286 million monthly active users.
Users can listen to millions of songs in an enormous range of genres, building playlists based around songs and artists they love, and the basic functions of the app are completely free. And if users choose to stick to the free version of the app (which a large majority do), it means that they get an abundance of free music, podcasts, and even videos in exchange for hearing a few ads every now and then.
That's where Spotify advertising for your brand comes in!
In this post, we're going to discuss everything you need to know about Spotify advertising to help you determine if it's right for you, including how it works, the audiences you can reach, how much it may cost, and the ad creation process.
What is Spotify Advertising?
When users are between every few songs in the free version of the app, short audio ads are played. It's estimated that around 1-4 minutes of ads are played for every hour of consumed content. This is often enough for advertisers to reach their audience but infrequently enough that users stay engaged and that your ad stands out.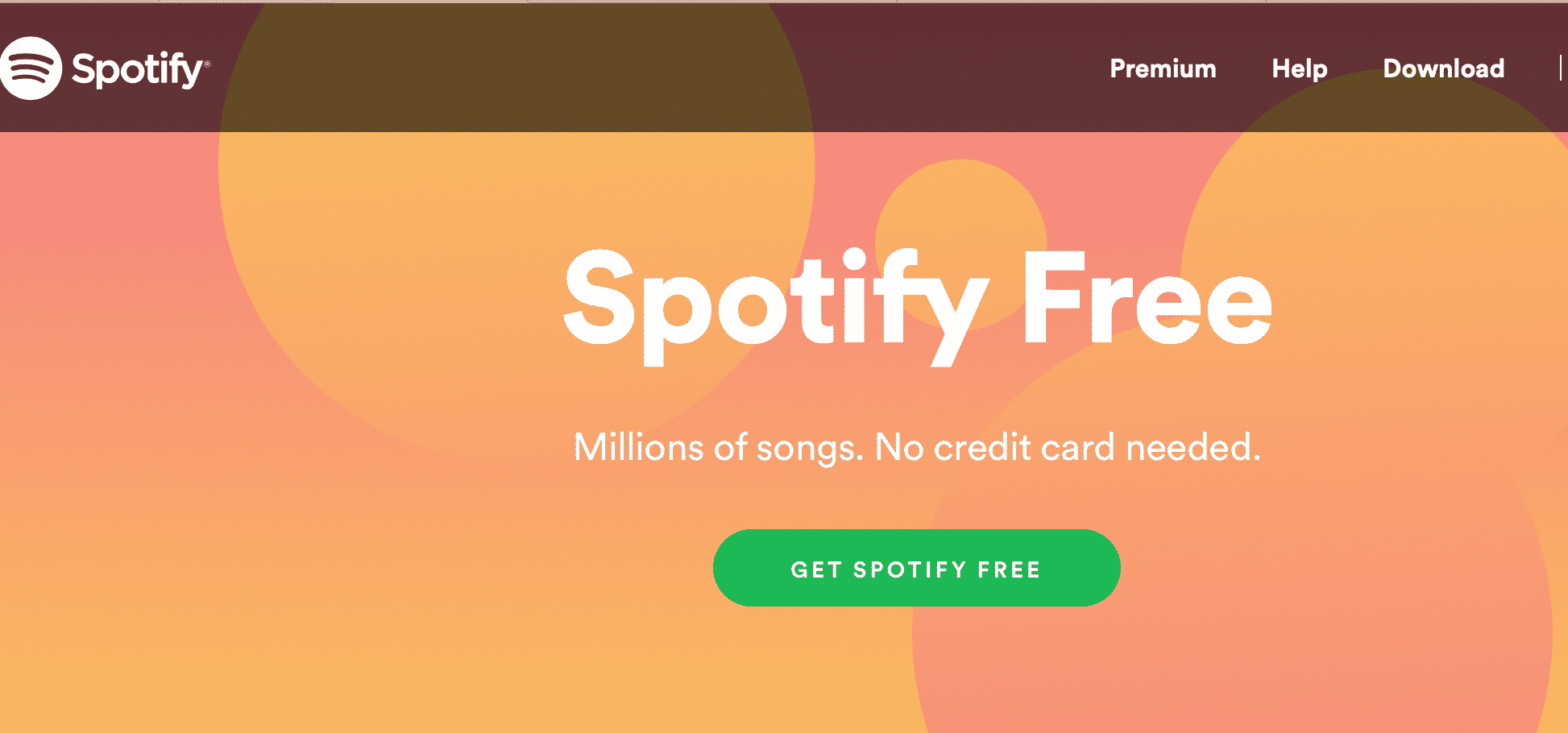 These ads are entirely audio ads, allowing you to reach your audience while they're listening to music without having to worry about formatting.
Ads can be up to 30 seconds long, but they can be shorter as needed. There's no need to hit an exact timestamp as long as you're under that 30-second mark. They rely on voice scripts written by your business, and you can include background music to improve the ad's impact and set the tone.
Spotify's ad platform is self-serving, meaning advertisers can create, set up, and manage ads on their own without needing a dedicated account manager. We'll look more at how this works in a few minutes.
The Benefits of Spotify Advertising
There are multiple excellent benefits that come with using Spotify advertising. For starters, Spotify has a large, engaged, and very diverse audience. There are over 286 million monthly active users (and with over 141 million being free, ad-listening users) that span all ages and demographics.
There's a good chance that if you're targeting users under 60 years old, you can almost certainly reach your target audience. It's estimated that ad-streaming users consume a total of about 2.5 hours of content daily, which leaves plenty of opportunities for ad placements.
"Engaged" is a keyword here, too. Listeners are actively engaged, even if they're just listening to songs and podcasts, and short, infrequent ads are naturally going to get noticed.
Users need to listen to them—unlike ads in a newsfeed or search engines that can be scrolled past, users need to listen to the ad to get to the content they want. You've got a captive audience paying attention, and while that may not sound great, it's definitely advantageous.
It's also important to note that a recent survey from Spotify found that many free subscribers do still have plenty of purchasing power, too. They can afford to pay for the premium version of the app if they wanted to, they just choose not to.
This platform, therefore, can help you reach users who can afford to pay for your products or services, potentially connecting you with high-value customers.
And finally, the last big one: many brands aren't advertising on Spotify.
This lowers your overall competition, and it also makes you stand out when listeners take note. A total of 7 out of 10 Spotify users expressed that advertisements on the platform made the brands seem young, genuine, innovative, smart, and trustworthy.
The study is comes from Spotify, making it a tiny bit biased, but there's also a lot of truth here—audiences like it when brands reach out and connect with them where they already are.
How Much Do Spotify Ads Cost?
Ah, the age-old question right: How much exactly is this going to cost me?
Budget is obviously a huge consideration for businesses who opt to use any advertising platform.
Spotify does have a minimum ad spend of $250 in the advertiser's local currency. So when you create a campaign here, know that you'll be required to spend at least that.
The actual costs of impressions (in this case referring to the individual number of people hearing your ads) varies on several factors. It does work on a bidding system, so the audience you're targeting, your competition, and the general competition in the marketplace can all impact pricing.
One study found that each ad placement is around $0.015-0.025. Your cost per mille (or cost per thousand ad impressions) would, therefore, be somewhere between $15-25.
This is more pricey than your CPM on some other PPC platforms (including Facebook, which averages around $7 for 1,000 impressions, but the engaged audience who must listen to your ads can make this jump in price worthwhile. And, if you're only paying $15-25 to reach 1,000 members of your relevant audience, that's easily affordable for many businesses as long as it's driving in high-quality leads and customers.
Keep in mind that outside of the ad minimum, you can set a maximum budget, too, allowing you to control how much you're spending on each campaign. If you want to cap it at $250, you're absolutely able to do so.
How to Set Up Spotify Ads
The creation process of Spotify Ads is actually really interesting, and it's very different from what you're likely used to from other PPC platforms.
First, you'll write your video script. This is what will be said during your ad, and it includes the following:
The specific language you want used
A preferred voice profile (man vs. woman, for example)
Accompanying background music, which you'll choose from Spotify's pretty extensive library. All are recorded by independent artists, and you're clear to use them for Spotify advertising without worrying about copyright issues.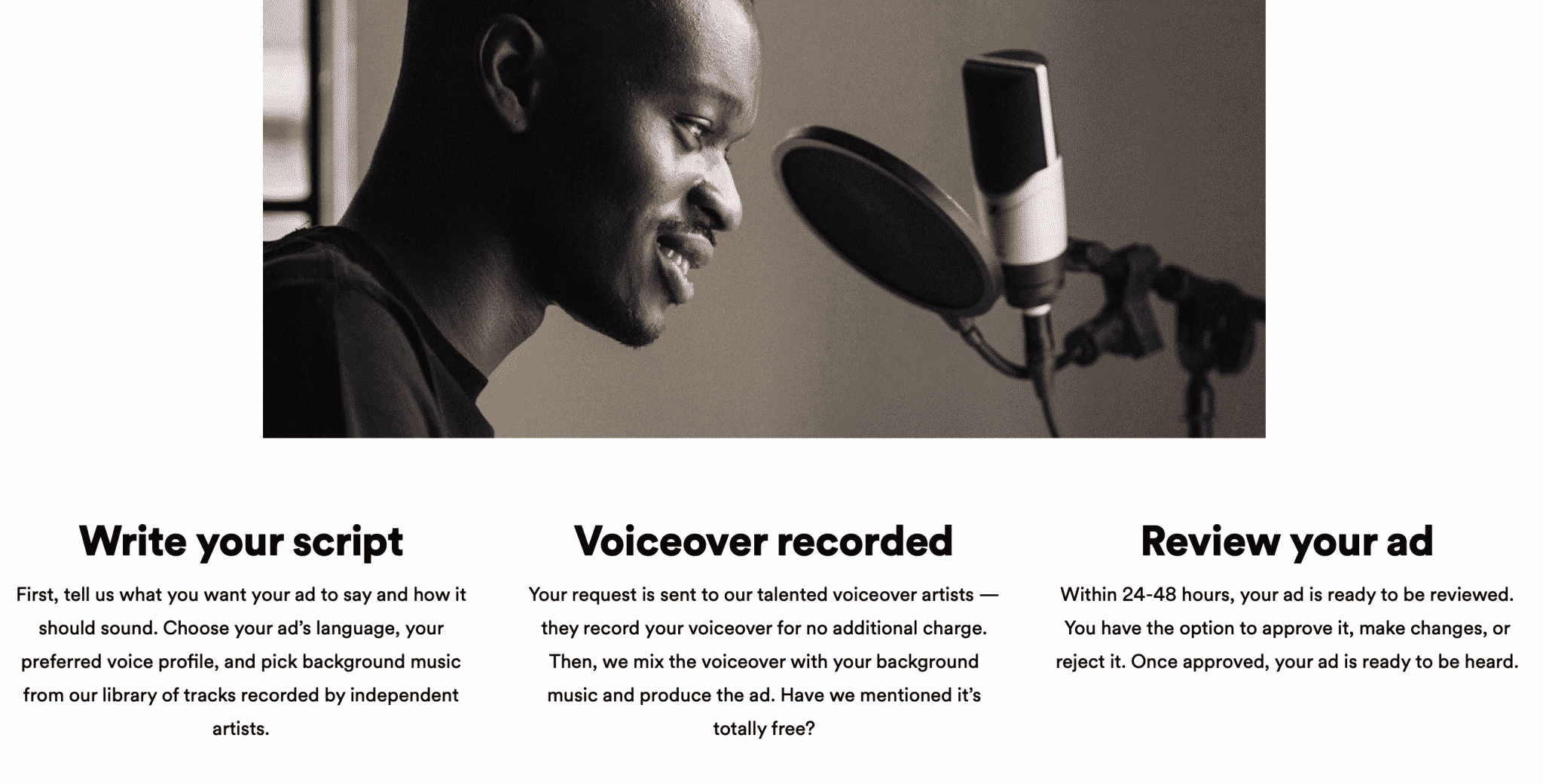 Once you do this, you'll submit the information to Spotify. They'll actually be the ones to hire voiceover actors for you, who will record your ad for you.
Spotify then mixes the voiceover with your chosen background music, and voila, 24-48 hours, your ad is ready for approval. You can reject or request that changes to your ad are made at this time.
How to Create Your Spotify Ad Campaign
Creating Spotify Ad campaigns, aside from the voiceover element, will be familiar to anyone who has run PPC campaigns on other platforms first.
Your Objective
First, you'll choose an objective, determining what your goal is for the ad. Your options include the following:
Music-related, an artist on Spotify. You can promote your on-platform content, hoping to increase listener behavior.
Music-related, a concert or artist merch. Promote an upcoming show, or sell merchandise from your artist.
Non-music related, a brand, product, or organization. This is the option many of our readers will opt for. You can promote your brand, products, or services.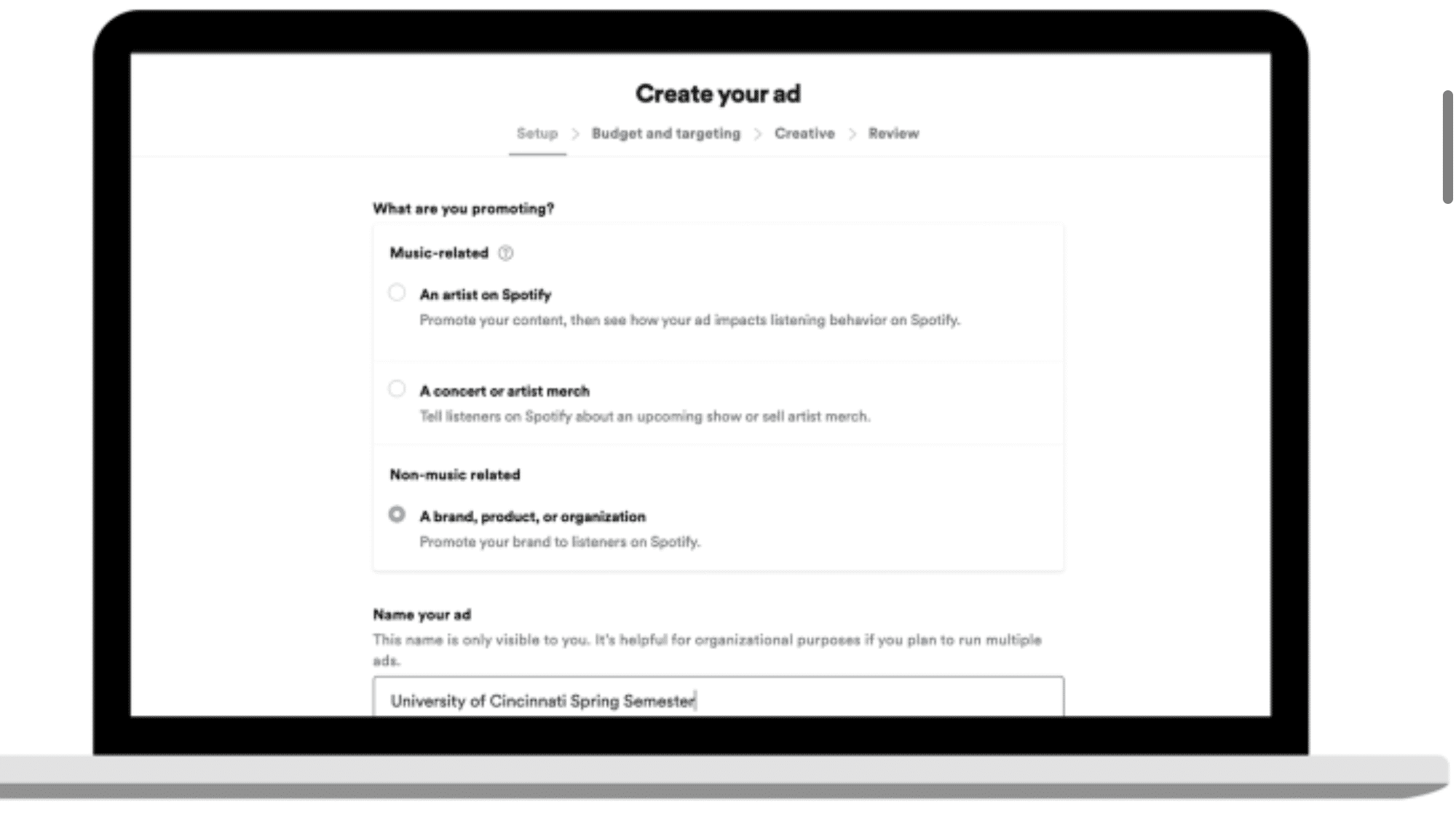 Your Audience
You can target users by the standard options of age, gender, and location. You can also choose from one of the four following options:
Genres, which allows you to target users based on the genre of song they listened to immediately before their ad. Some targeting young adults, for example, might think about targeting pop music.
Fan base, which allows you to target fans of artists you're promoting or fans of other artists.
Interests, which allows you to target your audience based on their interests based on their podcast or playlist options. Someone selling invoicing software, for example, might want to target those listening to business and marketing podcasts.
Real-time contexts, which allows you to target people in specific moments based on the playlist they're listening to. A therapy app might target someone listening to a breakup songs playlist, or a fitness company might want to promote free classes to someone listening to a workout playlist.
Creative
If you already have an audio ad, great! You can upload it. If not, Spotify's free voiceover tool is completely free, and it's an outstanding resource that makes audio advertising accessible for more brands (I'm a big fan of this, if you couldn't tell). If you're using the voiceover tool, you'll be limited to 70 words, so choose wisely.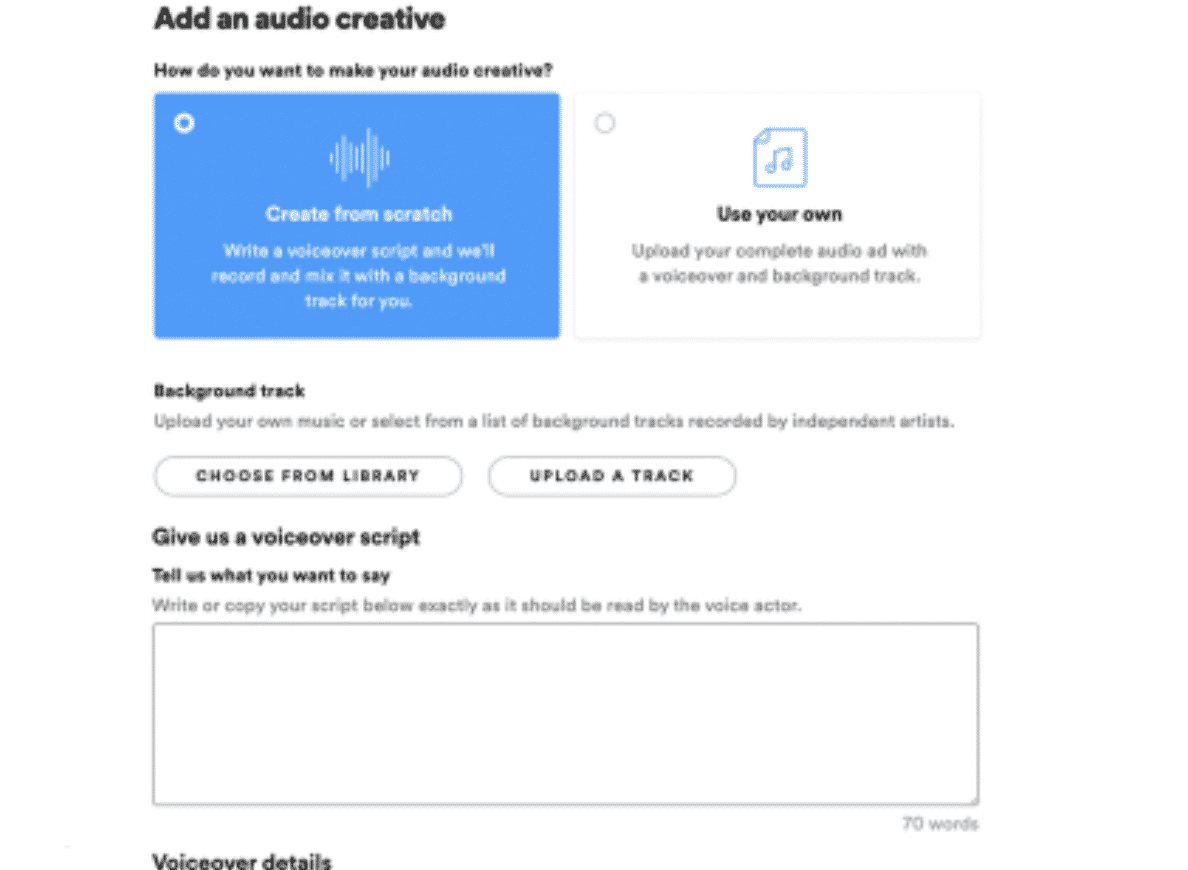 In addition to your audio, you'll also add an image and a clickthrough URL that you want people to see on their mobile app when the ad plays.
For your audio file, here's what you'll want to keep in mind:
It must be 30 seconds or less.
The file size must be 1 MB or under.
You can use MP3, OGG, or WAV file types.
For your image, keep these requirements in mind:
JPEG or PNG files are accepted.
It must be 640 x 640 pixels.
The file size must be under 200KB.
The biggest thing to remember here is that you need to follow Spotify's content guidelines and best practices. You can read the full list here to get some new inspiration.
Final Thoughts: Is Spotify Advertising Right for You?
While Spotify does have a large, far-reaching audience with diverse demographics, brands who are trying to reach young-ish (think 45 and under) audience members may have the most success. These users are typically rapidly engaged with podcasts, actively seeking them out, and may be more likely to follow through on the ad campaigns they're hearing on their phones.
Because the minimum ad spend is so low, if you have an extra $250 in your budget and think you can reach your target audience here, we say give it a shot!
The self-serve platform and the free professional voiceover tools/music mixing in the background are exceptional resources, and there's little to lose by trying to see if it works. For best success, consider following up a Spotify campaign with a retargeting campaign on another platform, including email for lead generation landing pages or with Facebook and Google Display Ads on other pages, too.
Considering trying out some new ad platforms but aren't sure which is right for you? We can help you decide which PPC channels you should consider adding to your marketing mix! You can get in touch with us here to learn more.
What do you think? Have you ever run any Spotify advertising campaigns for your brand? What kind of results did you get? Would you run them in the future? Share your thoughts and questions in the comments section below! 
Leave a comment