Scaling Affordably: How to Balance Target Acquisition Cost With Your Growth Goals
Whether you want to grow your business to have a larger client base for more stability or you want to create a startup that becomes an empire, scaling is a priority for many businesses at some point in time.
Scaling isn't always cheap, especially when owners and advertisers adopt the mindset of "well, acquisition costs are expensive, it is what it is." I've personally worked with clients who have gotten sucked into this trap only for it to hurt their businesses overall.
It really isn't possible, for what it's worth, to scale quickly without investing some ad spend, but it's a myth to think that you need to risk the financial future of your business to do so. The last thing you want to do is spend more than you can afford, sabotaging your own profitability and hurting your bottom line.
The goal here is to balance your target acquisition cost with your growth goals, and in this post we're going to show you exactly how you can do this so that you can scale affordably and profitably, helping your growth instead of hindering it.
What is Target Acquisition Cost and Why Does It Matter?
Prioritizing growth and an expanding client base can be a great strategy for businesses that are ready to scale, but it needs to be done carefully and intentionally.
It's crucial to understand exactly what you can spend when it comes to acquiring new customers, especially since most customers won't convert the first time they see an ad. Having a target cost for acquisition is essentially the process of determining what you can afford (or are willing) to spend per acquired customer in your ad campaigns. At the end of the day you can't grow if you spend so much on ad campaigns that they're not profitable, they eat up your ad spend, and you run out of money.
On some PPC platforms, this will mean that you're simply deciding how much you're willing to pay per click (CPC) or per other action like app download or lead form completed. You can set bid caps on both Google and Facebook, allowing you to set maximum limits of what you're willing to spend on each click for each campaign. This is the manual approach.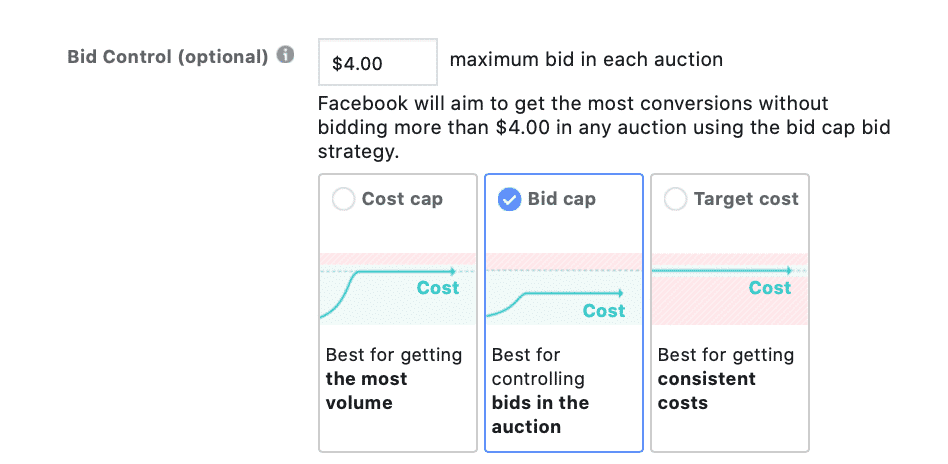 You can also set up "target cost" biding, which is allowing you to set a target cost per action, or target cost per acquisition (CPA). This is available on both Facebook (pictured above on the right hand side) and on Google Ads as bidding strategies. These bidding strategies allow you to drive as many actions as possible at or below your target cost, allowing you to not only stay on budget overall.

Target acquisition cost does work a little differently than bid caps, because we're looking at average cost per acquisition, not strict limits. This means that the platforms may use more lower-cost acquisitions and still bid on placements that require higher CPCs, but that you'll still have the same average overall.
Since some placements cost more than others but can also drive more high-value customers (and you don't really want to miss out on those high-value customers that you would have missed otherwise), this can be a happy medium for many advertisers.
How to Balance Target Acquisition Cost with Growth Goals: The Details
First, it's essential to look at your advertising budget and know what you can spend in total, and evaluate that against your customer lifetime value.
Step 1. Determine Your LTV
Your customer lifetime value (LTV) tells you how much the average customer will spend with you over their entire relationship with your brand.
Getting a customer to convert once on a first-month-discounted subscription box might earn your company only $15 in profit, but your typical customer purchases one subscription box per month at full price ($30) afterwards for an average of 3 years, resulting in an average LTV of $1080.
The LTV is so important to consider when you're growing your company because you're not hoping for a single isolated sale…you're hoping for ongoing purchases. So while maybe you can only afford to spend $4 per click if you were only to sell one of those boxes, you could actually afford to spend much more once you're looking at the average LTV of $1,080.
Not sure what your LTV is? You can use our super handy (and super free!) calculator here!
Step 2. Look at Other Essential Costs
When you're looking at LTV and deciding what want to shoot for when it comes to target acquisition costs, you don't want to forget to factor in additional costs.
How much does it cost to ship out your products, for example? You don't just want to look at manufacturing costs when shipping costs weigh in, too. And what about the inevitable percentage of returns that you will almost certainly have at some point?
You also need to factor in the fact that not everyone who clicks will convert. If only 5% of customers convert, you need to keep that in mind when it comes to target acquisition costs, or you could be driving up ad spend that isn't equitable to your profit.
Step 3. Weigh In Your Growth Strategy
How aggressively do you want to scale? This will absolutely pay a part in your target acquisition costs.
If you're looking to grow steadily and increase your client base by 10% year-over-year, you can leverage lower target acquisition costs to keep your campaigns sustainable. You've got time on your side, so if slow and steady is the name of the game, you can afford to be a little more stingy with your bids and maximize profit.
If you're looking to go all-in and want to grow your business fast, you'll likely want to raise your target acquisition costs to as high as possible while still being profitable. If you're focused on increasing your client base by 25% within six months, you'll want to be more aggressive, bidding on more high-value and high-intent keywords, which naturally cost more, and invest in more frequent retargeting campaigns.
Look at the big picture, and all the information that you've collected. Do market research to assess what you'd need to pay for the keywords you want to optimize for.
Step 4. Start Testing
Once you've got your basic list of keywords mapped out, a budget ready to go, and a basic established target CPA for your campaigns, you'll want to start testing. This is a crucial part of the process that you don't want to overlook.
You may start running campaigns and find that your target CPA is higher than it should be, and your campaigns are getting a lot of clicks but no conversions, and it's ruining the profitability of your campaigns. Or you might realize that your bids aren't high enough, and you're struggling to rank well with your ad placements overall.
You need to test your target acquisition costs just like you would any other part of your campaign. Measure it carefully against your growth goals to track progress. Run split tests, seeing what happens over at least a one-week period if you raise or lower your acquisition cost. You may notice that lowering your bid will bump you down in ad placements some, but that you're still getting enough conversions so that doesn't matter, or you may find the opposite to be true. There's no way to know until you find out.
Final Thoughts
When it comes to scaling affordably and sustainably, it's essential to know how to balance target acquisition cost and growth goals in a cohesive way. There is no one right answer for what your target CPA should be, especially since each business will have its own LTV and profit margins to factor in, and platforms like Google Ads will have CPCs that vary wildly by industry and competition levels.
Take some time to crunch the numbers, looking at your budget and your profit margins to see what you think a strong target cost per acquisition would be, taking the aggressiveness of your growth goals into consideration. Remember, too, that you can adjust your CPA for each campaign, allowing you to invest more ad spend and raise your CPA on audiences and campaigns who are more likely to convert.
While we all want our target acquisition costs to be as low as possible (low costs means more profit), be realistic about what you can expect to pay and how long you can go. You don't want to miss out on customers when you're growing your business because you don't want to spend money you could afford to invest in stronger campaigns.
Need help choosing a good starting point for a target acquisition cost that will work with your growth goals? See how we can help you here!
What do you think? How do you balance your target acquisition costs against your growth goals? What strategies have worked for you? Share your thoughts and questions in the comments below! 
Leave a comment