How B2B Businesses Can Attract More Clients on LinkedIn
Business
•
Social Media
•
Jacob Baadsgaard
August 17, 2017
Most B2B businesses would be tripping over themselves to get to a Rolodex of contact information for potential clients. Many of these same businesses completely forget about LinkedIn, which is one of the best (and most readily accessible) Rolodexes out there.
Through LinkedIn, you can view someone's employer, job position, and experience. You can easily search for and single out B2B decision makers and influencers in any industry of your choice. It's like a digital Rolodex with search functions.
LinkedIn is a great B2B prospecting tool, but there are also ways to use LinkedIn to bring clients to you. In this post, we're going to go over our 5 step approach to attracting clients on LinkedIn.
1. Create an Official Company Page
If you want to attract clients on LinkedIn, you should absolutely create an official company page for your B2B company. This will help increase the chance of your business showing up in searches and allows you to showcase what your company is and does.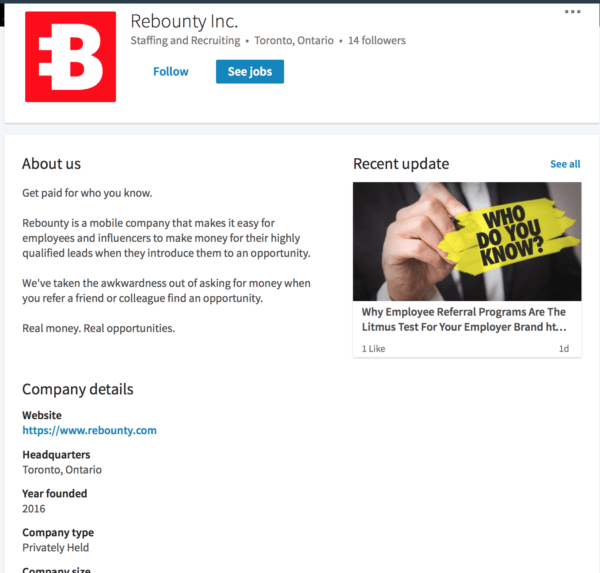 On your page, you can list products and services, share content and promote important updates. You'll also be alerted when people talk about your business, since other users can now tag your business in posts (similar to how Facebook users can tag Facebook Pages in Facebook posts).
A LinkedIn company page provides a central hub for your LinkedIn marketing efforts. You can, for example, share posts through your company page and then ask employees to share them, too.
Company pages also have much more detailed analytics than personal profiles, which can give you immense insight into what types of content is gaining traction on the site—and potentially bringing clients to you—and what isn't.
Finally, having a LinkedIn company page allows you to run several types of LinkedIn Ads that you couldn't run without one, which can be a great advantage when you want to connect with new customers.
Build Up Your Employee's Profile
Once you have the company page created, you'll want to have as many of your key players listed as employees. Company pages have a lot of great benefits, but in many cases, the individual employees that work for your business will make the biggest impact in attracting clients on LinkedIn.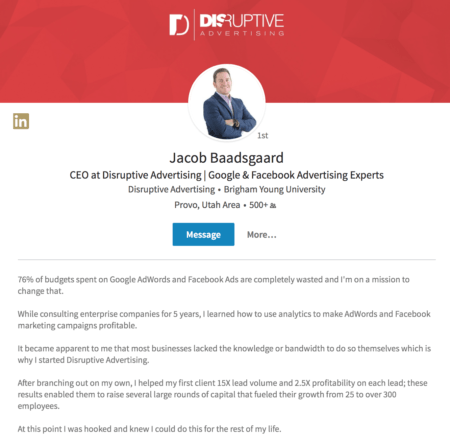 Every employee in your agency—from your founder all the way down down to entry level position workers—can reflect on your business and brand.
Your employees' profiles should be in top shape. Their profiles should be free of spelling errors and up-to-date, listing their specific position for your company with a description that focuses on how they can help potential clients.
In addition, they should get as many recommendations from clients and colleagues as possible, which automatically helps them stand out against the competition and can earn them trust and credibility.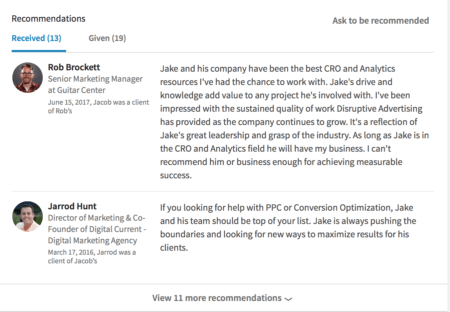 Your employees should also leverage their personal connections to build their network as much as possible. Long-term, this can be incredibly valuable to your business. After all, that friend who likes your employee's post just might know a B2B decision maker who is looking for an company just like yours.
Most importantly, your employees should use the site frequently, interacting with the industry-relevant content and networking as much as possible. When you share your expertise, others might notice and check out your profile. This can send them into the first stage of the digital sales funnel.
Optimize Your Profile for Search
You should optimize for keywords on every online platform you're using. LinkedIn is no exception. This goes for both your personal and company profiles. When someone is searching for someone in your industry, you want to make sure they can find you and your business.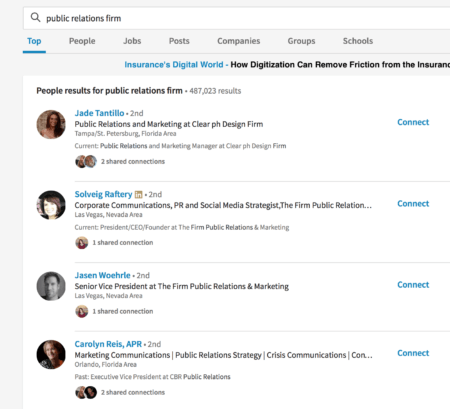 Your headline, current position, industry, summary, and job experiences should all be carefully written with keywords in mind. Are people going to search for "marketing consultant" or a "PPC expert," or both? Anticipate what your specific target audience will be looking for, and make sure those keywords show up in your profiles.
Join Relevant Groups
Joining relevant B2B groups immediately puts you in sight of a network of potential clients. While you'll likely have direct competitors in these groups, many of them end up shooting themselves in the foot by aggressively sharing links to their own content and talking at people instead of to them.
The most effect method of attracting clients in these groups is to share your expertise when others ask for it on posts. If someone asks, for example, what targeting strategy other businesses recommend on PPC campaigns, that would be Disruptive's chance to jump in. One quick but valuable answer will put you on people's radars.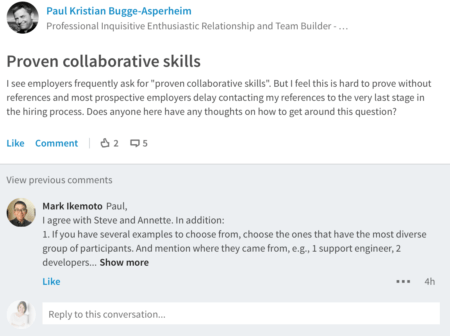 By providing this kind of value without being aggressively intrusive (like way too many B2B businesses are), you can start to build a strong reputation that will have more clients coming to you.
Publish Content Regularly
Most B2B businesses use some form of content marketing. For many companies, these are blog posts. Sharing a blog post on LinkedIn just takes a few seconds, but it can have a big impact.
Sharing content is the most effective way to generate conversation on LinkedIn in a way that is likely to touch users you aren't yet connected with. Even if it isn't a blog post, share industry announcements and always make sure to tag the right people in the post for maximum visibility.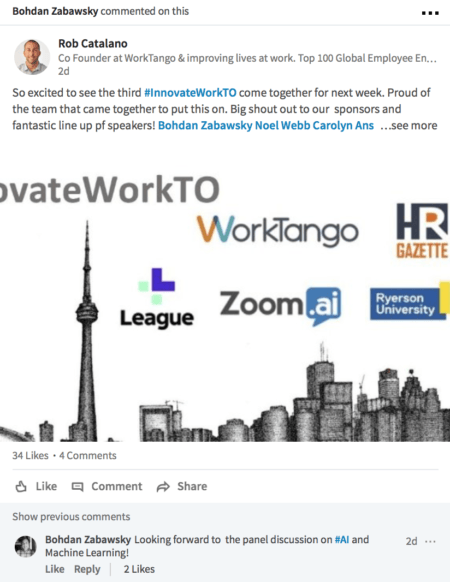 On LinkedIn, every time someone likes or interacts with one of your posts, it shows up in all of their friends' feeds. This expands the reach of your post significantly, and it comes with a nice boost of social proof since users will see that their connection liked your post.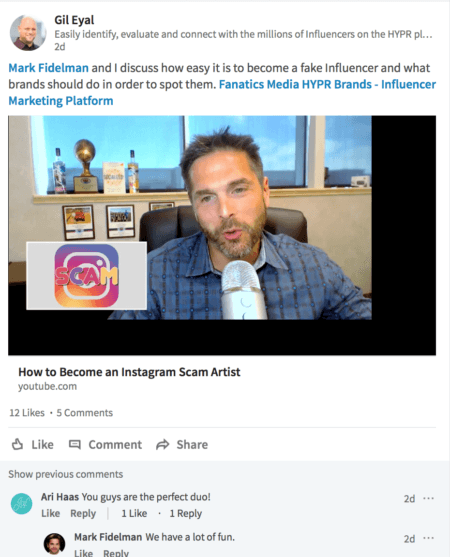 The moral of the story? Every time you write a post that helps establish you or your agency as a thought leader, make sure you share it on LinkedIn.
Share it on your company page and ask your employees to share it to. It's best if they write their own summary of the post and simply tag your company's LinkedIn page in their summary. This helps their post feel more authentic while still helping to drive new, interested leads.
Bonus: Run LinkedIn Ads
Want to speed up the process? LinkedIn Ads are a surefire way to do just that. LinkedIn Ads are an incredible asset for B2B businesses that many companies seem to forget about.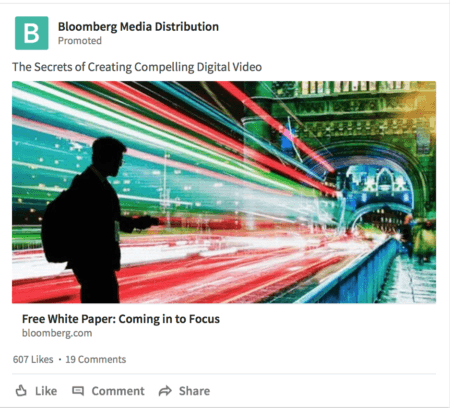 Since all LinkedIn users are on the site with work in their mind, LinkedIn Ads is an excellent platform that can be used to connect with new leads. They even have lead gen ads, much like Facebook. You can see our guide on how B2B businesses can run LinkedIn Ads here.
Conclusion
LinkedIn is an incredible platform to attract and connect with new leads. To make the most of LinkedIn, however, you need to be consistently and frequently engaged on the site.
By having your employees regularly and actively engaging on LinkedIn and representing your business well, you can draw in new leads organically while building strong personal connections from the very beginning. It's a time investment that will prove to be worth its value many times over.
What do you think? Do you use LinkedIn to attract clients? Which strategies do you use to help clients find you? Leave us a comment and let us know what you think!
Leave a comment