How to Choose the Right Facebook Objectives for Every Campaign
PPC
•
Social Media
•
Ana Gotter
January 24, 2019
When you're creating a new Facebook Ad campaign, you have to start making big decisions right off the bat. The very first choice you'll make is deciding what objective you want to optimize for, and your selection will absolutely affect your campaign. It can impact what actions you optimize for, what you pay for and even what types of creative options are available to you.
Choosing your objective, therefore, is an important first step that goes beyond simple categorizing your ad campaign. It's why you determine the objective at the campaign level, ensuring that only relevant ad sets and ads are grouped together.
If you're feeling a little lost about which objective to choose or if you're wondering what choosing each objective means exactly, this post is for you. We're going to discuss how Facebook objectives affect your campaigns, what the different objectives are, and how and when you should be using them.
What are Facebook Objectives?
Facebook Ad objectives are exactly what they sound like. They define what you want to accomplish with a specific Facebook ad campaign (which can include multiple ads within it), and then help Facebook to optimize your ads for the results you want to see.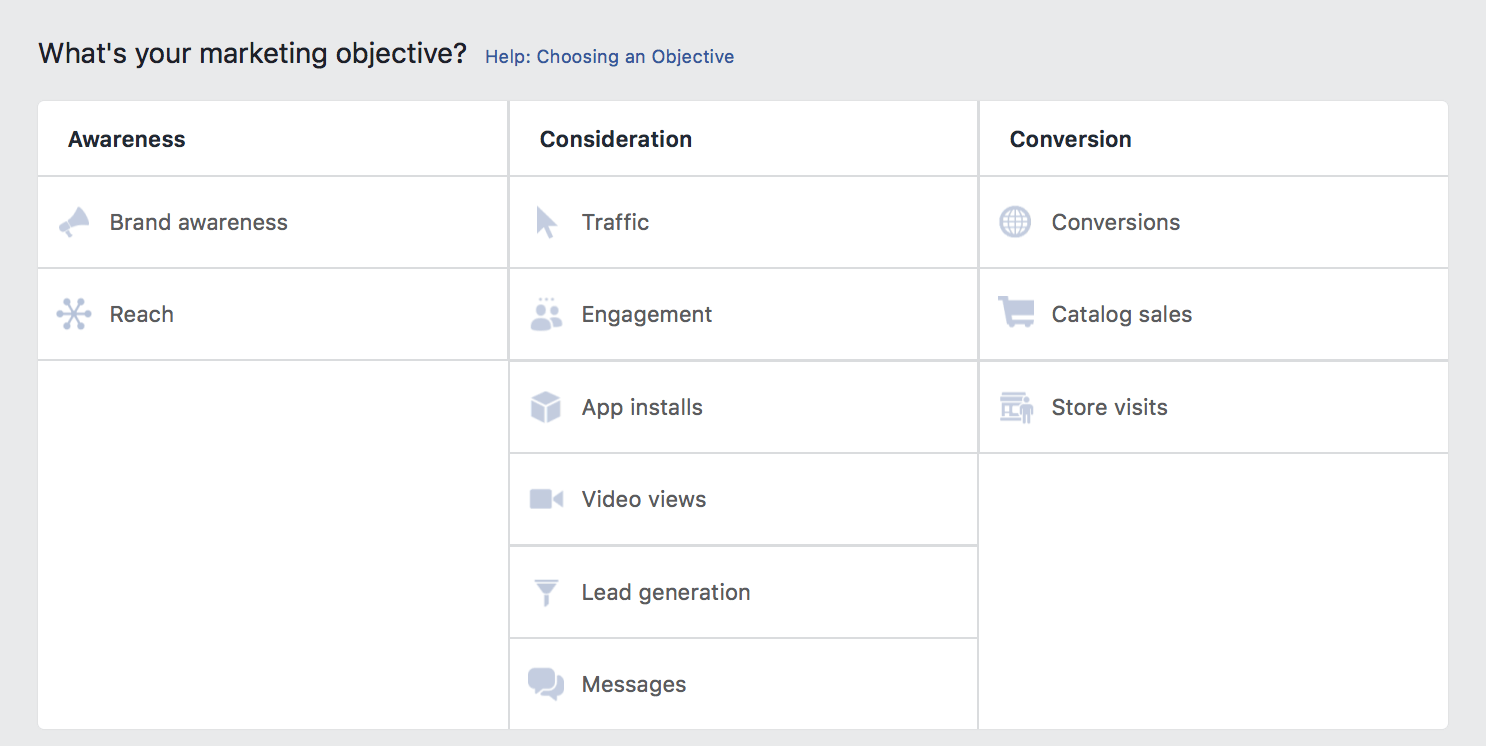 There are three categories of objectives—awareness, consideration, and conversion—with plenty of diverse objectives. No matter what you want to accomplish with your ad campaigns, there's likely going to be an objective choice that lines up well with what you're looking for. You can even optimize for in-store visits, even though it's an offline activity.
Facebook Ad Objectives: More Than Just Categorization
I want to take a minute to stress that Facebook Ad objectives are not simply a categorization strategy. This is a common misconception that some of my clients have had in the past, thinking that the decision you make here doesn't actually impact the ad results at all and instead is just a tool to help you organize massive amounts of ads.
That's not the case. When you choose an objective, you're telling Facebook what results you want to see, or which actions you'd like users to take. Facebook actually takes your objective and (later) what you're optimizing for/bidding on into account when deciding which users to show your ads. They'll try to secure you placements in the feeds of users who have a history of taking specific actions—like clicking on a link or engaging with a post—as they're most likely to take those actions in the future.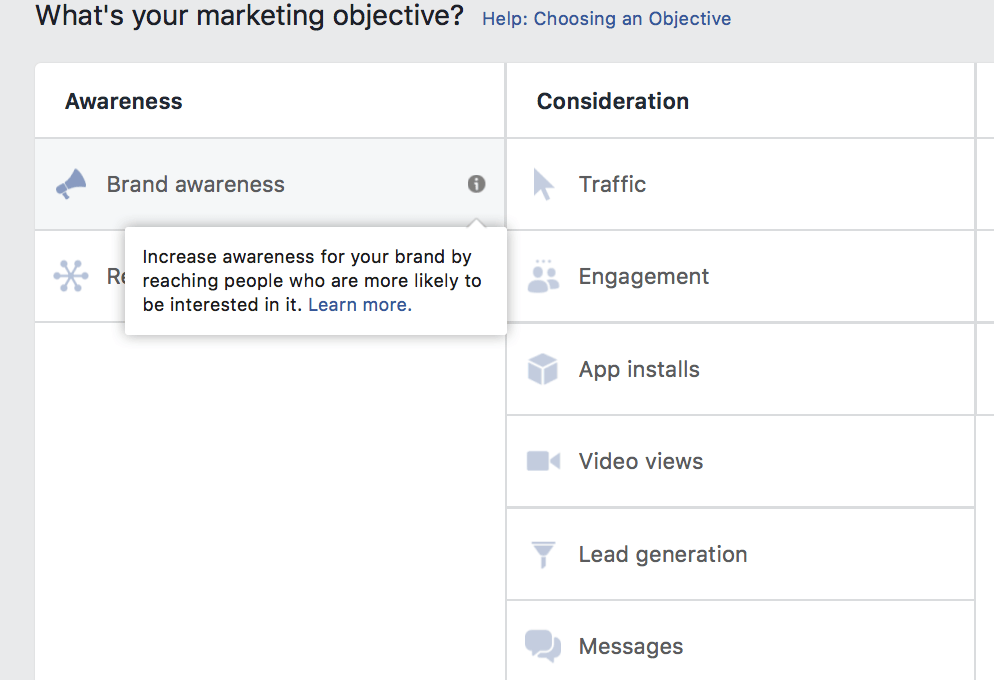 I don't think I've ever commented on an ad I've seen, for example, but I do regularly click, and I purchase occasionally. As a result, I generally see ads where the goal is to gets users to click or purchase.
The objectives you choose can expand or limit specific options later on during the ad creation process. The biggest of these are:
What actions you can optimize for. Certain objectives won't allow you to optimize for clicks, for example, and you have to rely on impressions.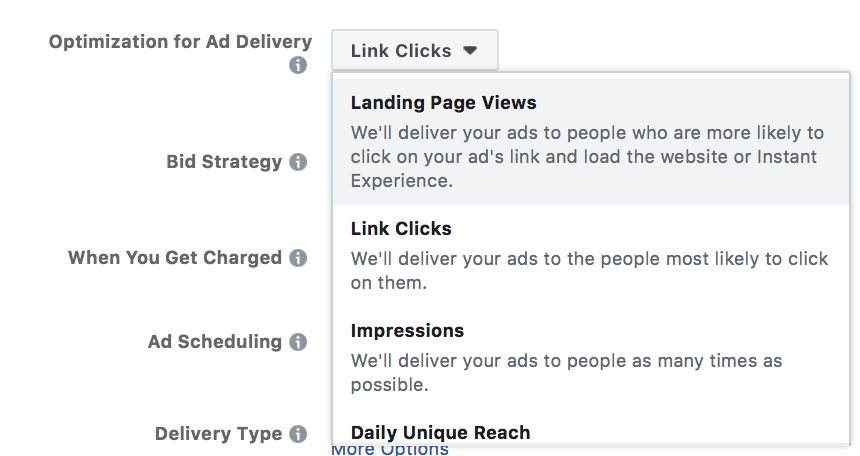 The creatives. Some objectives will limit the creatives that you can use. If you choose to optimize for post engagement, for example, you can't currently create carousel ads.
The 11 Facebook Ad Objectives and When to Use Them
There are currently 11 Facebook objectives that you can choose from, broken down into Awareness, Consideration, and Conversion categories. Let's take a look at each one and go over when you should be using each.
Brand Awareness
The brand awareness objective is focusing on reaching new customers to introduce to your brand and/or improving brand awareness with users who are already familiar with you. They're excellent for beginning-of-the-funnel campaigns where the goal is to reach customers and start to make an impression. You can still try to promote your product and you may seem sales, but that's not necessarily what you're optimizing for.
Here are a few bullet points to consider when choosing brand awareness:
You can't choose what to optimize for. Facebook only gives you one option, which is ad recall lift. They'll prioritize placements in the feeds of users who are likely to pay attention to and remember your ad.

Ad recall lift optimization only allows for the lowest cost bid strategy. This strategy states that it only wants to see results at the lowest cost possible, meaning that you can't enable a bid cap or choose other bidding strategies.
You're charged by impressions. In other words, you pay for every 1,000 views on your ad. These do not have to be unique daily views; the same person can make up 16 of those views.
Reach
The reach objective is pretty straight forward—you want your ad to be seen by as many people in your target audience as possible. If you have an ad you want a large number of people to see and you don't necessarily need to optimize for any specific action except for having the ad viewed, this is a good one to choose.
The key phrase here is "as many people as possible," not necessarily "as many times as possible." The goal is to spread your message far and wide, not just hitting the same people with the same exact ad multiple times.
Here are the key takeaways to consider:
Because the goal is to have your ad seen by as many people as possible, this campaign type is typically going to work best when you have a broader audience. A super niched-down, small audience would typically benefit from other objectives that are targeting specific actions.
You can choose to optimize for either impressions (which prioritizes views period) or reach (which prioritizes showing your ad to as many people as possible). Reach is the best option here so that you can keep your ad frequency low and your reach high.

You'll be charged for impressions whether you choose to optimize for reach or impressions.
Lowest cost strategy is the only one available here, but you can set a bid cap.
Traffic
The traffic objective is one of the more popular and heavily-used options on the list. The goal is to send users to the specific page of your choice. This will typically be your website, a designated landing page or an app page. This is typically used to give users more information about the product, service, or event being promoted, and may include the option do everything from register for a lead magnet, request more information, or purchase outright.

In addition to a landing page or an app page, you can also send users to your Messenger page or to WhatsApp. These two options can encourage users to send you a message so you can answer any of their questions.
This is what you need to know about the traffic objective:
Speaking from experience, make sure that your landing page matches the ad to a T. Not only will this keep users happy, your relevance score up, and prevent Facebook from rejecting the ad, it will also help you accomplish more.
It comes with a lot of options, including the ability to add an offer to your campaign or utilize dynamic creatives to improve the audience experience. These are useful tools when you have need for them.

You've got four different options for optimization: landing page views, link clicks, impressions, and daily unique reach. Landing page views and link clicks are similar, but landing page views can indicate a higher likelihood to stay on that landing page and actually see where it takes them.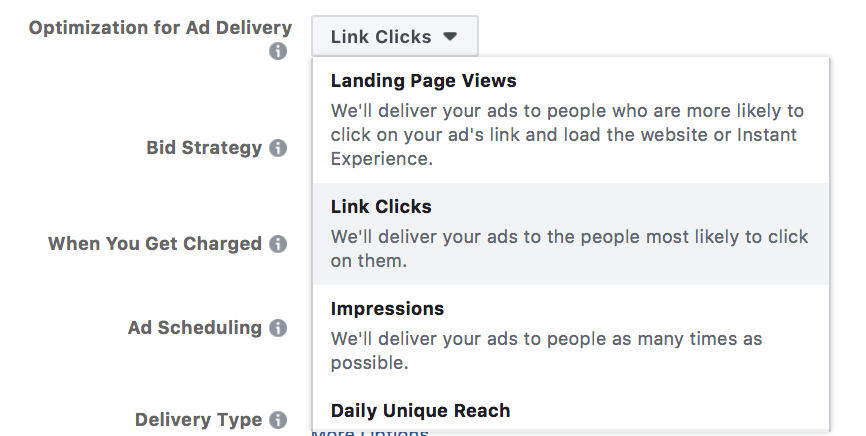 Depending on what you optimize for, you may have the option to be charged by impressions or link clicks. Link clicks ensure that you're only paying when you're actually getting a definitive click on an ad, but remember that a click doesn't always mean a conversion—high bounce rates can work against you here.

Engagement
This objective focuses on driving on-platform engagement in some way. You'll be asked to choose exactly which type of engagement you want to prioritize: post likes, Page likes, or event responses.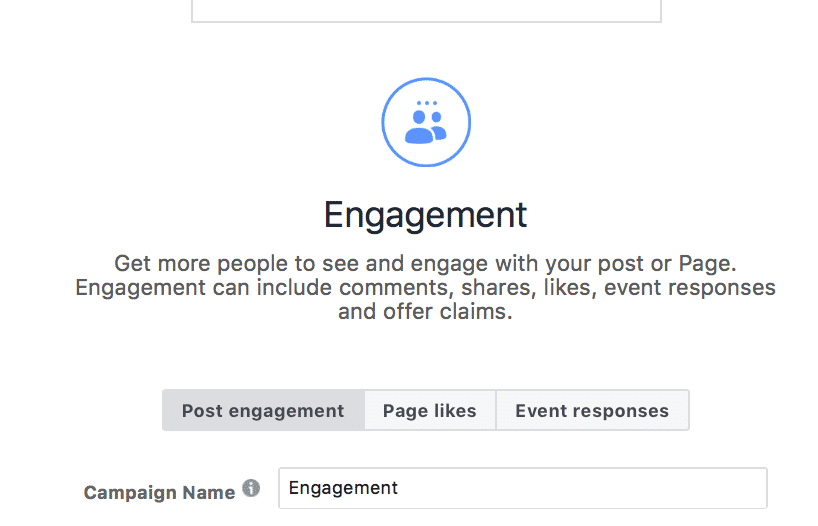 These campaigns work well to create visible, powerful social proof on your campaigns and/or organic content, which is a huge advantage. You can also use them in creative ways, including:
Increasing your Facebook event attendance, visibility, and social proof (which all leads to even higher attendance).
Promoting a current high-performing post, using the social proof already there to attract new customers.
Connect with new users who may be interested in your brand, and then earning that like so you'll be able to keep in touch in the future.
Engagement campaigns are pretty straight forward. These are the basics you need to know:
Messenger placements aren't available for this ad format.
You can choose from impressions, post engagement, and daily unique reach optimizations. Post engagement is typically going to be the best choice here, because it's optimizing for the action you want.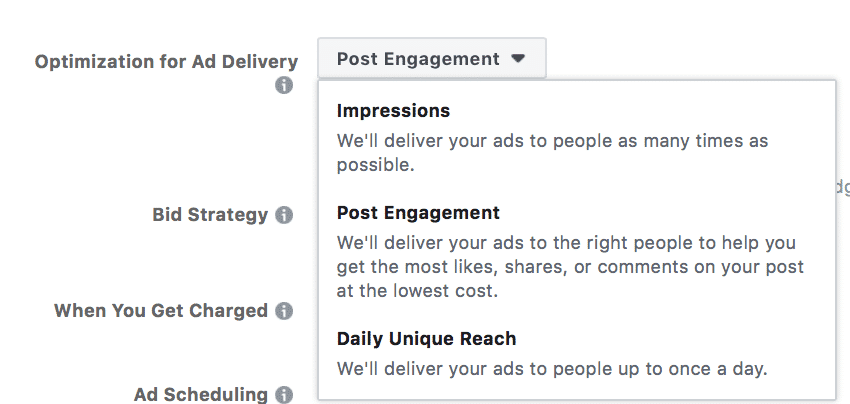 You're charged by impressions.
App Installs
The traffic objective can help get traffic or engagement to your app, but the app installs objective will focus on getting your application installed by more users. This is an excellent choice if you have an app and you want more downloads so that you can engage customers more frequently on mobile. Make sure to highlight the value proposition of downloading during the ad so that potential users really understand how it will benefit them.
This is the technical info that you need to consider:
The option for dynamic creatives is back, along with the option to choose from product catalogs to automatically show users the most relevant content that will likely resonate with them.
There are a lot of options for optimization. This includes app installs (the suggested option), retention, link clicks, app events, and 10-second video views. Retention optimizes for people who are more likely to open the app on the second day or seventh after installing.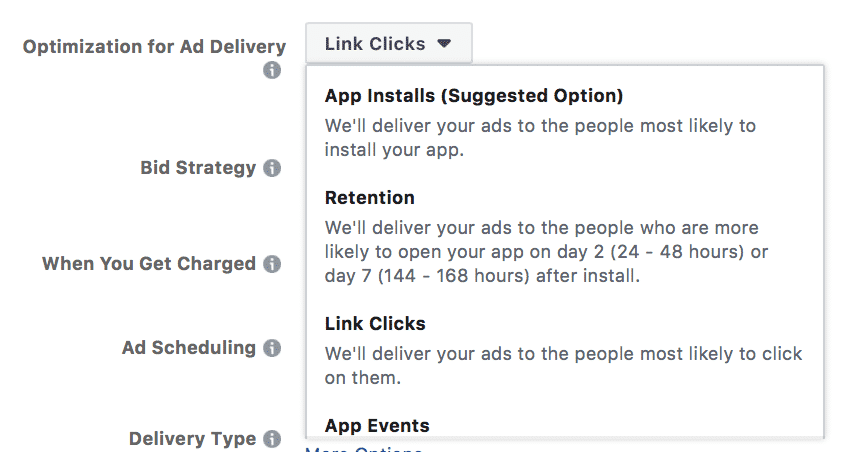 When you're charged depends on what you're optimized for, and can include impressions, 10-second video views, and link clicks.
Video Views
Video ads have enormous potential on Facebook, and can yield exceptional results. The video view objective is prioritizing having your video viewed.
One thing I always like to flag here is that just because your ad features a video doesn't mean that video views is the right objective. Sometimes, if you're dead set on conversions or another objective, it's better to opt for that one instead, where users may be more likely to follow through to that ultimate desired action.
I've had great result with using video view campaigns as introductory campaigns, used to share information about the brand with new customers.
These are the basics to remember when choosing the video views option:
Really take a close look at placements. Some businesses prefer not to use in-stream video ads, for example, which some users dislike. Others want to make sure their ads aren't appearing in videos that fall into certain categories that don't align with their brand.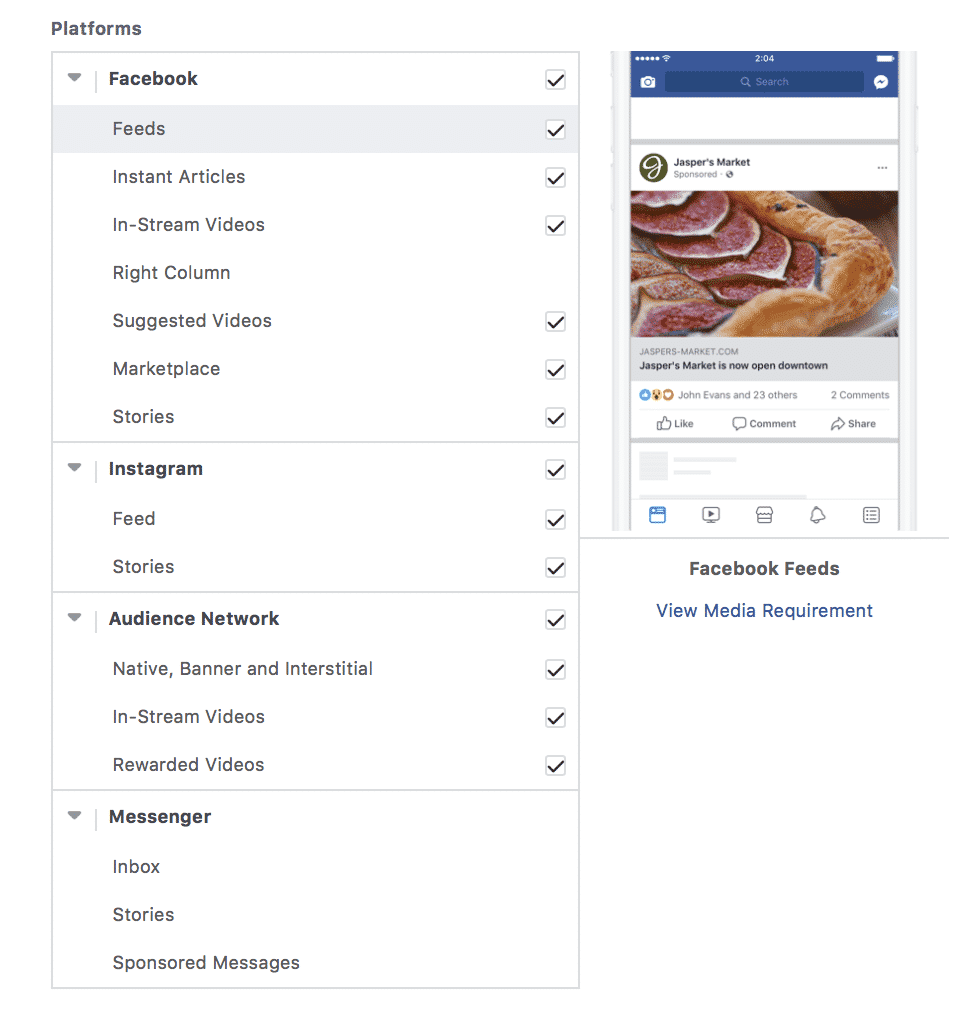 Ad optimization here is going to be a little different, with options prioritizing the length that you want to focus on getting users to watch for. ThruPlay optimizes for view completion of 15-seconds-or-less videos. 10-second video views focuses on getting at least 10 seconds of video views at the lowest cost. 2-second continuous video views optimizes for just getting that video hovered over long enough for it to load.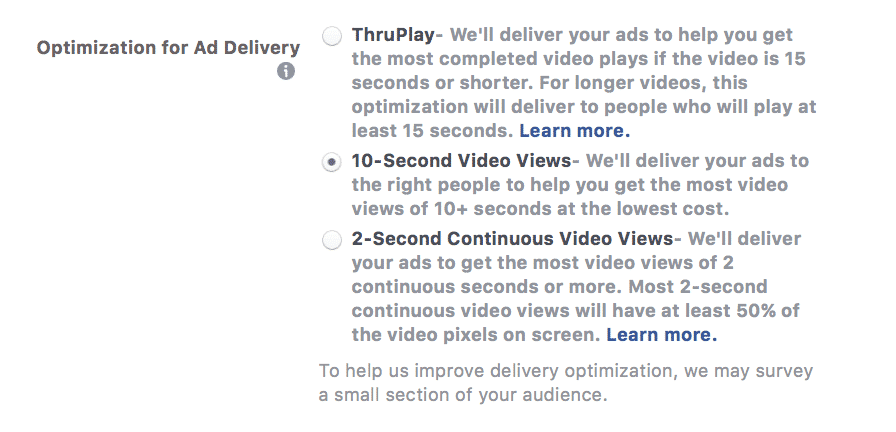 You'll either pay for impressions, or for 10-second video views.
Lead Generation
The lead generation objective aligns directly with the lead gen ad format. These ads open up on-platform, auto-fill forms that are quick for users to complete on both mobile and desktop. Lead gen ads are sometimes used alongside an offer, like a free ebook, consultation, or in-person class.
Lead generation ads are an exceptional tool to have, and I've run a number of campaigns with outstanding results in the past.
These are the key facts you need to know:
Audience network and messenger placements are off the table. Since the audience network is relatively low cost, this can increase the average CPA on these campaigns.
You can only choose to optimize for leads, which is the event of someone filling out your form.
You can, however, choose a bidding strategy. You can opt for "Target cost" or "lowest cost."

Lead forms can be created and edited at any time.
Messages
This ad objective is a relatively newer one, and the goal is to take people from your add to a messaging platform (either Messenger or WhatsApp) to get them to start a conversation with you. You can answer any questions they have, overcome objections, and offer product or service recommendations based on their needs.

Here's the important stuff:
Audience network is off the table here. So are right column placements, Story placements, and a few others.
You're optimizing for "Replies," and you're going to be paying for impressions.
You can choose to set a bid cap.
Conversions
Are you trying to optimize for a very, very specific type of conversion? Sales, email newsletter sign-ups, registering for a course or an event? Each of these actions counts as a conversion, and this objective can help you accomplish your goals.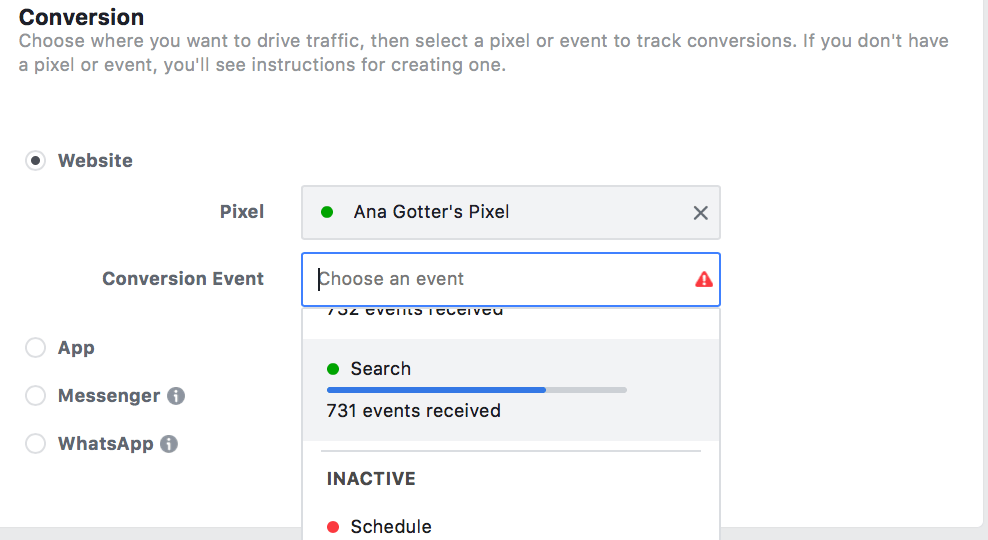 Here's what you need to keep in mind:
Make sure you're optimizing for the right conversion event. You set this up through the pixel.
You can add offers to these campaigns.
You can bid on conversions, link clicks, impressions, daily unique reach, and more. When you choose "conversions," you can choose the attribution window. 7 days is the standard, and it's a good one to stick with because attribution can be tricky.
If you optimize for conversions, you'll pay based on impressions.
Catalog Sales
These campaigns automatically show items from your on-platform product catalogs to relevant audience members, keeping them engaged and hopefully driving sales.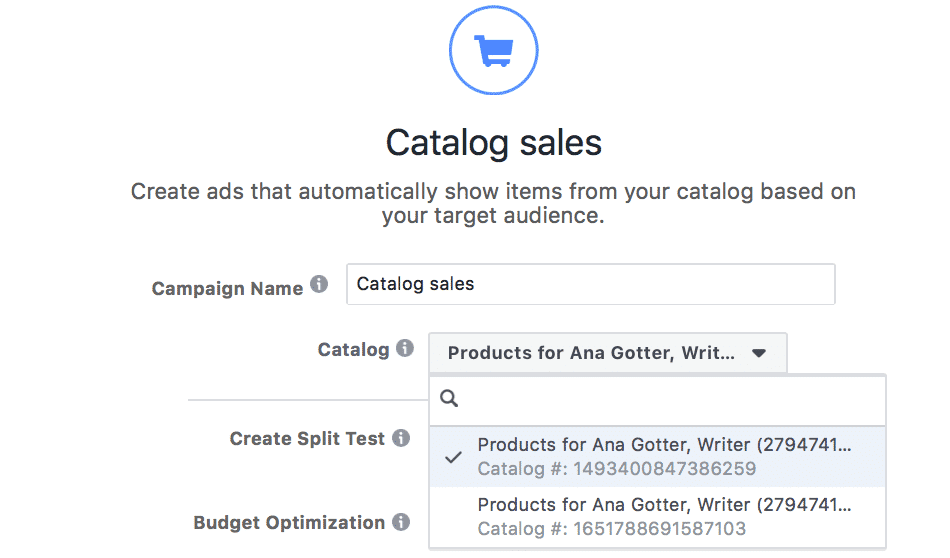 You'll immediately notice that the audience targeting is different for this campaign, with a heavier focus on what ads to show to which customers. These are dynamic ads, after all, so Facebook lets you decide what would be most beneficial, including upselling and cross-selling.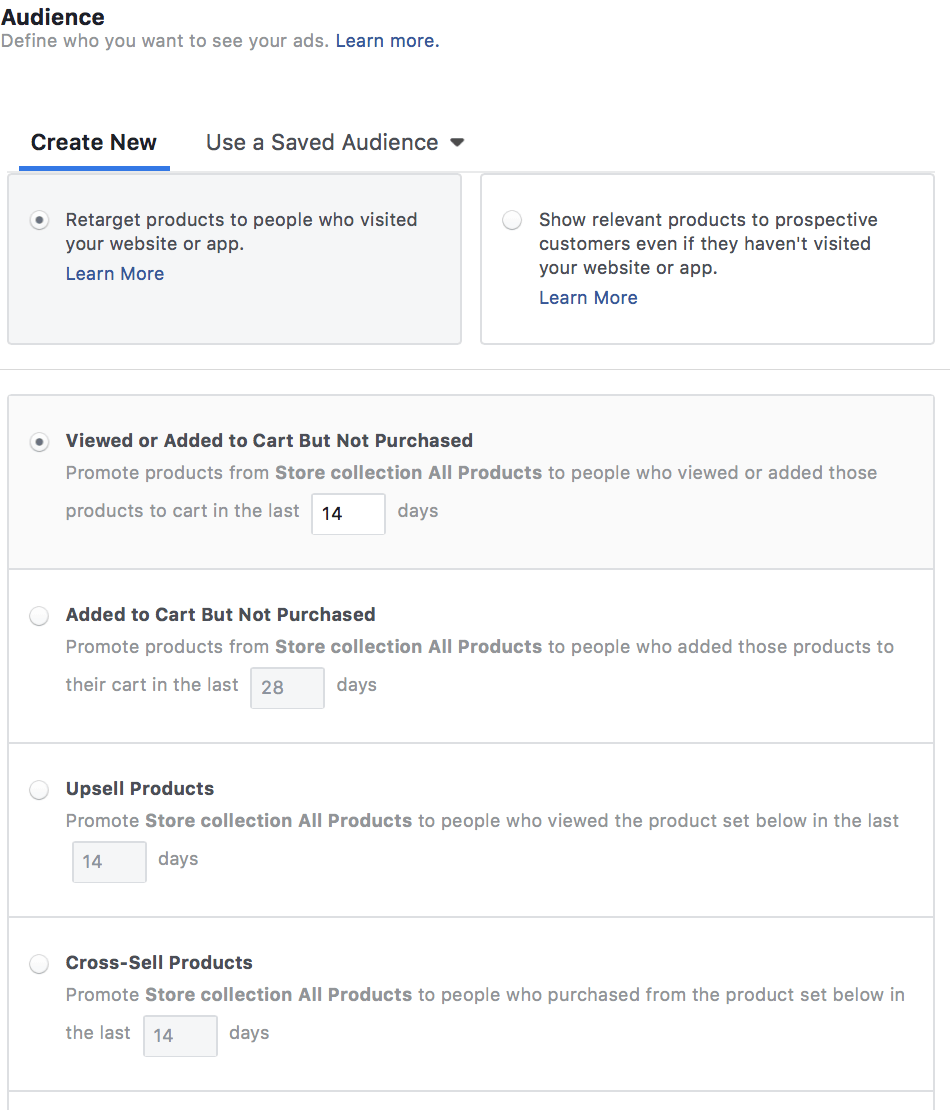 Here's the other differences you should know:
You can optimize for link clicks, conversion events, or impressions.
You can set a bid cap.
You can be charged on impressions or link clicks.
Store Visits
The store visits objective is a tricky one, because it's driving an offline action that can be harder to track. Moreover, it's not available to all stores, even those that have brick-and-mortar locations. Instead, you actually need to have multiple business locations, so this is a good option for franchises or a business with several sister companies or smaller locations that are trying to drive store traffic.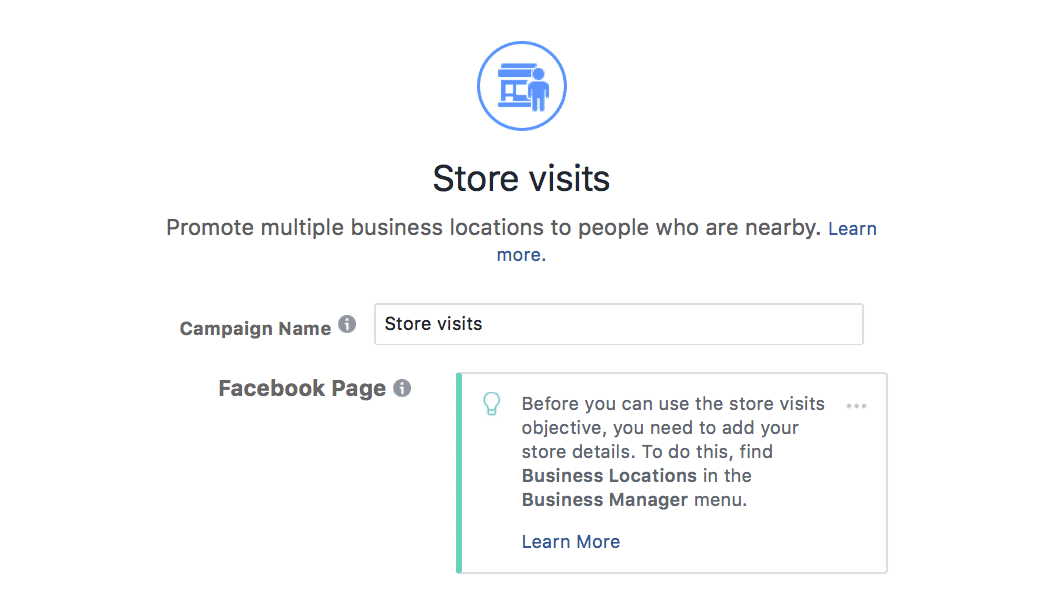 This ad objective is more complicated just due to the sheer nature of it, but here's a few things to keep in mind:
You can add map cards as a carousel slide option, which essentially is a clickable map users can access to see where you are in relation to them.
There are several systems of measurement in place that Facebook uses to attempt to track how accurate your ad campaigns are. This includes the "People Nearby Who Saw Your Ads," which will appear in your Page Insights.
The best option for optimization is the "store visit optimization," which is exclusive to this objective. It ensures that your ad is shown to users most likely to go visit your store in person.
Conclusion
Choosing the right Facebook objective will have a significant positive effect on your ad results, which is why you should carefully consider which objective to use for each individual campaign. If you aren't sure and want to test different objectives and see what works best, dive in and run a few split tests early on. This will help you assess what's best for your audience and the offers you're promoting.
Fortunately, each objective is relatively straightforward and self-explanatory, so choosing the one that best aligns with your ultimate goal of each specific campaign is the way to go. Have a strategy ready and on your mind before you head to the Ad Manager, and it's easier to not get stumped when you arrive there.
Are you looking for some help with your Facebook Ads? Shoot us a message and see what we can do for you here.
What do you think? Which Facebook objectives caught your eye? Which do you use most frequently for the best results? Share your thoughts and questions in the comments below! 
Leave a comment