Social Sign-On: Should I Try It On My Website?
by Andrea Warner • September 21, 2016
While doing a little online marketing research, I got a bit distracted by a popular web site that provides book reviews and recommendations. I was interested in the site's content, but to gain full use of the site, I had to register as a new user.
So, I clicked the button to sign up for a new account. Up popped a page that let me either register using my Facebook credentials or with my email address and a password.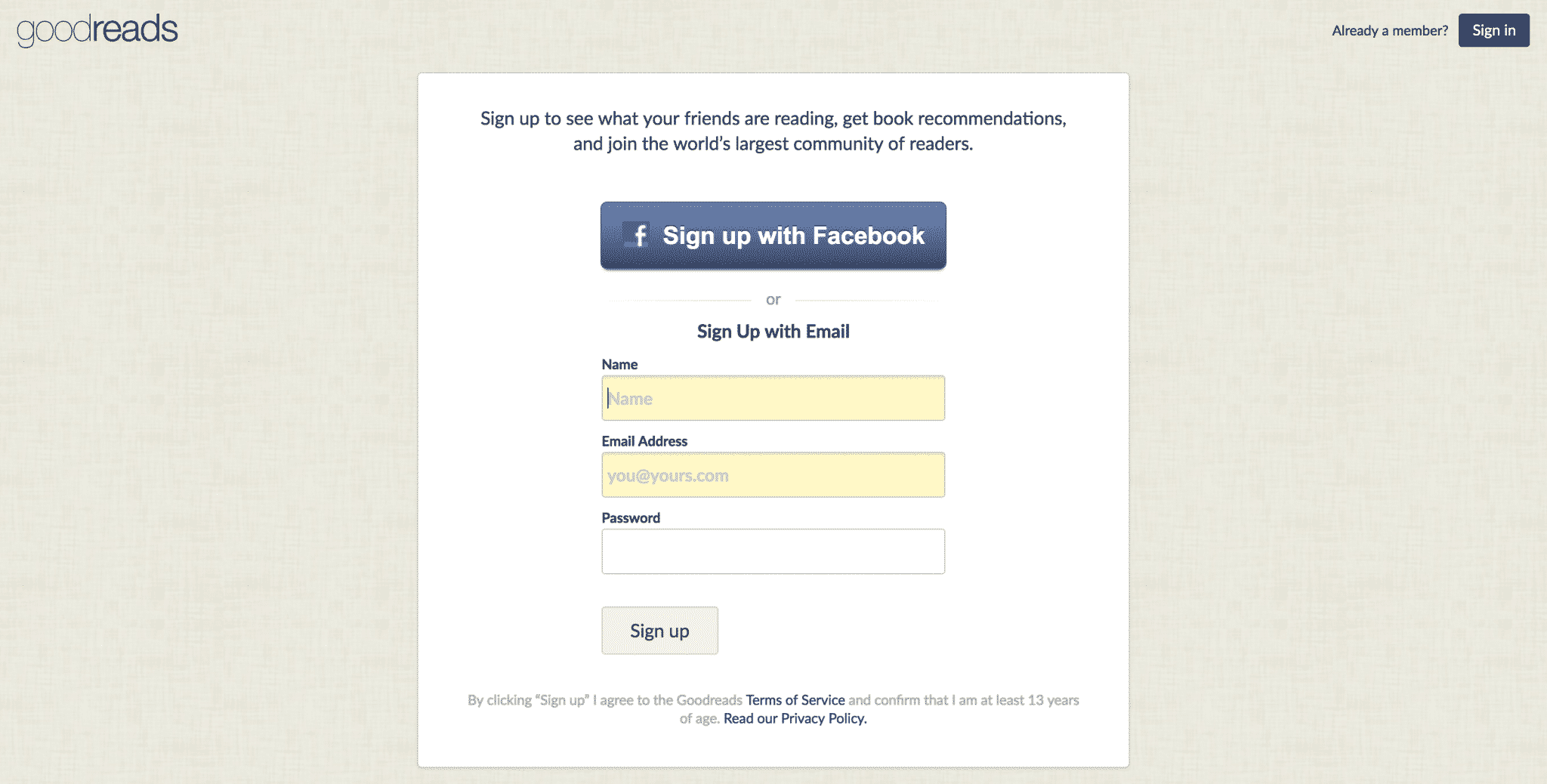 I had things to do and was in a hurry. I hesitated…and clicked the option to register with my Facebook credentials.
Another popup informed me that the site would receive my Facebook public profile, friend list, and email address. Again, I hesitated.
Should I be sharing my social connections? Will the company adequately protect my social network credentials? If I associate all sites and apps with this single set of credentials, if one site or app gets compromised, won't all of them? Scary!
Instead, I backed out and registered with my email address.
Convenience versus trust. That's really the core issue at stake you ask someone to sign on or register using my Facebook, Google+, or other social network credentials.
Convenience vs Trust
Honestly, creating a new user name and password is a pain and introduces yet another name and password people have to remember. However, allowing a business to access your social media accounts comes with a perceived risk.
After all, most people put their whole lives on social media: their interests, their friends and connections, even their personal thoughts and opinions.
What could a company do with all that information?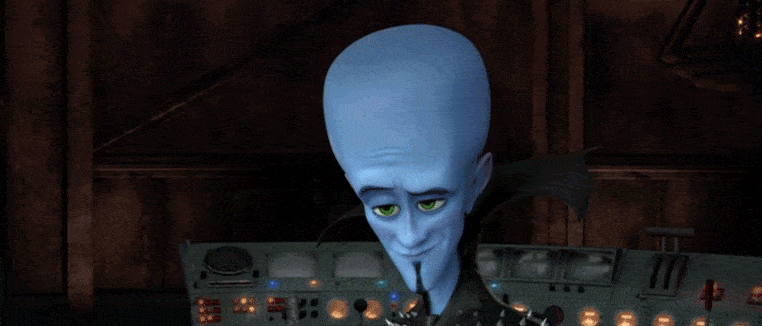 But here's the thing, while I'm not a big fan of sharing my personal details with corporations, not everyone feels the same. According to Six Revisions, many people actually feel more secure using credentials from a familiar platform that they already use and trust.
If you think about it, this makes sense.
Maintaining the security of your profile is critically important to Facebook, Twitter and the other social media giants. They spend billions of dollars on securing your information. Smaller companies may lack both the resources and desire to protect their users.
So which is the bigger risk? Creating a new profile on a potentially less secure site or allowing that site to access your social media profile?
Clearly, millions of people prefer social sign-on to creating a new profile, so let's take a look at who uses social sign-on and some tips that you might want to try if you decide to implement this functionality on your site.
Trends in Users By Generation
According to internal data from LoginRadius—an identity and access management company—in Q1 of 2015 somewhere between 28% and 30% of Millennials (ages 18-34) used social sign-on.
Gen Xers, Baby Boomers and older were actually even, with 21% usage each.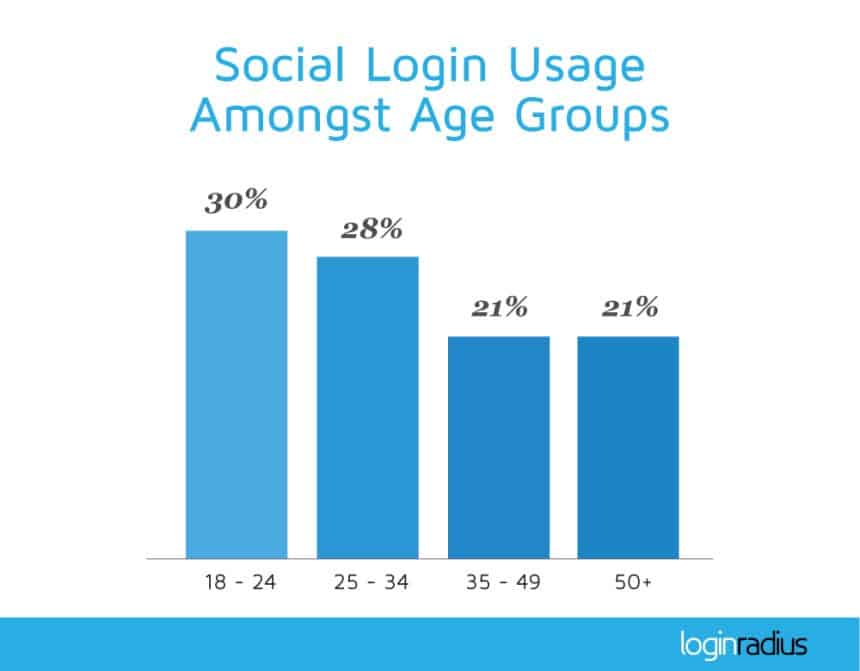 But (and this is really interesting) how has that usage played out over time with these groups?
I discovered a post with similar information from LoginRadius, but from 2014. Back then, things looked a little different (for the full infographic, click here):

In 2013, 33-38% percent of Millennials used social sign-on. By comparison, just 19% of Gen Xers and 11% Baby Boomers and older used social sign-on.
So, over the last two years, Millennials have decreased their usage while Gen Xers and older have increased their use of social sign-on.
Major Social Sign-On Providers
The biggest players in providing social sign-on functionality include, as you might guess, Facebook, Google+, Twitter, Yahoo and LinkedIn.
Based on my personal observations, it's little surprise that Facebook leads the pack.
According to customer identity management company Gigya, in Q2 2015, Facebook accounted for 66% of all social sign-ons worldwide. In second place? Google+ with a meager 20%. The remaining contenders have only single digit usage.
When Gigya examined sign-on provider by industry, though, Amazon and PayPal—providers that really have no play elsewhere—have begun taking a small share of social sign-ons for eCommerce sites.
By the way, the term "social sign-on" is a bit narrow given that organizations like Amazon and PayPal provide the service, too. The broader term for this functionality is actually "identity federation", with the companies providing the service known as "third-party identity providers".
Tips for Using Social Sign-On
As it turns out, affinity for social sign-on really depends on who you are—your age, gender and the device you use. The type of site or app you're on may also impact which sign-on tool you're more likely to use.
With those thoughts in mind, here are a few tips for using social sign-on. As always, if you can run an A/B test to verify what works best, that's the way to go.
Tip 1. Test use of social sign-on by generation or device type.
Tip 2. Consider your industry when choosing the third-party identity provider(s). For example, with eCommerce sites, you may get more registrations with Amazon or PayPal over a less commerce-oriented provider.
Tip 3. Include copy or a security symbol on one or more sign-on screens to reassure those registering that their information is secure.
Tip 4. Provide the option to register using an email address or password for those uncomfortable with social sign-on.
Tip 5. Give users the option to not share their list of connections when using social sign-on.
Which particular approaches or tactics produce the best results will depend on your site and market, but these tips should be a good way to identify the best way to use social sign-on.
Conclusion
Clearly, social sign-on works. It provides an easy way for people to create logins for new websites and may potentially make them feel better about the security of their information.
However, social sign-on also puts more personal information in the hands of businesses. That's good for businesses, but not necessarily something that everyone wants.
So, is social sign-on something you've used? Something you're considering for your business?
If you'd like me to take a look at your business and give you some feedback on whether or not social sign-on makes sense for your company, let me know here or in the comments!