How to Make Your Facebook Video Ads Shine: A Comprehensive Guide
Social Media
•
Video Advertising
•
Cydney Hatch
September 7, 2019
Have you ever watched a talent competition show like American Idol, America's Got Talent or The Voice?
If so, you know that within seconds the panel of judges make a judgment call on whether or not a person has enough "star power" to move on.  I am sure, as you have watched these shows, you have seen really talented groups and or individuals that stop you in your tracks while others are quickly "X-ed" because they are:
Unoriginal
Overdone
Boring
Irrelevant
Untasteful
 Or Just Downright Terrible
Well, just like contestants on these shows, Facebook video ads can be judged the same way (and you don't want to be the boring one). Businesses are desperately trying to compete with other "talent" to get the attention of the judges, aka target audiences, but most times they don't know how to have that lasting impression.
Now, I am sure we all want to be "Simon Cowell approved" when it comes to our Facebook video ads, but how?
If you are struggling to get your "ticket to Hollywood" from your target audience, we got you covered. In this article, learn all about Facebook video advertising and how you can make Facebook videos ads that will make even Simon Cowell smile. #AStarIsBorn
Why Facebook Video Advertising
We know that video is important for digital advertising, with the potential to increase brand awareness and lead to a direct increase in lead generation, sales, and other types of conversions. It's dynamic, it's interesting, and it can get users to stop scrolling like little else can. Despite all this, Facebook video ads are incredibly underused.
Whether it's sheer intimidation, lack of skills or not knowing what to even record, many businesses fear using Facebook video ads and this is a lost opportunity. Sure, Facebook video ads can take a big chunk of work, but they're also enormously worthwhile when executed correctly.
Don't believe me? Well, let's take a look at some numbers, shall we?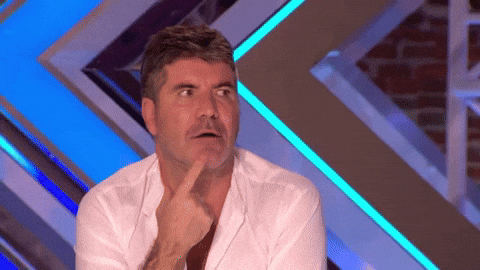 Facebook users love content that is engaging and videos are considered especially engaging on Facebook and other social media platforms. In fact, it is estimated that mobile video will account for 75% of mobile traffic in 2020.
In the past, videos have also achieved 135% more organic reach on Facebook when compared with photos, ensuring that Facebook users are familiar with and happy to watch videos on the platform.
As of July 2014, there has been a 50% increase in the number of videos that have been viewed on Facebook, year over year. On top of that, 100 million hours of video are being watched on Facebook every day, and, in November 2015, Facebook was reporting 8 billion daily video views.
WOW, right? Well, after seeing those numbers, I'm sure you're that convinced that Facebook video ads are worth your time. (Or as Randy Jackson says "It's a YES for me, DAWG")
So, if you are star struck let's take a look at how to get you started in confidently creating Facebook video ads!
A Comprehensive Guide to Creating Facebook Video Ads
If you need some help in leaving a lasting impression with your video content, the below guide will walk you not only through the logistics but some of the best practices and creative ways you can make your Facebook video ads shine:
Facebook Video Ad Placement 101
To start, it's good to know there's a video ad for any business, any budget, and any goal. Whether this is your very first video ad or your next big campaign, you'll find the right video solution on Facebook, I promise!
There are tons of places to share your video content on Facebook, so let's take a look into all of your options:
Facebook Slideshow Video Ads
Facebook slideshow ads are video-like ads that use motion, sound and text to tell your story beautifully across devices. They load quickly, so they play well on every connection speed.
Unlike some video ads, slideshow ads are quick and affordable to create. You can create a slideshow ad in minutes from desktop or mobile and use it to tell a story that develops over time. You can even create a slideshow ad out of stock images available in the ads creation process or use an existing video.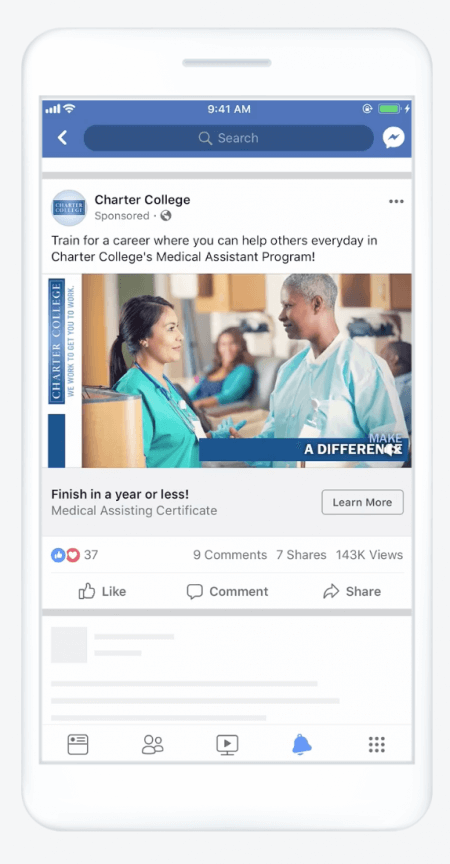 The best times to use this type of Facebook video ads is when you are looking to:
Create an immersive experience quickly
Create video ads straight from your phone
Simplify the creation process
Reach people with slower connections (Slideshow ads use 5X less data than videos)
Facebook Story Video Ads
People love Facebook and Instagram stories for their quick content dive, so Facebook has allowed businesses to connect video content through their stories feature.
Facebook stories match how people are already interacting with their phones as people hold their phones vertically about 90% of the time. Story video ads are optimized for a vertical, fullscreen view that feels natural and allows people to enjoy videos and photos quickly.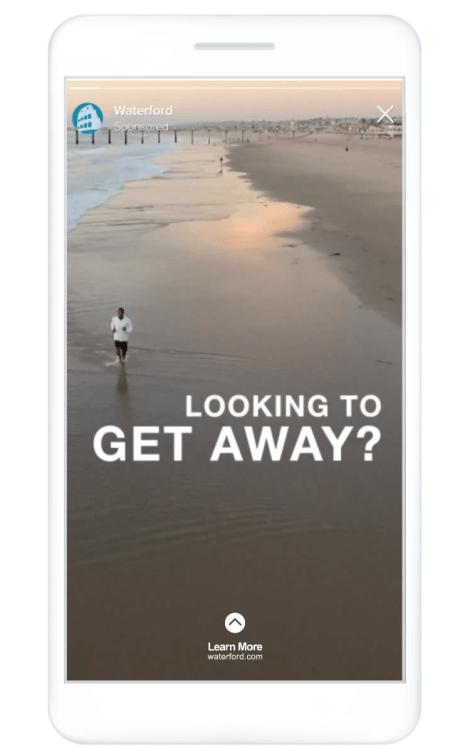 On top of the ease factor, 65% of people in the US say stories help them feel closer and more up to date with friends and brands they love.
The best times to use this type of Facebook video ad is when you are looking to:
Create more actionable video content
Create a quick and easy message
Create an authentic experience with customers
Seem less "salesy"
Facebook Carousel Video Ads 
The carousel ad format is available for Facebook, Instagram, Messenger and Audience Network, and allows you to showcase up to 10 images or videos within a single ad, each with its own link.
With more creative space within an ad, you can highlight different products, showcase specific details about one product, service or promotion, or tell a story about your brand that develops across each carousel card.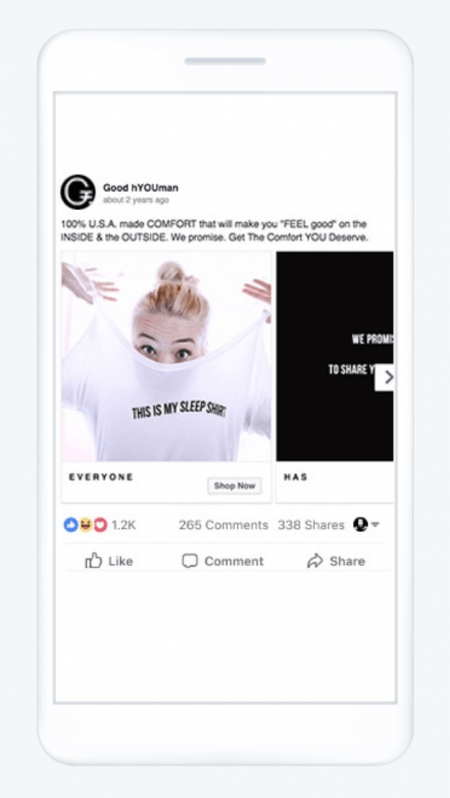 You can choose to let Facebook optimize the order of the carousel images based on each card's performance, but if you're using the format to tell a sequential story, make sure you opt-out of the automatic optimization feature! (That would be a disaster of an "audition!")
The best times to use this type of Facebook video ad is when you are looking to:
Feature multiple products in one place
Highlight features of a product and or service
Activate people with engaging content that tells a "story" or sequence
Create an explanation of services and or products
Facebook Collection Video Ads
One of the primary ways people discover new products and offerings is through mobile video. But when they're ready to browse more or make a purchase, they expect a clean and fast-loading mobile experience.
Collection ads are an ad format that lets people move from discovery to purchase in a smooth and immersive way. Each collection ad features a primary video or image with four smaller accompanying images below in a grid-like layout.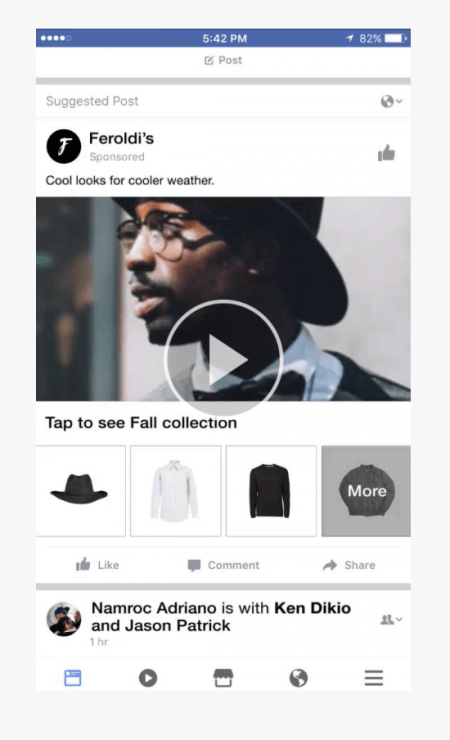 Customers who tap on your collection ad to browse or learn more will be seamlessly taken to a fast-loading visual post-click experience powered by Instant Experience—all without leaving Facebook or Instagram.
In short, these types of ads are creating a rough digital "storefront" for people to quickly shop a collection and or group of products.
The best times to use this type of Facebook video ad is when you are looking to:
Feature multiple products in one place
Drive conversions to a certain landing page
Create a digital version of a catalog
Share your new product photography and branding
Give people a new experience in viewing your products and services
Facebook Messenger Video Ads 
The easiest way to take advantage of Messenger's global reach is to run video ads in Messenger directly!
Messenger ads work just like ads across other Facebook platforms—they'll automatically deliver ads to the placement that's most likely to drive campaign results at the lowest possible cost.
The best part? You can use the same creative for Messenger that you're already using for Facebook and Instagram! Yay!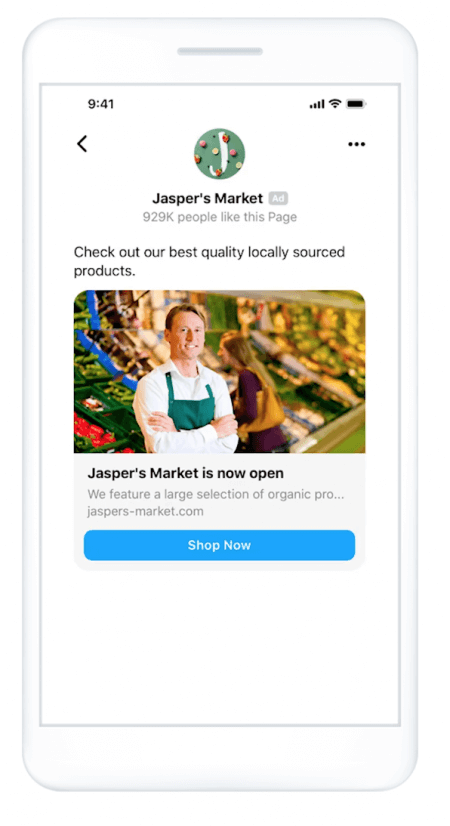 People will see these ads in the Chats tab in their Messenger app. When they tap on an ad, they'll be sent to a detailed view within Messenger with a call-to-action that will take them to the destination you chose during ads creation—whether that's your site, app, or a conversation with your business on Messenger.
The messages objective lets you buy ads in Ads Manager or the Ads API with the aim of opening Messenger interactions—making it easier to drive conversations at scale.
Businesses of any size can use the messages ad objective to interact more personally with people in order to get leads, increase sales and answer questions.
The best times to use this type of Facebook video ad is when you are looking to:
Retarget customers for a purchase
Share promos and exclusive content
Start a conversation or invite them to an event/storefront
Capture attention in a more intimate setting
Explore personalized video content
Facebook Playable Video Ads
Have a mobile app? This will be your jam!
The playable ad format is an interactive video ad for Facebook and Audience Network for mobile app advertisers to drive higher quality and higher intent users to install their apps with a try-before-you-buy experience.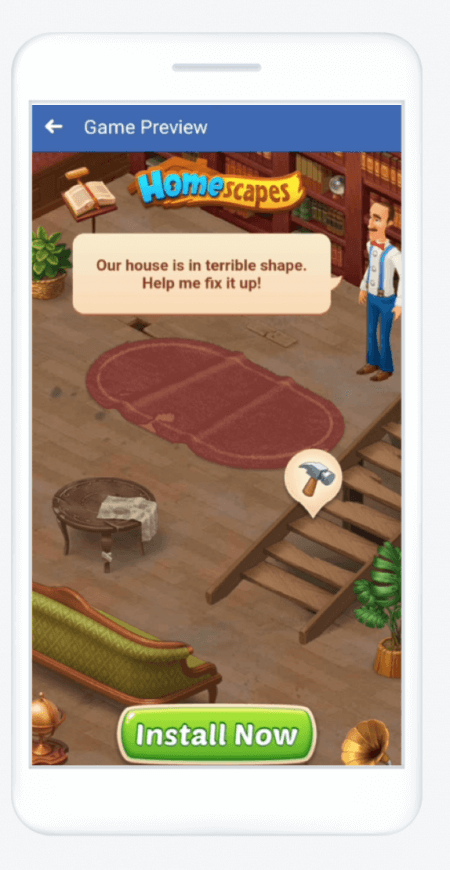 Playable ads are typically made up of three parts:
Lead-In Video: A short video of your demo with an overlay of a game controller
Game Demo: A short, interactive and full-screen demo of your game without an install
Call to Action: A tap option to install the app from the App Store or Google Play Store
With those three options, these types of ads are a great way to create easy digital test drives of your app without making potential customers feel like they are getting locked in or pushed into a download and or purchase!
Now that you understand all the different Facebook video ad placement, let's take a dive into the aesthetic part of video ads: design!
Facebook Video Ad Design 101
Once you understand where you can use Facebook video ads, the next step is understanding the design elements of what makes for optimized and beautiful video ads.
To start, here is a quick visual cheat sheet to help you: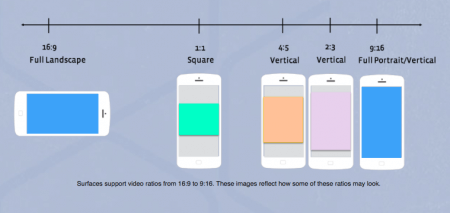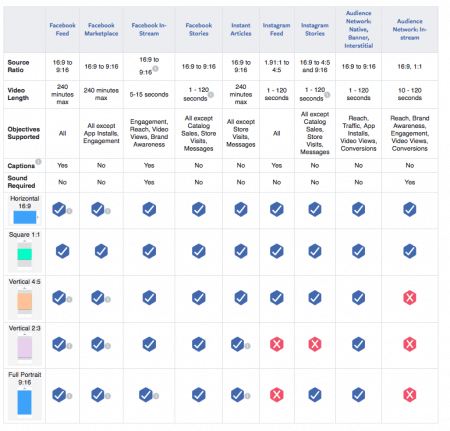 As that is just a quick and dirty guide, its good to know the following general ad specs:
Recommended to upload the highest resolution video possible
Recommended aspect ratio is 16:9 (ratios fall between 9:16 to 16:9)
Recommended video formats are .MP4 and .MOV
Max video file size is 4 GB
Video length is 5 to 15 seconds
Highly recommended to include video sound
Captions are likewise optional, but recommended
Video thumbnails with 20% text or more could increase chances of failed delivery
But there is a lot more that goes into the aesthetic of Facebook video ads. Let's take a look at some best practices:
Have Mobile in Mind
Consider making your video more visually engaging on mobile by using a vertical or square video. These formats allow your video to take up more space on the screen. Typically the sizing for mobile is 120 X 120 pixels and the sizing typically maxes out at 26 GB.
Design Without Sound
Many people have their phones on silent so ensure your video design/planning makes sense without sound. To best do this, be sure to add text to your videos in an overlay manner, use imagery that is clear in telling a story without sound and use subtitles as needed.
Use Custom Export Settings
With editing software like Final Cut Pro, Avid or iMovie, we recommend you try H.264 video with AAC audio in .MOV or .MP4 format, an aspect ratio no larger than 1280px wide and divisible by 16px, a frame rate at or below 30fps and stereo audio with a sample rate of 44,100hz.
Be Creative
You don't need a professional recording crew and the best equipment to make Facebook video ads that rock and roll. The best elements to video product, especially on a budget is understanding quality natural lighting, being stylized and just making messaging that counts.
iPhones, DSLR cameras and lower end equipment get the job done if other creative elements are planned and thought of. Don't be intimidated.
Facebook Video Ad Set Up
Once you have all the logistics understood, its now time to learn how to set these videos up!  If you are ready to put your video in front of the right viewers but don't know how to set up shop? Don't worry! Follow these five steps and you will be well on your way!
Start in Facebook Ads Manager
Ads Manager is the starting point for running ads on Facebook, as well as Instagram and Audience Network. The guided creation workflow will be perfect for you if you're just getting started or you're less familiar with all the components of Facebook ad campaigns.
Head over to Facebook ads manager and follow the steps to get started.
Choose Your Video Ad Objective
Once you start creating your campaign, you'll be prompted to select your marketing objective, which will then walk you down the creation process based on this decision. Although many of these options are straight forward, like video views, it's best to think about the WHY of a video campaign.
It's not just about the number of views your video ad receives—it's about the context and level of intent and familiarity that your target viewer is in.
Find Your Target Audience
The Audience section of the campaign setup allows you to get hyper-focused on who gets to see your video ad. So whether it's based on gender, location and or interests, Facebook video ads has you covered! (You can also create custom or lookalike audiences by uploading your subscriber or customer list.)
After some time, you can also save your audience to use in later campaigns. This will come in handy later as you build out successful groups for your brand!
Select Your Video Ad Placements
Based on the format and placements you select, Facebook will suggest what length, aspect ratio, resolution, and file size will work best. Make sure to click through to aspect ratio specifications, supported formats, and ad guidelines to ensure you're doing everything as required.
Enter in Copy and Other Creative Elements
The text you add to your video ad must complement the message you're conveying with the video and compel the viewer to take action. Be sure to be just as thoughtful about your ad copy as you are about recording the video!
Once you have all of these things set up, you are ready to roll!
Facebook Video Advertising: Tips and Tricks For Rock Star Videos
Whew, are you still there? This article is running probably as long as audition lines for The Voice, eh?
Well, now that we have gotten through the logistics, it's now time to get some of the tips and tricks on how you can better perform and outshine the competition. Let's beat it and get upfront and center, shall we?
What are You Performing?
Every good video marketing campaign starts with a purpose.
I mean, every person who comes to try out on America's Got Talent has a purpose: to be the next superstar, so what are you trying to do as a business?
If you are going to invest tons of time planning, practicing and creating—not to mention spend some money doing it—what do you want people to do after they see your video?
Here are a few possible options for you to consider:
Make a purchase
Download something
Contact you
Remember your business
Make an association between your business and a positive feeling
Share your video with others
The response you are looking for will have a huge impact on the type of video you choose to create, so take some time to actually plan through what you really want your video to do.
You can't just throw an audition together last minute, so don't do the same to your video content!
Give 'Em a Wow Early On
No one likes a song that drones on, so your video ads shouldn't either!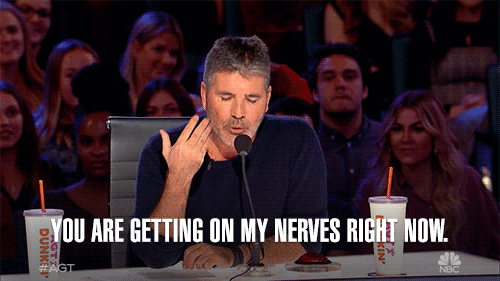 Although Facebook allows up to 4 hours of video content, that does not mean you should use all that time!
The best video ads are the ones that are the ones that are snappy. Why? Well, the average number of people watching the ad drops off exponentially very early on so you need to make your point and grab attention quickly! In fact, Facebook recommends experimenting with short videos of less than 15 seconds.
So, as you are performing, be sure you are making every "note" and second count. Your audience is only listening so long! Captivate!
Have a Strong Performance Persona
If you notice, most of the contestants that do well on the talent shows are ones that have strong personas and "brand."
So, like them, you need to make sure your video ads are pumped full of your business branding early on so people can make a connection.
With such short Facebook video ads becoming the industry standard, when do you have time to promote your brand? Facebook has been saying this for a long time: you need to hit people with faster messages. In the video advert rating they conducted, they saw that ads with brand and messaging in the first 10 seconds can effectively reach three times more people.
Many businesses make the mistake of sharing brand at the end of the video, so shine on and be memorable by showing up early in the video. If you want to wait until the end of your video to show your product, name, or logo, you are losing value quickly!
Give Yourself a Strong Stage Name
If you had to choose between a stage name between Joe Martin or Joey Martino which one would you pick? Martino sounds way cooler, right?
Well, just like how many performers need to come up with a cooler, branded stage name, you too need to set up your ads with copy that makes your video look cool! If you want people to actually watch your Facebook video ads, you need an engaging title and description that tells people what they should expect to see.
Your ad title and description also feed information to Facebook's targeting algorithms about the topic of your video, so make sure you include any keywords relevant to your ad. In addition to keeping your copy relevant, remember the most important factor is that you generate enough curiosity with your title and description.
People always want to dabble with things that are interesting, so set yourself up to be just that: interesting!
Create an Eye-Popping Image
As a modern marketer, you need to ensure you are setting up all of your video ad content with detail and style. You cannot just upload things and expect content to perform well based on populated content—ahem, your thumbnail image.
When you upload your video into Facebook manager, oftentimes Facebook will recommend a thumbnail image. Don't take the easy route. Be intentional and create a beautifully crafted thumbnail image! This is image is not just another image, it's an element in inspiring people to click!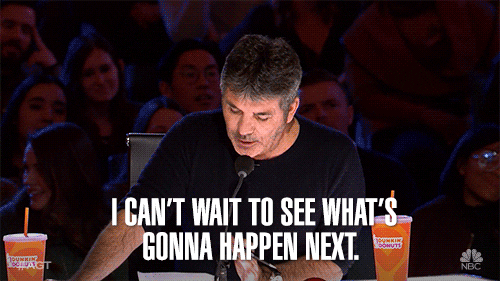 To help you understand how to do this look to these specifications:
You can only upload or select one thumbnail for your video (unless you don't select a thumbnail, in which case Ads Manager dynamically selects the thumbnail).
You should use the same aspect ratio for your thumbnail as the video. If you don't, the resulting thumbnail may look stretched.
For Stories ads that are full-screen vertical (9:16), the first frame appears as the thumbnail for impressions that haven't started playing. For Stories ads that are not full-screen vertical (non-9:16), the thumbnails you've selected or randomly-populated thumbnails appear for videos that haven't started playing.
Create Your Detailed Fan Base
Are you a teeny-bopper? A performer to make the older women swoon like Michael Buble or are you a hard rocker trying to reach fans of the 80s grunge era?
Well, just like a performer needs to understand their target audience, you too need to create Facebook video ads with detailed targeting. If people have older phones or slower network connections, your video ads might not display as well so you will need to use detailed targeting options to serve ads based on devices and network connections!
Use Some GIFs, Be Hip
Believe it or not, video ads might not need to be a minute long to be effective! GIFs and looped videos can also help you be "hip" and eye-catching online!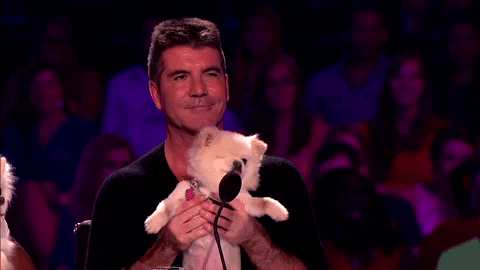 GIFs can be uploaded via Ads Manager, or published in a post from your Page. GIFs can be used as ads on Facebook, Instagram and Audience Network. GIFs will play and loop in the same way as videos and have the same file size requirement (4GB). You'll also see all our video metrics in your measurement tools.
You can use gifs when you make any type of ad from your Page. Click the blue Promote button on the left to see all the ad format options.
Create a post with a link to your GIF or upload a GIF directly.
If you used a link, wait for the preview of your GIF to load.
Post it to your Page.
Find the post on your Page (you may need to reload).
You can now click Boost Post to promote it to an audience beyond your Facebook followers.
Don't Delay, The Show Must Go On
A big trick to recent Facebook video ad success is to use the auto-play feature to your advantage.
You've probably already noticed that videos uploaded to Facebook automatically play as you scroll through your feed. What's important is that the auto-play feature offers a relatively non-intrusive way to get your customers' attention.
Go Live
People watch video content for 3x as long when it's live on average. With Facebook Live gaining even more traction in 2019, Facebook live video ads look like an amazing medium for engaging users. Live streamers on Facebook now have the option to go to an ad break where they take a break and play some in-stream video ads for additional revenue.
These 15-second spots are a great opportunity to spread awareness of your brand. Just make sure that the Live video has an audience that's likely to be interested in your ad first. This opportunity is only available to larger Facebook live streams with 300 or more simultaneous viewers from pages with at least 2,000 followers.
If you do choose to serve your video during an ad break, you're guaranteed at least that large of an audience.
Shine On With Your New Facebook Video Ad Attitude
With the above tips, you can stand out and a Facebook video ad superstar!
Videos can be an awesome way to engage with your target audience – and now, with Facebook Video Ads, you can do that easily. To really wrap up the key ideas behind Facebook video ads success, look to always:
Showcase your products and brand through Facebook video
Be memorable and drive impactful action from your viewers
Be short, branded and have clear CTA
Ensure your Facebook ad platform objects align with your business goals
If you do these steps and practice, you will for sure outshine the other businesses fighting for the spotlight! I mean, you will be AMERICA'S BUSINESS WHO GOT TALENT winner for sure!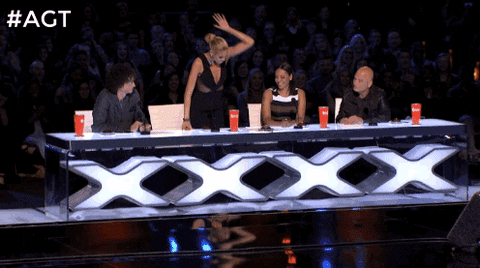 If you need some more direction with your Facebook video ads, we have a team of video creators here at Disruptive that love helping brands tell their stories! We would love to chat so reach out to us here and let's get your talents the attention they deserve. Call us your talent agent and let us take you to Facebook Hollywood!
What do you love about Facebook video ads? Do you have a favorite you have seen as of late? What did you love about it? Share and comment below!
Leave a comment