5 Strategies to Rock Facebook Video Ads for Local Businesses
Social Media
•
Video Advertising
•
Ana Gotter
June 17, 2019
We know that video is important for online marketing and advertising, with the potential to increase brand awareness and lead to a direct increase in lead generation, sales, and other types of conversions. It's dynamic, it's interesting, and it can get users to stop scrolling like little else can. Despite all this, Facebook video ads for local businesses are incredibly underused.
Local businesses are often intimidated by video ads. They aren't sure how to create a high-quality video and don't know what they should even be filming, recording, or creating to get that maximum impact. The process of creating a video for advertising purposes is undeniably longer, more involved, and often more expensive than just shooting a single image or writing up a post.
Facebook video ads for local businesses can take a big chunk of work, but they're also enormously worthwhile when executed correctly. In this post, we're going to take a look at 5 different strategies you can use to create strong video ad campaigns that your local audience will love.
1. Tell Your Story
Brand storytelling is a good call for local businesses, especially since so many have interesting reasons for getting into business in the communities that they do, which is something that nearby audiences often respond too strongly.
There are plenty of different brand stories that you can tell, including the following:
Why the founder of the business decided to start it.
What the mission of your company is all about.
How your company grew and became part of the community.
What makes you, your brand, your product, or your service different from everything else, including behind-the-scenes and how-it's-made content.
Brand storytelling campaigns are insanely valuable for early-funnel users, and can do wonders when you're trying to attract cold traffic and get them to care about who you are and what you're doing.
A great example can be seen here:
https://www.facebook.com/yoursuperfoods.us/videos/429425084517380/
As users move further through the funnel, you can go from focusing on brand missions to how to use products or services that you're selling locally. A good example is this campaign from the same company, which could use the first campaign to appeal to emotion and this one to appeal to logic:
https://www.facebook.com/yoursuperfoods.us/videos/1936734753260124/
For this sort of content, it will often be important to keep the videos long enough to deliver an emotional impact and enough information that they take interest in your brand, but not have it so long that they lose said interest and click away before they get to your outro screen. For Facebook Ads, about thirty seconds to a minute is typically the sweet spot for these campaigns.
2. Let Your Customers Tell Their Story
For many local businesses, highlighting that you're an active and engaged member of the community is important. A strong choice for using video ads to demonstrate this is to wrangle up a few customer testimonials on video, letting community members explain to each other why they love what you do.
These videos are typically going to be most effective when shown to slightly warm audiences (notice that we don't say "piping hot") who are already slightly familiar with your brand and just need a little more nurturing before they're willing to convert. You can create a retargeting campaign off the first ad, and then show these video campaigns to anyone who either clicked to your landing page or who watched at least half of the last video.
https://www.facebook.com/KickbixingfitnessOviedo/videos/700579323644692/
This testimonial video is on the long side, and while it works for this local health company, I still think that most should be capped around 45-60 seconds for Facebook Ads. You can break the testimonials down into individual videos in a series if needed to give each customer's story more room to make an impact.
3. Answer Their Questions
Potential customers have questions, no matter what you sell. Can it be gluten-free or vegan? Was this product tested on animals? How does it work? Is it easy to clean? What if it doesn't work for me, can I get a refund?
Questions should be considered a signal of intent—people typically only ask if they're potentially interested and they have a single concern or objection. I only bought a pasta roller, for example, after I got an answer about how easy it was to clean. Without that info, I would have moved on.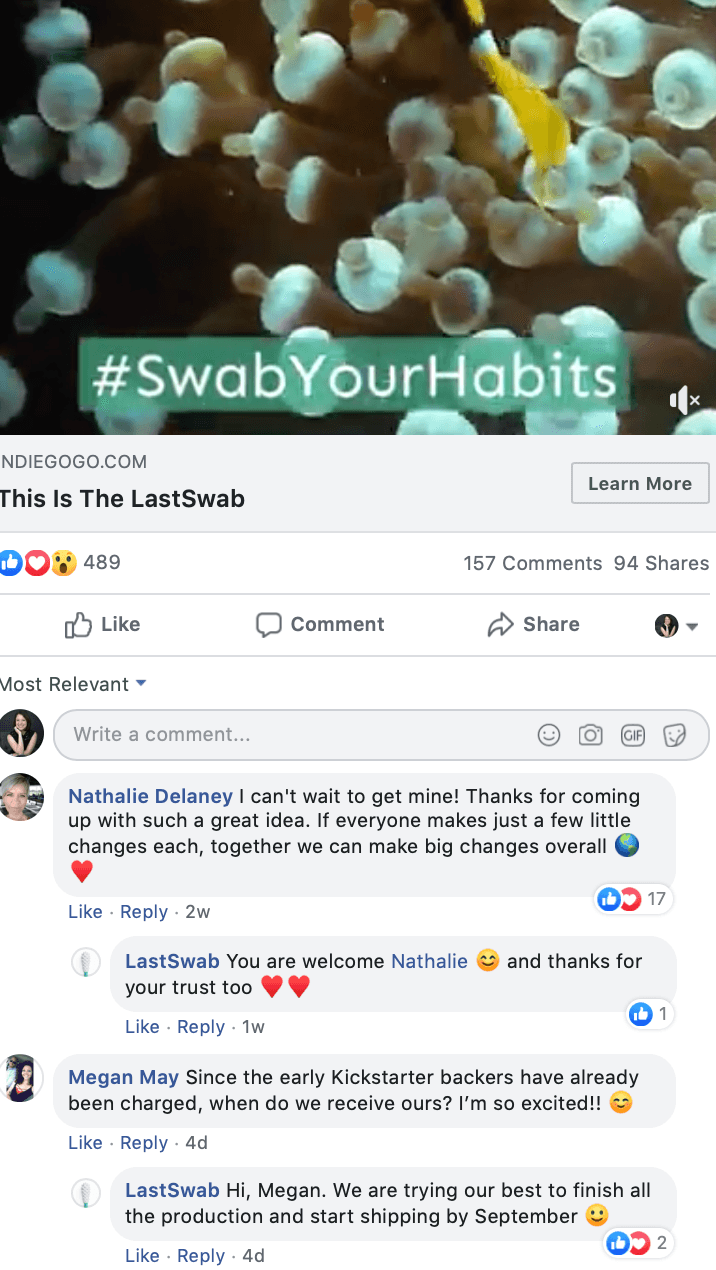 First, make sure that you're always answering any questions that users are asking on your video ads. This can increase the click-through and conversion rates of these already-existing video ads significantly.
You can then take some of these questions, however, and turn them into video campaigns of their own that are shown to a retargeted audience who need a little convincing to purchase. This can range from questions about your specific or products or services ("How is it made?") to general questions people are asking about the industry ("How do I do a roundhouse kick?"). This gives you the chance to provide information that's relevant and therefore valuable to your audience.
These campaigns are also typically going to work best with lukewarm to warm audiences. Remember that how you're using them will impact what stage of the funnel it is—overcoming objections with answers can be useful for warmer audiences, while explaining information about the product or industry can really work for pretty cool audiences, too.
4. Use Video to Create Hype Around Local Events
One of the best parts of being a local business is that you're able to physically connect with your target audience, making event promotion easier than ever. People aren't having to fly in to attend a conference or worry about webinars in a different time zone—they just have to drive twenty minutes to your store.
https://www.facebook.com/TheBarMethodLivermore/videos/378534479416183/
If you're having an event nearby, it's the perfect time to connect with new customers and old ones alike by generating some hype and showing that you're part of the community. Use video to discuss the upcoming event, whether you're explaining what's entailed, showing the set up, or giving a brief glimpse at what a past event was like in video form. There are a lot of creative ways to do this, but make sure that you're including your current audience who already likes your page in the targeting so they're likely to attend, too.
Keep in mind that while you can promote posts directly from events, using the full "Create an Ad" system will be the best way to go for maximum customization potential.
5. Don't Make the Video Do All the Work
One simple mistake that brands make with a ton of videos have an easy fix. They sync their video up with a landing page and attach a CTA, but that's it; they rely on the video itself to do all the work.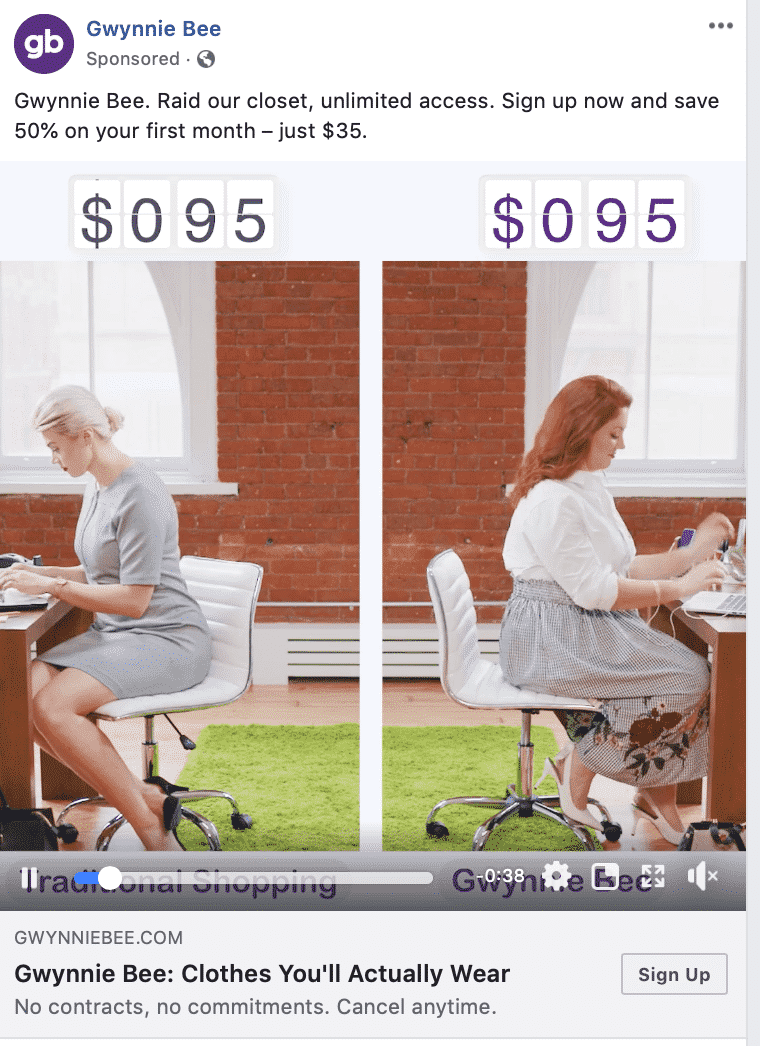 Remember that Facebook video ads for local business are effective, but the videos aren't the only part of the ad that you need to keep in mind. Use the ad copy to not only capture interest but also convey value, and consider increasing the likelihood that users take action on your video by attaching actual offers or lead forms to them. The more convenient it is for users to convert and the more incentives they have to do so, the better off you'll be.
Conclusion
Video Ads may seem intimidating for local businesses, but you should take the plunge and invest anyways. They have the potential to be more emotional and convey much more information than a single text ad in a short period of time, both of which can be so useful for local businesses trying to establish themselves in a nearby community.
As a note, make sure that all of your ad campaigns have targeting on lock when creating video campaigns that need to keep geography in mind. Set a radius around your business and go just a mile or two beyond where you think the cut off for customer travel would be, or a radius that includes all the areas that you service. Use exclusionary targeting if needed.
Want some help setting up your video ad campaigns so that they'll connect with your local communities and help you establish yourself there? PPC campaigns are our specialty. Get in touch and see how we can help!
What do you think? Do you use Facebook video ads for local businesses and their audiences? What strategies and video types work best for you? Share your thoughts and questions in the comments below! 
Leave a comment