It's Time to Start Using More Video/Motion Creative in Your Marketing
by Sarah Rodriguez • December 16, 2020
Video marketing has been on the rise for years. Twenty years ago, you had to hire a video team and pay through the nose for a commercial time slot on broadcast television.
Today, all you need is a little creativity and your phone.
But the question is, is video marketing worth it? Is it a good investment? How much effort does it take to get good results out of video/motion creative marketing?
In this article, we're going to answer all of these questions and more. We'll take a look at why your customers want more video from you and what sorts of results you can expect from different types of video ads or motion creative. Sound like a plan? Let's get started!
Your Customers Want More Video
Even before COVID-19 locked us all behind closed doors, video was big. Over 300 hours of video content were being uploaded to YouTube every minute. Facebook, Instagram and Snapchat have been getting in on the craze. Apps like TikTok are completely dedicated to video content.
And that's to say nothing of video streaming platforms like Zoom or Google Hangouts.
The point is, people love video content. And that just makes sense. If a picture is worth a thousand words, how many words is 24 pictures a second worth?
That's not to say that copy and imagery don't have value, but there's something special about video marketing. With the right video, you can convey an incredible amount of information in a matter of moments.
In today's marketing-saturated world, that matters.
The Power of Video Marketing
Take a client of mine, for example. Anime Cases sells a variety of uniquely-designed, high-quality phone cases to anime fans. It's a fairly niche business, but their target audience is pretty passionate.
At first, Anime Cases had been trying Facebook's vaunted Power 5 marketing approach, but they were having a really hard time getting profitable results.
So, we decided to create a couple of simple 15-second video ads featuring their products. Between setup, filming and editing, the ads took me about 15-20 hours to put together.
Here's one of the ads for reference:
Courtesy of Anime Cases. Used with permission.
As you can see, this was a very simple ad. The results, however, were game-changing for Anime Cases.
We launched these ads on Facebook, Instagram and Tiktok and the response was overwhelming. Overnight, revenue spiked by an incredible 1821%!
The increase was so dramatic that the fulfillment team could barely keep up. All of a sudden, business was booming.
In strict terms of ad performance, these video ads drove sales for 1/14th the cost-per-sale of their Facebook Power 5 ads. As a result, their return on ad spend increased by 13x.
This wasn't a flash in the pan success, either. Anime Cases has continued to see excellent results from video advertising. Ad performance has leveled off at a healthy 5x return on investment and the business is growing faster than the owners thought was possible a few months ago.
Why Video Ads Work
So, what was the secret to success? The products weren't different. The targeting wasn't different. The website wasn't different.
The only thing that changed was how we presented the products. Instead of static product images pulled from the site, these videos showed off their products in a much more compelling, engaging and "real" way.
For a business like Anime Cases, their whole selling point is their designs. If people love the design, they click and (hopefully) buy the case.
That's why we knew we needed to put the focus on the designs themselves. We put those front and center and used the flip gimmick to grab and hold people's attention.
The other key to these videos' success was the fact that the videos allowed people to see what the cases look like in real life. Seeing a picture of a case on a screen is nice, but will what you got in real life actually look like what you bought? That's a lot less certain.
This is a particularly bad problem for businesses that are selling design-focused products. Most people have been burned by drop shippers or Chinese sellers who show one thing…and deliver another.
By showing the cases in a live video, we were able to allay many of these fears and actually highlight the quality of the cases themselves—all while keeping the focus on the designs.
And that's why video marketing works so well.
With this video ad, we were able to grab our audience's attention, get them excited about the case designs and eliminate potential concerns about fit and quality…all in a matter of seconds.
Anime Cases had tried to do all of that with their ad copy, images and website. They'd done a good job, too, but it took a video ad to convey all of that in a way that worked for their target audience.
What Kind of Video Ad is Right for You?
Now, you're probably thinking, "That's all well and good, but that kind of ad wouldn't work for my business." And that's okay.
One of the most challenging aspects of video marketing is the fact that good video ads are incredibly business-specific. Sure, there are general themes and ideas that you can pull from for inspiration, but ultimately, the right video ad for your business is going to be specific to your business.
This is true for any marketing, but it's especially important for video advertising.
A good video ad says a lot…fast. If you don't have your messaging, approach and even format dialed in, you can invest a lot of time and money and end up with very little to show for it.
Do you need a million-dollar Squatty Potty or Lumé-style ad? Or can you get away with something simpler? Where is that inflection point where increased production value (and the accompanying increase in cost and effort) stops producing increased results? Where do you get the best bang for your buck?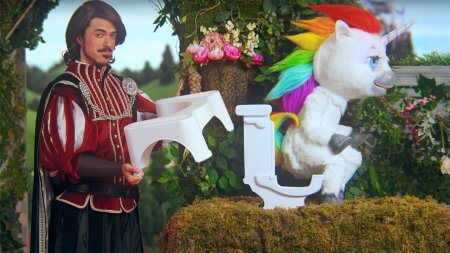 Ideally, the best way to create the perfect ad is to hire a team of experts (click here to find out how we can help!), but even then, you still need to know what sort of ad is right for your business. So, to help you out, we decided to compare several different types of ads (with varying levels of investment and production value) to see what sorts of results they produced.
The client? Ourselves.
For consistency's sake, we tested three different types of videos on the same audience, at the same time, with the same bids and pointed them all to the same landing page. We also tested our videos against standard image ads.
Hopefully, our findings will give you a feel for what level of investment you'll want to make and what you can expect from your video ads. At a minimum, you should at least have a sense for just how many different ways there are to use video and motion creative to market your business.
1) Simple Slideshow Ad
For this video, we went as basic as possible. Rather than filming actual footage, we identified the pain points we wanted to target and crafted a narrative around those pain points. Then, we found stock photos that matched our narrative and created a "slideshow" ad like this:
As simple as these slideshow videos were, they still delivered great results in our tests. Our cost-per-lead with this video ad was 85% lower than our normal cost-per-lead for image ads.
Live Action Short Commercial
While testing our slideshow video ads, we noticed that live footage seemed to outperform stock images (shocker, right?). So, we decided to film a live-action version of our slideshow video ads to see if telling the same story with live footage would deliver better results.
Here's our live version of the previous slideshow ad, featuring yours truly:
Compared to the slideshow, the live action version of this ad had a 20% lower cost-per-lead. That put our cost-per-lead at roughly 12% of the cost-per-lead of our static image ads.
Live-Action Long Form Commercial
Finally, we tested a longer-form commercial that hit on multiple pain points for our target audience. We took numerous shots around the office, paid a composer to create a score for the ad and included several bits of humor:
This video significantly outperformed the others. Compared to the slideshow, this video ad delivered leads at less than half the cost…and 1/15th the cost of a lead from our static image ads.
Breaking Down Our Findings
Clearly, video beats image ads. None of these videos were particularly difficult to set up or produce. Even the Live-Action Long-Form Commercial only took around 60-80 manhours to script, film and edit.
As you can see above, there is definitely a strong correlation between the amount of effort you put into your ad and how well that ad performs. In addition, we noticed that our higher-quality ads also produced better results for longer.
The Live-Action Long-Form Commercial has performed well for months on end. While it certainly took more effort to put together, that effort has paid off big-time in the long run.
But, even if you don't have the skills or equipment to put together a more involved ad, you can still get solid results from even a basic video ad. Then, you can use what you learn from that ad to figure out your strategy for bigger and better ads in the future.
If you've already tried basic video ads and either aren't getting the results you want or would like to get even better results, you'll need to start thinking about making a more serious investment into your video advertising. It can be a lot of effort, but the payoff is usually worth—provided that you're focused on the right content.
Conclusion
After extensively testing how video ad quality affects your marketing, two things have become clear: 1) video ads beat image ads and 2) choosing what sort of video ad to run is a balancing act between affordability and longevity.
Simple ads are easy to film and create—and might even produce decent temporary results—but if you really want to get long-term results from your video ads, you'll need to up your game a bit.
By the way, if you're interested in having Disruptive help you put together some video ads or motion creative, let us know here or in the comments.
What do you think of these results? Did any of our findings surprise you? What sort of video ads have you tried?