Who Are You Selling To? Figuring Out Your 2021 Budget
No matter what industry you're in, 2020 has certainly been…interesting, to say the least. With the new year on just around the corner, it's time to figure out your game plan and put together your 2021 marketing budget.
The only question is, how?
If 2020 has proven anything, it's that none of can predict what the future has in store. Hopefully, 2021 will be a bit more predictable than 2020 was, but even then, it can be hard to figure out the right plan of attack when there are so many variables at play?
What does this mean for your 2021 budget? Well, it means that you can't just pick your budget at random. Your 2021 budget needs to be based on more than just arbitrary guesses or prediction.
To create a truly effective 2021 marketing budget, you need to focus on the most important part of your marketing: your customers. Who are they? What channels do they respond to? What are they worth to your business?
If you can answer those questions, you'll be able to put together a marketing budget that is both in line with your goals and adaptable to whatever 2021 will bring.
What Are Your Goals?
Before we start getting into the details, though, we need to address the most basic marketing question: what are you trying to get from your 2021 budget?
Often, it's easy to lose sight of what really matters amongst all of the different metrics and priorities you're juggling. But, when you really get down to it, the whole point of marketing is to drive sales for your business.
Short-term, you might be focused on building brand awareness or something else, but ultimately, if your marketing doesn't drive sales for your business…your marketing isn't working.
So, how much new revenue do you want marketing to drive? If you don't have a clear goal in mind, it's next to impossible to figure out what kind of budget you need to succeed.
Why Your Revenue and ROI Goals Matter
When it come to budgeting, most CEOs and even marketers tend to base their budgets on costs…not goals. And, it makes sense.
In business, you spend a lot of time thinking about things in terms of costs: how much it costs to pay your employees, how much it costs to make and ship your products, how much it costs to keep the lights on, etc.
The better you can control your costs, the more efficient your business is and the more money you make on each sale.
However, while natural, this kind of thinking can actually hold your business back. In reality, your "costs" aren't cost at all: they're an investment.
If you don't pay to keep the lights on, you can't run your business…and you won't make any money. If you don't pay to make and ship your products, you can't make any sales. If you don't pay your employees, you won't have anyone to take care of your customers.
Smart business owners and marketers don't minimize costs—they maximize return-on-investment.
Unfortunately, after surveying dozens of businesses, we found that only 41% of companies based their digital marketing budget on their financial goals. Instead, 60-80% based their budgeting decisions on cost-based metrics like conversion rates.
Here are some additional results from the survey:
Believe it or not, this is actually good news for your business. Your competition is picking their 2021 budget based on controlling costs, not their financial goals.
If you do things the right way, you'll be in a great position to steal market share away from them and actually achieve your growth goals.
So, what are your revenue and ROAS goals? If you don't know, go get them figured out before you start working on your 2021 budget. It may take some research, but if you don't have clear goals, you'll just be picking your marketing budget out of a hat.
Using Your Customer Data
Once your goals are clear, it's time to start figuring out your marketing budget. However, once again, we're going to do things a bit differently.
When put together correctly, your 2021 marketing budget doesn't start with your metrics…it starts with your customers. Let's take a look.
Who Are You Selling To?
To explain how all of this works, let's create a hypothetical business called ACME Widgets. You're the marketing director for ACME Widgets and its your job to figure out ACME's 2021 marketing budget.
Now, ACME widgets are just any old widgets. ACME sells premium, high-end widgets used by some of the biggest businesses in the world. Their widgets aren't cheap, but they're worth it.
As a B2B business, a new customer is worth an average of $24,000 to ACME Widgets in lifetime value and their target acquisition cost is $4,000.
Now, as you're going through 2020's marketing performance, you discover something interesting. This year, ACME spent over 40% of its budget on Google Ads, but Google Ads only produced 1% of ACME's sales.
Sounds like a killer opportunity, right? You could cut costs by 40% and barely affect the number of sales you get in 2021!
But, since you're reading this article, you decide to take a closer look at things before you pull the plug on Google Ads. And, when you do, you discover something interesting.
Like many businesses, ACME Widgets has several different buyer personas. Each of these buyer personas behaves differently in the marketing and sales process and each has their own unique lifespan and lifetime value: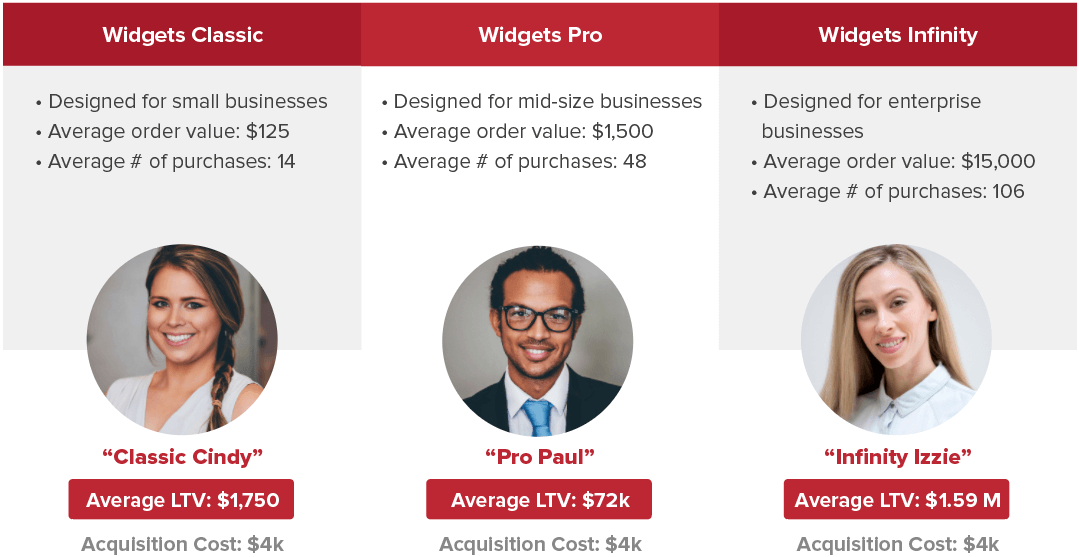 As you dig into these buyer personas, you find that your Infinity Izzie sales only come through one marketing channel: Google Ads.
Yes, Google Ads eats up 40% of your marketing budget and only produces 1% of your new sales, but those few sales are responsible for 59% of your 2020 marketing revenue.
From a costs and metrics standpoint, your Google Ads performance is embarrassingly bad. But, from a revenue and customer standpoint, it's your top performer!
This example highlights why buyer personas are such an important part of your budgeting decisions. If you don't understand your customers, what they're worth and how you acquire them, you can inadvertently hurt your marketing performance with decisions that make a heck of a lot of sense…on paper.
Budgeting for Your Personas
While your 2021 budget should start with your revenue and profit goals, you have to understand your customers in order to figure out how to achieve your goals.
Part of the point of creating buyer personas is to figure out what sort of messaging and marketing channels your customers will respond to. Depending on who you are marketing to and where it is most effective to market to them, you will need to create buyer persona-specific goals that will directly influence your budgeting decisions.
For example, here's how ACME Widgets might break down their target acquisition costs by buyer persona: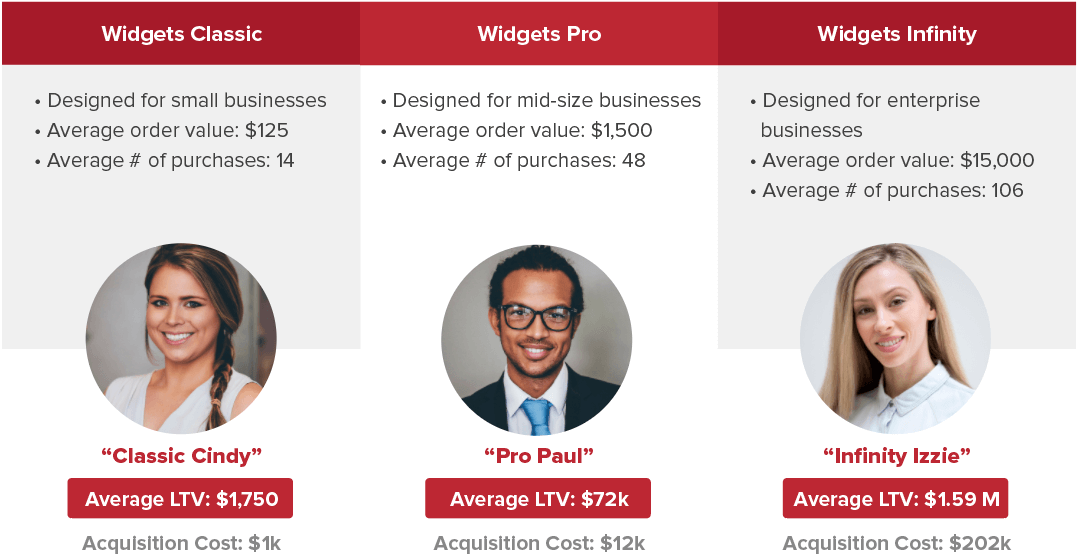 When you assign target acquisition costs based on the lifetime value of your buyer personas, your budgeting decisions suddenly become a lot simpler. Odds are, ACME probably can't close many Classic Cindys for less than $1,000 on Google Ads, so that's probably not the right channel to focus on for that buyer persona.
But Infinity Izzies, on the other hand…
On average, ACME only wants to spend $4,000 to acquire a new customer. Using that flat, cost-based figure, ACME would make very different decisions than they would using the adjusted acquisition costs shown above.
Unfortunately, while most marketers know what buyer personas are, only 30% actually use them effectively. Instead of using their personas to figure out the best way to market their business and invest their budget, they focus on controlling costs and broad metrics. And, as a result, the success or failure of their business is largely a question of whether or not they guessed right.
In 2020, we saw firsthand just how dangerous that sort of guesswork can be for a business. In 2021, you have to do things better.
Creating Your 2021 Budget
Now that we've talked about your goals and your customers, it's time to use that information to put together your 2021 marketing budget. Once you've figured out your adjusted target acquisition cost for each of your buyer personas, all you have to do is crunch a few numbers.
Step 1
First, you need to break down your marketing revenue goal based on the percentage of your revenue that you want to come from each of your buyer personas.
For example, if ACME wanted to make $2,425,500 a month, they might break things down like this:
"Classic Cindy" sales will generate 6% of revenue goal ([$2,425,500] x [0.06] = $157,500)
"Pro Paul" sales will generate 27% of revenue goal ([$2,425,500] x [0.27] = $648,000)
"Infinity Izzie" sales will generate 67% of revenue goal ([$2,425,500] x [0.67] = $1,590,000)
This gives ACME a clear revenue goal for each buyer persona that they can use to determine their overall marketing budget.
Step 2
Next, you need to figure out how many new customers you need from each buyer persona. To figure that out, simply divide the revenue goal you picked for each buyer persona by the average lifetime value of that persona.
In ACME's case, that would look like this:
"Classic Cindy": [$157,500 revenue] / [$1,750 revenue per customer] = 90 customers
"Pro Paul": [$648,000 revenue] / [$72,000 revenue per customer] = 9 customers
"Infinity Izzie": [$1,590,000 revenue] / [$1,590,000 revenue per customer] = 1 customer
This calculation allows you to figure out what your sales goals are, which is ultimately the key to figuring out your 2021 budget.
Step 3
Finally, take the number of customers you want to acquire from each buyer persona and multiply that by your target acquisition cost for each buyer persona. As a general rule, we recommend choosing a target acquisition cost that is less than 1/3rd of a new customer's LTV, but you can choose whatever acquisition cost makes sense for your business.
Again, for ACME, this is how things might shake out:
"Classic Cindy": [90 customers] x [$1,000 per customer] = $90,000 of ad spend
"Pro Paul": [9 customers] x [$12,000 per customer] = $108,000 of ad spend
"Infinity Izzie": [1 customer] x [$202,000 per customer] = $202,000 of ad spend
This calculation tells you how much you'll need to spend on marketing to achieve your goal. For example, given these numbers, ACME would have to spend $400,000 to produce $2,425,500 in new lifetime revenue.
You can use this formula to calculate your monthly marketing budget, yearly budget or any other budget you're interested in.
If the number seems a bit steep, remember, it doesn't matter how much you spend on online marketing as long as the net result is profitable for your business (assuming, of course, that you can handle the volume). If your ads are delivering results that are consistent with your projections, the sky's the limit!
Conclusion
Can you pick an arbitrary 2021 budget and just run with it? Sure, but most of the time, you'll be doing more harm than good.
If you really want to get the most out of your online marketing campaigns, you need to figure out what your goals are and then invest some time and effort into understanding your different buyer personas. But, once you have that data in hand, it's actually easy to create a meaningful 2021 budget. Instead of pulling your budget out of a hat, you'll be creating an intentional budget that will help your business get where you want to go.
It's a different approach to choosing your marketing budget than most businesses are used to, but it's an approach that is designed to help you succeed—not just control your costs.
Incidentally, if you need a little extra help, why not reach out to us here! We'd love to help you figure out how to make the most of your online marketing next year. Why not let us audit your ad accounts for free?
What do you think of this approach? Does it make sense to you? Any 2021 budgeting tips you'd like to share? Leave your thoughts in the comments below.
Leave a comment