The 6 Best Webinar Tools for Businesses
Business
•
Webinars
•
Ana Gotter
November 25, 2017
Whether you're planning on monetizing your webinar or hosting it for free as a lead generation strategy, there's one thing you'll know up front: the software you use to broadcast your webinar needs to be incredible.
You should want your webinar software to be able accomplish several key tasks:
Be consistently reliable
Have a high-quality, clean interface
Allow you (the host) to be in full control, including the ability to mute other attendees
Fit into your budget
Provide recordings of the webinar afterwards if you so choose
Have all the features that you need
There are tools that can accomplish all this and more.
In this post, we're going to go over six of the best webinar tools that we've tried and tested so that your next webinar is guaranteed to be a success (at least from a technical standpoint).
1. Zoom
There are a ton of benefits to using Zoom for your webinars and conference calls. It's free, and it's exceptionally easy to use, whether you want to have an impromptu broadcast or you schedule one in advance.
The interface is clean and simple, even if it isn't necessarily the most stunning. It has all the basic features that you'd need, including the ability to enter through phone or computer, screen-sharing, the ability to start the meeting on camera or off, and the ability to record and download the webinar.
Zoom doesn't necessarily offer any overwhelmingly impressive features, but it's simple, reliable, and incredibly easy to use. Sometimes, that's all you need.
2. ClickMeeting
In contrast, ClickMeeting offers a number of incredible features that you can use during the webinar. ClickMeeting have some outstanding capabilities that you can use before and after the webinar, too. These tools can help you to increase engagement, attendance, and brand awareness as a result. They include:
Custom invitations to different attendees
A pre-webinar "waiting room" with an agenda; you can leave messages and share important files so everyone is up to speed when the webinar starts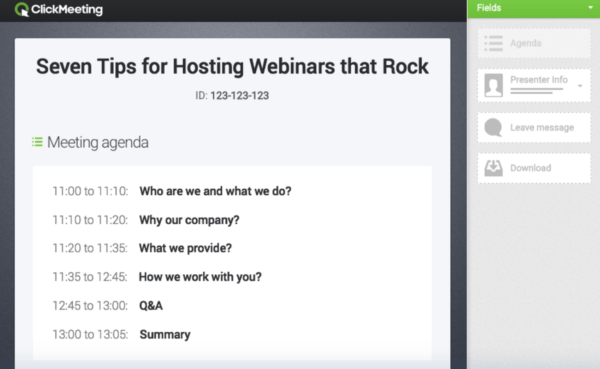 Allowing users to sign up through their social profiles
Ability to add timelines for different webinars in a single series, which you can use to track results like attendance over time
ClickMeeting also has some of the best features for webinar hosts, like the ability to draw directly on the screen to illustrate your point, or instant chat translation into different languages.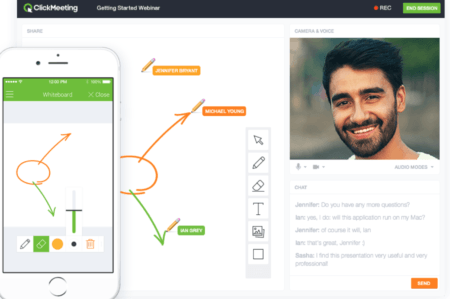 3. GoToWebinar
GoToMeeting has a sister tool perfect for webinars and it's named appropriately: GoToWebinar. This tool has my personal favorite interface—it's both gorgeous and modern and makes an immediate first impression.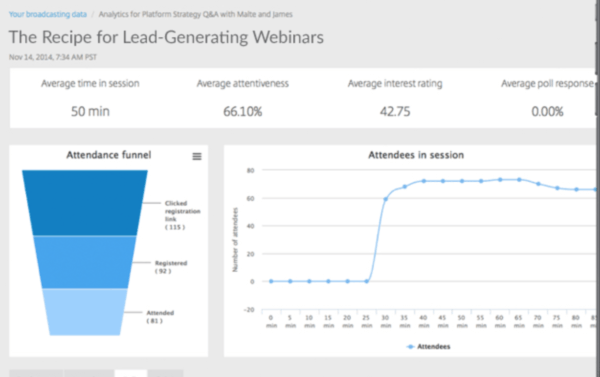 The platform also has some great features that shouldn't be ignored, including:
Mobile support for webinar hosts
Fantastic email automation and invitation tools
GoToStage, a webinar recording and upload platform with a built in audience searching for your content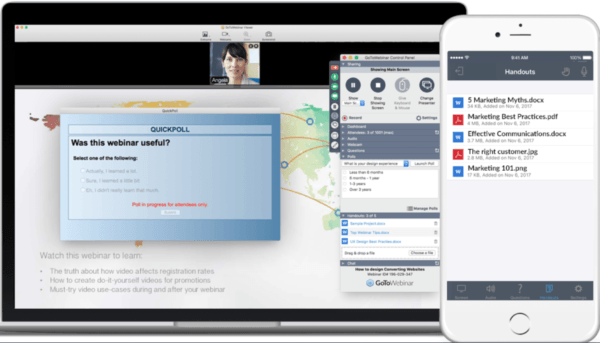 Great analytics to help you see what's results your webinar is generating.
4. Cisco WebEx
Cisco WebEx is another popular webinar hosting service and for good reason. In addition to providing high quality, reliable video streaming (every webinar I've been a part of from this provider has been crystal clear with no lagging), they offer just about every feature you could imagine to increase attendance, engagement, and conversions.
These features include:
Dynamic hosting features, like whiteboard drawing, streaming of videos, and annotating in real time
Automated and customizable emails, including confirmation and reminder emails to attendees
Incredible engagement and attention-monitoring tools like polls, private and public chats with attendees, and an actual attention indicator tool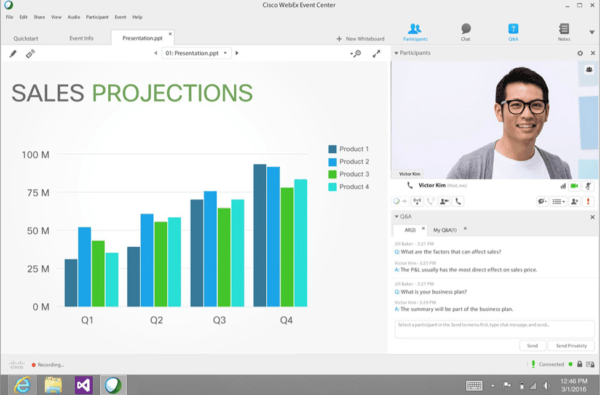 The ability to require payment during registration, with options for PayPal and credit card
The option to add "Assist Services" which will help the webinar host through the broadcast
Private online "practice rooms" for the webinar host to use to practice the webinar before it goes live
5. Webinato
Webinato has a unique take on how to conduct webinars. While it might not be the right fit for all businesses, it could be the perfect fit for yours. This tool actually allows you to automate your webinars by creating pre-recorded content that you broadcast later. While the webinar is automated, it can still be incredibly interactive thanks to their numerous interaction features like pre-canned polls. This will help keep your audience engaged.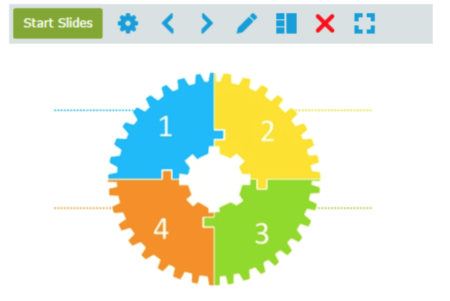 Webinato has another unique advantage: they're one of the only webinar tools has an HTML5 webinar option. This option doesn't require users to download any software in order to attend—it all happens online.
Like other options, Webinato has features like the ability to shut off a guest's microphone if they forget to do so and analytics once the webinar is over.
6. LiveStorm
Last but definitely not least, we have LiveStorm. LiveStorm seeks to provide incredible experiences for both the broadcaster and the attendee. They have the standard features that you'd expect from the webinar tools on this list, including the ability to run polls in real-time and get post-webinar analytics after the fact.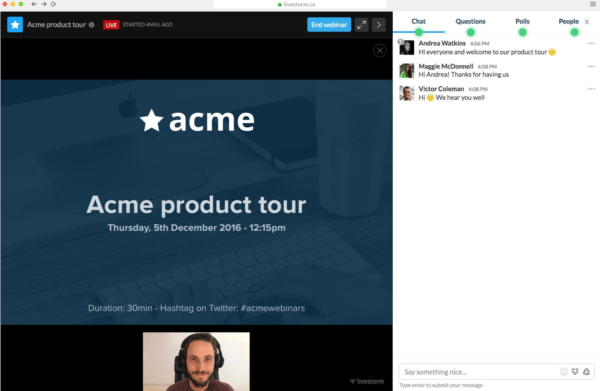 LiveStorm also lets you download a CSV of attendees and the information they've provided, giving you a whole list of new potential leads without a lot of hassle. Since you can request information like the attendee's company name, their job title, contact information and more with LiveStorm, this is a huge advantage.
Perhaps my favorite feature of LiveStorm, however, is the ability to instantly replay the webinar as soon as it's done. Other tools require you to process and save the webinar before making it available for download, which can take some time. Registered attendees can login to view this at any time.
Final Thoughts
Each of these webinar tools can be used to broadcast gorgeous, professional-looking webinars that will wow your customers. The majority can also be used for internal meetings or client calls when there may be several people involved on either side. No matter what price point you're at or special features you're looking for, you can find it from these six great webinar tools.
What do you think? Which webinar tools have you used? Did we miss your favorite? Share your thoughts and experience in the comments below!
Leave a comment