How to Generate Content Ideas That Are New, Interesting and Sure to Convert
Writer's block is no fun. As a professional content writer, I know this as well as everyone.
The one thing that's even worse? The brain block that happens when you're just plain out of ideas.
Since consistency is a key part of an effective content marketing strategy, it's important to keep the blog posts and lead magnets flowing steadily, but it's not always so easy to keep coming up with great, interesting topics for said blog posts and lead magnets.
It is all about quality over quantity, after all, but we'd be lying if we said quantity didn't matter at all.
If you're ever feeling stumped, there are six specific strategies that I use to generate content ideas that are original, relevant to the audience I'm writing for, and that are interesting and valuable enough to drive conversions. Let's take a look at each one.
1. Start with a General Topic and Niche Down
Let's say I want to start a blog about how to be about content marketing. That's a topic in and of itself, and it's a great place to start. I want to write about "content marketing."
This is a particularly general topic, and it can be broken down into a ton of smaller topics, and then each of those can typically be broken down into more subtopics.
Utilize mind mapping graphs, breaking off from a single idea and niching it down as far as it can go.
Content marketing might break off into "content marketing KPIs," which can break off into a topic about "how to choose KPIs for content marketing," which becomes "how to set up Google Analytics to track KPIs."
Each of these topics will make a great blog post on their own, and you can have some content that contains a lot of mid-level information, and some that are incredibly technical and specific.
I've learned over the past five years that there's always more to write about; you just might have to dig a little deeper.
2. Ask Yourself "What Else?"
Have you ever read a supposed "Ultimate Guide to [insert topic here]" and still had questions afterward?
Maybe you've read a guide about Facebook's custom audiences, and you know how to actually create six types of Facebook custom audiences, but you don't actually know any strategies for how to use them correctly.
Or, perhaps you've read an article talking about how to pick out the kind of paint you want for your house, but they only say "choose satin or flat for the bathroom" without giving you the pros and cons of each.
There is a ton of content out there that leaves a lot to be desired and a lot to be asked by the audience, which opens the door for you.
When you're writing your own content, try to answer every single question that users might have when reading. If you can't in the current post, make a note to write a follow-up post. It's also a good idea to check out content from your competitors and see what information they might be missing and see how you can elaborate on it and send some of their readers your way.
3. Use BuzzSumo to Look for New Ideas
BuzzSumo is an outstanding tool for content marketers and creators in general, but they have particularly valuable resources when you need to generate content ideas fast.
You can enter in a general topic that you want to search for, like "bathroom paint," and see what topics appear. This tool gives you the option to filter out by type of content (like infographics, article, how-to, etc), date ranges, languages, and more. You can see what's performed well in terms of social shares and link building, and click to see the content directly.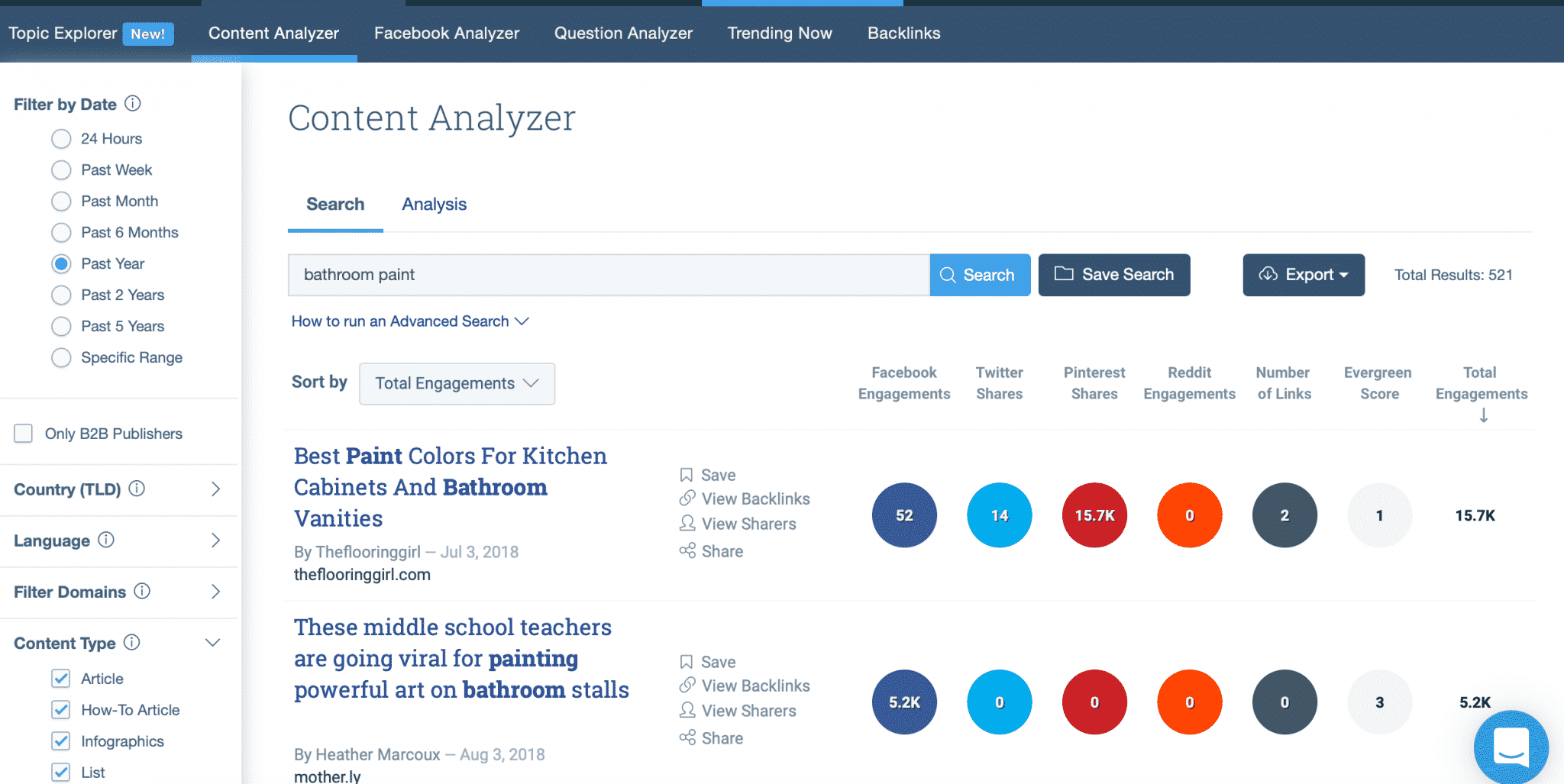 Use this for inspiration. Try to see what others in your industry are writing, and see how you can do more and do better. Adding more information or coming up with a new angle for an old topic is a great choice.
If you were going to go with the bathroom paint, for example, you could take "Best paint colors for bathroom vanities" and turn it into "best vanity paint colors for small bathrooms" or "10 modern bathroom vanity color combinations you'll want to copy today."
4. Use Keyword Tools to Find Longtail Suggestions
Keyword research should absolutely be a staple part of your content marketing strategy, as the right keywords will help you rank in organic search results and drive traffic to your site.
If you're using keyword tools correctly, however, they won't just tell you how to optimize your content, but they could also give you some great ideas into what content you should create.
Most keyword tools will offer suggestions based on the term you're searching for, but I'm a big fan of SEMrush's Keyword Magic Tool. When you search for a term, it will immediately offer relevant suggestions based on broad match or exact match specifications, allowing you to see similar terms and their potential performance.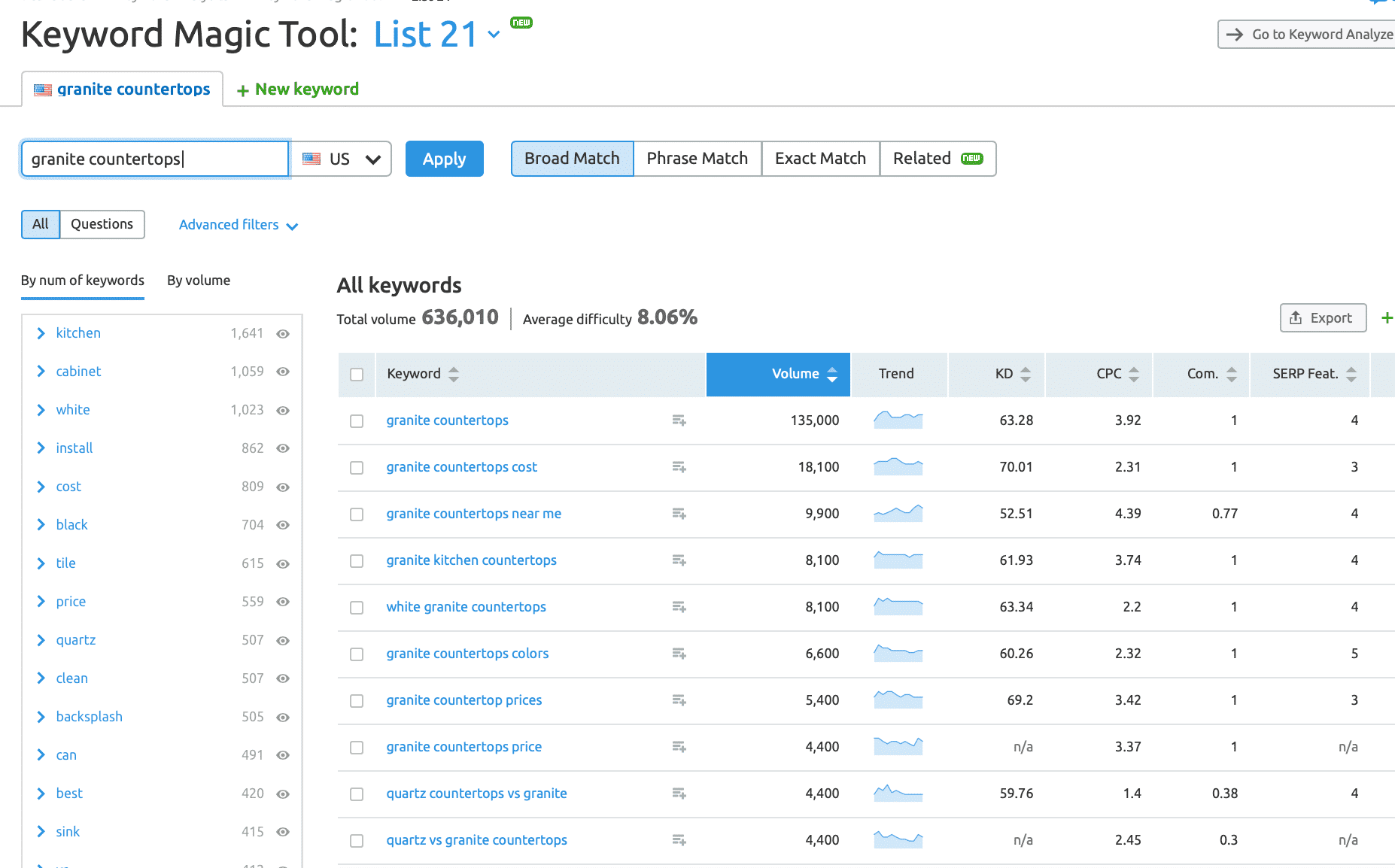 You can also choose to search for "questions" keywords only, which will tell you what specific questions users are searching for around a specific topic.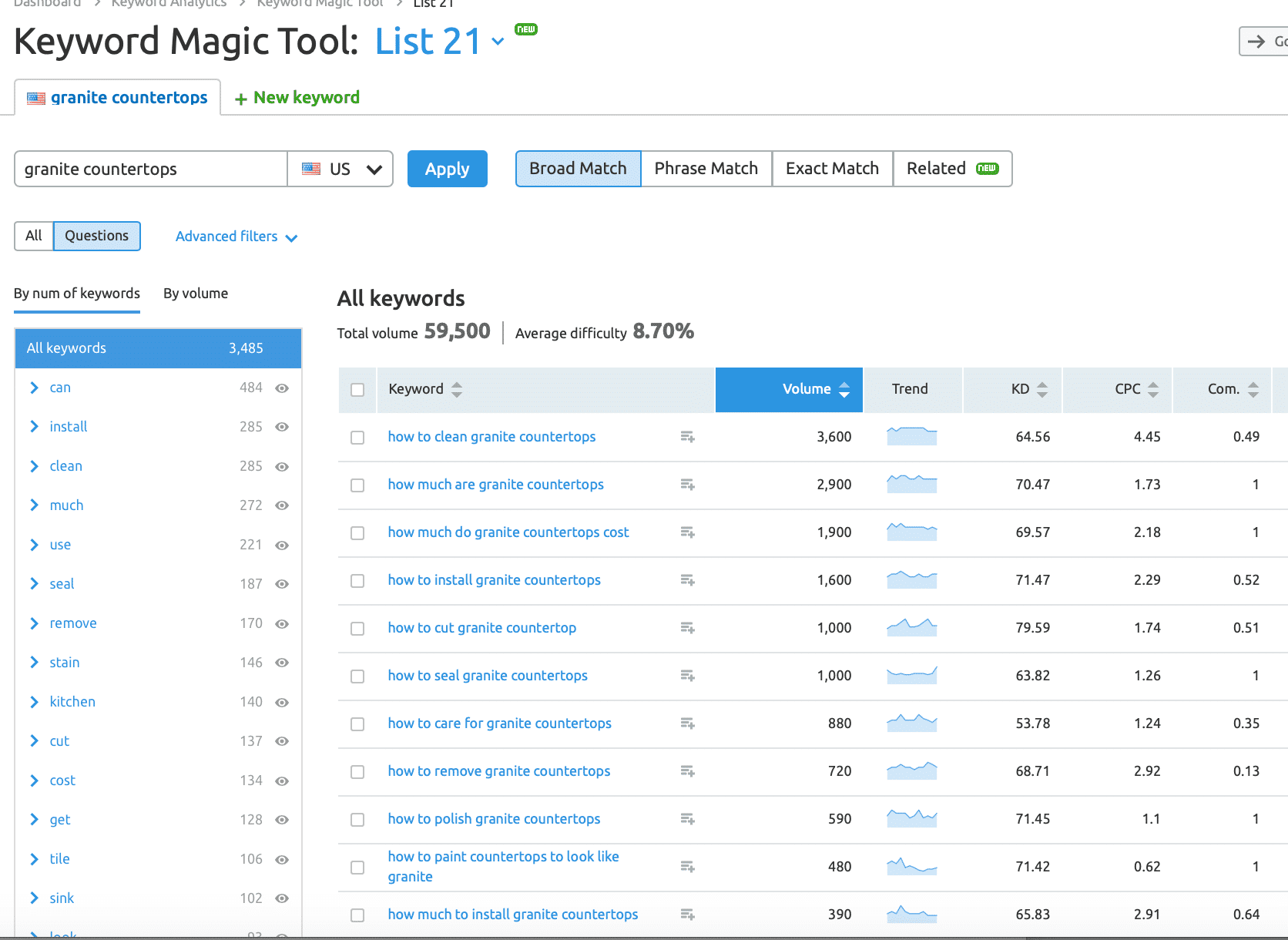 All longtail keywords can be great opportunities for blog content because they're more specific and they're a little easier to rank for, meaning that you have a better shot of being able to deliver on the search intent. Questions-based keywords, however, are particularly valuable to note during content generation, because these direct questions that you can provide direct answers to.
5. Look at Questions Your Audience is Asking
When you publish a blog post, go live on social media, or even just get emails from customers, are there questions that they ask about what you're discussing? Sometimes they're asking for clarification, and other times it's more likely they need an entire overview.
Some of my clients, for example, will ask me about the specific strategies we'll use to optimize their content—others are asking what content marketing can help them do, period. These are two very different questions, but both could be addressed in blog posts.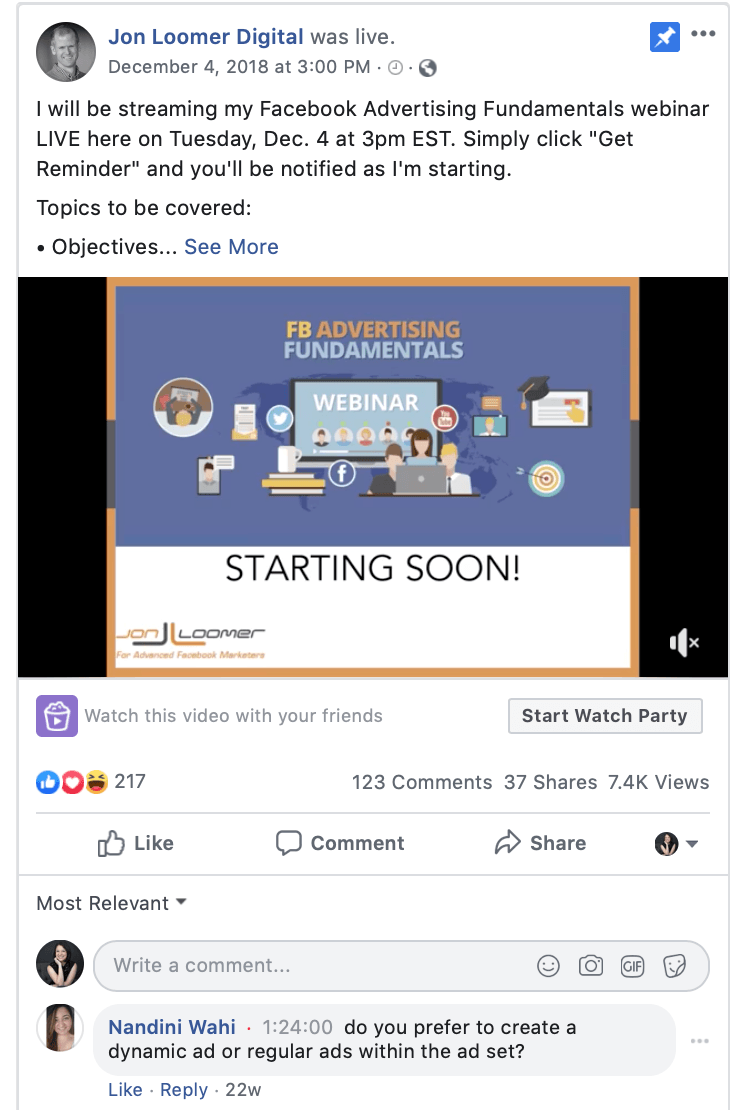 If people are asking questions, it means that the information is important to them and they haven't been able to find it so far. This strategy can also save you a lot of time. If you're consistently answering the same client questions, it can slow you down. The ability to send a blog post their way going over the basics will keep them happy and save you time.
Don't just look for questions that your audience is asking you; go a step further, and look for questions they're asking on your competitors' content and on industry forums, too.
Conclusion
Content marketing must be consistent, but it also needs to be consistently great. Every blog post should offer value instead of just trying to deliver fluff that drives clicks, and everyone who has tried to maintain a blog can tell you how incredibly difficult that is to do.
When in doubt, remember that you can always put a twist on a classic, finding a new angle for an old topic to re-engage users and offer something interesting. You can see examples of this ranging from our post about how online marketing is like online dating to "What Game of Thrones Can Teach Us About Wedding Planning."
Having a system in place to help you reliably generate content ideas is going to be the way to go, and each of these strategies can help you find some new inspiration when you're feeling a little stumped (and even when you're not). This will give you the consistency that you need to be able to take a few blog posts into a sustainable content marketing strategy, which can then be enhanced with PPC ad campaigns for some extra oomph.
What do you think? How do you come up with new ideas for blog posts, ebooks, webinars, and other types of lead magnets? What content generation strategies and tools work best for you? Share your thoughts and questions in the comments below! 
Leave a comment