How to Calculate Your Google Ads Budget
by Ana Gotter • November 29, 2018
It's always more fun to spend money than it is to account for where it went, but until your ad spend becomes as bottomless as mimosas at boozy brunches, budgeting will be an important part of your marketing strategy.
Creating marketing budgets can be difficult, especially with so many moving pieces and so many costs that aren't totally set in stone. You never know exactly what you'll pay for a single click, after all, even if you set a maximum bid limit. There's fluctuation that's difficult to account for on multiple platforms, making it almost more difficult to decide how to actually allocate the budget you have.
With Google Ads being central to many brands' marketing campaigns but also being a platform where costs aren't always stable, it can be difficult to try to set a budget or even determine what you can expect to be paying.
Look at Your Available Budget
Before you go any further, look at the funds that you have available to spend. This is going to be the baseline of what you can spend overall, which is—believe it or not—only one factor we look at when calculating a Google Ads budget.
We recently wrote about how to calculate your marketing budget. Start there. Look at the total funds you're investing into marketing, and see what you have available.
If you have $5,000 a month to spend and you're already spending $2,000 on email and $1,000 on content, then you've got $2,000 left right off the bat. You may also decide to take additional funds from either the email or content category to give you more in Google Ads spend.
At this point, it's important to assess what role you want Google Ads to play. Will it be an important lead generation tool? Most brands use the search ads, at least, for more aggressive tactics than just brand awareness, focusing on lead generation, sales and event registrations. This means that there's potential to see more return on ad spend (ROAS) quickly, allowing you to reinvest it back into growth overall. Google Ads is more aggressive than other marketing options because it allows you to go to your customers instead of waiting for them to come you.
Remember that this is a starting point. If you only have $2000 and that's firm, then that's firm. But if you realize that you really want to invest $2500 per month, you can reinvest the overall budget and look for other places to make some cuts.
Research Keyword CPC
Researching CPCs will be the most time intensive step in the immediate process. The different keywords that you choose, after all, may have wildly different CPCs and this will affect your budget.
There are some keywords that a large number of other competitors are going to be willing to bid a lot for. These will likely be some of the keywords that you most want to sink your teeth into. They'll either be high-search volume keywords, meaning a lot of people are searching for them regularly, or high-intend keywords that indicate that the user is looking to purchase now instead of just idly browsing. In some cases, high-intent keywords and high-volume keywords overlap, but both are often high value to businesses.
Some examples of high-intent keywords include:
affordable lawn care service
Cyber Monday laptops
dog trainer near me
emergency weekend urgent care
wool socks for men
Each of the above keywords indicate interest in a specific product or service, showing that they know what they're looking for. These users are typically further along in the buying process, and having them see your ad could be a game changer. The costs for these ads are often higher than other higher volume, lower-intent searches.
Fortunately, there are keyword research tools out there that will help you assess both search volume and the CPC of each individual keyword. For this example, we'll use Google's Keyword Planner.
Our pretend business is a sock-of-the-month club selling everything from cashmere to quirky pineapple designs. A single month's basic subscription from will yield us $16 in net profit.
Entering the term "socks" into the keyword planner shows us the following: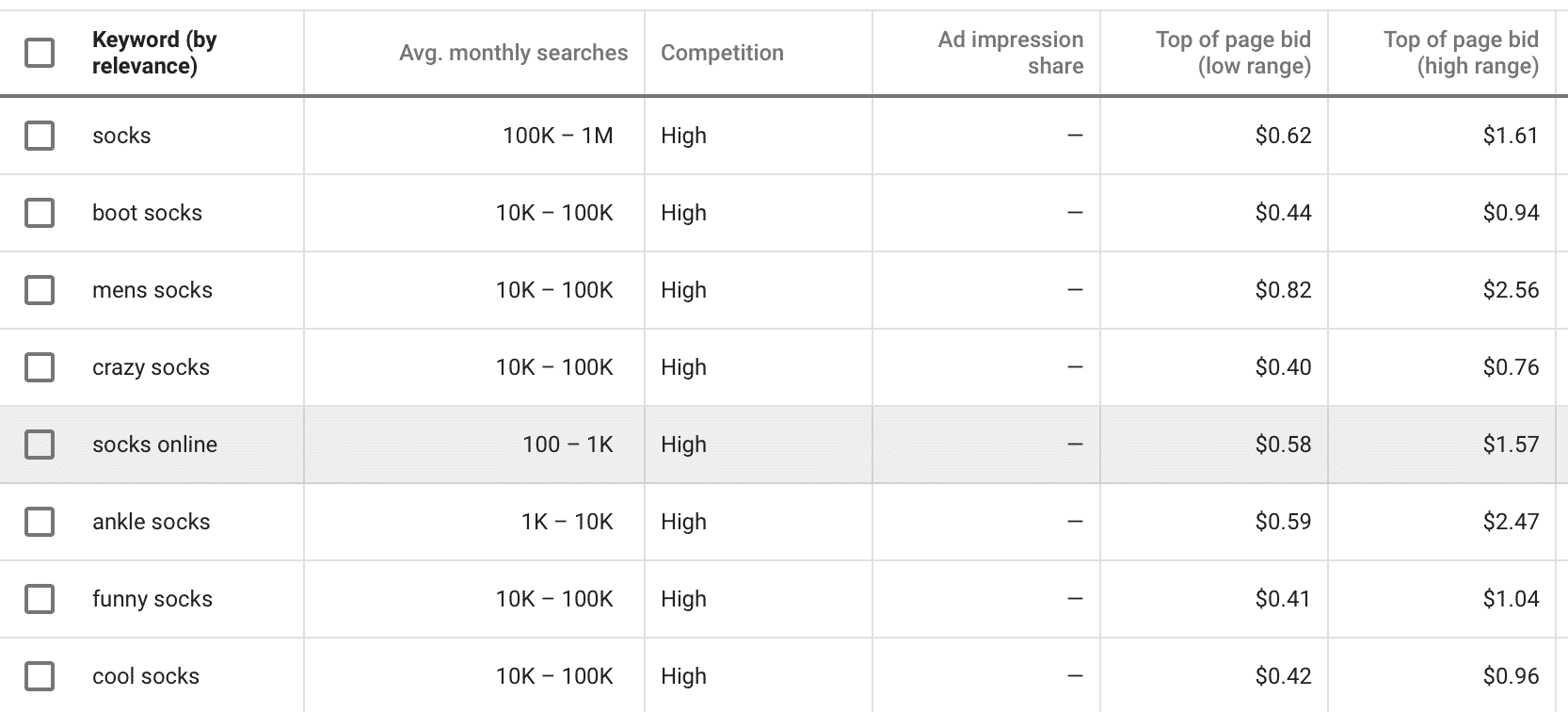 Taking a quick look at the above keywords, there are a few things we could takeaway:
"Crazy socks" could be a great term for us to target because it's perfect for the target audience, it's a high-intent keyword and it has a low CPC, costing less than half of some of the other higher-priced keywords even though it has a high search volume.
"Socks online" has a higher CPC, but it could indicate a higher-intent, making it valuable.
"Ankle socks" can cost a lot at the high end of the bid range, and since the majority of our socks are at least shin-length, this wouldn't be our audience.
Compile a list of the keywords you want to target, noting the high and low CPCs. It's always best to round up, especially during peak seasons of competition, so that you have a pleasant surprise instead of disappointment. Prioritize the keywords by importance and start to decide which ones you'd want to invest most in.
Check Out the Competition
Before you move forward, it's always a good idea to check out the competition and see what keywords they're targeting and what they're spending. This can help you see if you're missing anything, but if you have a direct competitor you want to outrank in the paid results, you can actually get enough intel here to outbid them.
My favorite tool for competitor research is SpyFu. Just enter in your competitor's web domain, and they'll show you what keywords the company is ranking for in organic and paid traffic and how much they're spending a month, on average.

You can also view their Google Ads history, seeing the ads they've used with different keywords, how much they paid, how they ranked and how many clicks per month they received. If you can find the top competitor and outbid them while writing relevant copy, you could be in good shape to outperform them. Factor this into your costs.
Prioritize Keywords & Allocate
This part of the process is all about dividing up the Google Ads budget that you have in a way that will yield the most results; that money will often go further and do more for you with the right campaigns and keywords in place.
At this stage, group your keywords into relevant campaigns. We might put "funny socks" and "crazy socks" and maybe even "men's socks" (along with a few others) into a single ad group, and then write copy geared towards quirky sock lovers. Another ad group would include keywords like "socks online" and "sock subscription company" and "sock delivery."
Let's say, all else being equal, that we want to divide the budget equally between the two groups and we're only running two different campaigns. One focused on quirky socks and one focusing on online sock subscription keywords.
The quirky socks have much lower-cost keywords, so we'll probably see more clicks for the same budget than we would with the online subscription keywords. That being said, maybe the online sock subscription keywords would be more valuable, giving us more customers who wanted the luxury sock package that costs $35 instead of $32.
In this case, it would make more sense to allocate more of the budget towards the second keyword group, investing more in high-value customers while still seeing results from the low cost keywords.
This is something that you'll often need to test to see which keywords are actually most high value to your business specifically. Start with a hypothesis, though, and we'll go from there.
Create a Test Budget
You've set up your budget. Now it's time to test the hypothesis and the campaigns that you've started creating.
When you're testing your budget, treat it like the real deal. Don't go in with just a few hundred dollars unless that's your whole budget, because you may not get an exact look at what you're dealing with. Schedule your campaigns to end within a set time period (for many businesses, this could be over a two week or a month-long period to assess progress). Choose standard delivery instead of accelerated and see what happens.

As your test progresses, look at the campaigns and the keywords that are giving you the most clicks, and see which lead to the most conversions both at the best cost and just overall. Weigh all of these factors against each other when deciding how to move forward and if your budget needs any adjustment.
In general, allocate more budget to high-converting ads that are also yielding you high value customers. Look for true conversions, not just clicks, or else you could be funneling more money into ad campaigns that are wasting money on clicks without getting you the leads, event registrations, video views, and sales that you want. If you're getting a lot of clicks and no conversions, there's an issue somewhere in the funnel that needs to be addressed first.
Conclusion
Creating a Google Ads budget will take some time and isn't the most glamorous part of the ad creation process, but it's an important one nonetheless.
Having a budget that's been carefully calculated and then strategically allocated will take a lot of the guesswork out of your campaign management. You can always change things up once you see how the campaigns are performing, after all, but the budget will help you prioritize keywords and campaigns and prevent you from scaling the ad spend too quickly. Take the time to get it right the first time, and adjustments will be much easier to make moving forward when it is time to scale your campaigns.
Want some help planning your Google Ads budget or managing your campaigns? Let me know here or in the comments!
What do you think? How do you calculate your Google Ads budgets? What steps do you take to allocate the budget and prioritize your campaigns? Share your questions and thoughts in the comments section and let us know what you think.