Google's Keyword Planner: 5 Strategies You Need to Be Using
by Ana Gotter • December 12, 2018
Achieving success with Google Ads relies heavily on choosing the right keywords to target. If you aren't targeting the right keywords, after all, you could end up paying more than you need to, not connecting with your target audience or even see the relevance of your ad campaign drop significantly.
Keyword research can feel overwhelming, but with the right tools and strategies in place, it's much more straight forward than you might expect.
More good news: one of the best tools available for keyword research is completely free and created by Google itself.
In this post, we're going to dive deep into Google's keyword planner, showing you how to use it, what you can learn from it, and how you can use the information it offers to improve your Google Ads campaigns.
What is Google's Keyword Planner?
Google's Keyword Planner is a free tool available online that will help you conduct keyword research. You can use this research for both your organic and PPC campaigns.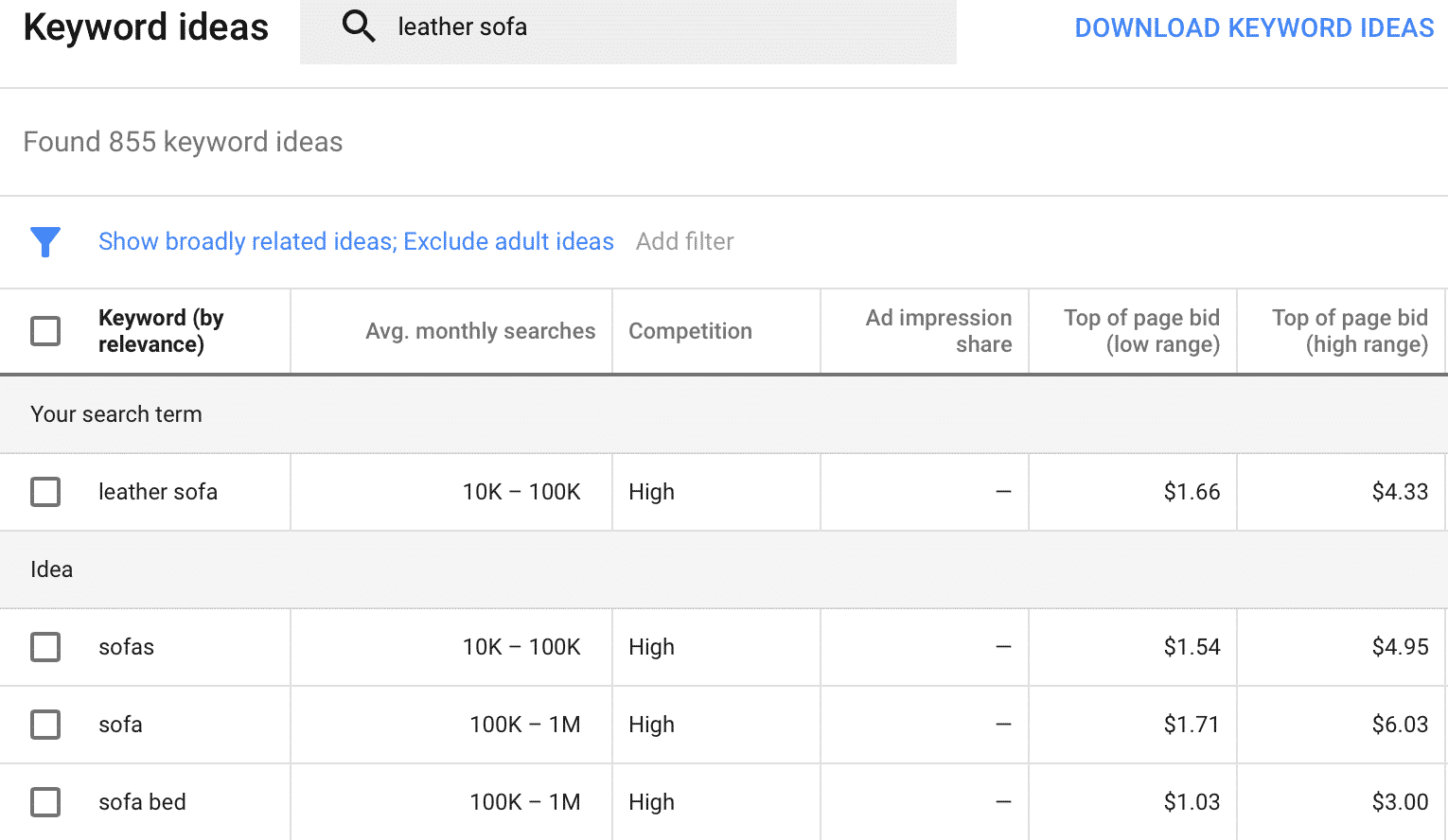 When you enter in a generic search term or group of keywords, you'll likely be shown keyword suggestions related to the term along with essential SEO data about them, including cost per click (CPC) range for current campaigns, search volume, competition level, and more.
How to Use Google's Keyword Planner
Google's keyword planner is exceptionally easy to use, and its intuitive layout makes it beginner-friendly—even if you aren't too familiar with SEO and PPC campaigns just yet.
When you navigate to the keyword planner, you'll see two options: find new keywords, or to get search volume and forecasts. The first will provide keyword suggestions and data based on what's happening right now, while the latter will show you past and predicted future trends. Right now, we'll do the former.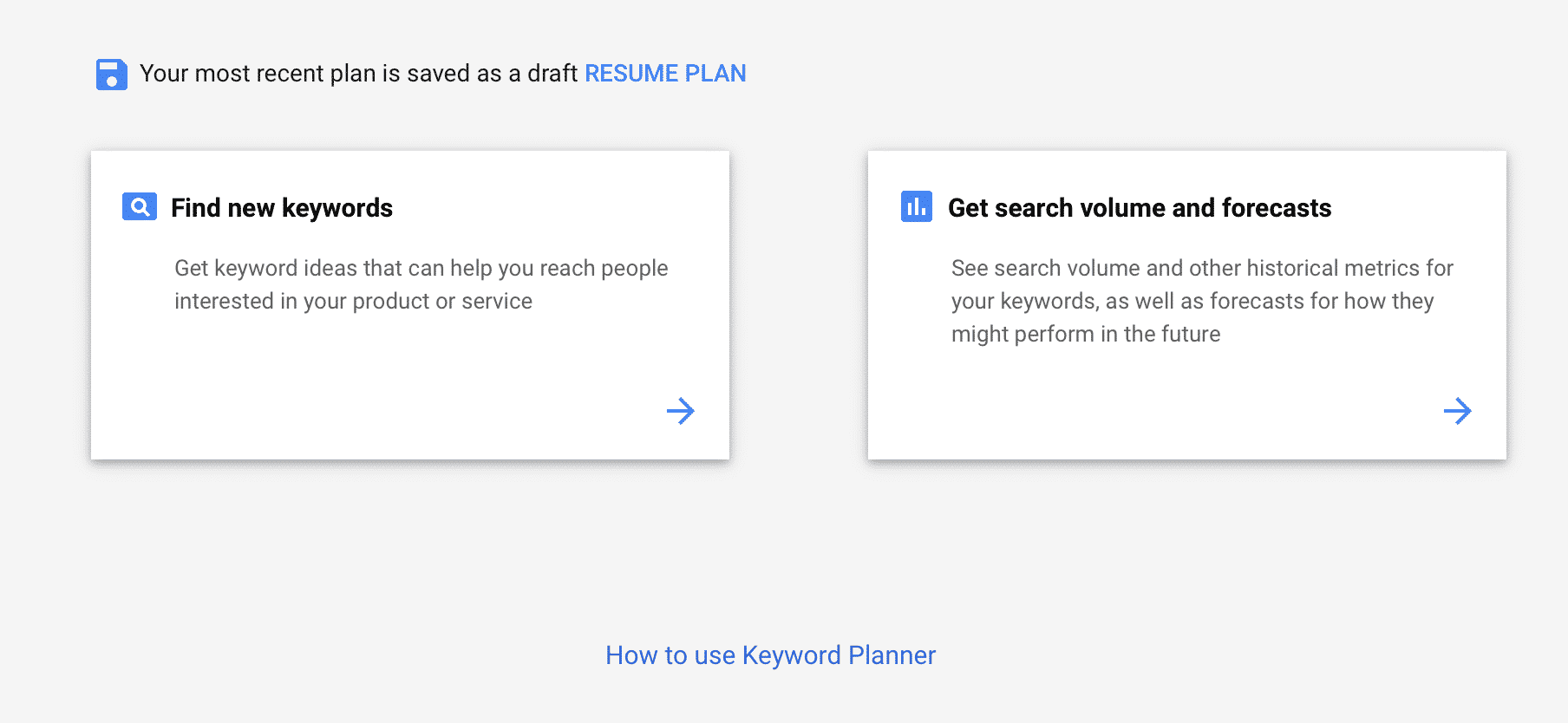 Once you've entered in a search term, you'll see keyword suggestions for it, along with the average number of monthly searches, and the competition level the low and high ranges for CPC. If you're running campaigns containing the keywords already, you'll also see the ad impression share listed here.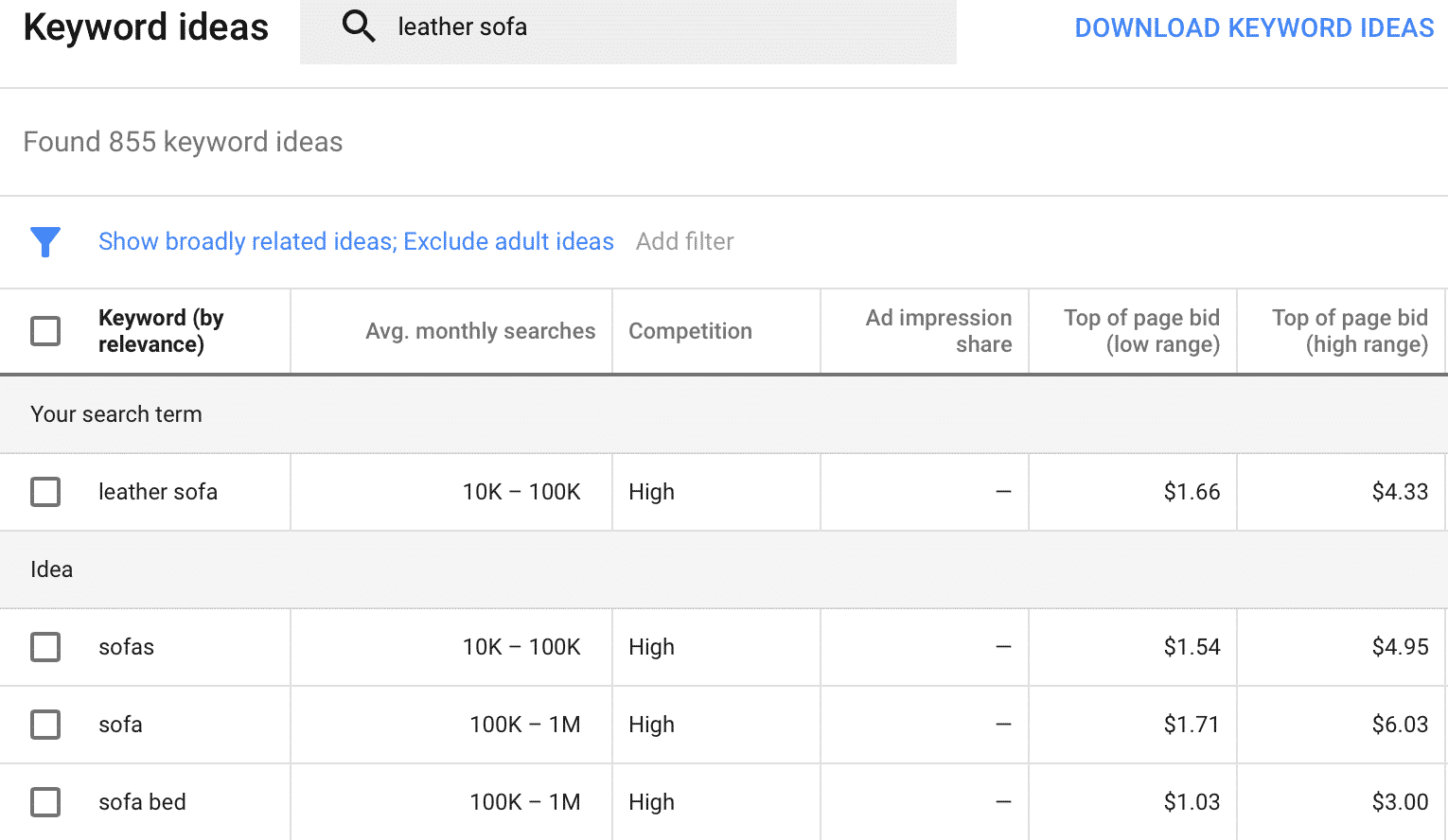 For best results, you want to choose keywords that are directly relevant to your audience and specific ad campaigns, creating ad groups. Finding keywords with the highest number of monthly searches and the lowest possible CPC and competition levels will be ideal, as they'll give you the most exposure at the lowest cost.
You'll see that you can choose between broad match, phrase match or exact match keywords. If you want to only find keywords that contain the phrase "leather sofa" instead of just seeing general terms, the keyword planner will deliver. If you decide that you like certain keywords, you can click on the checkbox next to the term and actually ad it to an ad group directly from the search page.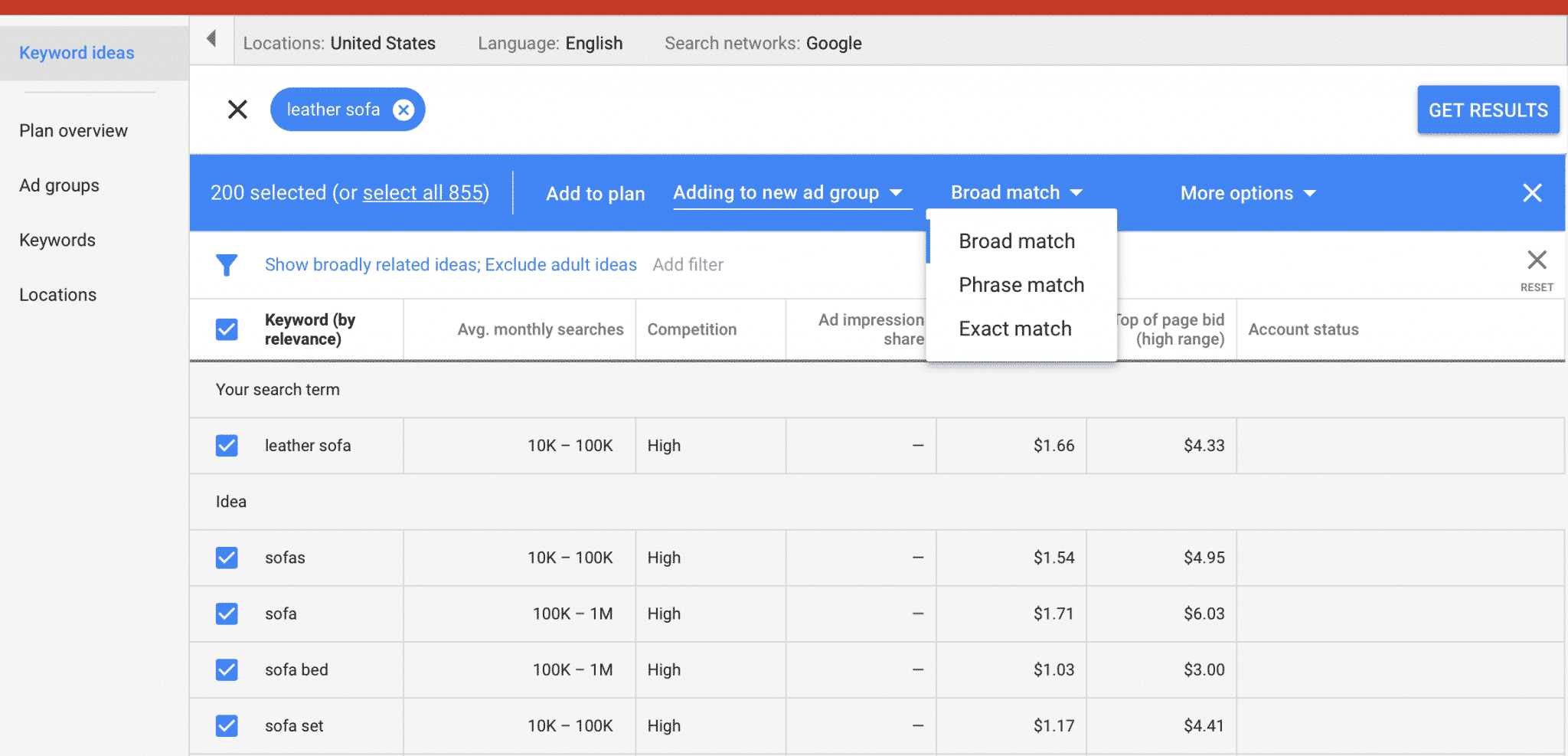 This ensures that you won't forget any of the search terms later on, and it makes your job much, much easier.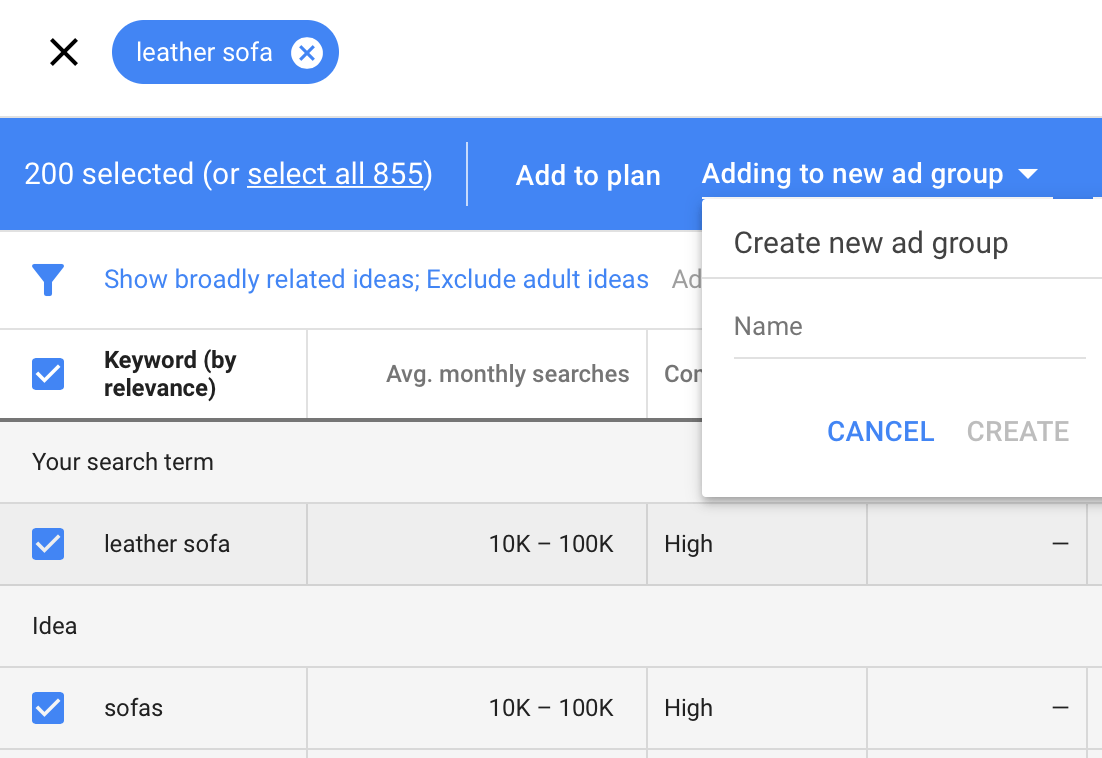 You can also highlight specific keywords and add them to your ad group as negative keywords, meaning that your ad won't show up when users search for those phrases.

While searching, if you're looking for specific types of keywords, you can save yourself some time by applying filters. If you want to sort those keywords by their organic impression share or top of the page bid, you can do so.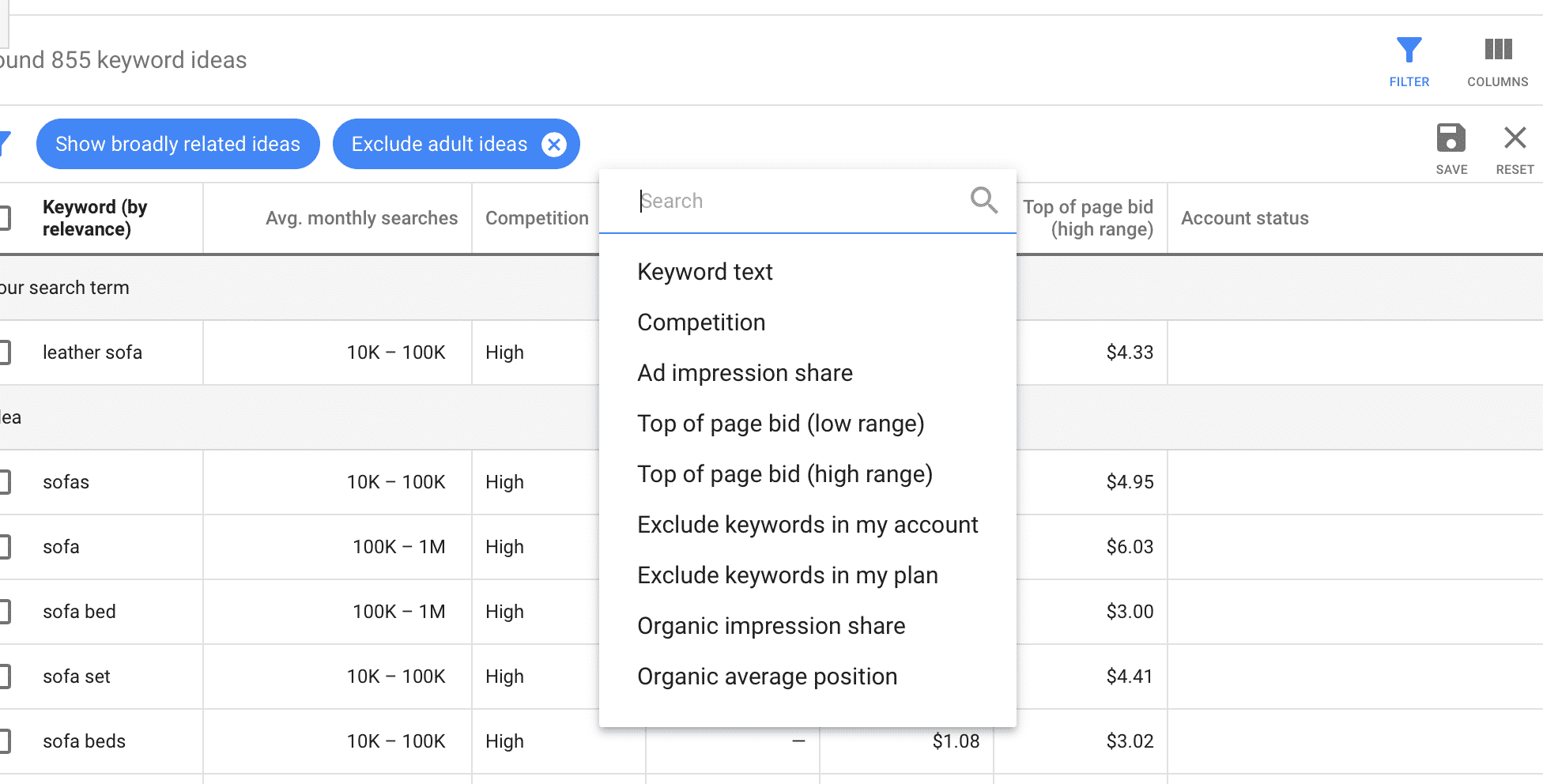 4 Strategies to Get the Most Out of the Keyword Planner
So far so good, right? Google's keyword planner is as easy to use as anyone could hope, which is great news.
Usage is straightforward, but to truly get the most results out of the tool, utilizing some smart strategies will make a world of difference. These are the four strategies you should be using with the keyword planner to get some new ideas and all the information you need to create ad groups that will convert well.
1. Reverse Engineer Competitors' Sites
When you're doing keyword research, you can enter in a search term, a specific keyword, or a URL to generate keyword suggestions.
No one said that you had to use your URL.
Go ahead and enter in your competitors' landing page information or a specific product page, and see what Google offers up for keyword suggestions. You can choose if you want to get suggestions based on a specific page or the entire site. If you want to look at general keyword research, you can opt for the entire site. If you're looking for information on how to advertise specific products, opt for a specific page.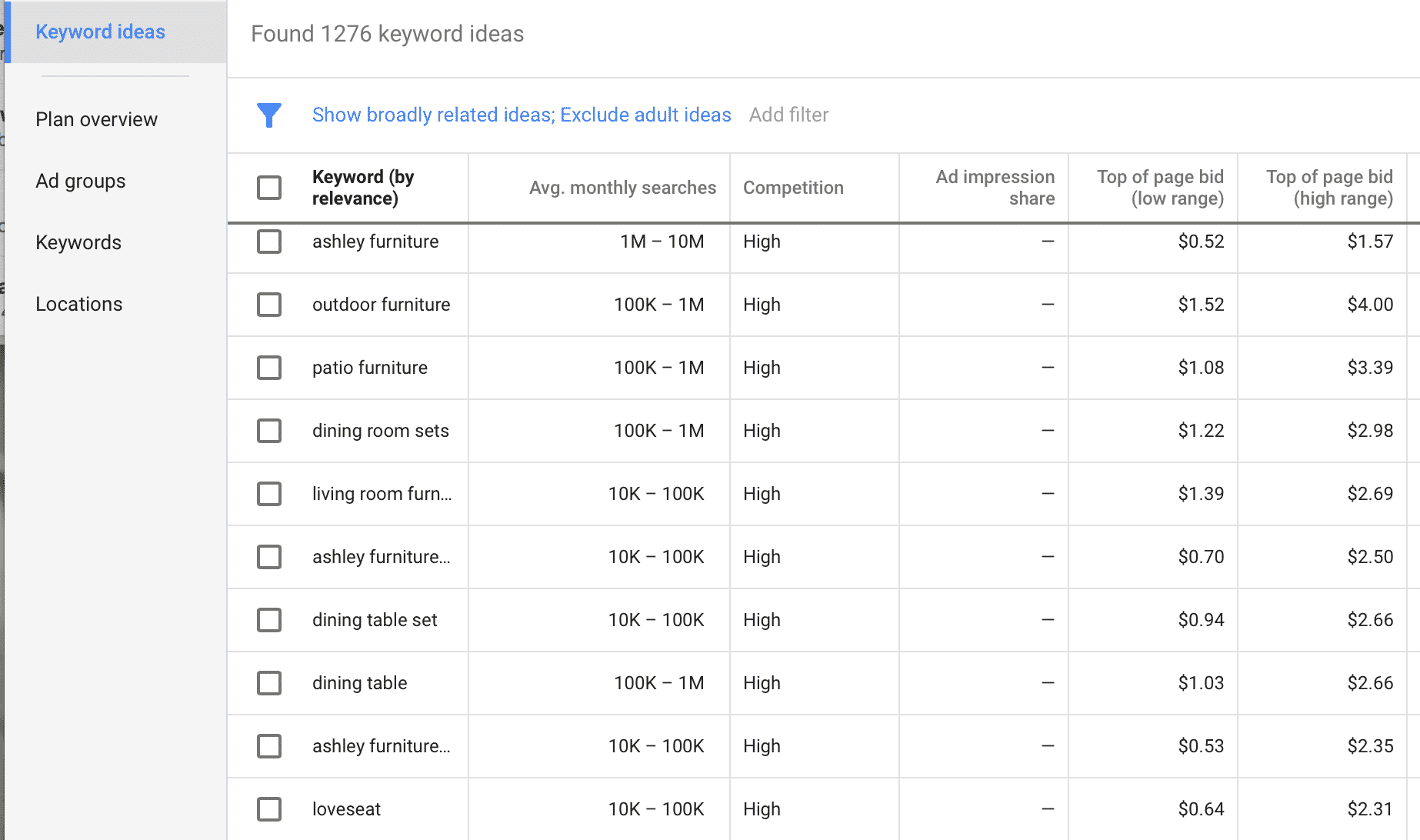 Take a look at the search terms that appear and see if any would be a good fit for the campaigns you want to create. If so, add them to that keyword group.
If you want to know exactly which keywords your competitors are actually using, you'll need to upgrade to a paid competition research tool. SEMrush and Spyfu both have features that offer this information so you can poach their keywords if needed.
2. Track Keyword Data Over Time
Remember how we mentioned at the beginning of the tutorial that you can do keyword research or track keyword data overtime? This is where that "track keyword data over time" comes in.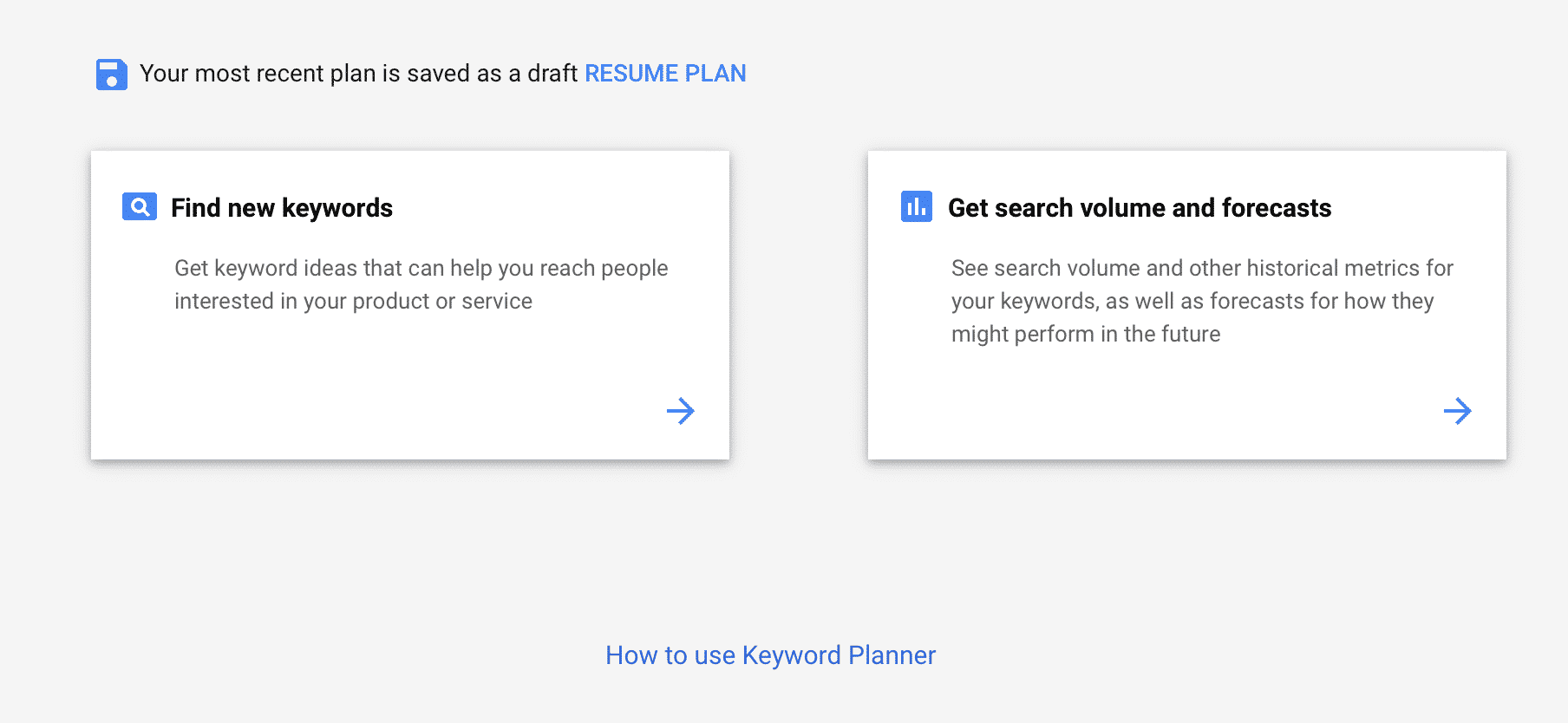 Once you select that you want a keyword forecast, you'll be asked to enter in the keywords of your choice or to upload a list. If you have a list of keywords that you want to target or that you're already using saved, go ahead and upload them. Once you're ready, hit "get started." You can track multiple keywords at a time—this is actually beneficial.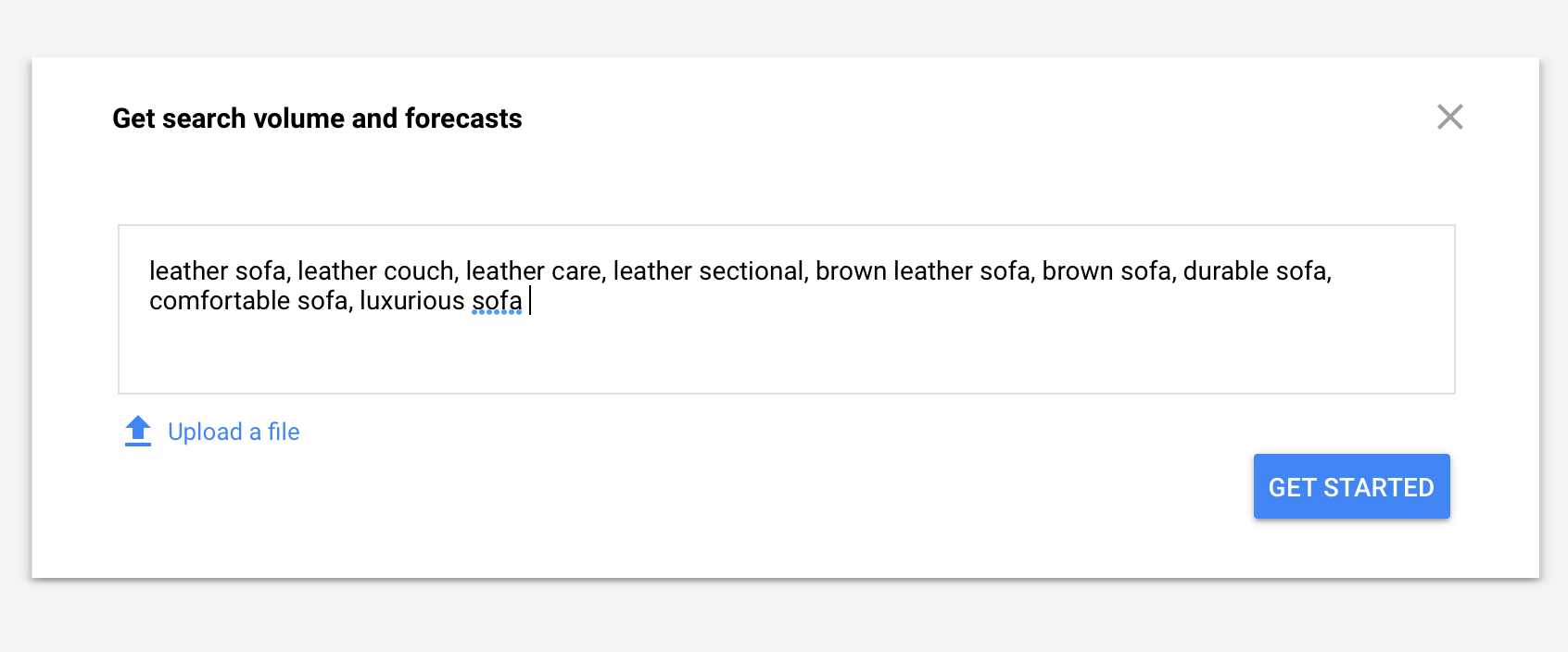 The first thing that you'll see is the type of results you could potentially expect to see if you ran a campaign right now with those exact keywords. Keep in mind that this is not foolproof or an exact science. The copy that you write, for example, will heavily affect the number of clicks that your ad receives. That being said, the average position, number of impressions, and CPC will typically be close.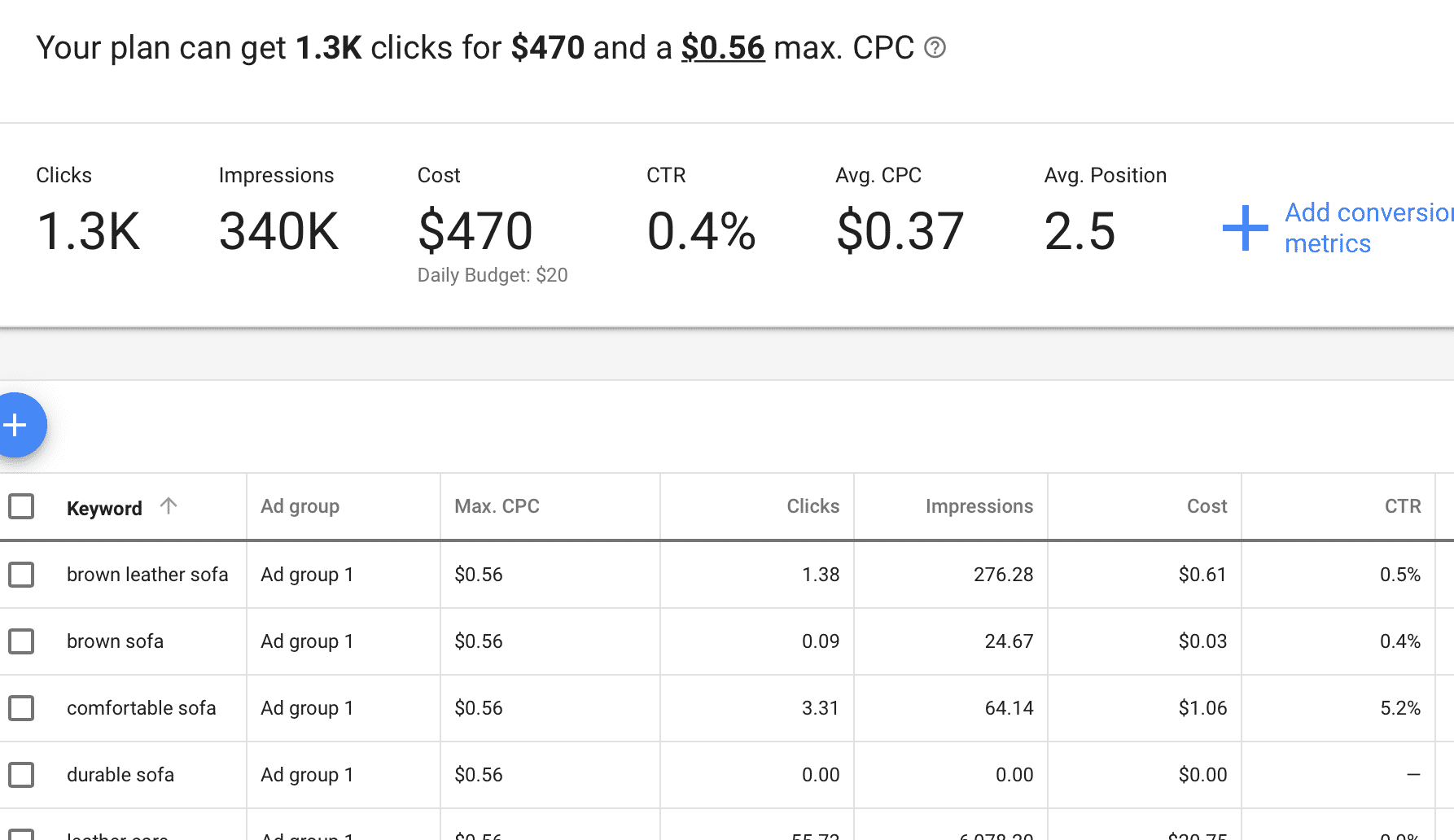 You can take a look at the estimated costs and results and see if this would work for you or if you need to go back to the drawing board.
This tool gives you the option to look at past performance of your keyword set, examining how each keyword performed in different time frames of your choice. This can help you assess the trend of the terms overall.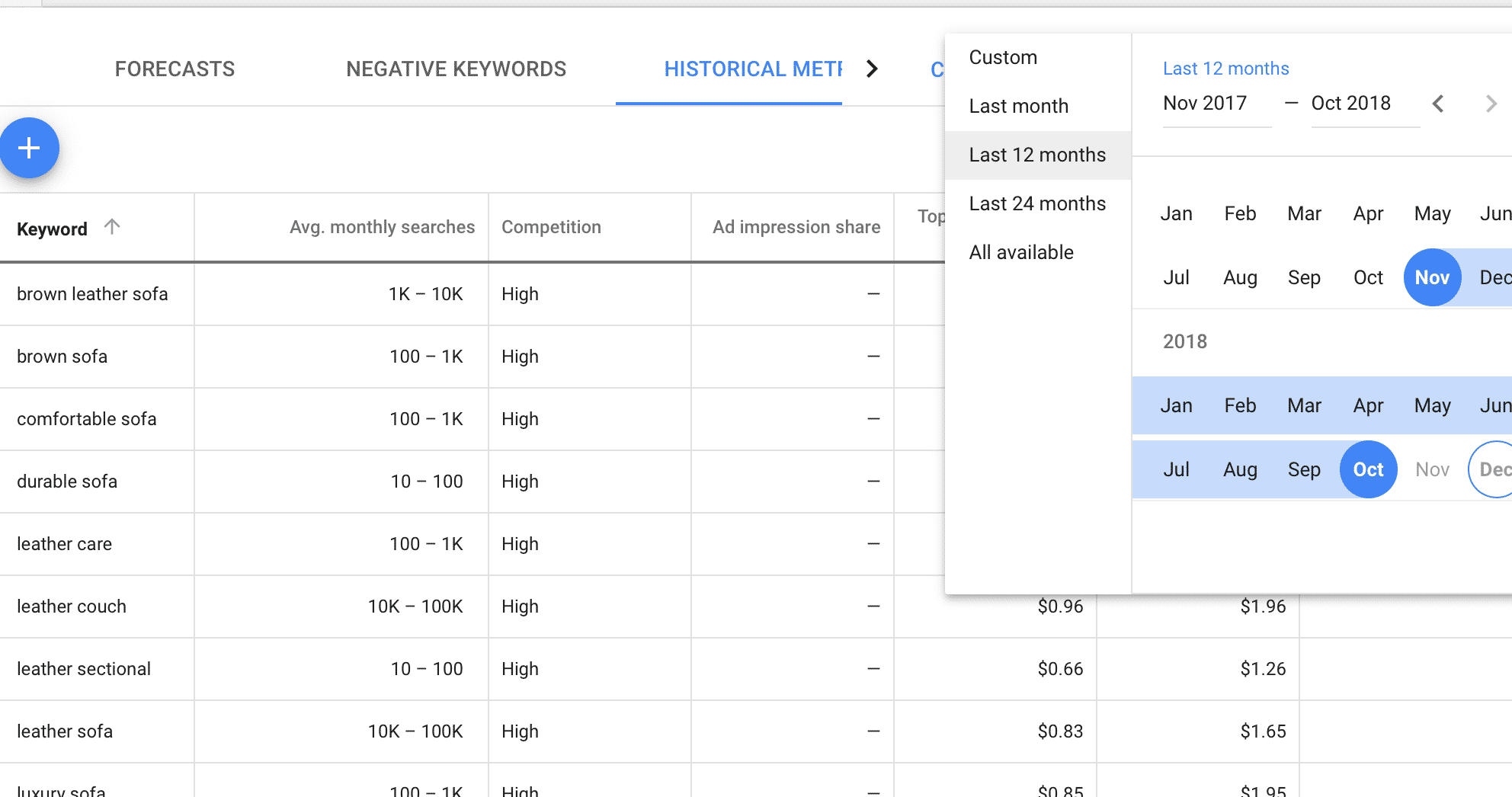 Also incredibly valuable is the ability to get a forecast of what kind of results you could expect from your keyword set at some point in the future—even several months away. While again, this isn't rocket science and things can change, this is a good guideline to check out if you want to create campaigns that can scale.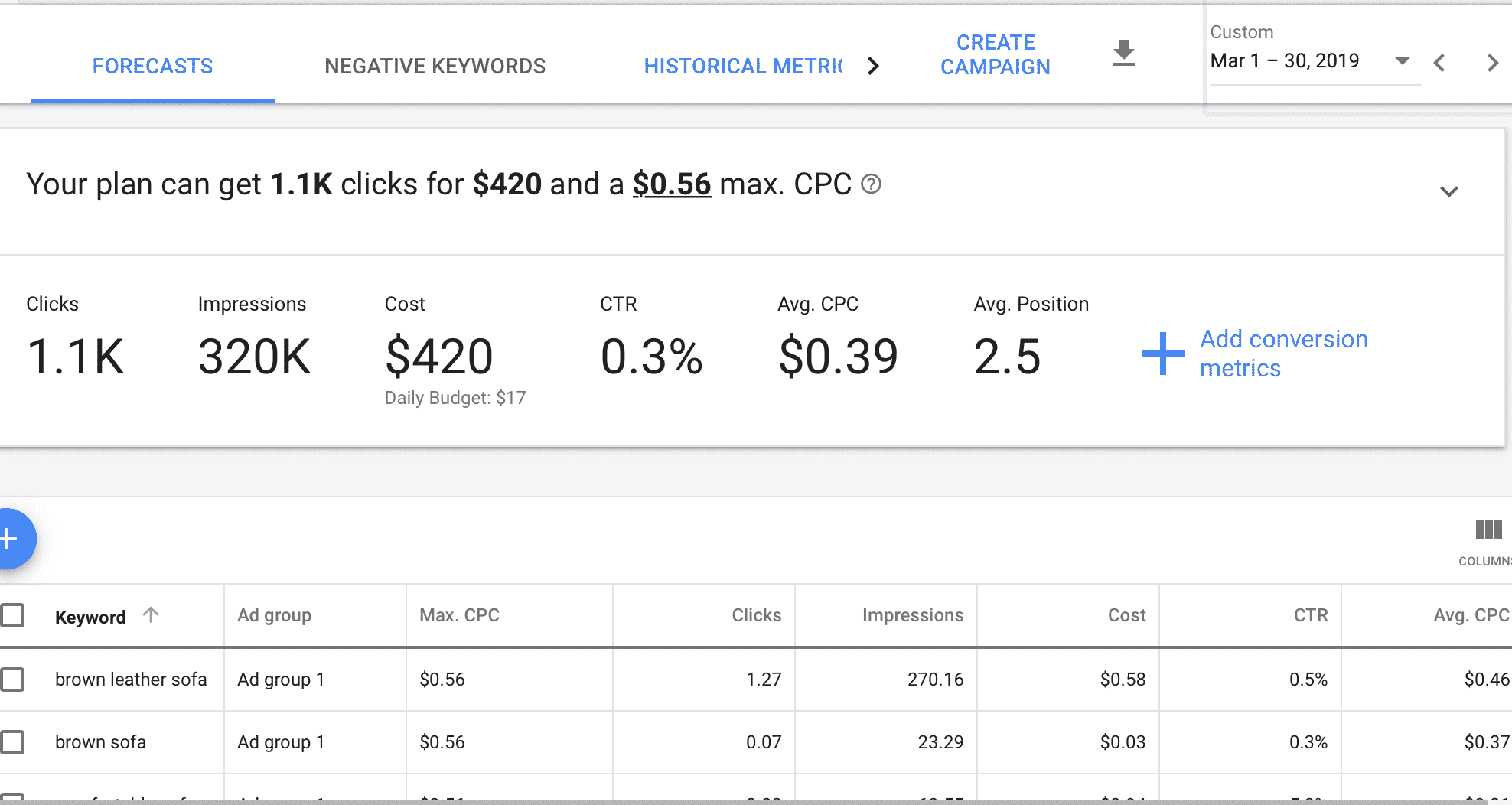 3. Look for Question-Based Keywords
Remember that the keyword planner isn't just for PPC campaigns. You can also use it to generate topic ideas for organic SEO, too.
One of my go-to strategies for the keyword planner is to search for question-based keywords. Think "how to change a car tire" or "what's the difference between Facebook Ads and Instagram Ads." Users asking these questions are looking for immediate answers and creating content for them will get you on their radar right away.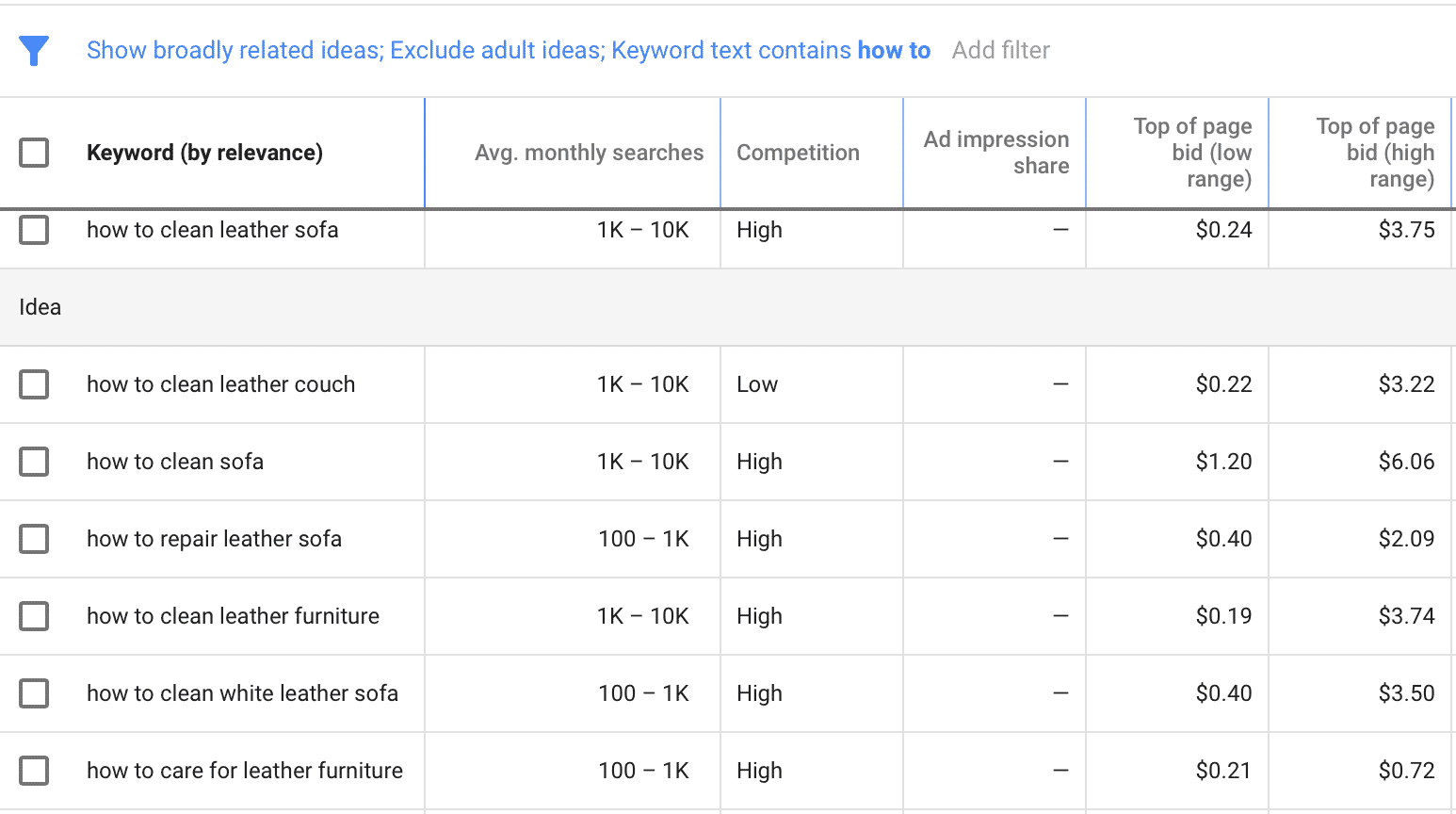 For questions that can create actionable, helpful blog posts, I typically like to search for the keyword and then add a "how to" keyword text filter to the search results.
4. Assess Keyword Effectiveness by Location
Increasing numbers of brands and businesses are going global, and international marketing can have a few bumps if you're not expecting them.
Did you know that keyword popularity and competition will vary wildly by location?
Let's take a look at the "how to" searches for the term "leather sofa" again. Here's what it looks like for a US audience: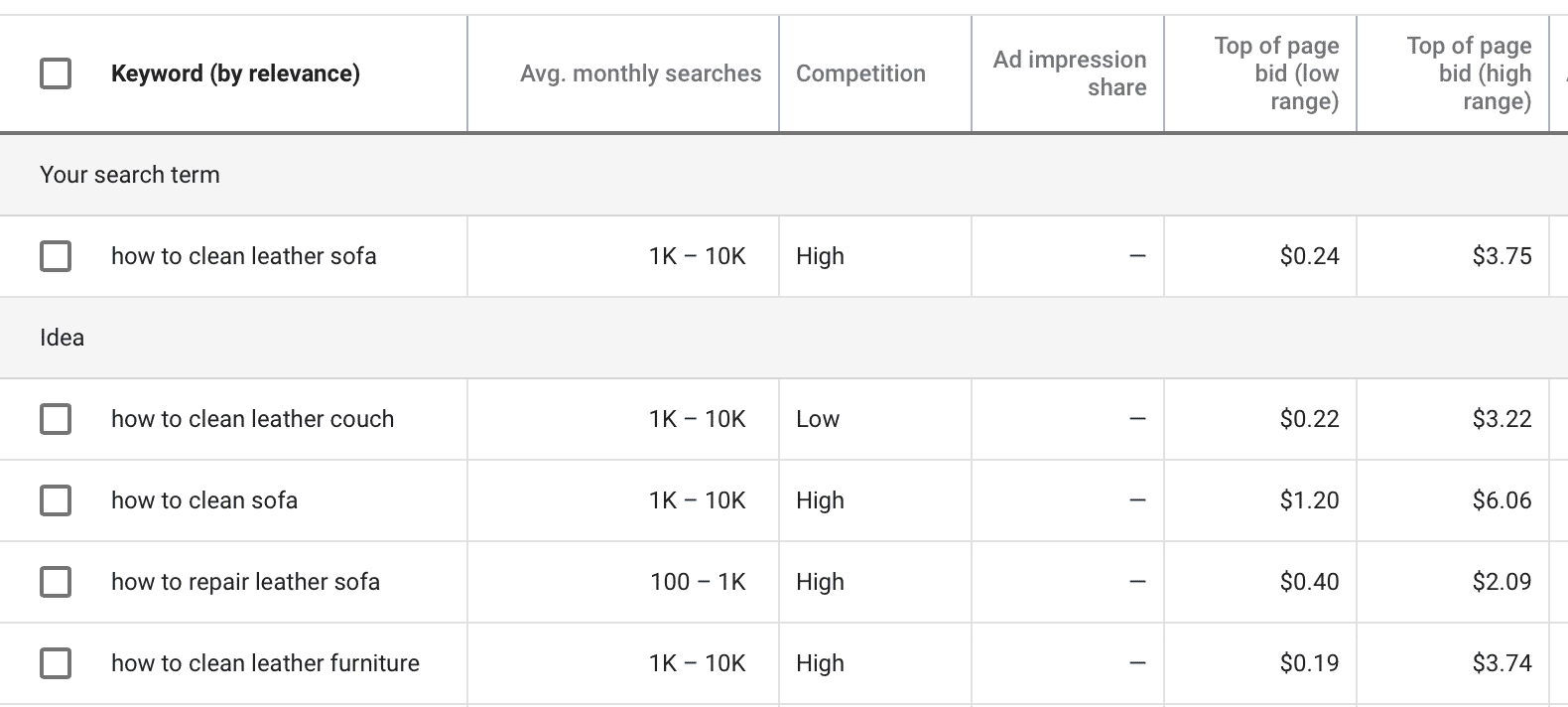 And here's what the exact same search looks like for an Australian audience: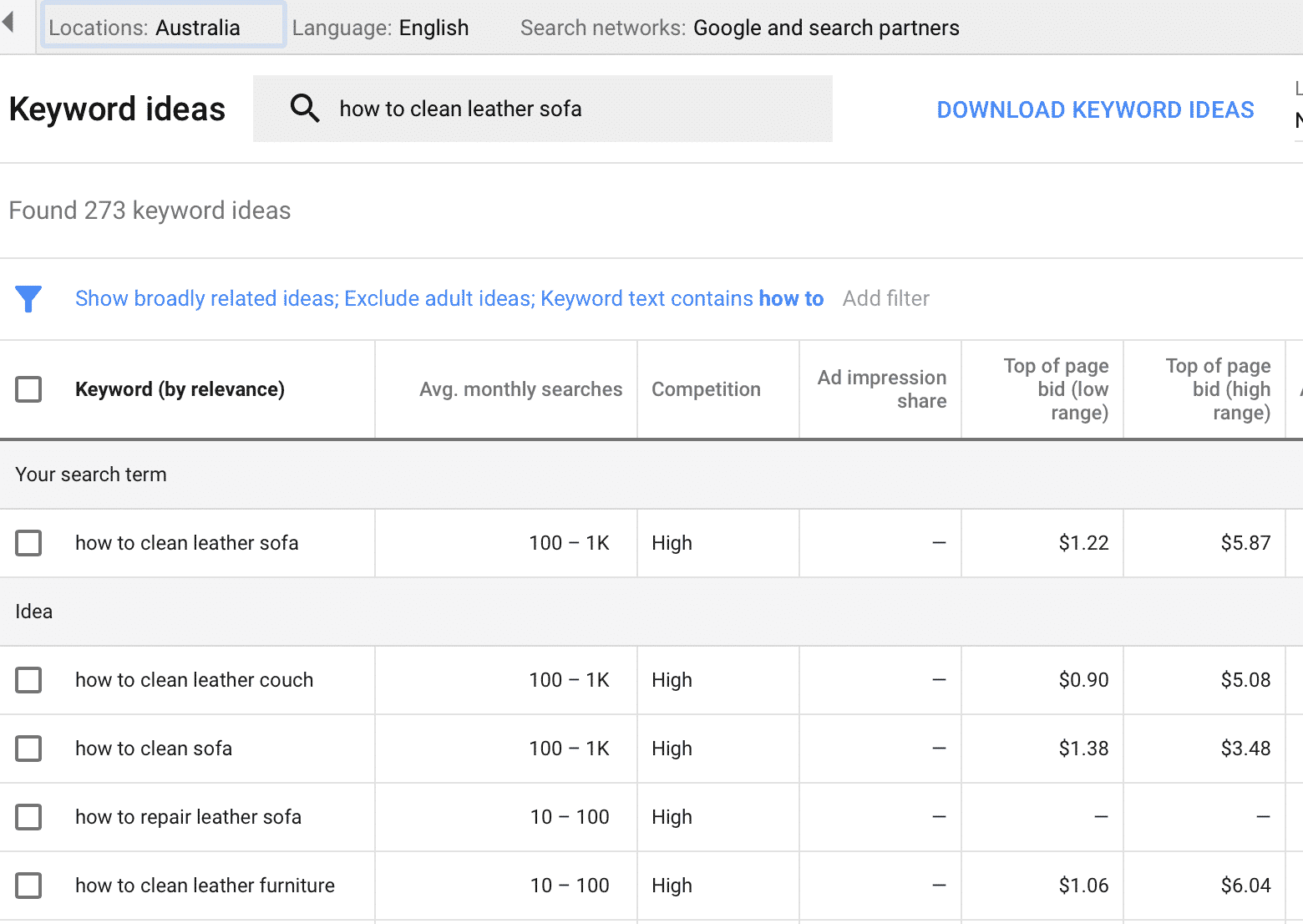 You'll notice that the number of average monthly searches for "how to clean leather sofa" drops from 1k-10k in the Australian version, sitting at only 100-1k monthly searches. Despite this, the cost of both the low range and the high range CPC is higher on the Australian version.
If you're running international campaigns, take this into consideration for maximum profitability. Do research for each area you're advertising or marketing to (even if you're only running organic campaigns) and, if needed, create distinct Google Ads campaigns targeting separate locations to give you more control.
Conclusion
There are plenty of keyword research tools out there, but if you're looking to run a Google Ads campaign, why not get your information straight from the source you want to advertise on? The keyword planner is both free and easy to use, and it will help you quickly and accurately map out your campaigns.
Do you need some assistant with keyword research for your business? Give us a shout and see how we can help you with your PPC campaigns.
What do you think? Is Google's keyword planner your go-to keyword research tool? How do you find the keyword groups that you want to target? Share your thoughts and questions in the comments below!