Google's New SERP Format—How Will It Affect You?
by Jenny Hatch • March 11, 2016
You may have noticed a change on Google's Search Engine Result Pages (SERP)—Google now has 4 ads above the organic search results followed by 3 ads at the bottom of the page before the suggested searches.
Gone are the ads on the sidebar.
Google has been testing this new layout since December and it is rumored to have been rolled out across all high-intent commercial queries in February.
A Google spokesperson said, "This is designed for queries where people express a deep intention to buy where the layout is able to provide more relevant results for people searching and better performance for advertisers."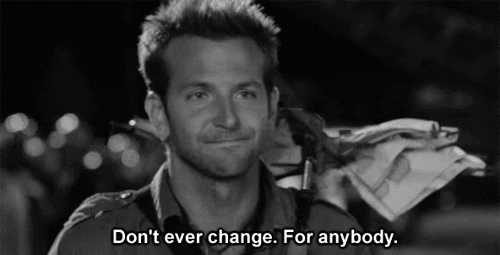 We asked Disruptive's pay-per click specialists what impact they foresee happening with this change. Here is how this change is expected to affect AdWords accounts:
Cost-Per-Click May Increase
Because there are only four ads at the top of the page, there will be increased competition for the top four positions. That increased competition will likely drive the cost per click up.
With the cost per click increase, Google will increase profits. So far, WordStream says that cost per clicks have not increased, though they also expect cost per clicks to increase.
These Changes May Require Marketing Diversification
If you didn't have a high ranking ad position or were unhappy about your cost per click, now is a great time to expand to other marketing channels.
For example, you may want to consider trying Facebook. Facebook is a great way to advertise B2C services at a low cost per click.
Facebook ads can be hyper-targeted to specific users and can engage potential customers higher in the sales funnel. Our Facebook division would love to help you take your Facebook advertising to the next level.
Shopping Ads Will Get a Lift
Rather than showing one row of shopping ads as before, you will now see two rows of shopping ads in your search results. That's four more shopping ads than you were previously seeing!
Now is a great time to enhance shopping campaigns to ensure you're showing up and seeing the sales come in. Don't know where to start with your shopping campaigns? Here are 5 things you need to know to get started.
Ad Extensions Will Be More Important
With ads taking up more real estate on search results pages, we expect that Google will increase the number of ad extensions shown with each ad.
So, if you aren't already using ad extensions, add them to your account.
Ad extensions boost your quality score, provide potential customers with more information about you, and make it easier for them to see you. And, the more room you take up on the SERP, the higher the chance that your ad will be clicked on.
Quality Campaigns Have Little to Fear
If your campaigns are set up well with targeted keywords with high impression share, good ad copy and extensions, good ad position, and a great landing page experience, we anticipate not much changing.
If you were seeing good results before, you should continue to see good results. Disruptive's best practices show that the top two positions have the best conversion rates. If you were in these positions before the change, you will continue to be there after the change as well.
Community Response
Throughout the PPC online community, many people have weighed in with their expectations and what they are seeing with this new ad layout. Here are the top two takeaways:
It's Not a Big Deal…No One Was Clicking on Sidebar Ads Anyways
Google data shows that fewer people clicked on right rail ads than Google was hoping.
Since those right rail ads weren't bringing in the money, they have been done away with. Instead, Google saw more success with the mobile ad layout so they brought it to desktop to increase cross device searching synergy.
And the Winner Is…Position 3?
When Google announced this change, many thought that advertisers in position 4 would be the biggest winners, but WordStream found that position 3's click through rate doubled.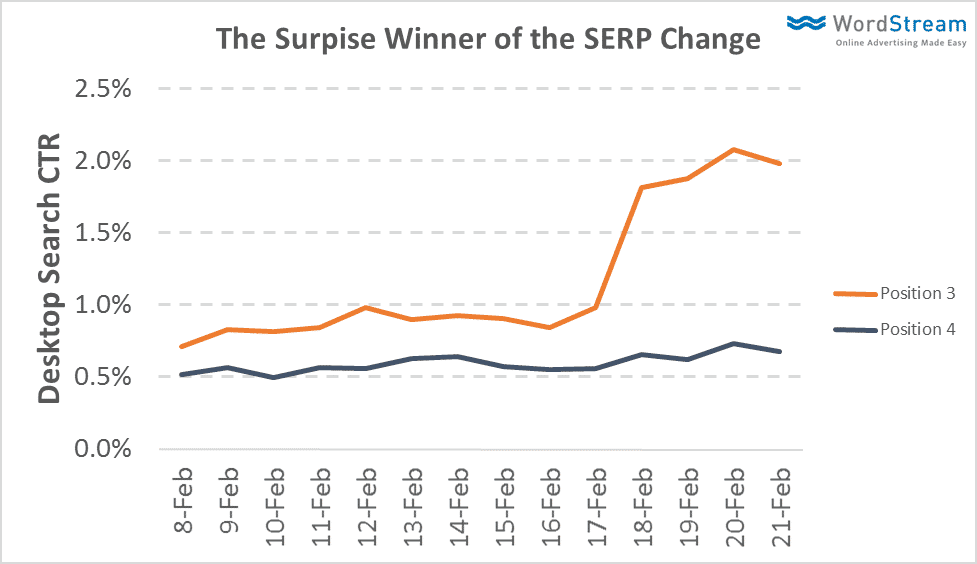 If you are in position 3, let us know in the comments if you're seeing similar results or if WordStream was too quick to draw conclusions.
Conclusion
While its yet to be determined what the actual impact of the change in SERP layout is, we can tell that there are some clear winners and losers so far.
Advertisers in position 3, advertisers using shoppings ads, and advertisers with robust ad extensions are clear winners. Advertisers in low positions (5-11) or without well-built accounts are likely to be affected most by this change.
What changes do you expect to see or are currently seeing with this change? Let me know in the comments below!