4 Ways to Maximize Your Google Ads Impression Share
When you create your first Google Ads campaign, it's easy to feel like you're ready to go out, guns blazing. You've set a competitive bid and a high budget, and now you just have to wait to appear in every single search for every keyword you targeted. You are ready.
That sounds great, right?
In the ideal world, that's how it would work for advertisers and your ad could appear in the sponsored results for every keyword you wanted.
In reality, however, that's not what happens. A number of factors go into determining which advertiser gets which placement and how they rank, and you almost certainly will not show up in 100% of the searches you'd like to.
Your impression share metric can help you assess the percentage of placements you're actually appearing in, and in this post, we're going to look at how to find and improve your impression share on your Google Ads campaigns.
What is the Impression Share Metric and Why Does It Matter?
Placements are competitive. It's why you might Google the same keyword twice, and get completely different ad results each time.
This is particularly common for competitive keywords, like the example below. The keyword stayed exactly the same, but the ads shifted.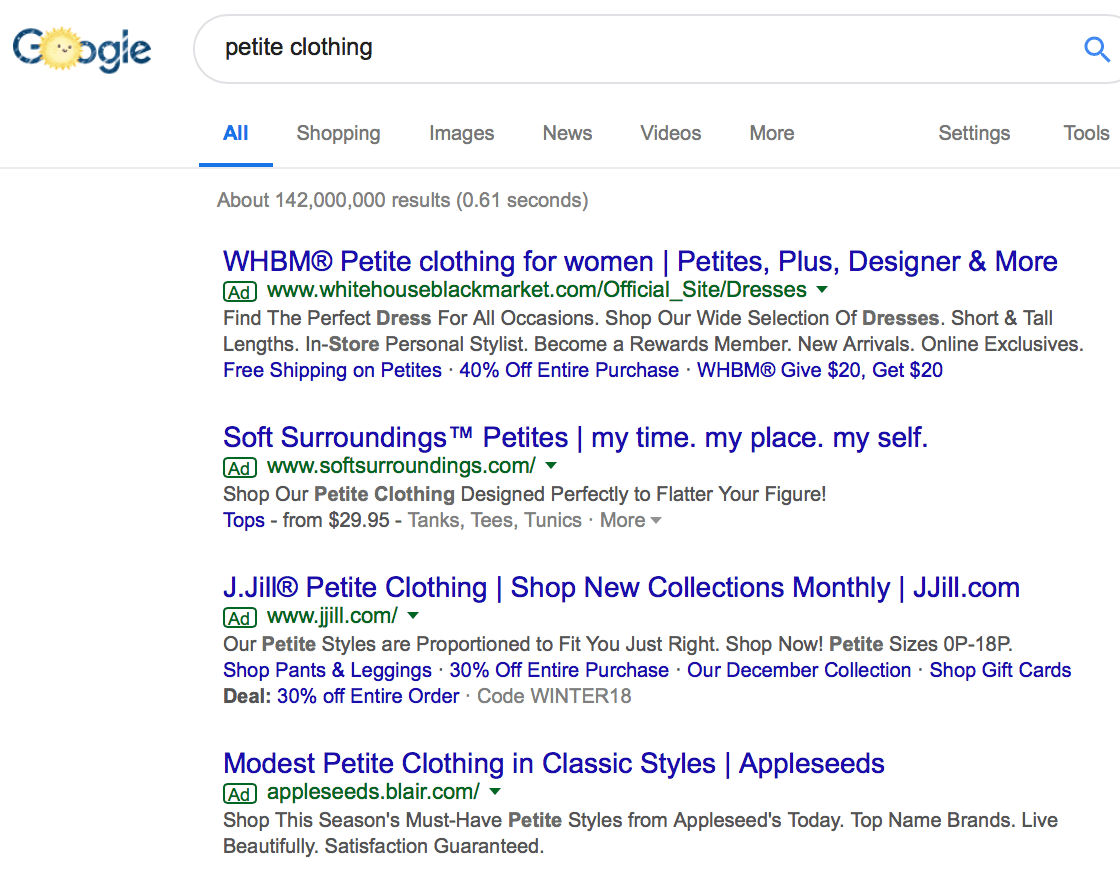 Even the ads that appeared in both searches had different placements.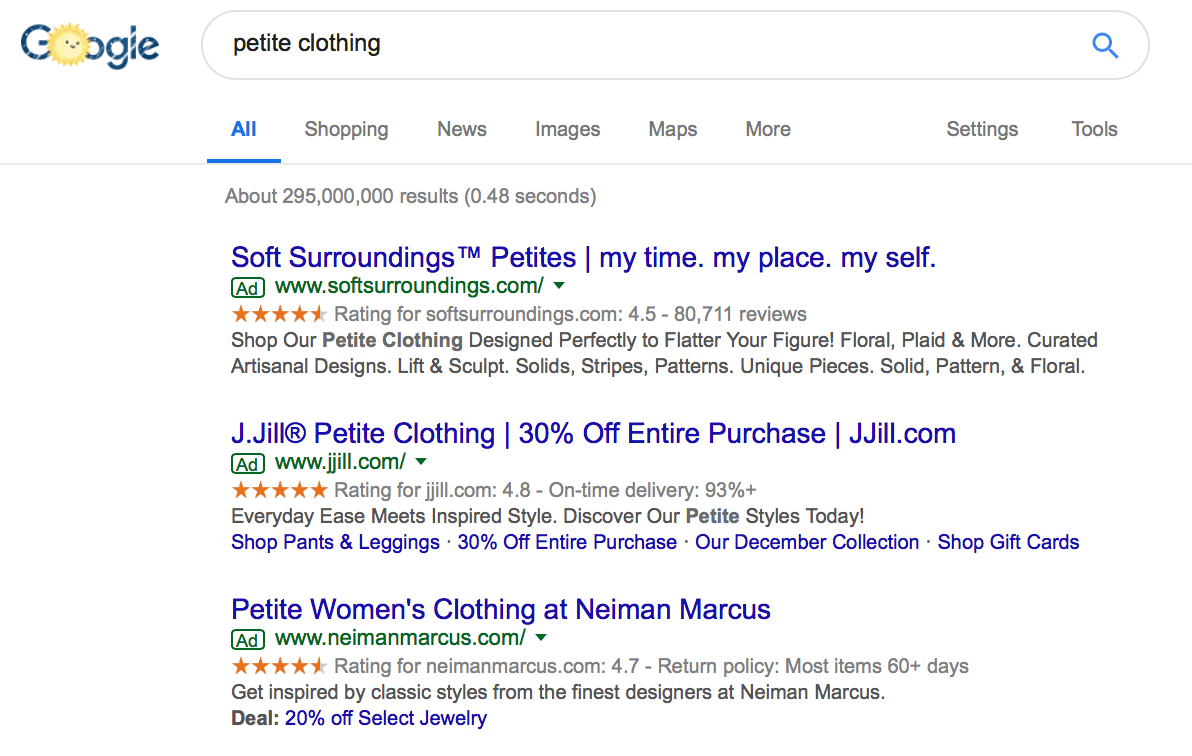 Google Ads' impression share is a useful metric that tells you what share of the targeted, eligible searches that you actually appear in. Here's how it's calculated:
Impression Share = Total number of actual impressions / total number of eligible impressions you potentially could have appeared in
It goes without saying that you want your impression share to be as high as possible, because it means that you're landing as many relevant placements as possible and getting every chance you can to connect with your audience.
"Eligible" here means the number of placements you actually had a chance of appearing in, and it includes factors like targeting, keyword, and even bid.
And it's important to note that impression shares are calculated differently for each campaign, even if you have overlapping keywords.
How to Find Your Impression Share Data
Once your campaigns are active, you'll start to see impression share data in your campaign manager and analytics.
Impression shares are detailed in status, ranging from Very Low to Very High, with "Average" hanging out right in the middle.

If your analytics doesn't currently have impression share data as a default metric in the ads manager (mine didn't), you can add it in. Go to "columns" above your analytics.
Then, look for "competitive metrics" and enable "search impression share." Once you do this, hit "save and apply," and you'll see the impression share metric appear when you're viewing specific keywords in your ad groups.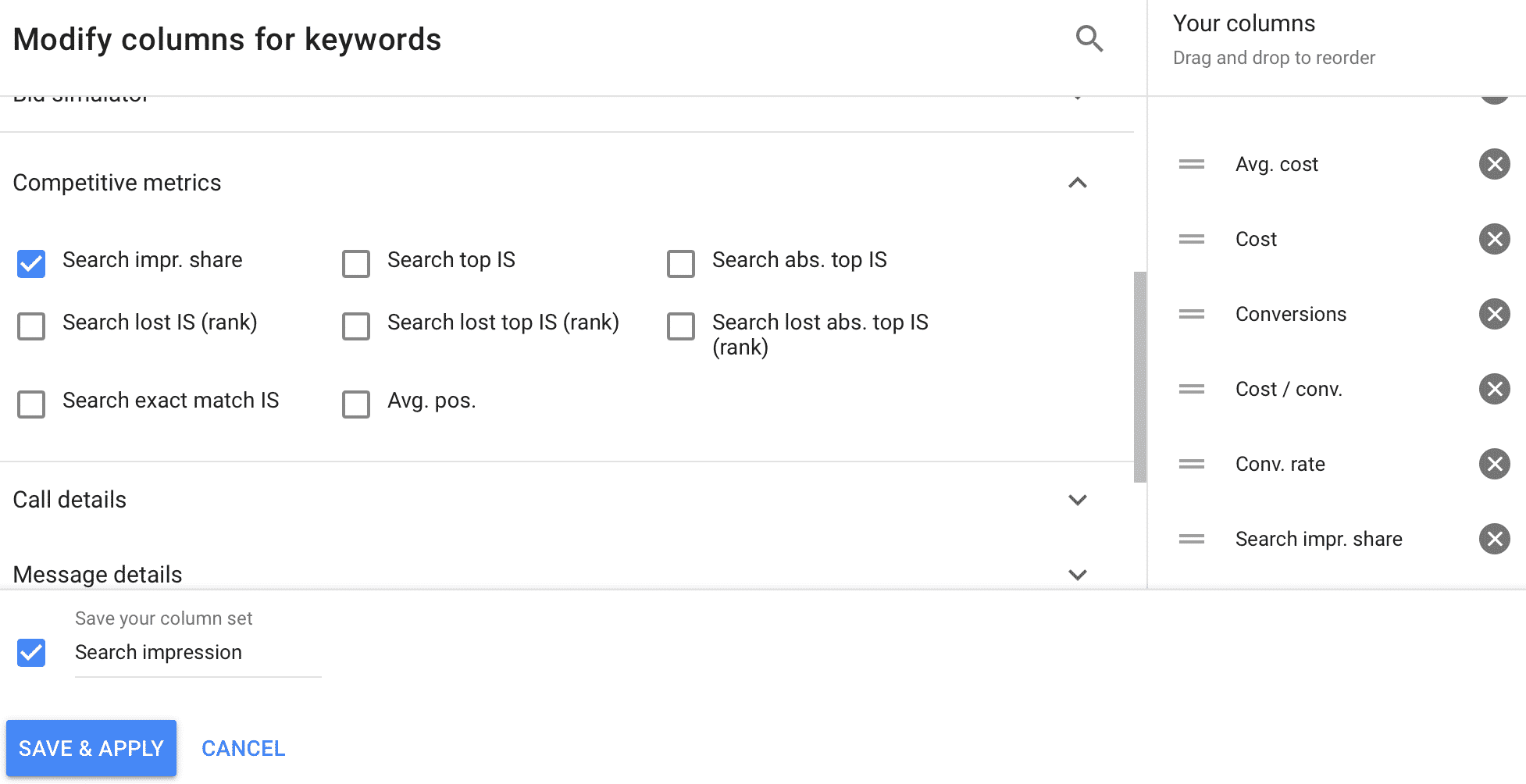 While learning what your impression share is can be valuable, it's typically more useful to use these metrics for troubleshooting. Enabling a few additional metrics will tell you how often you're losing impression shares due to low rank or budget.

How to Maximize Your Impression Share on Google Ads
Being able to see your impression share is interesting, but being able to use that data to increase the percentage of eligible impressions you actually get is even better. Let's take a look at how exactly you can do this.
1. Assess What's Causing The Lost Impressions
If you click on your impression share rating in the ads manager, it will open up a graph showing you the impressions you're getting (in green), the impressions you're missing due to a low ad rank (yellow), and impressions you're missing due to budget restrictions (blue).
You can use this information to immediately troubleshoot a few potential problem areas with your ad campaigns.
2. Focus on Improving Your Ad Ranking
If you're missing out on impressions due to a low ad rank, your Google Ads quality score could be too low or you bid is too low. Rank is calculated by multiplying your quality score and your maximum CPC bid, so if either is too low, then you're going to have a lower ad rank. If you're coming in at ad rank six and the search is only showing three results, you've lost the placement.
This gives you two options: you can raise your bid, or you can try to increase your quality score.
Raising your bid is quick and easy, but you should do so carefully to ensure that your campaigns will still yield a high ROAS.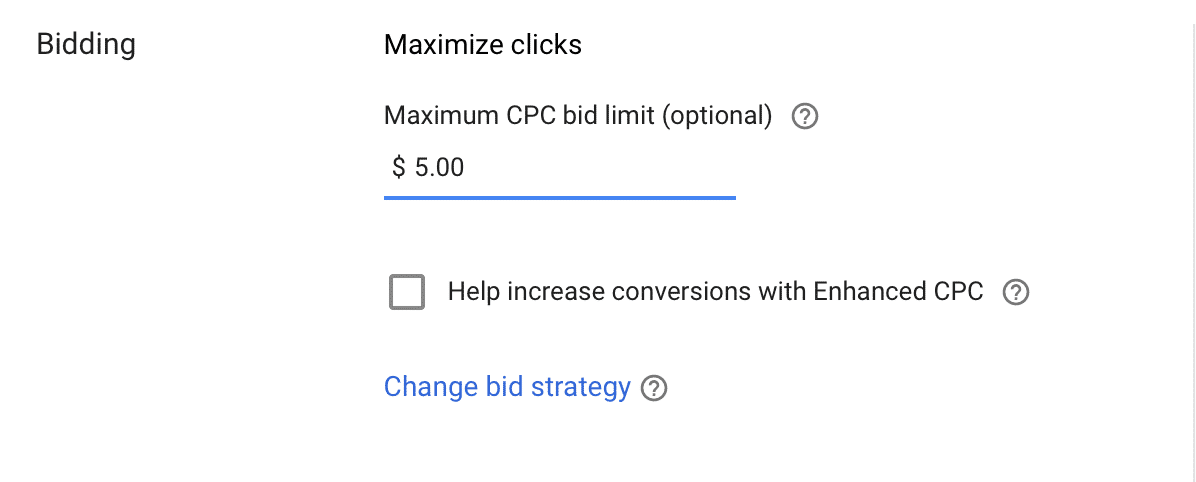 Giving your quality score a boost can be a little more complicated. Your quality score will be affected by the expected click-through rate (CTR), the ad relevance to the targeted keywords, and the landing page you send users to. All should be aligned and you should make sure that if your customer is searching for "termite exterminator" that they see an ad for "termite exterminator;" it will rank higher than ad copy advertising "pest control."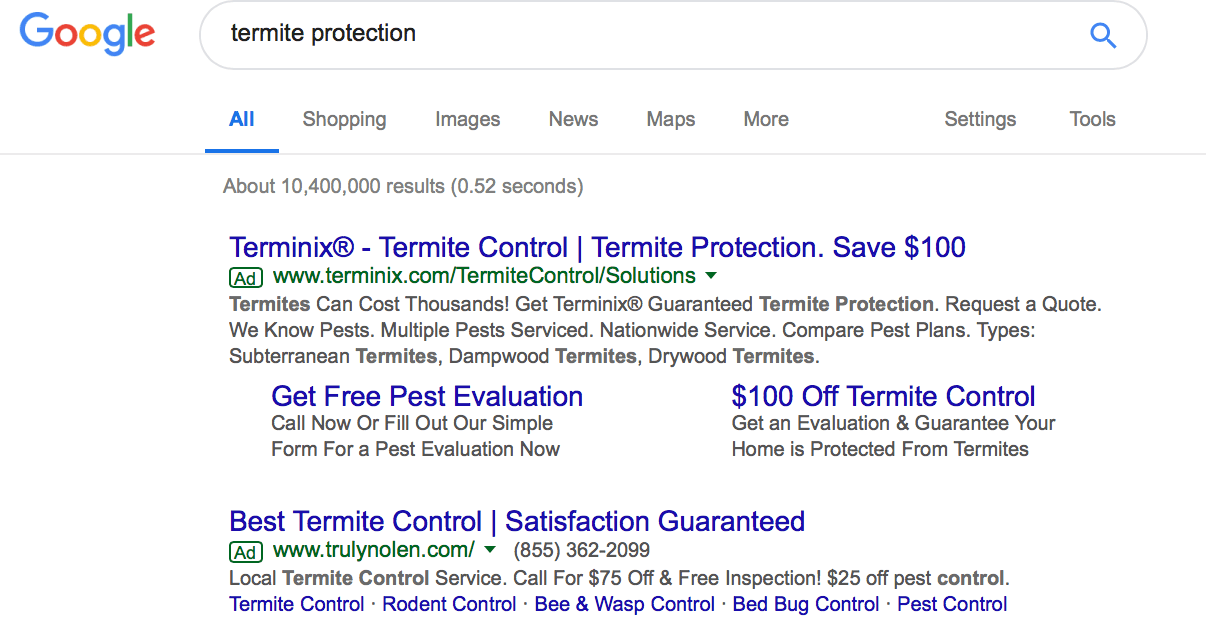 3. Expand Your Budget
If you're losing out of impression shares on an otherwise high-converting campaign just because of budget restrictions, there's a relatively simple fix: increase your budget. I know, pretty genius and very complex, right?

There are additional options, too. If your ad is ranking well for your keywords and you're otherwise doing really well with impression shares and you absolutely cannot increase your budget, you can get creative. You can try reducing your bid, which can lower your CPC and get you more clicks for the same budget.
This can be a risk, as you could potentially fall in ad ranking. For an otherwise high-performing campaign, though, this is something worth testing, because a slight drop in ad rank that still yields placements and conversions for an lowered CPC gives you more ad spend to get results with. Just keep a close eye on this one if you decide to test this strategy for yourself to ensure you don't end up losing out on ad rank to the point where your impressions drop there instead.
4. Check Those Keywords
If you're losing impressions and you really want to get to the bottom of it, take a deep dive into your individual keywords. Each individual keyword, after all, will be getting you different results, different CPCs, different ad ranks and more.
You could, for example, get more impressions for "termite exterminator" than you do for the keyword "pest prevention" when your ad copy specifically talks about active termite control. It's also possible that your bid isn't high enough on certain high-value keywords, costing you impressions there.
Using Google's keyword planner can help with this. Review your list of keywords for each campaign.

Not only will you be able to see accurate data about the keywords themselves including monthly search volume and estimated CPC range, but you'll be able to see the estimated number of impressions you could get for each. The impressions and CPCs can vary heavily depending on the ad itself, but it's still a good starting point.
In your actual campaign manager, look at which keywords are getting you results and which aren't. Which have the highest CPCs and lowest conversion rates? Those might be keywords to consider eliminating to improve your overall results while giving you more ad spend to get more impressions on higher-converting keywords.
Impression Share: Just One Piece of the Puzzle
I've seen some clients get so swept into increasing their impressions that they end up losing sight of the fact that impression share is only one piece of the puzzle and it is definitely not the most important piece for success.
While more impressions, after all, do mean more opportunity to connect with your customers, it can come at a high cost if you've raised your CPC to a level that the campaign isn't nearly as profitable and your margins get smaller.
When you're focusing on increasing your impression share, remember to keep a close eye on conversions, CTR and cost. These factors ultimately determine the success of your campaign, so don't lose sight of that.
Conclusion
Your Google Ads impression share isn't likely going to be the first metric you focus on when you're running your campaigns, but it should be one to keep an eye on. Using the data it provides can help you assess if you're ranking in as many search placements as you hope and what you can do to appear in more. You can't get results, after all, if your audience isn't even seeing your ads, and high impression shares can help you scale your campaigns more effectively.
If you're looking for help increasing your impression shares and your conversion rates, we can help! Shoot us a message to see what we can do for you here.
What do you think? What's your average impression share? Which tricks do you use to get the highest percentage of the impression share possible? Let us know in the comments below! 
Leave a comment