Keywords: The "Key" to Lawyer Online Marketing
by Cydney Hatch • March 30, 2018
If you are a firm who has dabbled in lawyer online marketing, it is not a shock to see that legal keywords are among the most expensive in all of Google AdWords.  In fact, attorneys are willing to pay top dollar for their online advertising.
Here are some of the top paying attorney keywords and what they are paying!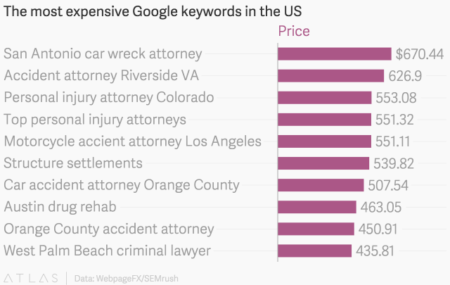 WOOF! That is a lot of money per click!
The good news is, though, if attorneys are willing to spend this much per click, there must be something to legal keywords and lawyer online marketing, right?
In this article, we will learn what the buzz is about keywords, talk about the basics and how proper keyword use can effectively grow your firm's online presence.
Legal keywords might be a pain point in your lawyer online marketing, but they don't have to be!
What Exactly Are Keywords?
Keywords are the words people will look up in their search engine pages, like Google. These can be anything from single words like lawyers, questions, "how to's" or even topics of interest.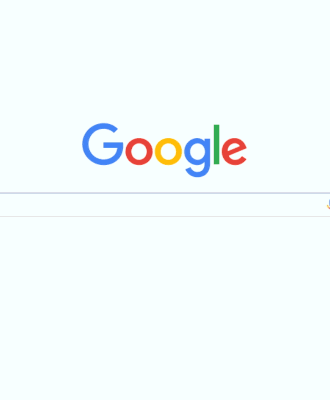 Keyword analysis or analytics is the process of analyzing the keywords or search phrases that bring visitors to your website through organic and paid search.
When trying to figure out legal keywords to use for lawyer online marketing, you will need to look at two basic things:
The number of people looking up specific keywords.
 The number of websites that use the specific  keywords.
Some keywords like "How to register to vote" will have a lot more searches and therefore lots of competition compared to "How to how to train a wild bear" which will have less competition and will therefore be a cheaper keyword.
Common Legal Keyword Mistakes
More and more attorneys are embracing legal marketing and paid search to build their firm's success. Unfortunately, a lot of them are doing it all wrong! For many firms they are thinking about the obvious keywords and strategies. Many will think keyword innovation for their ads and website go in this way:
STEP 1: Potential client searches for something like: "D.C. Divorce Lawyer…"
STEP 2: Whoever comes up in the SERP first, gets the click and quickly gets a new client or inquiry.
So, as a result a firm will create basic pages that over-optimized to target variations of these legal keywords like D.C. Divorce Lawyer, D.C. Family Lawyer, Divorce lawyer in D.C….
This kind of thinking leads to poor legal marketing.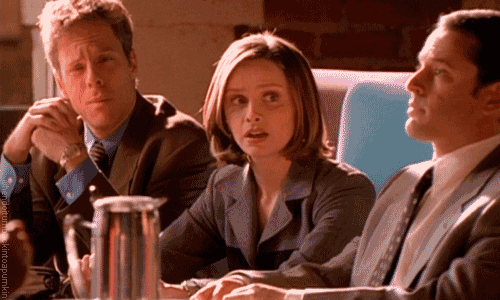 Why?
Yes, people directly search that way on their internet but this is a limited way to think about your legal keyword and marketing search optimization. Instead of thinking about "you", you need to think inside the mind of your potential client! This will set your keyword optimization apart from other firms quickly.
There are many ways people search, let's learn how!
Using Keywords in Your Lawyer Online Marketing
We all use the internet to answer questions and to better inform our lives.
To understand your potential clients beyond the obvious searches, its good to know the different ways people search so you can tighten your keywords to effectively improve your lawyer online marketing.
Yellow Book Searchers
We all remember the good old yellow books. Although most paper editions of the yellow book are doorstops these days, people still search the internet with the same mindset. Potential clients will type in keywords like "lawyer" or "divorce lawyer" or "D.C personal injury lawyer."
These searchers are often very targeted and likely to convert into a potential client.
To access the "yellow page" type of searches, you need to focus on a combination of traditional SEO strategies, as well as hyper focusing on location.
Self Help Searches
We all come to the internet with questions. Whether it's Web MD sickness questions, learning how to do something or just general inquiries, we are all researchers.
People use search engines for research: Perhaps they are researching ways to pay their alimony payments. Maybe they are looking at criminal charges they might be facing from their offense. Or maybe they are looking at what paperwork they need to file their divorce.
Regardless of the research, this is helpful to your strategy, even if its not an instant pay off!
By answering potential client questions or providing them useful information, you may be able to attract and engage these searchers to be potential clients. If they trust you with answers, they might trust you with their case!
To grab these type of researchers, you need a great website, blog and quality content. Think about what questions your potential client researchers might be asking online and write in helpful answers.
Improving Your Legal Keyword Use: The Basics
While there's no question that you want to target keywords that attract potential clients to your firm, there are many ways you can brainstorm innovative legal keywords! Let's start with the basics!
Brainstorm
The first step in keyword discovery should start with brainstorming.
Who makes up your targeted audience? What are they searching for? Where are they going to find this information? (i.e. places beyond Google, specific sites, forums, social networks).
So, for example, if you are a divorce lawyer you will want to brainstorm and target legal keywords related to:
Economics – When people get divorced, they have to deal with the economic consequences of their split. They have questions about child payments, legal fees, assets, alimony payments and home modification expenses. So, divorce and family attorneys should consider developing and publicizing content that provides answers to these economic questions.
Preparation- Divorce cases depend heavily on documentation: clients financial account records, phone records, mortgages and car notes are all likely relevant to the divorce. Help clients gather all the documents they need for the case before filing for divorce.
Legal Decisions– Divorce deals with more than just the two people filing. They need to have help understanding alimony, child custody and other legal decisions relating to their divorce.
Search Legal Keywords
Once you've brainstormed legal keywords relating to your practice work and you clients questions and topics, it's time to collect some data to see if they are good choices for your legal marketing. There are a variety of tools you can use to gauge web search interest like Google Trends & Ubersuggest.
Build Content
The final step is building content around the keywords you choose this will help with your Google search results and rankings.
How to Improve Your Legal Keyword Use: The Advanced
As the above are the basic steps to get you started,  I want to share some more advanced steps you can use to innovate effective legal keywords for your firm:
Use Google Auto Suggest & Related Keywords
Google can sometimes give you hints on keywords you should use!
Have you ever typed something into Google and they automatically suggest the rest of your search entry? This is called Google auto suggest.
Google auto suggest is a very powerful tool you can use to see potential searches clients may already be using. This can help shape more questions and topics you should look into for effective legal keywords. Another thing you can look at are Google "related searches."
Use Reviews and Comments on Google
The internet is not just a wealth of information on created content, it is a place where you can actually collect information from individuals interacting with that content. People have and want to share their thoughts and opinions on articles and reviews!
Take advantage of that!
When people care enough to leave a comment or review they feel strongly about something—whether positive or negative! Look at these comments and see what they are suggesting and saying. By looking over these comments you can gather reactive information that can help you adjust potentially keyword ideas.
Heck, look at the reviews of your competitors and learn how to constructively do what they are doing better!
Use Google Keyword Planner
Google Keyword Planner is the keyword tool provided by Google and most commonly used for Keyword Research. This can be a helpful tool as they stay on top of keyword trends to refine search campaigns and ensure content remains relevant.

Learn more on how to use the Keyword Planner tool effectively to lay the groundwork for a successful campaign on Google here.
Use Resources At Your Firm: Ask Your Staff
Your receptionist can actually work as a Google search results page! Think about the many questions, inquiries and information they collect from people coming in and calling in. If they're having to answer the same questions over and over it might benefit you to put on your website as a content resource.
You have just created a F.A.Q content page on your website!
Your staff might be able to help you find valuable content and it didn't even require the internet!
Use Your Competition: See their ranking on keywords
Try to analyze your competition for your benefit. Understanding what keywords your competitors are trying to rank for is a great way to help you give your list of keywords another evaluation.
Look at legal keywords your competition isn't  using as this can be a great opportunity for to monopolize on important terms no one else is!
BONUS: Work on Your Website, Save Your Advertising Budget
Like mentioned in other articles, good lawyer online marketing starts with an engaging website. The visual branding should be professional, but it should also have continuous new content that provides valuable information to readers.
Want to save some money with your online advertising?! Write good content!
If your firm's website publishes a blog post a few times a week, Google is going to rank it higher because its sharing quality and relevant information about your practice's work.
Don't think it will work? Let's try it!
Go to your Google search bar and look up a practice area attorney in a specific city. (Ex: Divorce attorney in Washington D.C.)

Now go to the first attorney's page you see, which in this case is DiPietro & Wise, LLC Family Law. As you see their website has a blog and resource pages that constantly share updated quality content relating to divorce and family law practice. This is another way to help your lawyer online marketing and Google search results.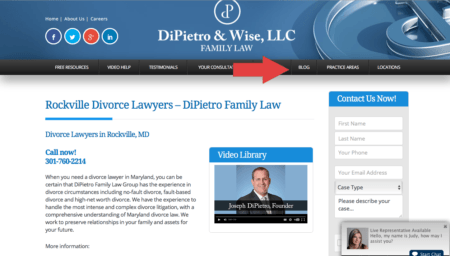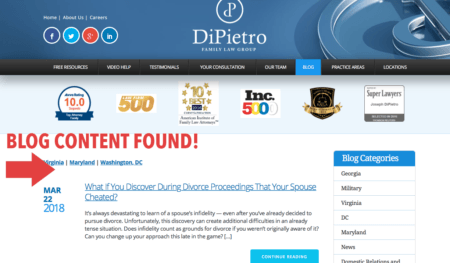 On top of using creative legal keywords, creating quality content also helps with your Google rankings.
It worth your time and money to work on your website, updating it frequently to bump up Google rankings  It's free advertising and it's more permanent than algorithms and ranking bids.
Conclusion
As you can see, keywords can be a pain point for many firms. There is a lot that goes into effectively picking the right keywords, but with these creative keyword strategies created specifically for law firms, you'll be able to connect with more relevant traffic, get more clicks, and outrank competitors in no time!
If you feel like you need some more help figure out the right "keys" to your lawyer online marketing, we've got you covered here at Disruptive.  We would be happy to help you find keywords to help your firm!
What are your biggest obstacles trying to figure out effective keywords? What did you find most helpful in these lawyer online marketing strategies? Comment below and feel free to drop us a line!