How to Steal Your Competition's Best Keywords
by Jacob Baadsgaard • April 8, 2016
Paid search is tricky business. It can be a fantastic way to grow your company, but it can also be an easy way to lose a lot of money.
One of the biggest problems paid search advertisers face is keyword selection. The right keywords set your account up for success—and the wrong keywords can doom it to fail.
Fortunately, there is a very simple, very direct way to choose the right keywords. It takes some time and research, but it yields impressive results.
To use this technique, you need 3 things: 1) a paid search account with great analytics, 2) a competitive analysis tool like SpyFu or iSpionage and 3) a testing budget.
1. Setting Up Conversion Tracking
For this article, I'm going to assume that you already have a paid search account (if you don't, you can easily set up an account with Bing or Google by clicking on these links).
In order to make this technique work, it's important to have great conversion tracking in place (for information on how to do this in AdWords, click here and here—for Bing, click here and here).
Why? Well, without quality tracking, you won't be able to tell how your keywords are performing.
And, it's not enough to simply track form submissions. You need to track everything—phone calls, sales, sign-ups, online chats, in-store visits—everything!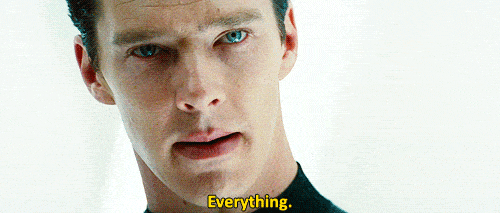 For example, in the plumbing/HVAC industry, phone calls are a major source of leads.
However, most plumbing/HVAC companies only track form fills, which are few and far between—making forms a terrible measure of campaign effectiveness!
So, if you aren't tracking all of your conversions, you're probably missing out on a lot of important information.
Why Great Tracking Matters
Improving your conversion tracking is one of the easiest ways to get a leg up on the competition.
Over the last two years, we've audited over 2,000 AdWords accounts at Disruptive. After performing all those audits, we discovered that only 29% of AdWords accounts have effective conversion tracking in place.
42% have no conversion tracking in place. Another 29% have made a token effort at conversion tracking, but only 29% of AdWords accounts actually know which keywords produce conversions.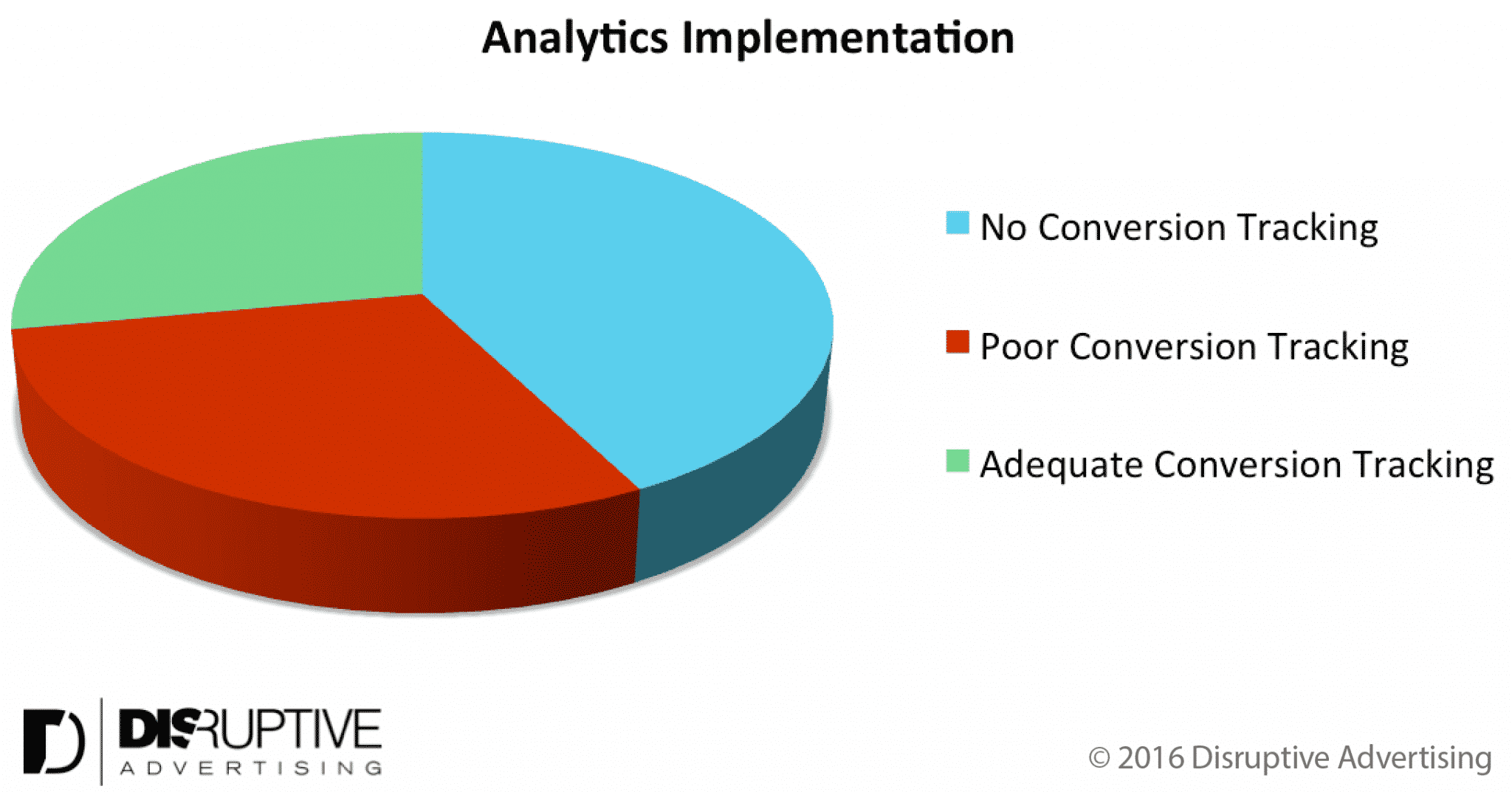 This is important, because a well-tracked AdWords account has a 50% higher conversion rate than the average AdWords account.
Therefore, if you aren't tracking everything, you could be unaware of over 33% of your conversions.
With that much missing data, it's hard to know which of your keywords are really working—which makes the rest of this technique practically impossible.
So, if you aren't tracking all of your conversions, go get your analytics working right before you try anything else in this article.
2. Discover Your Competitors' Keywords
Paid search advertising is intent-based marketing. Your ads need to show up for internet searches that lead to sales, so you want to pick keywords that indicate a strong purchasing intent.
Fortunately, your competitors have already done a lot of your homework for you.
With a competitive analysis tool like SpyFu or iSpionage, you can actually see which keywords your competitors are bidding on and what ads they are running. This is an incredible way to build out your own keyword lists.
However, all of this data comes with a caveat: Most advertisers bid on way too many keywords.
Most Keywords are a Waste of Money
In general, paid search marketers are afraid of missing out on potentially interested customers. To avoid losing potential clicks and conversions, they bid on every relevant keyword they can think of.
The problem is, the more keywords you bid on, the more money you spend on the wrong searches.
As it turns out, the vast majority of conversions—let alone sales—come through a mere handful of your keywords.
In fact, less than 6% of keywords produce 100% of the conversions.
That means 94% of keywords are useless.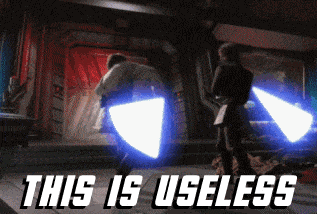 So, is using your competitors' keywords a bad idea? Not necessarily.
The trick is knowing which keywords are productive…and which are a waste of money.
3. Take Your Competitor's Keywords for a Test Drive
To figure out which keywords are worth investing in, you need to test them out. For that, you need a testing budget.
Typically, I recommend assigning around 20% of your overall paid search marketing budget to testing out new keywords, ads and landing pages. This ensures that your productive ad spend remains productive while giving you the ability to identify new productive opportunities.
Once you've identified your new keywords and built ads and landing pages for those keywords, take your testing budget and run those ads for 2-3 months.
Unfortunately, even if you're eager for your data, you'll probably need to wait for 8-12 weeks to get a good feel for which keywords are producing results.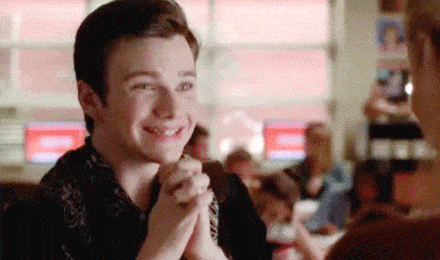 Once you've done your time, you can take a look at which keywords are actually worth bidding on.
Review Your Search Terms
Your search terms show you which searches triggered your ads and how many impressions, clicks and conversions each search term produced.
If you're using the right keywords, your ads should show up when people are searching for what you have to offer. Clicking on your ad will take them to a landing page that meets their needs and they'll convert.
However, if your ads are showing up for the wrong keywords (that is, the search intent is wrong), people might click on your ads, but they certainly won't convert.
Therefore, if most of your search terms don't produce conversions, you're bidding on the wrong keywords.
What the Wrong Keywords Cost
As it turns out, 61% of all ad spend is spent on search terms that never convert.
But, the more you spend on AdWords, the less you waste on the wrong search terms: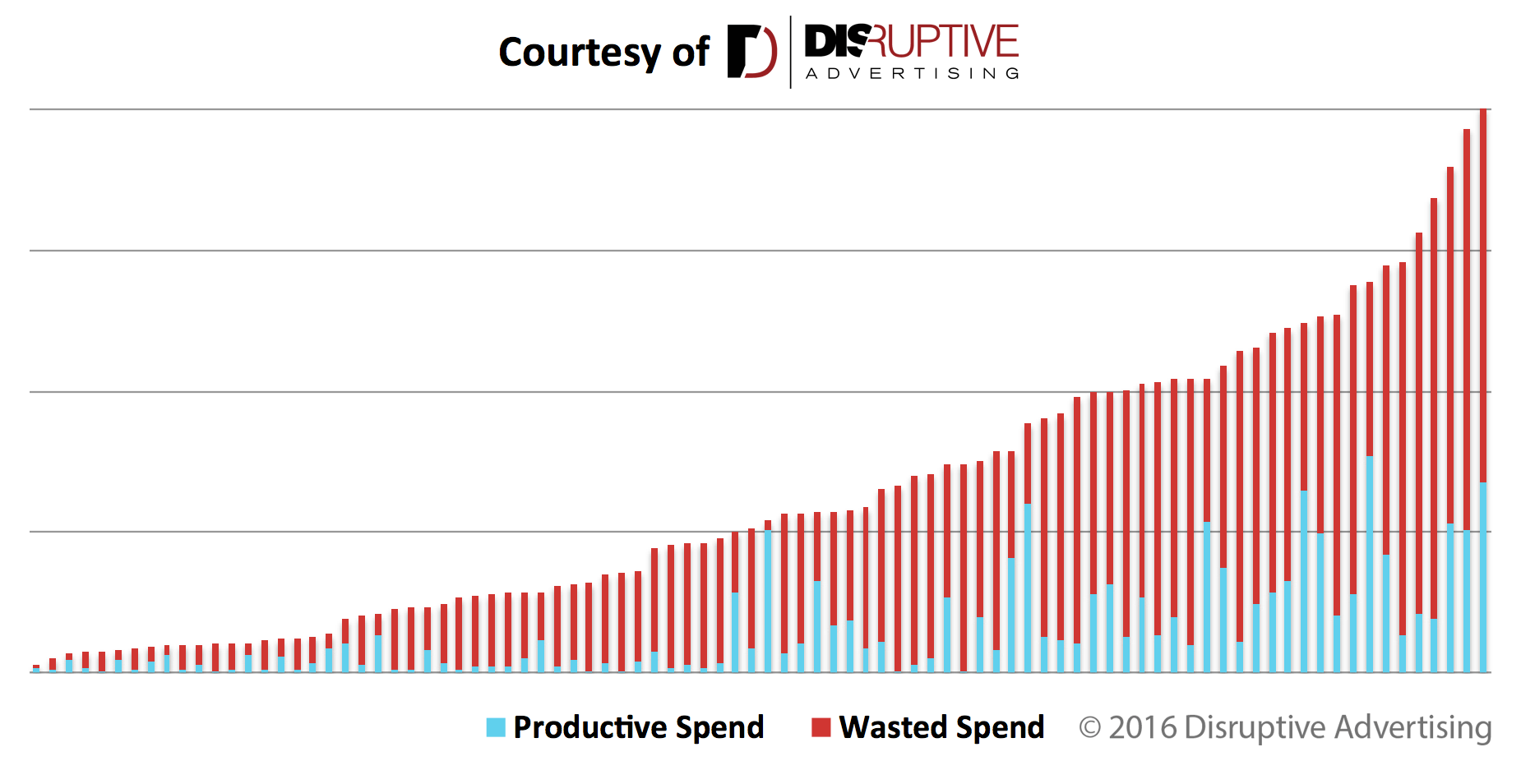 On a per account basis, the statistics are even worse—the average AdWords account wastes 76% of its budget on non-converting search terms.
As a result, you can expect that 76% of your test keywords won't get any conversions.
Fortunately, if you used that 20% testing budget I recommended, that means only 15% of your overall paid search budget went to waste. That's painful, but nowhere near as painful as the 76% your competition is wasting on those same keywords.
Picking Your Competition's Best Keywords
To identify your winning keywords, simply open AdWords, click on the Keywords tab and create a filter for "Conversions < 1". Run the report on your last 2-3 months of data.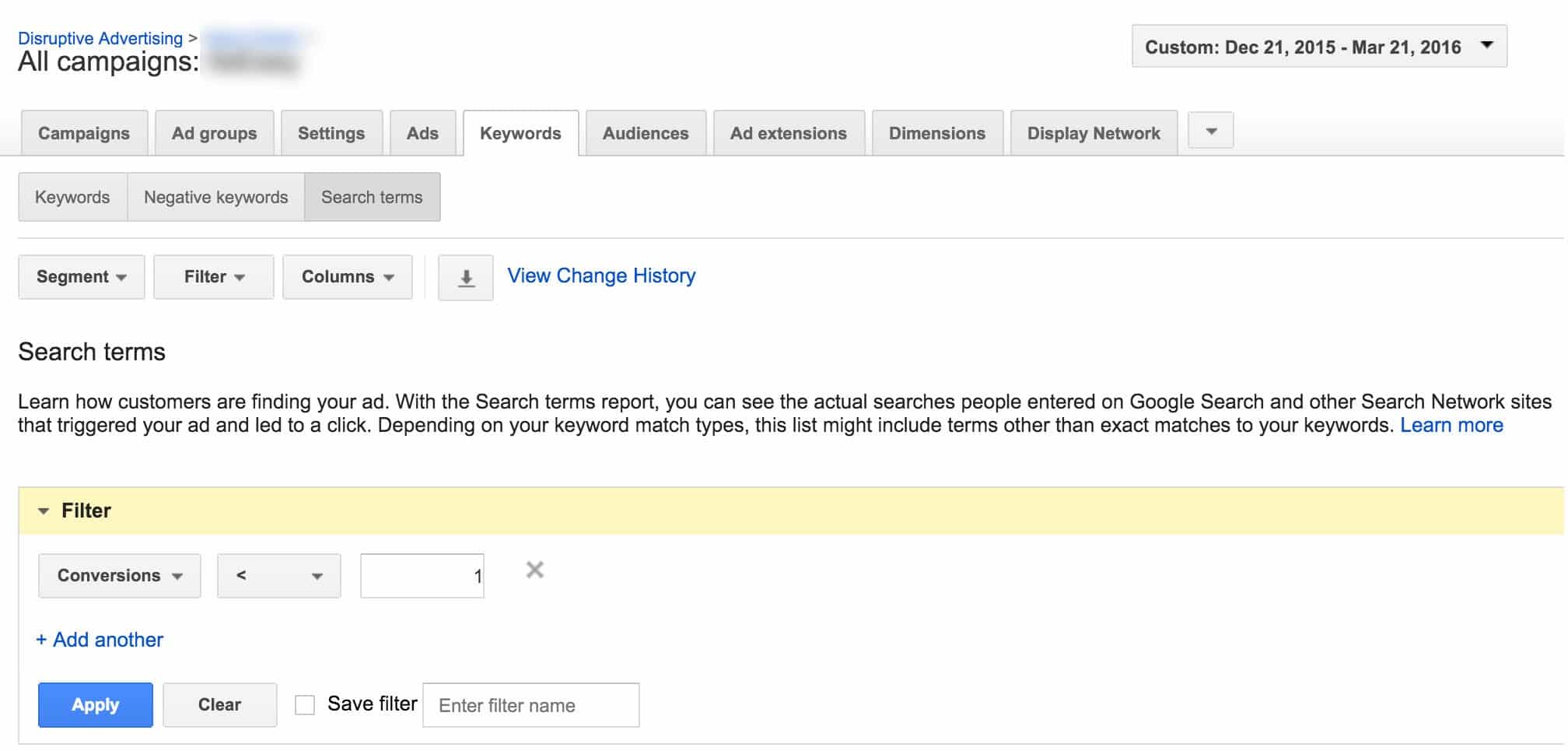 From there, scroll to the bottom of your report to see how much you are wasting on non-converting keywords. Compare that number to your total spend to see what percentage of your ad spend is wasted.
Now that you know which search terms and keywords are producing results, you can eliminate the losers and focus your budget on the keywords that matter.
Guess what? You just stole your competition's best keywords!
What This Looks Like in Real Life
With this strategy, you can beat your competitors at their own game.
Instead of fighting with the competition over every relevant keyword, you can spend your advertising budget on the keywords that really matter. As a result, your cost-per-conversion will dramatically improve.
For example, here's what happens in a matter of weeks when we use this approach: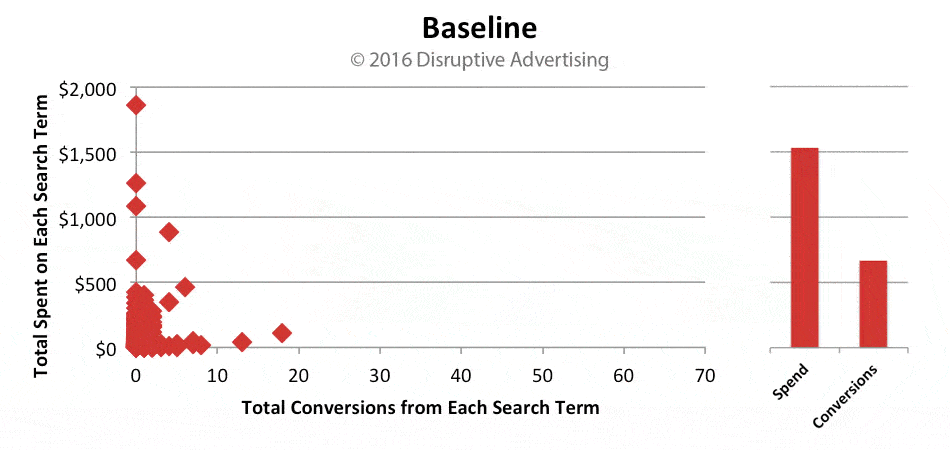 As you can see, when you stop wasting money on non-converting search terms, you actually end up spending less and producing more conversions.
This technique works for your current keywords, too. If you haven't run this sort of keyword analysis on your account before, you can use your existing data to see which keywords are helping or hurting your account.
Get rid of the waste and watch your account performance skyrocket!
Every time you repeat this cycle, you'll put more distance between yourself and the competition. Pretty soon, you'll only be paying for their most effective keywords.
Conclusion
It isn't enough just to know which keywords your competition is bidding on. You actually have to know which keywords produce meaningful results.
Remember, to beat your competition, you don't have to bid on all your competitors' keywords—just the profitable ones.
By the way, if you'd like me to take a look at your campaigns and help you come up with a way to outfox the competition, let me know here or in the comments!
You've heard my two cents—now it's your turn. How did this technique work for you? Are there other strategies you recommend for outperforming the competition?