PPC Keyword Research: Finding the Right Keywords for Your Campaigns
by Ana Gotter • December 14, 2018
Google pretty much always gets it right. There's a reason they're the top search engine and their incredibly smart algorithms are pretty much always on-point when it comes to giving you the results you're searching for.
But every now and then, you might see an ad and pause for a minute to scratch your head.
Once, I was looking for a local dentist and was shown an ad for Invisalign. It may have been effective if I was trying to get an overbite fixed, but alas, I was just looking for twice a year annual cleanings and screenings. That number one ad spot was wasted on me.
In these cases where ad results go awry, it's typically the keywords the advertiser choose that are to blame. The right keywords will help you connect with your audience and, when used correctly, show them relevant messaging that match their level of intent. It's no surprise that the effectiveness of search ads weigh heavily on keywords success.
PPC keyword research is the only way to know which keywords you should choose and—while there are multiple steps involved—the process is simple. In this post, we're going to take you step by step through the process of researching and creating ad groups for your campaigns.
1. Start Brainstorming
The very first part of the process is brainstorming. You write down all the terms that you think your audience might be searching for when they want to come across you, your products or something like your products.
It can be a little overwhelming trying to think of every keyword with no organization, so it's best to break down keywords into sections and create lists from there. This will ensure that you cover your bases and that you don't miss anything.
Branded Keywords
Branded keywords refer to two different things here: keywords with your own brand, and keywords with your competitors branding.
If you're selling protein shakes, for example, and you know that your customers may be familiar with a big name like Orgain, you can actually target the "Orgain shakes" as a keyword. That way when your customers search for them, you have a chance that they'll come across you, too, in a high ad position. This can help you stay competitive and even nab a few customers along the way.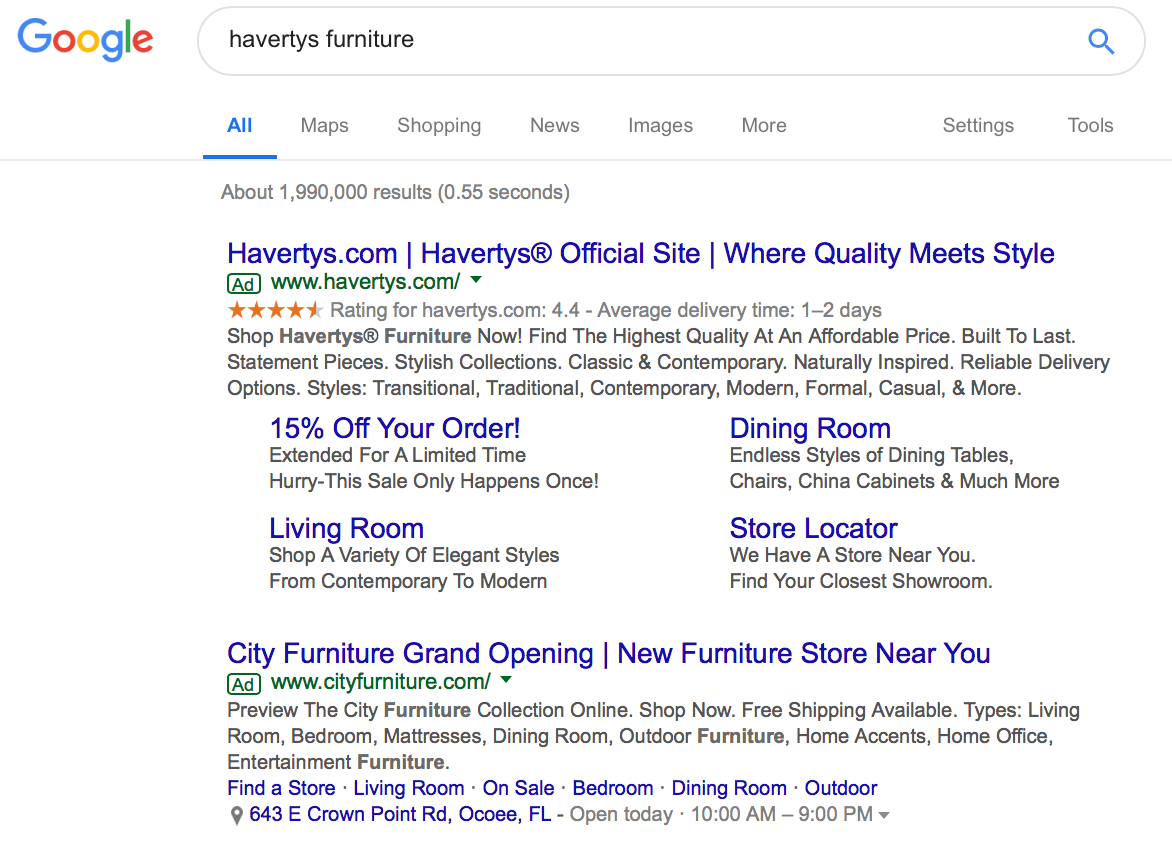 You can also ensure that you're ranking for your own branded keywords. If you know that your brand is well-known and that competitors might be targeting your brand, fight back. It doesn't hurt to add your own branded keywords to your campaigns where they fit. After all, in the example above, if Havertys wasn't targeting their own keyword, City Furniture would have gotten the top spot.
Examples of branded keywords for someone like Havertys might include:
Havertys
Havertys furniture
Havertys dining room table
Havertys warranty
Havertys credit
Service- or Product-Specific Keywords
In many cases, customers might not care much about a brand, but are interested in finding a specific service or product (think me and that dentist). Having a list of product-specific or service-specific features that includes a number of variant keywords covering different searches will benefit you.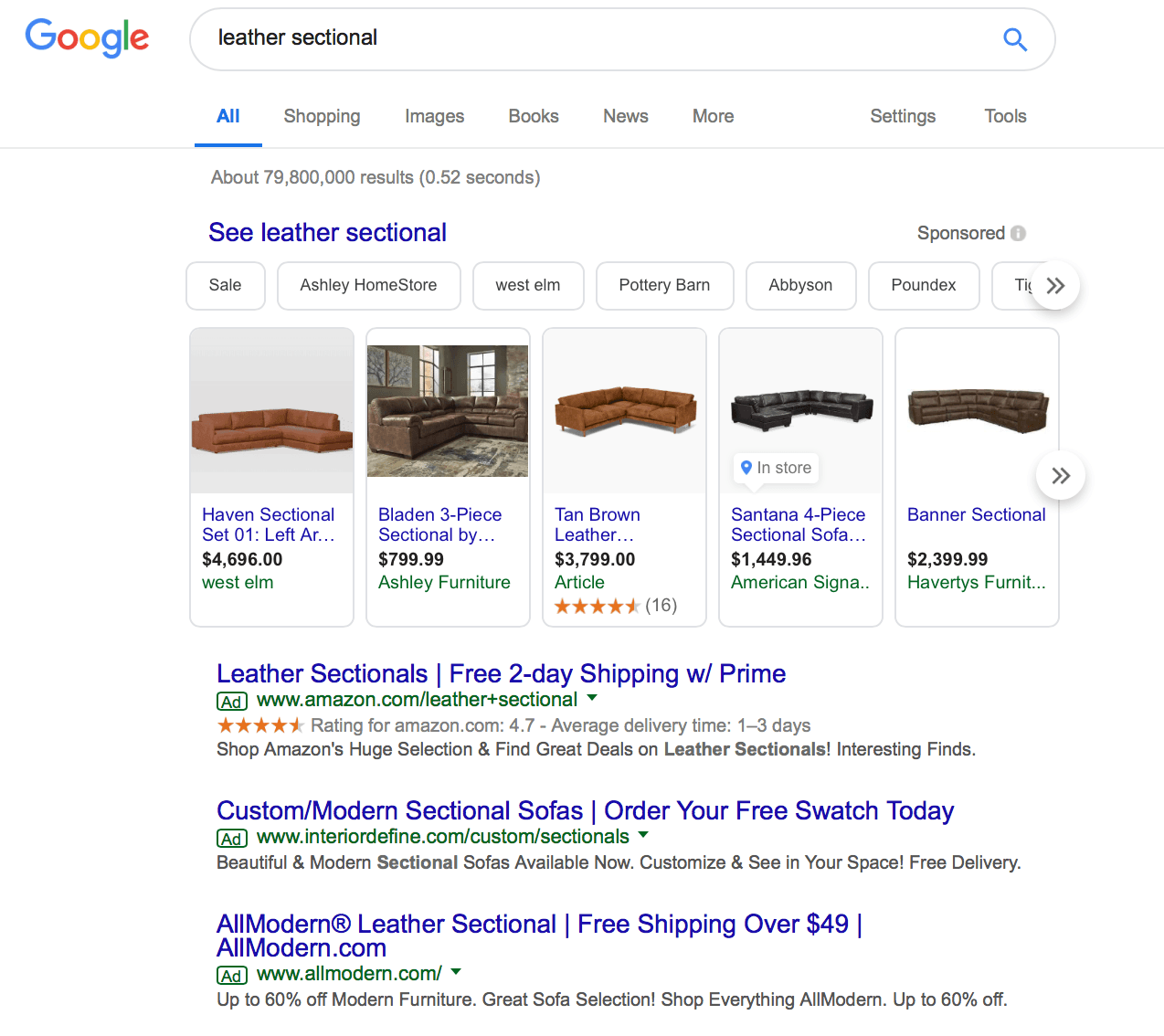 Sticking with our current example, a furniture store might want to target keywords like:
Durable dining room table
Dining room set
Counter height dining room table
Counter height bar stools
Bedroom set
Quality bedroom set
Modern bedroom set
Wood bedroom set
Cherry bedroom set
Leather couch
Leather sectional
L-shaped sectional
You can go for generic versions of a keyword like "dining room set" or get more specific, like "counter height dining room set." Create a full list of everything your customers might be searching for—you'll be whittling the list down later and it's better to have too many keywords than not enough.
Keep in mind that the more specific the search, the more high-intent the user may be. If someone is looking for a brown leather sectional and you've only optimized for the keyword "sofa," you're likely out of luck and will miss that sale, even if you have exactly what they're looking for.
High-Intent Keywords
We've touched on high-intent searches briefly above, but high-intent keywords can take different forms. They are, essentially, keywords that indicate that users are far along in the buying process and pretty much ready to find something relatively quickly. If you're able to catch these users, they're actively shopping and not just idly browsing out of curiosity for that house that they might buy in two years.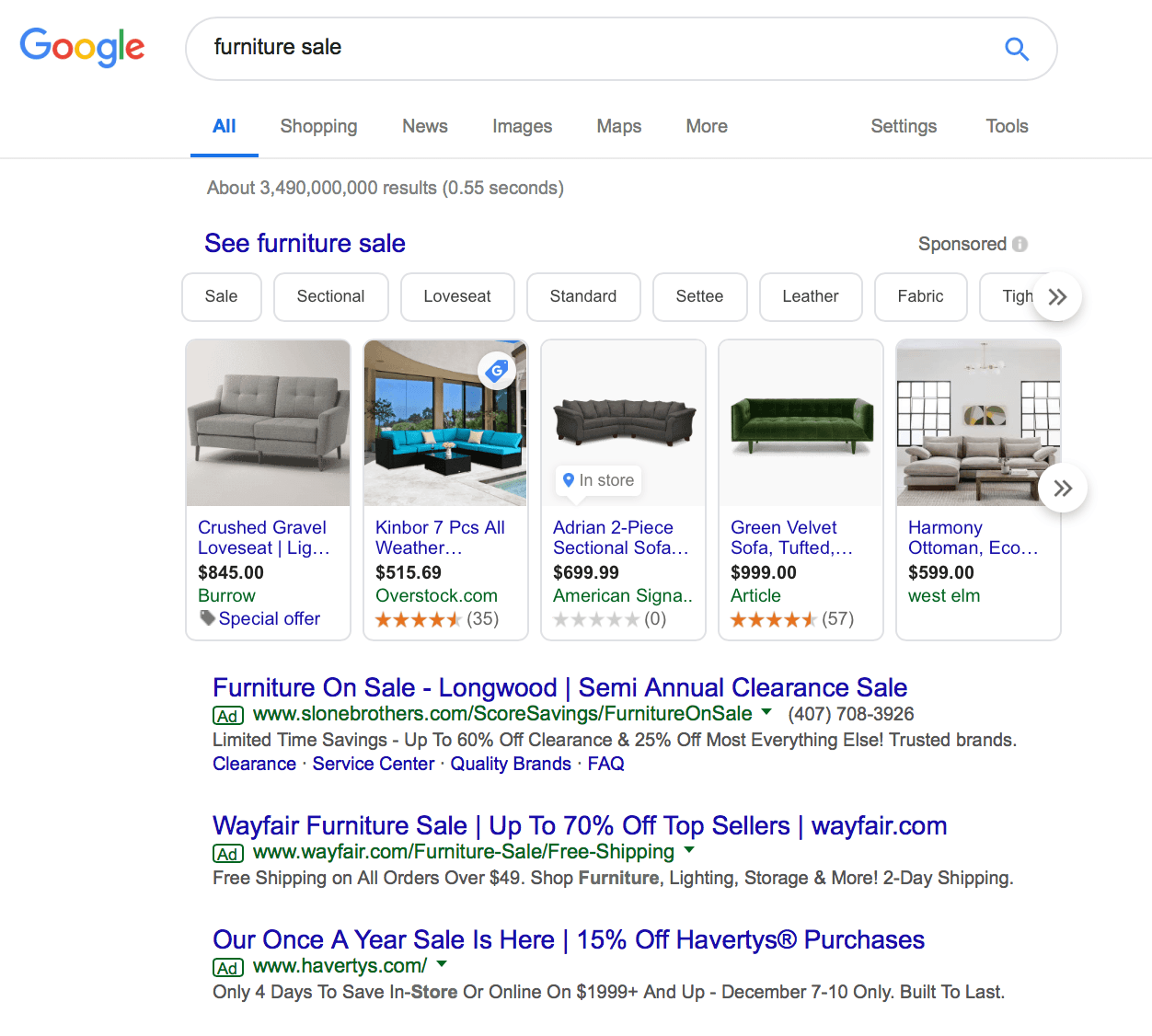 High-intent keywords can be specific (think "leather sectional" over "sofa"), but they can also take different forms, including:
Furniture sale
Memorial day furniture sale
Furniture stores with interest-free credit
Furniture store free delivery
Each of the above keywords isn't product specific, but still indicates that users are looking for discounts or brands that will match their current needs.
Feature-Specific Keywords
Feature-specific keywords can also be high-intent, but they don't necessarily have to be. These keywords focus on different key aspects of a product, service, or brand that they're looking for.
Maybe, for example, they don't care that your spa has qualified dermatologists. They might want "affordable spa" or "same day spa appointments" and be actively using those search phrases to find businesses that fit those needs. Similarly, someone might not just be looking for any moving company—they might want a "cross-country moving company" or an "insured moving company."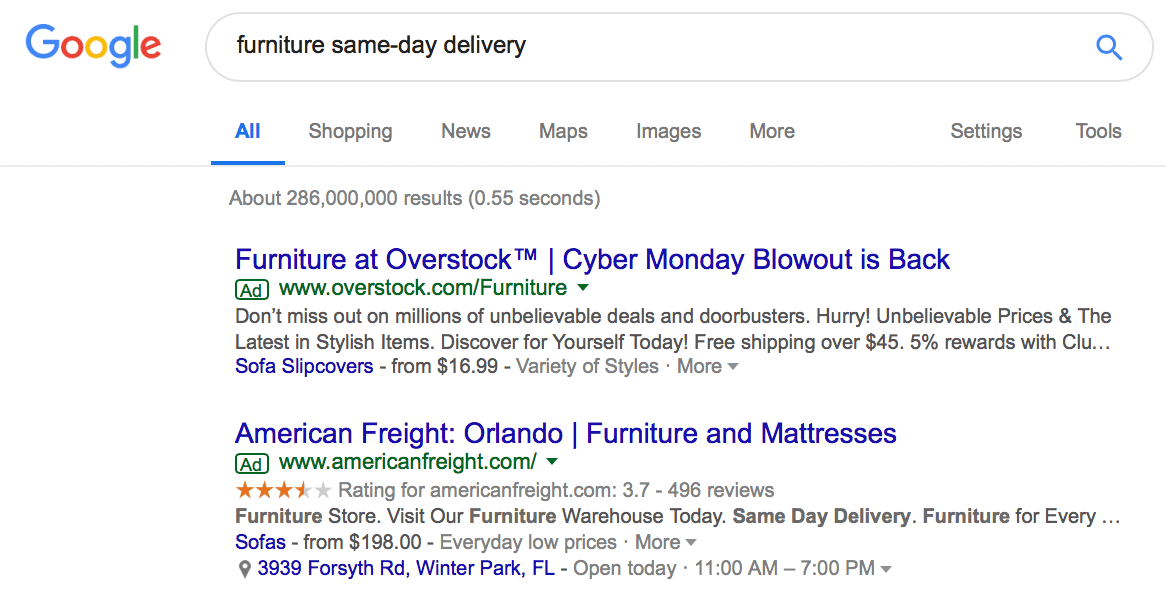 Think about specific features that you, your services, or your products can offer customers. If any of these features address pain points or could be something people are specifically looking for, write down those keywords.
Examples of this include:
Furniture same-day delivery
Insured delivery company
Furniture with protection plan
2. Check Out Your Competitors
Before we actually dive into the keyword research tools, I like to do some homework and see what my clients' competitors are up to. We can learn a lot from what other people in the industry are doing, and can even see what keywords they're bidding most on, what they're ranking for, and more.
My favorite tool for competitor PPC keyword research is SpyFu, but there are other great ones out there.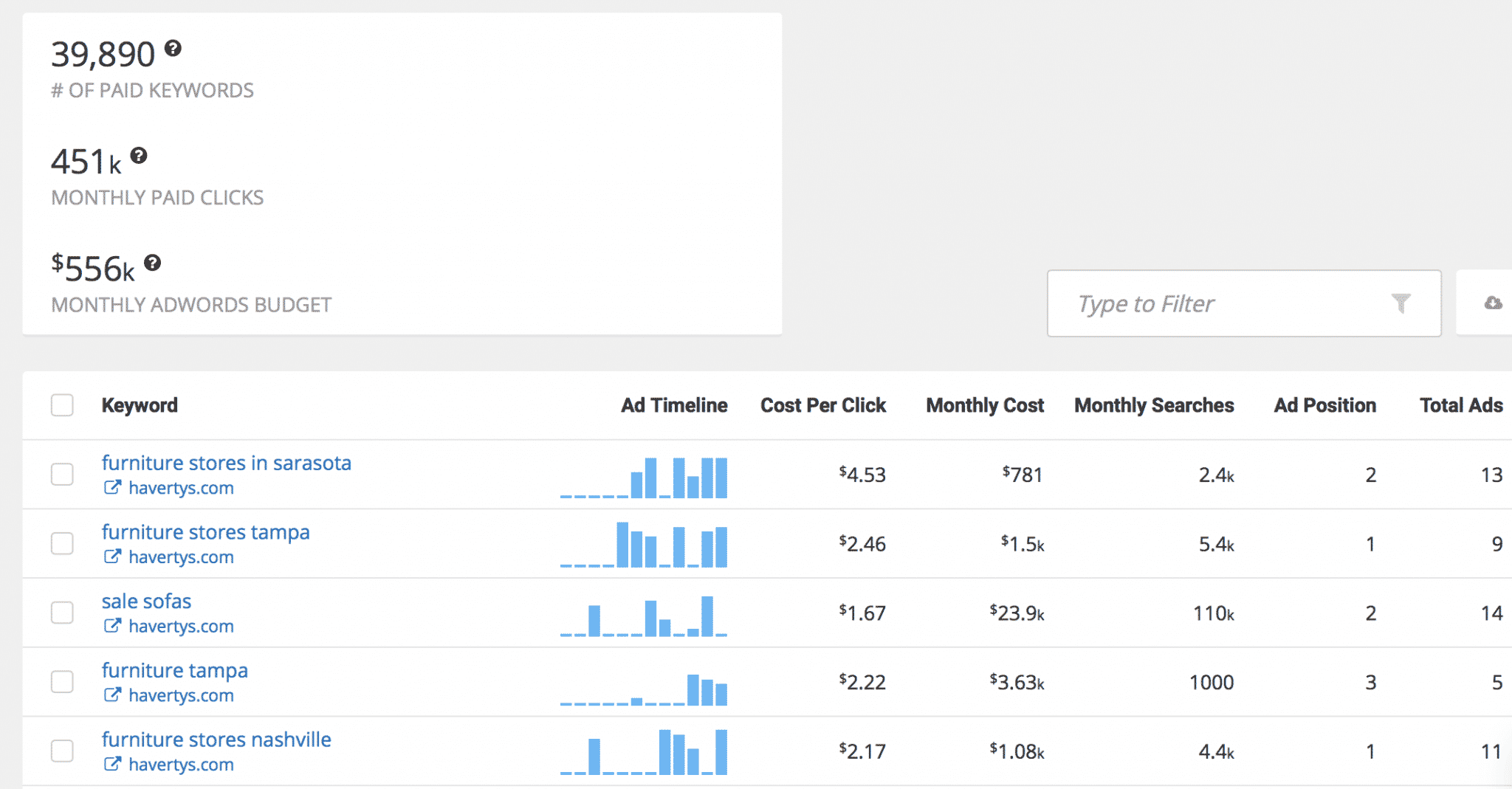 You can immediately see the full list of PPC keywords they're targeting, what they're paying per click, what they're paying per month, their ad position, and the searches they're appearing in. You can even take a look at the timeline their ads are running.
Look for high-value keywords that you could benefit from and what they're spending. If you're willing to outbid them for that #1 spot and steal always some high-value traffic, good on you. Write down the keywords that you see here, adding them to the brainstorming list.
3. Expand Your List with Keyword Research
Now we dive into those keyword researching tools. There are so many great ones (which you can read about here), but for this post we're going to use Google's keyword planner.
First, you want to go ahead and use keyword research tools to actually expand the list of keywords you're creating. We're still adding to the list here. Enter in terms you think your audience would be searching for—even using some of the keywords already on your list—and look for suggestions.
Let's say we want to sell patio furniture, so we enter that in as a search term.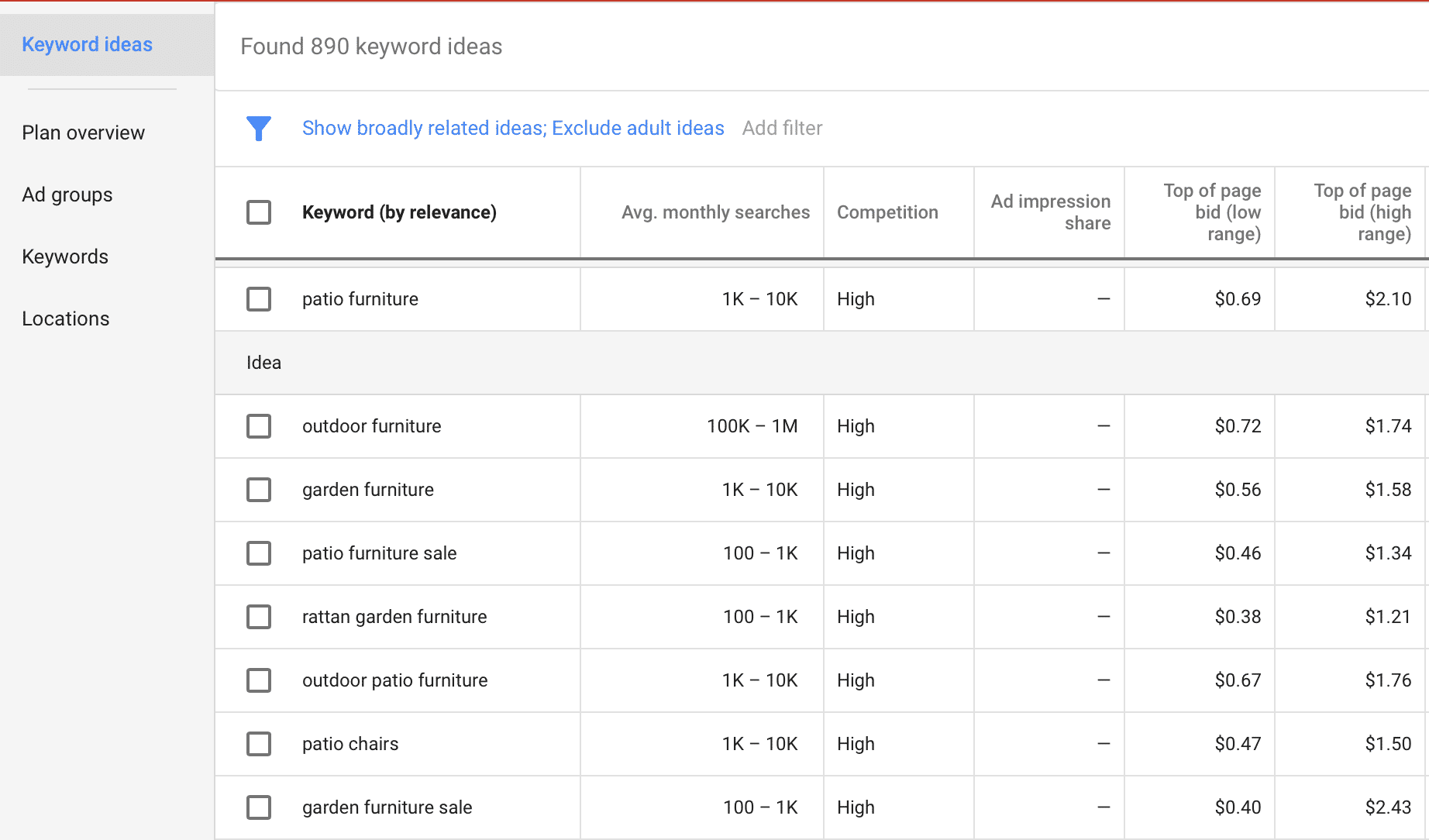 Ideally, at this stage you can start to use the data through the keyword planner to only select strong choices. Don't bother adding something to your list if the CPC is way out of your budget or if the monthly search rate is lower than you'd like with competition that's too high. Still, don't worry about making cuts at this point. That comes next.
4. Refine Your List with Keyword Research
And now it's time to go ahead and make cuts. It's important to focus on expanding your list separately before you start cutting so that you can make rational decisions all at once instead of having everything get muddled. I'm speaking from experience here. I am not a multi-tasker and those lists get complicated quickly.
Head back to Google's search bar and upload the list of keywords you've created. You can enter them each in manually, but it's easier to upload an actual file.

At this stage, carefully assess each of the keywords that you've selected for your brand. Look at their number of monthly searches or potential impressions, the estimated CTR, and the average CPC that you might expect to spend.

Ideally, you'll be able to find high search volume, low competition, low cost keywords as often as possible. That being said, don't just look for low cost. Some of your most high-value keywords could cost more, but be well worth it because they send more conversions or send you customers that buy more expensive products or services. Take all of this into consideration when you start to cut keywords from your list.
5. Group Keywords into Ad Groups
Once you've trimmed away the excess, you'll have your solid list of keywords that you want to target. All that's left is to sort them into different ad groups.
Ad groups are the groups of keywords that users can search for to see a specific ad campaign. You might have an ad campaign that has a headline reading "Outdoor furniture sale!" for keywords like "outdoor furniture," "patio furniture," "patio furniture sale," "outdoor fire pit sale." You would not include keywords like "modern dining room set" or "leather sofa."
A nice perk of using the keyword planner is that you can select the keywords you want and immediately add them to an Ad Group that exists, or to create a new one. No copying and pasting needed.

In addition to grouping by subject relevance, it's a good call to also group by user intent or stage of the digital sales funnel when possible. Even if you're sending every one of your ad campaigns to the same three landing pages, the ability to create customized copy to appeal to each different audience and their needs will be hugely beneficial in getting you those clicks and conversions.
PPC Keyword Research Tips For Best Results
The five steps above detail the majority of the keyword research process, but there are a few things we want to remind you to consider when creating those ad groups. These tips will help you to see the best results.
Consider keyword match type. The effectiveness of the keywords you choose could be directly impacted by the keyword match type you select. Broad match, for example, lets Google leave things open to their own interpretation. Exact match, on the other hand, may limit you from great potential placements. You can read more about match types here and see what's right for you.
Don't forget negative keywords. The negative keywords you choose are almost as important as everything else we've done on this list. They can keep you from appearing in irrelevant searches and (even worse) from getting irrelevant clicks. If you're selling artificial Christmas trees, for example, but you're getting clicks people looking for trees they can chop down themselves, just add a "real Christmas tree" or "fresh Christmas tree" to your negative keyword list. You'll no longer appear in those searches.
Know that not all strategies are worth copying. "Monkey see, monkey do" isn't always the right option. Competitor research can be a goldmine of knowledge, but if you see that a competitor is spending a lot on certain keywords that likely wouldn't benefit you much but would cost a ton, think twice before adding it to your list.
Conclusion
PPC keyword research might be the most important part of the strategy for search ads, so take the time to get it right. Even though the research process involves multiple steps, you can great multiple ad groups in one sitting and benefit from the data long-term.
If you are looking to get some help or hand over the reigns for your PPC keyword research or the management of your campaigns, we can help! Get in touch with us and see what we can do for you.
What do you think? How do you conduct your PPC research? Which keyword research tools and strategies do you use? Share your thoughts, knowledge, and questions in the comments below!