Advertising Beyond Google: Are Bing PPC Ads Worth It?
When it comes to search ads, Google Ads are everyone's first thought and typically their first investment. This makes sense: Google still dominates more than 92% of all search traffic, so it's where most advertisers will naturally gravitate.
But what about other PPC search ad options? Bing Ads, for example, work on a similar auction system, just like Google Ads, and they allow advertisers to show relevant ad campaigns to users who are typing in the right keywords to trigger them.
Sure, Google dominates the majority of search traffic, but that definitely doesn't mean that Bing Ads won't benefit you. If you've ever asked yourself "are Bing PPC ads worth it," we're going to go over four distinct reasons why they can benefit your business (and your bottom line!) and take a look at whether or not they're right for you.
1. It Still Has Millions of Users
Just because Google holds the majority share in search traffic doesn't mean that you should count anyone else out. Bing's properties (including Yahoo), after all, only holds a small percentage of Google's search volume, but that still ends up being more than 1.2 billion unique monthly visitors across the globe, which is an enormous number.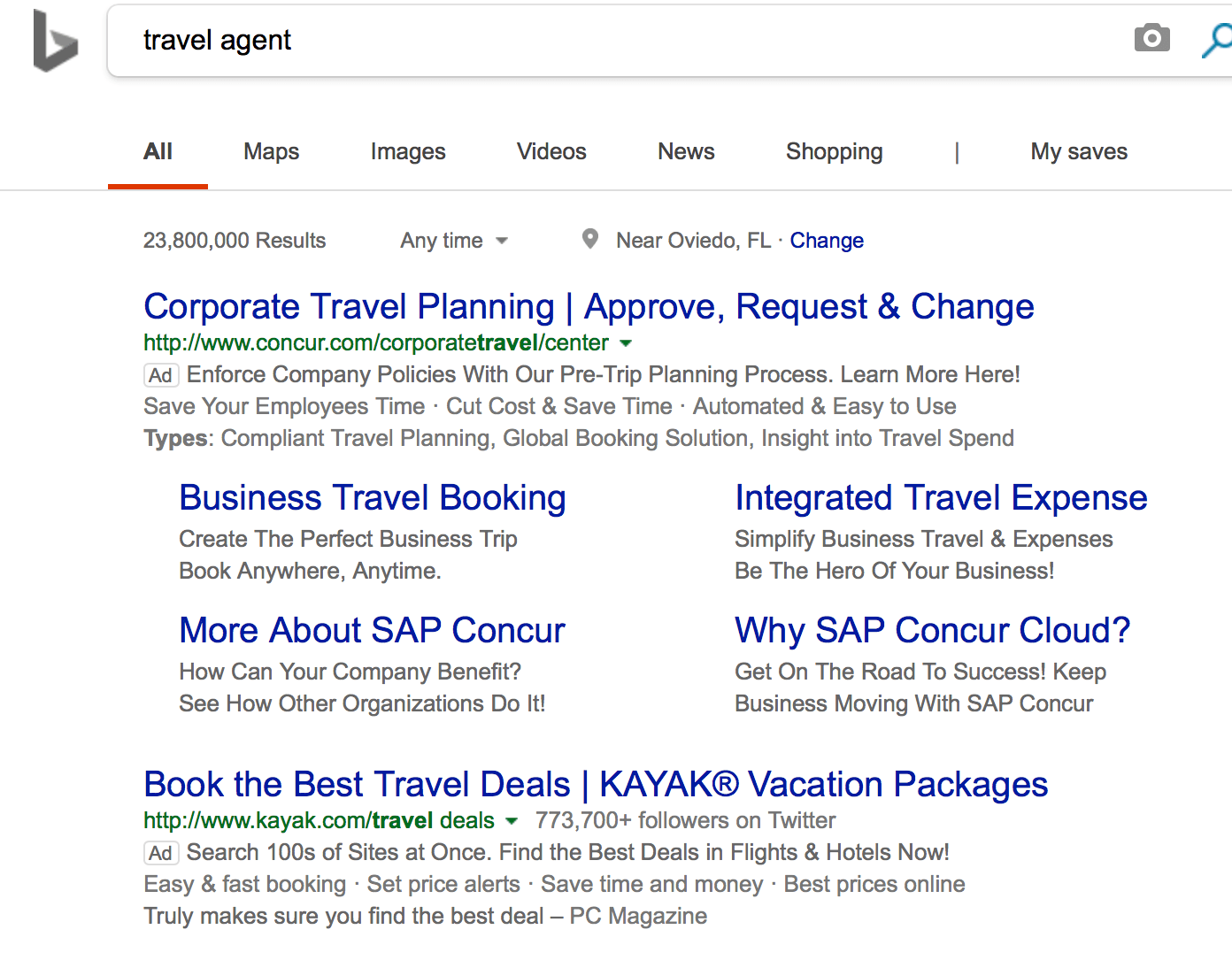 Many of these users are as diverse as Google's user base, too, so there's an exceptional opportunity to reach members of your target audience and—as you'll see in this post—to sometimes do so more effectively and at a lower cost when compared to Google Ads.
Despite the general diversity, there are a few things that Bing users have in common, according to a study from Microsoft in 2016, including:
Being a little older and less tech-savvy—the largest percentage of users fall within the 55+ bracket.
One-third of users have a household income of 100k or more, giving them a higher disposable income (and making them a valuable audience).
A large percentage of Bing users are more likely to have children than not.
2. Less Competition Can Mean Decreased CPCs
Since most advertisers are going all-in on Google for their search ads, Bing has much less competition for you to have to contend with. This means that it will be easier to rank well for the keywords that you're targeting, and to increase both your total impressions and your impression share almost instantaneously. It's a lot easier to get the clicks when you aren't placing in the fifth ad slot down from the top.
Not only is it much easier to rank well and at a higher ad positioning, less competition also has a direct impact on CPC. As competition goes down, the average bid drops, too, because auction systems are fueled by demand. Bing Ads often cost less than Google Ads for this reason, meaning that you can maximize your ad spend and increase your ROI, getting more clicks and conversions for a cheaper cost.
To double check which campaigns could be more cost effective on Bing, use each platform's Keyword Planner tools (Bing's here, and Google's here) to look at recommended bids for the keywords you're interested in.
In the example a move, you can see that "face mask" costs up to $4.12 and "best face mask" costs up to $3 on Google, while these terms only cost $1.17 and $0.44 on Bing. Even if you're going with the low end of the bid on Google, you're still looking at enormous savings.
3. They Can Yield Higher CTRs
The click-through rates that you get on your ad campaigns will depend on several factors, including how strong your targeting was and whether or not the copy was relevant to the search intent. Both Google and Bing have a great track record with helping advertisers to get clicks…but there's some evidence that desktop ads on Bing are maybe a little more effective.
According to InstaPage, Bing ads sometimes have higher CTR rates, particularly in the financial services and shopping industries. That said, other data finds that Google Ads pulls out the higher CTR rates, especially on mobile. Bing can clearly hold their own when it comes to CTR, which is the important thing to keep in mind, and you can test the two platforms to see which works better for you in the long run.
4. Bing Gives You More Bid Control at the Ad Group Level
Google Ads focuses on keeping things simple, having you make most major decisions at the campaign level. At this stage, you'll choose your targeting criteria, what results you want to optimize for, your bidding strategies, the extensions you add to your campaign, and more.
Bing moves some of this to the ad group level, particularly when it comes to bidding. You can easily set individual bids for each specific ad group you create, allowing you to prioritize high-value keyword groups by bidding more to have the best shot possible at capturing those clicks.

Bing also gives you more specific bidding control based on different factors like what location users are in, or what device they're using to view the ad. You may find that desktop costs more but converts more frequently or with higher average order values, so you want to bid more on those placements (added bonus: Bing has far superior device targeting when compared to Google Ads).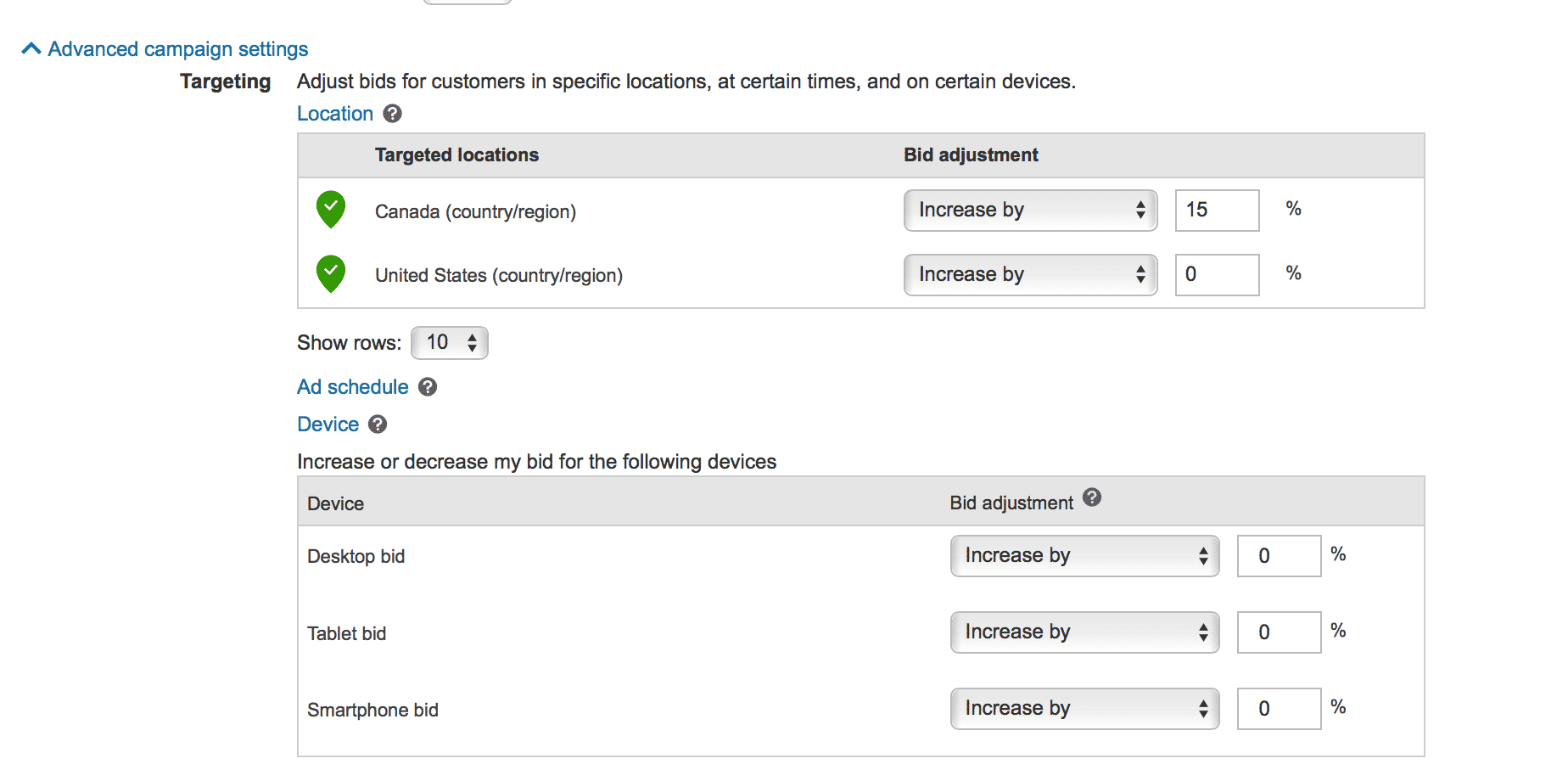 Though you won't need or even want to adjust bids at this level for every campaign, it's incredibly valuable when you need it.
Conclusion
If you were wondering if Bing Ads are ever worth the time and investment, then you clearly have your answer. This ad platform can present a great opportunity to find new members of your target audience that you'd almost certainly be missing otherwise, and at a much lower cost than other PPC alternatives.
Note that this does not mean you should jump ship entirely from Google Ads. They still have a much, much larger audience, so it's not as if you'll run out of people to see your ads just because the competition is though. Many of our clients benefit from running campaigns on both platforms, at least to test, and to see what combination of advertising on each platform works best for them.
Want a little help managing your PPC campaigns or wondering if Bing's ad system is right for you? Shoot us a message here. We'll be happy to help.
What do you think? Have you ever tried Bing PPC ads? If not, what's stopped you? What was your experience in how they compared to Google Ads? Share your thoughts and questions in the comments section below! 
Leave a comment