PPC Ads: Pay Your Way to the Top!
by Cydney Hatch • February 27, 2018
Ever meet someone who's desperate for attention? They'll do almost anything to get people to pay attention to them—some of them will even buy their friends, if that's what it takes!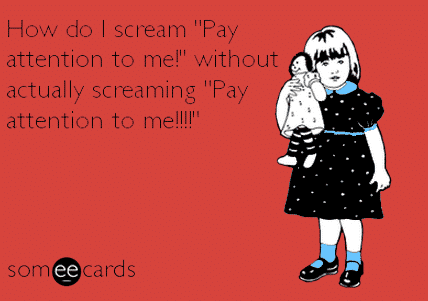 Wanting a little extra love is normal, whether it's in personal relationships or online marketing. When it comes to online marketing, however, there's an easy (and completely socially acceptable way) to get people to pay attention to your business: PPC ads.
Sometimes, as a business, you just can't compete with the "cool kids" in your industry. Your content doesn't rank well organically…your social media accounts are the digital equivalent of a high school wallflower…you know the feeling. But, with PPC ads, you can pay to become one of the cool kids.
If your business is having a hard time competing for attention online, PPC ads may be the perfect solution. Sure, paying for attention might feel a bit "socially needy", but when you're fighting for love with businesses that have a lot more social clout than you, sometimes you have to spread a little cash to be heard.
Ad Attention: What are PPC Ads?

If you want your business to succeed, people kind of need to know that you exist. So, just like in the dating world, everyone is a little desperate for attention.
It doesn't matter how incredible your business is, how optimized your site is or how much your customers love you—if you aren't a "hot" or well known company, you're probably going to struggle to show up at the top of the search engine results page or social media feeds with organic efforts alone. This is especially true if you're trying to rank for highly competitive searches where customers are looking for specific products.
But, PPC ads can help you get the attention you deserve!
PPC stands for "pay-per-click". PPC ads allow you to use advertising platforms to get your content in front of relevant users. Of course, you have to pay for this, but if you do it right, it can be a great way to grow your business.
In many cases, you pay for ad clicks that take users to your site, but on some platforms you can also pay for other actions like impressions, video views and on-site engagements.
PPC ads are an incredible opportunity to give your business the attention is craves from interested users who may never have found it otherwise. Unsurprisingly, it can be an irreplaceably valuable tool for building brand awareness, generating leads and driving conversions! YAY for needed attention!
Just Like Me Already! Earning Google Online Bidding
Unfortunately, you aren't the only business using PPC ads to get some love. Even with PPC, you may still have to outbid the competition to get your ads seen.
Almost all PPC platforms use a bidding system. Businesses will choose an amount that they're willing to pay for a single action (like a click, download or video watch)—which will factor into how visible their ads are.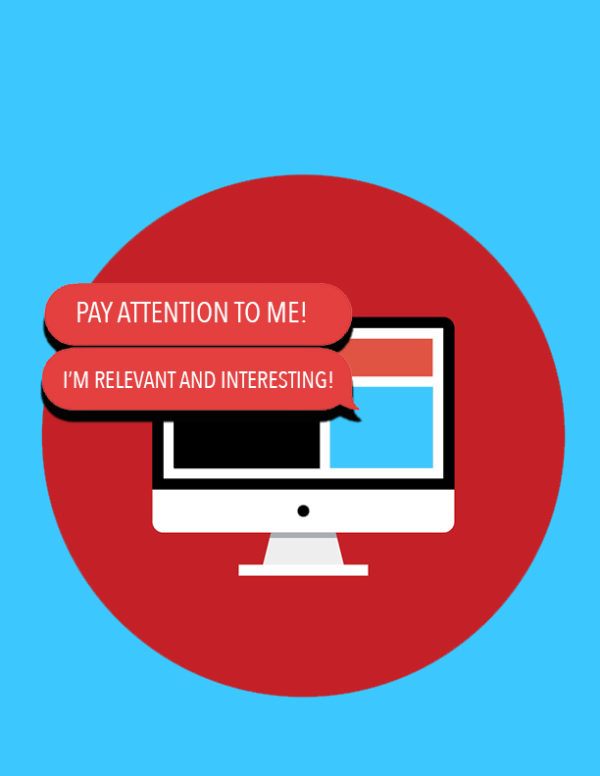 The hard thing is, there are only so many ad placements to give out, so there is serious competition to be the "prettiest" company at the bidding party! Bidding does even the playing field in some ways, though.
For example, even if you don't have the sexiest content or the trendiest landing page, you can always up your bids to make sure that your ads show up. Anyone who says money can't buy love has never run an AdWords campaign…
Some platforms take more than just bid into consideration about how gets a placement, however. Facebook Ads and Instagram Ads take relevance and ad engagement into consideration, so it does pay to dress up your advertising.
Ads that perform well are given a higher relevance score and are given more impressions at a cheaper price than ads with low relevance. Similarly, AdWords assigns ads a quality score based on factors like keyword relevance and landing page quality that can affect how much you pay for each click.
So, if you want to be the "prettiest girl in online marketing", make sure you are creating quality content and spending the time/money it takes to be "hot."
Where Can I Find this Attention?
Creating a successful pay-per-click campaign requires a lot of thought and planning. The best way to optimize your campaigns is to keep the following in mind:
Campaigns contain a number of different ad groups: You should aim to create a separate ad group for every product/service you offer.
Experiment with different ads for your products and services.
Show these ads as promotional messages across a wide variety of social platforms!
In 2015, more people searched using mobile devices than desktop computers. Plus, most people primarily use their mobile phones to access social media, so it really pays to plan your online advertising strategy around mobile phones and social media.
This gives a whole new meaning for PPC ads being "socially needy!"- Ha!
It's more important now than ever before to make sure your campaigns are optimized for mobile searchers on the following platforms: Google, Facebook, Twitter, Pinterest, Youtube and LinkedIn. Below I will go into detail on how you can get attention on each of these social platforms!
Google Oogle
PPC search advertising, also known as paid search and search engine marketing (SEM) are online ads that appear in the search engine results of platforms like Google AdWords or Bing Ads.
So, whenever a person uses a major search engine to look up a certain product, search advertisements are the ones that will be appear in the top areas of your Google or Bing search.
For example, if I wanted to buy a product, I could Google that specific product and I would probably see paid advertisements along the top of the search results Google pulled up.
Paid search advertising is solely focused on intent-based results! You are marketing to people who have the intent to buy which makes conversion rates consistent, frequent and high quality!
Facebook Fancies
With an average monthly user-base of over 1.5 billion people, Facebook is an important part of your business marketing strategy. Facebook has a largest audience of any social media platform and offers a lot of value and potential reach.
As its popularity has grown, the company has dedicated a sizable portion of its efforts toward developing an advertising PPC platform. An example of this would be a "sponsored" Facebook post that is used to increase the post's reach.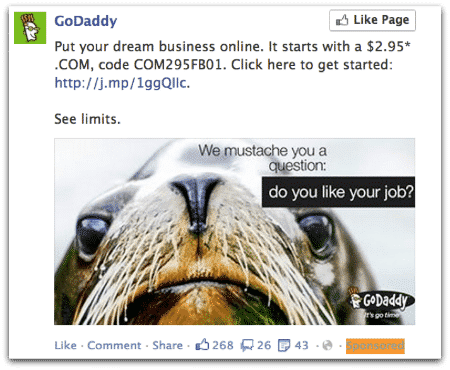 Paid PPC Facebook ads are helpful because they allow you to reach people who may not follow your business directly. You can also target those who have expressed interest in your type of business/product and fall within your target demographic.
In other words, Facebook ads extend your influence beyond your social media following!
Twitter Twitterpated
In my opinion, Twitter has always been a great tool for getting information out rapidly and therefore is a great tool for brand awareness!
With Twitter PPC ads, you can get even more likes, amplify your message and get more people talking about the things that matter to you most: your business or brand. From 2016 to 2017, Twitter ad engagement has increased by 75%!
There are many types of PPC campaigns you can run within Twitter, including awareness, app promotion, engagement, website traffic and video play campaigns!
Some benefits to using Twitter are the low cost per click, tailored audiences through twitter analytics, remarking through engager targeting, as well as pay per performance options.
Pinterest Pretty
Believe it or not, Pinterest is more than just a "girly" website that features mason jars, burlap, feel good quotes, decadence and clothing inspiration! It is a sophisticated and visually stimulating opportunity for you to marketing directly to active consumers!
While Pinterest isn't quite as big as other social media platforms like Facebook or Twitter, it can be a special place to promote your products and services—especially when it comes to eCommerce. Using Promoted Pins, you can drive a ton of high-quality traffic to your site which can result in big conversions!
"Promoted Pins" is Pinterest's paid ad platform. When you run a campaign, the pin you create will show up in users' feeds when they're browsing in relevant categories and when they search for certain keywords.
An example of this would be WeddingtonWay.com's ad on my Pinterest feed. As I have looked at engagement rings lately, wedding promoted posts are appearing on my feed to help me in my future wedding planning!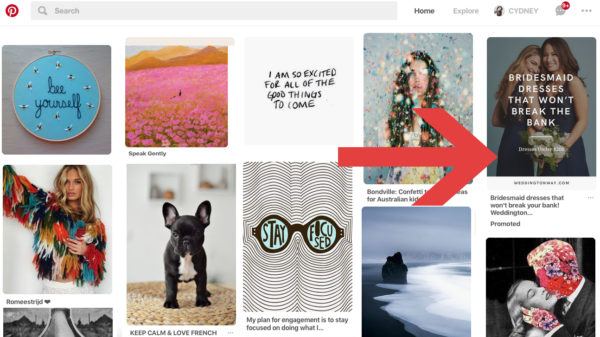 Just like my example above, Pinterest ads help you reach people that are actively wanting to engage in products and visuals without looking like an obvious advertisement!
Whether its buying an engagement ring, finding a sports therapy service, seeing a photography company or buying cute shoes, Pinterest drives traffic to engaged audiences! They're also ready to act: 61% of Pinners have made a purchase after seeing business content on Pinterest!
If you have not considered using Pinterest PPC ads for your online marketing, you totally should for the following reasons:
Ads that look and feel natural in the platform which is less aggressive compared to other PPC advertisement placement.
Reach a receptive audience that is looking for products and services they can love.
Ads can have a continued performance as Pinterest uniquely saves visuals for later viewing and retrieval.
Interested? Learn more about how to create Promoted Pinterest ads on our article here!
YouTube Yummy
There's no denying that YouTube is a rockstar platform that is highly used, but it's still one of the last social media platforms most businesses try. SHAME! SHAME!
Every day the world watches 1 billion hours of YouTube videos. If you are looking for high traffic numbers, this might be the option for you! Since YouTube is owned by Google, if you want to pay to expand your viewership then your advertising campaigns will be backed by the full power of AdWords and Google Analytics.
There are several types of ads available. Clickable display and overlay ads are good options for those without video making capabilities. You can also pay to have your videos promoted in the suggested list on the right hand side of the page.

The most familiar type of YouTube ads are skippable and non-skippable video ads inserted before or during other users' video content.
An example of this is AdMinds's ad clogging up my viewing of Matisyahu's King without a Crown music video below (not to mention the Online Business display ad to my right in the scroll menu):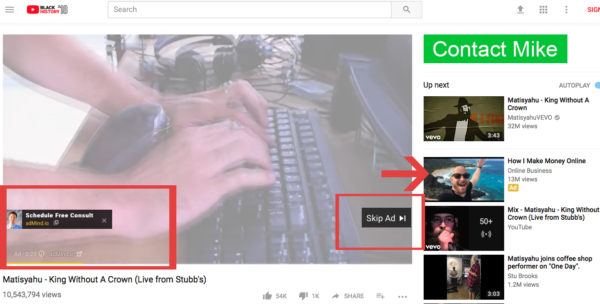 These are essentially the same as television ads, except that the skippable ads (called "TrueView") function as YouTube's version of pay-per-click. A viewer is forced to watch the first five seconds of the video, after which they can skip the ad or keep watching it if they're curious. You only pay if the viewer watches for over 30 seconds.
YouTube marketing can yield incredible results. It can help connect you with new members of your target audience and keep your current customer base engaged and excited about both you and your product.
LinkedIn Likeable
LinkedIn is a professional networking site—not just a social networking site—so LinkedIn users are already thinking about business-related things when using this platform. They're on the site for networking, researching, recruiting and other productive actions—not just to be entertained! This can work in your favor!
This makes users of the site intrinsically much more open to your business's offer than they would be on any PPC platform aside from Google AdWords. Also, since it is not the first ad platform that comes to mind, this will cut down your competition significantly!
You can run several different types of ads on LinkedIn.
Sponsored InMail which are ads you can deliver as an inbox message to specific audiences.
Sponsored content which is like most other social site's newsfeed ads. You'll have a headline, a description, and an image that shows up in users' feeds.
Like Sponsored InMail, sponsored content is labeled as ad content with a small "sponsored" tag attached. These ads are effective for driving both brand awareness and conversions from highly engaged users. Many sponsored content ads show up at the very top of the newsfeed, giving you excellent visibility.
An example of this is Domo's promoted ad in my LinkedIn feed: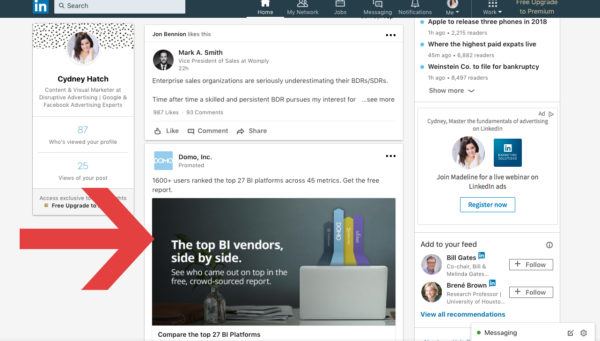 A benefit to LinkedIn PPC ads is that you can promote content with specific target parameters like location, job title, skills, or business type. This allows you to reach who you want, resulting in more effective traffic to your campaigns and promotions.
https://www.youtube.com/watch?v=A5vSZoncQdc
So, between less competition for content and specific targeting, LinkedIn can be a great choice for the your business.
Interested? Learn more about how to create LinkedIn ads on our article here!
Attention Given: Be Happy with your PPC Traffic
As you can see, there are many ways you can grab attention from PPC ads when your organic efforts are not doing enough!
PPC campaigns can be intimidating at first, but they are an incredible way to attract traffic, leads and sales. PPC ads can put you in front of audiences who are actively trying to find products and services just like yours, as well as audiences who had no idea that products like yours existed.
The more attention the better right?!
Get in touch with us here at Disruptive Advertising to learn more about how we can help you with your PPC campaigns.
What do you think? Which PPC platforms do you use most often? What percentage of your ad spend to you invest in PPC advertising? Leave us a comment and let us know what you think!