Setting Up Bing Conversion Tracking with the Universal Event Tag
by Casey Walrath • March 20, 2015
If you've been doing Paid Search advertising using the Bing Ads platform, you've probably gotten an email recently about upcoming changes to Bing Ads conversion tracking. As of July 2015, Bing Ads will no longer support or allow you to edit conversion goals created with Bing Campaign Analytics.
I'm here to help you understand what's changing and how to implement conversion tracking for your Bing Ads PPC Campaigns.
Basically, the purpose of Bing's Universal Event Tracking is to be an all-in-one tag for Analytics, Conversion Tracking, and Remarketing. This could be a significant update since Bing hasn't supported built-in remarketing before and its old Campaign Analytics feature is basically limited to setting up a conversion funnel.
UET probably won't replace Google Analytics if you're already using that, but the ability to setup Remarketing and Conversions using a single tag that only needs to be placed once is a nice feature.
[Tweet "Bing's Universal Event Tracking is an all-in-one tag for Analytics, Conversion Tracking, and Remarketing"]
Here's how to do it for your site:
How to Setup Bing Ads Conversion Tracking
First, let's create our first goal to actually generate the tag. Log into your account and click on the Shared Library on the left-side menu. Then click Goals and Conversions and the Create Goal button.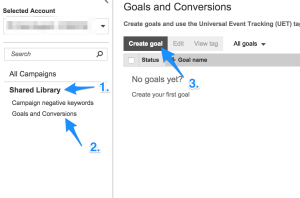 Now you can enter your goal information. Name your goal, and for Goal Type select Destination URL for a traditional URL-based conversion like Google Adwords uses.
For the Destination URL, this client has a standalone Thank You page where all PPC conversions are directed. For the URL type you can choose from Exact Match, Begins With, or Regular Expression (If you're familiar with Google Analytics you'll recognize those).
I chose Begins With so the conversion will include the the url http://www.clientname.com/thank-you while ignoring any parameters that come after. I recommend choosing the same for most static thank you pages.
Enter a Goal Value if you know how much a conversion is worth to you, and then Conversion Period defines how long after the first ad click a conversion will be counted to PPC (30 is the default).
Finally, click the Tag Name drop-down and then Create a tag. Name your tag whatever you like (I called mine "Bing Ads Conversion Tracking") and click Save.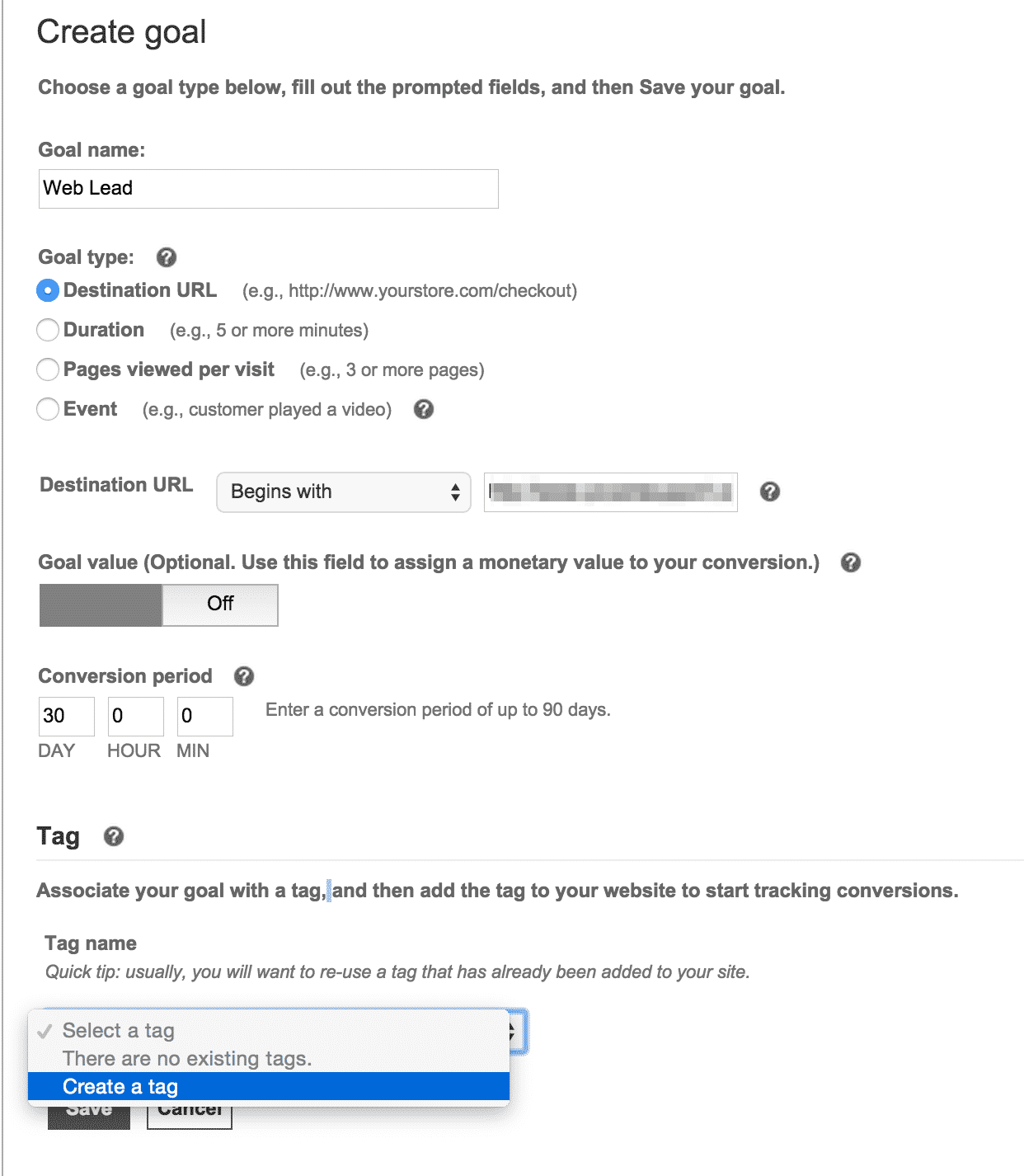 Now you'll be back at the Goals and Conversions page, where you can click View Tag to see the code snippet. Copy that snippet and go find your web developer—it's time to add it to your site!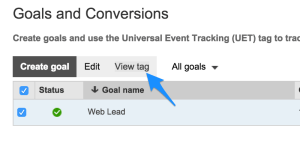 The Bing Ads Universal Event tracker is like Google Analytics: it wants to live on every page on your site.
At Disruptive Advertising, we generally set up clients with PPC Landing Pages through the Unbounce platform, which lets us easily add scripts to every landing page through a script manager where we simply paste the script, like this: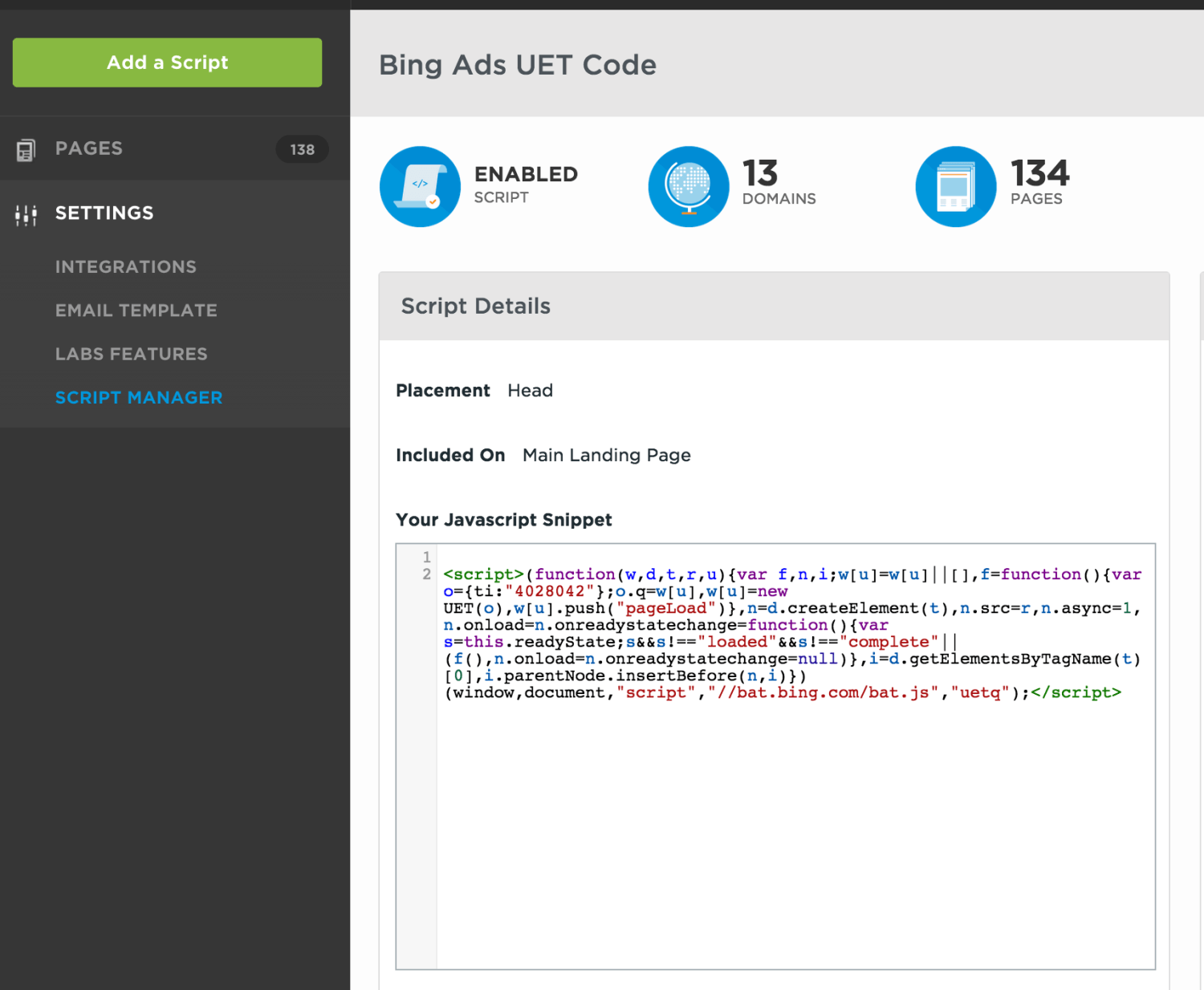 You'll want the script added before the </head> or </body> tag on every page of your site, especially the page where you're actually tracking the conversion.
Once that's done, you're good to go!  If you want to add more conversions in the future, just go through the same process but instead of creating a new tag just select your existing UET tag and it will handle everything. Once you've verified that it's working you'll want to remove any older Bing Ads conversion codes so you're not double-counting conversions.
Questions or problems? Leave a comment and I'll try to help!