On-Screen Pop-Ups…Annoying or Effective?
by Trevor Anderson • October 13, 2017
When it comes to conversion rate optimization, on screen pop-ups are controversial. Plain and simple.
According to some digital marketers, pop ups are one of the best things out there (to read their reasons why, check out 10 Great Examples of Email Collection Fields or Why You Should Use Pop-Ups on Your Site).
But, others will tell you that pop-ups interrupt the site experience and are one of the biggest wastes of time on the internet (Pop-ups are Bad for Business, Don't Use Annoying Pop-ups).
Believe me, I've heard both sides of the tale.
But, if you ask me what my opinion on pop ups, new designs, or other "risky" site features is, my answer will almost always be "let's test it and find out!"
Site testing is great because it gives you the opportunity to hedge your bets and minimize risk by only exposing a portion of your audience to a new feature or design before it is rolled out to all traffic on the site. So, you don't have to be afraid to try something new, since the potential rewards usually outweigh the risks.
Testing Pop-Ups
Personally, when it comes to pop-ups, I'm a huge fan! In my mind, a well-designed, well thought out pop-up strategy can supplement most marketing plans and generate new, exciting content for a site visitor.
When did I become a huge fan of pop-ups? The day we built a pop-up that converted at (nearly) 10%.
The Client
One of our clients sells clothes and accessories for fans of diesel trucks. The products range from shirts, to hats, to bumpers and seat covers for truck enthusiasts.
Site visitors are passionate about the Diesel Lifestyle and are "active participants" in the Diesel culture. The site has a massive following from their TV show and social media channels, in addition to running social ads and partnering with other sites to build referral traffic.
Unfortunately, while this client gets a lot of relevant traffic from a variety of sources, much of their traffic isn't ready to buy the first time they visit the site.
However, the client runs email campaigns with consistently high conversion rates. These emails help the brand communicate product releases and promotions with their customers, and nearly 5% of customers convert (purchase) from these messages. So, one of our goals on the site is to increase the amount of high-intent email subscribers in the database.
Timing the Pop-Ups
Pop-ups can be triggered when someone lands on a site, scrolls a certain percentage of the way down the page, tries to leave the site, spends a defined amount of time on a page, and more. The parameters available for launching pop-ups are numerous.

Deciding when to display a pop-up is almost as important as deciding what to display on the pop-up.
For example, a popup that appears right when the page finishes loading is often a bad idea. With a fast-launching pop-up, the user has no chance to interact with the site and acquaint themselves with the page before being hammered with a pop-up.
Overly aggressive pop-ups can also scare away low-intent users, rather than nurturing them and promoting purchase (this is partly why pop-ups have a bad reputation and often have horrid conversion rates).
For this client, since we weren't interested in low-intent traffic, we didn't want to show the subscription pop-up right when the user got to the site.
As far as we were concerned, a high-intent website visitor would be someone who spent more time on the site than the average visitor (their average session duration was 3:28). So, after some quick math, we settled on launching the popup after 4 minutes.
Creating the Content
Marketing is all about convincing people that you have something unique to offer them. The trouble with pop-ups is that the user has already seen your unique value (or at least we hope they have).
As a result, a good pop-up should offer something new and hopefully even more valuable than the initial value that brought someone to your site in the first place. Otherwise, it's just distracting.
For this client's pop-ups, we wanted to offer high-intent users something they couldn't easily find elsewhere on the site. The client's site already conveyed excitement about the Diesel Lifestyle and showed products that fit in with the user's interests. However, it didn't offer people a way to stay up to date with behind-the-scenes info and new product availability.
So, with that in mind, we crafted the following pop-up: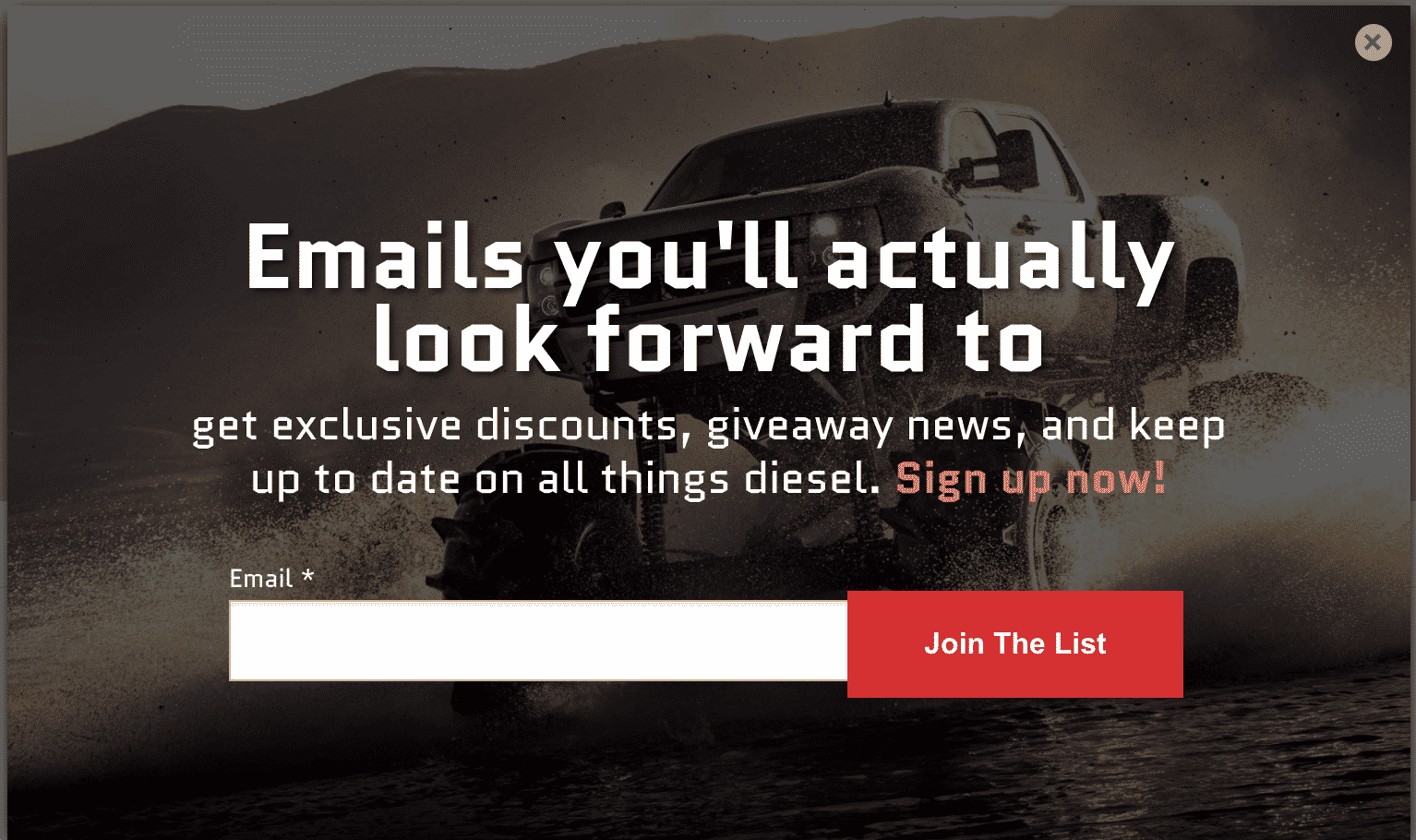 Our initial pop-up design had a unique value proposition that couldn't easily be found on the rest of the site. But, even this pop-up only converted at 5%…and we knew we could do better.
Adding Value to Pop-Ups
People love discounts. Everyone is more likely to buy when there's a discount involved. As a marketing team, we want to use that passion for discounts to try and improve the performance of our pop-ups.
This client's average buying cycle is only a few visits long, but the trouble is…people who don't buy a given item today are not likely to return for the same item. We needed to overcome that roadblock.
For avid diesel fans, one of their primary purchasing a big concern is how much they're spending on gear and parts. So, to overcome any initial hesitation to buy, we included a 15% off coupon for new email subscribers.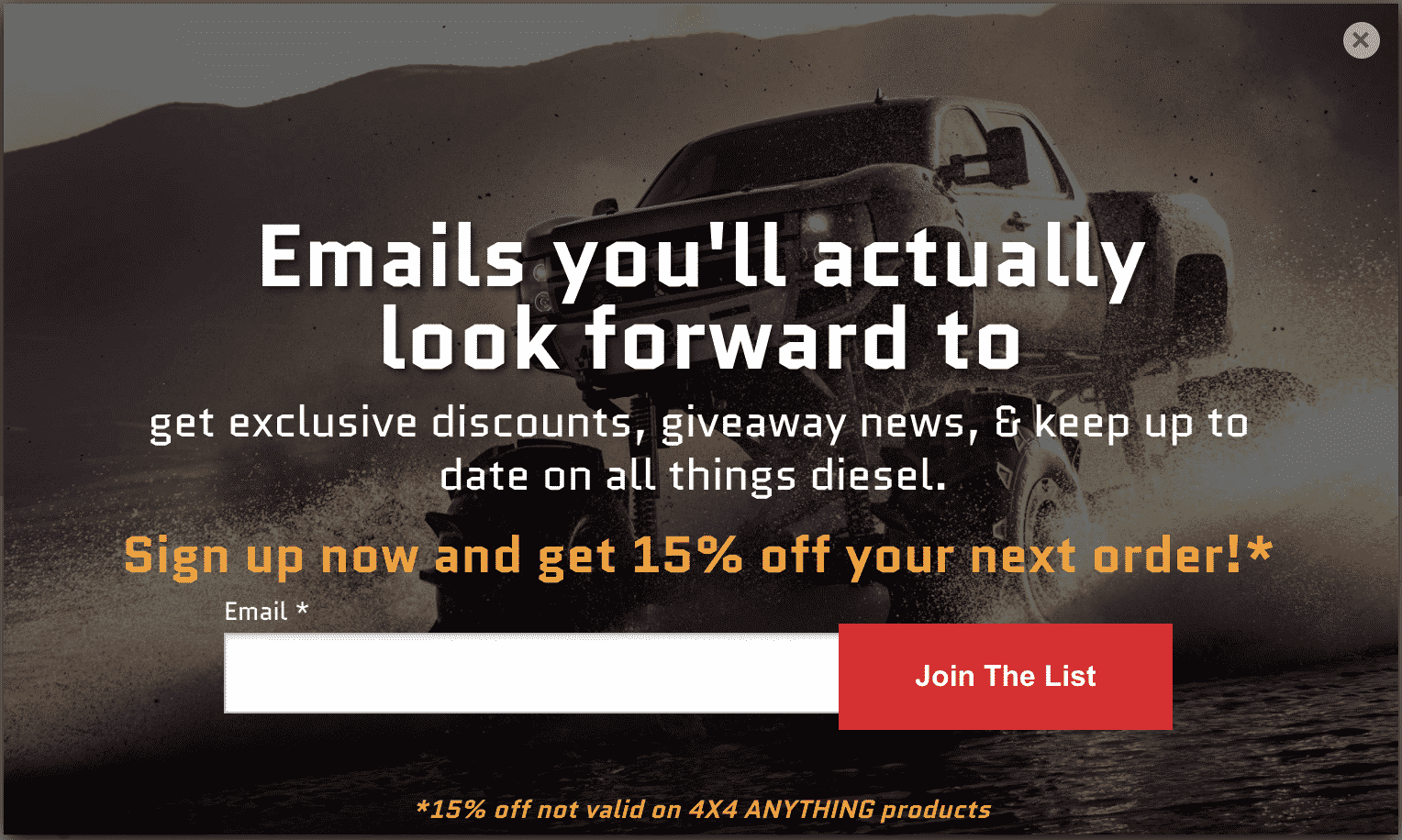 This coupon code also allowed us to start measuring immediate revenue impact, which was another amazing perk. Adding a discount to the pop-up sealed the deal and doubled conversion rates.
The Results
After determining the right launch time frame, creating a unique value and giving the user an offer, we were ready to hunker down and measure results.
After 3 weeks, this is what we saw:
Pop-Up Conversion Rate: 9.41%
Number of New Subscribers: 1294
Orders Using Coupon Code: 314
Net Sales Using Coupon Code from Pop-Ups: $16,003.35
We called this a success and have been stoked to move forward with pop-ups ever since.
Conclusion
So, if you've been scared to run a pop-up on your site, reconsider! While pop-ups get a bad reputation, they only got that way because they weren't given enough love prior to being launched.
If you put some time into making sure your pop-ups show to those who need it most, have a unique proposition, and give users an offer they'll be excited about, you'll be just as excited with the results.
By the way, if you're thinking about testing pop-ups on your site, let me know here or in the comments! I'd be happy to take a look at your site and give you some suggestions.
How do you feel about pop-ups? What are some of the best (or worst) pop-ups that you've seen?