Are Your Marketing Systems Strong? How to Build a Multi-Touch Sales Funnel
Digital Marketing Metrics
•
Marketing
•
Strategy
•
Ana Gotter
April 26, 2022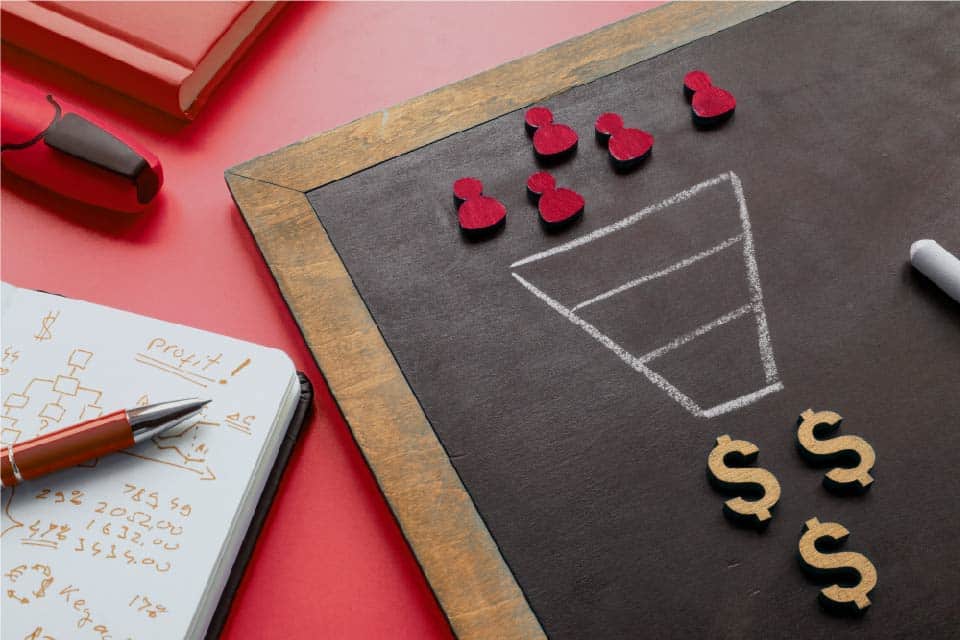 No matter what industry you belong to, and really no matter when you're reading this, now is the right time to evaluate your marketing systems to ensure that you're set up for success.
The right time, after all, is always now— and better late than never!
This is particularly true, of course, for the home services industry. In our most recent post, we looked at how to put your marketing basics in order, but it's crucial to make sure that your entire system is strong with a multi-touch sales funnel that will work for you.
So are your marketing systems strong? Let's look at how to build a multi-touch sales funnel to ensure that they are.
Why You Need a Full-Funnel Approach to Marketing & Sales
You've likely heard the term "customer journey" before. It's called that for a reason; customers often have multiple interactions with every brand they eventually purchase from well before they actually pull out their credit card or book an appointment.
When we were researching a home security system, for example, I did the following:
I Googled "best home security systems" and "home security systems that can be managed remotely" and clicked on a few organic results and several ads
I reviewed at least 4 different product pages and offers
I looked at pricing for each
I looked at third-party reviews of my two top favorite candidates
I clicked on a retargeting ad shown to me by a top contender
I signed up for a free consultation with my top contender
I read customer reviews online
My husband and I made a buying decision
This was all over the span of about a week and a half; it was a lot of consideration because it's something we took seriously. And ultimately, each individual touchpoint was crucial.
If I hadn't seen that retargeting ad, I might have ended up looking more closely at my other top choice. That ad (and likely somewhere around a $3 click) might have made all the difference in the sale, but each touchpoint before and after mattered just as much in order to keep that client on my list.
A friend later decided to use the same company because I spoke highly of them; I sent a direct referral link and they converted later that day. If there wasn't an official referral program where I could easily send a link, it's possible that my friend would have forgotten or chosen another company.
You need a full-funnel sales approach in order to continually engage users no matter where they are so that you don't miss anyone or cause them to become disengaged, regardless of what their specific customer journey looks like.
The Basics of a Digital Sales Funnel
A digital sales funnel should account for every major potential touchpoint that users will interact with at every stage of the customer journey.
Let's take a look at each potential stage of the sales funnel and how you can add multi touchpoints to each step to keep your audience engaged.
The Discovery Stage
During this part of the customer journey and digital sales funnel, customers are discovering your brand for the first time.
At this stage, it's essential to make sure that you're creating a solid first impression. You should be:
Finding a way to highlight your brand's USP and products or services offered immediately
Answer the search intent that brought users to you (relevant for organic SEO and PPC ads alike)
Remember that you're reaching cold audiences; focus on giving information needed
The top ad in the example below does all of the following. By saying "serving all of Connecticut," and "personalized window shutters" it explains what they offer and to whom. They incorporation the keywords in the ad, addressing search intent, and they give information needed about core services like personalization, free consultations, and motorization.
The Marketing Touchpoints You Need
The touchpoints you should set up at the discovery stage may include the following:
Pay-per-click ads on multiple platforms; Google Ads can help you capture high-intent users and Facebook Ads can help you create interest with cold audiences
SEO campaigns designed to increase the visibility of your site and bring users to you; this should include content marketing utilizing long-tail keywords
Having a strong social media presence with campaigns designed to increase your reach and attract new followers
Referral programs so that existing clients can refer new users to you
Having strong landing pages that introduce your brand, products, or services when users click on an ad
The Research & Consideration Stage
During the research and consideration stage, users are actively researching a buying decision. This often involves actively researching a specific brand or product, and may include researching your competitors in addition to your brand.
At this stage, it's crucial to do the following:
Really focus on your USP on your site and landing pages to explain why users should choose you over your competition
Have transparent information, whether that's about your results, prices, or processes (you don't have to give all three, but you need to give something)
Make sure that testimonials are available in high-visibility places online, including your site and Google My Business
Highlight the value of what you're offering and how it can positively impact customers
Let's take a look at this landing page:
First, you can see that they start strong with an offer of a sale and have a contact form readily available to capture lead information. They also explain why you should hire them— looks great, works great, and allows you to customize it. They build trust by featuring badges, like those showing that they have a warranty, they're Top Rated on HomeAdvisor, and that they belong to building associations.
Then, underneath this and below the fold, they have another CTA, a breakdown of more services and products offered, and Google reviews.
The Marketing Touchpoints You Need
Here's are the specific moves that you should make to reach users during the research and consideration stage:
Utilize retargeting ads to users who have clicked on past ads (or watched videos) or visited key landing pages; include some retargeting ads that feature user testimonials
Have landing pages and/or a dedicated testimonial page on your site with extensive positive reviews
Offer free consultation calls, home appointments, or demos (if applicable) to build trust
Consider running "first time customer" deals that are enticed to just beat out your competition for the cost of the first product or service
Create free lead magnets like ebooks, whitepapers, checklists, and webinars to capture user information and nurture that relationship
Once you've obtained their email, follow up with email autoresponders
The Purchase Stage
During the purchase stage, you need to get users to flip the switch that drives them to decide to officially work with your business.
In order to do that, you'll typically need to do the following:
Follow up in a way that convinces users to make that purchase
Build enough trust and provide enough information that customers feel confident in a purchasing decision
Overcome any final objections (too expensive, too complicated, worried about end results)
A great example of what this looks like comes from SimpliSafe. Ads drive users to a landing page that explains why their products are superior to most competitors, and lists all the advantages of working with them. It's a strong brand introduction, and the CTA takes users to "Shop Now."
They're then delivered to this page, where they can "build a system" or choose from select packages. There's a high sales focus here, where the goal is to get users to purchase security items so that they'll then purchase ongoing monitoring plans, too.
The Marketing Touchpoints You Need
These are the touchpoints you should consider setting up for this stage of the digital sales funnel:
Consider creating custom offers or packages for high-value leads who are interested in multiple services or products
Use retargeting on both social media and Google's Display Network to stay at the forefront of your leads' minds
Have account managers reach out directly to customers (if relevant) to answer questions/overcome objections and try to close the sale
Make use of extensive, sales-oriented email series designed to overcome objections and create urgency
The Loyalty Stage
Just because users converted once doesn't mean that they're automatically customers for life. It's important to continue to engage customers after their initial purchase (and long after that) through additional touchpoints. This can help you cross-sell, upsell, retain users longer, and increase the referrals they send your way.
At this stage, your objection is to do the following:
Continue to engage customers through relationship building and value offers
Use marketing messaging to alert users to new offers, products, services, or packages in attempt to increase purchase frequency
Remind customers when it's time to purchase again (effectively whether you sell dryer vent cleaning services once a year or exterior painting to clients once every seven years)
Here's a great example of what this looks like from a cleaning company. They specifically mentioned the service that I'd used in the past, and used a vibrant image to showcase different packages of services we could choose from. They also highlighted their new services clearly to let existing customers know that this was now available.
The Marketing Touchpoints You Need
Consider setting up the following touchpoints for this stage of the digital sales funnel:
Have a dedicated referral section on your site (ideally with an FAQ explaining how it works)
Send emails to customers regularly to update them about new or discounted products or services they may be interested in
Send emails and run retargeting ads reminding users when they're due to purchase or book a service
Send out customer satisfaction surveys to both show customers that you care and gather new ideas for how your business could improve (or new products, services, or features your customers want)
Follow up through email after customer support incidents to ensure that issues were resolved properly
Consider creating loyalty programs for longstanding customers
How We Help Our Clients Build Stronger Sales Funnels
Here at Disruptive Advertising, we've seen firsthand time and time again how essential complex digital sales funnels with multiple touchpoints at every stage can be.
This is why our agency goes beyond simply running one-off ads that are only designed to catch initial clicks from cold traffic; we look at the entire funnel and help you create a stronger user experience across several crucial touchpoints.
We can help with the following:
Bring you higher quality lead traffic by making sure that the right people find and see your business with both search engine and social media advertising options, which includes creatives from our highly talented team that will generate high-converting graphics and videos
Prioritizing high quality traffic that will actually convert over low-cost impressions that just look good on an initial report but that don't drive real results (We're a top-rated PPC agency with a proven track record of helping brands acquire new clients)
Convert cold audiences into warm leads into excited prospects before finally becoming customers thanks to retargeting ad campaigns, lifecycle marketing email products, and high-converting landing page creation services
Site optimization in order to help your individual landing pages and even your overall website convert better, which is available through our CRO and UX products
Want to see everything that we have to offer? Check out our Services, or get in touch with us for a free consultation to learn more about how we can help you.
Final Thoughts
If you don't want to waste ad spend and lose potential customers left and right, multi-touch sales funnels are a no-brainer. Because the reality is that sure, you can acquire some solid leads just by running Google Ads and sending some decent traffic to a website.
But imagine how many leads and sales you might be losing because you're failing to engage with your entire audience where they're looking to connect with you.
If you don't have a high-ranking blog post for the keyword someone is searching for during the initial research and discovery stages, your competition very well could snag that sale. And if you fail to follow up through retargeting, you might lose someone even if you've already paid for clicks or video views on earlier campaigns.
By investing into a full funnel with diverse online experiences for customers, you're strengthening their entire experience while simultaneously ensuring that you're capturing as many relevant leads as possible.
This will make every part of your marketing and sales ops more impactful, so it's important to ask whether or not you have the foundational pieces in place to be successful.
Need help optimizing your marketing systems and creating an effective multi-touch sales funnel? Get in touch with us for a free consultation so we can strengthen your entire marketing system (not just an individual piece).
Leave a comment