Email Marketing Best Practices: 12 Easy Tips to Create Better Campaigns
by Ana Gotter • August 15, 2019
Email is one area in marketing where I've noticed that some companies just kind of "phone it in". They send out basic information like sales announcements, new product information, and operational hours with an almost clinical detachment. The emails are well-written, and they may even choose great images or have interesting points, but the emails become almost formulaic, and not in a great way.
There's something missing in these campaigns. Somewhere along the way, the emails are missing their mark in engaging users, and businesses are seeing a drop off in open rates, clicks, and conversions because of it. Even great copy on its own isn't enough to get results—the whole strategy needs to work well together alongside the formatting and the copy to drive sales, sign-ups, and more.
Fortunately, a few email marketing best practices can go a long way towards getting you those conversions that you're hoping for, so let's take a look at 12 fast-acting but easy-to-implement tips that will help you create stronger campaigns right away.
1. Keep it Short, Sweet and to the Point
The subject line, that is. Short-but-informative and informative-but-only-enough-to-drive-peak-interest subject lines are going to be the way to go. You can't get results from your email campaigns if you can't even get people to open them, after all.
Ideally, keep your email subject line short (under 41 characters, or about 7 words) for the best chances at a good open rate. Consider what your audience can gain most from the information, or what they'd find most interesting.
Lead with what will get the clicks. Maybe one will care about that audio book you're releasing if you just share the title, but something like this is sure to capture attention: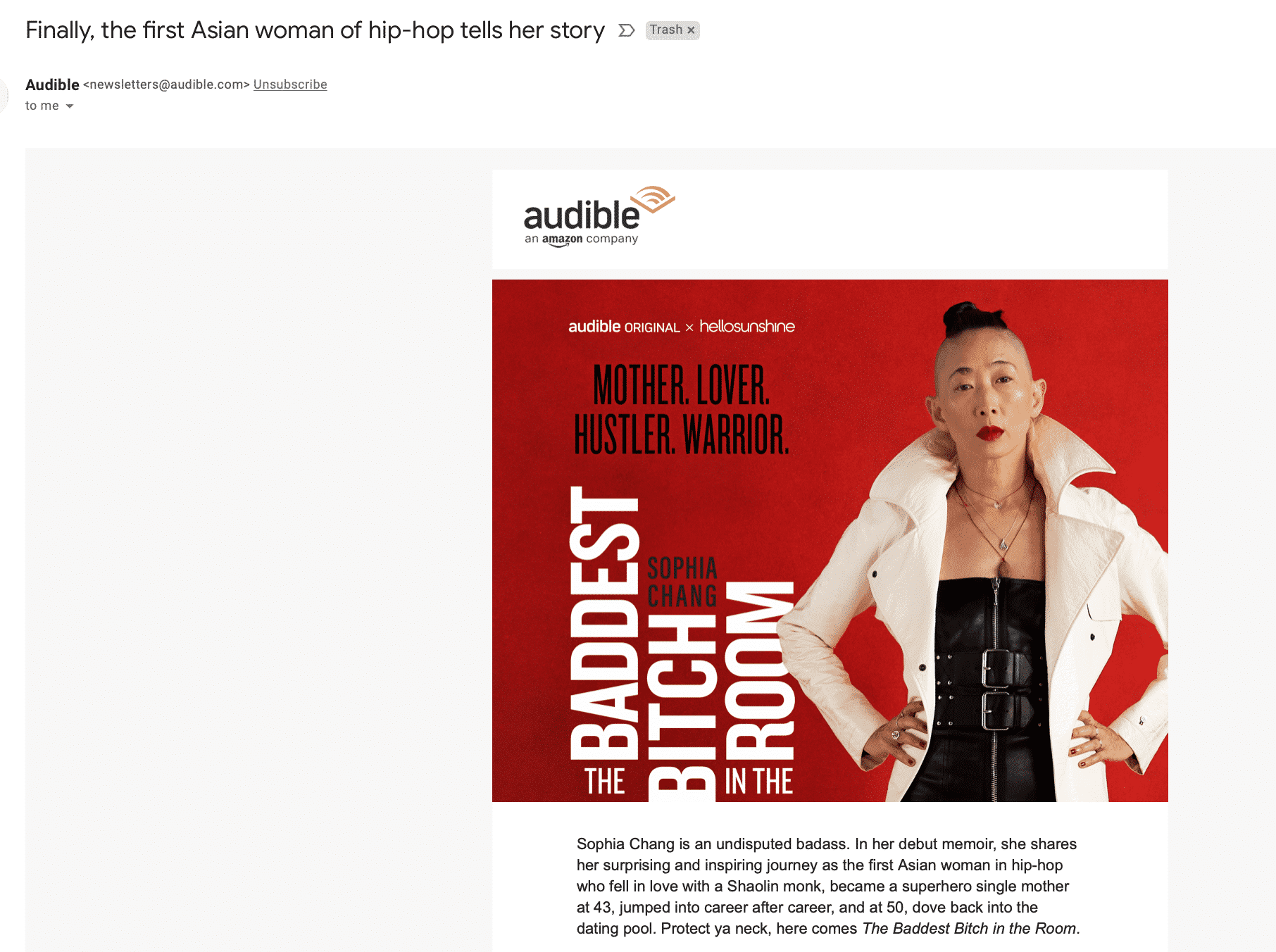 When in doubt, focus on the value offer you can give your audience. In the example below, for example, the company focuses on the high cash back levels they can offer.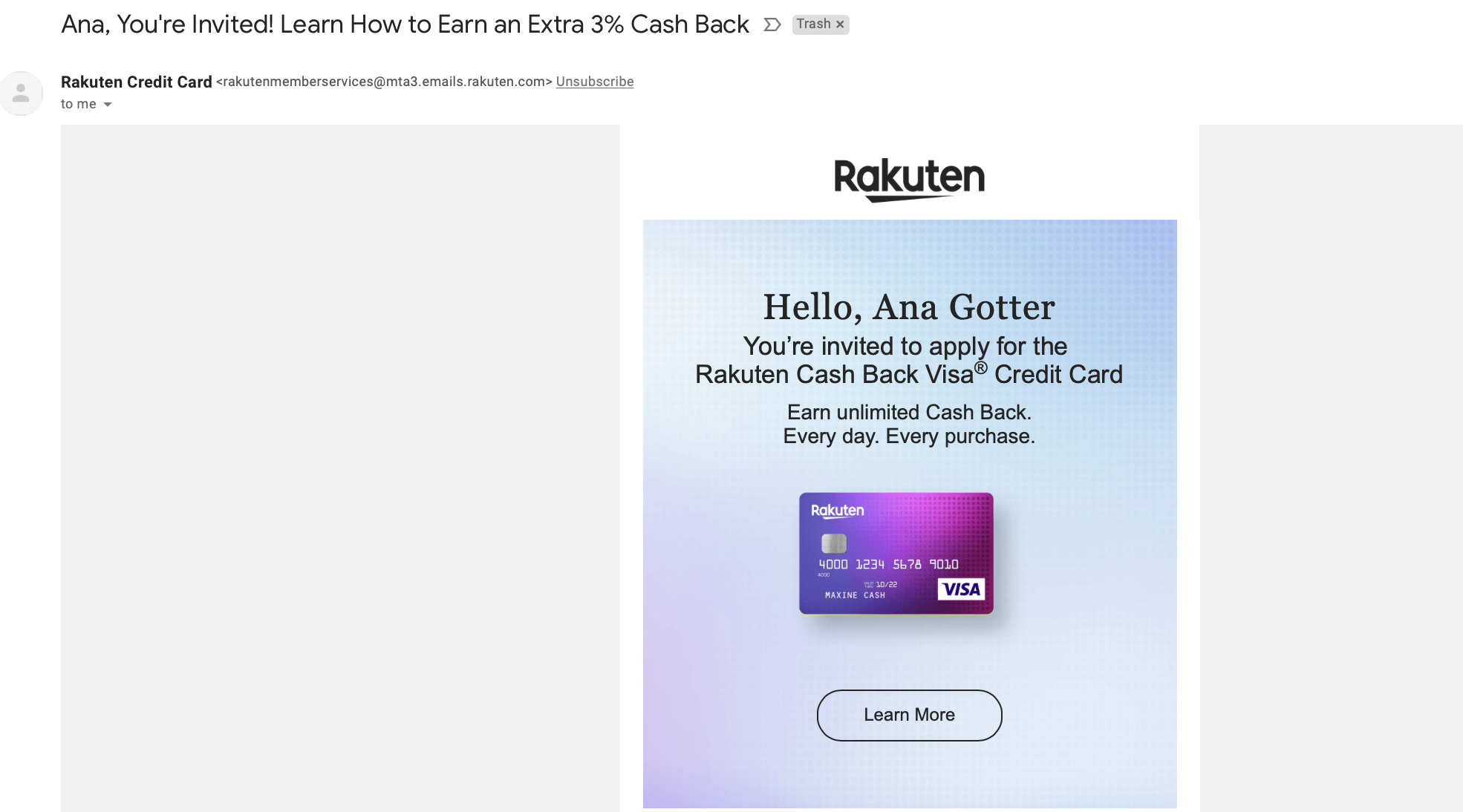 This subject line got me to open the email out of curiosity, whereas I typically throw prequalified credit cards into my shredder every few days when they come in the mail at home.
2. Leverage Scarcity to Create Urgency
Scarcity is the knowledge that there is a limited supply of something that the reader may want, and that this supply is running out. When you properly create the feeling of scarcity, urgency naturally follows suit, driving users to act quickly, to act now, RIGHT NOW, before it's too late.
When it comes to sales tactics, this is a good one. It's a tried-and-true strategy that's sure to work if you have a few customers who are considering purchasing but are on the fence.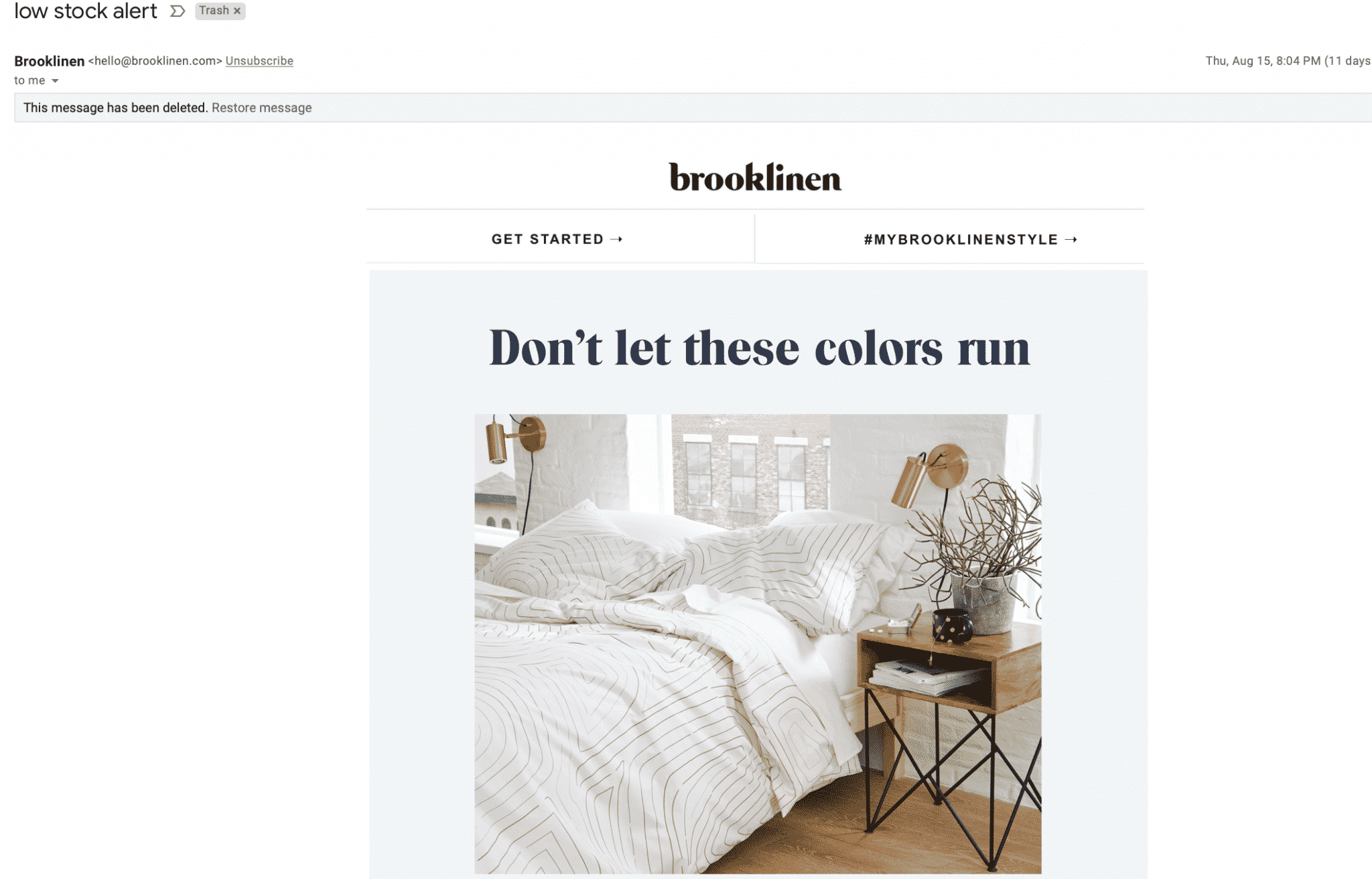 This can take the form of letting users know that your beta-test of a new product only has 100 slots, so to sign-up today, or that your flash sale is ending in just 24 short hours.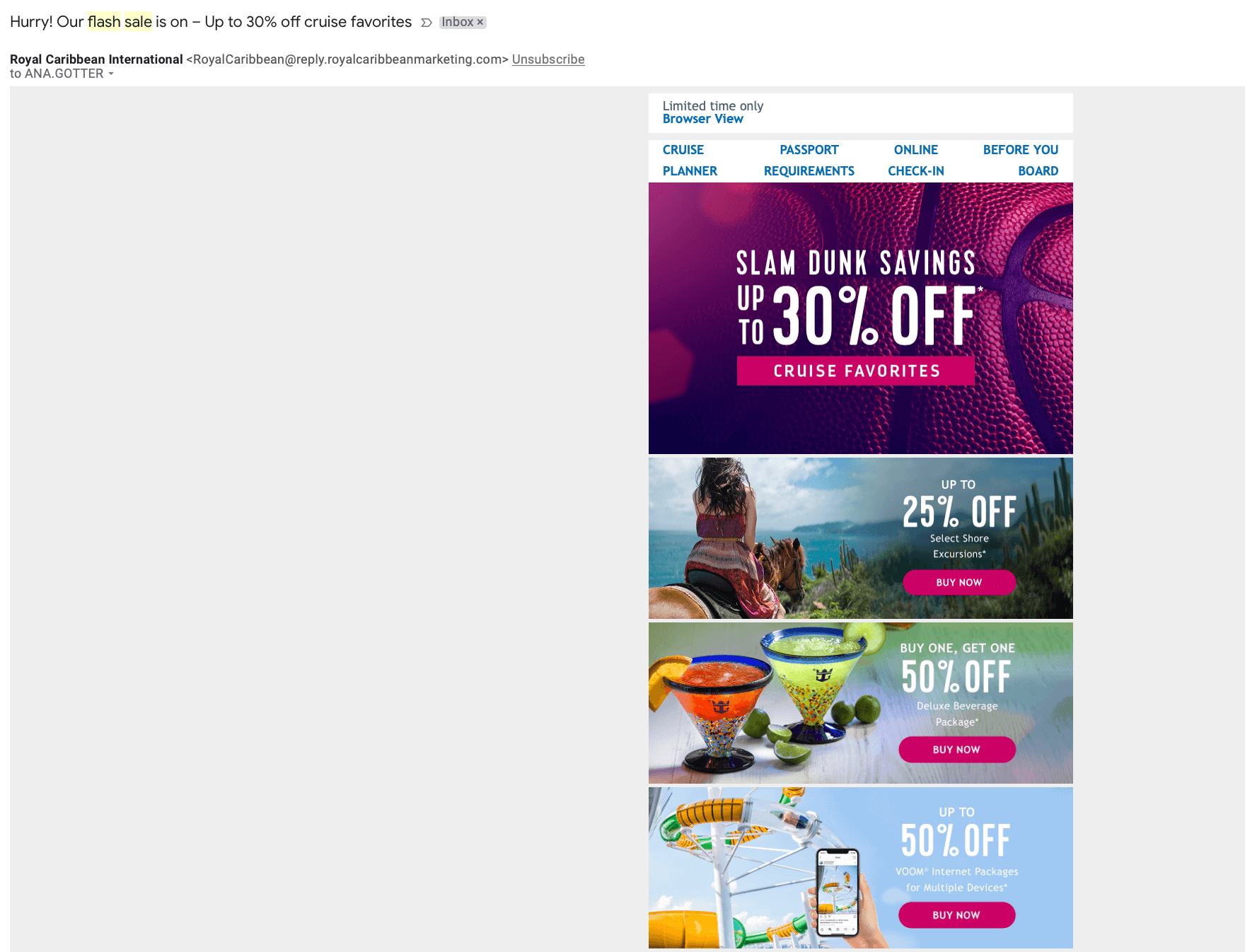 Scarcity in time and product/service availability is the way to go, especially when you add in that value offer to remind users of why they just can't pass up on the opportunity now.
3. Remember to Reengage
Our customers lead very, very busy lives, and their attention span is constantly being pulled in a million directions. Sometimes they may open an email, intend to convert or learn more, and then get distracted. Or, they may be long-time customers who could use a second reminder that you've got new products or an excellent referral program.
Email is an outstanding platform for reengagement, and this is one of the email marketing best practices that too many brands overlook. Create multiple campaigns designed to recapture the interest of past customers, nudging them back into the sales funnel.
One great option for this is mentioning referral programs and using the incentive of discounts off their next order. Not only can this generate more referrals where you wouldn't have gotten them before, but you also get the customer back in the fold and purchasing again.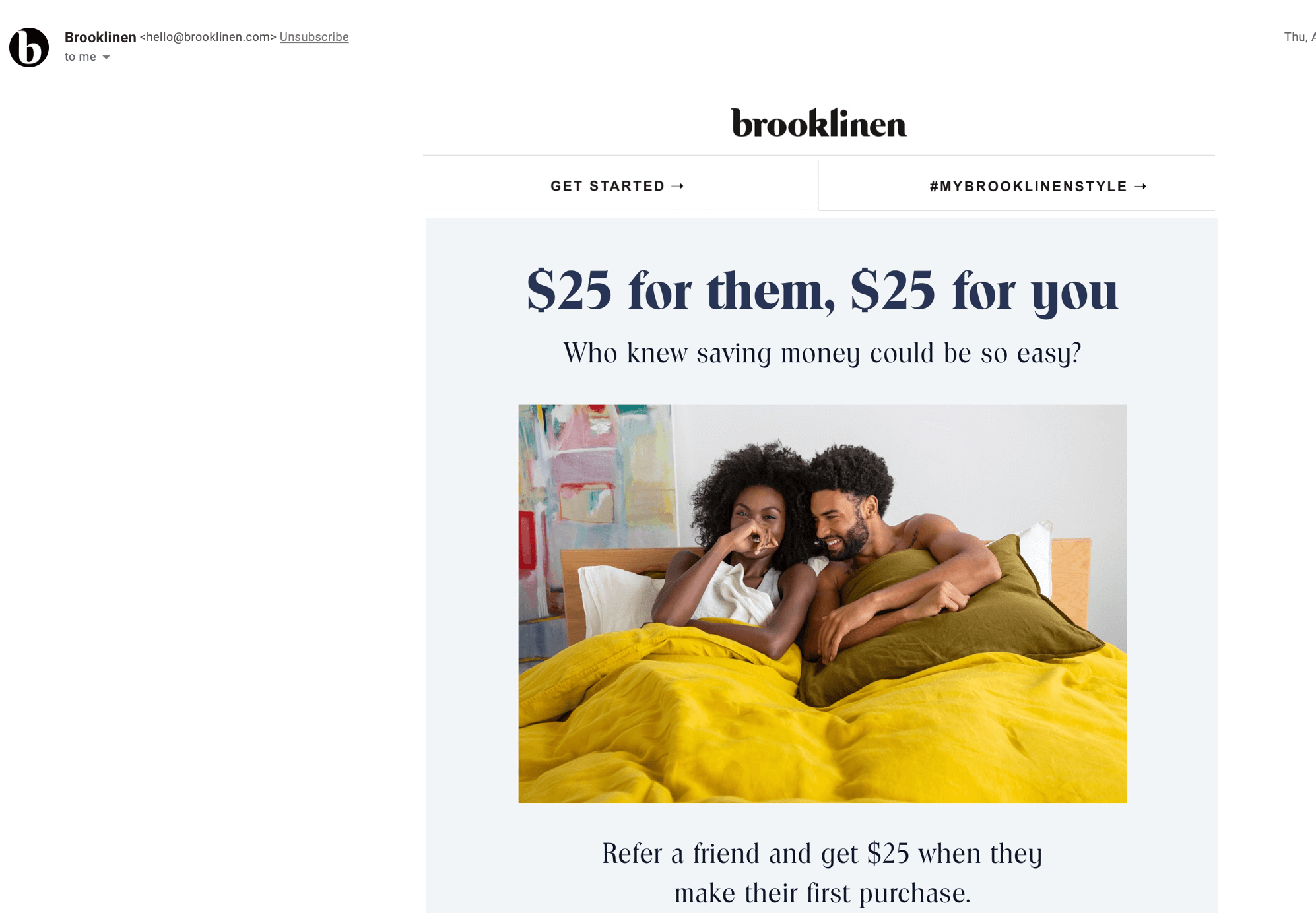 A "We've Missed You!" Campaign is also a good choice, offering a discount to long-lost customers as a way to get them back in the door. Everyone loves saving money, after all.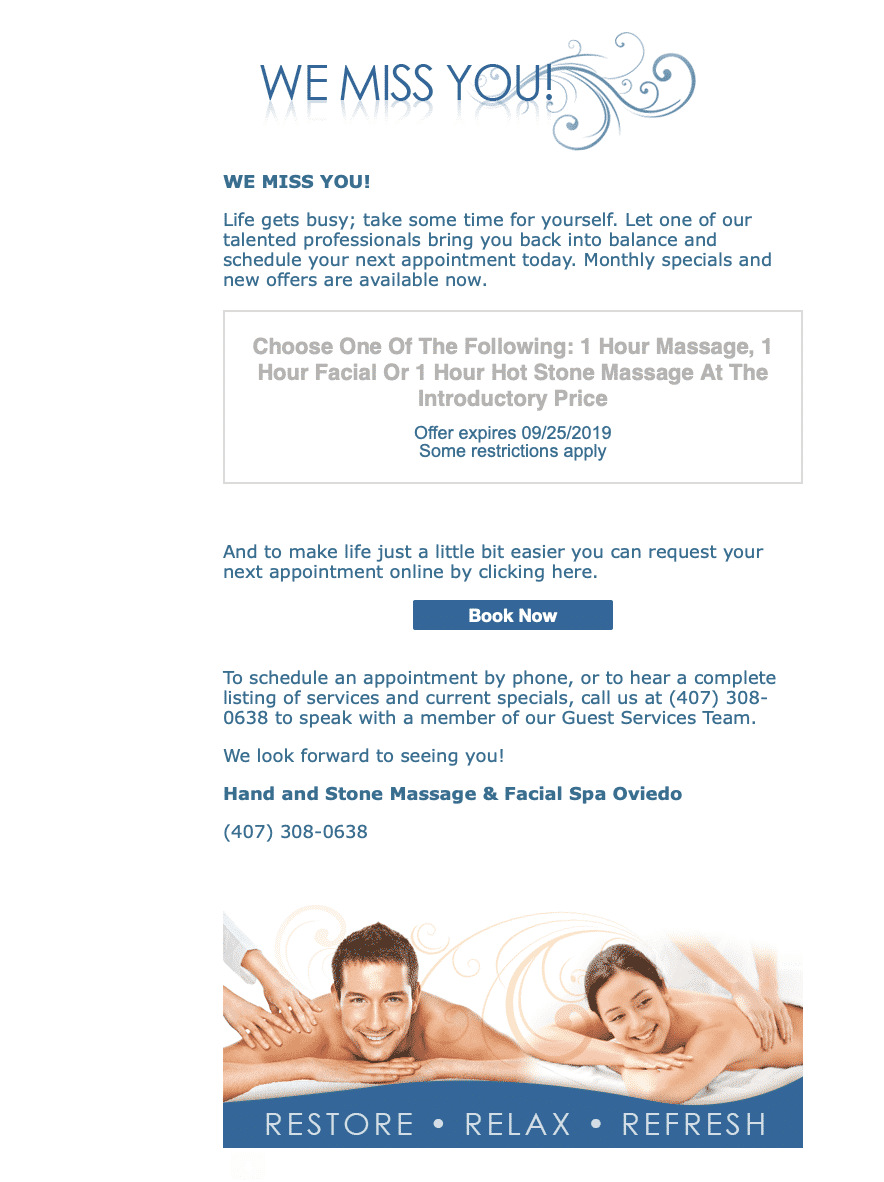 4. Focus on Exclusivity
Everyone likes feeling a little special, and using exclusivity as an email marketing strategy allows you to capitalize on that.
Many businesses, for example, may have tiered loyalty programs. If you shop enough, you get access to new products first, special discounts, or other perks. Disney, for example, allows hotel guests only to enter the park an hour before everyone or stay an hour later on certain days, which actually incentivizes people to pay hundreds more just to get that special perk.
You're going to sell more if what you're offering is exclusive, because exclusive implies value that's so great that it just can't possibly go around to everyone.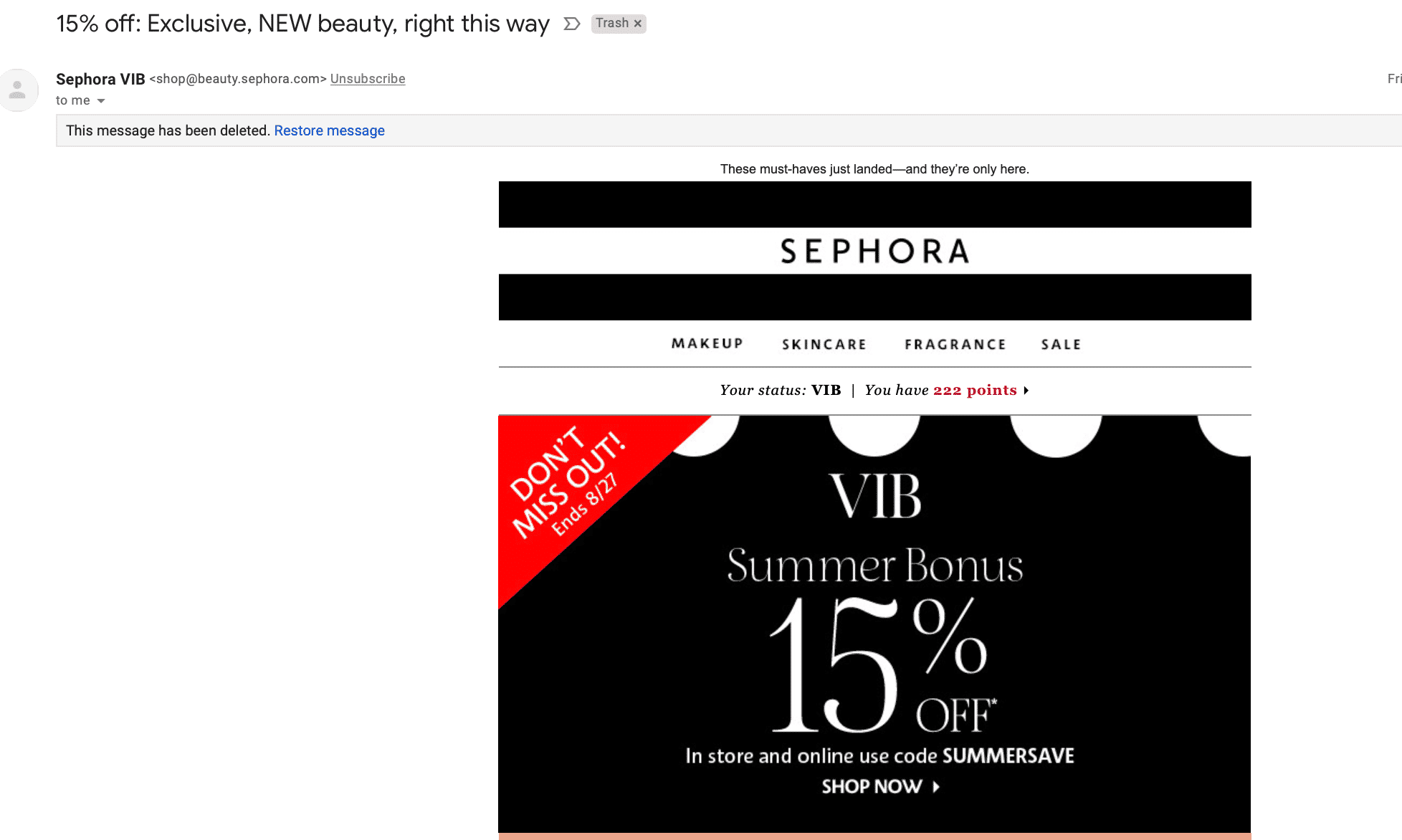 You can get obvious about this, too. Throwing around the word "Exclusive" never hurt anything, because it's a trigger word for a lot of people that captures their attention in a way other phrases just don't.
5. Remember the Sales Funnel
When you're mapping out your email campaigns, it's important to always keep the digital sales funnel in mind. Users in different stages of the funnel will often respond to different messaging.
If, for example, you show a warm lead a referral email campaign, you're not going to get any results whatsoever. They haven't even tested out the product or service for themselves yet; why would they refer it to anyone else?
You can use audience segmentation through your email software to send subgroups of your audience based on your relationship with them. If someone viewed a product page but didn't actually purchase the item, for example, you can show a follow up campaign.
You can also set up triggered autoresponders to remind users of an empty cart they didn't convert on. The more relevant your campaigns are, the better.
Not familiar with the digital sales funnel? You can learn more how it works and how to nurture users to conversion through it here.
6. Use Fast Faux-Personalization
True personalization to the level of writing individualized emails to every customer in your database is exhausting and inefficient. Faster, faux-personalization, though, is a great email marketing tactic to use.
In these cases, you're using simple coding tricks to insert the client's name (or their business's name, in the example below) to capture their attention and assure them that the information is relevant to them specifically.

In some cases, this information will be relevant to them, but only because you're using detailed audience segmentation tactics. These emails from Hubstaff, for example, are able to use segmentation tactics to send emails to users with profiles similar to mine that emphasize the same basic skills. The emails therefore feel personalized and are relevant, even though they're automatically generated and not so personal at all.
These campaigns can take a little more time to create because you may need to create multiple variations of them, but the payoff is also typically much higher.
7. Get Your Timing Right
Timing is everything, right? That goes for email, too, of course. If you're able to land in a user's inbox when they're most likely to pay attention to the email and have the time to convert, that's your best bet.
This will vary based on your industry and audience, but in general, the following best practices compiled by CoSchedule are a good place to start:
Late morning emails sent around 10AM were typically best received.
Tuesday is the best day for email open rates, and Thursday was the second best.
After 10AM, 8PM, then 2PM, then 6PM were the second, third, and fourth best times. This varied slightly by day.
The basics: try to put your most important emails on the schedule so they go out Tuesday through Thursday, and ideally shoot for a 10 AM send out time, but make sure you test this idea out in your own campaigns.
8. Incorporate Social Proof
Social proof is valuable no matter how you're using it. This is more true than ever while we're in a time where people are trusting brands and marketing platforms less than ever before, relying more heavily on peer reviews.
There are a number of different ways you can include social proof in your email campaigns. You can list "top rated products" and showcase their star rating and the number of reviews underneath each one, like in the example below. You can also use a snippet of the review in the headline, or place short reviews next to or under product images.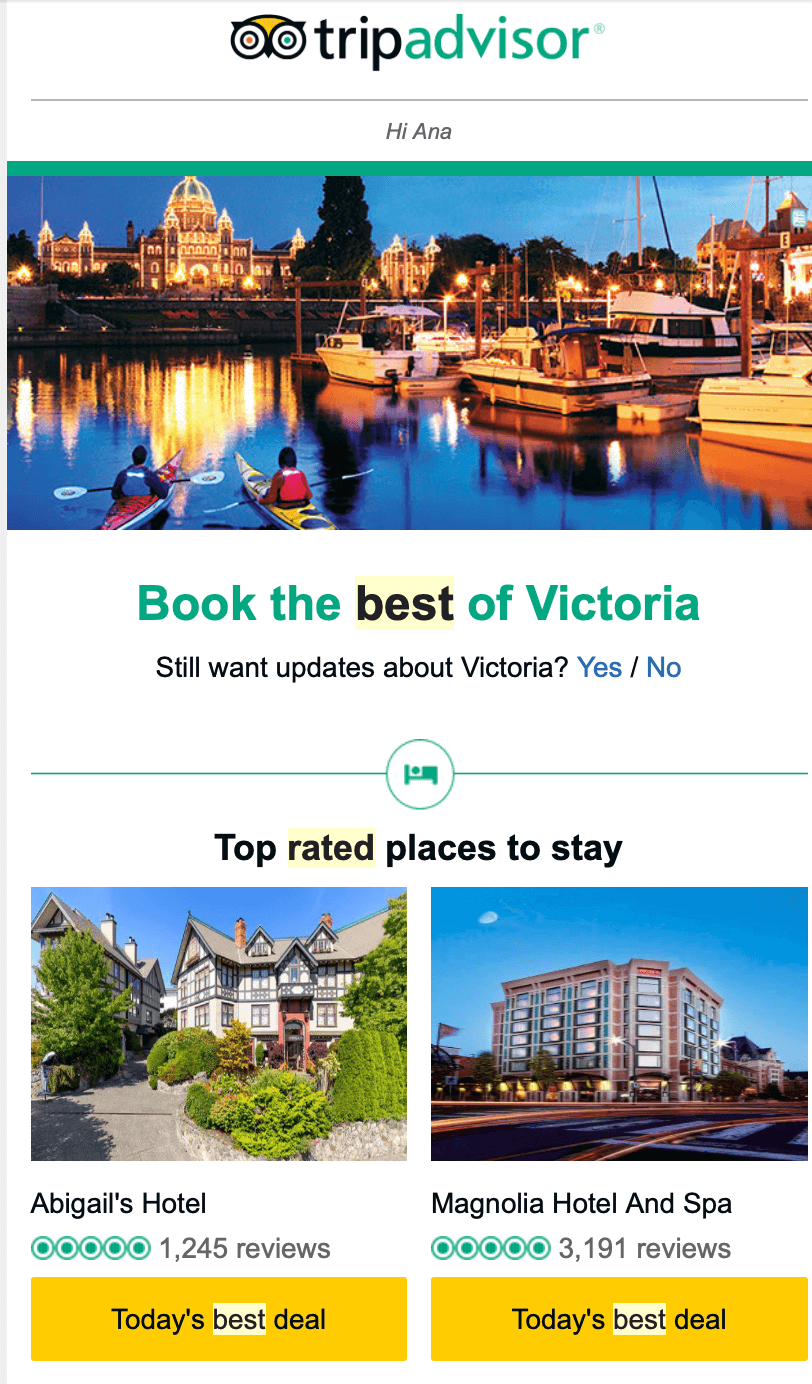 Social proof has valuable selling capabilities, especially if you're focusing the entire campaign around copy like "see the #1 rated pair of jeans that are selling out fast!" This can put scarcity, urgency, FOMO, and social proof all into one hyper effective ad campaign.
9. Opt for Clear, Scannable Formatting
This is a simple tip but a good one. Make sure that your emails look great. You should be using high resolution images and GIFs, but this also means using plenty of whitespace in your email designs. Include bullet points, text of different sizes and font types, and images to break everything up.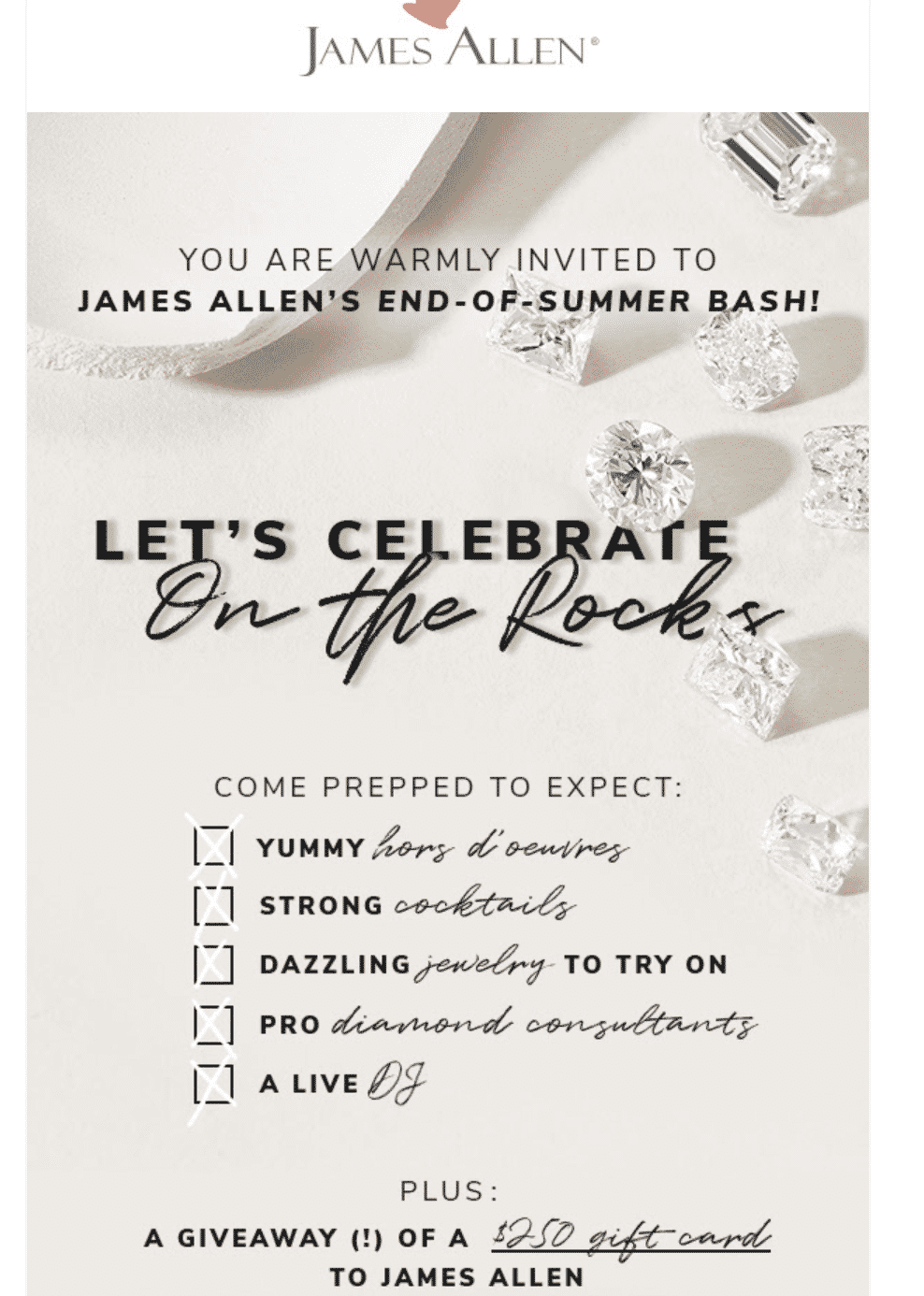 You want your email's copy to be easy to read and scan, both from desktop and from much, much smaller mobile screens. If things are too cluttered, people won't be reading them.
10. Give Users a Clear Next Step
All of your email campaigns should fulfill a simple purpose. They give users information needed to take a certain action, and then encourage them to take said action. This is true no matter how long the email is, what it's specific purpose is, and what audience your reaching.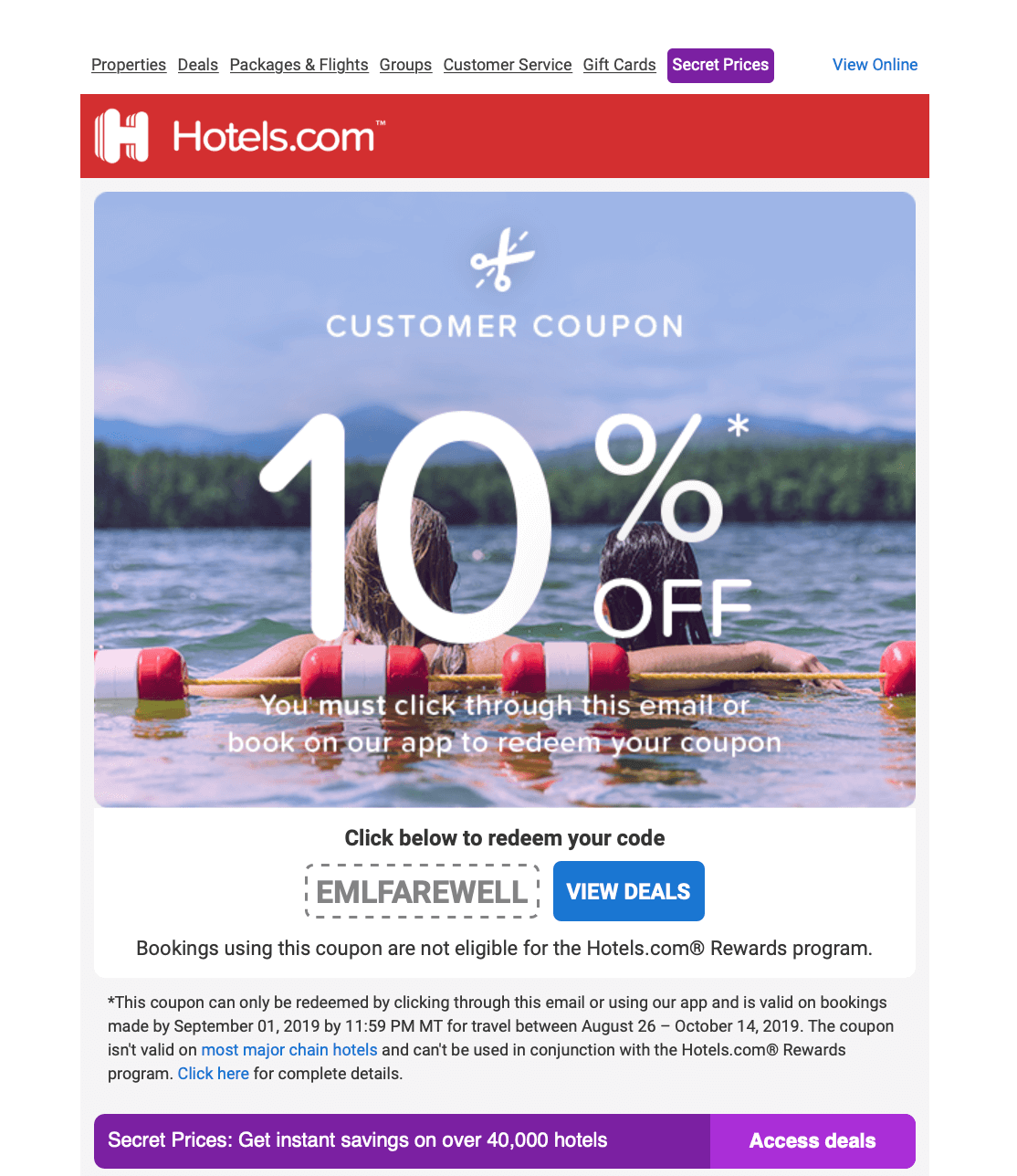 Every email campaign you create should have a clear, easy-to-see CTA above the fold of the email. Always include a highly-visible-thanks-to-contrast CTA button, and have any information users need to take action immediately. This can include registration opening dates, coupon codes, or login information. Have this immediately next to the CTA for best results.
11. Feature Social Profile Links in Every Campaign
This is another simple tip that's still reliable and should be implemented on every email campaign you send out. Add clickable, dynamic social buttons to the bottom of all of your emails. You want to do this for several reasons.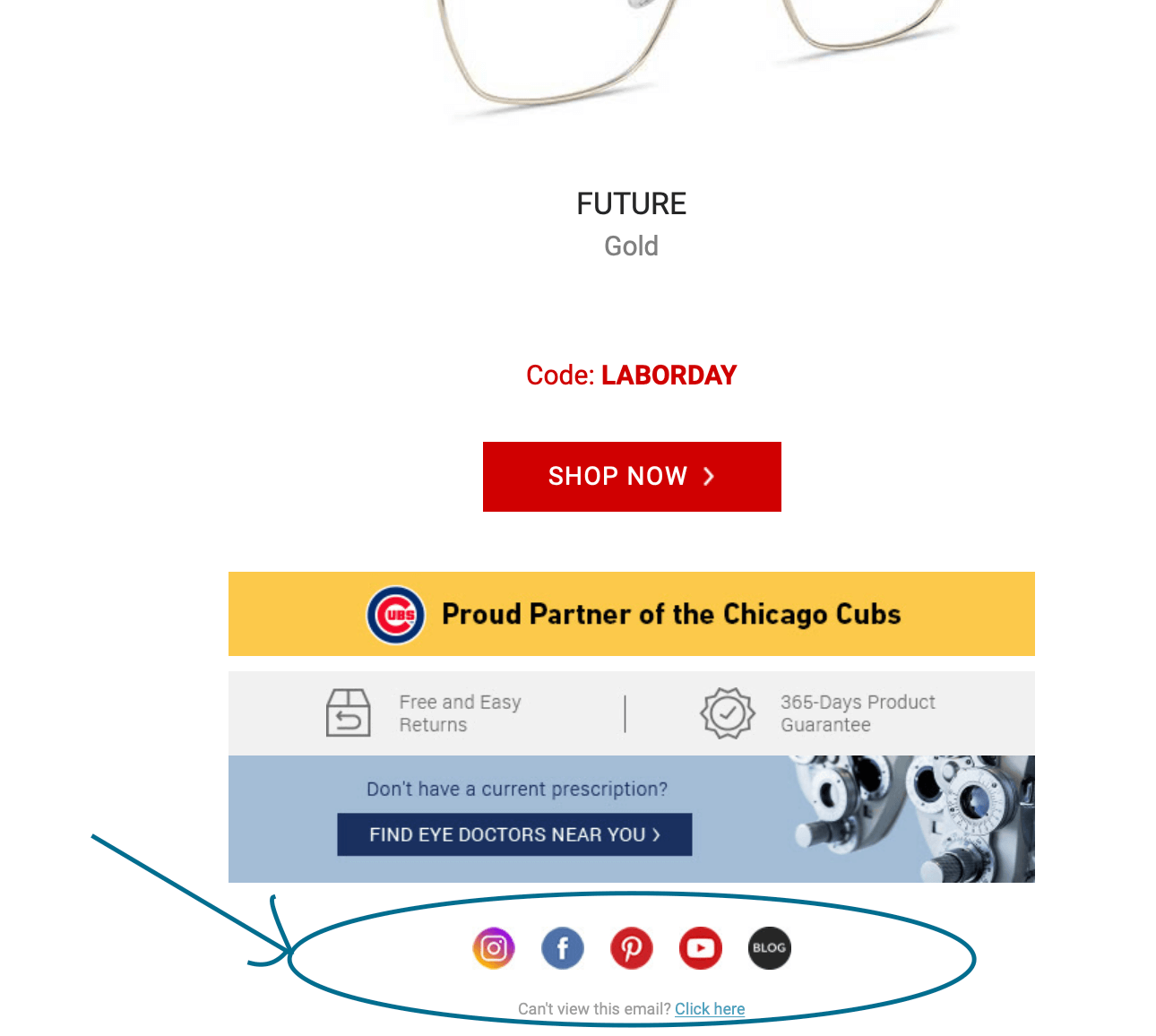 First, it's good to connect with your audience in as many places as possible. The more they're seeing content from you (especially free content), the better. Second, sometimes hesitant users like to see the social proof that lives on your social channels. They also might want to see your product in action, or learn more about your brand. More touch points are always good, so use this free real estate to take advantage of that.
12. Consider the Inverted Pyramid Design
The inverted pyramid design is, you guessed it, purely a formatting strategy, but it's a good one. In this design, the goal is to put the key information of an email into an upside-down pyramid shape. It's subtle, but it funnels the eyes downward, emphasizing the single goal (if not a single product, like you can see here), ultimately leading to an extra powerful CTA.
The design also emphasizes key information first ("last day, 20% off upholstery" with the big picture image), it offers more in-depth information next (the name of the sofa and info about it), and finally leads to a CTA ("Shop the style." This is easy to scan, easy to remember, and it gives users the information they need in a logical order.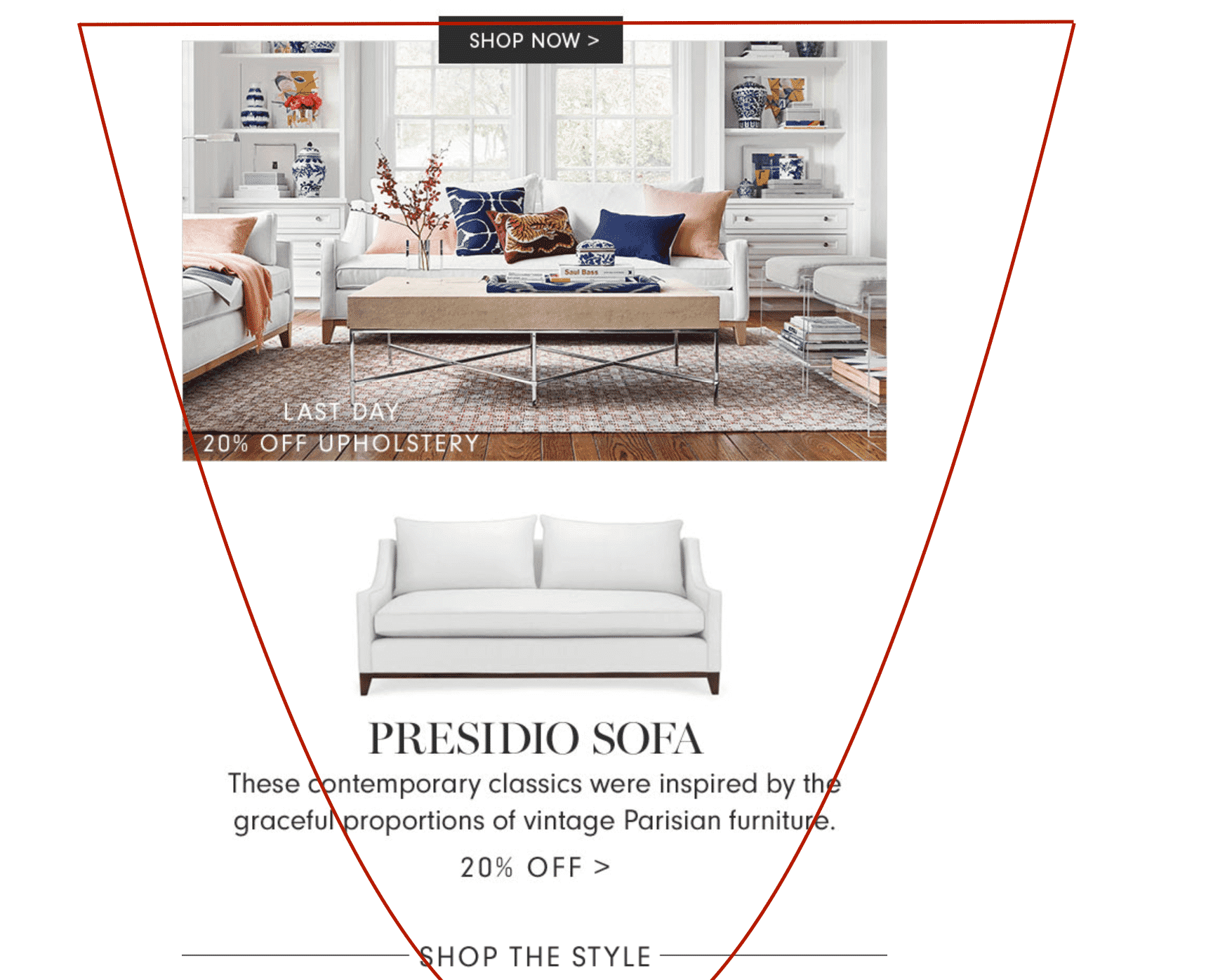 This email, for example, can easily fit within my poorly-drawn almost-triangle (sorry, I'm not great at editing tools). It's not something that you'd notice on your own, but if you go looking for it, you'll likely notice now how many emails use this visual design trick.
Conclusion
Email is a platform that offers so much potential, and you don't want to let even a sliver of that potential go to waste. These email marketing best practices will help you to develop stronger strategies, better-formatted designs, and well-written campaigns.
All together, they can significantly boost the results that you're getting, even if the general messaging stays close to the same. Long-term and immediate payoffs are possible here, so pick a strategy and start testing it!
What do you think? Which of these strategies do you use to get more results with your email campaign? What's worked for you, and what are you most excited to try first? Share your thoughts and questions in the comments section below!