Referral Marketing: The Secret to Competitive Advantage
by Ana Gotter • July 25, 2019
When it comes to making purchases, we're all influenced by a number of different factors, which impact our decisions to varying degrees. Great copy on an ad might initially capture our attention, but likely won't be enough to drive a sale the first time we see it. Seeing a chunk of positive reviews can be incredibly persuasive. A referral from a friend or someone we know personally, however, is what's most likely to get us to purchase.
If you had me write down everything that I've purchased because someone I knew recommended it to me, this would be an exhaustingly long blog post. I've purchased everything from clothing subscriptions to mulch for my backyard to shower cleaner that my friends have recommended, and I've enthusiastically shared my favorites with them, too.
Think about it: If you had to hire an electrician to install recessed lighting, would you rather find someone from a Google search or get a name from a friend who had their entire house rewired by someone last year?
We trust our in-person network more than anyone else, which is what makes referral marketing so powerful. Many brands overlook this, however, hoping that word-of-mouth marketing is happening on its own and not being sure how to generate it. We want to change that. In this post, we'll take a close look at why referral marketing is so beneficial to you, a few tips to implement a referral program that will succeed, and some tools that can help.
Why You Need Referral Marketing
Referral marketing is easily the most beneficial and profitable form of marketing that you can take advantage of for your business, whether you're B2B or B2C. Keep in mind that 92% of consumers trust referrals from people they know, and the data backs that up.
Consider the following statistics:
The data is there, and there's no controversy here: Referral marketing programs are insanely effective. They'll help you acquire higher-value customers that purchase more and stay clients for longer, they'll convert faster, and this all comes at the benefit of very little cost to you. It's typically much, much cheaper to acquire customers through referral marketing instead of other marketing methods.
What Motivates People to Share
Referral marketing is essentially word-of-mouth marketing, and programs can be put in place to incentivize and speed up organic word-of-mouth marketing that you want to encourage.
Many people may purchase something from your company and think "this is great, I should tell people," but then either forget or just not really feel motivated enough to do so. A formal program that offers them direct incentives will not only remind them to share but give them a really good reason to do so.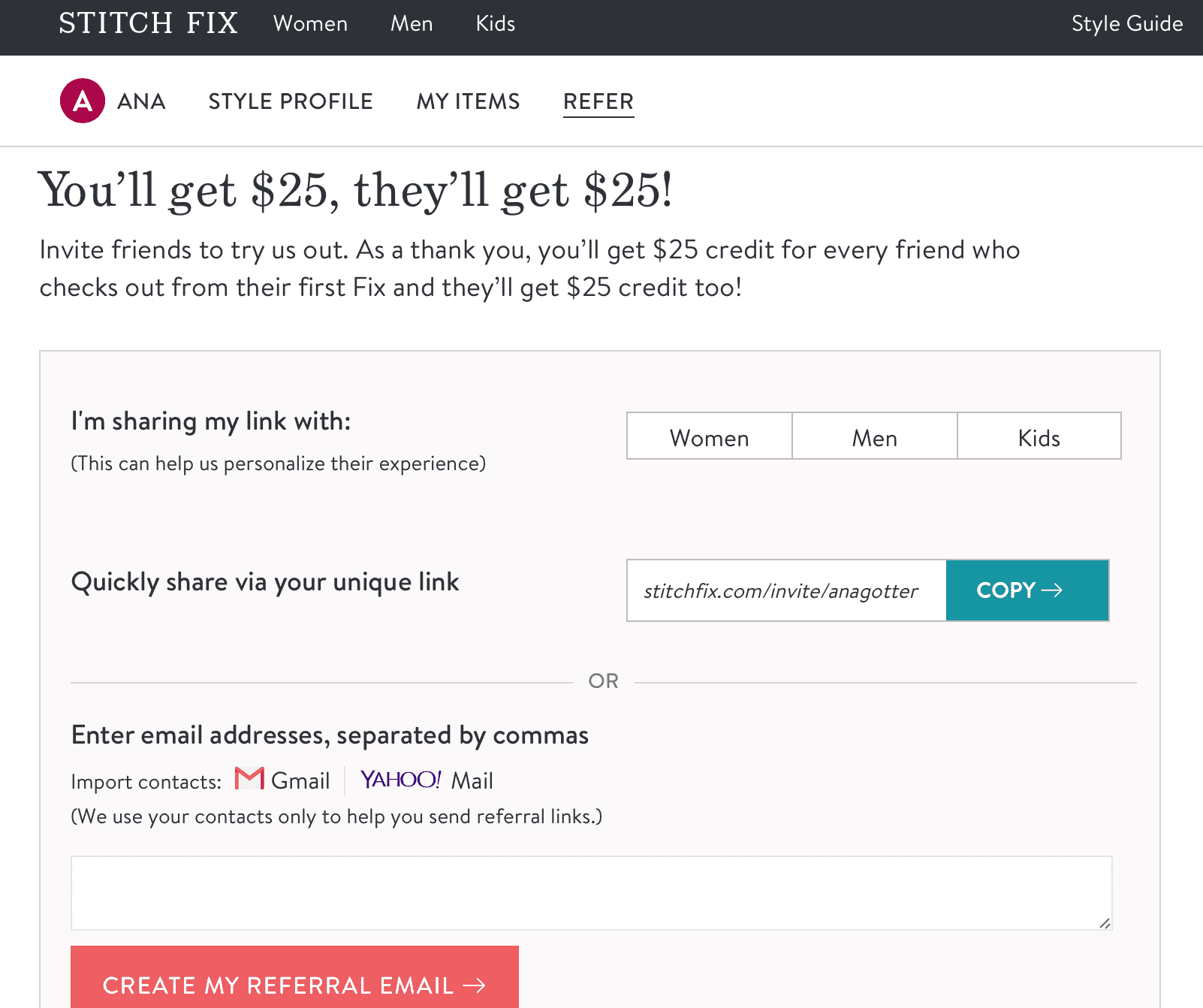 Referral marketing programs often contain rewards that will directly benefit customers every time they refer someone who purchases. This could be something like a free gift, a free month of a subscription, or a discount or gift card towards the next purchase.
There are multiple different factors that can contribute to whether or not people want to share about a business. These include:
Reputation. We are sometimes inclined to share what makes us look good, so go ahead and share that business that's doing great things or the charity putting shoes on people who don't have any.
Timeliness. Did we just get those comic books in a few hours ago and need to tell someone? t's at the top of our minds, so we're more likely to mention it.
Practical value. If we believe that sharing as value to others (here's an electrician I think you need to fix that wiring), we're more likely to share. We're also more likely to share if we get some value out of it—say a $10 discount on our next purchase.
Emotion. We share what moves us and resonates with us. In many cases, this means that we're sharing stories, which should be a key part of brand storytelling.
Consumers can be driven to share about your business for multiple reasons, therefore, and a strong referral marketing program will take all of these triggers into consideration for maximum effectiveness.
4 Tips That Will Help You Build a Strong Referral Program
Referral marketing programs are going to be most effective when they're strategic, accessible, and long-lasting. Automation is also a big plus so that you don't have to try to keep up with 10% off discounts that may take months to cash.
Aside from these general guidelines, though, there are four strategies you can use to get the most out of your referral marketing program. Let's look at each one.
Feature it as a Central Part of Your Site
All good referral programs should be immediately accessible and highly visible. You want every single customer of yours to know that there's an option for them to save (or otherwise benefit) if they can send some people your way.
Freshbooks does this with a "Recommend" CTA and tab in their top navigation bar. This is easy to spot, and it even comes before "My Account" or "Settings" to give it the best visibility possible.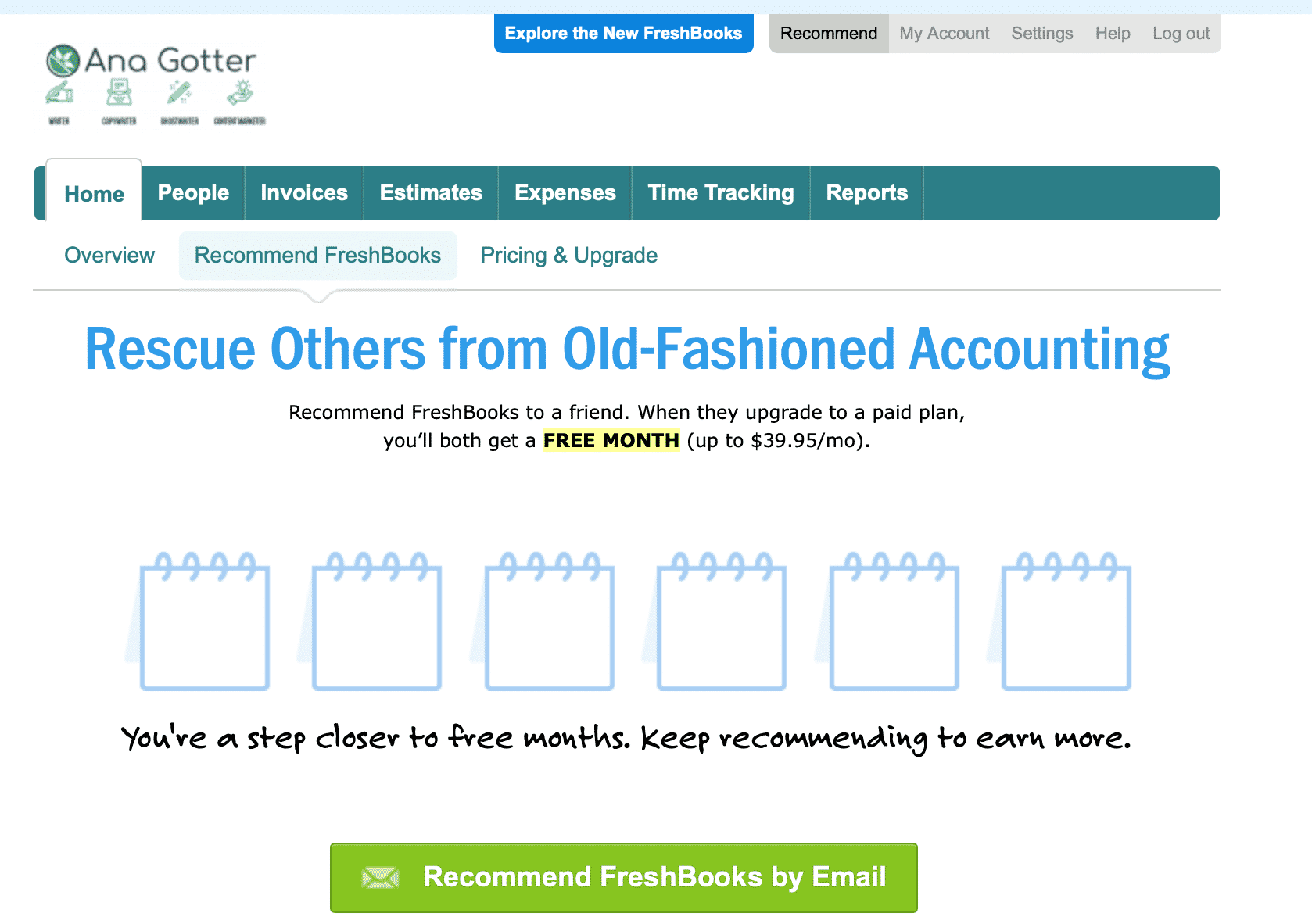 Your referral program should absolutely have its own page on your site. For best results, give it its own spot in the navigation menu instead of making people look. Because, spoiler alert: they won't.
Get the Timing Right
Referral marketing is going to be most effective when you're able to show customers the CTAs to start referring at the right times. The "right time" will always be immediately after purchase, and again once the customer has had time to receive the product and really appreciate its value.
Just like most things in marketing, a multi-stage funnel approach is going to be the best way to keep your referral program at the top of your clients' minds and increase the likelihood that they'll participate.
Who Gives a Crap (who produces sustainable toilet paper and uses some of their profits to build toilets and improve sanitation in places that need it) has A+ marketing and copywriting in general, which strengthens their multi-stage approach. Immediately after purchase, users see the pop-up below. It encourages them to give $10 and get it, too, and reminds customers of the good the company does. It's immediate, so it's timely, and it's right when people are likely to share.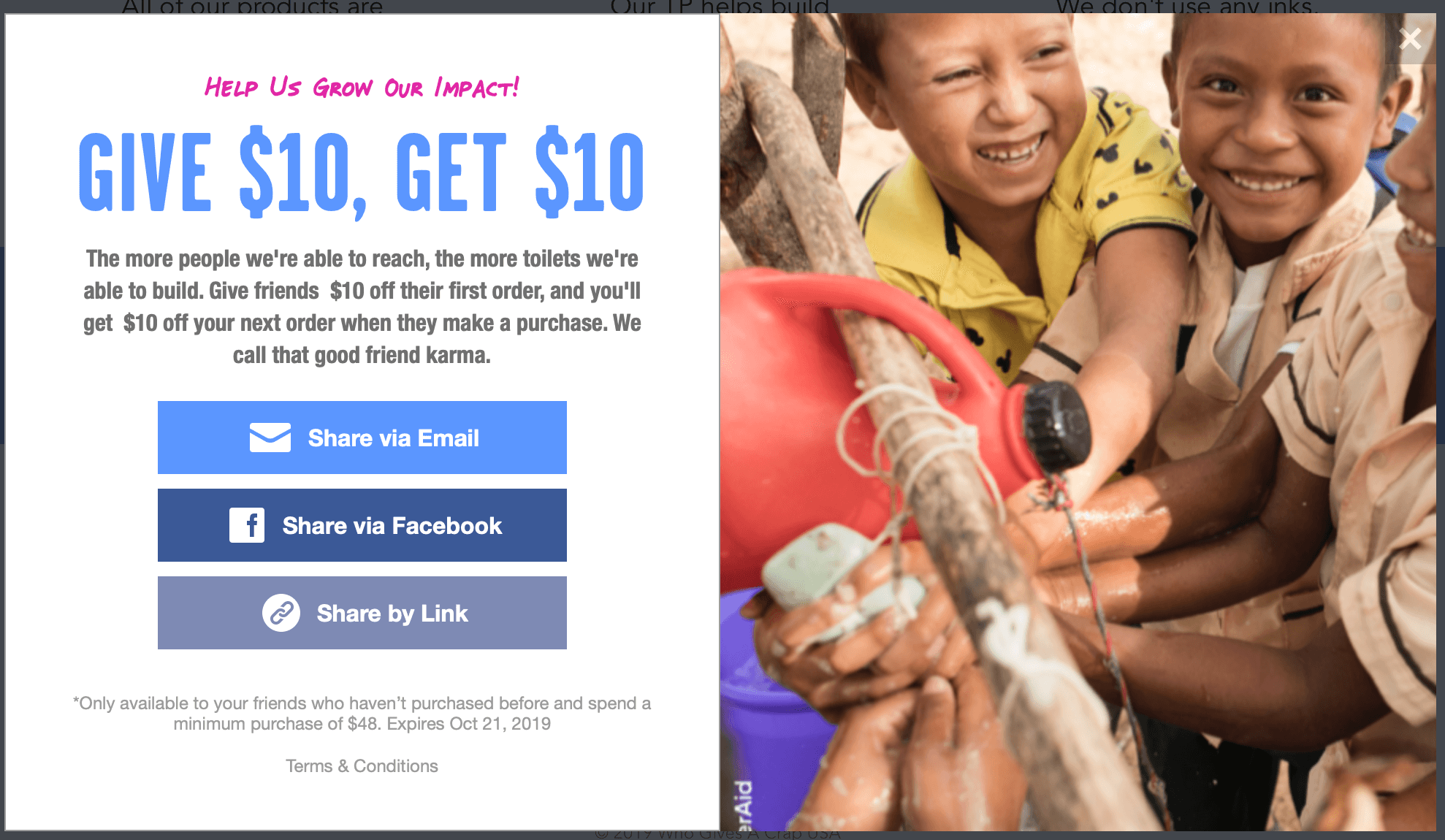 Not long after this, customers get the following hilarious email that explains some of the good their company is doing, why so much good means they can't spend much on marketing, and a reminder to share. They're aggressive about reminding customers of that core message—we're doing good, and you can help!—and it's incredibly effective.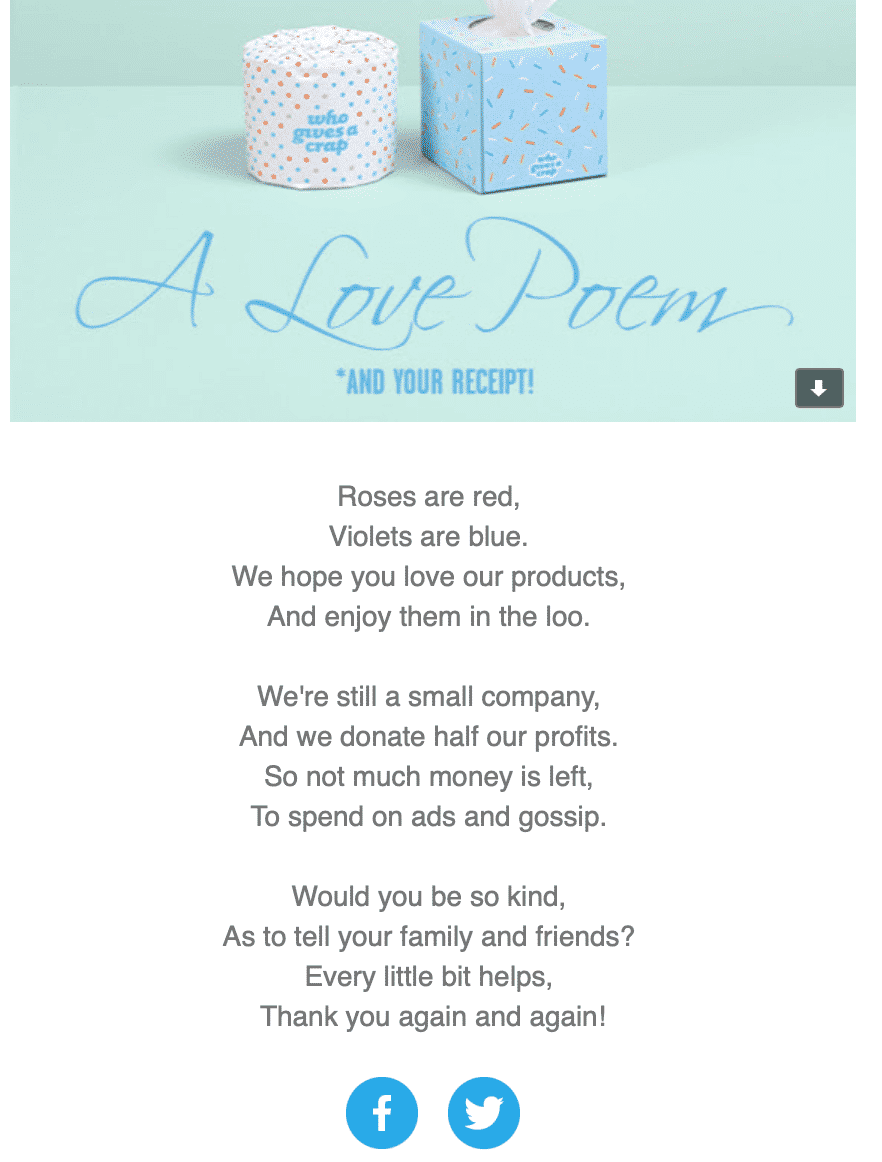 If you're wondering how to include emotion or humor into your referral marketing program, this is the way to go. They use both, going heavy with the storytelling to help customers feel the impact of working with the brand and humor to keep people engaged and reading.
Make It Easy
Part of the beauty of most referral programs is that they're easy to use. People simply have to share a custom-but-automatically-generated link with their code and share it on social or enter in a list of their friends' emails to a box on your site in order to send out massive amounts of referral messages for your business.
Ease of use is key here, so remember that. Generic messages that can be customized are a good start, because people don't have to write up their own. Giving users the ability to import their contact lists can also be a good start, because it saves them the need to copy and paste.
Perhaps no referral program out there has made it as easy as AirBnB has, though. Not only do they incentivize you to both refer friends and hosts, they'll also suggest specific Facebook friends of yours that they believe would make "great hosts."

There's no rhyme or reason to this. Two of the people on this list that showed up who were "believed to be great hosts" are students who own no property, so they couldn't be hosts. That being said, the ease of use here is so high, and it's easy to take a look at someone you may not have thought of before on the list and go "oh yeah, they would be great." If you allow for Facebook sign-ins to your site, this may be something to look into.
Treat Happy Customers like Brand Ambassadors
When you're selling your referral marketing program, you'll likely be most successful if you're able to treat your happy customers not just like loyal clients but like brand ambassadors. Thank them, and allow them to feel like they're part of something great.
If people feel like they're part of a community surrounding your business, they're going to be much more likely to be really vocal and dedicated when it comes to getting you those referrals. The kickboxing studio I go to, for example, has a small group chat on Facebook called the "Woo Crew," and the owner recently asked the 30 of us there if we'd refer people who were interested.
Feeling like you are part of a community is a good feeling, especially when so many adults are looking for some semblance of belonging to a group. This really ups the loyalty factor and motivate them to be a little more aggressive about putting your name out there.
Referral Marketing Tools That Can Help
Referral marketing tools will essentially automate the referral program for you. You typically need to install a widget on your site to allow users to generate their own unique codes or links to share with their future invitees, and then the tools will track invitations and purchases. They'll allocate rewards accordingly, saving you the hassle of handling any of this.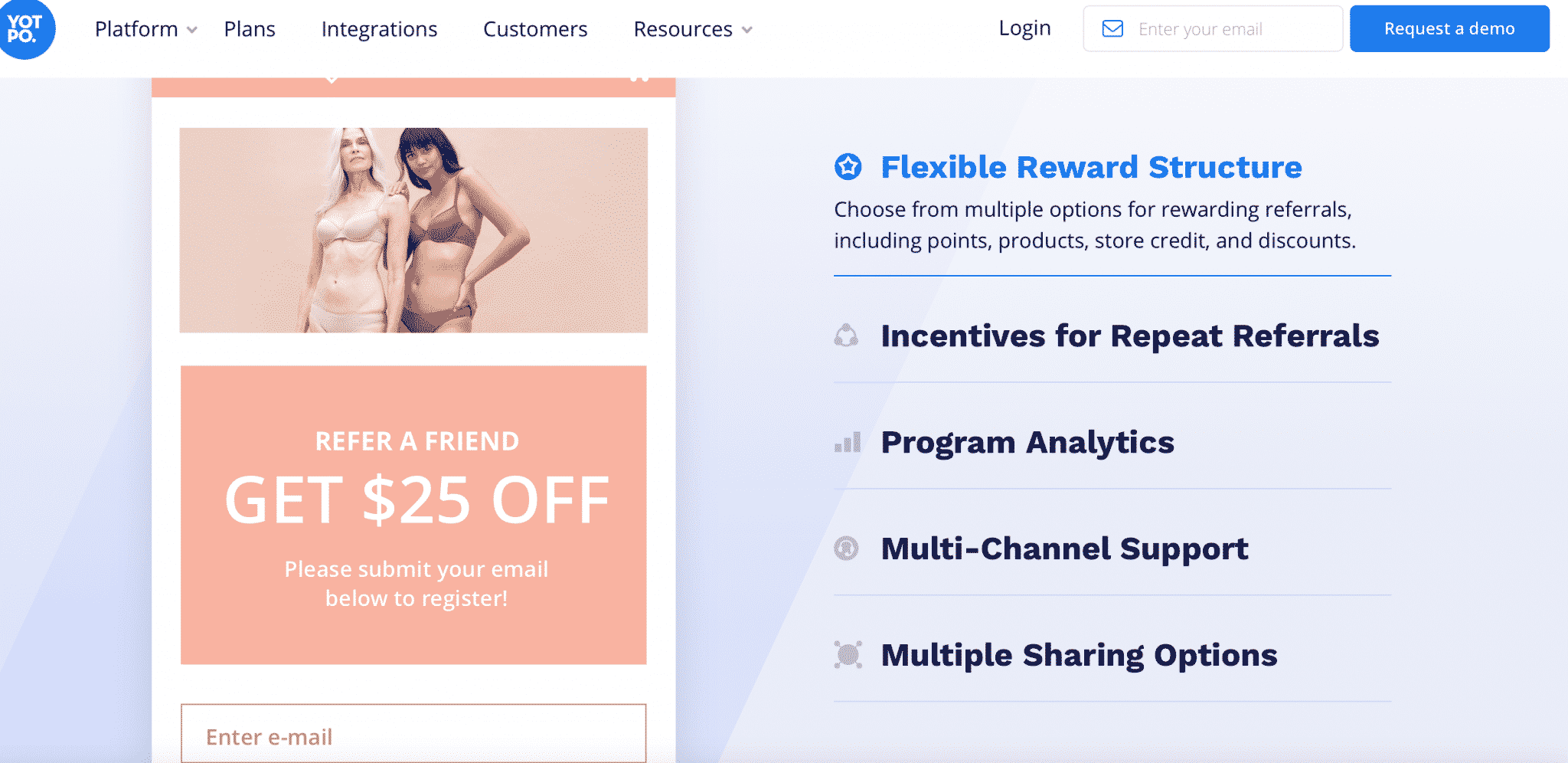 The tools are generally pretty similar, so it's just about finding the right one for you. Some of the best referral marketing tools include:
The majority of these programs offer free trials and/or demos, so see what interface and specific plans resonate most with you.
Conclusion
Referral marketing is profitable, it's easy to set up and automate, and it's one of the best ways to help you acquire customers quickly and affordably. Plenty of businesses have scaled rapidly thanks to formal referral programs, and customers love them just as much as the businesses do because they're benefiting, too.
Take some time out of your day to check out some of the tools we've mentioned in this post and consider setting up a referral program for your company. We can assure you that it will almost definitely be worth it.
What do you think? Do you have a referral marketing program in place for your business? What are you most likely to respond in a referral program to as a customer? Share your thoughts and questions in the comments below!