5 Google Ad Display Builder Tools You Should Be Using
by Ana Gotter • July 17, 2019
Google's search ads can seem difficult to assemble, with so many options for keywords, extensions to add to your campaigns and even the text you're using to drive as many clicks as possible. Search ads, though, only have to worry about the strategy and the copy—Google's Display Ads require an enormous focus on the visual.
This can be intimidating for plenty of small- and medium-sized businesses who don't have the budgets to outsource design and video editing to high-level, expensive third parties. Speaking from experience, when you have no technical or design knowledge in these areas, it can feel like the situation is a little hopeless.
It doesn't have to be, though.
We see automation in all areas of marketing, and in the past few years, we've seen the emergence of some truly exceptional image and video editing tools roll out, making the visual creation process a lot easier, a lot faster, and a lot better in terms of potential quality. Let's take a look at 5 of the best Google display ad builder tools that will help you create strong visuals that will engage your audience, encourage clicks, and hopefully drive some conversions.
1. Snappa Graphic Design Software
Snappa is my go-to for image and graphic design. The drag-and-drop design features are extremely intuitive and simple to use, allowing you to arrange patterns, background stock images (which are included for free), text, graphics, and anything you upload into a stunning graphic.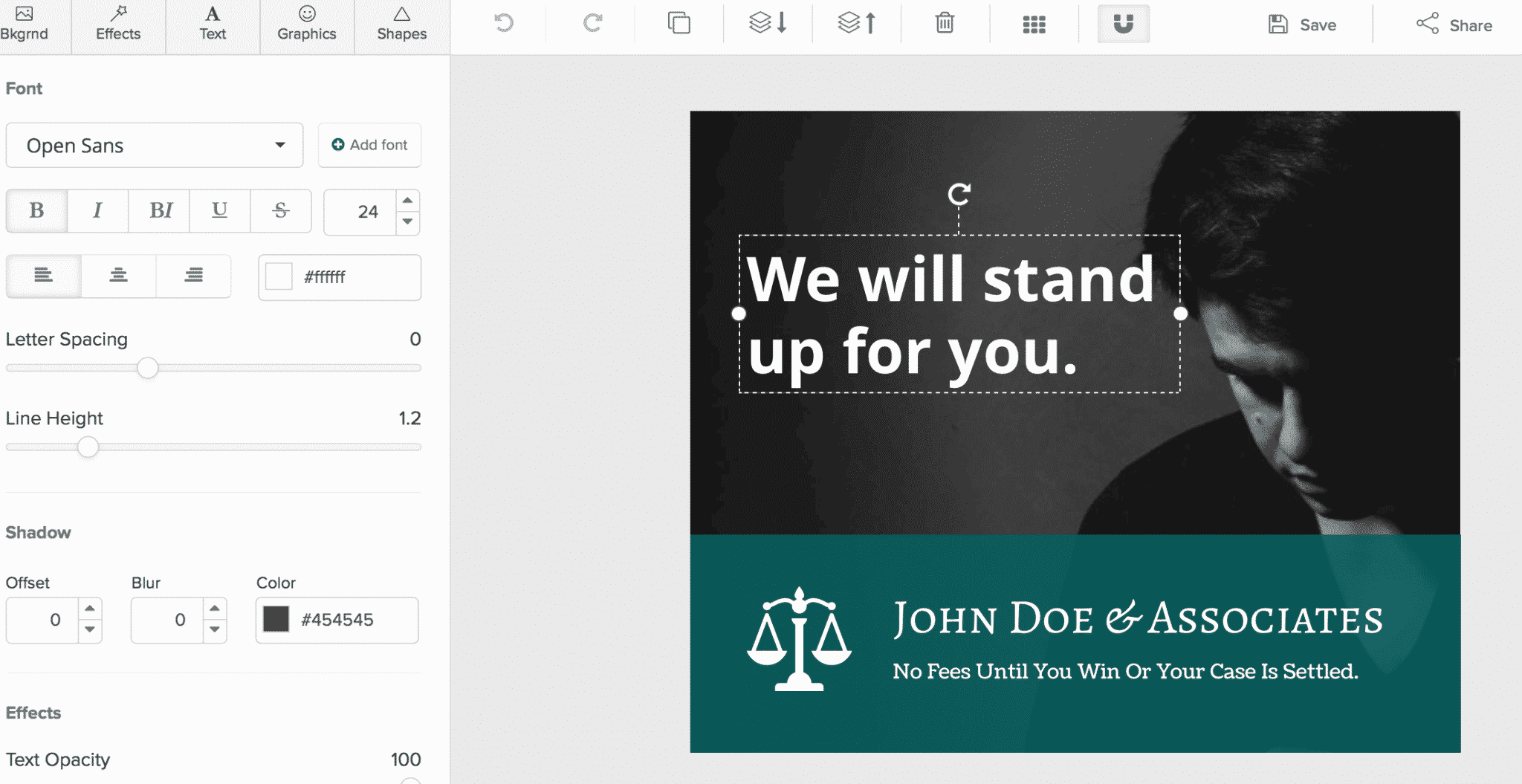 You can start from scratch, or opt to use one of their pre-made templates that are fully customizable but particularly helpful for those who lack a natural eye for design. They have a full list of different template options available for the most commonly used forms of Display Ads, making your job much easier.

Snappa has a free plan, so test out the software to see if you like it. If you do, upgrading is only $10 or $20 per month, depending on the plan you choose, and includes unlimited downloads and access to their stock photos and graphics.
If Snappa doesn't work for you, there are other great alternatives out there, including Canva and Easil, which are both fantastic. Snappa is my favorite because I found it a little easier to use and navigate, but that's personal preference.
2. Shakr's Video Template Software
Shakr works a little like Snappa, but they do it for video, and video is essential for Display Ads. They offer hundreds of video templates that you can plug images, videos, and text in to create more dynamic, professional looking videos.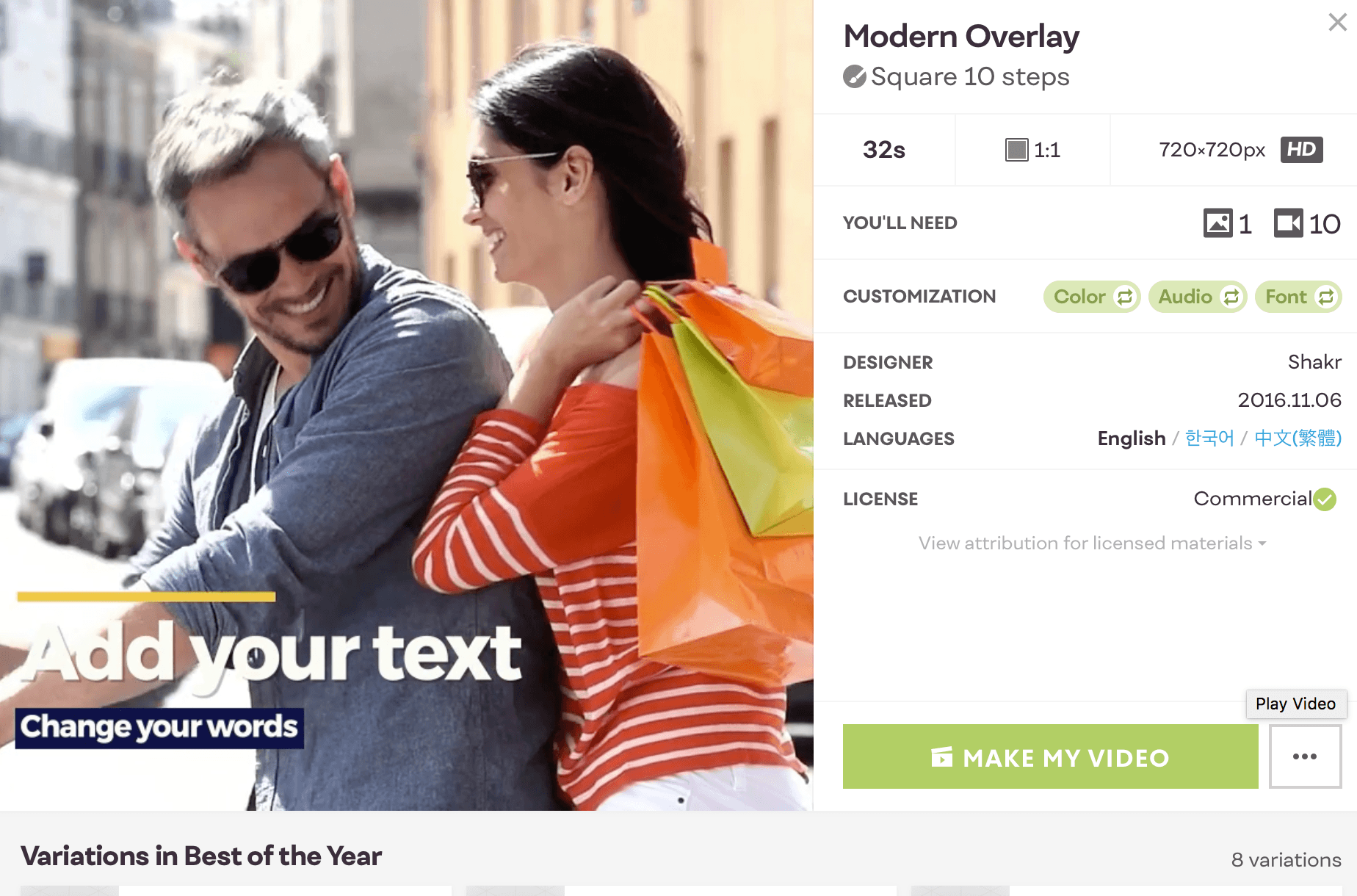 They offer the slide transitions, background music, and certain stylized looks to help you take a few simple images or raw video footage and turn it into a video that would work well for display ads. An example of what you can create can be seen here:
https://www.youtube.com/watch?v=TzVAf8Zh9Pc
And since you can easily swap out images, text, or video clips like you can in Snappa, this tool is scalable, making it easy to quickly split test different copy, visuals, or strategies quickly. This is an important part of PPC display ads, so it should be a prime feature you're looking for in a Google Display ad builder.
Shakr offers customized plans for brands interested, developing video templates that match their exact needs. You can contact their sales team for information about pricing here.
3. Animaker's Animated Video Software
Animated explainer videos can make for powerful, compelling Display Ads even if they're short. The animations can help tell a story even if the sound isn't enabled and draw in user attention.
If you want to use animated videos for your display ads, you need to check out Animaker. Conventional, made-from-scratch animated videos can cost thousands of dollars, but Animaker's exceptional software can do the same thing starting at $12 a month. You can choose from different characters, a number of different animation styles, backgrounds, and actions that the characters can take.
This sounds complicated, but it's actually pretty easy and affordable to create an incredible video for your display ads using this tool. You can see exactly how it works here:
Animaker has background music and sound effects, and allows for direct voice recording and uploading of custom soundtracks. They also have a free trial so that you can get into the software and make sure it's right for you, so try it out and see what works.
4. WordStream's Display Ad Builder
WordStream recently rolled out a Smart Ads Creator, and it's the most advanced, complete tool on this list in terms of being an automated Google display ad builder. You even start with strategy instead of launching straight into design, entering in your URL and choosing a goal for the ad campaigns. The tool actually does research for you, looking at what's popular and working well in your industry, and designing the ads for you.
This automation can work really well for some brands, but it's not perfect… at least not yet, so there will be some manual adjustment here needed. You can see that in the examples below, my site stumped them a bit. They were pretty spot on with "excellent writing matters," but the animation also showed "Weins was right" in its place, which makes zero sense out of context. The image containing my name—which is on the title page—is cropped in a strange way and doesn't work.
The animations are cool, though, and the color-coded "learn more" was great.
You also have the option to refine the ad campaigns, so if you don't like what the system comes up with, that's okay. You can add new images that you want to use instead of those that were automatically correct, switch out the logo, adjust the CTA, and edit all of the text.
So, even if you don't love the auto-generated content, these ads are fully customizable, and even allow you to customize them more with added offers if you choose.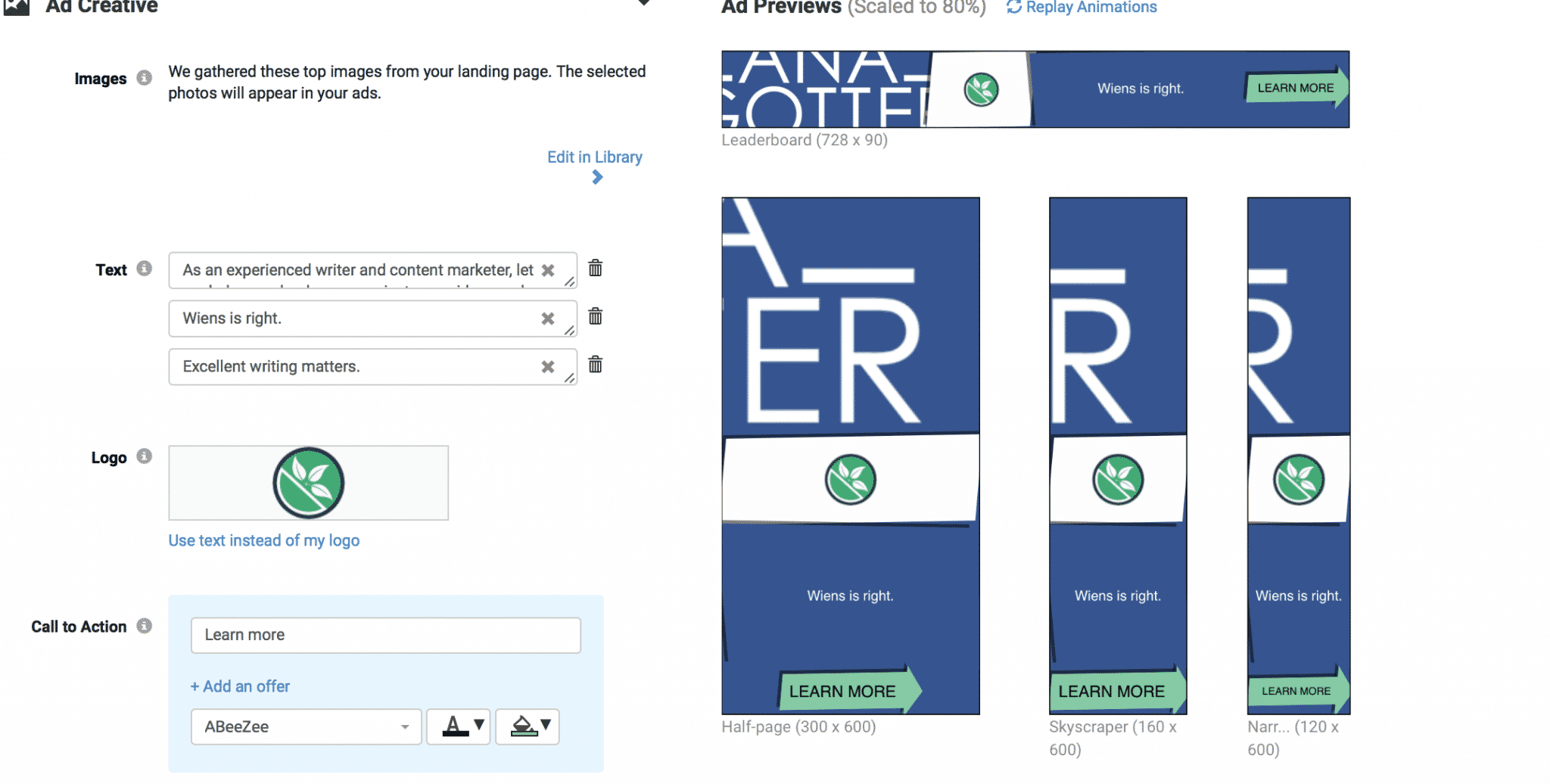 While there's a good chance that you won't be able to use what pops up the first time, the tool is still so valuable for quickly creating quick animated videos in multiple formats for your display campaigns. These results are still easily scalable, and they look fantastic.
5. SEMrush's Ad Builder
SEMrush's ad builder is simple to use and is exceptionally scalable because it works in a modular fashion. You enter in short and long headlines, ad descriptions, your business name, and upload a few images, and they'll instantly generate several versions of an ad campaign based on what you've provided. You can download these ad campaigns and test them all to see what works, and they allow you to create multiple different ad formats.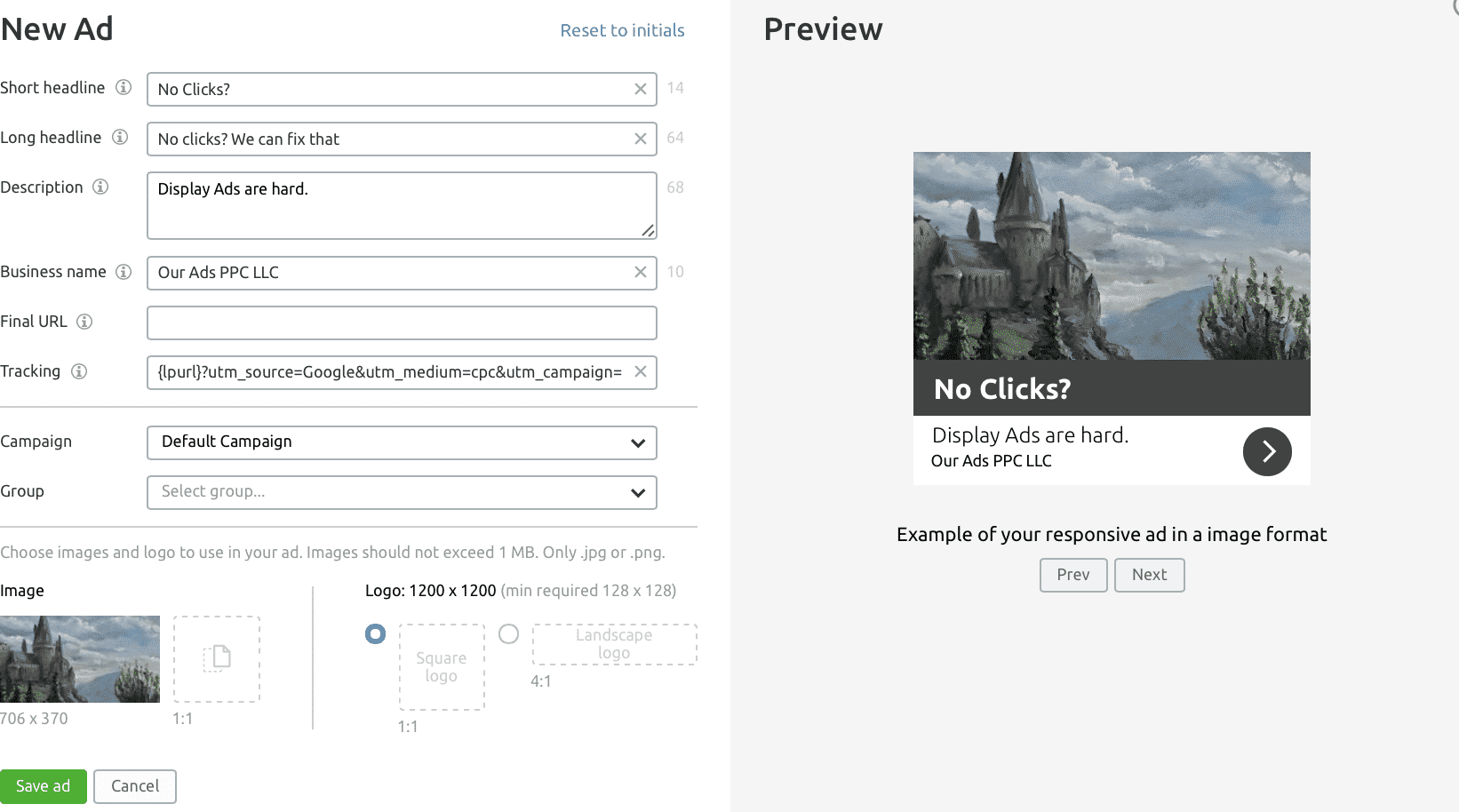 These ads are going to be image-only, but the fact that they'll quickly generate several versions within different formats is huge for a streamlined process and more opportunities to split test. And if you're stuck for inspiration, the tool has an add-on competitor research feature, allowing you to view most of the display ads specific competitors are running and get some new ideas.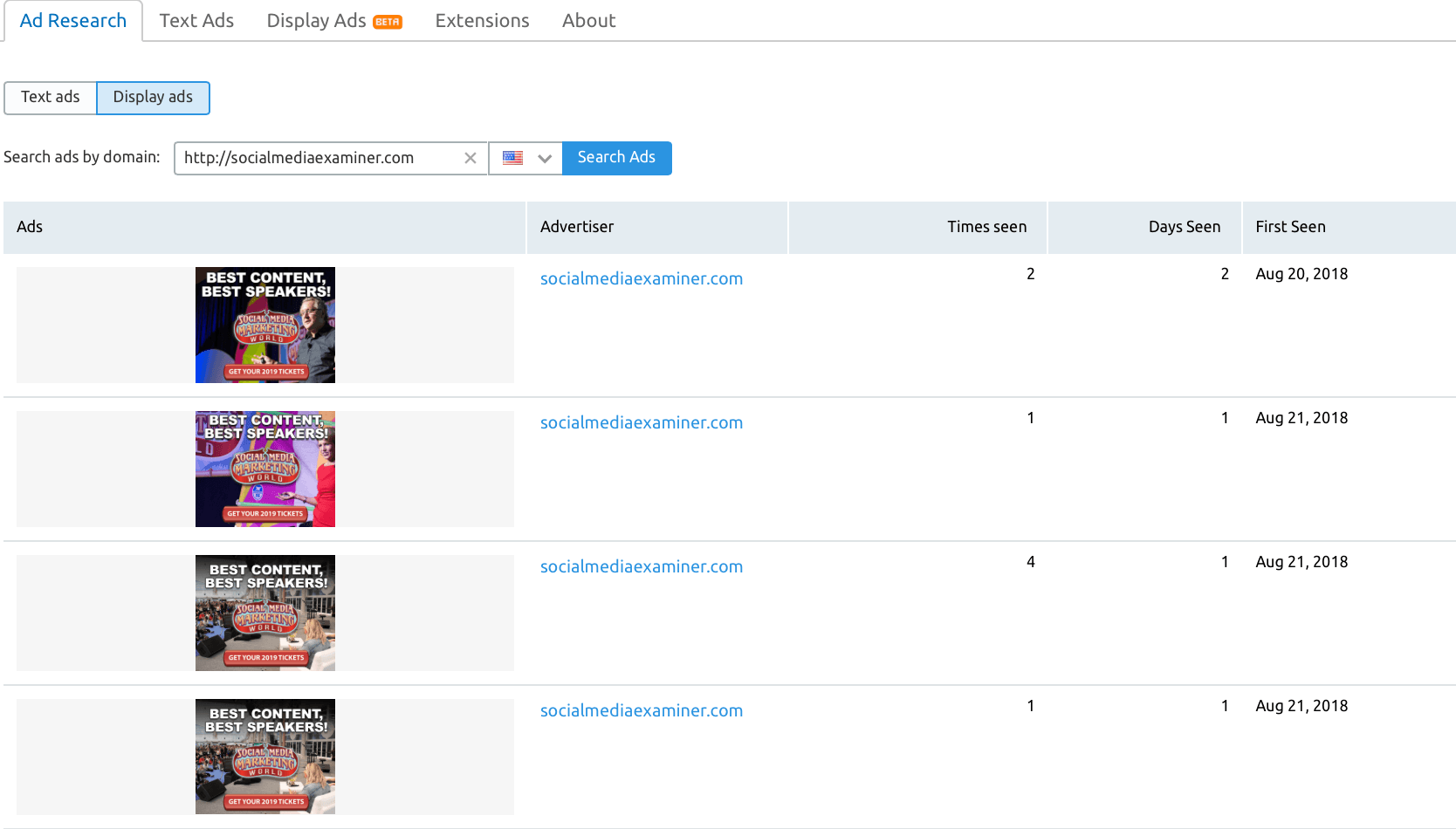 SEMrush has a free trial period, after which the tool as a whole—which includes extensive features like their keyword research tools, site audit tools, and backlink tracking tools—will have subscription costs starting at $99 per month. For the whole suite of tools, I've personally found it to be very worth it, and the ad builder is a great plus.
Final Thoughts
Display ads need strong visuals, whether that includes video displays or image displays. Without them, even the best-targeted ads will fall flat because they won't be able to capture user attention properly. These Google Display ad builders will help you create high-quality images and videos that will draw users' attention and look professional and enticing enough to help you earn some clicks, no matter what it is that you want to promote.
If you're unsure of what approach you'd like to take or which tool you want to use, test them all. Almost all of the tools offer free trials, letting you really get into each one and see what works best for your team.
When it comes down to it, remember that scalability is key. You want to be able to quickly create a number of images and videos for each campaign so that you can see what works—each of these tools are good choices for that.
Need some extra help with your Google Display Ad campaigns? Get in touch and see how we can help you here.
What do you think? Have you ever used any of these tools? Which are you most excited to try out? Share your thoughts and questions in the comments below!