Display vs Search Ads: Everything You Need to Know
by Cydney Hatch • April 1, 2020
There are tons of elements that go into online advertising. You have lots of ad formats to choose from and the ways in which you can reach target audiences is truly unlimited. But, if you had to pick two big contenders when it comes to online advertising, search and display ads are two of the most important channels to master.
So, what is the difference and which is better? Can you use both to maximize your online advertising efforts? As Search and Display play major roles in advertising campaigns, it is best to know when and how to use them in your own marketing efforts.
In this article, we will talk about everything you need to know about both Display and Search networks and how you can use them for your marketing.
Display and Search: What's the Difference and What are Their Strengths?
Believe it or not, when done correctly, this dynamic duo can work together to get better results than you can get from doing either one alone.
But, before you can put display and search together in a marketing strategy, it is best to know how each of them works to reach your target audience. Below we will talk about the unique strengths each has and how you can use that together for your benefit. Let's take a look!
Search Engine Advertising
It doesn't matter how incredible your business is, how optimized your site is or how much your customers love you—if you aren't a business powerhouse like Sephora, LuLu Lemon or Ford you're probably going to struggle to show up at the top of the search engine results page. This is especially true if you're trying to rank for highly competitive searches where customers are looking for specific products.
That being said, you should absolutely optimize your site for Search.
Search engine advertising is a type of paid advertising, also known as PPC, that gets your business found on search engine result pages (SERPs). This type of advertising is a great way to monopolize on your target audience through search engines like Google that allow potential customers to find your products and services.
In some ways, you can think of the search networks like the old Yellowbook pages.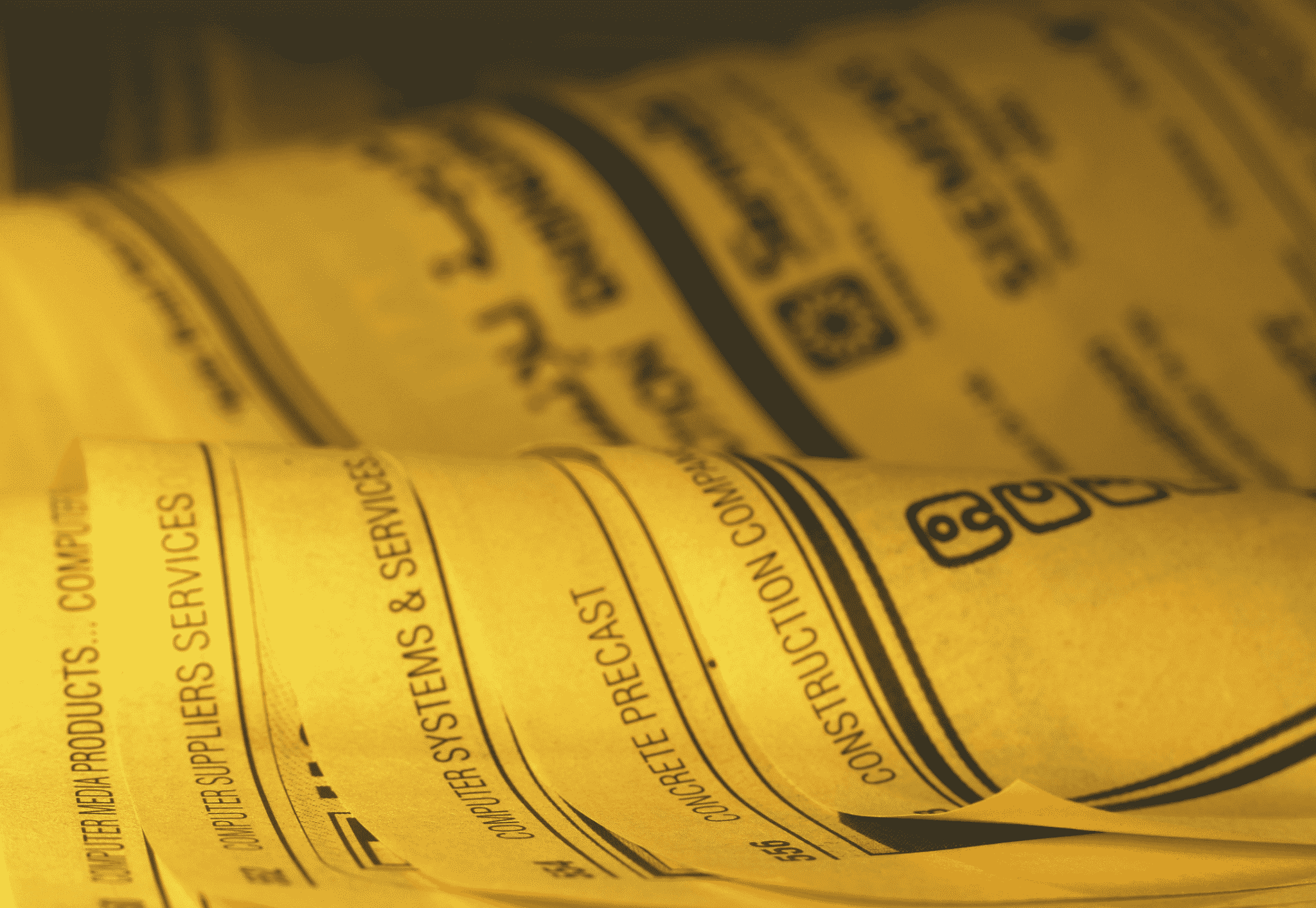 Search engine advertising is a fairly simple process. For example, say you own a t-shirt apparel company that makes customized "sayings" on shirts. You were smart and made shirts that had "bachelorette" sayings on them during the winter season that you want to advertise on Google for the upcoming wedding season in the spring.
When someone who is looking for bachelorette shirts online and types in "bachelorette shirts", a keyword you hopefully bid on, their search will trigger your ad to appear in the sponsored section of the search results. If you have craftily created your ad with high-quality images and compelling ad text, the searcher will click your ad, visit your site and hopefully take some type of action–ahem, make a purchase!
Like this example, this advertising gives you visibility on the search page quickly and cost-effectively! On top of that, search advertising gives you a ton of added benefits:
Search advertising is like having quick answers to quick problems or questions online. If you want direct solutions, the Search Network is your only bet!
So, who should be running search network campaigns? If you wonder if it's a good fit for you, look at some of the things you should consider:
You Have a Small Ad Budget: In general, when clients are restricted to a small budget, we at Disruptive recommend starting with the search network. We do this because this ad format is likely to drive direct conversions which are easily trackable. Once you've mastered search ads, you can them extend your PPC efforts into display which can then boost your visibility.
Your Organic Traffic is Blah: Unfortunately, many businesses cannot afford to rely on organic traffic anymore. Organic results focus on comparative content while ads can truly bring people directly to solutions.
You Sell an "Emergency" or "Specific" Product: Often time, the best businesses for search are for specific and "when-in-need" businesses. If you are a plumber, locksmith, lawyer or a service people need to find at specific times, almost immediately, you should be advertising on the search network.
You Want to Generate Quality Leads: Search ads are great for converting customers who are showing intent to buy.
Display Advertising
On the flip side, while search ads are all about Google, the display network has nothing to do with searching on a search engine platform.
While Google Display Network ads operate within the Google Ads interface, display ads work very differently from their paid search counterparts. The biggest difference is that your ads won't be limited to appearing in one place but will be displayed across different websites that users are browsing on across the web.
Display ads let you put your ad directly in front of customers without waiting for them to find you. It lets you be more active in the discovery stage of the sales funnel, introducing people to your product even if they never knew they needed it!
The difference is that display ads are not working for intent, they are working to grow your brand awareness online! Display ads aren't just for websites, and can appear in the following formats:
Text –  headline, two lines of text, and a URL; often appear in website sidebars
Banner – these include images and rich media, so animations and custom layouts can be used
Gmail – appear in personal inboxes
App- targets specific mobile app categories
Now, before you feel like this option is just "shooting in the dark", Google provides a variety of targeting options, ranging from managed placements (specific sites selected by the advertiser) to website groupings based on audience characteristics.
For example, I have definitely bought Modcloth clothing within the past few weeks and throughout my day at work, it seems like every website I visit has a Modcloth ad somewhere on the site. That's because ModCloth wants me to remember their brand when I need to find a cute outfit or accessory for some event coming up.
That is display advertising, folks!
When your customer is online, it's important to keep your brand in front of them as much as possible. Not all advertising needs to be targeted towards intent, sometimes it's best to reach people when they are piddling around online reading celebrity gossip and checking sports stats! Why? Well, most people spend their time surfing the web not looking for specifics but it also is a soft push to explore your business brand.  With that said, it's important you take advantage of their time!
So, who should be running display network campaigns? If you wonder if it's a good fit for you, here are some of the things you should consider:
You Want to Build Brand Awareness: Many advertisers leverage display ads as a way for people to be familiarized with their brand. Since the Google Display Network is so massive, it offers a lot of places people can advertise their ads to their target audience, therefore, driving a large volume of traffic! By appearing on reputable sites that are popular amongst your intended audience, you can make a great impression!
You Don't Have an Immediate Sale Product: Oftentimes, there are businesses out there that have services and products that are not likely purchased immediately, so to get around the "drop-off" you can ensure that your brand stays top-of-mind for prospects as they consider making a purchase. This is done through retargeting throughout the Goole Display Network!
You Have Photographic Items: The perk of using the Google Display network is you can use images in your ads! This is a great way to advertise for products that may need more visual demonstration than a text-only search ad like home decor, apparel, or events!
Keyword Coverage Help: Display ads allow advertisers to quickly close the gap in keyword coverage and product inventory.
Display and Search: How They Work Together
So, you might be looking at the differences and think, "man, both can give me great options to collect every one I need to hit my sales numbers," but this is dangerous when you do not combine them the right way! You want to ensure you are taking the proper steps to ensure they are complementary and clean to not only your audience but your data collection records!
The #1 mistake that many businesses make is targeting both search and display networks with the same ad campaign.
The problem that arises when you do that is sure, you are getting your ads out to the numbers, but you are not getting them in front of the right numbers so you need to separate the two to be effective. To truly reap the benefits of a combined effort of Display and Search, you need to break Display and Search into separate, network-specific campaigns. This is helpful because:
This will allow you to craft your messaging in the best ways to reach the people seeing your ad.
This allows you to set specific budgets and bids per network.
This helps you keep your data organized to ensure you are making impactful optimizations with each format.
For example, if you look at the click-through rate (CTR) of an ad, you might see that display and search show and tell you different things about your campaign. Display ads will typically show lower CTRs than search because there is no context for ads being shown, so if the campaigns are not segmented, the CTR insights might be contorted making it challenging to analyze performance!
How to Set Up Search Advertising
First, open up Google Ads. From your "Campaigns" dashboard, click the blue '+' button. Now select the campaign type that best serves your goals. Since you're here, let's select the "Search" campaign type.
Now you can select goals for your campaign based on your own success metrics, whether it be a phone call or a purchase. If you choose to use goals, Google Ads provides recommendations for features and settings that can help you meet those goals. This is Google's way of pushing advertisers to use more of their automated machine learning optimizations, which can come in handy for beginner advertisers.
Creating a campaign without a goal provides access to all of the features of a search campaign. This provides the most flexibility and customization opportunities for seasoned advertisers.
After selecting the campaign goal, you will then be able to enter a name for your campaign. Be sure to choose a name that clearly describes the theme of the campaign.
Next, select your network. The networks setting indicates where you want your ad to appear based on the campaign type you choose. With the Google Search Network, your ad can appear on Google search sites and non-Google search sites (such as CNN) that partner with Google to show search ads. These sites are called 'Search Partners.' For optimal results, run Search campaigns solely on the Search Network.
Next, select your locations. If you would like to add multiple locations or target a radius around a certain location, you can select "Advanced Features" and add your targeting.
Upon selecting what locations you want your ads to show in, set up your budget and delivery method.  When selecting your delivery type, you have two options: standard and accelerated.
Standard delivery spends your budget evenly over a given day
Accelerated delivery spends your budget as quickly as possible, meaning your budget can be depleted by the end of the day.
Next, set up your bidding. Choose your campaign's main optimization focus:
Conversions: the action that is being measured by interacting with your ad. For example, a signup or a purchase.
Conversion value: the financial worth of each conversion
Clicks: someone clicks on your page
Tips to Consider:
Various tools will help find specific keywords or phrases that are being used by your audience. You can pay to use tools such as Keyword Discovery, but a free and easy way to find out is to use Google's Keyword Tool (accessible when you're logged in to AdWords).
A great PPC campaign, however, doesn't generate leads—it generates sales. To really get the most out of your PPC advertising, you have to determine what the right blend of quantity and quality is for your business.
Lead nurturing can dramatically increase the profitability of your PPC efforts. Simply implementing an email drip campaign can set you up for a lot of extra sales.
How to Set Up Display Advertising
Setting up Display in Google Ads is relatively simple.
As you would create any other campaign, go through the process of creating a text campaign. As you proceed through the campaign settings, you will see a box to check off "Enable Dynamic Search Ads for this campaign" at the bottom: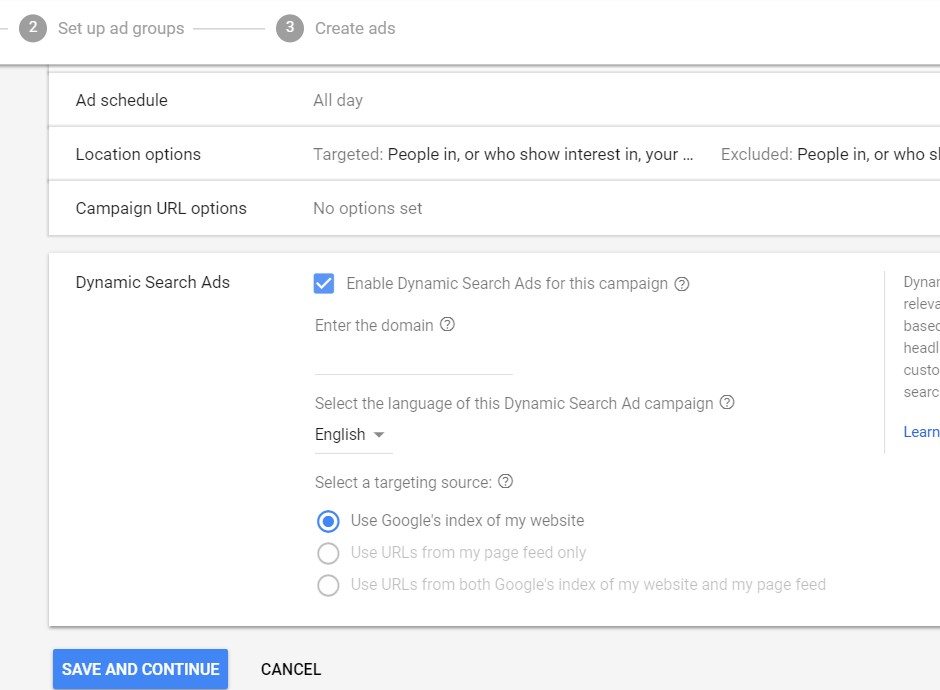 If you need more than that, here's how to start advertising on the Google Display Network:
Sign in to your Google Ads account at ads.google.com.
From the Campaigns tab, click the New Campaign button.
Do not check the Google search box. Within your campaign settings, scroll to the Networks, devices, and extensions section, click Let Me Choose under Networks, and make sure that the Display Network box is checked and the Search Network and Partners box are unchecked.
If you want your ads placed automatically on partner pages related to your products, choose Relevant pages across the entire network.
Select the bidding option you prefer, then set your campaign budget to a level you're comfortable with.
Click Save and continue. You can go back and change your settings at any time.
Tips to Consider:
Since DSA campaigns utilize auto-targets, and auto-targets live in ad groups, be sure to structure your auto-targets to live in the most specific ad groups possible
Creating separate campaigns for different product lines helps you organize and manage your account, as well as track the success of your ads more accurately.
You can choose to show your ads on both the Search and Display Networks or only the Display Network. Then, you can choose whether you want your ads automatically placed on partner pages related to your products within the Display Network, or specify target sites yourself.
The bidding options let you focus on clicks (to drive traffic to your site), impressions (to increase the visibility of your ad), or conversions (to specify a maximum cost-per-acquisition bid). You'll also want to set a maximum daily budget for your campaign.
To read more, click on our article about display ad tips here!
BONUS: Understanding Google's New Search Network with Display Select  (SNDS)
The "Search Network with Display Select" campaign type helps you reach people as they use Google Search or visit sites across the web. SNDS allows advertisers to opt their Search campaigns into the GDN in a limited fashion. Essentially, Google Ads (formerly known as Google AdWords) claims that it will use "improved signals and methods of predicting where your ads are likely to perform best" to ensure that Display ads are only shown in locations that are highly relevant to the advertisers' "ideal" user.
How It Works
You manage your "Search Network with Display Select" campaigns the same way that you'd manage a "Search Network only" campaign: set a budget, choose relevant keywords, create ads, and set bids.
Your ads can appear when people search for terms on Google Search and Search partner sites that match your keywords. They can also appear on relevant pages across the web on the Google Display Network. However, your ads are shown selectively on the Display Network and bidding is automated, helping you reach people who are most likely to be interested in the products and services you're advertising.
Compare Campaign Types
Search Network Only
Ad Placement: Standard & all features, Google search results, search partner sites
Ad Formats: Standard Text ads (shopping ads, dynamic search ads, app / digital content ads that includes keyword insertion)
Targeting: Standard keywords, remarketing lists for search only
Bidding: Standard & all features, manual and automated bidding for the search network
Search Network with Display Select
Ad Placement: Standard & all features, Google search results, search partner sites, Google Display Network sites and video
Ad Formats: Standard text ads (text ads, image ads, display ad builder ads, app / digital content ads that includes keyword insertion)
Targeting: Standard keywords, placements, remarketing lists for search only, site category options
Bidding: Standard & all features, manual and automated bidding for the Search Network. Automated bidding for the Display Network.
If you've been running "Search Network only" campaigns and are switching to "Search Network with Display Select," you may notice an increase in conversions (15% on average) at a higher cost (15% in most cases).
In the Know: Search and Display
Knowing when to use the right advertising platform is key to any marketing success.
Like this article, you have come to know that search and display work is vastly different ways. The power in this knowledge is now looking at how you can best put their strengths to work!  The search network excels at driving high-intent, targeted searches that are likely to convert whereas display ads are building brand awareness on websites.
Conversion and awareness….opposites that can be used together for the greater good! Display ads and search ads are both great for driving sales. All you have to do is provide the right offer and creative for each. If you need help creating these types of campaigns on your Google Ads accounts, reach out to us at Disruptive! We would love to help you segment and produce campaigns you will see success in!
In the meantime, what are your favorite ways to use both the Search and Display networks to drive sales and generate a high return on investment?