5 Reasons to Invest More Into Google Ads This Year
Google Ads
•
PPC
•
Ana Gotter
February 24, 2020
Coming up with a marketing budget can be a difficult task, but dividing it up between different platforms and campaigns can be even trickier. If you're investing more into one platform, it means that you're likely taking it away from another. Making the right choices for budget allocation can be essential to your marketing success overall.
If you want to have increased success with marketing, we typically recommend considering investing more into Google Ads.
Google Ads is an outstanding platform that offers immense value, and it's a clear path to potentially increasing conversions and capturing customers you may never have connected with otherwise. If you want to scale your business quickly, this is a route to consider.
It's a big decision that takes careful consideration, so in this post, we're going to discuss five reasons to invest more into Google Ads this year so you can decide if it's the right choice for you.
1. You Can Capture High-Intent Users
One of the most incredible assets of Google Ads is the ability to use search ads to capture high-intent users right when they're in the research stage.
If someone is searching for "black non-slip shoes," for example, they know exactly what they're looking for and they're just trying to find the right item to purchase. You want to appear towards the top of the search results here. If not, they'll likely settle on another product, even if yours is a better fit. People can't purchase from you if they don't know that your product exists, and this is how you get on their radar when they're likely close to buying.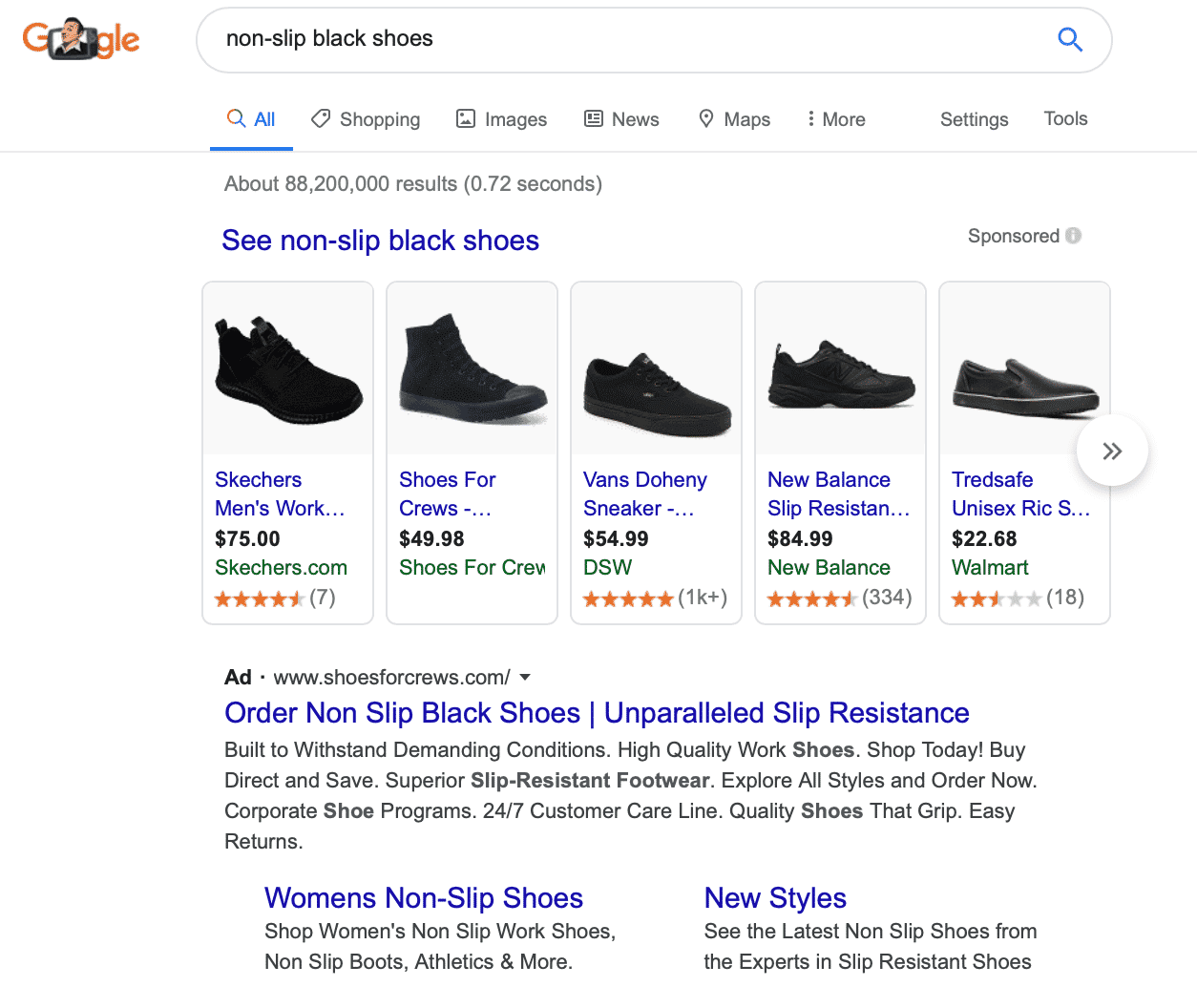 Even if customers don't purchase right away after clicking your ad and viewing the product page, you can then use retargeting campaigns through the Google Display Network to follow up with potential customers later on. You can push users into the digital sales funnel and then nurture the relationships until they're ready for conversion.
If you want to grow your client base or boost sales quickly, it's hard to top Google Ads.
2. Even a Little More Ad Spend Can Make a Big Difference
Google Ads scales exceptionally well. Unlike some platforms (including, currently, TikTok Ads or some influencer campaigns), there is no real minimum ad spend. If you can only put $100 per month towards Google Ads, then that's what you can invest—and in plenty of cases, that can be enough to drive some conversions.
As you increase your budget, though, even relatively small amounts of increased ad spend can make a big difference. If the average click costs you $2.50 and you can invest even $50 more into your campaigns, you're looking at the ability to pay for approximately 20 more clicks. Not all clicks will convert, but it is a numbers game, and the more clicks you get, the better.
Even if you can only afford to invest a little more into your Google Ads campaigns this year, it's something we strongly recommend considering. A little goes a long way, so if there's room to trim from other places in your marketing budget, it's something to look at.
3. You Bid More on High-Value Keywords
When you have a limited Google Ad budget, it only makes sense that you may be limited in what campaigns you could run and what keywords you're targeting.
Some keywords may cost significantly more than others. This is often because they're high-value, and are either more likely to drive purchases or are more likely to attract high-value customers, but it doesn't change the fact that they cost more per action.
Here, for example, "animal care clinic" may cost up to $9.60, while the high range for "affordable pet care" is "$4.02."

For businesses with extremely limited ad spend, they may prioritize keywords that cost a little less but that give them opportunities for more clicks, or to rank higher in placements for slightly-less-competitive keywords.
Keep in mind, though, that even as your budget expands that you never want to bid more than you can afford on a single keyword. Even if your budget allows you to bid on more $10 keywords, you don't want to do so if it would cost you more than it would benefit you. If it starts eating into your profit margins, stick to lower bids.
4. You Can See Immediate Returns
Want results fast? Google Ads is one of the platforms that can provide relatively immediate returns on investment, making it a great place to invest more of your budget.
Last year, for example, I created an ad campaign advertising my content marketing services just for an example for a blog post. I put $10 into the campaign. By the next day, someone had contacted me after seeing the ad, asking about pricing.
While it's not always quite that fast in all cases, Google Ads is easily one of the more faster-acting platforms. This can be a huge advantage because the faster your campaigns work, the sooner you see a profit from them. This profit can then be used to scale your business, and a portion of it may even be reinvested back into your ad campaigns. Cash flow is a major issue for most businesses, so cash flow-friendly marketing platforms are a great choice.
5. You Can Run More Tests
Need any more reasons to invest more into Google Ads this year?
The simple fact that you can run more split tests and create more well-funded campaigns is an enormous asset.
Split tests (also called "A/B tests") are needed in order to excel on all PPC platforms, and Google Ads is no exception. You can test a single factor on any campaign, which could be your creatives, keyword choices, budget, extensions, and more. If you have more room in your budget, you can run more tests to gain faster and more accurate insight into which campaigns resonate with your audience and drive conversions.
Even a small increase in your budget can allow for more testing, especially since you don't need to keep a single test running for substantial periods of time.
Final Thoughts
Google Ads is a great platform that businesses of all shapes and sizes can benefit from. Some are put off initially by the seemingly high cost, which seems high particularly when compared with organic campaigns. Sometimes, though, in order to scale quickly, you really do need to invest in the pay-to-play game.
If you're struggling to see results, it's likely a good choice to look at investing not only into Google Ads but a qualified agency to help you create and manage your ad campaigns. Look for a data-driven agency that uses detailed analytics to help you run and optimize your ad campaigns.
If you are looking for an agency, you can see more about what we can do for you here!
What do you think? Which reasons to invest more into Google Ads resonated most with you? Why do you use Google's search, display, and shopping ads? Share your thoughts and questions in the comments below! 
Leave a comment