6 of the Best Dental Marketing Ideas We Use to Attract New Patients Fast
by Ana Gotter • April 27, 2018
How does your dental practice get new patients?
Can you answer this question quickly? Do you have a definitive answer?
Because everyone needs dentists and doctors, some only rely on word-of-mouth marketing and hope they turn up on Google searches. Their marketing is either non-existent or passive, especially if the practices are established and their schedule normally stays busy.
You still don't want this to be you. What if you could book more patients, or attract new patients who want higher-paying cosmetic services that can yield more profit?
If you aren't sure where to start, that's okay. At Disruptive, we've worked with dozens of dentists and in this article, we're going to discuss 6 of the best dental marketing ideas we've seen. All of these ideas can yield long-term benefits, so they're worth the time investment.
Get More Reviews
User-generated content (UGC) is a powerful force. It's the most influential type of marketing medium because other users trust it more than anything we could put on our own sites.
Of course every dental site will say that they have the best cleanings in town—users will only believe it if other people are saying it, too.
Get more reviews online. Not only will this help you potentially rank higher in local searches, it will also help you to establish trust and credibility quickly. After all, if you see a list of dental practices pop up and three have no reviews but one has forty-five excellent reviews, which would you look at first?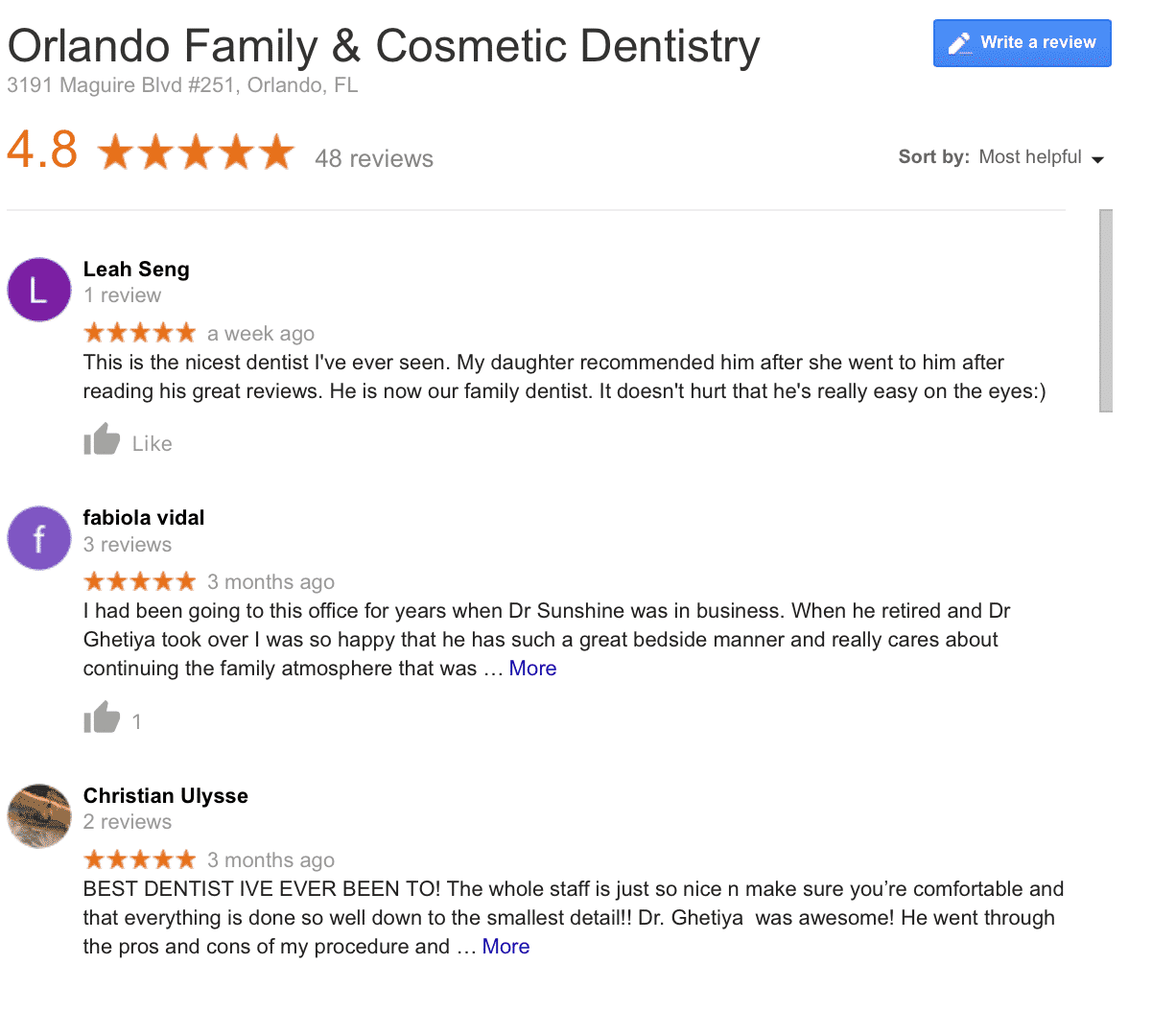 In addition to getting reviews on Google (most important) and Facebook (second priority), you can also collect reviews and display them on your site under a Testimonials tab. This is another place to showcase all the great things your patients have said about you and attract new patients. They'll also be crawlable by search engines, which is a big plus.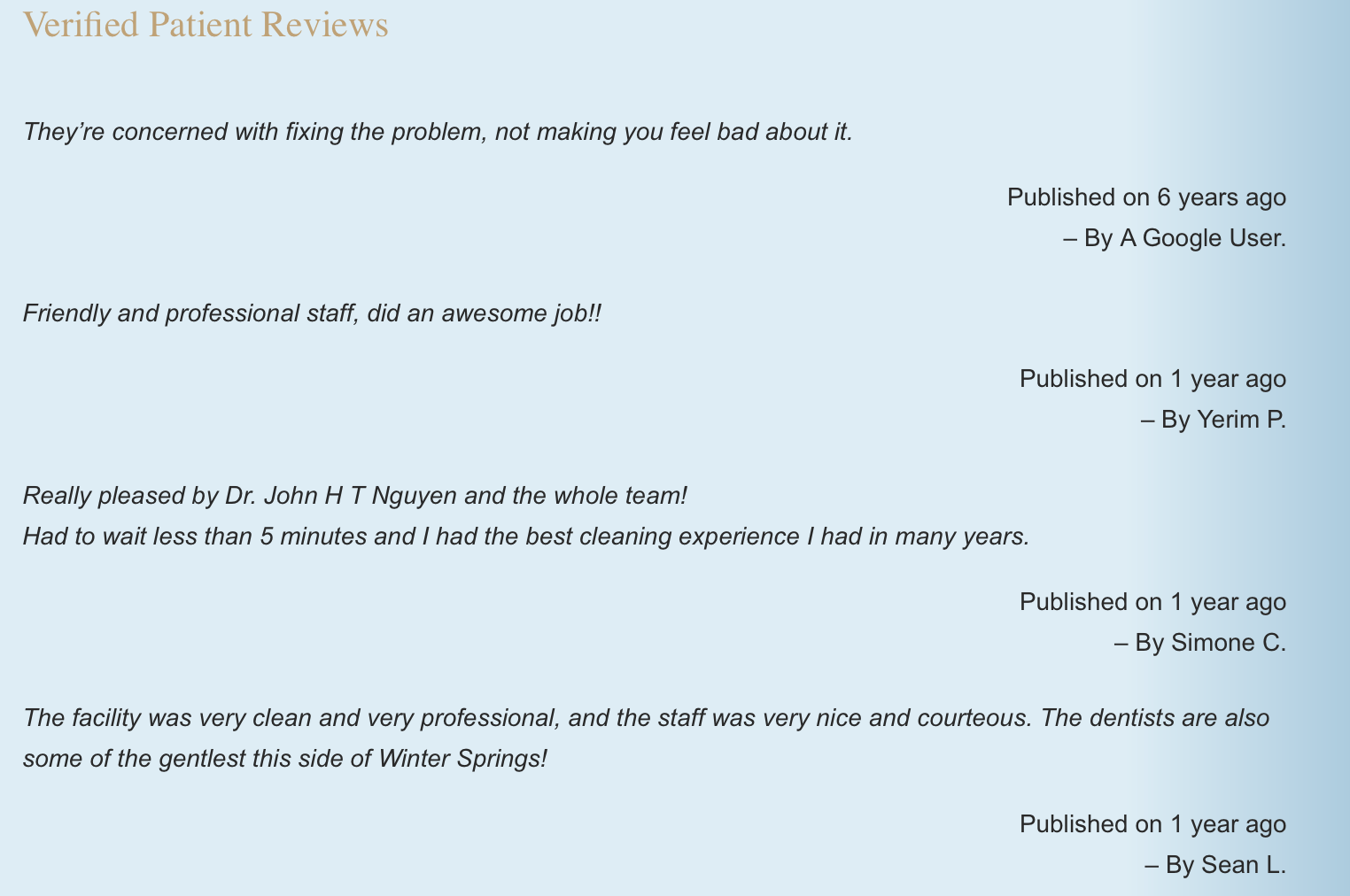 Increased Social Presence to Build Trust
An important part of the patient and healthcare provider relationship is trust. If patients don't trust you, they won't listen to you. Maybe they won't take the steps needed to prevent tooth decay or gingivitis, or they may not believe you that you need treatment. They only want money, some may think.
Building trust as quickly as possible, therefore, is important. And not only will it improve your relationship with your current patients, if you're able to build trust with potential patients before they even set foot in the door, you'll be able to increase your patient roster faster than your competition.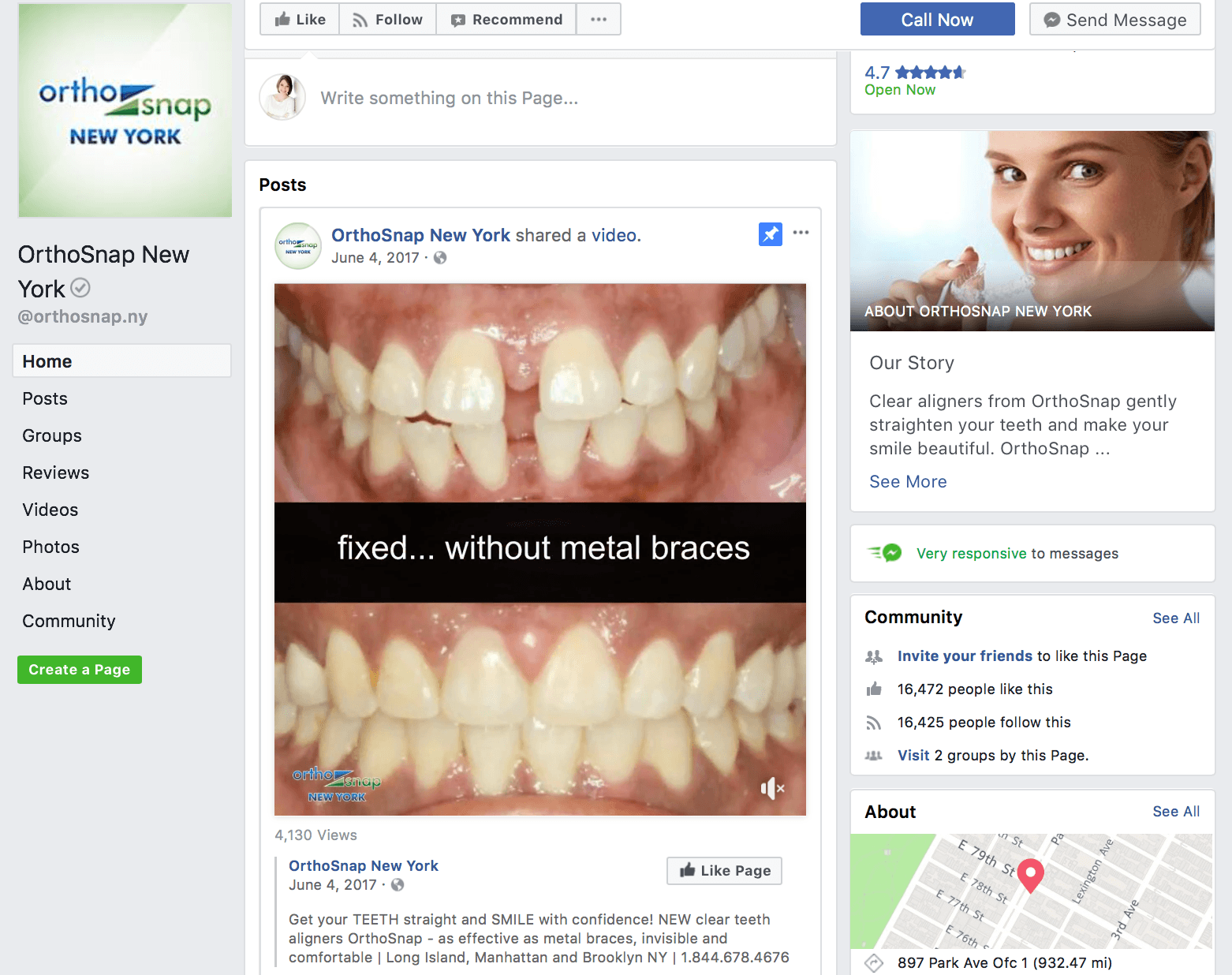 Social media for dentists is a great way to do that.
Facebook, in particular, is an excellent avenue to build trust thanks to its ability to showcase reviews, add more information, and have a complete, fleshed out profile. There's lot of sharing and engagement options for users, which is an excellent opportunity for more UGC.
And, it doesn't hurt that many patients do research on Facebook and ask for recommendations. If this is the case, you definitely want to have a Page ready so people can tag you.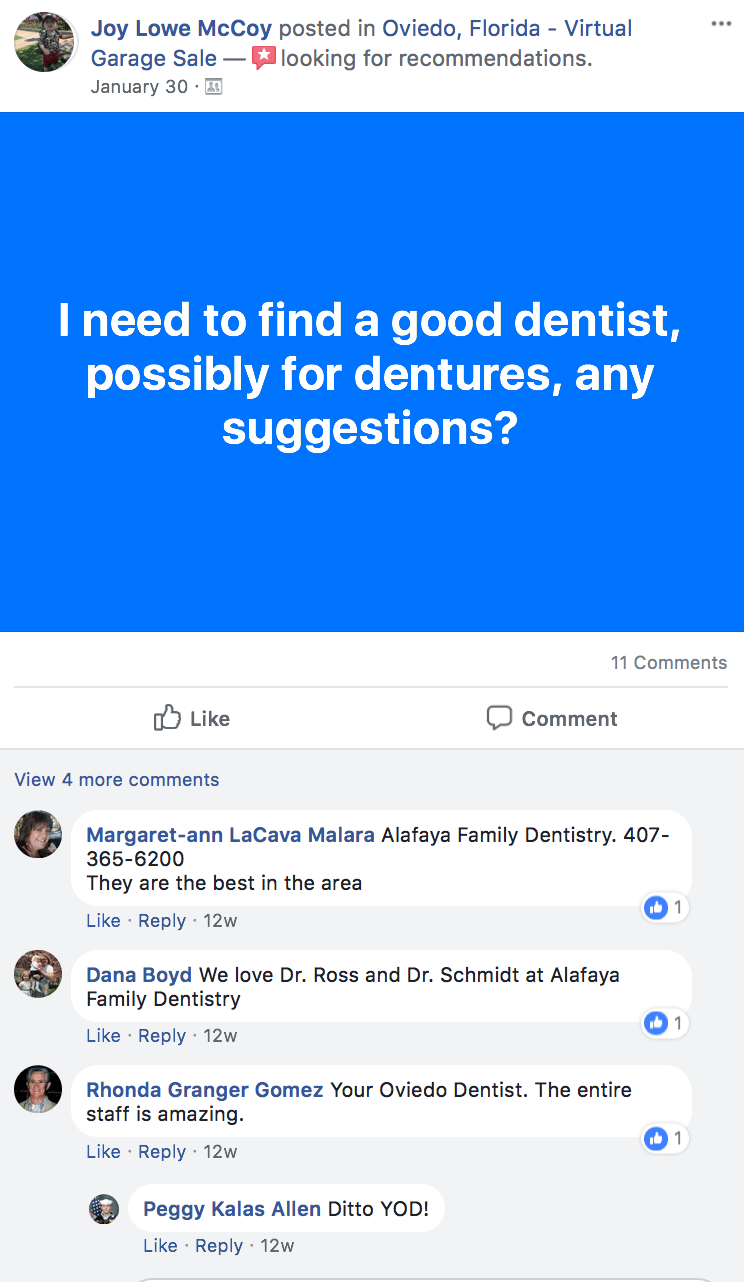 Participate in Community Events
Community events are a great way to meet people face-to-face, show your investment in your community, and establish relationships in a very personal way. This is all good news, and you should take advantage of it.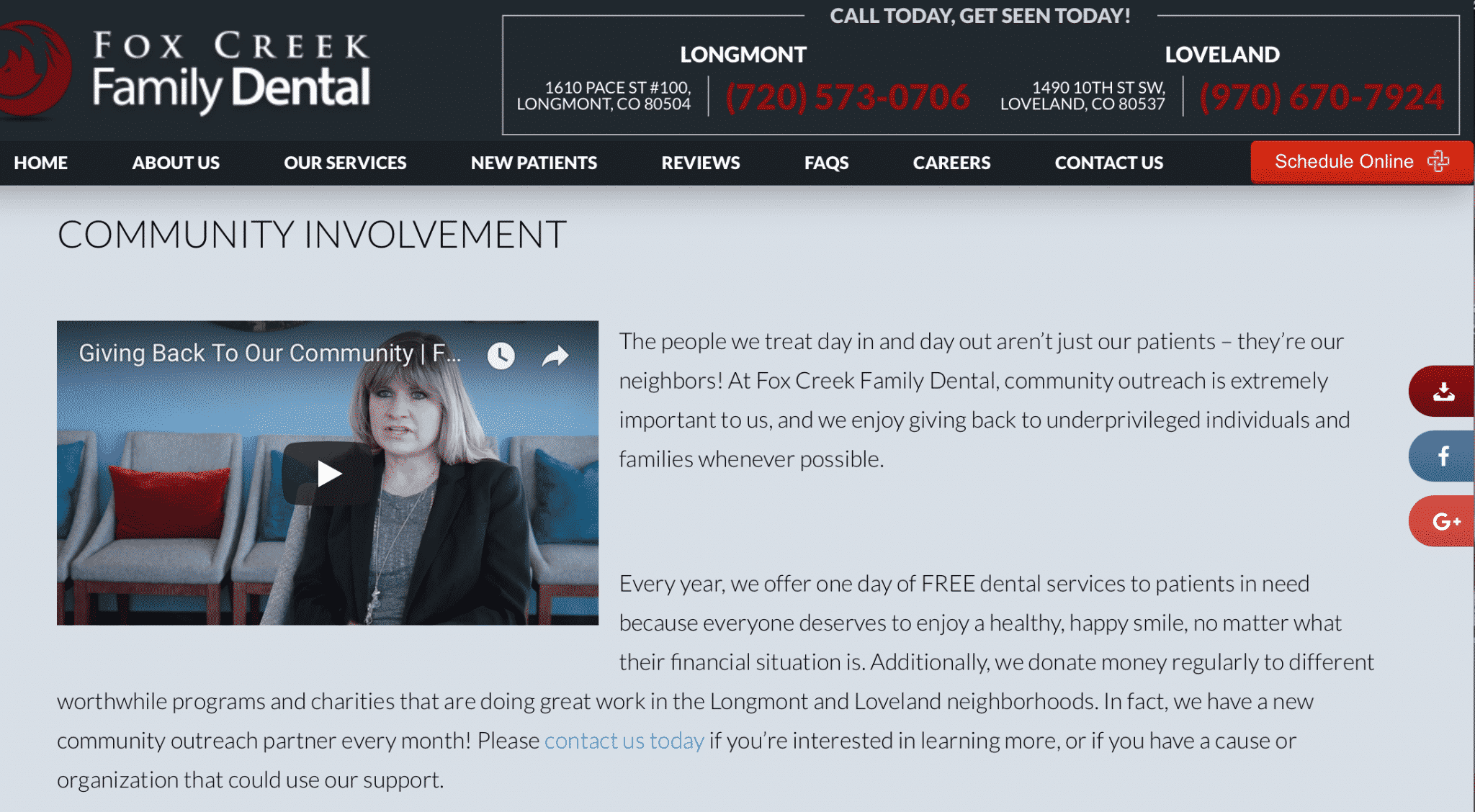 Attend local events like festivals, sponsor a kickball team, host a charity event, or donate to causes your community cares about.
Make sure you post pictures on your Facebook and let people know what you're doing. You can also have a page on your site dedicated to community involvement like the example above, and let people know exactly what you can do for them and how to get in touch.
Run Tempting Offers That Beat Your Competition
If you really want to beat your competition, you need to get competitive, and not just in spirit. You need to make sure that you have offers that are actually beating what other practices in your area have available.
This can mean that you're offering something lower than their immediate price, or that you extend the benefits of the deal longer or to more people. You can also have a unique offering that no one else has.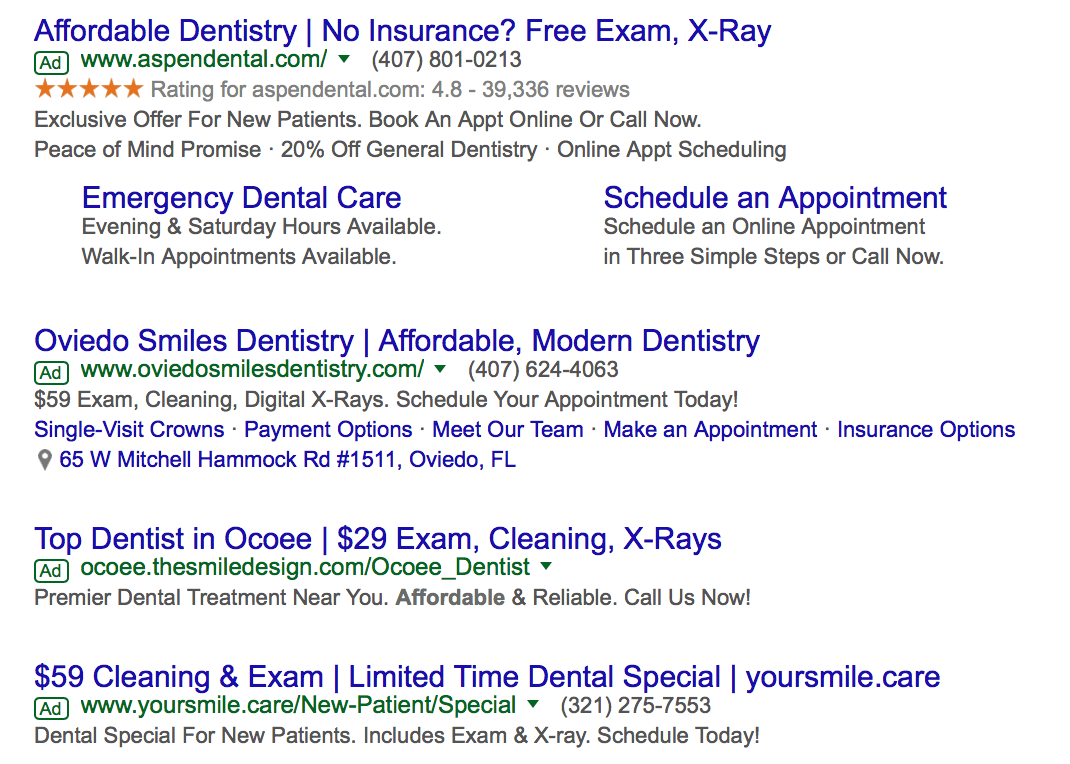 Doing research ahead of time is a crucial factor in knowing what exactly you should be offering. A quick Google search can show what specials other practices have. Note that if someone is offering a free service, if you're charging $29, make sure you explain why the extra money is worth it.
You can place offers on:
Google AdWords (which will show your ad to people looking for you, making it a valuable tool for dental practices)
Your website
Email updates or newsletters
Social media
Social media ads (like Facebook Ads)
Postcards or flyers
If any of this feels overwhelming, you can hire an ad agency like Disruptive Advertising to help you tackle your paid campaigns so that you can get the best ROI possible.
Stay Relevant By Producing Valuable Content
If you look at one hundred different marketing websites, you'll see a lot of things that are different. One thing that they'll almost always have in common, though, is a blog. The best dental marketing experts know just how important a blog is to bringing in new patients.
A lot of healthcare providers and dental practices, however, fail to have even a single post on their site, however.
This is a missed opportunity, because valuable content can demonstrate your expertise, help you rank higher in search engines, and actively attract people to your site when they're looking for your answers to their questions.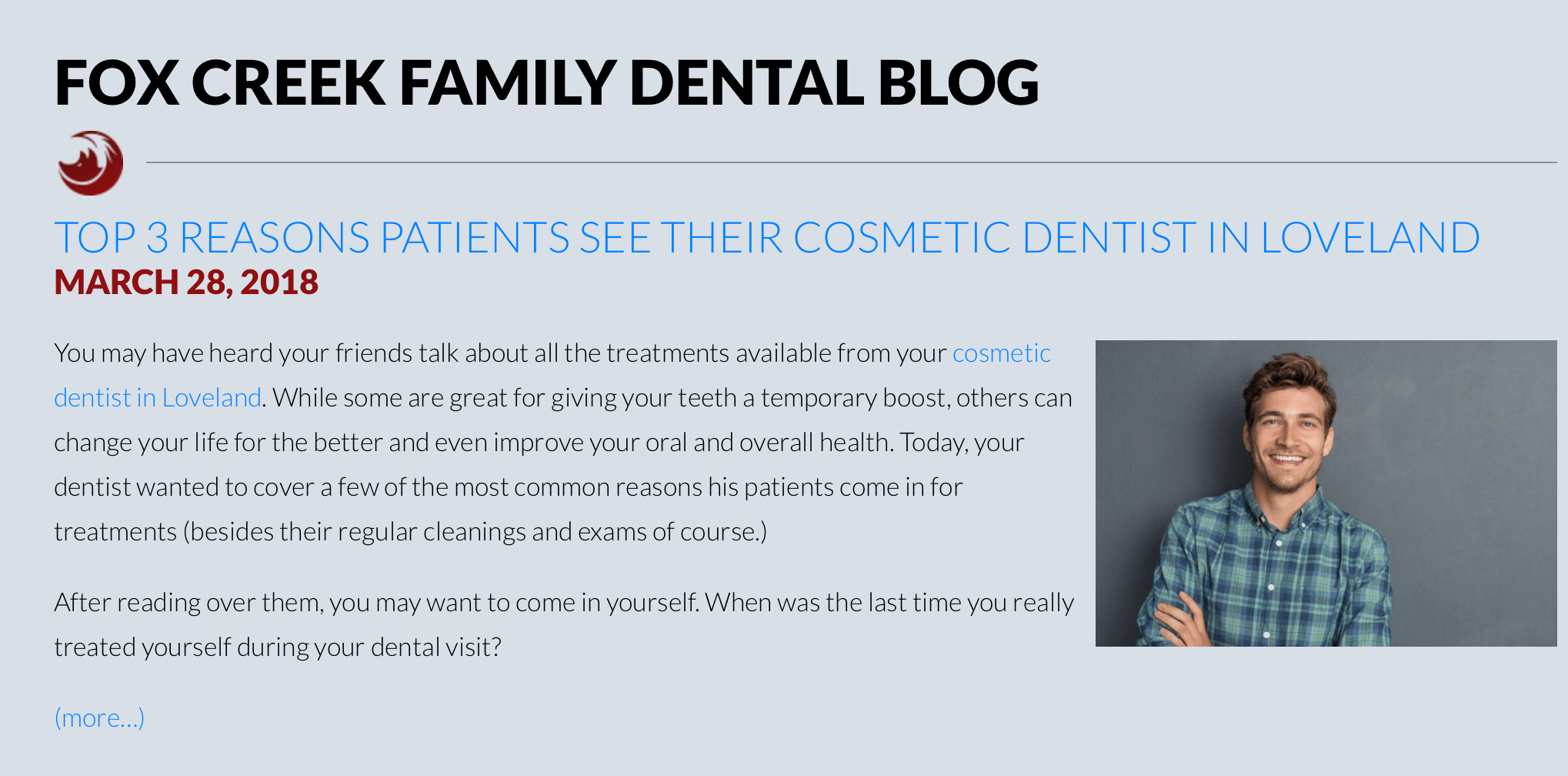 Set up a blog, and commit to having a post at least every other week (though once a week would be preferable). You can hire a content marketer or ghostwriter to tackle this for you.
If you want to learn more about content marketing, check out our full post here.
Optimize for Local SEO
When considering search engine optimization, you don't want to just rank well for "best dentist." Dental practices need to specifically rank for location-based searches like "best Detroit dentist" or "affordable Kalispell orthodontist."
This is true for both organic and PPC searches. You can't treat patients four cities over, after all.
You want to make sure that your site pops up in local listings and paid searches, so opt for location-based keywords on your site and your ad campaigns.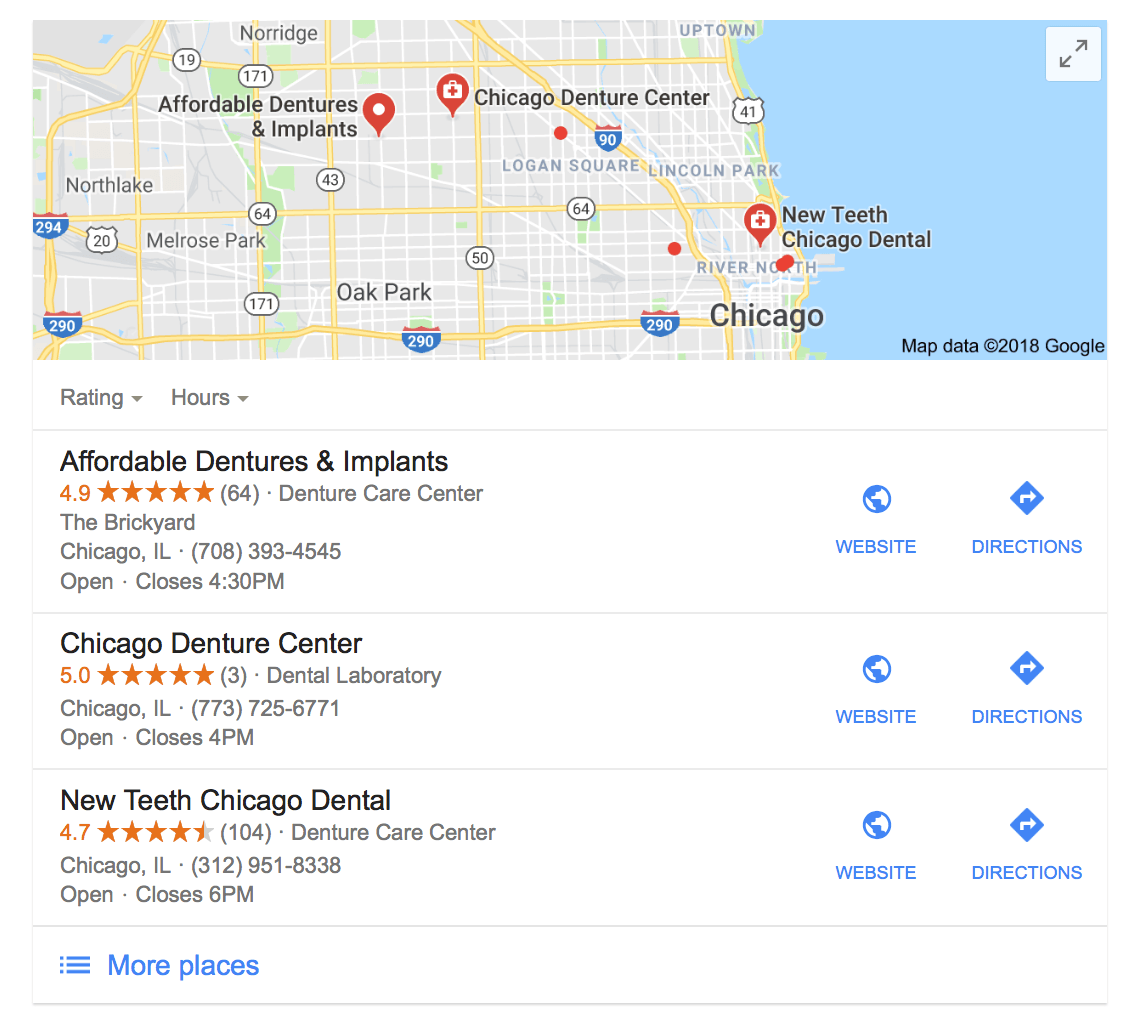 Also take into account keywords that are outside of the box, like "Colorado dentist open on weekends" or "emergency dentist Aspen." If you offer any services that are even a little unique or you're able to optimize for keywords your competition hasn't thought of, you'll be guaranteed to get new patients.
After all, how loyal will that patient be if you fixed a broken tooth over the weekend when their old practice just told them to wait until Monday?
The Best Dental Marketing
Patient marketing doesn't have to be difficult. The best dental marketing ideas work together in different ways to bring new patients to you and can be incredibly effective.
Consider which will work best for your practice and your specific niche of patients, and choose one or two to start implementing as soon as possible. Eventually you can add all 6 to your repertoire, but starting with just a few will make it easier to execute them well the first time around and get the best results.
What do you think? What are some of the best dental marketing ideas you've seen? What ideas does you already use? Share your thoughts, knowledge, and questions in the comments below!