Dental Social Media Marketing 101: What You Need to Know
by Ana Gotter • April 11, 2018
I worked with a client who owned a fledgling dental practice. He easily understood the importance of having a great site design, email lists, and even content marketing through a blog. He ran AdWords campaigns and made sure everything was optimized for SEO.
Despite this, he didn't even have so much as a single social media profile for his business.
When I asked why during the initial audit, he'd told me that no one wants to read about why you should floss more on Facebook and that people hated being told that two times a year already.
While I couldn't argue that he had a point there, I was able to pull up other examples of dental social media marketing to show him how social media marketing for dentists is so important and how to use it correctly.
Within a few months, when he asked new patients how they'd found him, "Facebook" started being almost as common of an answer as "a friend told me about you."
In this post, we're going to go over why dental social media marketing for dentists is so important and how you can set up your profiles in a way that it will benefit your business.
Dental Social Media Marketing
Having a well-optimized website is important—it lets you give potential patients all the information they're looking for.
Social media can help you connect with new patients who are looking for you and new patients who aren't looking for you. People are more likely to stumble across your Facebook than they are your site and you can leverage the incredible social proof on your Page to win them over.
Has there ever been a time where you already had an established relationship with a doctor or hair stylist or favorite pizza place, but then you either saw overwhelming good reviews or heard from a friend that you just had to try this other place?
Did you try it? I have. The reason why is simple: I trust my friends and I trust other consumers.
Social media marketing allows you to build and then leverage social proof from your community of existing patients who care about your business. This social proof can take from both on your posts (with likes, comments, and shares) and in the form of reviews, which can help you during searches.
It also doesn't hurt that when users interact with your posts, some of their friends and followers will see it, giving you an instant boost in visibility.
Building relationships and trust with established patients is also crucially important, because it helps keep you relevant in your patients' minds. This reduces the likelihood they'll jump ship to go elsewhere. It increases the chance that they'll become lifelong patients.
The opportunity is even present to build industry relationships that can benefit your business. If you share an orthodontist's content, for example, they might share yours, sending referral traffic back and forth. This just presents another way to connect more with the people you're looking for.
Which Platforms Should I Choose?
When it comes to dental social media marketing and the platforms they need to choose, the sky is the limit. If you want to join Snapchat, more power to you.
As a heads up, many dental practices struggle with Pinterest, Instagram, and Snapchat. These are all highly visual platforms. Unless you have a strong, distinct brand, coming up with enough content to keep your audience engaged will be a challenge.
Facebook is the one platform that is a must-have for dental social media marketing. It's the most commonly-used platform, and its user base is the most diverse in all demographics.
Facebook lets you share important information about your business, including your site, contact information, hours, and a map of your office, and you can collect reviews from customers directly on this platform. You can respond to these reviews directly (even the negative ones) to manage your reputation online.
What Content Should I Post?
While Facebook's algorithm for Pages is a nightmare and makes getting organic placements more difficult, it's not impossible. The key is to create content that users actually want to see.
Remember how my client at the beginning said that people don't want to be lectured about flossing? That's true. I'd keep that to the in-office visits.
There is a lot that they would love to see, however. This includes:
Behind-the-scenes pictures and videos that can help show off your practice's unique personality. Did you have an office party for someone's birthday? Are you excited to get new equipment in or offer new services? Share it on Facebook and show what makes your brand unique. This can help with relationship building. Dentistry for Children & Troy King do an excellent job with this; King takes on different personalities and costumes to entertain his Facebook followers.
Content from other practices. If you want to build relationships with other practices in your industry, this is a good way to do it.
Features of your employees. People can get attached to their providers. I know I love chatting with my hygienist when I see her twice a year. Highlighting employees allows people to feel like they're getting to know your office staff long before they walk through the doors. This also builds trust, which is key to creating lifelong patients.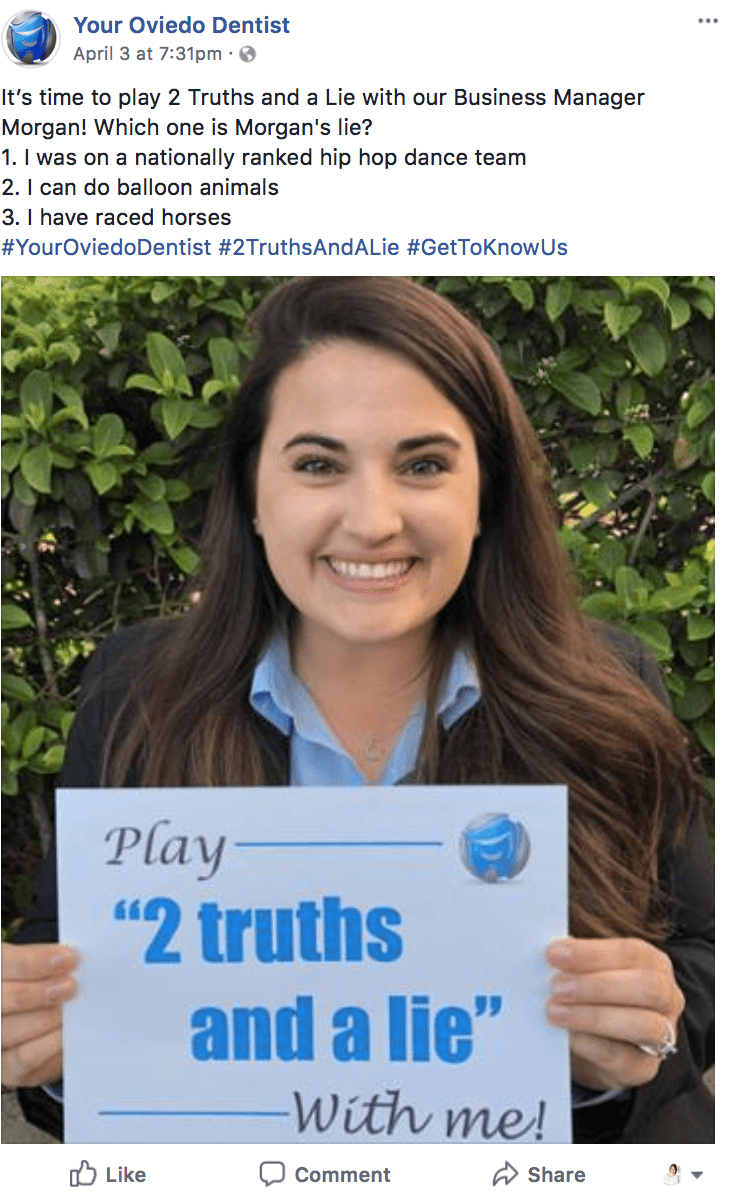 Valuable content that your audience wants to see. Have a hot take on why charcoal toothpaste isn't so great for teeth? Do you have some insider knowledge about how to pay less for braces? Write the blog post up and share it. Remember though that all of your content shouldn't be external links, because this can lower your organic reach over time.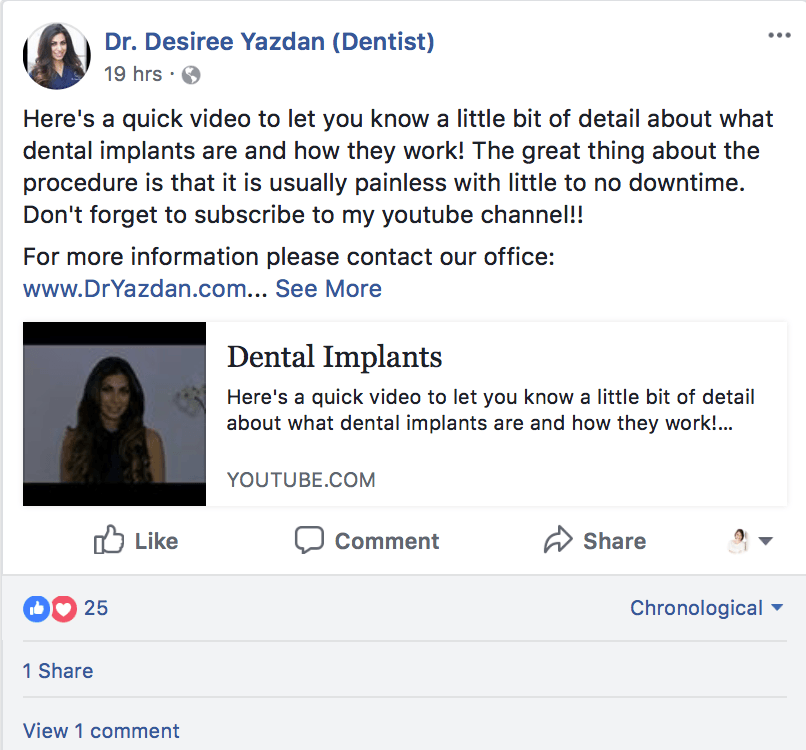 User-generated content. Dentists may not get this as often as other brands, but if someone snaps a shot of their pearly whites post-cleaning or post-whitening and they tag you, you can ask if you can share it on your Page. Note that you must ask—it protects you with HIPAA laws and it's a general courtesy thing.
Images showing community involvement. Dental practices have client lists made up of local customers, so being involved in their community will count for a lot. People like supporting businesses that they feel care about them, so showcase every good deed you do and community event you attend.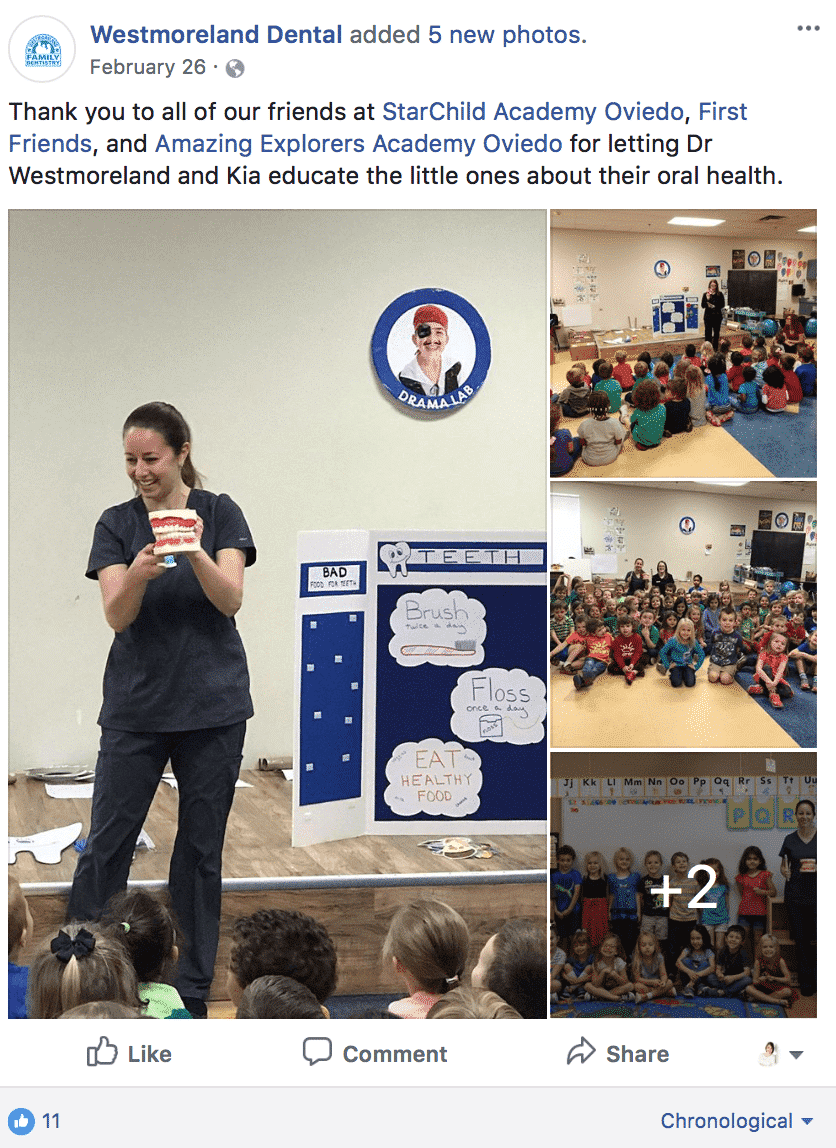 What About Facebook Ads?
If you want to go beyond organic marketing and step into the world of social PPC, Facebook Ads is an excellent way to go. It allows you to show your ads to users who are browsing through their feeds, so you can introduce them to your practice even if they weren't looking.
When you're running Facebook Ads for a dental practice, you can use the following strategies:
Retargeting users when it's time for their six month check-up, or if they haven't been in to your office in a year. Use custom audiences from an email list to do this.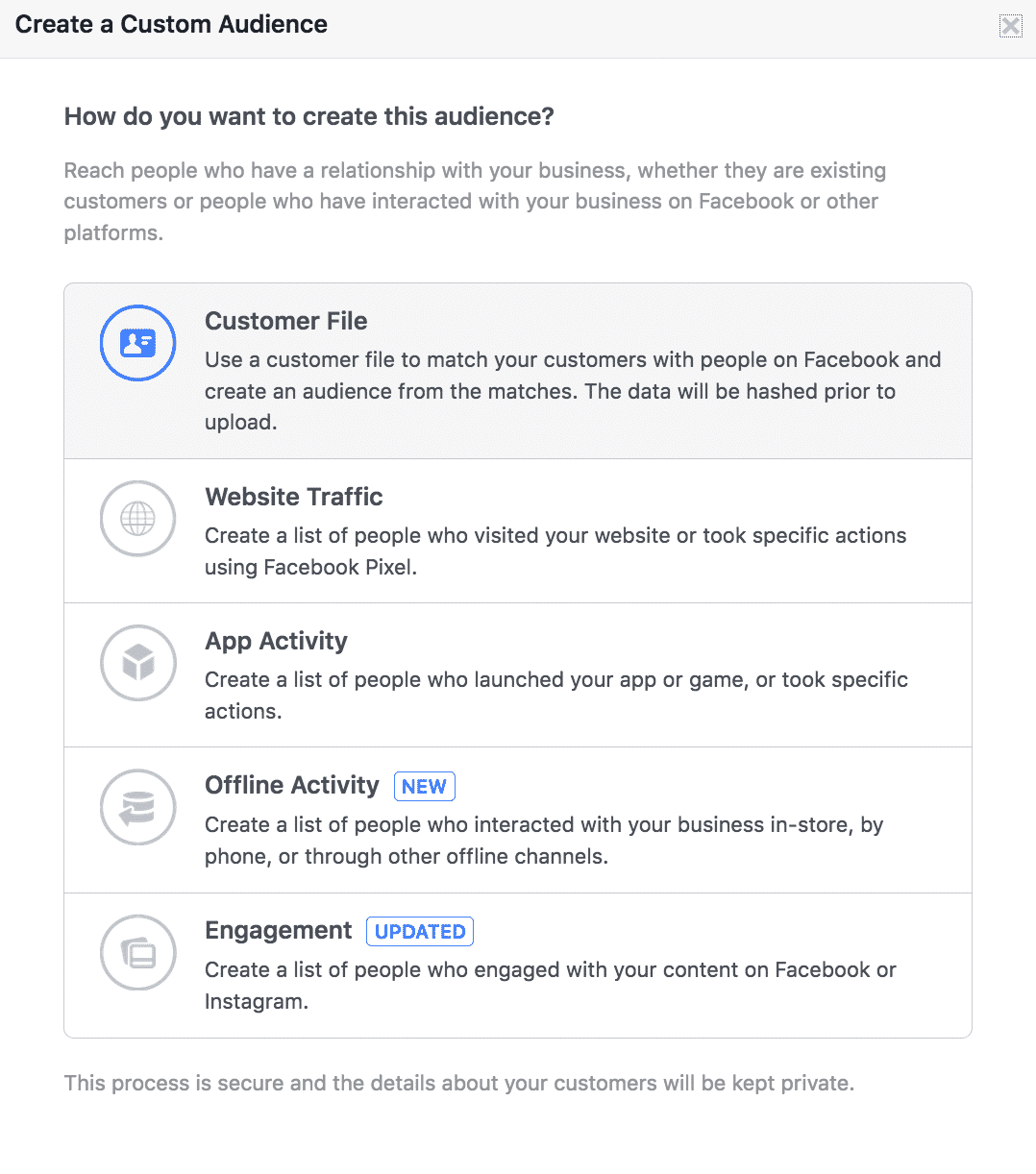 Using specific interest targeting with tailored copy, especially if you offer a specialty like homeopathy, pediatric, or in-house orthodontic services. You can target the homeopathy interest if you offer this specialty, or target parents of toddlers and children if you do pediatric work.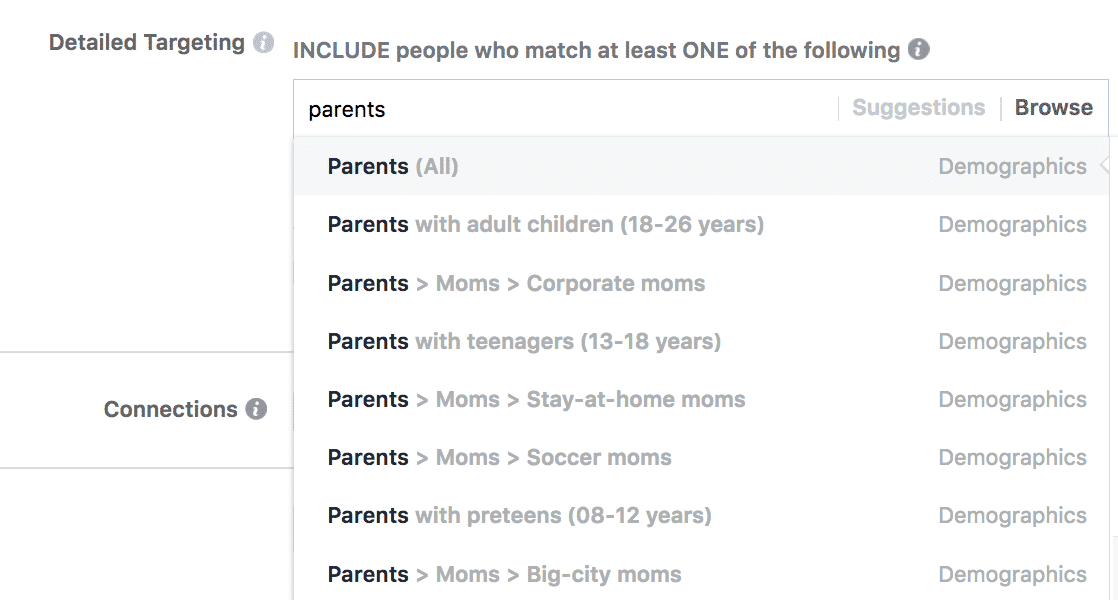 If your practice is bilingual, target users who speak the languages you do, and run the campaign in their language.

Utilizing location targeting with the "people who live here" option, so that you aren't showing your ad to users just traveling through the area.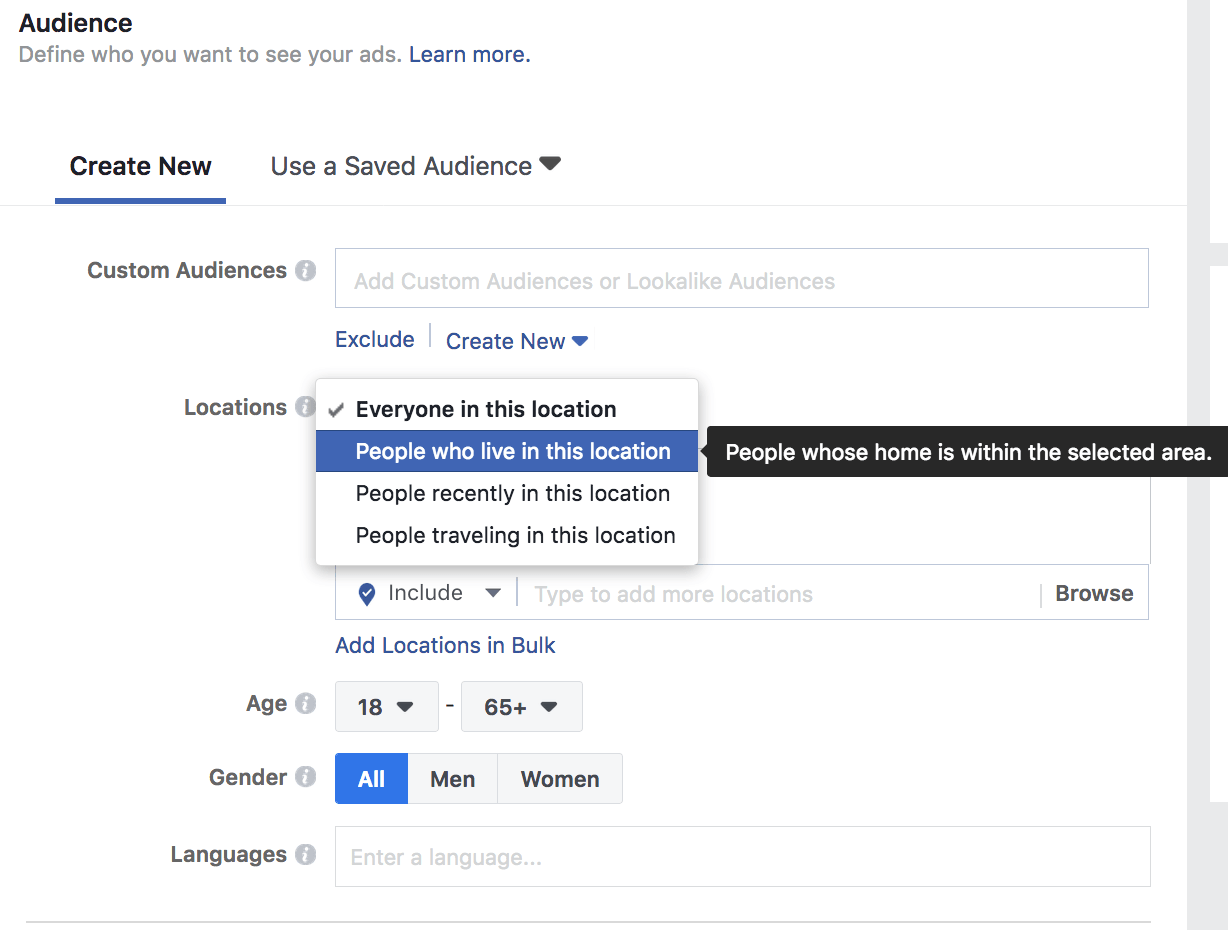 Highlight what makes you different; do you offer a sliding scale for pay? Do you offer next-day appointments, or emergency treatments weekends? Mention it up front.
Advertise elective, cosmetic procedures, like professional tooth whitening or Invisalign consultations. These are more likely to grab a potential patient's attention and if they have a great experience with you then, they may switch over entirely.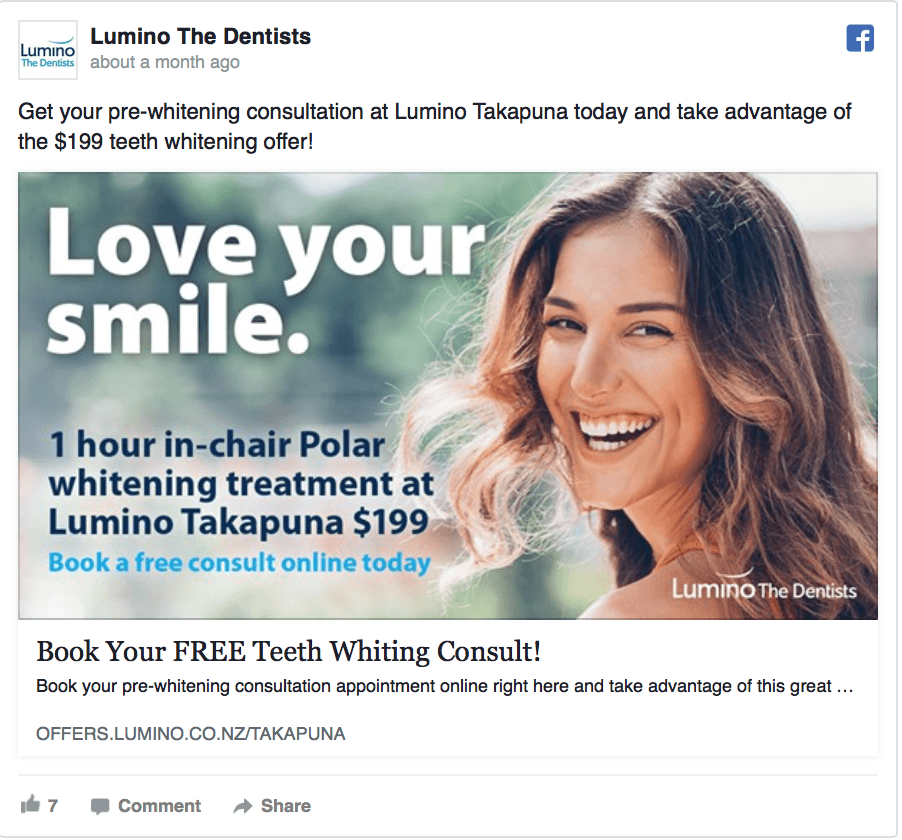 Conclusion
Social media marketing for dentists is often overlooked, but it should instead be a staple part of your overall marketing strategy.
While you may not get the massive followings and overwhelming engagement that a nearby popular bar might receive on your social posts, you can't underestimate the value of social proof and providing great content where your audience is looking.
And, most importantly, good dental social media marketing is about relationship building. This is something all businesses can benefit from.
What do you think? Which dental social media marketing practices do you use for your practices? How do you get new patients by using social media for dentists? Leave us a comment and let us know what you think!