The Step-by-Step Guide to Creating a Dental Marketing Plan
by Ana Gotter • April 19, 2018
It's not uncommon for dental clients to come to us here at Disruptive Advertising knowing that they want to do more marketing, but also having absolutely no idea about where they want to start. They're overwhelmed with the possibilities of content marketing and social marketing and PPC and flyers and more.
Before jumping right into the actual active marketing part of the plan, though, most dental practices need to take a few steps back. This can ensure they're building a solid foundation for their marketing strategy, getting them more results long-term.
In this step-by-step guide, we'll go over how you can create a dental marketing plan that will help you effectively to reach the new patients you're looking for.
1. Start with Your Branding
When we've helped dental practices in the past, we've also found that many dentists actually need to go back a little further before choosing methods of marketing because they haven't quite developed their brand yet.
When ironing out your branding, ask yourself what makes you and your practice unique. What can you offer that your competition doesn't? What makes you as a dentist tick professionally? And how does that impact your clients? Do you operate differently than your competition, or have beliefs or practices that set you apart?
You can't move forward without understanding what your brand is an what you have to offer your patients that's different from the competition. Branding will tie into your logo, your site design, and even your voice on social media.
Let's take a look at one example. Dentistry for Children (led by DDS Troy King) has built a brand around fun. Their social media has a ton of videos of the dentist himself appearing in multiple different costumes and taking up hilarious antics.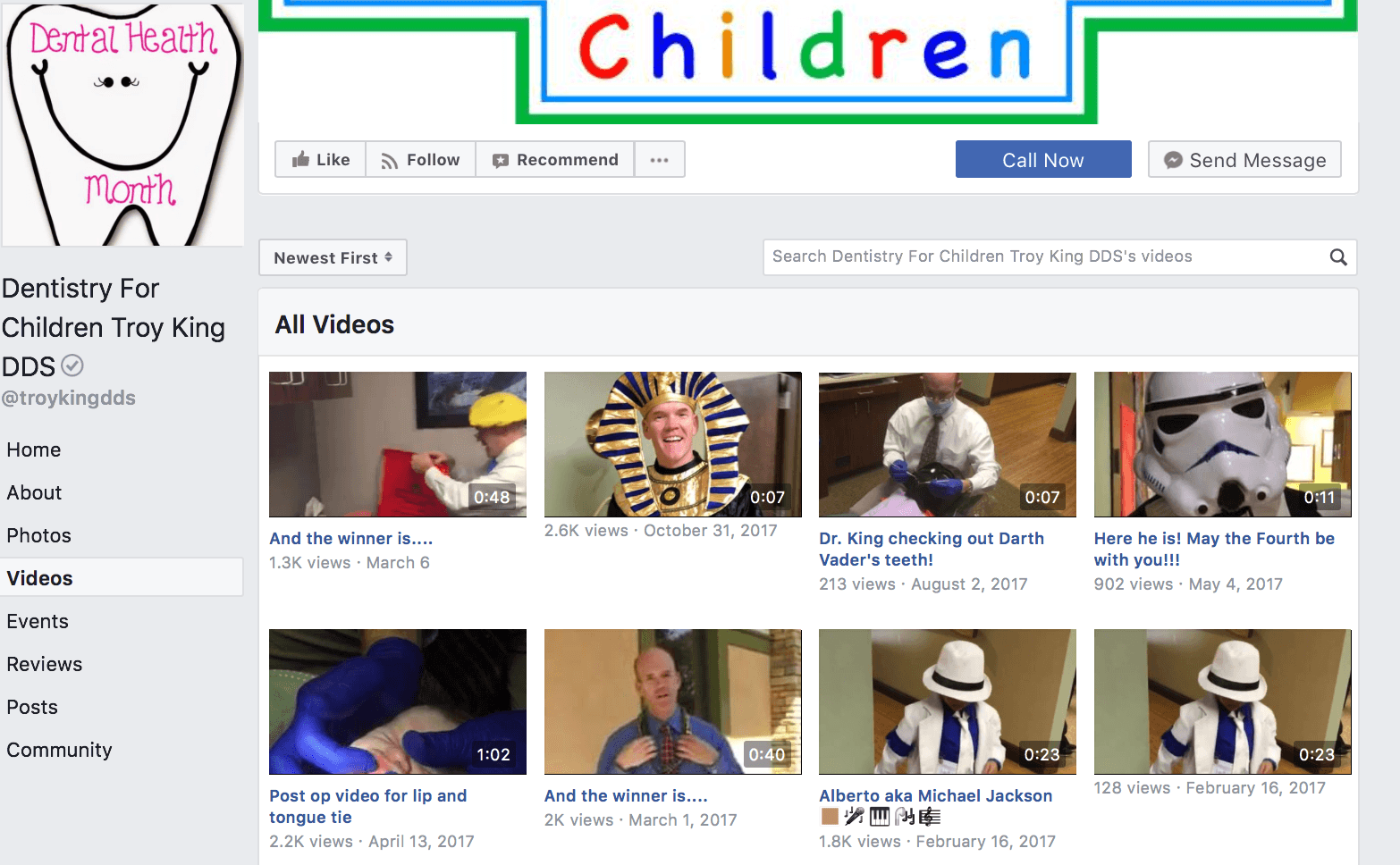 This is a distinct brand, and it's one that stands out and that people will remember.
2. Identify Your Target Audience
After you've got your brand set up, it's time to identify your target audience. This will depend on your brand and your speciality.
Holistic dentists, for example, have a very specific type of patients they're targeting. Pediatric dentists will obviously be treating children, but after some research, they'll realize that their dental marketing plan needs to appeal to the mothers (who make the decision) and not children.
Dentists specializing in high-priced cosmetic services may want to target people with higher amounts of disposable income, or higher income threshold levels.
You may realize that you have multiple different niches within your audience. That's good. Write them all down, so it's easy to keep them straight.
You'll create individualized campaigns for each one, because the mother of four who needs a whole family's worth of dental cleanings from your office will have different pain points, objectives and needs than someone who wants teeth whitening or veneers.
3. Research Your Competition
Some people will list researching the competition as the very first step in the process, but I've found that it can be more effective to get an idea of who you want to be first and then adapt your strategy at this point if necessary. It lets you stay true to what you want to do, and just make little tweaks where appropriate.
Look at what your competition is offering patients in terms of pricing, services, and branding. What can you do differently? How can you be competitive?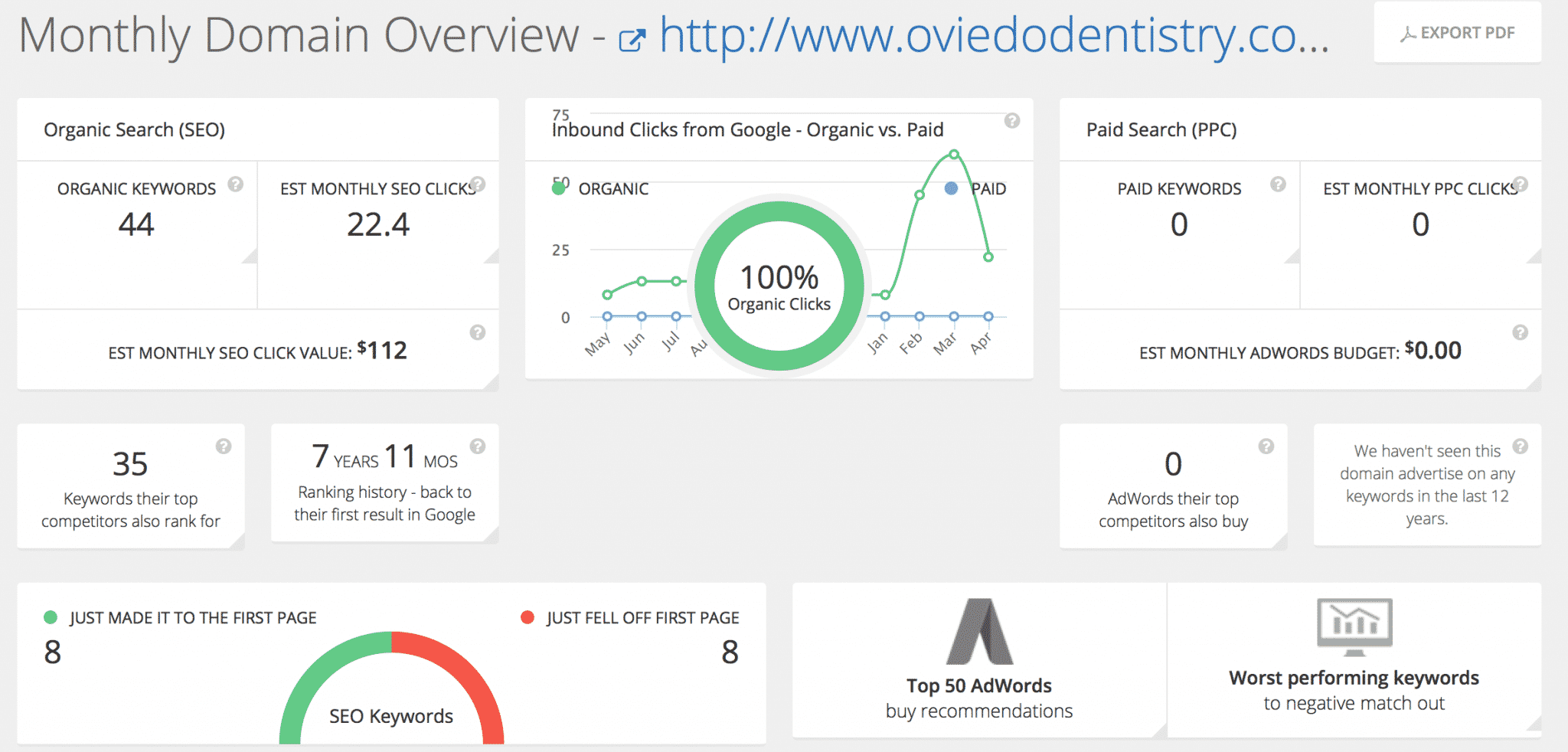 You should also look at their marketing campaigns, including their social media and their PPC marketing. Tools like SpyFu can help with this.
What seems to be working for them? What gets a lot of social shares? Take note of this, and remember that you don't want to copy them—you want to elevate what they're doing and make it your own.
4. Create a Unique Value Proposition
You've got your audience identified. If there's multiple niches within your audience, pick just one to start with. Consider what your competition is doing and what you feel your brand can offer patients that's unique but inherently valuable to them.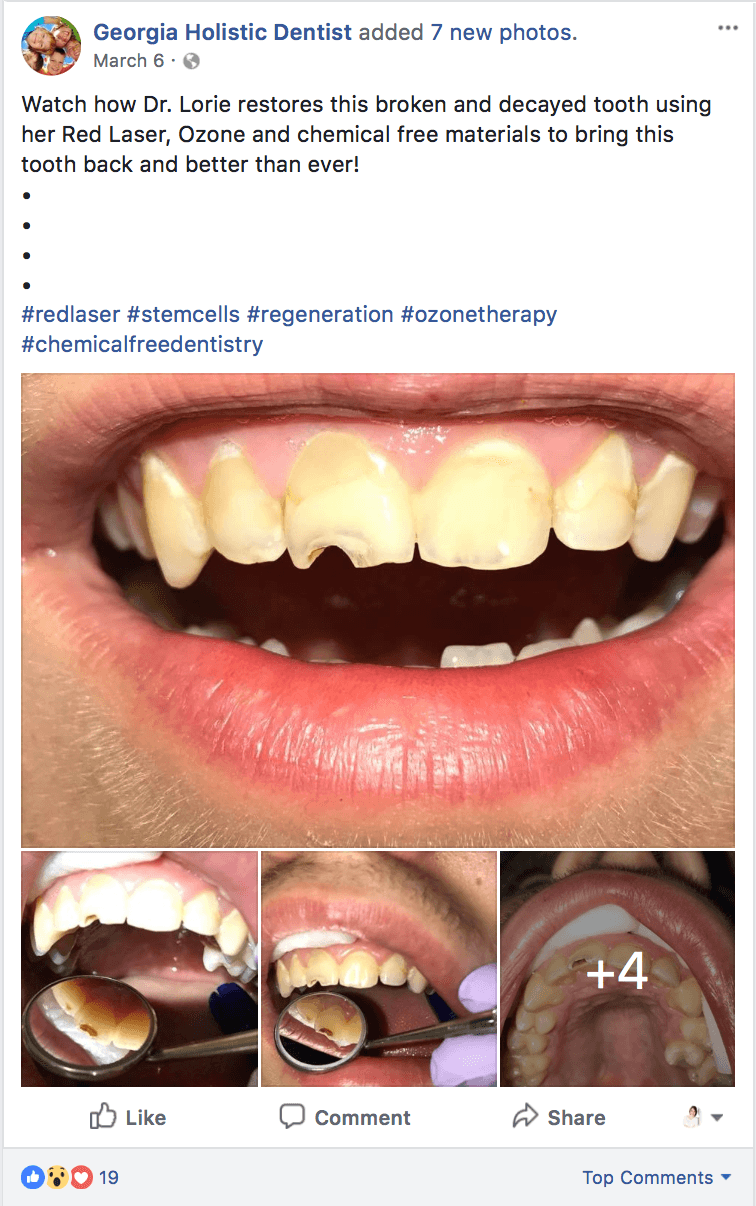 Cosmetic dentists and orthodontists offer a beautiful smile—can you do it at a beautiful price, too, to make it accessible to people with tighter budgets?
Pediatric dentists might have value propositions that vary from "fun" to "gentle" to "customized for your child's needs", while holistic dentists will offer effective but alternative remedies for those who are conscious about certain chemicals or medications.
Maybe you offer late hours or weekend appointments, which can help professionals not need to take time off work.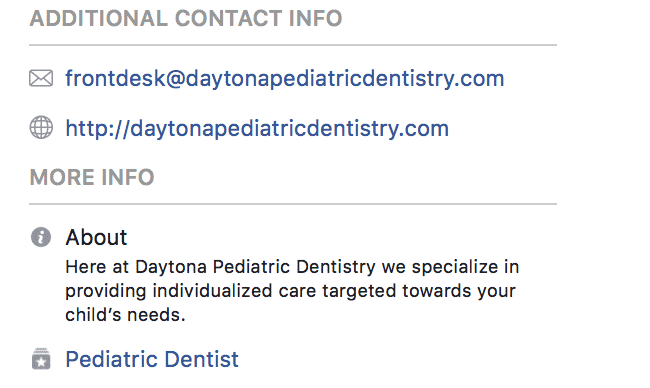 You'll create different value propositions for each individual niche within your audience, because different things appeal to different people.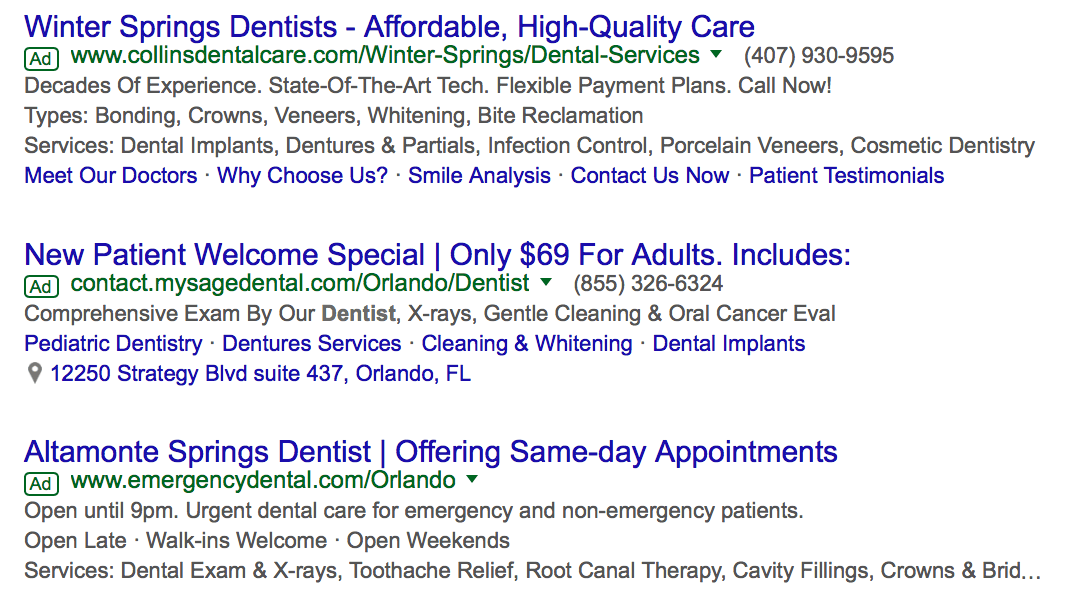 As you move forward with your dental marketing plan, remember that value proposition for all copy and targeting, because it will become essential in all marketing campaigns moving forward.
5. Evaluate Budget
How much do you have to spend on your marketing campaigns? This is unsurprisingly an important part of a dental marketing plan, because it directly affects how much you can market through paid channels and possibly even when channels you should be on.
When evaluating your budget, consider your estimated customer acquisition costs if you don't know them already and weigh that against how much profit the average new patient brings in to your office.
If you get $120 for just their first appointment and 10% of all people who click on your ad convert, you can afford to spend a bit more on marketing than some other businesses.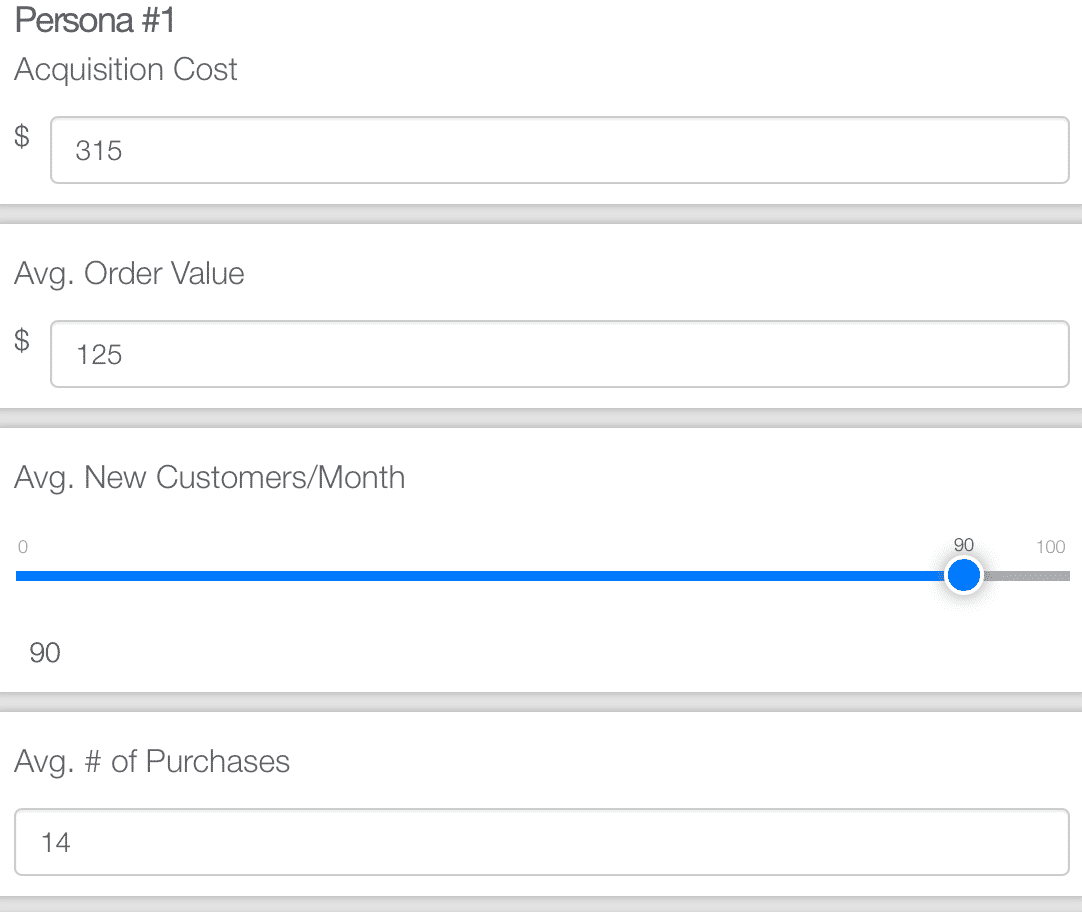 Want a little bit of help with this? Check out our free online marketing budget calculator.
6. Choose Marketing Platforms & Methods
Almost all of the research is done, so now taking your audience, value proposition, and budget into account, you'll need to choose which marketing platforms and methods you want to use.
Paid options include:
Creating flyers and postcards and distributing them locally, which can help put you in touch with your local community.
Pay-per-click campaigns like Google AdWords or Facebook Ads,  which can put you in front of people who are actively looking for you and/or who meet criteria of your target audience. These ads are convenient and relatively cost efficient, and can drive clicks to your site with much less effort on the customer's part than having to call after seeing a postcard.

Relatively free options (excluding the cost of time and/or expenses to hire someone else to do it) include:
Content marketing, which can help increase SEO and build patient relationships while showcasing your expertise.
Search engine optimization, which can help you rank higher in search engines. Focus a lot on local SEO for best results.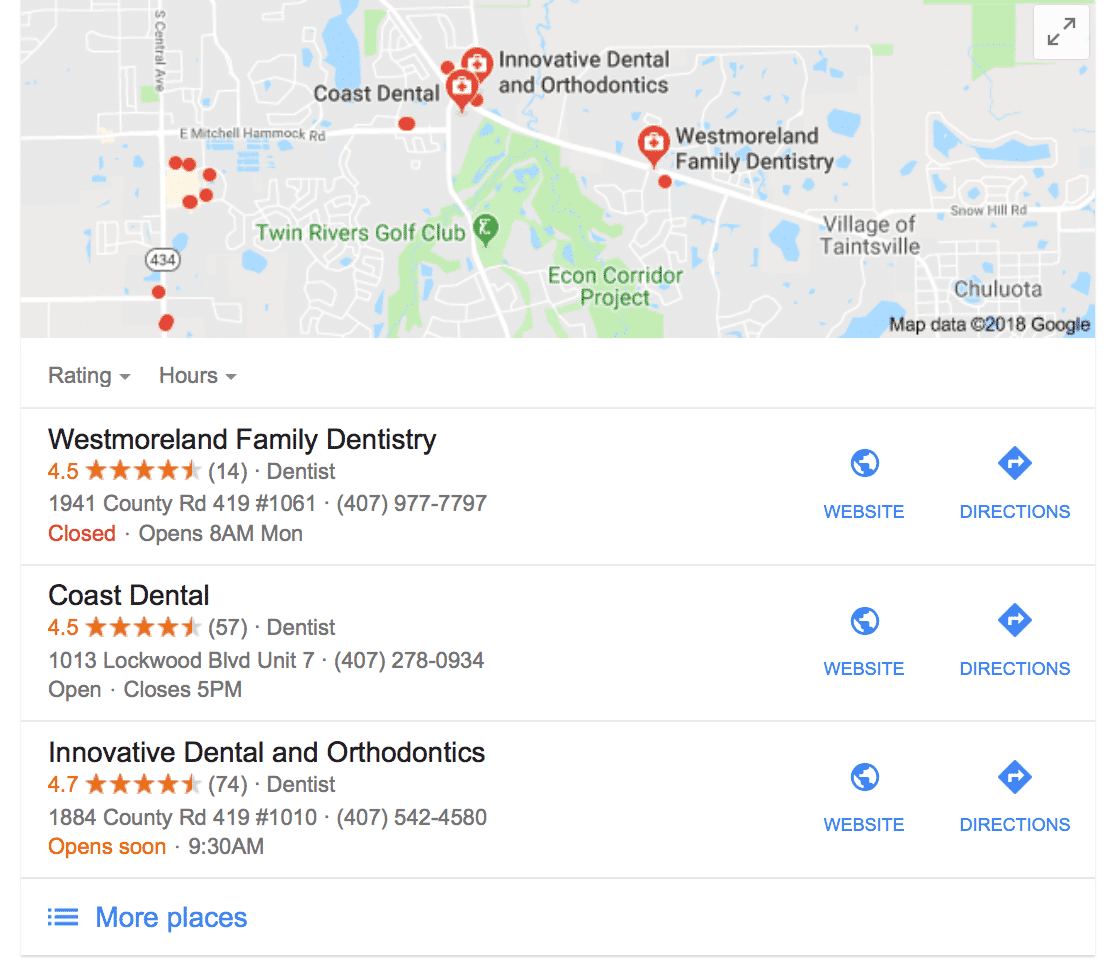 Choose the methods that you believe would be most effective, and divide up your budget between them.
7. Run Campaigns
All right, this one is a nice section, short and sweet. In a way, after everything that you've already done, this is the easy part. You've done your research and planning and now it's time to actually run the campaigns.
If you decide to run them yourself, brush up on some copywriting and how to use CTAs properly. Many dental practices choose to outsource these tasks to copywriters, individual marketers, or PPC/marketing specialists like us here at Disruptive Advertising, as this stage takes a significant amount of time and knowledge to get results well.
8. Track, Adjust, Repeat
Dental marketing strategies are ongoing and just like you'd tell your patients to come back every six months for a cleaning and check-up, the same principles apply to marketing.
Track your campaigns closely, measuring the key metrics when possible. This is definitely easier to do with online campaigns, where you can use Google Analytics, the AdWords Manager, and Facebook's Insights to see who is interacting with your content and how it's driving leads.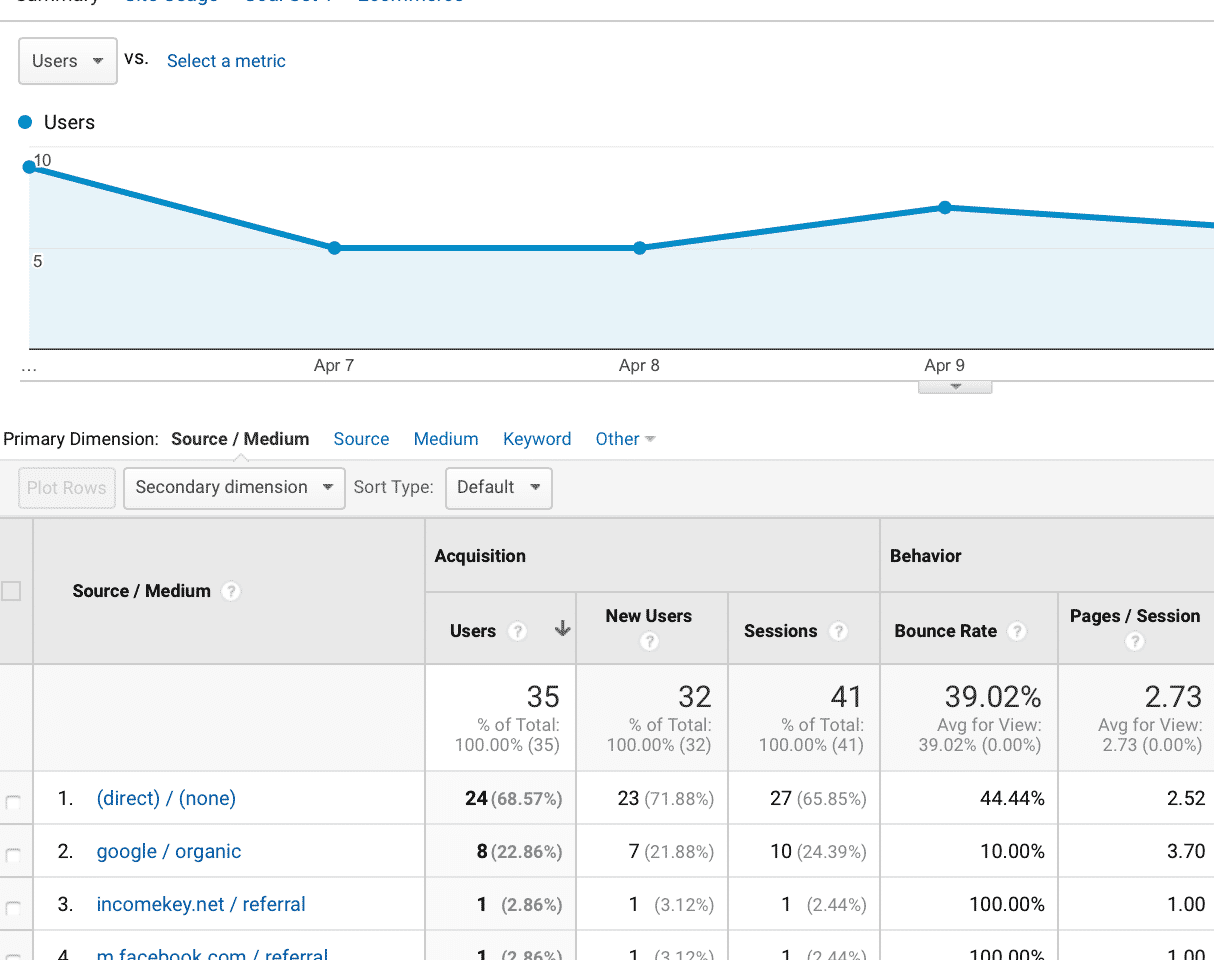 Dentists are at a distinct advantage for tracking offline marketing materials, however, in a way a lot of ecommerce businesses don't. By making it a practice to ask new patients exactly how they found you when they're in for an appointment, you increase the likelihood that they'll answer.
They'll tell you if it was Facebook or a flyer or Google or a friend referred you. If your hygienists do this at the beginning of the appointment and input it into the system, you can track which campaigns and marketing efforts are bringing you the most results.
Once you have the data, adjust your campaigns.
Maybe those Facebook Ads got a lot of clicks and impressions, making them look impressive up front, but very few people booked an appointment through your online software. You may realize that distributing post cards, a referral program, or AdWords (though more expensive) were actually more effective. Invest more of your money into what's working, tweak what isn't, and then repeat.
Conclusion
To truly outperform your competitors and attract new patients, creating a strong, well-researched marketing strategy is the way to go. This will give you a foundation and a long-term dental marketing plan that you can adjust, maximizing results, instead of jumping blindly from one  campaign to the next with little understanding of how the pieces of the puzzle fit together.
By the way, if you'd like help putting together your dental marketing plan, let me know here or in the comments. I'd love to help!
What do you think? How did you develop your dental marketing plan? Does this plan cover everything you considered? Share your thoughts and questions in the comments below!