Direct Marketing: Is It Relevant in the Digital Age?
Direct marketing…seems old and out of place, right? Many marketers imagine dust settling on an old, roughly used, crusty textbook when thinking about this specific marketing strategy.
In fact, many marketers believe that direct marketing is dead.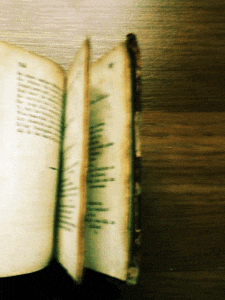 I mean, who makes telemarketing calls, has Yellowbook entries, pays for mass mailers, and does billboards anymore? As it turns out, a lot more marketers than you might think. In fact, direct marketing still accounts for five of the top nine lead generation channels!
So what's the deal? Is it out or is it in?
Well, in my opinion, you do not always want to give up on the "classics." In today's digital age, traditional direct marketing is often overshadowed by some of the more innovative forms of digital marketing. This is a big lost opportunity because direct marketing can be a unique way to be memorable or to help you get your business noticed.
In this article, we will look at what direct marketing is and how you can modernize your direct marketing efforts to fit today's world. Let's crack open the book, and get relevant!
What is Direct Marketing?
Direct marketing is a form of marketing and advertising where businesses communicate directly to customers through various channels and media. For example, we all get tons of mail throughout the week that needs sorting. You may have a few bills or maybe a fashion catalog with the new season launch, but in the midst of your mail, you might see a direct marketing piece.
Imagine in the middle of the pile you see a bright, beautifully designed advertisement featuring the pair of shoes you have been waiting to go on sale for the past three months. GLORY GLORY HALLELUJAH!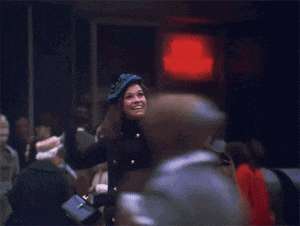 All you need to do to claim these beauties is to enter the sale code into your online purchase or bring the coupon into the store location when purchasing! If you have ever experienced this, you have been directly marketed to!
Stay Relevant: 5 Marketing Tips To Adapt Modern Direct Marketing
Direct marketing is a way to connect with your customers and it often means coming up with some innovative ideas. The Internet is providing consumers with the means to research, find, learn and ultimately buy products and services without a middleman.
As a result, we have to learn to listen, watch and evolve with the needs of the digital world and our potential customers. Below are a few ways you can take "classic" direct marketing and modernize it for the modern consumer.
General Rule of Thumb: Think Outside the Box
If you are still fixed on sending out paper or physical products to lists of potential and existing customers, the rule of thumb is to be charmingly creative. Think outside the box! A generic "SALE" content piece is not going to stand out, most likely it will be thrown out along with the other advertisements just like it.
Think about the products and services you are selling and how you can creatively address interests and pain points customers have. Brainstorm ideas and ask yourself these questions:
How do my customers use the products?
What are my customer needs and wants from a product/service?
What social/cultural/life stage relevant jokes, sayings or topics can I play off of?
Where are my customers using my product or service?
What are some personal feelings my customers have about the problem my product/services solves?
How do my customers recognize my brand?
How can I inspire customers to visualize my service/product in their daily lives?
For example, here are two businesses who are doing paper and physical marketing products the right way:
IKEA
IKEA is not a stranger to generating advertisements that create buzz and viral reactions. But this year, they took it a step further and got REALLY personal: They asked you to pee on their insert ad!
The magazine insert ad, running in Sweden, encouraged the female reader to pee on it. If she does so, and is pregnant, the ad reveals previously invisible text offering a discounted price on a crib—using similar technology that pregnancy tests use to show a positive result.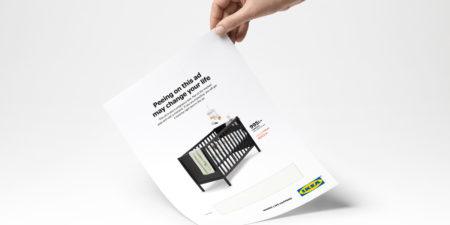 Now, it's not as nasty as you think because you do not need to bring a pee soaked advertisement into the store to redeem a coupon. In fact, IKEA creatively tied in a membership program with this interactive ad. The ad functions more as a simple, free pregnancy test—and encourages readers who are pregnant to join IKEA Family and reap the benefits.
Why does this direct mail paper advertisement rock?
It appeals to the life stages of pregnancy and peeing on a test which adds personal connection and humor.
It is creatively designed to create social buzz, attention and action.
It has a specific call to action that is more long-term than just a single purchase of a crib, it asks people to commit to a long-term membership.
WVRST
WVRST is a modern beer and cider hall that specializes in artisan sausages, craft beer/cider and good times. So, as they were planning their grand opening they thought, why not create some buzz with an invitation via merchandise?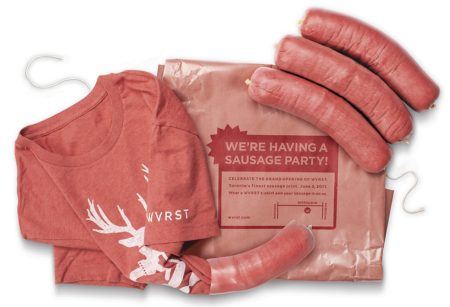 To create buzz around the opening of a new restaurant they hand-delivered these invitations to food critics, bloggers and other cultural influencers, asking them to join the grand party. The invites were adorable T-shirts, humorously portraying animals being fed into a meat grinder and packaged as sausages.
Awesome, right?
If recipients wore their T-shirt to the restaurant on opening day, they received a free sausage of their choice. This created so much hype about the opening of the business that lines were through the roof and there were rave reviews all over local publications.
Why does this direct merchandise advertisement rock?
Paper and merchandise products had a purpose. They were not just swag. The invitations and content allowed a customer to become part of a community, and an exclusive one at that.
They had personable touches (hand delivery) to people that mattered to their business like food critics, socialite magazines and social influencers.
They created content that was creative, thoughtful and memorable to the services/products they sold.
Like these direct marketing examples, you can be creative with your business marketing. Just think about purpose/use and how you creatively portray that to your clients!
Paper Flyers To Direct Messages
Back in the day, flyers were on the rage. Did you need to know when and where the Friday night dance was happening? A flyer would be there posted all over the bulletin boards and stapled to telephone poles. Paper flyers, pricing sheets and other paper products were used heavily in direct marketing.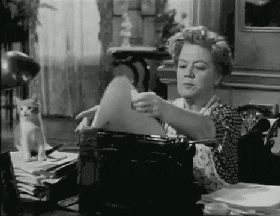 Although some of these are still used in leave behind packets during meetings, generally they are not as impactful. People want instant information at their fingertips.
Direct messaging takes instant communication to the next level, giving you the opportunity to reach out to people in ways you would not be able to otherwise: Instant connection instead of paper you need to search out. If you are wanting to modernize your paper products, look to social media, direct messaging.
Direct message marketing, or DM marketing, is a strategy that focuses on using social media DM features to privately develop relationships and business initiatives. Common social media platforms with direct messaging include: Twitter, Instagram, LinkedIn, Facebook and Snapchat.
How Can I Creatively Use Direct Messaging to Build my Business?
Direct messaging can add a lot to your customer service, brand awareness, promotional and business efforts. But how do you make the most of direct messaging? Outside of the generally informing customers about your business, there is so much more you can do outside of just telling people about events, sales and products.
Below are some creative ways you can use direct messaging to create brand awareness and networking opportunities.
Build a Following
Now, all of this might seem well and good, but what if you don't have a major following for your social media accounts?
When it comes to social media, many fear the numbers game. But don't fret! You can use direct messaging as a way to instantly build your following by using geotagging and hashtags!
For example, if you are a business in Washington DC, you could look at geotags and hashtags people create for companies, products and places that relate to your business. Find those individuals and send them a DM with a customized business experience offer! This can be a promo code or a simple compliment to engage them!
Geotagging looks like this (Geotagged location/Personal Post Geotag):
This is my favorite bookshop in Eastern Market, Washington DC. You can see this location geotagged in my personal post but if you click on the geotag location you can find many different personal account posts featuring that location.
So how can you use geotagging for your benefit?
IF you are a bakery in Dupont Circle in DC, you could look up Dupont Circle in geotagging and find posts and places relating to bakeries (pictures of baked products/selfies with baked goods) or posts from locations like Georgetown cupcakes/Baked & Wired Bakery.
These are people who are already visiting bakeries and partaking in your product market! Go to those personal accounts and send a personalized message like the following:
"Hey, I love your post showing your love of baked goods! We are a new bakery in the area and we would love for you to come visit us! The first time you visit us, enjoy $3 off by showing us this message! Hope to see you visiting soon and bake on my friend!"
By doing this, you can create a new interest in your bakery! It is personalized, engaging and its an opportunity to reach someone who you might have never had a contact with before! Again, the "reach" is a powerful tool!
If someone is already coming to your location and tagged your business in a post, you can send them a message like the following:
"Hello fellow baker enthusiast! Thank you so much for featuring us on your IG account! We hope you enjoyed your time with us, I know we did! Since you visited, we would love to have your picture and account featured on our page! Please let us know if that is okay as we love to include other people who love baked goods like we do! Bake on, my friend!"
By thanking them for the feature you can offer them a promo, review placement on your account/website or a photo share on your page! People want to be seen and people want the connections to bigger audiences that your business can bring to them.
Building these personalized experience helps you build loyal customers and introduces you to new ones! People want instant connection! Remember that!
Build Customer Loyalty
I think it's wonderful when as a business you start building loyal followers!
These are the individuals who like every post, engage in your conversations and give you shout outs frequently. You have them interested, so let's keep them that way. Why not send them over a quick DM to show some love?!
This loyalty love can be sent instantly:
Send them personalized messages in response to their follow
Send them special content like "sneak peeks" of new things to come, etc
Send them a promo code or a small gift
Send them a personalized holiday card

Offer a Limited Discount
Who doesn't love special treatment?
So why not give that treatment to your top followers on Instagram? Promotions can be easy content to share with some of your post engaged users and gain new clients!
An example of this is a DM message I received from Salt Lake Women's Show:
Here's another potential way to approach this:
Post an engaging photo that says you have a number of surprise coupon codes and for everyone that writes a comment and tags three friends per post you'll send them a DM with a unique promo code that can be redeemed on your online store!
This is a great way to invite new customers to follow your IG account that also includes a call to action to bring people to your online site. Make sure you promote this post with other features like an IG story to get the hype up!
Now that you know more about creating "instant" connections with your current and potential clients using direct messaging, you can take your business to the next level. It is time marketers took the art of direct message marketing and implement them into their old paper product routines.
Direct Marketing: Modern Made Easy!
The digital world, although tough to fully grasp and get ahead of the curve, can be full of creative resources and opportunities for direct marketing. Do not lose the old school charm, but you can spruce things up with the modern use of technology to make that effort go further.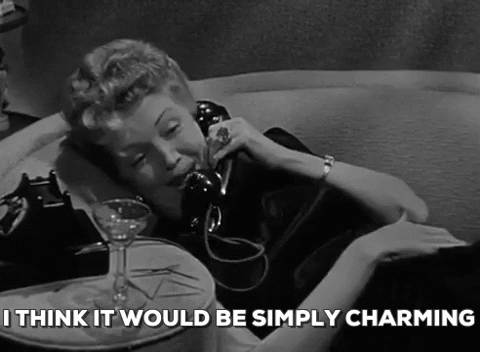 In addition, do not be afraid to try out innovative strategies that explore new possibilities in the age of digital marketing. Direct marketing is not dead and it can easily be seen in many modern day marketing campaigns, done creatively! You too can teach the old dog new tricks and stand out amongst the competition.
What do you love about direct marketing? What tactics have you seen or implemented personally for success? Comment below!
Leave a comment