Direct Messaging: An "Instant" Way to Grow Your Business
by Cydney Hatch • April 2, 2018
The internet has changed the way we communicate and learn:
We can sift through history at the click of Google.
We look up the answers to any question with Siri.
We can upload photos and videos within seconds on YouTube.
We can be face to face with friends and family halfway across the world with Facebook Video.
What do all of these have in common? They are all "instant." The idea of "instant" has become an expectation for communication, whether we're communicating with businesses, people or anything else.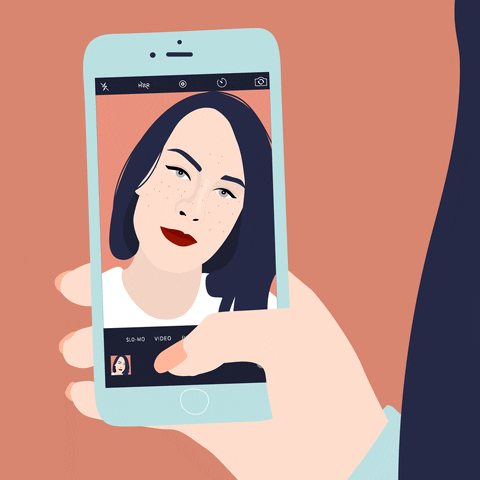 Instant connection is what people crave and social media is the key to keeping up with anything and everything in life. Direct messaging takes this communication style to the next level, giving you the opportunity to reach out to people in ways you would not be able to otherwise: Instant connection!
So why are we not utilizing this more in our marketing efforts? Instant connections with instant audiences which can result in instant actions?
It's a no brainer!
In this article, we will discuss the art of direct messaging and how you can utilize the customer's "need to connect" for your business!
What is Direct Message Marketing? 
Direct message marketing, or DM marketing, is a strategy that focuses on using social media DM features to privately develop relationships and business initiatives. Common social media platforms with direct messaging include: Twitter, Instagram, LinkedIn, Facebook and Snapchat.
For example, to access Instagram's direct messaging feature, click on the paper airplane located in the top right hand corner of your main feed page! Once opened you will see a list of your direct message participants!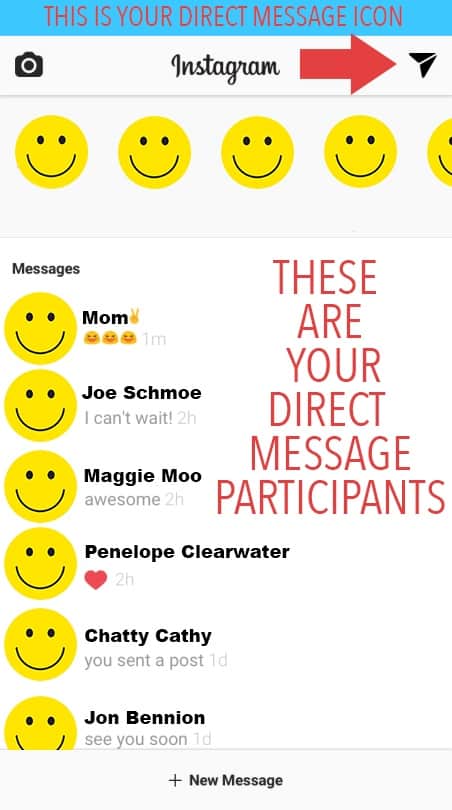 To access Facebook's Direct Messaging feature, open your business Facebook page and click on "Inbox".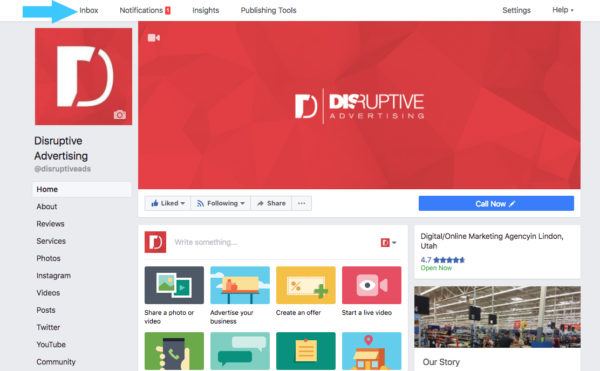 Once opened, you will see that on the right hand side you will have participants' profile information. In the center is the message stream and to the left is the direct message list of participants!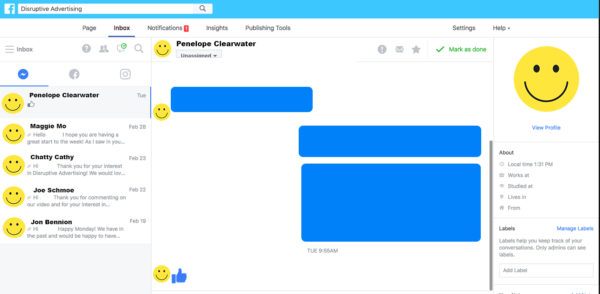 As you can see above, direct messaging is an easy, organized and "instant" way to connect with your potential customers!
Why Use Direct Messaging?
Despite the power of private messaging, the vast majority of marketers ignore the "instant" opportunities direct messaging brings!
Of course, reviews, posts, likes, shares and other engagements are crucial to your social media presence, but not every action needs to be in "plain view". This is where direct messaging is particularly useful.
Instant Networking
Networking is definitely a thing in today's world. Whether its attending evening mixers, conferences or even simply making new friends, we all have experienced wanting to get in touch with the right people!
Direct messaging helps people connect with others in ways they never could have otherwise. That level of "reach" is powerful!
Using DM on social media empowers you to connect with the right people and find your dream customers! You might not know these people directly, but it's totally socially acceptable to "meet" them digitally!
Promotions
Direct message is a great way to get promotions, sales and other business results in an instant and personalized way! Whether it's sharing a URL tagged image, a message to visit your link in bio or something else, direct messaging can be a personalized way to inform people of things coming up, being run or changing in your business!
Communication
Direct messaging allows meaningful communication about your brand, its services and who you are as a business!
Online businesses communicating with customers often use direct messages for order and product questions, telling clients about how they can invest or become involved with your business or simply to reach out for reviews out of the public eye. This can be a meaningful way to create a positive and unique customer experience that can set your business apart from the others.
For example, I absolutely loved working with UrbanStems in Washington D.C. UrbanStems takes great care to communicate well with their customers on social media.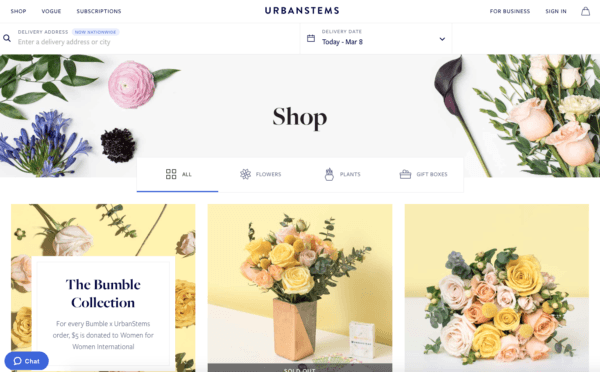 I ordered a "gal-entine" bouquet for one of my best friends for Valentines Day that did not get delivered due to a huge number of orders they were not expecting.
As this was disappointing and ultimately not MY problem, their leadership saw this issue ahead of time and constructed a powerful message to make it clear that they cared about their customer first and foremost.
Here's what they sent to me as a direct message: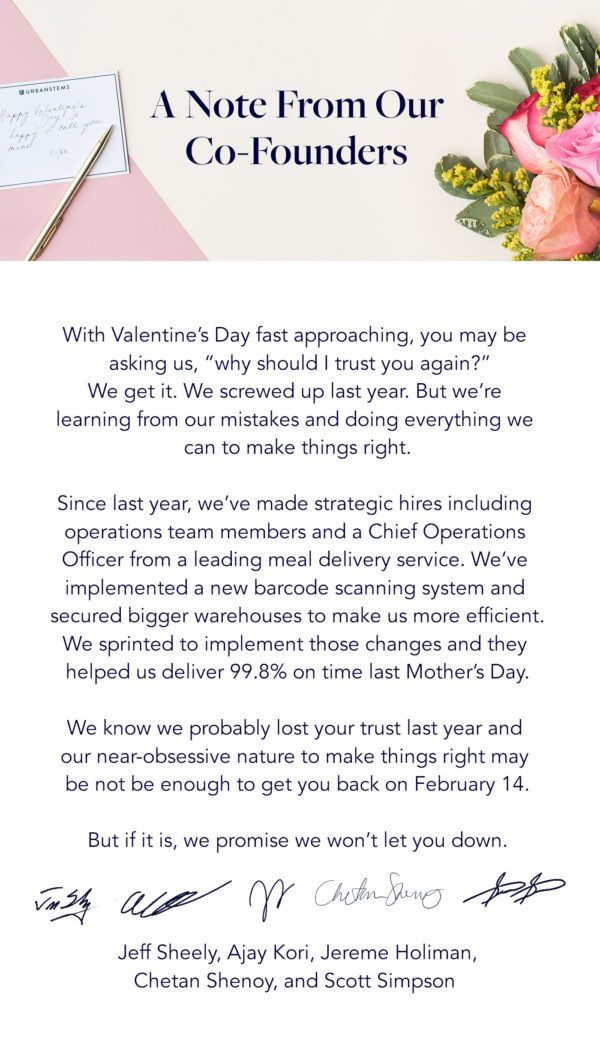 As a customer, this made me feel appreciated, taken care of and set this company apart for me. Whether you've made a mistake or just want to build a better relationship with your customers, direct messages can be a powerful way to connect with people!
I continue to use UrbanStems for my flower deliveries as they made efforts to communicate beyond other companies to make the situation right which will be talked about in the next section: dealing with negativity.
Dealing with Negativity
No business has gone without a negative review or experience with customers. It will happen and you cannot escape the fact that you cannot make everyone happy…but you can try!
Public negativity towards your business can have a significant impact on sales! No business wants that, so it's important to resolve issues whenever you can. Though it's important for brands to address negative criticism, you don't always have to air your dirty laundry out for the social media world to see!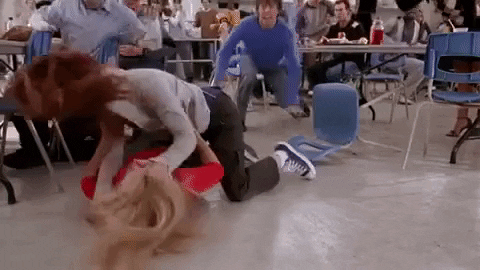 It can get ugly!
Direct messaging can be a great way to resolve issues privately, effectively and personally with unhappy customers. The efforts will be appreciated and remembered.
How Can I Creatively Use Direct Messaging to Build my Business?
So how can you use these principles effectively in your direct messaging? Let's get creative!
As I've mentioned several times, direct messaging can add a lot to your customer service, brand awareness, promotional and business efforts. But how do you make the most of direct messaging?
The vast majority of marketers ignore DM opportunities, choosing instead to spam every new follower with a worthless, automated spiel but this will not be you! Below are some creative ways you can use direct messaging to create brand awareness and networking opportunities.
Build a Following
Now, all of this might seem well and good, but what if you don't have a major following for your social media accounts?
When it comes to social media, many fear the numbers game. But don't fret! You can use direct messaging as a way to instantly build your following by using geotagging and hashtags!
For example, if you are a business in Washington D.C., look at geotags and hashtags people create for companies, products and places that relate to your business. Find those individuals and send them a DM with a customized business experience offer! This can be a promo code or a simple compliment to engage them!
Geotagging looks like this (Geotagged location/Personal Post Geotag):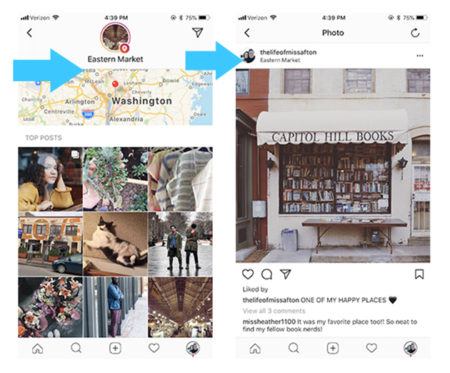 This is my favorite bookshop in Eastern Market, Washington D.C. You can see this location geotagged in my personal post but if you click on the geotag location you can find many different personal account posts featuring that location.
So how can you use geotagging for your benefit?
Okay, say you are a bakery in Dupont Circle in D.C., look up Dupont Circle in geotagging and find posts and places relating to bakeries (pictures of baked products/selfies with baked goods) or posts from locations like Georgetown cupcakes/Baked & Wired Bakery.
These are people who are already visiting bakeries and partaking in your product market! (perk: The search is done for you to find "new" customers). Go to those personal accounts and send a personalized message like the following:
"Hey, I love your post showing your love of baked goods! We are a new bakery in the area and we would love for you to come visit us! The first bakery experience you have with us, enjoy $3 off  by showing us this message! Hope to see you visiting soon and bake on my friend!"
By doing this, you can create a new interest in your bakery! It is personalized, engaging and its an opportunity to reach someone who you might have never had a contact with before! Again, the "reach" is a powerful tool!
If someone is already coming to your location and tagged your business in a post, you can send them a message like the following:
"Hello fellow baker enthusiast! Thank you so much for featuring us on your IG account! We hope you enjoyed your time with us, I know we did! Since you visited, we would love to have your picture and account featured on our page! Please let us know if that is okay as we love to include other people who love baked goods like we do! Bake on my friend!"
By thanking them for the feature you can offer them a promo, review placement on your account/website or a photo share on your page! People want to be seen and people want the connections to bigger audiences that your business can bring to them.
Building these personalized experience helps you build loyal customers and introduces you to new ones! People want instant connection! Remember that!
Build Meaningful Relationships
As stated above, networking is a thing! Direct messaging can be a wonderful way to reach out to businesses and people you want to collaborate with!
For example, as a photographer I visited a small coffee shop in Vienna, Virginia. I took some professional photos of my friend, lifestyle blogger Tiffany Tomiko and talked about our experience there on our Instagram accounts.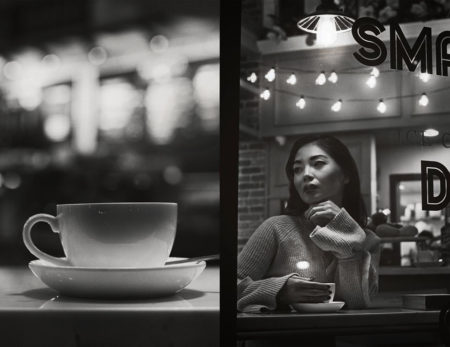 This company saw the pictures, reached out to me on DM and asked me to come back and take more content photos for their business. We ultimately built out a visual marketing partnership.
As a business that never had contact with me before, they were able to create a new business connection and get resources and services they needed.
Like this example, you too can instantly reach out to photographers, industry influencers/leaders, designers, writers, or other businesses to connect using direct message.
Also a perk, networking using DM is a less intimidating way to reach out to people you want to work with.
Build Customer Loyalty
I think it's wonderful when as a business you start building loyal followers!
These are the individuals who like every post, engage in your conversations and give you shout outs frequently. You have them interested so let's keep them that way: why not send them over a quick DM to show some love?!
This loyalty love can be sent instantly:
Send them personalized messages in response to their follow
Send them special content like "sneak peeks" of new things to come, etc
Send them a promo code or a small gift
Send them a personalized holiday card

Offer a Limited Discount
Who doesn't love special treatment?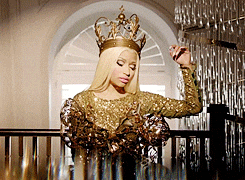 So why not give that treatment to your top followers on Instagram? Promotions can be easy content to share with some of your post engaged users and gain new clients!
An example of this is a DM message I received from Salt Lake Women's Show: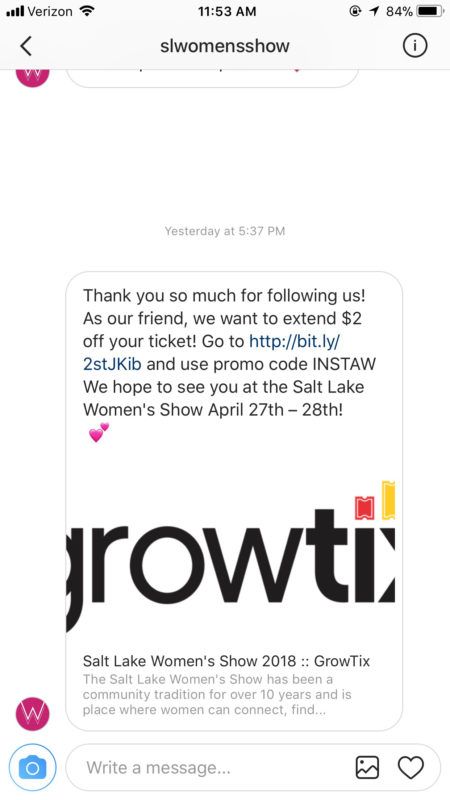 Another example you could do is:
Post an engaging photo that says you have a number of surprise coupon codes and for everyone that writes a comment and tags three friends per post you'll send them a DM with a unique promo code that can be redeemed on your online store!
This is not only a draw for engagement, inviting new customers to your IG account but it also includes a call to action that brings people to your online site. Make sure you promote this post with other features like IG story to get the hype up!
Tips for the Right Message
So you might have a plan on how you want to use DM marketing for your business but how do you write an engaging and successful DM message? I would like to give you the following quick tips to take your messages to the next level!
Be Complimentary: You always need a good opener when reaching out to individuals—so why not start with a compliment! People are drawn to people who make them feel good about themselves so why not utilize this psychology in your messages? Drop what you like about the individual's account, work or visuals. Your research pays off and makes a personalized message go further!
Be Social: Hustle for the attention my friend! I suggest reaching out to at least 150 people because hustlers make the numbers work and numbers will balance out who responds, reads and who ignores. The more you reach out, the more likely you are to have responses!
Be Shareable: Take your messages to the next level and create something more! Messages that have shareable content are more engaging and possibly increase the chances of people sharing your content and therefore increasing your brand awareness. Sharing is caring!
Be Resourceful:Be resourceful with your responses and know the power of follow up. If someone responds with a no, make the use out of messages by setting yourself as a resource. Respond with messages likes "If this is not a good fit right now, feel free to think of me in the future or to share my information with people who might be interested!" By doing this, you expand your reach to not only that person but they might connect with you other individuals in their circles!
Be Original: Drop Automated DM's like it's HOT! Kill them! Do not make your potential client's inboxes more of a spam folder than a meaningful place of communication.  Sending annoyingly generic messages does almost nothing to convert social media followers. On the contrary, they only serve to annoy your latest followers and damage your brand's image. Authenticity, creativity and personalization will be your best friends!
A Conclusion: Your Business "Instantly" Better
Now that you know more about creating "instant" connections with your current and potential clients using direct messaging, you can take your business to the next level. It is time marketers took the art of direct message marketing seriously and now you have the tools to do so!
Communicate with your audience the way they want to: instantly!
What are some of the best direct messaging tactics you have seen?  Leave your thoughts in the comments!