Google SERP 101: How to Get Your Website on the First Page
by Ana Gotter • February 12, 2018
If you Google "running shoes", brands like Nike and Adidas will almost always be the first to pop up. And if you search for a dining room table, big name brands like Havertys will dominate over the local carpenter who crafts furniture masterpieces from scratch.
It is, without a doubt, much easier for the larger corporations to end up at the top of the search engine results page (SERP). That being said, it's still possible for smaller, newer brands to end up on the first page of the Google SERP, sometimes even beating out their fiercest and most established competition.
In this post, we'll discuss everything you need to know about the Google SERPs, including what factors influence them and how you can get your site showing up on the first page of search results.
What Does SERP Mean?
Google SERP stands for "Google search engine result page," which are the results pages that search engines like Google display based on users' queries. These include both organic results and pay-per-click results from Google AdWords, which will be displayed at the very top of the page.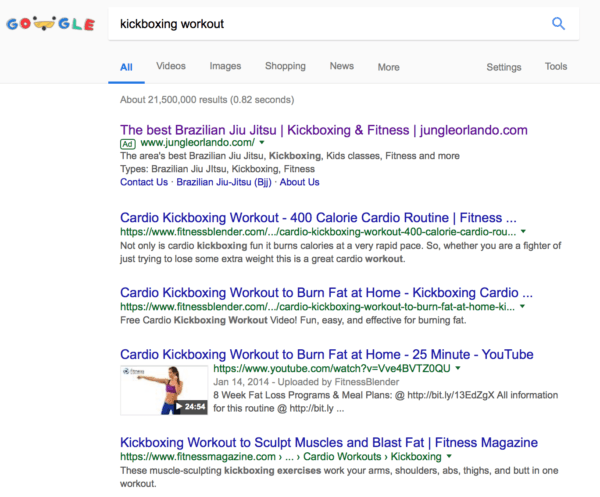 Google's algorithms will process a user's search and almost instantly show them their results. The order of the search results is based entirely on relevance—if Google believes your content can fulfill a users' search most effectively, you'll be at the very top of the Google SERP.
Unsurprisingly, getting your site and content showing up towards the top of the Google SERP is a goal for most (if not all) businesses. Organic search alone, after all, is still responsible for 51% of online traffic.
The Factors that Contribute to SERPs
There are several different factors that contribute to what content is prioritized and listed first on the Google SERP. The factors that weigh most heavily are:
Keyword relevance. Unsurprisingly, the more the keywords on your page align with a users' search, the more likely it will be that your content will appear higher in a search's results page.
Domain authority. This is why some of those enormous companies always seem to rank first. Sites with higher domain authority will be given priority in the algorithms because search engines know they can trust these sites. Factors like links to and from the site and the length of time a site has been around can all affect this score.
The user's physical location. Users who are searching for a shoe store in Canada don't want to see results for a shoe store in Ireland, so Google will automatically take location into consideration. This goes for nonphysical products, too. If I search for marriage license qualifications in the U.S., it won't do me much good to see the requirements they have in Greece.
The user's browsing history. What a user searches for will impact what search results they see, even if the result differences for the same query between separate users are subtle.
Clearly, we aren't in full control of our Google SERP rankings in the same way that we could be with other aspects of our business, but there are several that we can affect. Specifically, choosing the right keywords and utilizing SEO best practices to optimize your site for search and build domain authority are both good options.
How Do Different Types of Searches Affect the SERP?
If you want to put your business on the first page of the Google SERP, some types of searches will be easier to rank well for than others.
There are three main types of searches that users conduct. These are:
Informational searches, where users are seeking out information about a given subject. Examples of these searches might be "how to install a new garage door" or "when was John F. Kennedy born." These searches present an excellent opportunity to rank well even as a small business because there's such a wide variety of keywords and topics you can cover. These searches also aren't nearly as likely to have PPC campaigns placing frequently because there's low intent to purchase from them.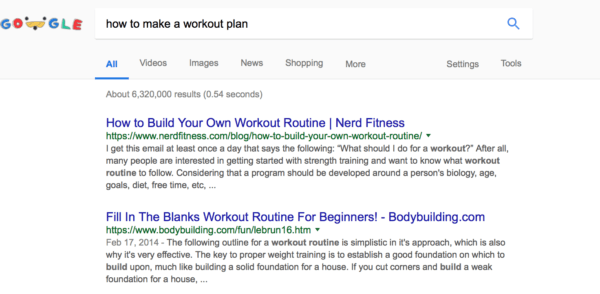 Navigational searches, in which users are trying to find a specific site or brand. Maybe they can't remember the exact URL, or perhaps trying to find a brand whose name they forgot. Every now and then PPC campaigns will be shown if businesses are targeting their competitor's traffic, but unless you're the site users are looking for, it can be difficult to rank well for this one.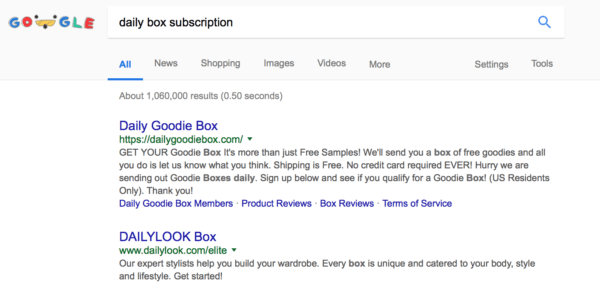 Transactional searches, where users are looking for something to purchase. Examples of this type of search may be "Orlando shoe cobbler" or "discount on accounting software." These signal high intent to purchase (and soon). PPC ads are most likely to pop up for these searches, and unsurprisingly, these SERPs have some of the fiercest competition.
How to Improve My Google SERP Position
Improving your AdWords ad ranking can boost your position on the Google SERP relatively quickly and we discussed that in a recent post here. Improving your organic standing in the SERPs takes a little more time. That being said, with consistency and the right strategies, it's something that you can accomplish.
If you aren't currently ranking well on your target Google SERP, or if you just want to improve your standing, here are a few things you can do right now that can directly impact your ranking:
Improve your on-site SEO.
Improving your site's overall SEO will naturally improve your SERP rankings. Boost your SEO with strategies like improving your site's loading speed and using page metadata. You can learn more about this here.
Tackle link-building
Link building will help the SEO and domain authority of your site, but it will also help you pop up in searches because Google likes content with lots of shares and links.

Write guest posts for other publications, and link to only high valuable content from sites with great authority. Both of these strategies will help.
Do more keyword research.
Keyword research is something you can do that will start having an effect immediately. Find a balance of high search volume and low competition and base content creation around that.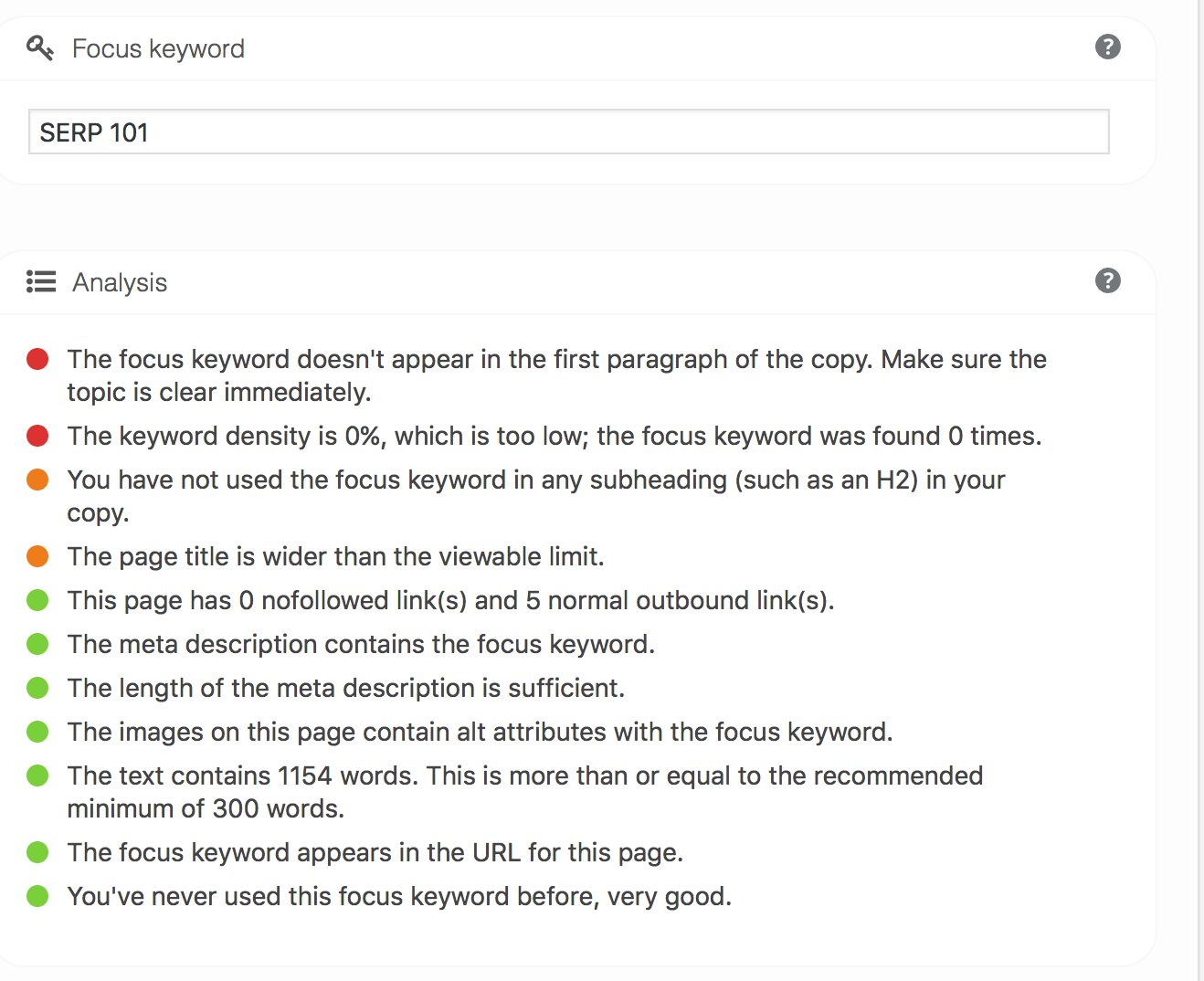 Use tools like Yoast SEO to help you select and optimize for the keywords you're trying to rank for.
Focus on creating content for informational searches
This is partially where the keyword research will come in handy. Informational searches are often easier to rank for than the other two types of queries, but they still provide a valuable touchpoint that can help you connect with your target audience. Create content that you believe users are searching for and you'll have an easier time making it to the top of the Google SERP.
Run PPC campaigns for transactional searches
If you've made the above changes and you're still struggling to get on the first page of SERPs for transactional searches organically, it's time to try PPC.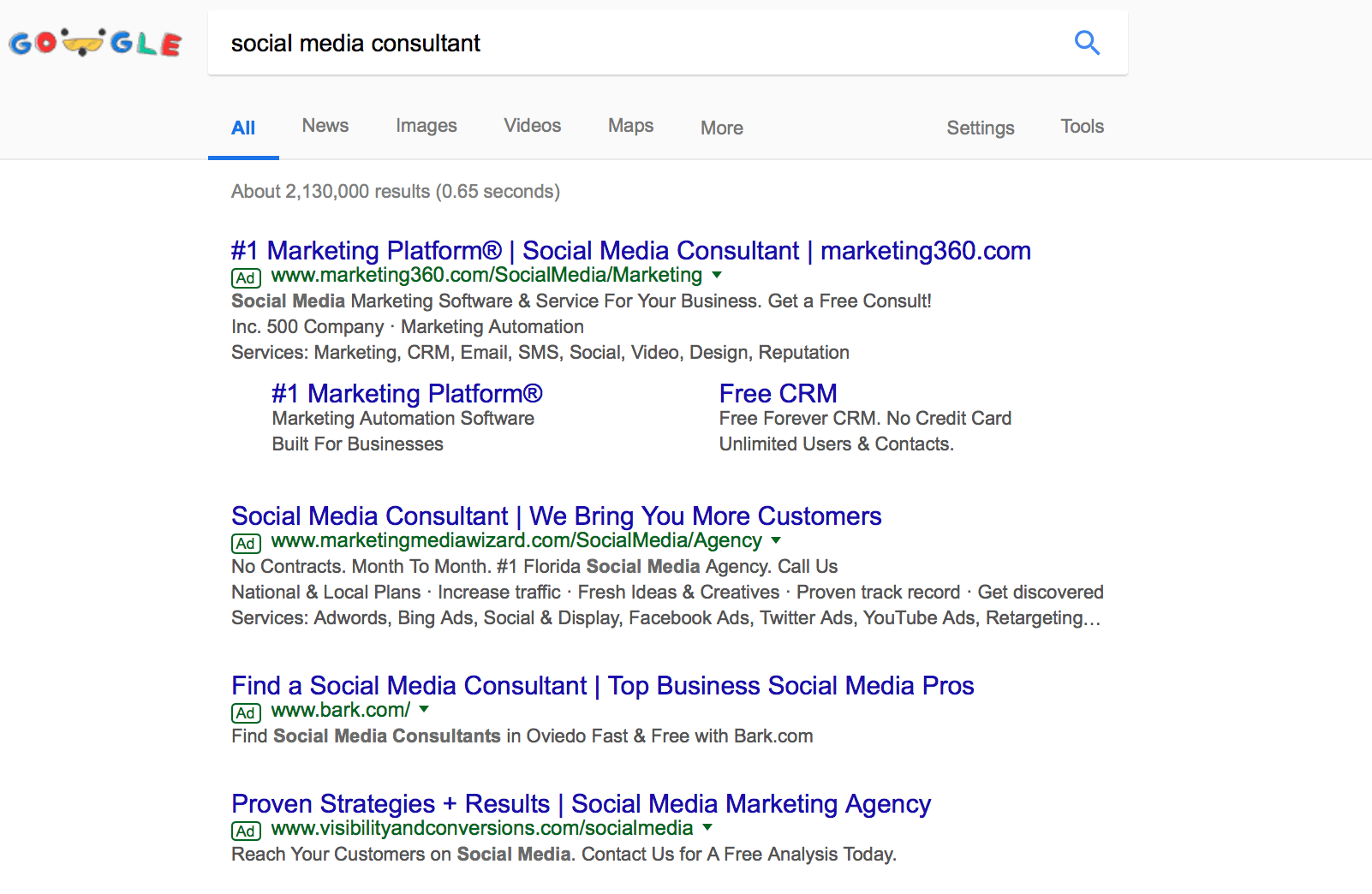 In many cases, you can't afford not to appear at the top of those searches because if you don't, your competitors will. In the example above, the only results that even appear above the fold are PPC ads. Invest in AdWords campaigns or Bing Ads for your most high-value transactional keywords.
Conclusion
The Google SERP is extraordinarily competitive. With 2 million blog posts being written every single day, that's a trend you can count on continuing.
Understanding what factors affect search results can help you optimize your site and your content. With the above strategies, you can land your site on the first page of the SERP with both organic and PPC content, getting more relevant traffic to you in larger numbers than ever before.
What do you think? How have you improved your position in the Google SERP? Which strategies have been most effective for you? Share your thoughts, knowledge, and questions in the comments below!